When the Waterford crystal ball dropped New Years Eve signaling the start of 2023, we didn't look far to reset our mind, body, and spiritual wellness clocks. Within our very own carefully curated Travel Curator collection, we made plans to follow our wellness bliss — in Greece, Cyprus, Qatar, Bali, The Maldives, and Switzerland — at these eight truly empowering, life-changing, spas.
In Greece:
Euphoria Retreat, Mystras, Sparta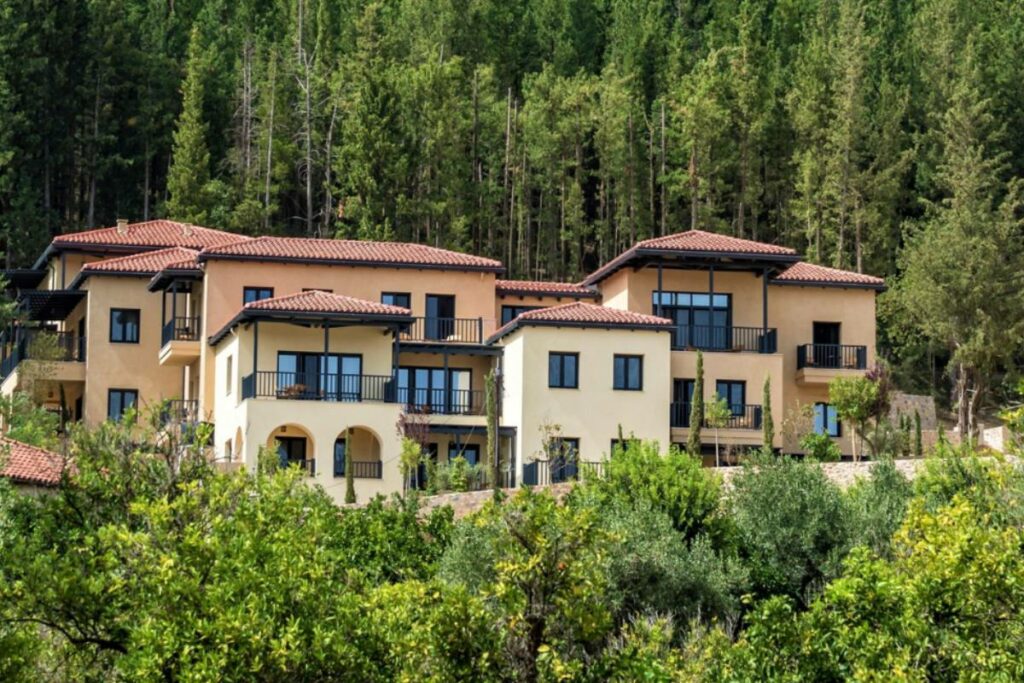 It was actually an intensive week-long stay at a top USA spa, The Golden Door in southern California (another of our favorites), that inspired Euphoria Retreat owner Marina Efraimaglou, to return to her native Greece and, in time, open a holistic spa. Her decision has literally put southern Greece on the modern global wellness map. Located on the exquisite Peloponnese peninsula, Euphoria Retreat — surrounded by pine forests and olive groves — offers inspiration for those seeking to change, transform, and connect with their spiritual self in a way that is closer to their heart and roots.
The Reset: The wellness options are expansive, marrying east with west; ancient Hellenic medicine with traditional Chinese medicine, and science with naturalism. Personalized wellness programs are led by an onsite team of doctors, nutritionists, therapists, and fitness instructors, while Euphoria's patented '3GLs' test provides invaluable insight into how each guest metabolizes food. But the core reset here begins in the water. Dip into the indoor sphere pool, surrounded by cocooning Byzantine domes with in-water benches and hydrotherapy jets to release muscle pain and stress. Then dive into the 13-foot water well — reveling in the enveloping womb-like sensation, and soothing marine sounds playing softly under the water, transporting you into a more sensory world.
In Cyprus:
Cap St. George, Paphos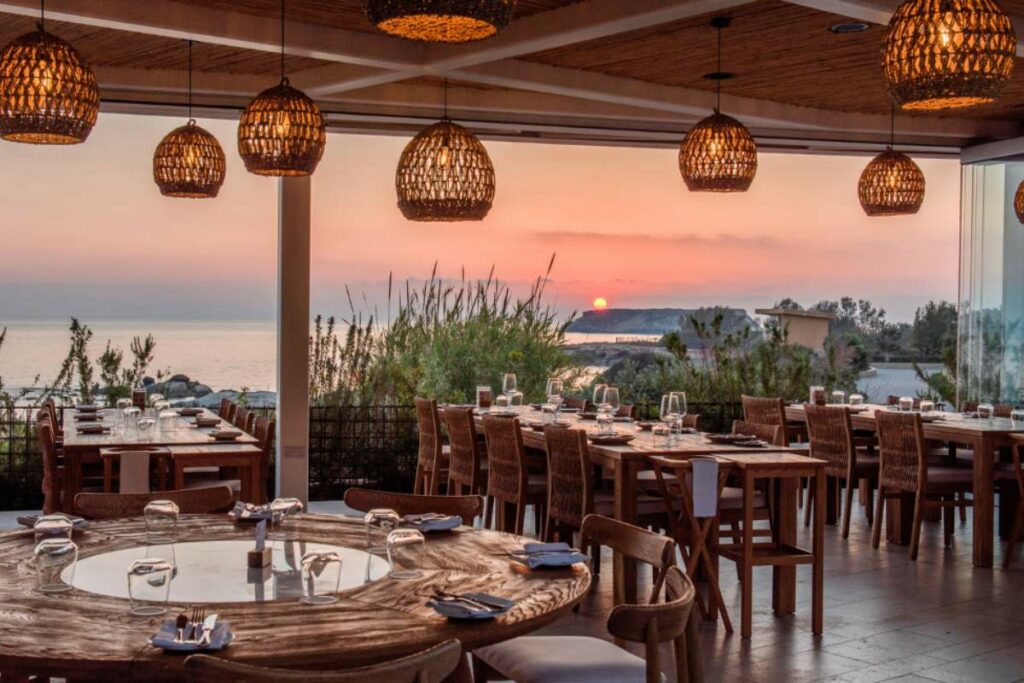 While travelers may originally come to this stunning property overlooking the Mediterranean Sea, for its beauty, seafront location, and global cuisine, they stay for the spa. Dotted with centuries-old olive trees, fragrant herbs, and endemic flora, the resort's renowned Cleopatra Spa is named after the ancient Egyptian Queen. The vision of spa designer Kyriacos Parpas and architect Andreas Patsalides, Cleopatra Spa — opulent in its verde Guatemala green marble — features bespoke therapies and product lines, two private VIP suites, signature Rasoul mud treatment chambers, a spacious indoor spa pool, and hydrotherapy circuit, thermal saunas, steam rooms, and aromatherapy experience showers.

The Reset: Tap into your inner goddess (or Cleopatra) energy with the signature 'Secrets of a Legendary Beauty' treatment. This luxurious 90-minute Cleopatra-inspired bath ritual includes a decadent, soothing milk hydrotherapy bath with local bio honey and rose essential oil to nourish the skin. The bath is followed by a relaxing full body massage with pure almond and olive oil.
In Qatar:
Zulal Wellness Retreat by Chiva Som, Al Ruwais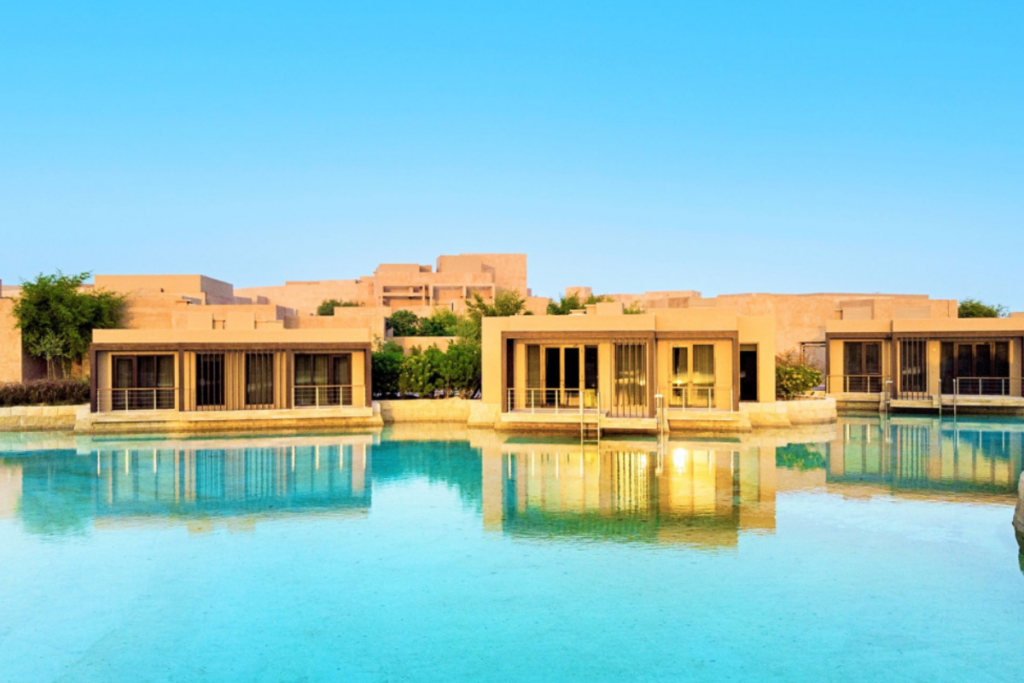 Qatar recently made a global splash in hosting the World Cup. But eyes are also on this fashionable Arabian peninsula as a wellness mecca. One of the most talked–about wellness experiences here is Zulal Wellness Retreat by Chiva Som. A pioneer in wellness and lifestyle transformation, Chiva Som has operated its flagship resort, Hua Hin, Thailand, for the past 26 years. The opening of Zulal (in 2022) is the brand's first full-immersion wellness resort in Qatar, the largest in the Middle East, and the world's first showcase of Traditional Arabic & Islamic Medicine (TAIM), derived from the Canon of Medicine in 1025. In its modern form, TAIM places emphasis on restoring life balance through herbal medicines, spiritual therapies, nutrition, and mind-body practices. The Zulal wellness experience is built upon six pillars: nutrition, fitness, spa, physiotherapy, holistic health, and aesthetics — with TAIM infused throughout each pillar.

The Reset: Reset your wellness clock solo, with your significant other, or alongside the entire family. Zulal offers two paths (and physical areas of the property). Zulal Serenity, featuring 60 rooms, is designed for adults, with customized programs tailored to individual needs (i.e., detox, weight management, fitness, relax), while Zulal Discovery, with 120 rooms and suites, appeals to families seeking to make wellness an integral part of the family bond.
Four Seasons Hotel Doha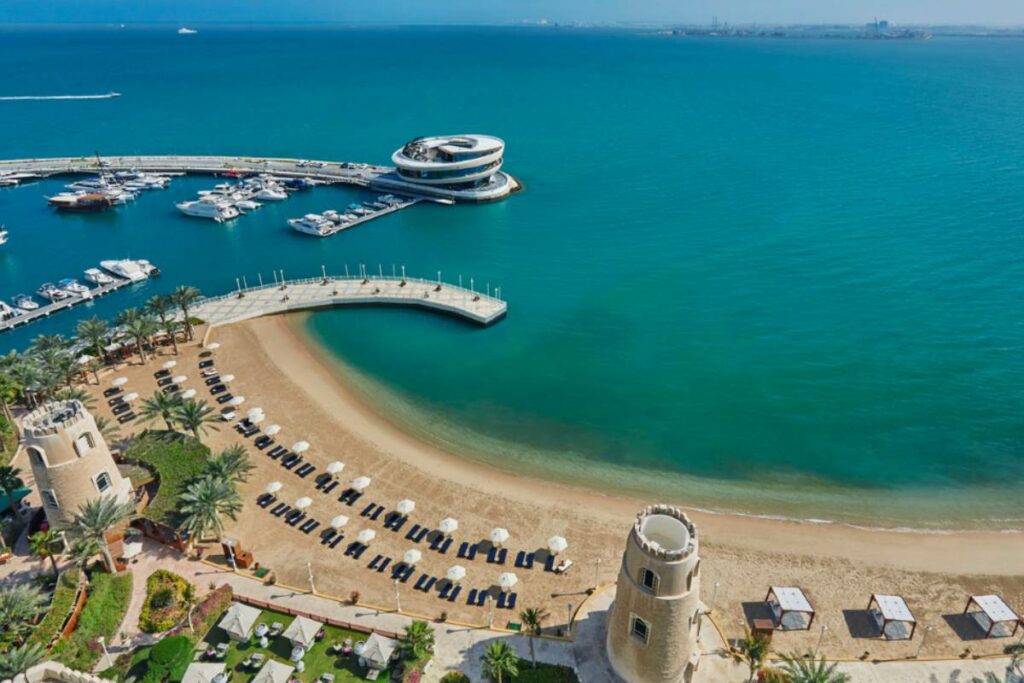 Another Qatar wellness noteable is in the capital city, Doha, and Spa at Four Seasons. Moorish in design, this lavish hotel, lined with palms, showcases local white stone, geometric patterns, and arches. Rooms feature a white and neutral color palette, perfect for relax, while the three-story spa and wellness facility includes a color therapy room, ice room, and intense hydrotherapy circuit, complete with underwater jets, fountains, and cold-and-hot plunge pools.

The Reset: The hottest place to reset (and even network) in 2023 is an ice bath. While the concept isn't new — Scandinavians have been sitting in hot wood-fired saunas and rolling in snow or dipping into the Baltic Sea in winter for centuries — the concept is taking hold globally. And the Spa at Four Seasons Doha is on it, with the debut of an ice room (5 degrees Fahrenheit). Use as a stand-alone service or combine with a massage or body treatment.
In Europe:
Grand Hotel des Bains Kempinski, St. Moritz, Switzerland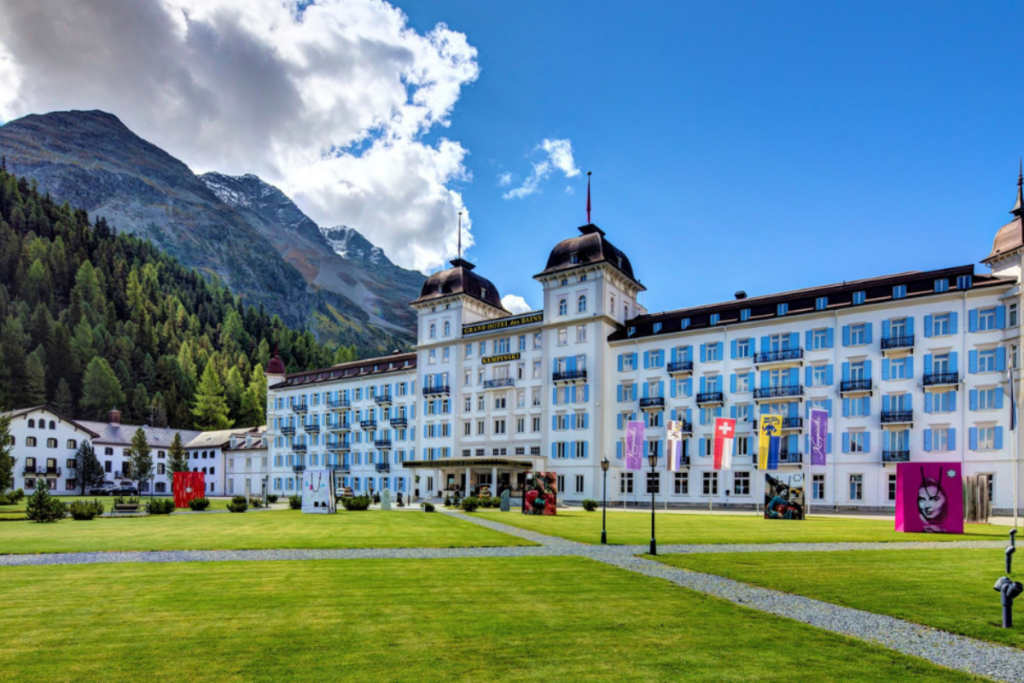 Postcard-perfect Switzerland is known as much for its stunning natural beauty, snow-capped mountains, rushing waterfalls, cows with clanging bells, and summer Alp cheese as it is for its centurion healing waters. A wondrous place to experience the country's natural glacial waters is in St. Moritz, at Grand Hotel des Bains Kempinski. Physically located on top of the Mauritius Springs, the five-star hotel (built in 1864 and tied to royalty) is home to Alpine Spa, the largest spa in the Engadin Valley. The elegant spa features Berqell granite, herbs, saunas, steam bath, laconium, Kneipp baths, high-tech, medical-grade facials, and slimming body treatments.

The Reset: Start every day in this wondrous place by drinking a glass (or three) of water from the famed springs. Spend time in the indoor Kneipp bath and outdoor Kneipp garden and (especially post skiing), quickly dip into the cryosauna — the first cold therapy in St. Moritz, and used to reduce inflammation. For a true Swiss experience and the perfect physical reset, be sure to reserve one of the spa's famous slimming treatments. Our pick: the signature, 80-minute, cellular Premium Drainage K-Longevity, a three-phase deep tissue treatment/drainage used to stimulate skin microcirculation and cell metabolism.
In Bali
Raffles Bali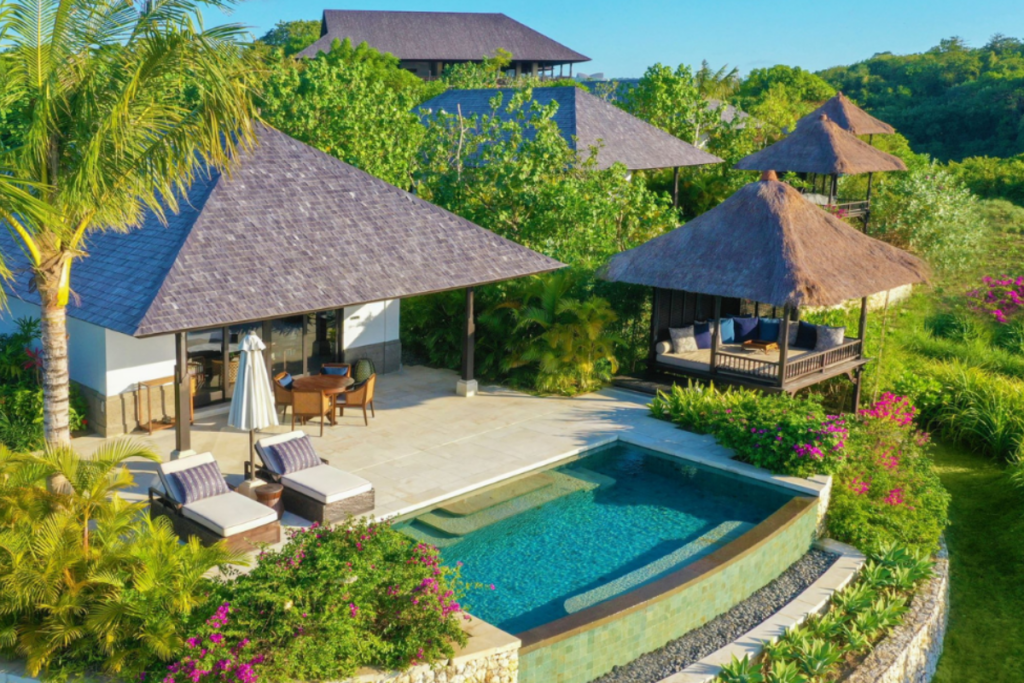 If ever a destination spoke a wellness language, it is Bali — shrouded in mystery and mist, and known for its haunting gamelan music, fresh cuisine, and exotic flower bath rituals. Raffles Bali, set high on a hill overlooking Jimbaran Bay, is one of the country's most wellness minded. Serving as the flagship property for Raffles Emotional Wellbeing program, this stunning resort is an intimate oasis for well-traveled connoisseurs seeking space, privacy, and cultural discovery. And the experience comes with your own personal wellness butler.

The Reset: For the ultimate indulgence and reset, pad your way past lush foliage to the Sanctuary treatment suite set high in the hills. Here you find authentic Balinese healing experiences, similar (just more luxe) than those found in traditional Balinese villages. Experience the ancient Javanese Lulur, an over 400-year-old tradition that includes a full-body massage, exfoliation, and warm flower bath. This mind-, body-changing ritual was historically performed every day for 40 days on royals leading up to their wedding day.
In The Maldives:
Fairmont Maldives Sirru Fen Fushi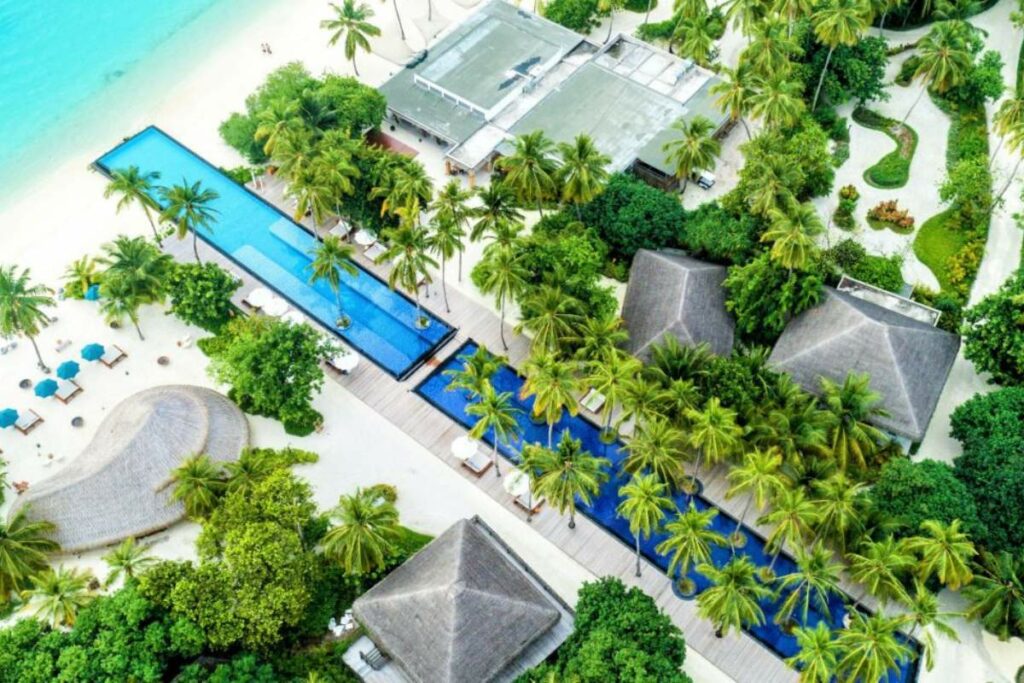 The stunning waters of the Indian Ocean coupled with the longest infinity pool in the Maldives, and a coral regeneration project (in the form of an underwater art installation), perfect for diving, are reason enough to come to this dreamy resort, located in Shaviyani Atoll. But add in the property's award-winning spa for an over-the-top Zen experience. Visiting wellness experts — renowned personalities from the worlds of fitness, holistic wellbeing and aesthetic medicine — visit each month, sharing their knowledge and practices with guests; while carefully curated spa treatments authentically connect spa-goers to the culture and traditions of the island.

The Reset: Reconnect with your partner with the 120-minute "Secret Water Island Honeymoon" treatment (even if you're long married or not married). The experience begins in an herbal bath for two, followed by a side by side aromatherapy massage and radiance facial or foot massage. Relax afterward with a flute of Champagne (or healthy smoothie) and canapés.
Raffles Maldives Meradhoo Resort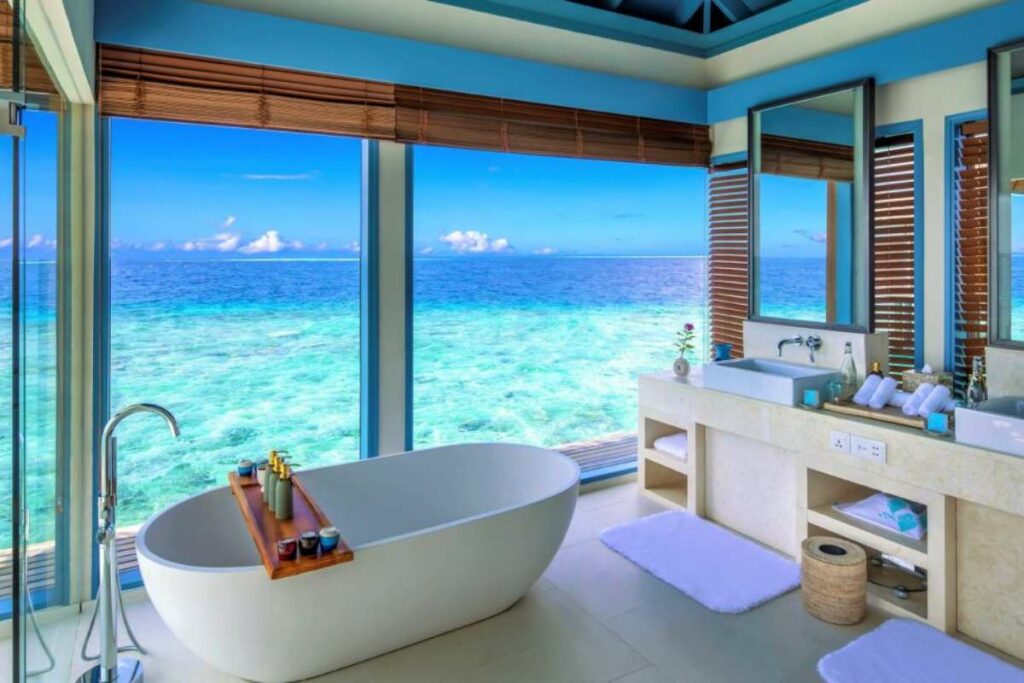 The accommodations alone — overwater villas (spread across two islands), each with a private plunge pool, staircase leading directly to the sea, and terrace with glass-viewing panel (to watch the fish below) — feel spa-like enough. But there's more to help with your mind-body-spirit reset, including a personal butler, and overwater spa, inspired by the lotus flower and designed with the principle of Feng Shui.

The Reset: Use the time and stunning setting to start or elevate a daily yoga practice. Join a sunrise yoga class on the spa deck overlooking the water, or at sunset on the beach. Reconnect to your breathing, uniting it with meditation and movement. If a private session is preferred, a personal instructor will come to your overwater villa to guide through Ashtanga Yoga, Hatha Yoga, Pranayama, or meditation. Arrange a romantic candlelit couple's yoga session with your partner.