Imagine an early morning swim, breakfast aboard your sailing yacht surrounded by turquoise seas, and a day of cruising among secluded islands with palm-lined sandy beaches. You might drop anchor for an afternoon swim, snorkel through coral reefs, or explore the shoreline in a kayak. End the day with a cocktail at sunset, dinner, stargazing under dark skies, and a perfect night's sleep as the sea gently rocks you to sleep.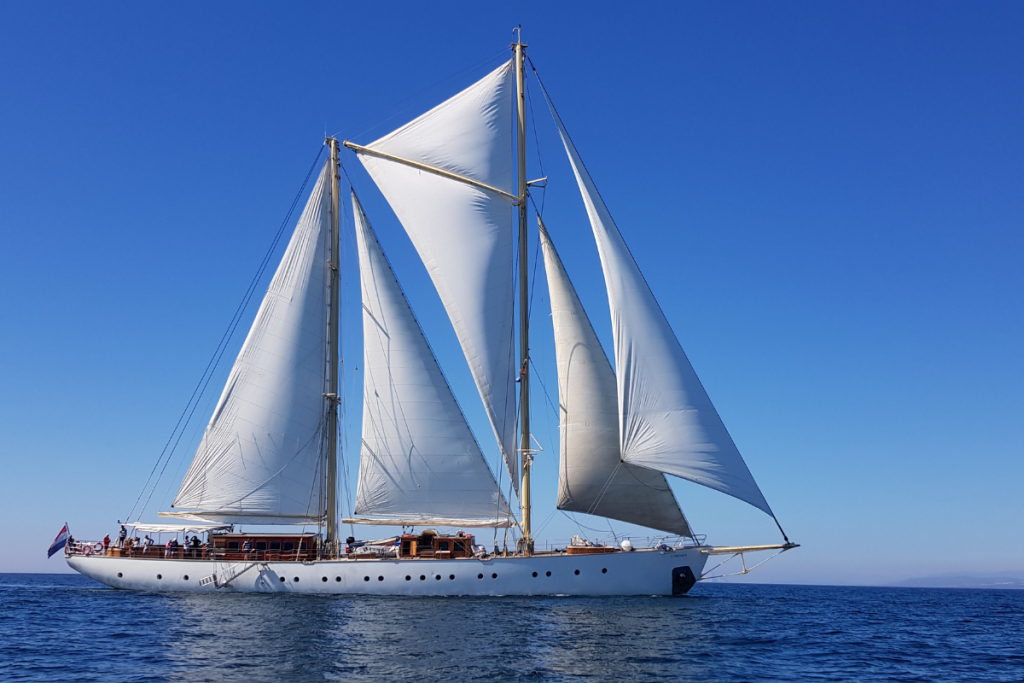 Sailing-Classics offers vacations aboard its yachts in the Caribbean, Mediterranean, and Atlantic with a full crew to take care of all the details, creating a private yacht experience whether you charter the entire vessel or sail with newfound friends. Air-conditioned cabins, all with full private bathrooms, are available with single, double, or family bedrooms. With a private charter, your group has the entire ship, often with more flexibility on the routing, sailing time, shore excursions, and activities.
A Bit of History
Fascinated by sailing since childhood, Andreas Steidle-Sailer spotted the beautiful yacht Endeavor on a 1998 visit to Voiles de Saint-Tropez, the annual Mediterranean regatta, and his dream of sharing the excitement of a sailing yacht experience with a wider audience began to take shape. His enthusiasm and sketches got the attention of an engineer who completed his plans, and in a Bodrum, Turkey shipyard, his first ship, Kairós was built. With the support of investors, employees, and return guests, Sailing-Classics today sails three yachts: Rhea, Chronos, and Kairós.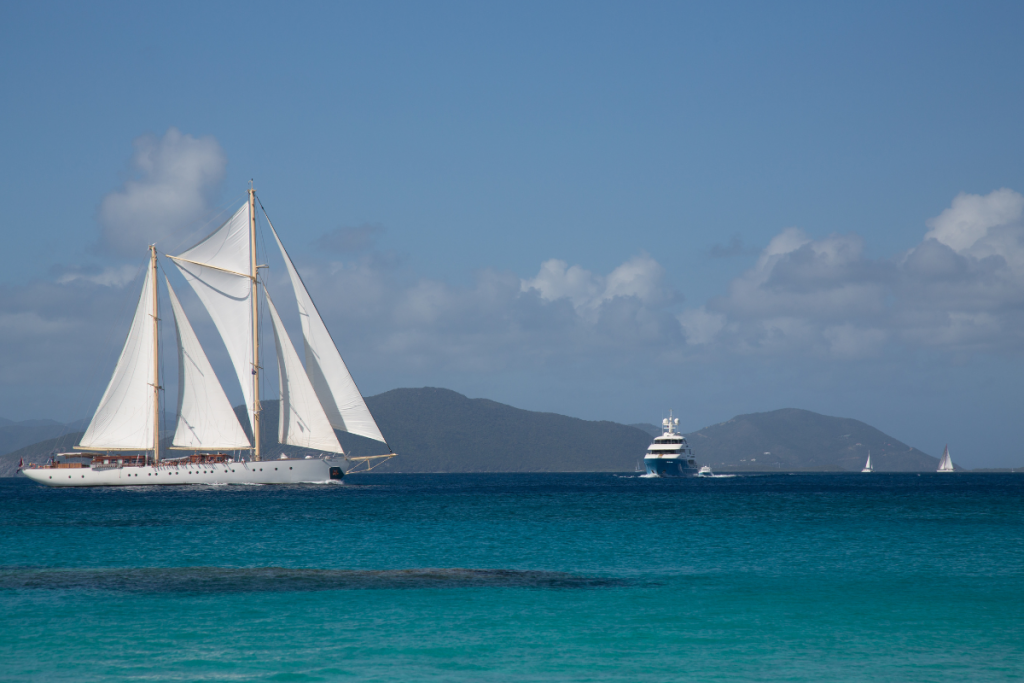 Modern navigation equipment and technology along with rich teak and mahogany wood trim, open deck areas, and beautifully outfitted cabins make cruising a pleasure. These sailing schooners and ketches are both comfortable and beautiful to see with their stunning sails and classic style. The experience is intimate and personalized, with a maximum of 26 guests on Rhea and Chronos, and 16 on Kairós.
Onboard, guests can sit back and watch the crew manage the sails or, with some instruction and under the supervision of the crew, they can help with steering, navigating, and setting or stowing the sails. There's deck space for reading, napping, or sunbathing on a lounger, and below deck, guests can visit the small library. Sports equipment available for guests includes a sailing dinghy, water skis, wakeboards, stand up paddle boards, snorkeling equipment, and kayaks on Chronos and Rhea, stand up paddle boards, water skis, wakeboard and snorkelling on Kairós. The captain and crew are happy to offer suggestions for sightseeing and places of interest for land excursions.
Dining is another pleasure on a sailing cruise. Mornings start with fresh coffee, tea, and a breakfast buffet with eggs, sausage, cheese, fruit, and cereals. Lunch is a light two courses, and at 4:00, coffee, tea, and cake are served. The evening meal features three courses, and on the last night of the cruise, a special Captain's Dinner is served. Soft drinks, beer, wine, champagne, Prosecco, and cocktails are offered, and each day, a special Sundowner cocktail is served.
Cruise the Caribbean
From December to May, the annual hurricane season has passed, and sailing conditions in the Caribbean Sea are ideal with reliable winds. A variety of itineraries and cruise lengths from 7 to 14 nights are planned during that time. Although there's a basic schedule, the weather and wind often determine the exact plans for the day and the anchorage for the night, making each sailing yacht cruise a truly unique experience. These are some examples of 2023 Caribbean cruises:
14-Night Cruise – Grenada to Grenada (February 5-19, 2023)
Guests board Chronos in Grenada and sail through the Tobago Cays to the island of Bequia and on to St. Vincent and the Grenadines. The ship anchors in St. Lucia, the northernmost point on the route, with views of the Pitons, two mountains rising from the island. Sailing to Mustique through gorgeous bays, guests enjoy shore excursions, swimming, or relaxing on the deck gazing at the scenery before returning to Grenada. Click here for more information or to book this sailing.
10-Night Cruise – Antigua to Antigua (April 5-15, 2023)
The ideal starting point for this trip aboard Rhea, Antigua offers more than 300 beaches. She sails among Barbuda, St. Barth, and Saba, smallest inhabited island of the Netherlands Antilles. Rhea continues towards St. Kitts & Nevis and Montserrat before arriving in Falmouth Harbour in Antigua. Click here for more information or to book this sailing.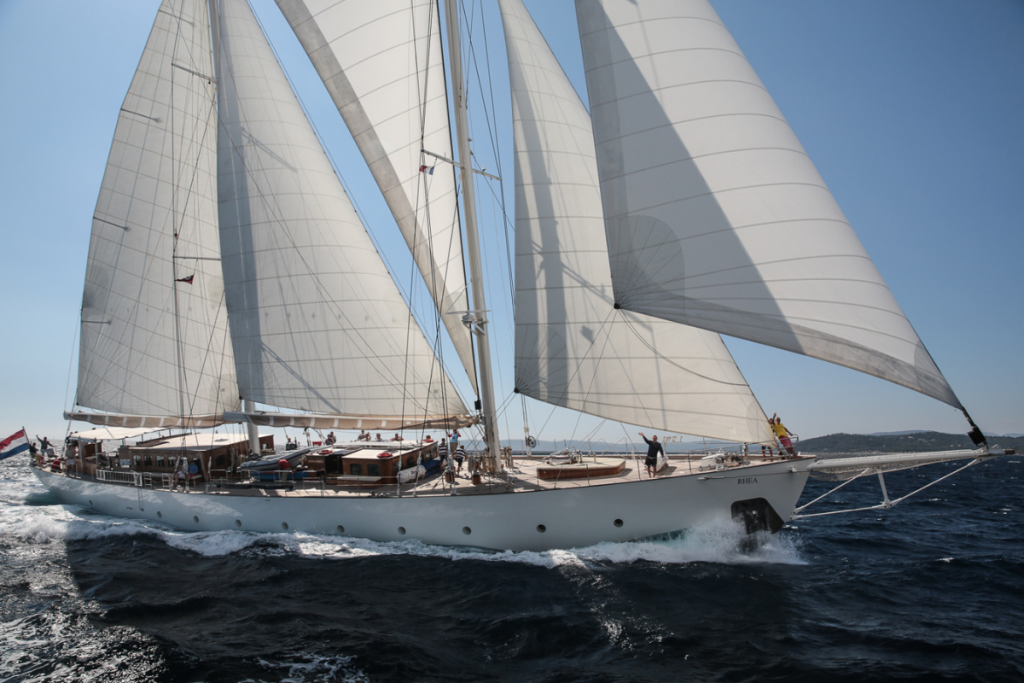 6-Night Cruise – Martinique to Antigua ( March 12-18, 2023)
Guests board Chronos in Martinique for the one way cruise through the Caribbean's Lesser Antilles. Passing Dominica, in the eastern Caribbean, Chronos continues to Iles des Saintes and Guadeloupe before sailing to Antigua's Falmouth Harbor. Click here for more information or to book this sailing.
7-Night Cruise – Santa Barbara di Samaná round trip (January 29 – February 5, 2023)
Rhea takes guests from the beautiful Dominican Republic town of Santa Barbara di Samaná, with its beaches, parks, and Caribbean style. In addition to swimming and sailing among the area's moderate trade winds, guests will most likely see humpback whales in the huge bay of Samaná during this time. The ship will pass Cayo Levantado, Les Valles, Los Haitises, Sánchez, and many of the lesser known parts of the Dominican Republic before returning to Santa Barbara di Samaná. Click here for more information or to book this sailing.
7-Night – St. Lucia to Grenada (December 27, 2023 – January 3, 2024)
This New Year's Eve sailing trip boards Chronos in St. Lucia, home of the Pitons, volcanic spires rising from the lush island. Chronos continues to St. Vincent & the Grenadines, to Mustique, through the Tobago Cays, and finally to Grenada, known as the "Spice Island." There's plenty of time to enjoy the clear blue seas and shore excursions. Click here for more information or to book this sailing.
Click here for more information or to book any of the above sailings.