A city brimming with optimism, bronzed bodies and mojitos. Home to Art Basel, a celeb chef-studded food festival, and countless DJ-fueled hotspots. An international city of the fabulous and almost-fabulous, Miami continues to seduce with its sultry mix of Latin culture, newfound food fame, and a healthy dose of art. Nestled between The Florida Keys and Ft. Lauderdale, Miami is part laid-back coastal village and part opulent jet-setting destination. If visitors are lucky, they'll get to experience both.
Miami, and South Beach in particular, isn't short on things to do — in fact, there are so many great places to go, see, and do that you'll need more than one trip to the Sunshine State to experience it all. But, if you're looking for culture, great food, and a good time we have the perfect weekend getaway planned in Miami.
FRIDAY
A splashy, sun-soaked resort, the W South Beach has always managed the delicate dance of being a luxe cosmopolitan hotel while also appealing to discerning travelers who prefer a bit of privacy and quiet. And despite a lively pool scene (especially on the weekends) where designer swimsuits are the norm and cabanas come with bottle service, guests who want to unplug and relax will find plenty of room to reset in the hotel's nicely-manicured groves with seating areas and loungers. In 2020, the hotel took advantage of the pandemic shutdown to pour $30 million into a revamp and the result is a refreshing glow-up, with a sophisticated and serene feel that pays homage to Miami's pastel-colored past while also feeling very of-the-moment. The 400 rooms here are the largest guest rooms in South Beach, each with balconies and expansive ocean views. The recent renovation gave the rooms a brighter feel with beach house-style millwork, natural oaks, neutral textures and a beige color palette with accents of soft corals and shaded teals. High-tech elements like circadian lighting with three preset mood modes and underbed lights are a futuristic flourish.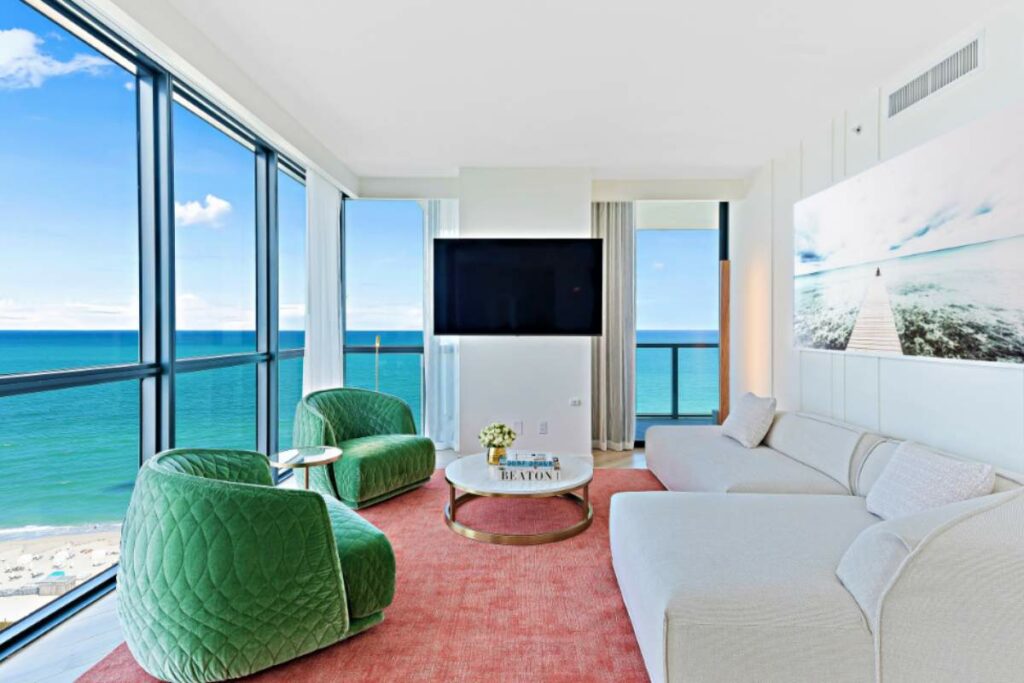 4:00 P.M.: BIKE TO SOUTH POINTE PARK
Hope on the hotel bikes at the W South Beach (or rent a Citibike at one of the many kiosks around town) and take the paved beach path (it's beautiful and where most people head out for a jog or stroll) along the coastline down to the southernmost tip of South Beach. This vast waterfront park features meandering paths and hills, a shaded playground and a refurbished pier that juts out into the crashing waves. Stop to say hello to the big cruise ships that pass by as they leave port — it's a local pastime.
Floating on the waterfront docks of the Miami Beach Marina, this longtime favorite gets lively during happy hour and on the weekends. The straw-thatched tiki hut bordering the pool offers a stunning view of yachts docked on the Atlantic while their infamous frozen Pain Relievers and Miami Vice cocktails take the sting out of a tough day at work. On weekdays from 4–8pm, happy hour kicks in with steep discounts on their raw bar (think peel-and-eat shrimp, oysters, and clams), beer and wine.
8:30 P.M.: DINNER AT QUEEN, MIAMI BEACH
Paying homage to The Paris Theater, which is now home to Queen, a Japanese-style grill that serves lavish and unique dining experiences. A place to see and be seen, with celebrity sightings often, every inch of Queen is as opulent as you might imagine: From lighting to backdrops, texture to sound, all five senses will be entertained. Reminiscent of European-style supper clubs, you'll experience world-class fare, art, style, and entertainment. Try the caviar crispy rice, house smoked bacon, and the hamachi tartlet to share.
SATURDAY
8:00 A.M.: BREAKFAST AT PURA VIDA
Whether you start your day with an oat milk latte with a double shot of espresso or a green juice, this macrame-embellished spot has you covered with all kinds of breakfast beverages and a menu of healthy eats to keep you fueled. Owned by husband-and-wife duo Jennifer and Omer Horev, every outpost of Pura Vida features the same Pinterest-worthy decor (neutral tones, wicker lanterns, blonde wood tables and flattering lighting) that has made the brand's 13 locations a hit with both the morning meeting folk the post-yoga set. Fresh-baked goods include nutella croissants and the all-day menu runs the gamut from avocado toasts, free-range egg sandwiches, fresh bagels, wraps, and bowls to organic açaí bowls, cold-pressed juices and superfood smoothies.
10:00 A.M.: FACIAL AT AWAY SPA
A soothing luxury oasis, this earth-toned spa at W South Beach specializes in bespoke treatments customized to your specific needs. Book the infamous HydraFacial that provides maximum anti-aging benefits. You'll find the spa so relaxing, you might want to double up on your treatments and opt for a mani/pedi, waxing, or fully relax with a Himalayan hot stone massage.
Dubbed an "outdoor museum" and the most-Instagrammed spot in Miami, this urban graffiti mural "park" features huge, colorful street murals by artists from around the globe. Its most famous artist is Shepard Fairey whose Obama "Hope" graphic catapulted him from street artist to household name. A visit to The Peter Tunney Experience, one of three galleries on site, is a must.
12:30 P.M.: SHOP AT TAJA COLLECTION
Started by two Miami entrepreneurs, this artisanal candle operation has become a cult favorite for discerning gift givers. The fully-customizable vases can be personalized with messages or images and the 100% soy wax candles are hand-poured in the studio in the back of the showroom. Top sellers include votives in the scents "Tall, Dark and Handsome" or "305 to My City."
Make your way to the Design District for an exquisite meal at this garden-inspired restaurant. Having earned a Michelin star, the menu by Culinary Director Alain Verzeroli is focused on utilizing the highest quality vegetables, seasonal ingredients, and fresh herbs, fitting seamlessly into the modern, light-filled interiors designed by award-winning Architect Pierre-Yves Rochon. The green and white design and ample foliage on the outdoor patio set the tone for the modern vegetable-driven menu rooted in classic French technique with dishes like pumpkin vichyssoise with grilled honey crisp apples and spelt risotto with charred Brussels sprouts.
3:00 P.M.: BEACH TIME
South Beach is known for its beaches and the W South Beach occupies an enviable spot in a less-crowded area of the beach. Head to the sand to catch afternoon rays and bask in the glorious coastline.
8:00 P.M.: DINNER AT HASALON
Major Food Group, which recently expanded their culinary reach in Miami, partnered with celebrated chef Eyal Shani to bring his concept to the former China Grill location on South Beach. The fourth outpost of this "clubsterrant"-style spot, expect table dancing, napkin swinging, and pumping tunes to get going around 9pm until closing. Early-bird diners who prefer a quieter atmosphere can focus on bright salads like the Beetroot Carpaccio covered in horseradish snow and "eggplant lines" with tahini. Main courses like giant lamb kabobs and the grilled fish with Salat Aravi keep the party going and work well when served family style to be shared.
SUNDAY
11:30 A.M.: BRUNCH AT MILA
Decadence is the name of the game at this indoor-outdoor restaurant with a stunning rooftop deck and a fashionable crowd that seems to have stepped off a plane from Ibiza. With a self-proclaimed " MediterrAsian" menu, this brunch is a multi-course experience, with dozens of dishes, all meant to be shared at the table and which can be re-ordered upon request. The Piper-Heidsieck champagne is flowing (as are Bloody Marys and espresso martinis) while a parade of brunch classics like eggs benedict, "egg in a jar," and avocado tartare hit the table alongside well-executed sushi, and fusion dishes like broccolini miso-tahini and robata lamb kofte along with of entrees including sweet-spicy soy glazed salmon, satay-glazed chicken breast. The dessert platter is a work of art, consisting of French pastries, sorbet and tropical fruit.
The PAMM opened in 2013 and quickly established itself as the city's go-to for contemporary art and stunning architecture. The Herzog & de Meuron-designed building features expansive galleries that display a variety of Latin American works as well as a massive outdoor veranda that houses the restaurant Verde with views of the surrounding Biscayne Bay. The outdoor sculpture garden with larger works by Latin American artists offers stunning views of the bay as well.
Miami Beach plays host to a chic bar scene. The menu here is as delicious as the vibe, with Mediterranean-influenced dishes like Turkish manti dumplings and eggplant kibbeh zucchini flower, baharat, chickpea batter, and house yogurt. Stay and enjoy their cold tea service or a few glasses of their take on an old fashioned—that is, if you're not too distracted people-watching at this enclave for the ultra-hip.
7:00 P.M.: DINNER AT RWSB
Close out the weekend with a relaxed dinner at the W South Beach's in-house restaurant. The alfresco patio surrounded by lush vegetation in an airy outdoor space is the perfect setting for Chef Chef Vincenzo Borriello's menu of fresh fish, grilled meats, and an impressive selection of signature pastas.
MONDAY
9:00 A.M.: BREAKFAST AT AVO MIAMI
A colorful Mediterranean menu — including a bevy of avocado dishes — rounds out the offerings at this Sunset Harbor mainstay. Opt for dishes of shakshuka, avo salmon toast topped with dill, and smoked salmon and Halloumi cheese fries with Moroccan ketchup. Lighter options include smoothies and fresh-pressed juices.
11:00 A.M.: CHECK OUT OF W South Beach