With the new live action Barbie movie out July 21, we've been collectively riding the (Malibu) wave of Barbie-mania all summer. Whether it's bubblegum pink Barbie ice cream at your go-to restaurant for dessert, a Barbie-pink swimsuit for sale online, a Barbie hair-do by your stylist, or simply endless discussions about which Barbie you prefer and how many accessories you own, the obsessive reflecting on Barbie-dom hasn't let up — and we don't expect it to stop anytime soon.
People love Barbies because these iconic dolls can be whoever we want them to be — from astronomers to artists. We don't know about your Barbie, but our Barbie likes to travel. We have all the Barbie travel accessories: the suitcases, the high heels, the Cosmo-hued camper, the convertible, and the right outfits to match the exotic destination (Hello, pink beret and pink poodle for that Barbie on holiday in Paris!). Likewise, we love the dream houses, a Barbie essential that first hit the market in 1962 with a cardboard studio apartment that cost a mere $4.22. For the next six decades the dream houses became more elaborate ranging from chic A-frames to cool condos to multi-story plastic Victorian mansions. By far, the most festive toy Barbie abode is Malibu Barbie's sprawling beachside dream house, a cotton candy-colored fantasyland, sure to be a part of the upcoming film.
While we know we can't fit our human bodies into a toy Barbie villa, the good news is that we can further channel Barbie this summer (and beyond) in a Barbie-inspired, people-sized house at a "Vacation Barbie" destination of your choice. Read on to find a Barbie-esque dream house worthy of your personal Barbie flair.
Ken's Room
Ever wondered what Ken's room looks like in Barbie's Malibu Dream house? Here's your chance to find out. To celebrate the release of the Barbie movie, directed by Greta Gerwig, the ripped surfer boy is listing his room in Barbie's jaw-dropping Malibu Dream House on Airbnb. He's hosting two individual stays for one night (for up to two guests each) on July 21 and July 22. The best part? You can book the room free of charge — and enjoy all the amenities offered at the real-life, over-the-top residence. "I call it my Kendom," says Ken.
Babecation House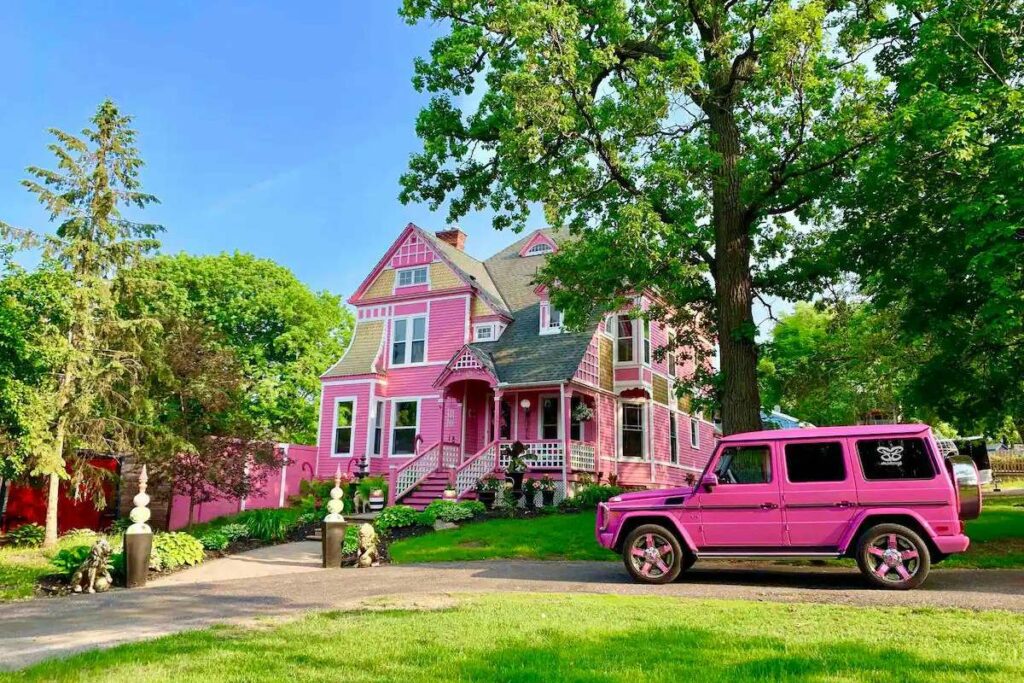 Sometimes Barbie likes her personal space, so this snazzy mansion in Hudson Wisconsin with seven and a half bathrooms and five bedrooms makes the cut. With enough room to spread out, the "Pink Castle Babe-cation House" (complete with hot tub and pool) has everything a gaggle of gals and guys need for a long weekend. With beach access, the Victorian masterpiece, built in 1883, spans 4,400-square, incorporating whimsical touches — such as a mermaid-themed living room and a dining room furnished with golden thrones.
Stylish Beach Haven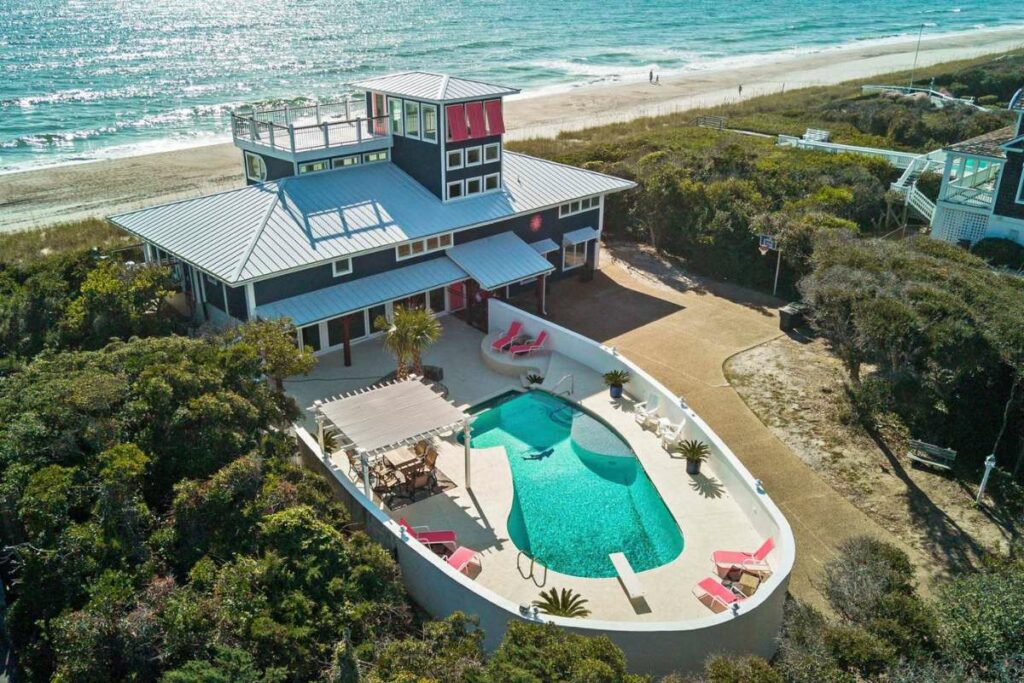 Known for its gin clear waters and sugary sand, The Crystal Coast stretches for some 80 miles in North Carolina's Southern Outer Banks. More earthy than Malibu, this unpretentiously beautiful place is where Barbie likes to go to relax with a good book and her closest allies. Naturally, she's Barbie, so she still wants to gadabout in style. Enter: Sunshine Estates, a Pink Champagne-colored sanctuary that vaunts an extravaganza of multi-level decks overlooking the ocean. An enormous pool, gas grill and loungers invite lazy outdoor repose. Or, chill indoors in any of eight airy bedrooms. Don't miss the cinema room, perfect for late night popcorn parties.
Pink House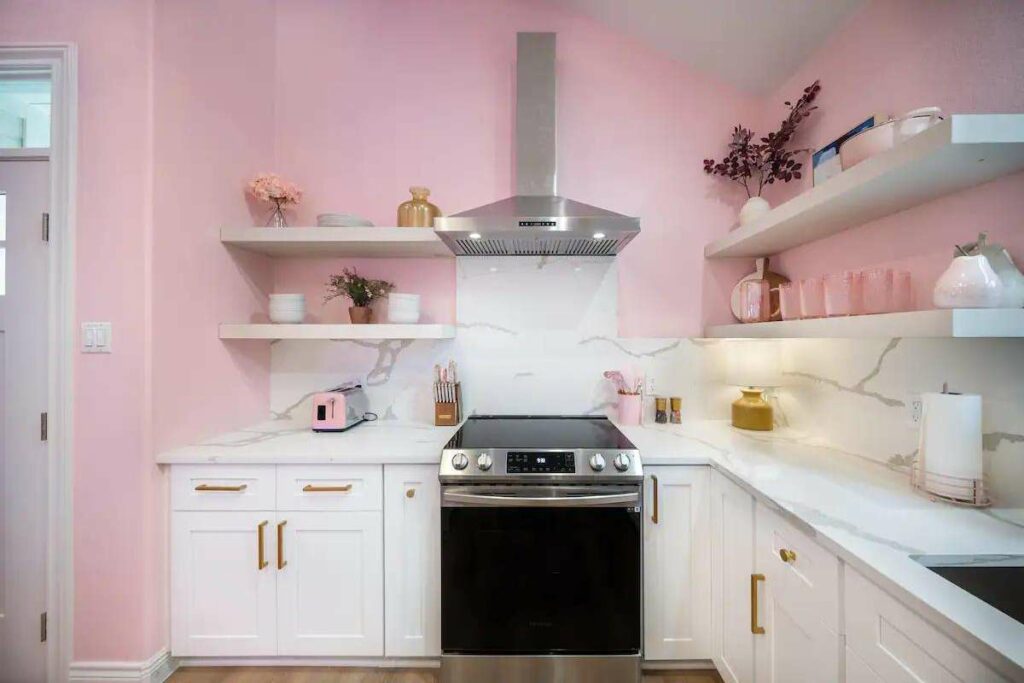 You'll get slumber party vibes at The Pink House, a seriously perfect oasis in uber cool Austin. Cozy and compact, in cranberry juice hues, it features two bedrooms that can house 12 close friends. The bedrooms, configured like stylish, urban-camp bunks are set in configurations that hold six comfy queen beds in total. Two bathrooms brandish walk in showers. Enjoy a screened porch, a spa, pool, fire pit, and epicurean kitchen that will make your troop want to stay in and cook.
Lake Abode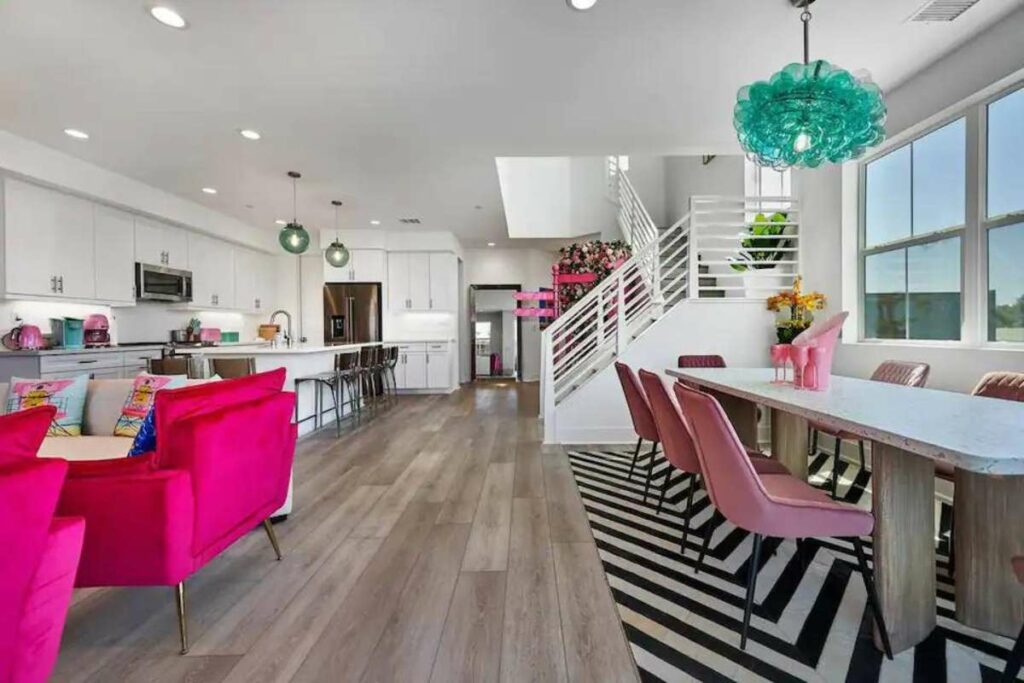 Lake loving Mattel buffs and their dolls will swoon over this five-bedroom waterside haven in Indio California. Set on the shore of Terra Lago, this dog-friendly Barbie-themed playground celebrates al fresco living. It boasts a spacious backyard, infinity pool, and plethora of inviting chaise lounges. Big windows bring lake views indoors where hot pink furnishings and pops of turquoise decor await.
Say Cheese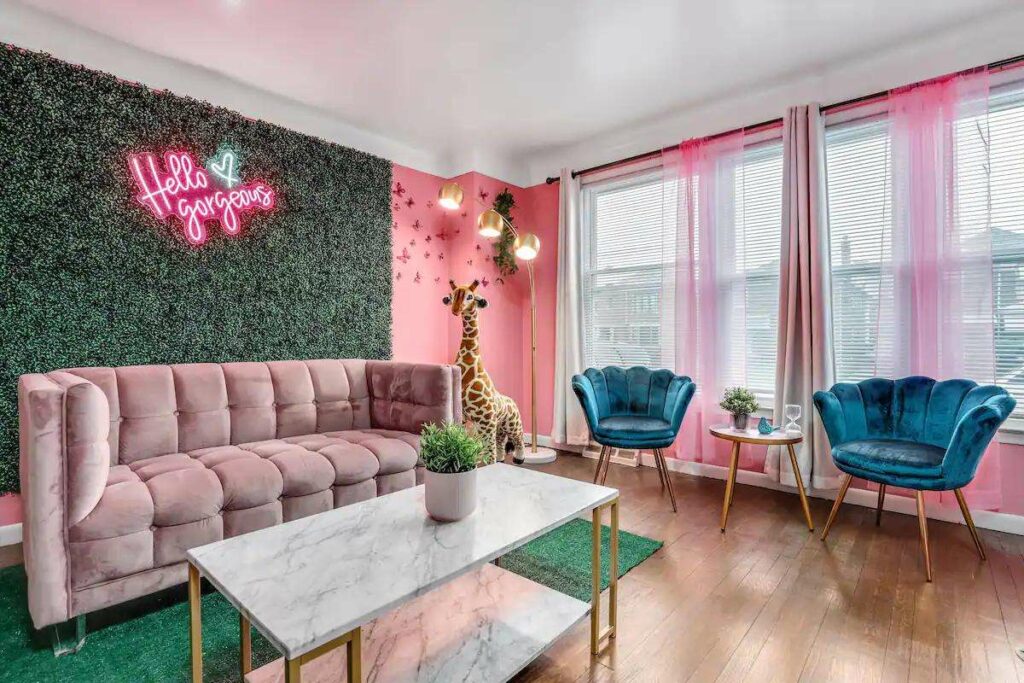 You'll start the weekend with a selfie beneath the neon sign that spells out "Hello Gorgeous," or maybe with your arms wrapped around the adorable stuffed animal giraffe, who towers in the corner. Reminiscent of Barbie's first dream house, this apartment-style hideaway in Detroit has candy pink walls and funky design touches meant to inspire hours of Instagram photo shoots. With three bedrooms (and five beds), the hangout has plenty of room for your most photogenic friends.
Emerald Isle Wonder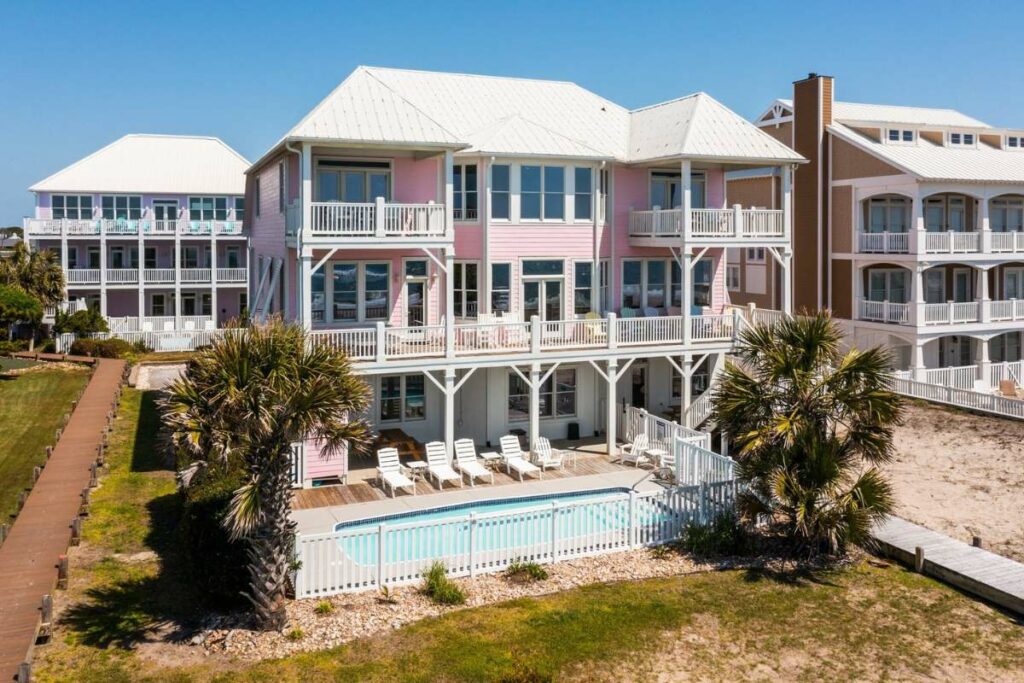 On North Carolina's Emerald Island Beach, Prince of Tides, as pink as a flamingo, lords over the beachscape, just minutes from Emerald Isle' town center. Its luxurious 5,200-square-feet encompasses seven bedrooms, seven and a half bathrooms, a heated, oceanside pool, a slew of Adirondack chairs, elegant common areas, and a party kitchen. Equipped with an elevator, the house also features a handicap-accessible bedroom and bath.