Spaciousness. A stellar view. Luxurious finishes. The biggest bathtub on earth. An outdoor shower for two. A private infinity pool long enough for laps. An actual kitchen. A piano. The entire top floor of a hotel. A palpable history. We all have our own idea of what constitutes an over-the-top suite. It might include all of these characteristics — or none. But one thing's for sure: We know it when we see it. We feel it when we stay there. We dream of returning again and again to unforgettable suites like the ones we share here.
Each hotel is being equally honored in no particular order.
Four Seasons Tented Camp Golden Triangle, Chaing Rai, Thailand
Deluxe Tent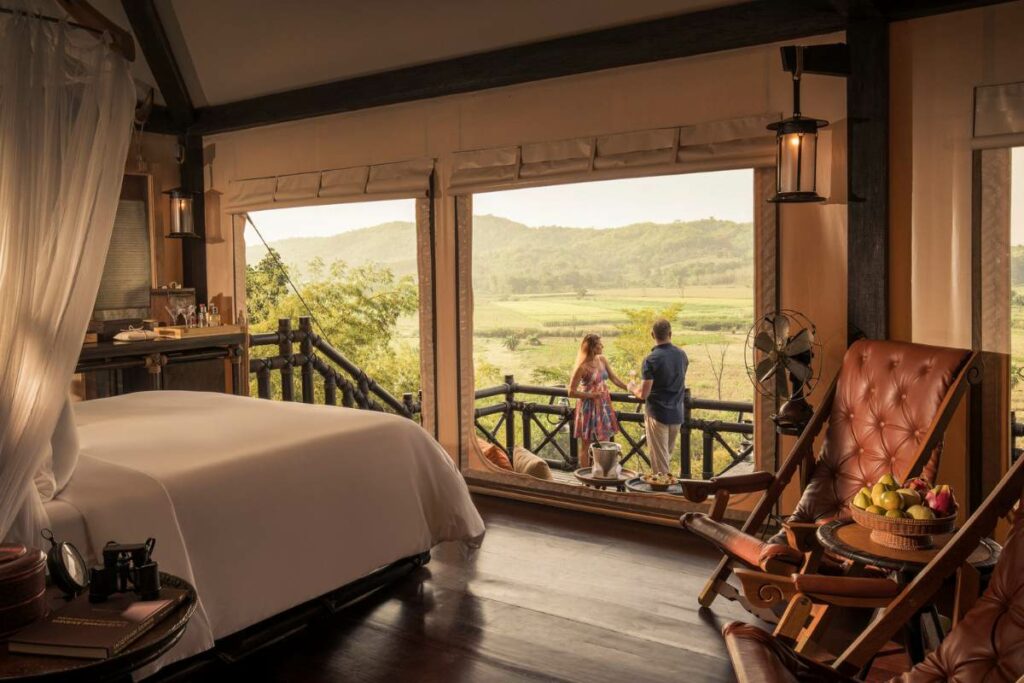 If part of traveling is the opportunity to be transported to fanciful spheres, then no destination achieves the gift of dreamy altered states as much as Northern Thailand's Four Seasons Tented Camp Golden Triangle, a 15-room fairytale of arrival by boat, winding pathways, misty mountains, ridge top tents — even a Tarzan-worthy suspension bridge across a ravine. There's even a lodge complete with swimming pool and restaurant — all set on a rescued elephant reserve. Created by the inimitable Bill Bensley, the resort at large conjures the nostalgic romance of the explorer era via both design and mood. Specifically, the Superior Tent, a 530-square-foot medley of bygone curios, antiques, and local hardwood, with a hot tub on the deck, a soaking tub incorporated into the common area, minibar full of Champagne, and views of jungles that stretch to Laos and Burma, will awaken your inner Hemingway.
Priced from $2,600 per night
Oberoi Amarvilas, Agra India
Kohinoor Suite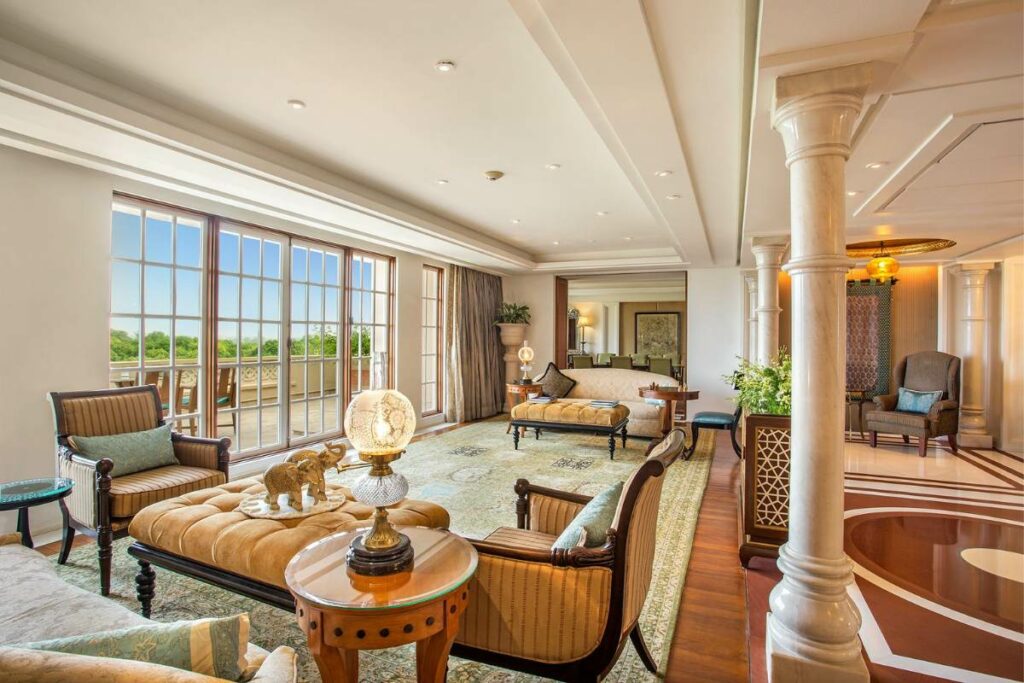 That sharp intake of breath you hear? That's you as you stare for the first time at the Taj Mahal at nearly touching distance from your balcony in the Kohinoor Suite at the ornately fantastical Oberoi Amarvilas. As it turns out, most rooms at this glamorous hotel have a view of the world famous monument, but in the multi-roomed Kohinoor Suite, enjoyed by luminaries like royals Kate and William, even the bathroom's round see-through shower and window-sited bathtub enjoy uninterrupted views. Newly built in Mughal style to mirror the glories of the 18th-century architectural landmark, the hotel occupies 9 acres of park-like grounds. The commodious, elegant suite, as priceless as the 105.6-carat diamond which lends its name, exudes grandeur with its symphony of marble, crystal, Indian antiques and artwork, hand-knitted rugs, and attentive butler service.
Priced from $14,000 per night
Hotel Barriere Fouquet's New York, USA
Presidential Suite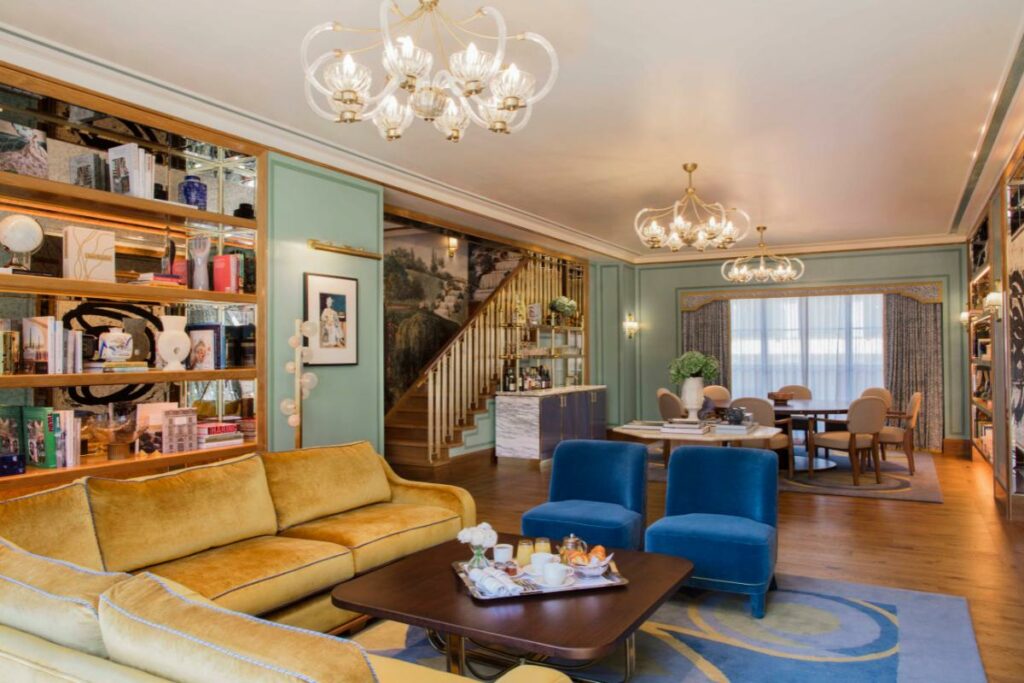 The art of French living — in all of its glamor and elegance — is being played out in Tribeca at New York's newly opened Hotel Barrière Fouquet. Inspired by the Art Deco movement, design extraordinaire Martin Brudnizki has meticulously worked his magic with Parisian flair. The lavish two-bedroom Presidential Suite, spanning the 7th and 8th floors (and complete with an executive office, dining and entertaining spaces), amplifies the grandeur. A massive Art Deco-style chandelier hangs in the stairwell, entry walls are covered in stunning floor-to-ceiling murals depicting exotic gardens and landscapes. The color palette is of blues, golds, and soft greens; while the the finishes are glossier, with lacquered walls and mirrored niches. Rich materials abound: burr walnut, gold leaf, antiqued mirrors, and Calacatta Oro marble. We love the artwork by both blue-chip artists (Richard Serra, Alice Neel) and emerging talents (Greg Jenkins, Dimon Buret). But the most over-the-top features are the three (yes three) private terraces, offering stunning views of New York, and the perfect setting for a moonlit tête-à-tête.
Priced from $20,000 per night
The Retreat at the Blue Lagoon, Grindavik, Iceland
Blue Lagoon Suite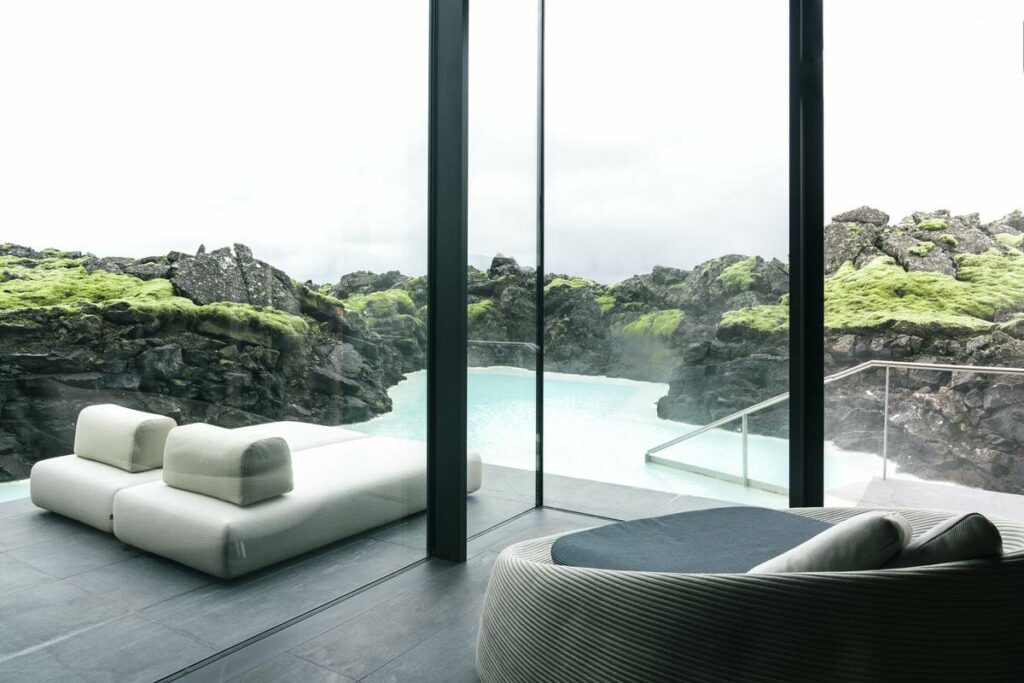 When the Retreat at Blue Lagoon opened in 2018, it provided at long last an upscale stay on the famous lagoon's banks, a place for tonier clients to lay their heads, a way for them to partake of exclusive private lagoons and services opened only to hotel guests. Cleverly and enchantingly designed architecturally to fuse with the surrounding 800-year old lava fields, its plethora of milky blue geothermal lagoons and carpets of spongy green moss, the stylistic Retreat boasts a sleek combination of Nordic and Italian design elements throughout. As the destination's coup de gras, the 2,500-square-foot Blue Lagoon Suite embodies all the joys and design rapture of the hotel, but taken up a notch. Bi-level, with a separate exterior entrance, floor-to-ceiling windows, two bedrooms, a dining area and kitchen, it features a personal lagoon off its terrace, as well as a dedicated spa haven, enriched with a fireplace, sauna, steam room, treatment area and all The Retreat's signature spa products.
Price upon request
Burj Al Arab Jumeirah, Dubai
Presidential Suite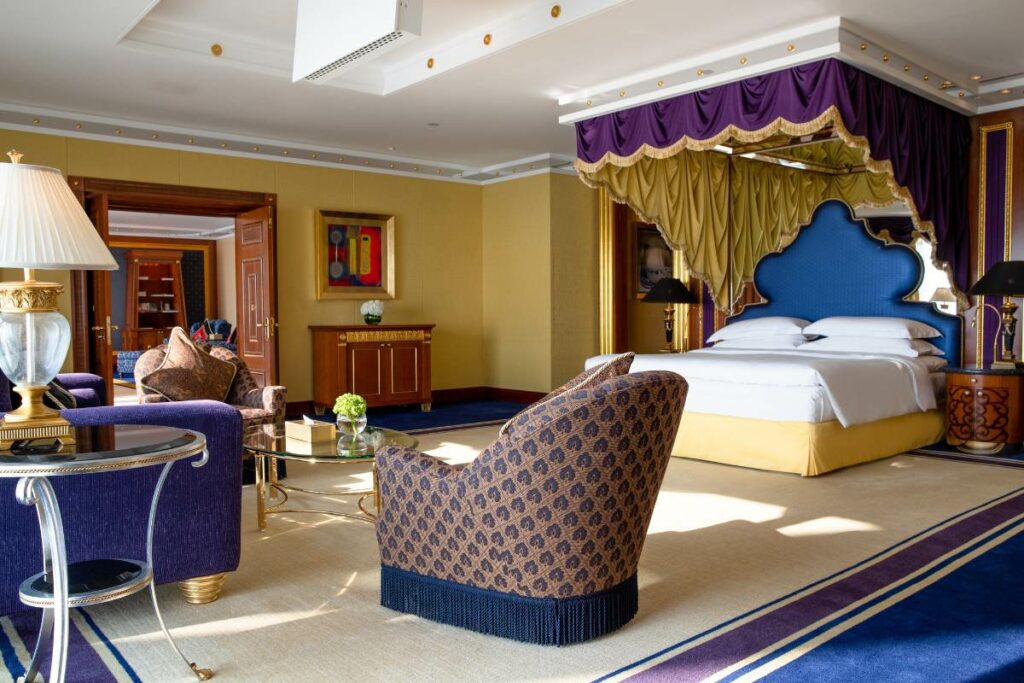 The sail shaped Burj Al Arab Jumeirah might be Dubai's most recognizable symbol. More than that, this ritzy hotel that rises from a man-made island in the Arabian Gulf reigns as one of the most luxurious destinations on earth. Opulence seeking jetsetters flock to its irresistibly magnificent interiors to wallow in a lavish array of elements, including thirty diverse types of marble, 21,000 square feet of gold leaf, and custom carpets from India and South Africa. But, the more than 7,000-square-foot, bi-level, two bedroom Presidential Suite takes things to another dimension. It captures attention with five head rain showers, and commodious bathrooms, separate living, dining and full kitchen, hot tubs, and more.
Priced from $25,000 per night
The Ritz Paris, Paris
Suite Coco Chanel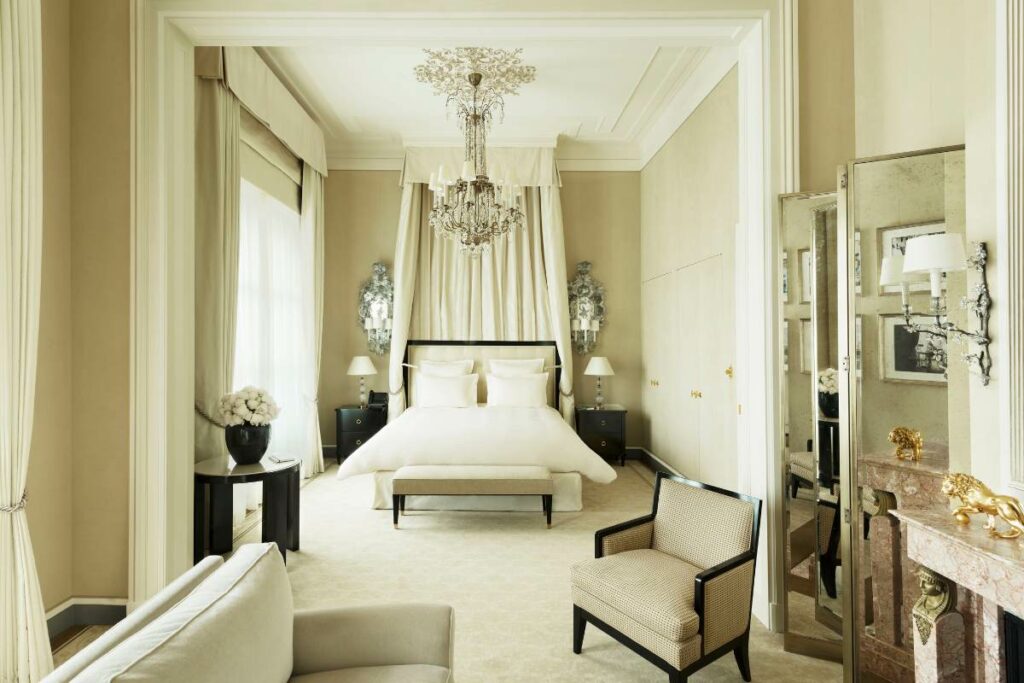 Cesar Ritz opened Ritz Paris in 1898 to realize his vision of luxury. As world's most service-oriented and extravagantly mollycoddling hotel, it set the standard of elegance and cachet with the first en suite guest rooms, air conditioning, electric light switches and king-size bathtubs. No guest request was too imperious. No wonder the divine Coco Chanel eventually forewent her own Parisian apartment to simply live at the Ritz. Today fashionistas and other pamper-craving, splendo- loving guests can book Suite Coco Chanel, which overlooks Place Vendôme. Encompassing 2,000 square feet, the sanctum conjures the designer's spirit (and Cesar Ritz's as well) with crystal chandeliers, Venetian mirrors, Coco's preferred Coromandel lacquer screens, and a palette of beige, black, and white — all enlivened by gold accents — as elegant as a Chanel suit. Look for the photos by Cecil Beaton and drawings by Karl Lagerfield that deftly adorn the walls.
Priced from $32,000 per night