From Bürgenstock Resort's astonishing infinity pool, which dangles over a cliff 1,500 feet above Switzerland's shimmering Lake Lucerne, I can easily imagine a future James Bond reeling on the perimeter in a choreographed joust with a foe — certain death for the loser. Of course, the Bond thoughts are no surprise. The 1964 spy thriller Goldfinger was filmed at this spellbinding retreat, founded as a sanctuary for better health in 1873. Surrounded by forests, mountain peaks and meadows, all beneath milky blue skies, the resort, long beloved by the beau monde from decades' past (both Audrey Hepburn and Sophia Loren lived amongst its glamorous nooks), has all the dramatic beauty and storybook mystique required as the setting for a gasp-making movie. Its circa 1905 Hammetschwand Lift, Europe's highest outdoor elevator, still draws adrenaline and James Bond junkies who first glimpsed the contraption in Goldfinger.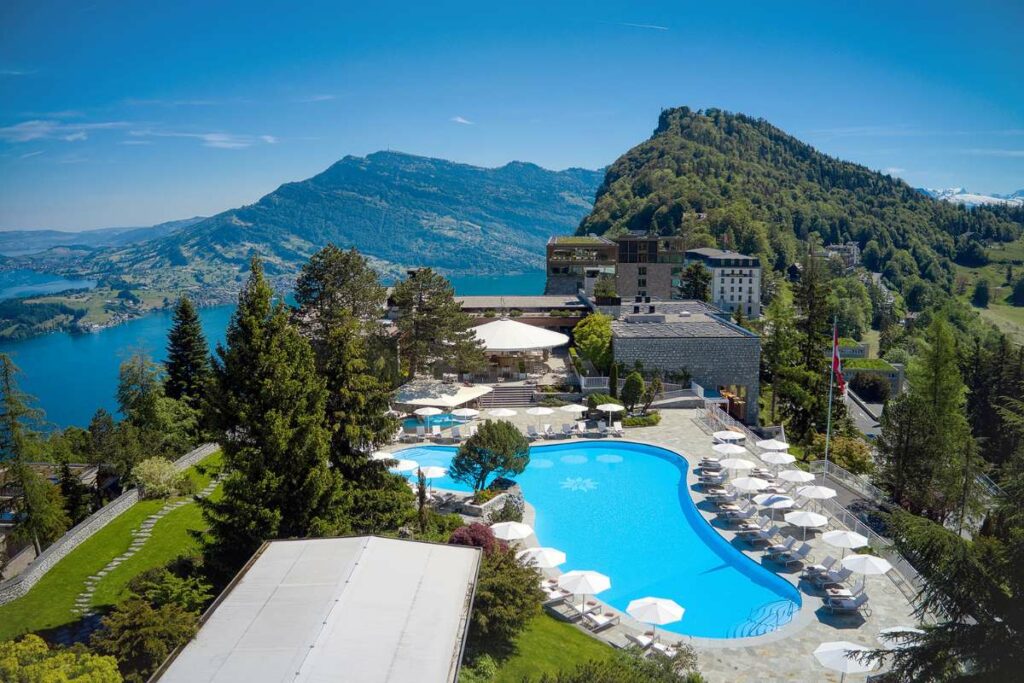 Recently redone and re-imagined to the tune of 560 million dollars, the Bürgenstock Resort reopened with much bravado in 2018, after some years of decline. With no expense spared, the renewed resort sprawls across 150 pine-peppered acres in a remote, high-altitude setting above the water. Though it can be accessed by a winding road, most guests will enter the enchanted realm via a boat ride from Lucerne, followed by a steep ascent to the mountain's summit by old-fashioned funicular. With its various modern buildings and rough hewn structures, restaurants, hotels, and huts, Bürgenstock Resort evokes the sort of tiny Swiss village one might come across unexpectedly on a hike through the Alps, replete with bell-wearing cows tinkling moo-full tunes, and sunsets that drop like lemons on fire to land on the pointy mountain peaks.
But, Bürgenstock Resort is much more than a simple hamlet. With various hotels, restaurants, spas, activities for all ages, a golf course, myriad hiking trails and lake access, the updated retreat has borrowed from the past and stepped into the future simultaneously. Keeping many of its legendary traits in tact — like the original Palace Hotel, Hollywood Pool, and the Frank Lloyd Wright-inspired spa — Bürgenstock also has added such au courant elements as the Matteo Thun-designed Waldhotel, which focuses on medical recovery and addresses goal-oriented programs, think: detox or weight loss. But the simply exquisite, cliff-hugging Bürgenstock Hotel itself, touted for its three-story spa and Instagrammable infinity pool, plus design-centric suites and formidable architecture, is the resort's true tour de force. Already having taken its place as one of the world's top luxury leisure and wellness destinations bar none, this hotel and the resort at large will please families, lovers reigniting their passion, outdoor enthusiasts, and wellness seekers.
Ten Things We Love About Bürgenstock Resort
The double-sided fireplaces in the rooms at Bürgenstock Hotel & Alpine Spa, one of the hideaway's newest hotels, and its most opulent. Submerge into the sunken bathtub to drink in the sweeping, lake-filled panorama.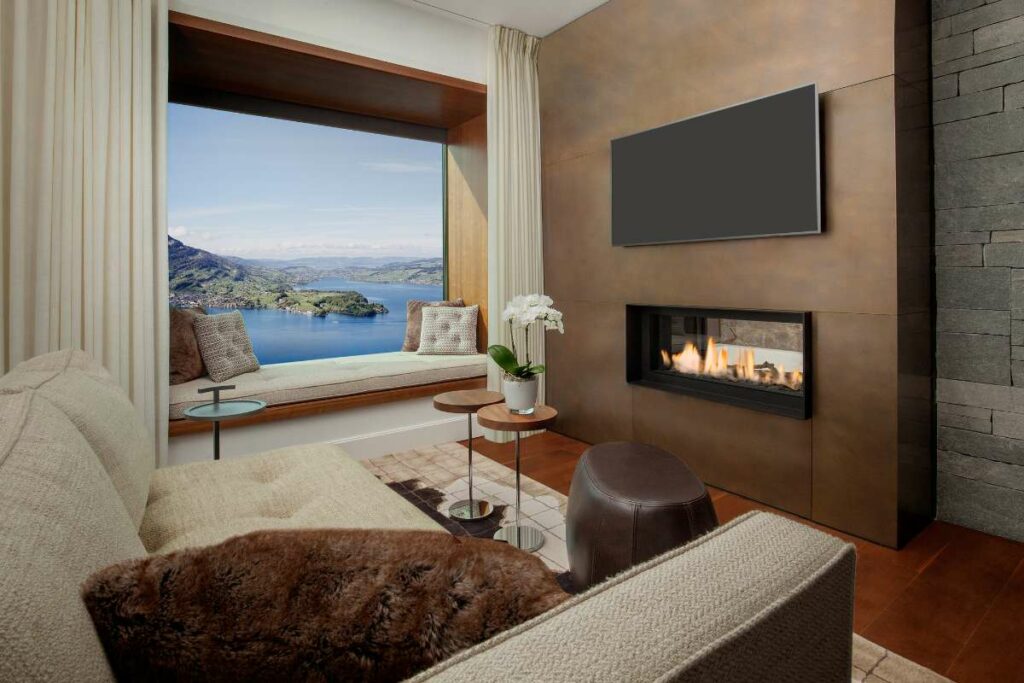 The Steinway piano that anchors the swish Royal Suite in the Bürgenstock Hotel & Alpine Spa. It's one of the resort's top suites.
The Private Spa Suite "Audrey" at the Alpine Spa, which pays tribute to Audrey Hepburn, complete with sauna and massage rooms. For customized spa days, it immerses guests into a personal den of hedonistic pampering.
The Alpine Spa and its Instagrammable Infinity Pool
Guests can spend hours exploring the three-level, more than 100,000 square-foot Alpine Spa, a haven of indoor/outdoor well being. With saunas aplenty (many with a view), the spa is a warren of rooms, crannies, and experiences, including hot and cold Kneipp baths, a saline floating pool meant to mimic the Dead Sea, an infrared cabin, waterbeds, nap pods, and both an indoor and outdoor pool. The aforementioned infinity pool reigns as one of the best on earth. Stunning treatment rooms offer a range of first-in-class treatments, many with Swiss-made products.
The Spices Kitchen Restaurant and its Chef's Menu
Jutting with architectural elan from Bürgenstock Hotel's facade, this extraordinary Pan-Asian restaurant vaunts a see-through floor that frames the lake and mountain views from a bird's-eye perspective. Order the Chef's Menu to light up the show kitchen. A journey of four different cuisines, the ever-evolving menu includes Thai, Japanese, Chinese, and Indian courses.
Lacy Scherenschnitte (or paper cutting) began in Switzerland around the 16th-century as a storytelling device. The well preserved art form takes a modern riff in the Bürgenstock Hotel's lobby, where a local artist uses the technique on a backdrop of American walnut wood.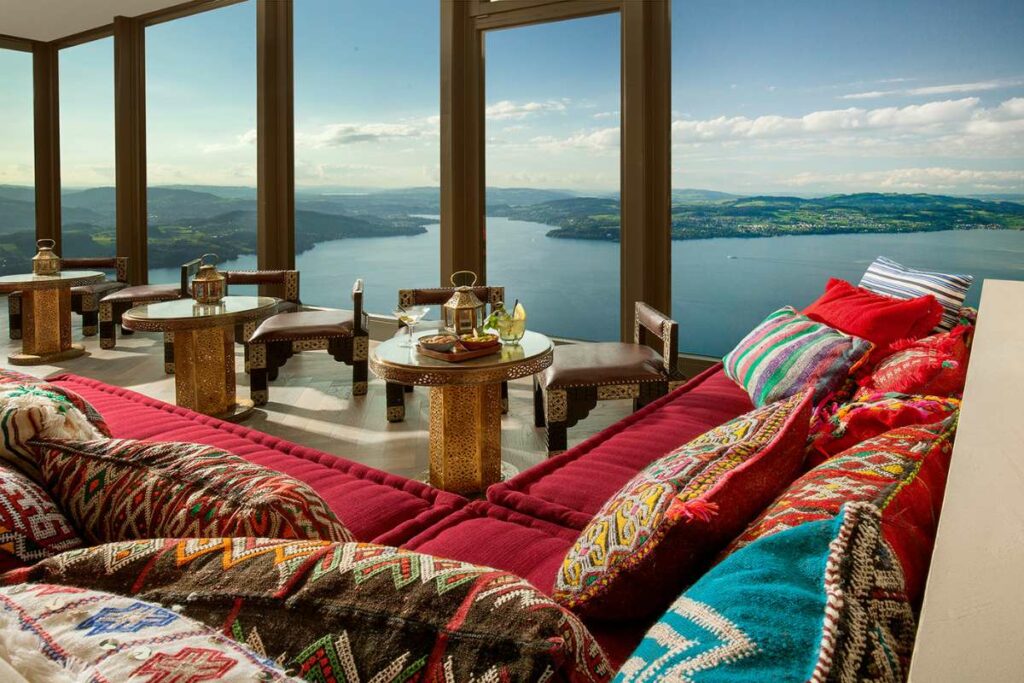 Seen in the Goldfinger movie, Bürgenstock's original "Hollywood" Pool lies outdoors, adjacent to the spa. Nostalgic, it dates back to the 1950s. With a speakeasy vibe, the Bull's Eye, an underwater bar, is wedged partially below it. The room features a round window that looks into the pool, so drinkers can watch swimmers in action or swimmers can peer at those imbibing.
Audrey Hepburn fans will want to seek out the tiny Bürgenstock Chapel where Audrey Hepburn married Mel Ferrer in 1956. She lived at Bürgenstock for 15 years.
The boat and funicular arrival that begins in Lucerne. Nothing conveys guests more quickly into a fantasy land as a vertical ascent up a steep mountain in a tiny box.
The abundant activities, which include world-class tennis courts beneath domes, a cinema for rainy days, excursions to museums in Lucerne, cooking classes, the museum corridor which shares the resort's history, kids' activities galore, a state-of-the-art fitness room, cave tours, and much more.