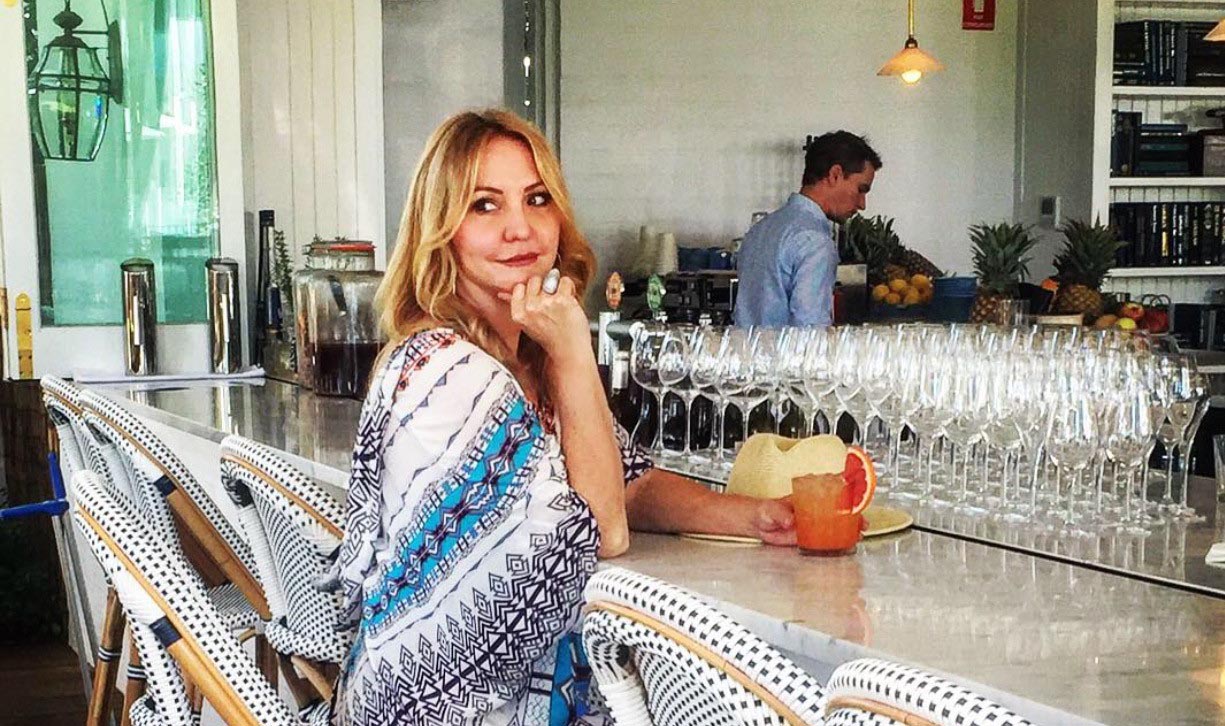 Melanie Brandman is the Travel Curator. Aussie born and bred, Melanie has spent her life gallivanting across the globe. With an editorial background from
Vogue
and over 25 years of experience in the luxury travel industry, Melanie has mastered the art of traveling.
Travel Curator is a luxury lifestyle publication curated with tried-and-tested favorites, under the radar experiences, and the best travel essentials. Here, Melanie shares all things worth traveling for – whether it be the perfect cup of coffee, a not-to-miss spa treatment, sweeping mountaintop view or an "of the moment" hotel.
Follow along as Melanie and Travel Curator's network of global contributors share the best of the best in travel.
Privacy Policy
Last Updated and Effective as of: August 2, 2018
Welcome to Travel Curator located at https://travelcurator.com/ (the "Website"). This Website is owned by Travel Curator LLC ("Company", "we", "our" or "us").We have created this Privacy Policy in order to demonstrate our commitment to your privacy. The Privacy Policy below discloses our practices regarding information collection and usage solely for the Website. This Privacy Policy does not apply to any other websites, apps or services provided by us, our affiliates or clients, unless it appears on such website, app or service.
BY USING OR ACCESSING THE WEBSITE, YOU SIGNIFY YOUR AGREEMENT TO BE BOUND BY OUR PRIVACY POLICY. IF YOU DO NOT AGREE TO THIS PRIVACY POLICY YOU MAY NOT ACCESS OR OTHERWISE USE THE WEB SITE.
Categories of Personally Identifiable Information That We Collect: We do not collect personally identifiable information about you unless you voluntarily submit that information to us, such as through our contact pages, by e-mail, by signing up for our newsletter some other means. The personally identifiable information which you may provide to us could include your name, address, telephone number and e-mail address.
Non-Personal Or Aggregate Information That We Collect: When you visit or use the Website, we may automatically collect certain non-personally identifying information about you, such as device type, demographic, when you are using our site and for how long, what content you are interested in. We may also aggregate information collected from our users (such as the number of users in a particular region or having particular characteristics).
Information Usage, Disclosure and Recipients: We may send your personally identifying information to other group companies, affiliates and third parties to help us process your personally identifying information for the purposes set out in this policy.
We will only use your personally identifiable information as described herein:
We will use personally identifiable information to send you newsletters that you sign up for.

We may use your personally identifiable information to respond to your direct inquires.

We will use your personally identifiable information to add you to our mailing lists and to send you emails from time to time.

We may permit our affiliate partners, vendors and subcontractors to access your personally identifiable information, but they are only permitted to do so in connection with performing services for us.

We may disclose personally identifiable information as required by law or legal process.

We may disclose personally identifiable information to investigate suspected fraud, harassment or other violations of any law, rule or regulation, or the policies for the Website.

We may transfer your personally identifiable information in connection with a bankruptcy proceeding or the sale, merger or change of control of Company or the division responsible for the services with which your personally identifiable information is associated.
Please note that if you specifically consent to additional uses of your personally identifiable information, we may use your personally identifiable information in a manner consistent with that consent. Finally, we reserve the right to supplement your personally identifying information with information we gather from other sources which may include information we gather from online and offline sources.
Cookies and Similar Technologies: We may store some information on your device or device hard drive as a "cookie" or similar type of file (such as clear gifs, web beacons, tags, and similar technologies that work on mobile devices) to collect data related to usage of the Website and for the purpose of facilitating and enhancing your communication and interaction with the Website. Such data may include, without limitation, the type of device you are using, your Internet Protocol (IP) address, what pages in the Website you visit and what links you clicked on, and your demographic information. We use this information to help us maintain and enhance the efficiency and usefulness of the Website and may use it and other non-personally identifiable information for the purposes described in this Privacy Policy, such as to serve targeted advertising to you.
If you want to stop or restrict the placement of cookies or flush any cookies that may already be on your computer or device, please refer to and adjust your web browser preferences. Further information on cookies is available at www.allaboutcookies.org. By deleting our cookies or disabling future cookies you may not be able to access certain areas or features of our Website or some of its functionality may be affected. Cookies and similar items are not used by us to automatically retrieve personally identifiable information from your device without your knowledge. Please be advised that certain third parties that are beyond the scope of this Privacy Policy, such as advertisers, may collect information in connection with the Website. We are not responsible for the acts or omissions of such third parties.
Security and Data Retention: We have undertaken and will undertake commercially reasonable efforts designed to prevent unauthorized access to user data retained in our servers, however, due to the inherent open nature of the Internet, we cannot ensure or warrant the security of any information provided online. We will retain your information for as long as your account or inquiry is active or as needed to provide you with the Website and for a reasonable time thereafter in accordance with our standard procedures or as necessary to comply with our legal obligations, to resolve disputes, and to enforce our agreements.
Other Websites and Social Networking Services: Our Website may contain links to other websites not maintained by us. Other websites may also reference or link to our Website. The inclusion of a link on the Website does not imply endorsement of the linked site by us. We are not responsible for the privacy practices of websites operated by third parties that are linked to or integrated with our Website, or for the privacy practices of third party Internet advertising companies. We encourage you to be aware when you leave our Website, or surf the Internet, and to read the privacy statements of each and every website that you visit.
The Website may integrate with social networking services such as Facebook, Pinterest, and Twitter. You understand that we do not control such services and are not liable for the manner in which they operate. While we may provide you with the ability to use such services in connection with our Website, we are doing so merely as an accommodation and, like you, are relying upon those third party services to operate properly and fairly. Please review their privacy statements to learn more about how they protect your privacy.
Information Relating to Children: Our Website is designed for those 18 years of age and older. We do not knowingly collect information from anyone under the age of 13 (or such other age as may be restricted under local law). If we are made aware that we have received such information, or any information in violation of our policy, we will use reasonable efforts to locate and remove that information from our records.
Changes to Privacy Policy: We reserve the right, at our discretion, to change, modify, add, or remove portions from this Privacy Policy at any time. However, if at any time in the future we plan to use personally identifiable information in a way that materially differs from this Privacy Policy, we will post such changes here or email you. We encourage you to periodically review the Website for the latest information on our privacy practices. You are bound by any changes to the Privacy Policy when you use the Website after such changes have been first posted.
Opt-Out: To opt-out of any future promotional messages from us, you should send an unsubscribe request to us at info@travelcurator.com. We will process your request within a reasonable time after receipt. However, we are not responsible for removing your personally identifiable information from the lists of any third party who has previously been provided with your information in accordance with this Privacy Policy or your consent.
As noted above, you may opt-out of or restrict the placement of cookies on your device or remove them from your browser by adjusting your web browser preferences. Please note that cookie-based opt-outs are not effective on many mobile devices. However, on many mobile devices, application users may opt out of certain mobile ads via their device settings.
United States: Our Website is maintained in the United States. By using the Website, you freely and specifically give us your consent to export your personally identifiable information to the United States and to store and use it in the United States as specified in this Privacy Policy. You understand that data stored in the United States may be subject to lawful requests by the courts or law enforcement authorities in the United States.
Contact: For questions or concerns relating to this Privacy Policy or your information, we can be contacted at: info@travelcurator.com.
Terms and Conditions
Last Updated: August 2, 2018
Welcome to Travel Curator located at https://travelcurator.com/ (the "Website"). This Website is owned by Travel Curator LLC ("Company", "we", "our" or "us").YOUR ACCESS AND USE OF THE WEBSITE IS SUBJECT TO THE FOLLOWING TERMS AND CONDITIONS (THE "TERMS AND CONDITIONS") AND ALL APPLICABLE LAWS. BY ACCESSING OR USING ANY PART OF THE WEBSITE, YOU ACCEPT, WITHOUT LIMITATION OR QUALIFICATION, THESE TERMS AND CONDITIONS. IF YOU DO NOT AGREE WITH ALL OF THE TERMS AND CONDITIONS SET FORTH BELOW, YOU MAY NOT USE ANY PORTION OF THE WEBSITE.
THESE TERMS AND CONDITIONS CONTAIN AN ARBITRATION AGREEMENT AND CLASS ACTION WAIVER. PLEASE READ THEM CAREFULLY, SINCE THEY AFFECT YOUR LEGAL RIGHTS.
Accessibility: If you are having any trouble accessing these Terms and Conditions or the Website, please contact us at info@travelcurator.com.
Authorized Use of Website: This Website is provided for your personal and non-commercial use and for informational purposes only. Any other use of the Website requires the prior written consent of Company.
Unauthorized Use of Website: You may not use spiders, robots, data mining techniques or other automated devices or programs to catalog, download or otherwise reproduce, store or distribute content available on the Website. Further, you may not use any such automated means to manipulate the Website, such as automating what are otherwise manual or one-off procedures. You may not take any action to interfere with, or disrupt, the Website or any other user's use of the Website, including, without limitation, via means of overloading, "flooding", "mailbombing" or "crashing" the Website, circumventing security or user authentication measures or attempting to exceed the limited authorization and access granted to you under these Terms and Conditions. You may not frame portions of the Website within another Website. You may not resell use of, or access to, the Website to any third party without our prior written consent.
Proprietary Rights: Company is the owner of or otherwise licensed to use all parts of the Website, including all copy, software, graphics, designs and all copyrights, trademarks, service marks, trade names, logos, and other intellectual property or proprietary rights contained therein. Some materials on the Website belong to third parties who have authorized Company to display the materials, such as certain third party licensors. By using the Service, you agree not to copy, distribute, modify or make derivative works of any materials without the prior written consent of the owner of such materials. Except as expressly set forth in these Terms and Conditions, no license is granted to you and no rights are conveyed by virtue of accessing or using the Website. All rights not granted under these Terms and Conditions are reserved by Company.
No Ideas Accepted: We do not accept any unsolicited ideas to this Website from outside the company including without limitation suggestions about advertising or promotions, or merchandising of any products, additions to our services, or changes in methods of doing business. We may already be working on or may in the future work on a similar idea. This policy eliminates concerns about ownership of such ideas. If, notwithstanding this policy, you submit an unsolicited idea to this Website, you understand and acknowledge that such idea is not submitted in confidence and we assume no obligation, expressed or implied, by considering it. You further understand that we shall exclusively own all known or hereafter existing rights to the idea everywhere in the world, and that such idea is hereby irrevocably assigned to us. Without limiting the foregoing, to the extent any such assignment is deemed unenforceable, and or to the extent necessary for Company to utilize your submission, you hereby grant Company an irrevocable, perpetual, world-wide license to use the idea and any associated intellectual property in any manner, in any medium now known or hereafter developed, without compensation to you.
Third Party Links: This Website may contain links to other Websites not maintained by us. Other Websites may also reference or link to our Website. We encourage you to be aware when you leave our Website and to read the terms and conditions and privacy statements of each and every Website that you visit. We are not responsible for the practices or the content of such other Websites.
No Warranties: WHILE COMPANY USES REASONABLE EFFORTS TO INCLUDE UP-TO-DATE INFORMATION ON THE WEBSITE, EXCEPT FOR THE EXPRESS WARRANTIES STATED ON OUR WEBSITE, COMPANY MAKES NO WARRANTIES OR REPRESENTATIONS AS TO THE ACCURACY OR COMPLETENESS OF INFORMATION ON THE WEBSITE. TO THE FULLEST EXTENT PERMITTED BY LAW, YOUR USE OF THE WEBSITE IS AT YOUR OWN RISK. THE WEBSITE, INCLUDING ALL CONTENT MADE AVAILABLE ON OR ACCESSED THROUGH THE WEBSITE, IS PROVIDED "AS IS" AND COMPANY MAKES NO REPRESENTATIONS OR WARRANTIES OF ANY KIND WHATSOEVER FOR THE CONTENT ON THE WEBSITE. FURTHER, TO THE FULLEST EXTENT PERMISSIBLE BY LAW, COMPANY DISCLAIMS ANY EXPRESS OR IMPLIED WARRANTIES, INCLUDING, WITHOUT LIMITATION, NON-INFRINGEMENT, TITLE, MERCHANTABILITY OR FITNESS FOR A PARTICULAR PURPOSE. COMPANY DOES NOT WARRANT THAT THE FUNCTIONS CONTAINED IN THE WEBSITE OR ANY MATERIALS OR CONTENT CONTAINED THEREIN WILL BE UNINTERRUPTED OR ERROR FREE, THAT DEFECTS WILL BE CORRECTED, OR THAT THE WEBSITE OR THE SERVER THAT MAKES IT AVAILABLE IS FREE OF VIRUSES OR OTHER HARMFUL COMPONENTS. TO THE FULLEST EXTENT PERMITTED BY LAW, COMPANY SHALL NOT BE LIABLE FOR THE USE OF THE WEBSITE, INCLUDING, WITHOUT LIMITATION, THE CONTENT AND ANY ERRORS CONTAINED THEREIN.
IN NO EVENT WILL COMPANY BE LIABLE UNDER ANY THEORY OF TORT, CONTRACT, STRICT LIABILITY OR OTHER LEGAL OR EQUITABLE THEORY FOR ANY LOST PROFITS, LOST DATA, LOST OPPORTUNITIES, COSTS OF COVER, EXEMPLARY, PUNITIVE, PERSONAL INJURY/WRONGFUL DEATH, SPECIAL, INCIDENTAL, INDIRECT OR OTHER CONSEQUENTIAL DAMAGES. FURTHER, TO THE FULLEST EXTENT PERMITTED BY LAW, IN NO EVENT WILL COMPANY BE LIABLE FOR ANY DIRECT DAMAGES EXCEEDING THE GREATER OF THE FEES YOU PAID TO COMPANY FOR PRODUCTS AND SERVICES IN THE TWELVE MONTHS PRECEEDING THE CLAIM OR ONE HUNDRED UNITED STATES DOLLARS.
Changes: All information posted on the Website is subject to change without notice. In addition, these Terms and Conditions may be changed at any time without prior notice. We will make such changes by posting them on the Website. You should check the Website for such changes frequently. Your continued access of the Website after such changes conclusively demonstrates your acceptance of those changes.
Indemnification: You agree to indemnify, defend and hold harmless Company, its employees, directors, officers, agents, business partners, affiliates, contractors, distribution partners and representatives from and against any and all claims, demands, liabilities, costs or expenses, including attorney's fees and costs, arising from, or related to (i) your use of the Website, (ii) any breach by you of any of these Terms and Conditions, (iii) any violation of applicable law.
Severability: If any part of these Terms and Conditions shall be held or declared to be invalid or unenforceable for any reason by any court of competent jurisdiction, such provision shall be ineffective but shall not affect any other part of these Terms and Conditions, and in such event, such provision shall be changed and interpreted so as to best accomplish the objectives of such unenforceable or invalid provision within the limits of applicable law or applicable court decisions.
Waiver; Remedies: The failure of Company to partially or fully exercise any rights or the waiver of Company of any breach of these Terms and Conditions by you shall not prevent a subsequent exercise of such right by Company or be deemed a waiver by Company of any subsequent breach by you of the same or any other term of these Terms and Conditions. The rights and remedies of Company under these Terms and Conditions and any other applicable agreement between you and Company shall be cumulative, and the exercise of any such right or remedy shall not limit Company's right to exercise any other right or remedy.
Governing Law; Dispute Resolution; Arbitration: The laws of the State of New York shall govern these Terms and Conditions. While we will make reasonable efforts to resolve any disagreements you may have with Company, if these efforts fail you agree that all claims, disputes or controversies against Company arising out of these Terms and Conditions, or the purchase of any products or services ("Claims") shall be exclusively submitted to binding arbitration (except for matters that may be taken to small claims court), no matter what legal theory they are based on or what remedy (damages, or injunctive or declaratory relief) they seek. This includes Claims based on contract, tort (including intentional tort), fraud, agency, your or our negligence, statutory or regulatory provisions, or any other sources of law; Claims made as counterclaims, cross-claims, third- party claims, interpleaders or otherwise; and Claims made independently or with other claims. The party filing arbitration must submit Claims to the American Arbitration Association and follow its rules and procedures for initiating and pursuing arbitration. Any arbitration hearing that you attend will be held at a place chosen by the American Arbitration Association in the same city as the U.S. District Court closest to your then current residential address, or at some other place to which you and Company agree in writing, and the arbitrator shall apply New York law consistent with the Federal Arbitration Act. YOU SHALL NOT BE ENTITLED TO JOIN OR CONSOLIDATE CLAIMS IN ARBITRATION BY OR AGAINST OTHER USERS OR TO ARBITRATE ANY CLAIM AS A REPRESENTATIVE OR MEMBER OF A CLASS OR IN A PRIVATE ATTORNEY GENERAL CAPACITY. You may obtain copies of the current rules, and forms and instructions for initiating arbitration by contacting the American Arbitration Association at using the contact information noted below.
American Arbitration Association
800-778-7879 (toll-free)
Website: www.adr.org
A single, neutral arbitrator will resolve Claims. The arbitrator will be either a lawyer with at least ten (10) years' experience or a retired or former judge, selected in accordance with the rules of the American Arbitration Association. The arbitration will follow the procedures and rules of the American Arbitration Association which are in effect on the date the arbitration is filed unless those procedures and rules are inconsistent with these Terms and Conditions, in which case these Terms and Conditions will prevail. Those procedures and rules may limit the discovery available to you or us. The arbitrator will take reasonable steps to protect your customer account information and other confidential information if requested to do so by you or us. Each party to the arbitration will bear the expense of that party's attorneys, experts, and witnesses, and other expenses, regardless of which party prevails, but a party may recover any or all expenses from another party if the arbitrator, applying applicable law, so determines. The arbitrator's award is final and binding on the parties.
ANY CLAIM YOU HAVE MUST BE COMMENCED WITHIN ONE (1) YEAR AFTER THE DATE THE CLAIM ARISES. AS NOTED ABOVE, YOU AND COMPANY HEREBY VOLUNTARILY AND KNOWINGLY WAIVE ANY RIGHT EITHER MAY HAVE TO A JURY TRIAL.
We will not choose to arbitrate any Claim you bring in small claims court. However, if such a Claim is determined by the court to be outside its jurisdiction, the parties agree that the dispute shall then be submitted to arbitration.
Privacy Policy: Use of the Website is also governed by our Privacy Policy, which is incorporate herein by reference.
Questions: Should you have any questions regarding these Terms and Conditions you may contact us at info@travelcurator.com