Cruises are a great way to explore a variety of destinations, and most experienced cruise fans will tell you that the main benefits are the ability to visit several destinations while unpacking just once and avoiding multiple airport and hotel transfers. Of course, there's also dining at different restaurants every night, scenery changing by the hour, onboard entertainment, and optional ways to experience each destination.
First timers who might approach their initial cruise experience somewhat tentatively have several ways to get their feet wet — figuratively, of course. River cruises are smooth if seasickness is a concern, expedition cruises are great first-time adventures, and if large vessels are intimidating, a week-long experience is a good way to start.
One important suggestion is to research and to book your cruise with a travel agent. You may even find one who specializes in cruises. There's no additional cost, but the advice, information, and support will be invaluable. With so many decisions to make from destination and cruise line to stateroom, excursions, and preparations, you'll want to have an expert to consult along the way. We've selected a variety of river, ocean, lake, and adventure cruises, mostly of shorter duration, to consider with some additional tips along the way.
Adventures by Disney, Rhine River Christmas Market Cruise
First-time cruisers bringing young family members along for the experience might consider an Adventures by Disney river cruise featuring AmaWaterways luxury and plenty to entertain everyone from ages four and up. The December holidays offer plenty to see and do, with different adventures each day. This eight-day, seven-night cruise aboard the 78-stateroom AmaLucia is staffed with Adventure Guides who provide supervised activities for young kids and teens, including a welcome party, movies, karaoke, Disney-themed trivia, and games. For adults, there are wine tastings and special dinners as well excursions that range from gentle to active and from kids-style to adult-friendly.
Starting in Basel, Switzerland with a Cheese & Wine welcome reception and a view of Basel's twinkling holiday lights from the top deck, the ship sails to Strasbourg, France with options to tour the Black Forest, ride a toboggan, or zipline or hike to Triberg Waterfalls. After dinner onboard, guests can visit a Strasbourg Christmas market for some sweets or gift shopping. The next day in Strasbourg, excursions include a canoe trip, canal boat tour, cooking demonstration, and after-dinner gift exchange, cookie decorating, and trivia challenge. Mannheim, Germany is next, followed by Rüdesheim where guests can bike or take a gondola ride to a mountaintop before cruising through the Rhine Gorge to see and hear about spectacular castles along the shores. At the end of the next day in Cologne, the captain's farewell dinner signals the end of the special week.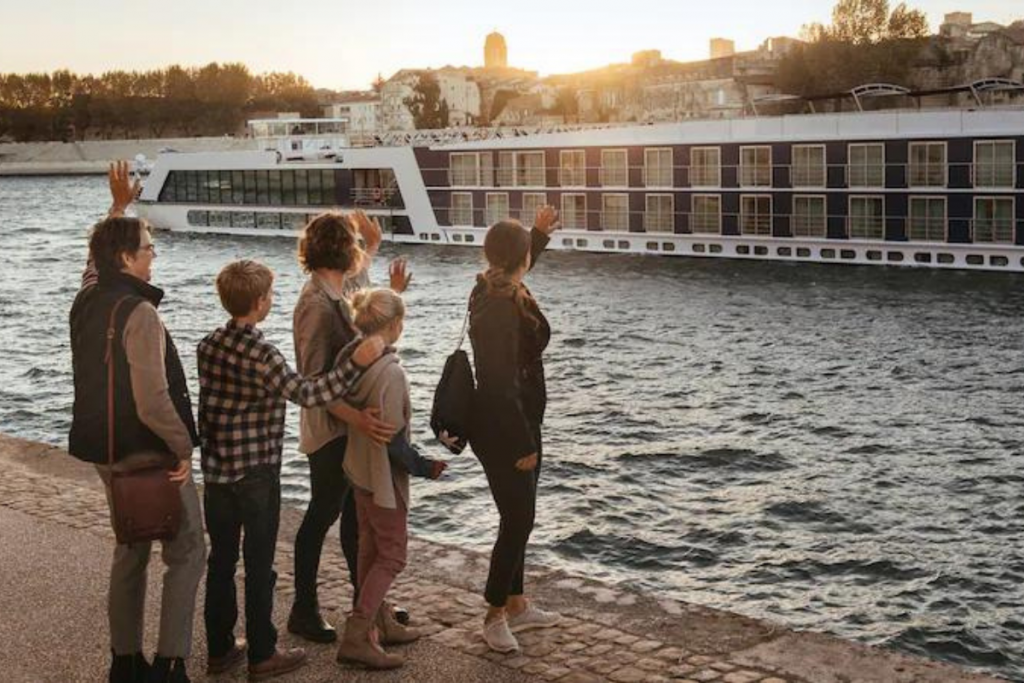 Cruisers with families will want to take advantage of kids' activities and the skilled Adventure Guides who lead activities like clog decorating in Amsterdam, a cheese-making demonstration, cookie decorating, and games. Gratuities for Adventure Guides are not included, and should be based on the quality of service with a guideline of $9-11 per day per person. Read up on the tours and use the convenient AmaWaterways app on a mobile phone or tablet for full details and planning. Some tours may be limited, so book ahead if there are any you don't want to miss.
National Geographic, A Voyage on the Hudson River: Fall Colors, Conservation, & Creativity
The National Geographic Sea Lion accommodates 62 guests in 31 outside cabins, all featuring windows, private bathrooms, and individual climate control. This cruise, boarding in New York Harbor, operates during October and November, the best time for autumn colors along the Hudson River. It's a great option for new cruisers — convenient boarding location, small number of guests, spacious ship, and excursions that offer a range of activities both onboard and in port, from kayaking to photography.
Passengers board in New York City and set sail in the evening with dinner aboard the ship. Next is a day of cruising through the Hudson River Valley. Guests can kayak among a wildlife sanctuary or enjoy views from the ship. The village of Catskill and the former home of artist Thomas Cole is on the itinerary for day three. The ship stops in Kingston where guests learn about the Clearwater sloop, named to the National Register of Historic Places, and singer Pete Seeger's efforts to care for the Hudson River. The ship passes Esopus Island and the 1839 Esopus Meadows Lighthouse. Storm King Mountain and the Art Center are next, and guests can enjoy the art of the Hudson River School painters or climb the mountain for magnificent views. The next day, the ship arrives in Sleepy Hollow, the setting for Washington Irving's tale, where guests can hear the legend and visit the author's gravesite. The ship arrives back in New York the following morning.
Joining this cruise is a great opportunity for New Yorkers to learn about a nearby area they probably haven't explored; for out of towners, it's a chance to spend a day or two in the city before or after the cruise. Brushing up on the history of the Revolutionary War and the role of the Hudson River as well as learning about the artists of the Hudson River School of painters would enhance enjoyment. As always, check to see what is included in the cost of the cruise and plan accordingly. No worries if you prefer not to explore in a kayak. The views from the ship will be stunning.
AmaWaterways, Danube River cruise — Magna on the Danube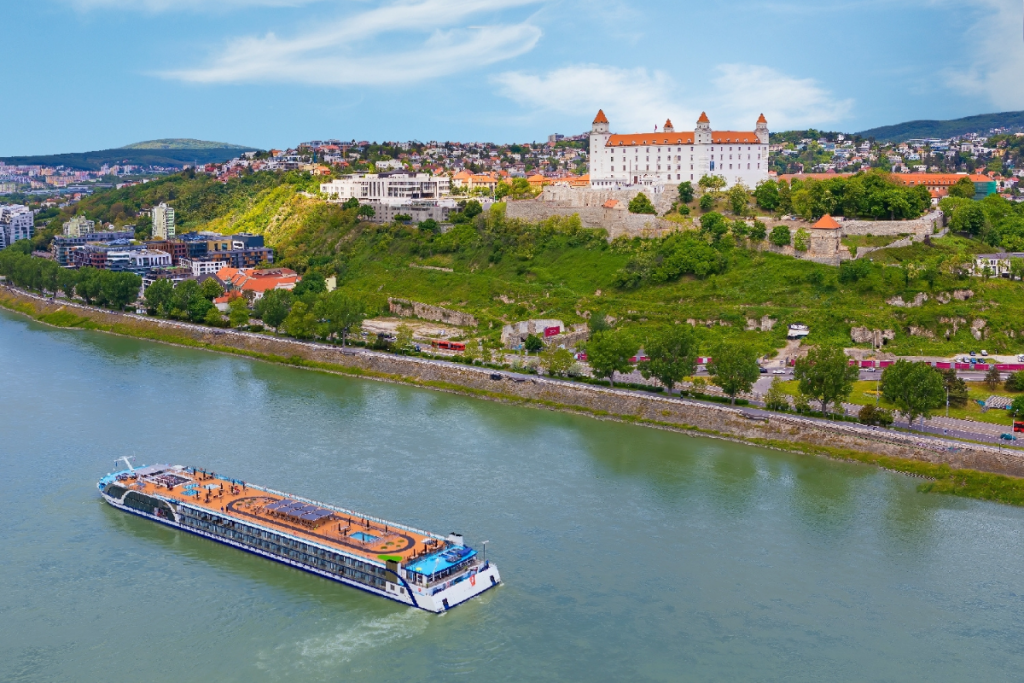 The Danube River is one the widest rivers in Europe, and AmaWaterways President Rudi Schreiner, the "Godfather of River Cruising," created AmaMagna, twice the width of traditional river ships, especially for cruising the Danube. The ship's size allows for additional lounge space, restaurants, spacious suites, spa, and fitness center, while still accommodating only 196 passengers. For a new cruiser, the additional space creates a comfort level, more dining options, and the choice of roomier staterooms.
The seven-night "Magna on the Danube" cruise begins in Budapest with time to explore the city before cruising past the stunning Parliament Building on the way to the next port of Bratislava in Slovakia. In Vienna, Austria, on the following day, guests can bike through the city or choose a group tour. The beautiful Wachau Valley and the village of Dürnstein's cobblestone streets are the next day's adventure. In Linz, Austria, guests can take a full-day excursion to Salzburg or explore the city center, passing the Mozart House. Tour Passau, Germany, and enjoy an afternoon Bavarian Oktoberfest-style celebration in the town of Vilshofen, where the cruise ends the following day.
Treat yourself to a spacious stateroom on the Violin Deck (upper level), and you'll enjoy an outside balcony, a great space for fresh air and privacy. Also, you can easily walk forward to the main lounge and the al fresco restaurant for casual dining with a great view. There's no need to sign up for every day's tour in advance (unless space is limited and you don't want to miss a certain one). You just might find you'd like to relax and spend time on the ship instead of heading out for a tour.
Uniworld Boutique River Cruise, Douro River Valley cruise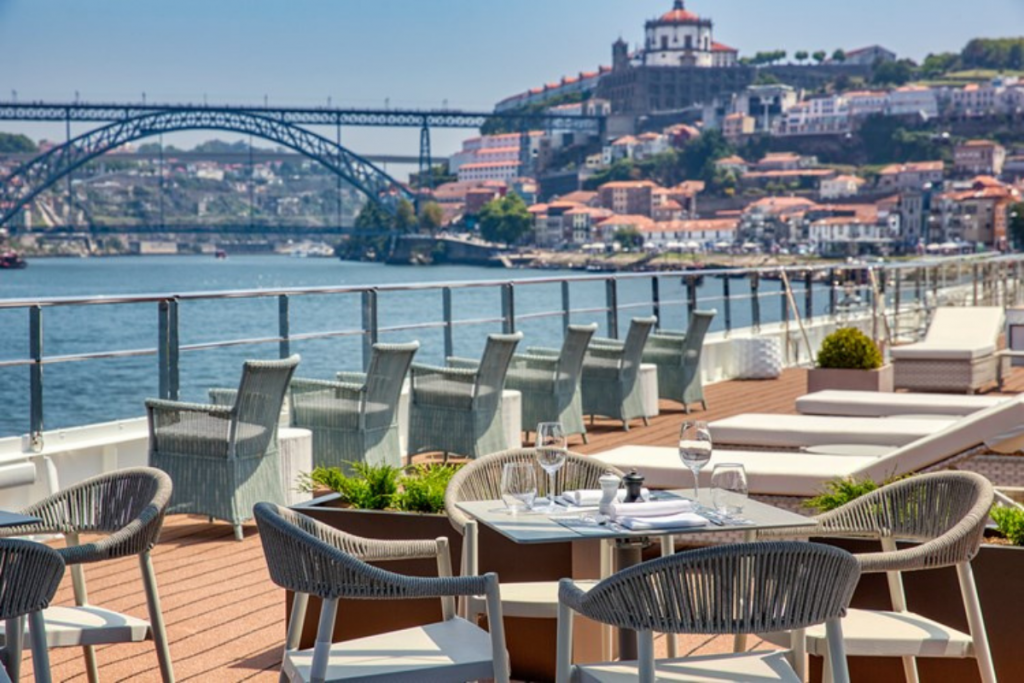 The all-new S.S. São Gabriel, specially designed and furnished for Portugal's Douro River, had her maiden voyage in 2021. Decor, cuisine, and style highlight the region's wines and ambiance, creating a sense of place onboard. First-time cruisers will appreciate the intimacy of 50 cabins and 100 passengers, as well as amenities like the top deck swimming pool, spa, fitness center, and spacious lounge. Meals are served on the Cape Verde Deck with open seating, rather than on assigned tables, as is the case on some larger ships. In addition, with the ship's butler service, guests can dine in their stateroom at the time of their choice. Specialty coffees as well as cocktails and beverages are available all day.
The eight day cruise starts and ends in the city of Porto, home of Port wine and a lovely historic area. On the day following embarkation, guests can choose a city tour, and in the evening, there's the Captain's Welcome Reception and Dinner. Next, in Régua and Pinhão, there's the Douro Museum and a chance to learn about Portuguese wines. Cruising during the day, you'll pass lush green hills, rows of grapevines, and small towns with tours that include vineyard hikes and lunches. The furthest point on the cruise is Salamanca, Spain, the historic university town, before the ship returns to Porto after stopping in Barca d'Alva, a charming village.
Instead of taking the organized half-day or longer tour, you might decide to sleep in or spend some time enjoying the lounge or rooftop deck. Should you decide to explore on your own while the ship is in port, your phone's GPS can be a helpful guide. Just be sure to check out as required and know the ship's schedule. Occasionally, the ship moves during the day, and the organized tours return passengers to the new location. On my recent cruise, a passenger took an afternoon walk on his own and was nearly left behind when the ship departed for another port in the same city. Fortunately, we hadn't moved far, and the ship returned to pick him up.
Regent Seven Seas, Retreat to the Mediterranean
This cruise aboard the Seven Seas Explorer boards in Rome and ends in Venice, so you can spend some additional time in either or both cities. The ship holds about 700 passengers and 366 suites, a comfortable size for a first cruise, smaller than most of the large cruise vessels. Onboard amenities include a spa, fitness center, and a variety of dining venues including a coffee shop, pool grill, and al fresco restaurant. Shore excursions, beverages, restaurants, mini-bars, and gratuities are included as well as airfare and transfers between the airport and ship. A saving of up to $2,500 is available for guests who arrange their own flights and transfers.
The seven-night cruise begins in Rome's port of Civitavecchia, and departs at 7:00 p.m. for Salerno on the Amalfi Coast, where you'll have all day with options that include a leisurely boat ride and lunch, a tour of Pompeii or Herculaneum, and wine tasting at a local winery. Then on to Messina in Sicily where you can tour Taormina, Mt. Etna, or choose a full or half-day van excursion. The ship arrives in Corfu, Greece, the next day with options that include a bike ride, beach, or wine tasting. Kotor, Montenegro, is next, where there's a cooking class, lake cruise, or a drive through the countryside before heading to Dubrovnik, Croatia. Game of Thrones fans can spot some filming sites, and others can stroll through Old Town or sail along the coast. The ship arrives in Venice for a full day and then disembarkation the following day.
You'll want to arrive in Rome and spend at least a day or two enjoying the city, adjusting to the time zone, and knowing that you'll be there in sufficient time to board the ship. Be sure to note the activity level of the excursions as you make your plans, and no matter which you choose, wear comfortable shoes for walking and remember sunscreen, hat, sunglasses for your daytime activities. Read the details about what is included in the cost of the cruise, and compare arranging your own transportation to having the cruise company book your trip. Also, use the ship's website as you choose your stateroom. For only a slightly higher cost, you can have more space and a larger balcony.
Norwegian Cruise Line, Pacific Coast – Los Angeles & Victoria to Vancouver
This five-day cruise aboard Norwegian Bliss will give new cruisers an experience aboard a large ship with about 4,000 passenger capacity. Starting in Los Angeles, the cruise gives out of towners a chance to tour the area for as many days as they wish, and for Angelenos, it's a convenient departure from the Port of Los Angeles. With two full days at sea before arriving in Victoria, British Columbia, new cruisers can explore the ship's amenities and get the feel of being aboard a full-size ship with more than a dozen dining venues, at least as many bars and lounges, Broadway-style entertainment, night clubs, spa, and a variety of observation decks.
On Day 4, the ship arrives in Victoria with optional excursions that include Butchart Gardens and tours that range from easy to moderate physical demands. The following day is spent in Vancouver with an overnight stay before disembarking the next morning. Spend some time in scenic Stanley Park, or tour the city on your own or with the organized group.
With staterooms on eleven of the 20 decks, and sizes ranging from studio to two-bedroom, learn as much as you can before selecting a cabin. Also, read up on the restaurants to decide if there are any you just don't want to miss. A reservation is a good idea, especially for smaller specialty dining spots. Part of the fun is chatting with other passengers, and experienced cruisers will most likely have some good advice for getting the most out of the experience.
Hurtigruten Expeditions, Galápagos Islands Expedition Cruise – Iconic Wildlife & Sublime Scenery
This seven-day cruise offers wildlife viewing and a wide variety of activities on a small, well-equipped ship, the MS Santa Cruz II, with a maximum guest capacity of 90 for an intimate adventure for first time cruisers. Naturalist guides and a full range of equipment are provided, and a medical officer is onboard at all times. The unique wildlife in the Galápagos is thrilling to see, and the trip combines adventure and relaxation. There's access to a Science Center, excellent restaurant, lounge, social areas, outdoor viewing decks, fitness room, and hot tubs.
The itinerary begins in Quito, Ecuador with two nights at a hotel and time to explore the city's Old Town, a UNESCO World Heritage site founded on an ancient Inca settlement.
On day two in Quito, guests will visit an open-air market and Cotopaxi National Park, home to active volcanoes and herds of llamas. On day three, a short flight takes guests to Baltra Island to board the ship and begin exploring, starting with a landing on Dragon Hill and a walk among iguanas and shorebirds. The next day on Isabela Island, guests explore the nesting places of birds like cormorants, penguins, and boobies, with an opportunity to snorkel among green sea turtles, fish, and seals. Then on to Fernandina for more wildlife viewing. A visit to the Charles Darwin Research Station and the giant tortoise breeding center is the highlight of day five. On Floreana, options include a dinghy ride, glass-bottom boat cruise, or snorkeling experience. The next day, a flight to Guayaquil returns guests to the mainland, where they can return home or continue with optional trips.
Just in case—even if you don't generally have motion sickness—take along some medication that might be helpful if you experience discomfort. Pack some lightweight rain gear, water shoes, hat, an extra swimsuit. Double check all the communications and advice from the cruise company as you prepare for the trip.
UnCruise Adventures, Unveiled Wonders – Costa Rica and Panama
This seven-night cruise is the ideal combination of a small ship experience and adventures to keep the first time cruiser entertained with a wide range of activities. The Safari Voyager accommodates 66 guests in spacious surroundings with expansive viewing windows, colorful art that reflects its Latin America destinations, local crew, and comfortable air-conditioned interiors. Luxury amenities, an elegant dining room, al fresco Sun deck meals, and both alcoholic and non-alcoholic beverages are included. All the equipment needed for adventure options include kayaks, paddleboards, snorkel gear, hiking pools, and inflatable skiffs.
Guests board Safari Voyager in José, Costa Rica, and the next day cruise to Curú National Wildlife Refuge on the Nicoya Peninsula to see exotic birds, deer, snakes, crocodiles, land crabs, howler and spider monkeys, and butterflies. There's time to snorkel, kayak, and paddleboard or just enjoy the blue sea from the ship. In the country's largest national park, Corcovado, wildlife includes monkeys, tree frogs, caimans, anteaters, macaws, coatis, and hummingbirds and a chance to explore on a hike through the jungle. In Golf Dulce the next day, cruise among islands of Coiba National Park for more wildlife exploration with experienced guides. Enjoy the scenery from the comfortable lounge or get closer on a skiff excursion before the thrill of passing through the 48-mile Panamá Canal among lights and a celebratory farewell dinner.
First timers can feel comfortable with the range of physical activity required for the cruise activities, and hikes range from casual walks to rigorous treks. Take advantage of the evening sessions that plan the next day's activities and even include individual meetings with the crew. Part of the fun of a small cruise is meeting other guests, and a daily cocktail hour, dinner, and educational presentation is an ideal opportunity for camaraderie—or relaxing quiet time on your own. Your choice, and no pressure either way.
Seabourn, Alaska Inside Passage & Glacier Bay
Alaska's glaciers, wildlife, and history are attractions for many cruisers who place the destination near the top of many bucket lists. Cruising is a great way to experience Alaska, and for many travelers, a first visit leads to more extensive land-based adventures. This week-long cruise combines time at sea aboard the 229-suite Seabourn Odyssey and a variety of excursions in port, an ideal combination for both new and experienced cruisers.
The ship departs from Vancouver, British Columbia, and then transits the Seymour Narrows on the way to Queen Charlotte Sound and a second day at sea with stunning views as well as an opportunity to explore the ship. In Ketchikan for a day, options include a guided motor coach trip to the Totem Heritage Center and a recreated Native Alaskan village, an entertaining lumberjack show, a coastal cruise to an oyster farm, and a zipline adventure.The next day, the ship cruises up close through a cluster of islands and then on to Sitka for a day in the historic town with opportunities to hike, bike, or boat to a nearby volcanic island. Beautiful Glacier Bay is the next destination, with vast glaciers, rainforest, and wildlife that includes bears, wolves, moose, eagles, harbor seals, and whales. The next day at the Inian Islands, guests can tour by kayak or zodiac or enjoy the scenery from the ship before cruising to Icy Strait Point where excursions include a Mountaintop Gondola and tram ride through the Tongass National Forest, Jeep adventure, and the world's largest zipline. The cruise ends in Juneau, Alaska's capital, where guests can explore the Mendenhall Glacier, board a whale-watching boat, or take a helicopter tour before heading home.
This luxury cruise line features staterooms that range from about $5,000 to $15,000 a night, and optional excursions are at additional cost. Reviewing stateroom descriptions and excursion details up front will help get the best experience for the amount your budget allows.
American Queen Voyages, Splendor of the Great Lakes
A cruise on the Great Lakes is an ideal way to experience a variety of midwestern cities as well as time aboard a comfortable ship with only about 200 passengers, several lounges, restaurants, and outdoor decks. These bodies of water can be as fascinating as rivers and oceans, and they're conveniently close to home for most U.S. residents.
The cruise begins in Chicago with a hotel stay where a representative assists with reservations for dining, sightseeing, and entertainment. After boarding the next morning, the ship cruises on Lake Michigan to Mackinac Island for lunch at the iconic Grand Hotel or a tour of lighthouses. The next stop is Sault Ste. Marie for a tour of the countryside of the waterfront communities in the city that is part of both Michigan and Ontario. Cruise through Georgian Bay and pass the world's largest freshwater island, Manitoulin before heading to Lake Huron and then on to Detroit for a tour of the Henry Ford Museum, the Detroit Institute of Arts, or the Charles H. Wright Museum of African American History, or the city's historic district. In Cleveland the following day, options include the Cleveland Museum of Art and the Rock & Roll Hall of Fame. Day 10 in Niagara Falls presents a chance for a catamaran ride to the base of the falls, a wine tasting, or a relaxing drive along Niagara Parkway. The cruise concludes the next day in Toronto with an option to spend more time in the city before returning home.
As always, become familiar with optional excursions and decide in advance whether to spend additional time pre or post-cruise in Chicago or Toronto.