You may be hard-pressed to find an individual who doesn't profess to love a good day at the spa. Serene spaces designed for healing, well-manicured gardens oozing zen vibes, organic fruit-flavored water paired with healthy noshes. What's not to love? I would count myself among the masses of enthusiastic spa-goers and maybe even the first to raise their hand for a day of indulgence. Such was the case on a recent assignment — a week in Northern Italy to explore two extraordinary spa properties from the famed Lefay Resorts Collection. (A clear no-brainer, of course.) However, upon receiving my itinerary for this dreamy week of relaxation I suddenly felt the pangs of anxiety set in — maybe I'm not as spa-eager as I thought? What I assumed to be a week of facials, massages, and dips in surrounding pools was, in fact, filled with an action-packed schedule of words I had never heard of and treatments that sounded… intense. Despite my trepidation, I headed to Italy to embrace the healing across two acclaimed properties.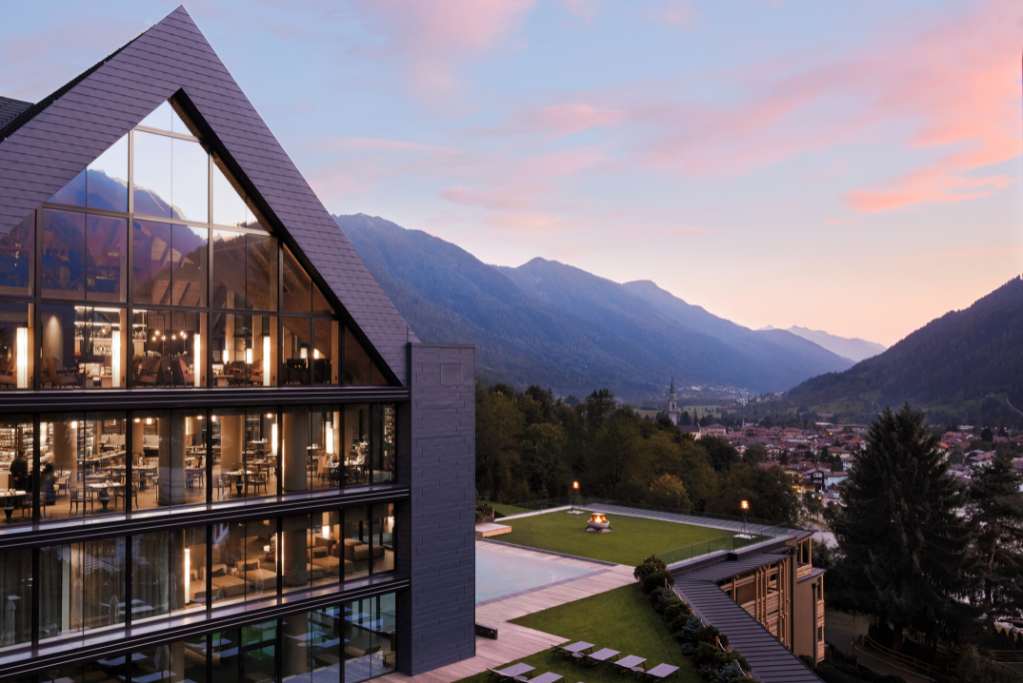 FIRST STOP, DOLOMITES
Sustainably Suite
My adventure began at Lefay's newest resort, unobtrusively set in the Dolomites region of Italy. Teetering on the border of Austria, the winding road leading up to the 88-room modern marvel was dotted with charming cottages that feel plucked from the Austrian countryside, giving little to no hint of their Italian heritage. Feeling at once part of the landscape and architectural wonder, Lefay Resort & Spa Dolomiti is located in Pinzolo, home to the largest ski area in Trentino, Madonna di Campiglio. Framed by mountain vistas, the property hosts technologies that reduce energy consumption and emissions while paying close attention to the social and economic development of local communities. And after a two-hour car journey from Milan's Linate airport, the impressive modern facade greeted me with a refreshing arrival drink in the lounge bar overlooking the outdoor pool.
Open (Adventure) Minded
In lieu of hitting the slopes, I was presented with the opportunity to embark upon a vertical climb. Call me crazy, but a vertical-anything is usually a hard pass for me. However, when in Northern Italy… I decided to go for it. I met my wonderful guide, Enrico, and pleasantly learned that my walk was a bit more circular than it was vertical. I was guided throughout the town of Pinzolo alongside the River Sarca, picking up interesting tidbits about the architecture and customs in this region of Italy. And then was led uphill to see an aerial view of the village. We walked through the forest a bit and that was, in fact, vertical, but crisp mountain air provided the pep I needed to push through and before I knew it we were back at the resort. It was a beautiful opportunity to see the storied town.
Body of Work
After my excursion around town, I envisioned wading in one of the resort's many pools or perhaps a massage to loosen up tight muscles. Neither were on the agenda. Next on my list was sauna stretching. For the record, I love a good sauna session, but usually for about 5-7 minutes and then I'm ready to move on. This was 30 minutes of being active in a sauna! Though I went in with an open mind, I was also rehearsing my I don't think I can go on speech before meeting back up with Enrico again. He ushered me into a private sauna where he began to talk through the stretching with me, which he equated to a kicked-up version of yoga. In between flowing from one stretch motion to another, Enrico would drop essential oils over the hot rocks and waft the scent around the room with an oversized fan. The blast of aromas and refreshing air were enlivening especially when combined with the soft cello and piano music that were distinctly different from ordinary spa tunes. And for the finale, he handed me a delicate ice sphere, instructing me to use it to scrub my body, starting with the soles of my feet all the way up to my arms and shoulders. Dare I say, the experience rivaled my most enjoyable massage.
Mud Meets Salt Magic
After all that stretching it was finally time to take a plunge in the pool, right? Well, sort of. I headed to the Salt Cave for my next treatment. The mysterious, dark space was extremely private and I was shown to my own high-temperature pool, around 96-100F, which allows the body to absorb the trace elements and minerals from the alpine salt dissolved in the water. It has a draining, detoxifying, and relaxing effect that is so meditative and serene. After my float, I headed to a mud massage, which admittedly I was excited for. In these rituals, the essences combine with an aroma and terrestrial power of various muds made using rich sulfate clays and Montmorillonite. The process entailed me laying on a metal surface covered in plastic — slightly morgue-like vibes — for the mud application. Once I was slathered, I was wrapped up like a burrito and waited with anticipation of what was to come next. Slowly the plastic filled with water and the bottom of the table dropped out from under me. Stimulation of the facial energy points along with Chinese medicine's meridians move the energy in the body that starts to circulate freely. It was a strange sensation that lulled me into a peaceful and utterly relaxed state. Turns out, sometimes you have to levitate to get grounded.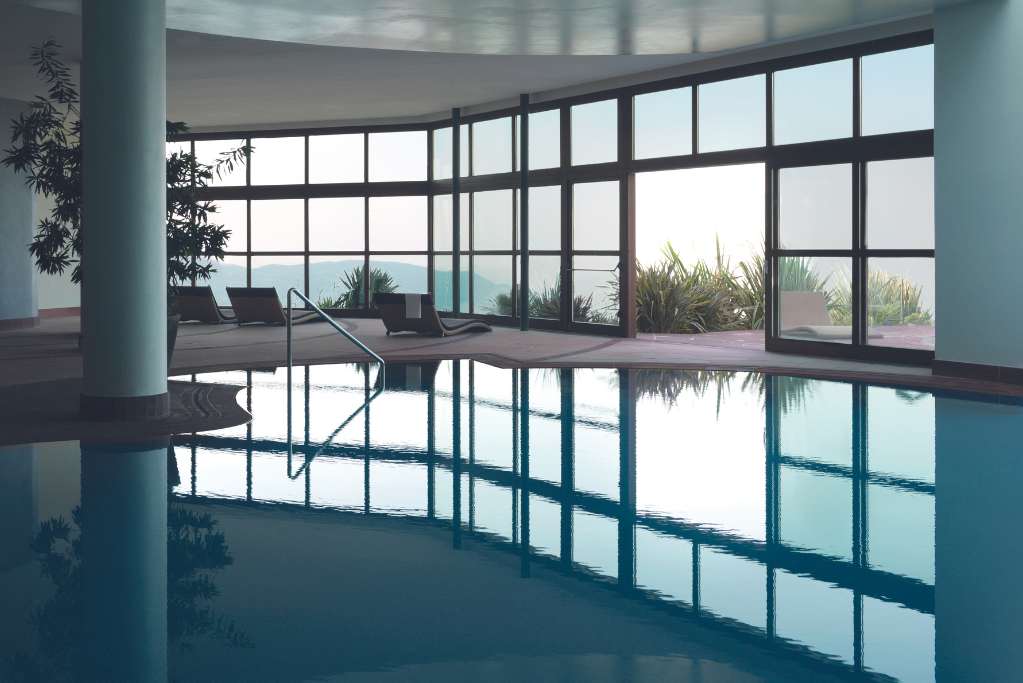 LAKE GARDA BOUND
Land of Lemons
Often overshadowed by its celebrity-clad lake to the south and famed southern coastline, Lake Garda felt like a hidden local hideout flecked with classic lakeside towns that seemed to get more quintessentially Italian as we went along. Upon arriving at the flagship Lefay Resort & Spa Lake Garda location, after a winding journey high above the lake, the gentle hillside location revealed itself through mature flora and fauna that envelope you instantly. Known as the Riviera dei Limoni, the resort echoes the sustainable efforts of its Dolomiti sister with a citrus kick. The 96 suites feature high-end, thoughtful material choices, natural fabrics and calming lake views. The property is centered around the Lefay Method, which is derived through Chinese medicine practices that take a holistic view of the body, mind, and soul.
Scrub + Rinse
From sitting cliffside at La Limonaia to heading into my first treatment: An energy and olive oil body scrub — combines the detoxifying and regenerating effect of an olive oil peel with the energizing action of brushing which, when performed along the meridians and specific acupuncture points, allows vital energy to flow freely around the body. This was a vigorous scrub that left my skin baby soft and glowing. Finally, it was time for a dip in (all) the pools. The impressive infinity lap pool was the perfect refreshing cold plunge before heading up to the heated, circular pool adjacent to the Energy and Therapeutic Garden hosting five energetic touchpoints. With views of the surrounding mountains and the lake in the distance, the experience is the epitome of tranquility.
Hope Floats
Of course, you can't go to Lake Garda without venturing out on the lake. Through Lefay, I boarded a Frauscher 1017 Lido, a well-appointed, sporty speedboat at the disposal of resort guests, and set out for the day. Offering a personalized and intimate experience on the Lake, the beautiful boat tour shows off the beautiful natural attractions, idyllic villages and harborside towns, and the most charming but hidden away restaurants. We journeyed to Salo and strolled the quaint town before indulging in a delicious lunch.
Featured image courtesy of Lefay Resorts