Tucked into an alcove off Main Street, the Ghost Light Inn intimately hugs the Delaware River almost as if this love affair existed long before it was built in 2019. As much as I love grand cities with their busting allure of people, architecture, and an endless array of dining and shopping, I adore quiet escapes in enchanting towns close to water (I'm a Pisces, after all). With its proximity to New York, if you haven't made the drive to New Hope, PA for a weekend you are most certainly missing out. This isn't the Catskills, and dare I say that you might find to be more captivated here than you expected.
Perfectly situated in the heart of New Hope (less than a 90-minute drive from NYC), check into Ghost Light Inn — a boutique hotel with only 12 rooms, several of which have panoramic views of the Delaware River. The surrounding town boasts plenty of incredible dining options, bars, and perches for people watching — which is a New Hope pastime. You'll discover boutique and vintage shopping (if you love Brooklyn and the LES, this will be your jam), an art scene that will ensure you won't leave empty handed, plenty of elevated bars with classic cocktails and curated drink lists that will keep even the most discerning drinker intrigued, and most notably a restaurant scene that rivals grand cities — when you book your room be sure to ask the concierge for dinner recommendations along with reservations, you'll need them.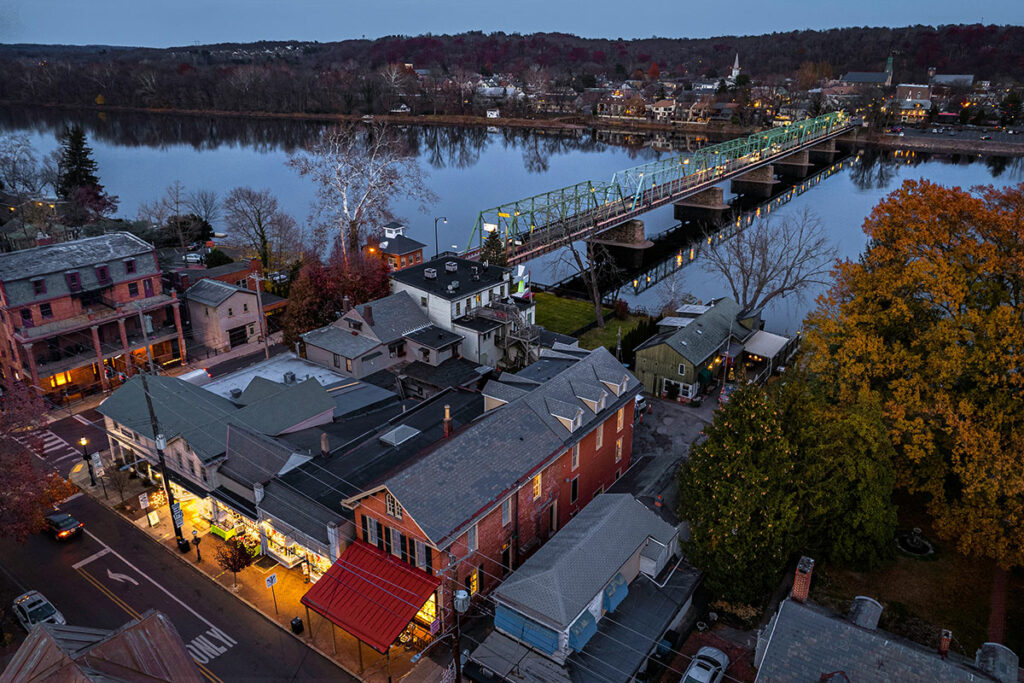 Ghost Light Inn's eerily romantic name actually has theater roots. A ghost light is a single-bulb light on a long metal stand that is left energized on stage after everyone has gone home. The light is said to be left on to allow ghosts to perform without interruption from regular performances. There is a ghost light in each of the 12 rooms. While I didn't sense any paranormal activity during my stay, the idea of leaving a light on for ghosts interested in the performing arts sounds intriguing—Bucks County Playhouse where Grace Kelly once performed is right next door. As a lover of Broadway, the ballet, and fine arts, I'd be open to seeing a show the next time I visit.
Walking into this property feels very much like you're walking into a familiar setting — comfortable, relaxing, not pretentious, yet eloquently designed, boasting vintage-style area rugs, tufted leather sofas, deep chairs, and artwork depicting nature, some with a humorous view. It's where rustic charm meets modern architecture without feeling too much one way or the other. The rooms are adorned with heavy drapes to darken the room day or night, wood and dark neutral tones, with loving details throughout, perfect for a weekend rendezvous with your person. You'll find the king bed luxuriously comfy for sleep or play, and the wonderfully stocked minibar ideal with bottles of wine to take down to the chairs that dot the river, or late-night snacking — I recommend doing both. The river at night is dimly lit with lovers strolling arm-in-arm or quietly sitting enjoying the view…glass of wine in hand.
Stella, the on-property restaurant, is delicious and I highly recommend ordering the bread basket to start. Seriously. You won't regret all of those carbs. Follow that up with the Parisian Gnocchi or the Asparagus and Pea Salad. I decided on the Roasted Local Chicken while my partner chose the Berkshire Pork Chop, both of which were delicious. New Hope is also home to a myriad of incredible dining options (not just along Main Street, but often hidden up side streets), like Nectar (tapas), Zoubi (gastropub), or Oldstone Steakhouse (formerly Marsha Brown's) which is set in an old church, stained glass windows and all. Be sure to stop in at The Salt House for a drink for a lively atmosphere and upscale pub food before venturing out again.
Don't leave New Hope without stopping into one of the many eclectic stores — it's a town that is very walkable and we opted to do so between cocktails. Standouts include Squarehead Industries — an eco-conscious mix between minimalist and boho vibes where you can find clothing, jewelry, and wellness products, and The Meaning of Things — a high-end home decor and gift shop with so many goodies, you absolutely won't leave empty handed. You'll also find a plethora of vintage and specialty stores, small art galleries, and a handful of oddity and apothecary-style boutiques.

If you're looking for a quick romantic getaway that feels far from the city without the traffic of heading upstate over a weekend no matter the season, New Hope absolutely won't disappoint. A town for lovers, it's a captivating destination offering a harmonious blend of picturesque landscapes, enchanting history, and modern charm as you pass farms, colorful trees, and quaint towns.  As you cross the bridge from Lambertville (also worth a visit) into New Hope, you'll understand why this town is worth driving for.