"Local fishermen call it the three crosses; others refer to it as the candelabra. But no one really knows its name, how it came to be, or what it was used for. It's a mystery."
I am on a private boat charter for six — en route to the natural coves and arches of Peru's Isla Ballestas — when our guide, Paul Catacora, slows the boat along the craggy shoreline to point out the ancient geoglyph etched into the dunes.
"Some say that fishermen made it as a navigation tool, some say pirates created it as a meeting spot. Others say it was made by soldiers, and some are convinced it was created by aliens," says Paul.
"What do you think?" I ask.
His eyes sparkle, mouth turns upward into a knowing smile. "I believe it was the fishermen. And that the pirates and soldiers used it."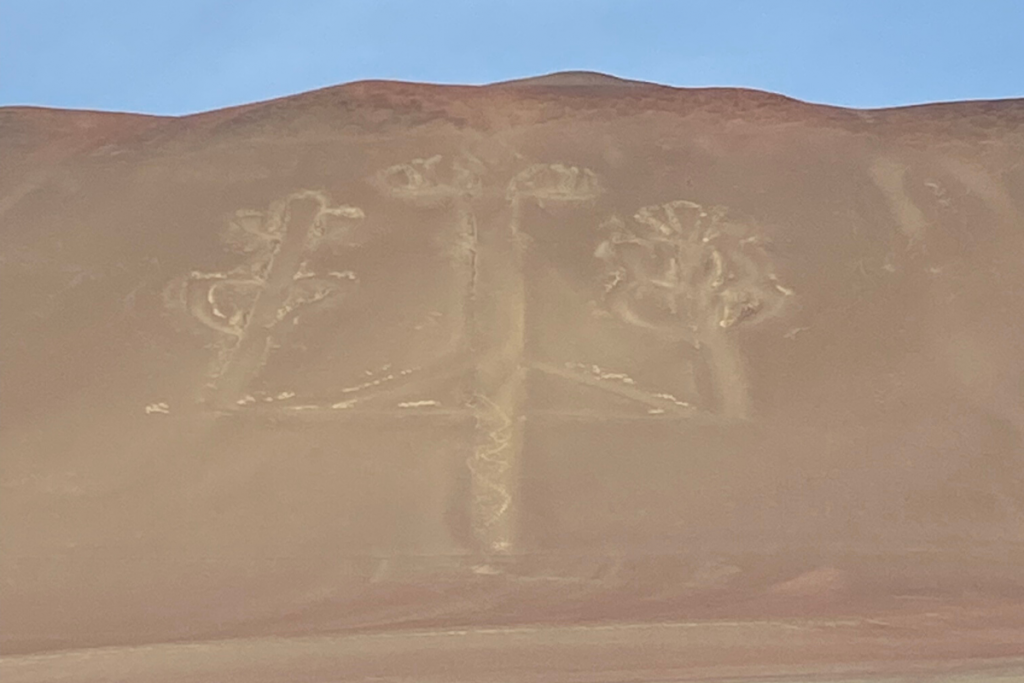 The geoglyph — nearly 600 feet tall — can be spotted 12 miles out to sea. According to archeologists who found pottery (dating to 200 BCE) at the site, the candelabra is believed to be even older than southern Peru's famed Nazca Lines — a group of pre-Columbian geoglyphs etched into desert sands. Most Peruvians hold the Nazca Lines (named a UNESCO World Heritage site in 1994) as near and dear to their hearts as Machu Picchu, which attracts 4,000 visitors per day from around the world. Yet Paracas (and its surrounding region) remains largely unknown by travelers outside of Peru.
As we move away from the mysterious candelabra, the boat slows once again, this time Paul points to a pod of bottlenose dolphins, including a calf, frolicking next to us. "This is just the beginning," he laughs. And as we reach Isla Ballestas, its craggy rocks and arches artfully shaped by wind and water, and teeming with marine life, I see why the national reserve has been called the "Galapagos of Peru."
Our first sighting is a pair of penguins, proudly strutting, followed by thousands upon thousands of birds, feathery flocks I've never seen before: red-legged cormorants, oystercatchers, large-billed pelicans, and blue-footed Peruvian boobies. As we splash closer to the rugged rocks, we see surfaces blackened with live mussels, parades of red, orange, blue, starfish, and blood-red crabs. But it is the mounds of sea lions basking lazily on rocks, sunning, napping, yawning, barking, cuddling (a baby with its mama), that steal the show. And my heart.
When I decided to take this Peruvian road less traveled and journey three hours south of Lima, I had no idea I would be so instantly enthralled with Paracas' ocean-to-desert scape; its silver-rose-blue hues are simply magical. I'm a sea person. So for me, Paracas checks every box: stunning ocean views, pelicans diving for fish, swaying palm trees, colorful flowers, and truly magnificent sunsets. There's even a boardwalk along the water, leading from Hotel Paracas, a Luxury Collection Resort, where I'm staying. Early each morning, coffee in hand, I meander past residential houses framed in bougainvillea and giant clay tinajones. Most are second homes, owned by wealthy Limeños who travel here on weekends, earning Paracas its unofficial title, "Hamptons of Peru." Locals walking their dogs and fishermen casting lines nod to me in greeting, one taking time to direct me (in English) to the end of the walkway to observe the native pink flamingos.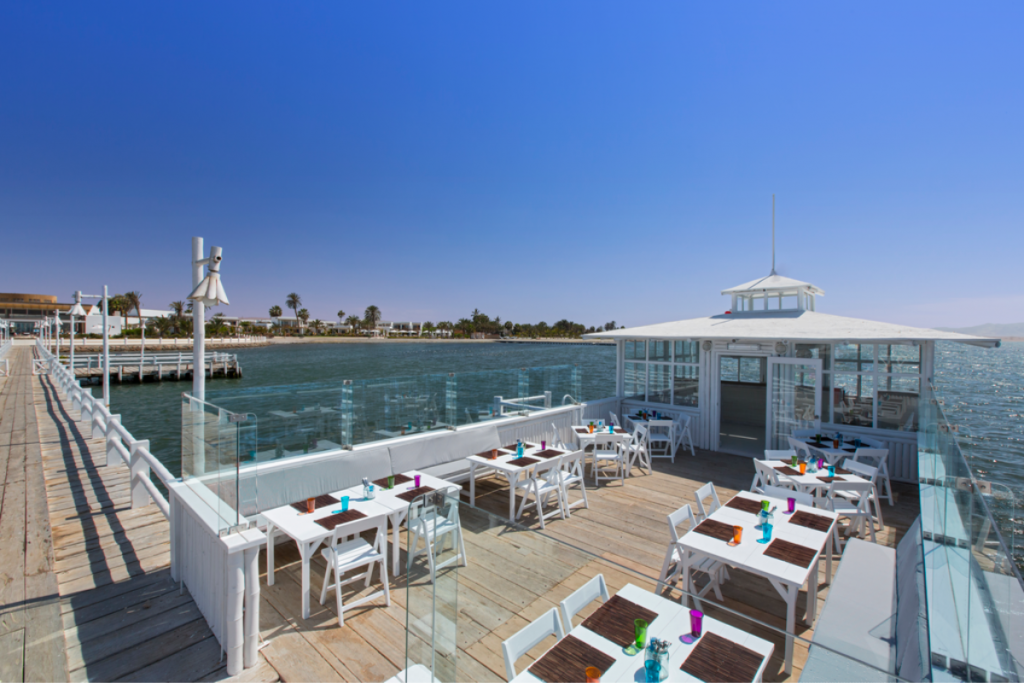 Fresh seafood is, of course, beyond plentiful here, and the best place to sample it is at Hotel Paracas' Chalana restaurant. Located at the end of a private dock, the tiny, open-air, overwater restaurant serves only lunch — fresh, caught-that-day fish; fruits and vegetables from nearby farmers. The standout is the ceviche (a Peruvian specialty) that the chef prepares table side, then serves in colorful boat — and shell-shaped dishes.
A completely contrasting dining experience comes in the desert after a head-spinning, belly-jolting, nerve-racking, 4×4 joy ride up and down mountain-sized sand dunes (with a professional driver at the wheel). Following a stop-off to try sandboarding (beginners start seated, like snow sledding), we descend down a steep, almost completely vertical drop.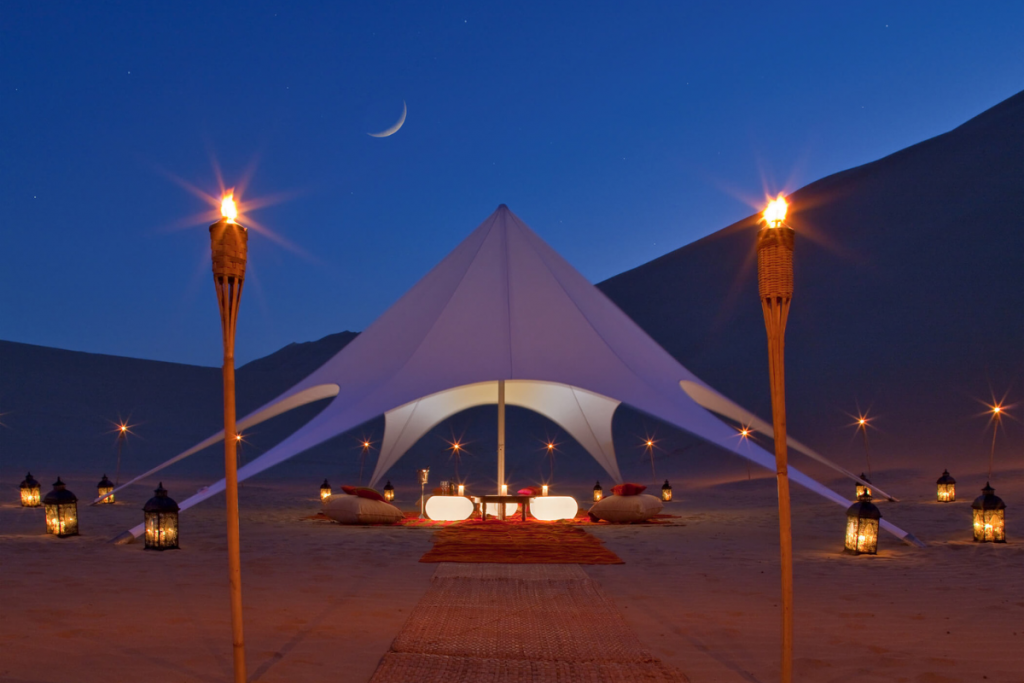 Here, we are greeted with a white canvas tent lined with berber rugs, Moroccan lanterns, and oversized pillows; and our own private chef who serves champagne, bowls of white, yellow, and purple potato snacks with dips (Peru farms over 3,000 varieties of potatoes), skewered lamb and prawns, and later, dessert. As the sun sinks into a blanket of darkness, a fire is lit — adding both warmth and ambiance. The night sky — with its southern hemisphere constellations and absence of light pollution — is extraordinary, unworldly, and feels oceans away from the sea (which, in reality, is just 20 minutes). And it is this juxtaposition of sea to desert, ancient to modern, Galapagos to Hamptons, that makes Paracas as worthy a Peruvian visit as Machu Picchu, the Sacred Valley, and Cusco.
Where to Stay
Hotel Paracas, A Luxury Collection Resort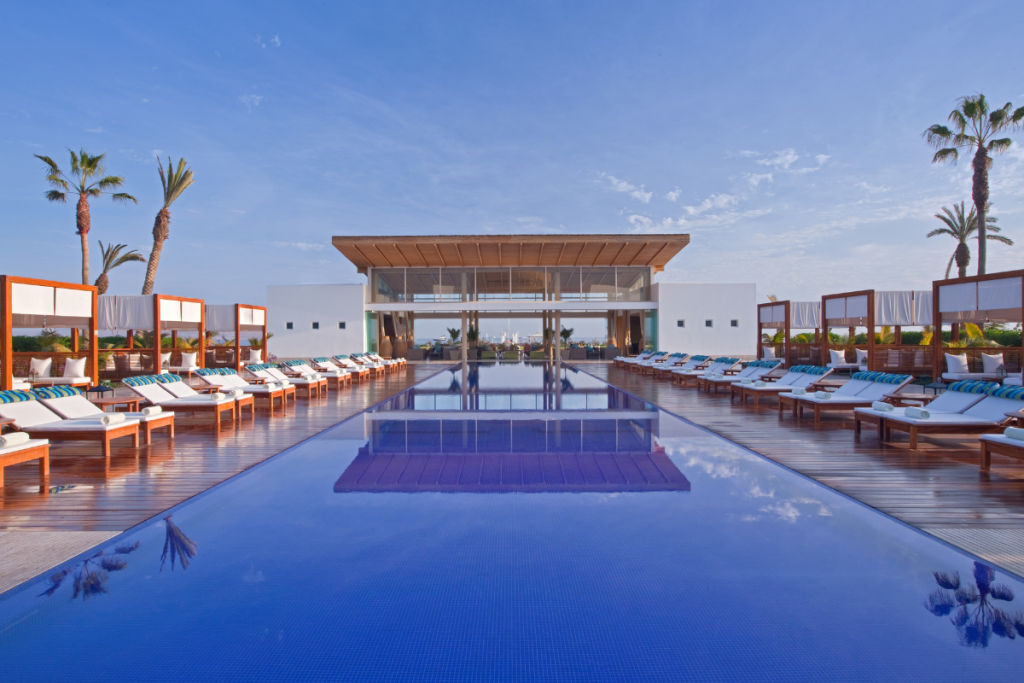 Located directly on Paracas Bay, this luxurious Marriott property features 120 rooms, many of them suites with private outdoor terraces overlooking the sea; a few with their own private plunge pools. Enjoy lunch at Chalana (fresh-caught fish), dinner at Ballestas (contemporary Peruvian cuisine), and light bites and pisco sours at the vibey Bar Lounge, complete with fireplace and water views. Rent a bicycle and cruise the boardwalk adjacent to the hotel to see the flamingos; then relax in the spa's thermal circuit before a signature two-hour, sea-inspired Ocean Therapy treatment which includes a sea salt scrub, seaweed wrap, and massage.
Private Excursions
An added bonus to a stay at Hotel Paracas, A Luxury Collection Resort, is that the hotel offers private excursions (desert and sea) via its in-house tour operator, Venturia. A few of our favorite curated adventures: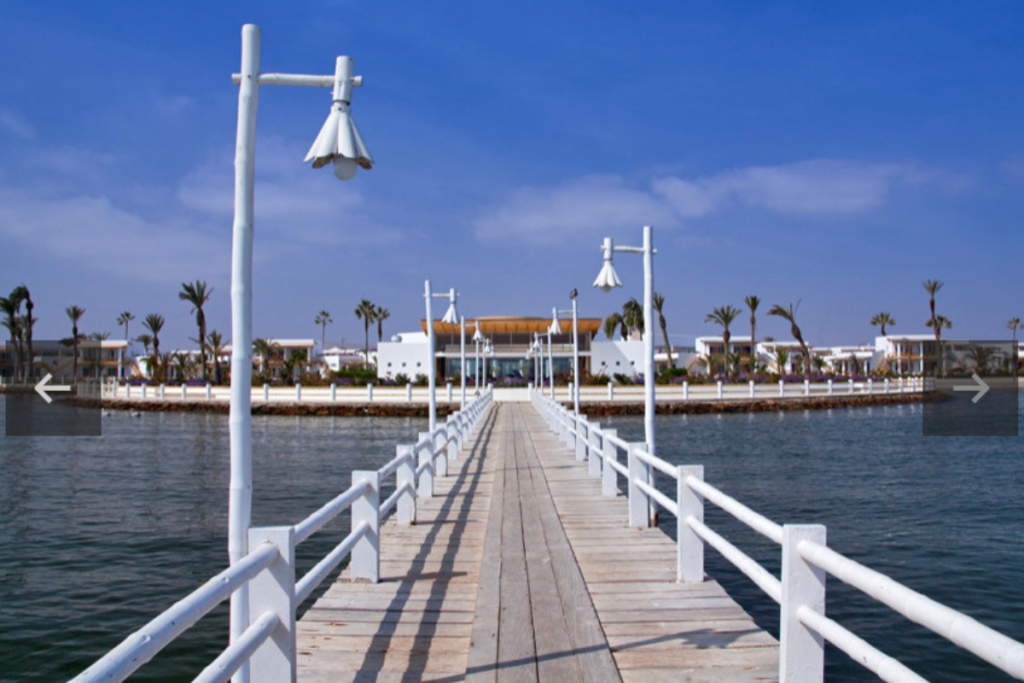 Ballestas Islands Tour
2 hours
The ten-seat Rayador boat is designed to explore every nook and cranny of Islas Ballestas. The experience includes a stop at the Candelabro de Paracas (geoglyph), with pickup from the private dock at Hotel Paracas.
The Scallops Experience: Collecting and Tasting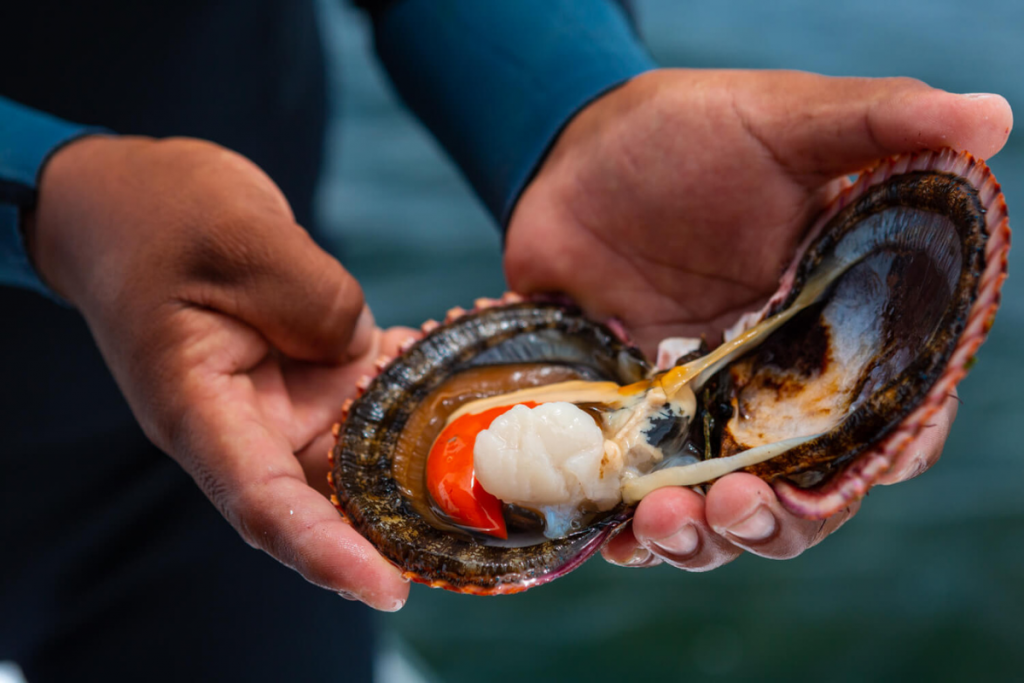 Two hours
This scenic boat ride to the Paracas National Reserve includes an authentic collection of scallop shells, followed by an exquisite tasting at Chalana restaurant.
Peruvian Desert Adventure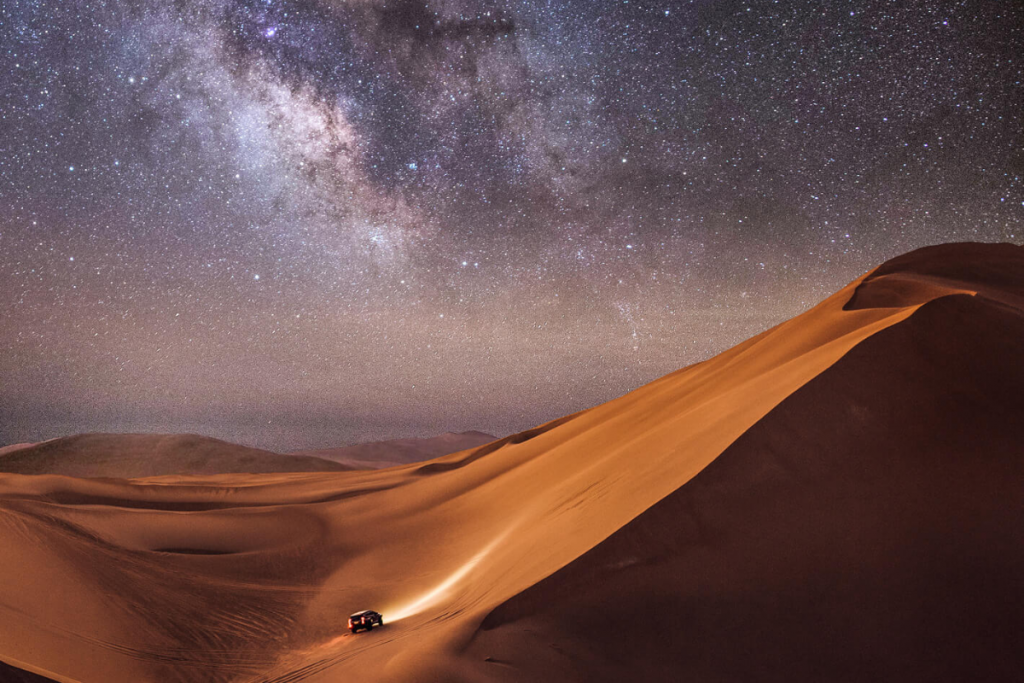 Four hours
Dash full speed through the sand in a 4×4 vehicle, stopping for a swift sandboard ride and view of the sunset sinking into the dunes. Convene afterward for a gourmet picnic under the starry desert sky.
Overflight to the Nazca Lines
Three hours
View the mysterious Nazca Lines from the air during this 1-hour and 40-minute flight, departing from Pisco airport. See more than 30 geoglyphs of animals including the monkey, spider, and hummingbird.