"Oh Canada. Where pines and maples grow…"
As the small plane swerves gracefully above glistening water, I am captivated by the mix of houseboats and treetops below me. The sky is a perfect blue as is the sea, and when I exit the flower-rifed Victoria airport on British Columbia's Vancouver Island, the air — fresh, clean — matches the pristine image. A dapper Irishman, clad in 'driver black,' takes my bag and settles me into his cushy town car as we make our way across the island to the iconic Fairmont Empress.
"Is that a palm tree?"
"Yes, transplanted here of course." My driver smiles at me through his rear view mirror. "And this town," he slows to a crawl in the picturesque sea town of Sidney (also, I learn later, the home of Empress gin) "is the film location of choice for all of those romantic Hallmark Channel movies. We are a microclimate — you will find many surprises here."
And over the following days, I do. From gardens laden with bees, to whales (humpbacks and orcas), floating saunas, boutique distilleries, and a historic hotel respun into gold, Vancouver Island, the most royally English part of Canada, is a utopia for the senses.
Fairmont Empress: the Gold Touch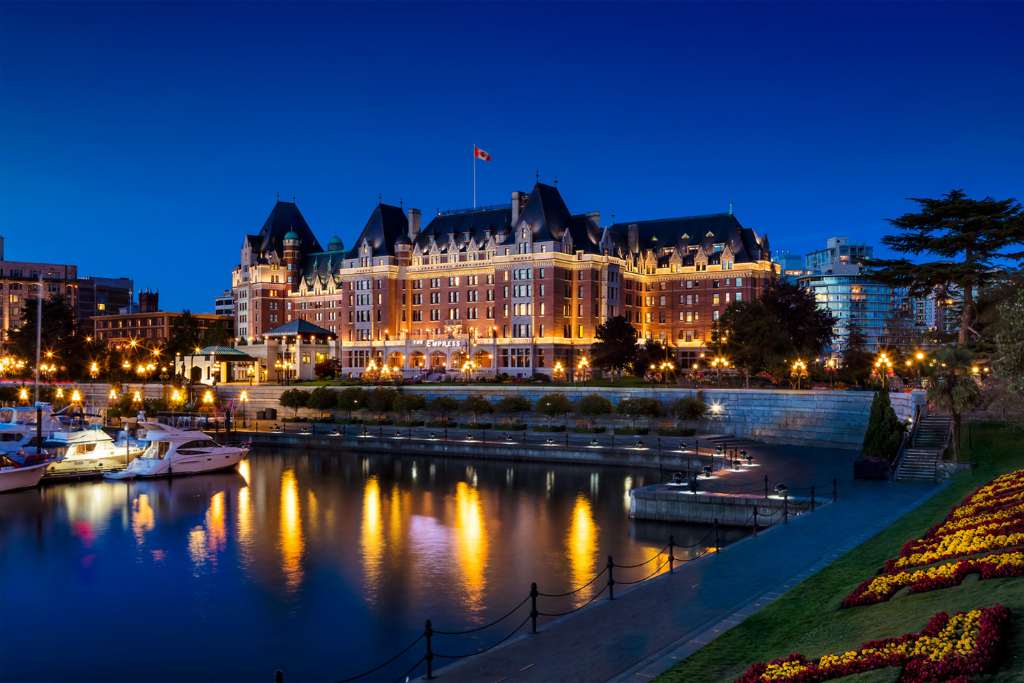 "Here you are," my driver announces. "The Fairmont Empress. You have Victoria in the palm of your hand."
As my luggage is swiftly collected, I step from the car and pause for a moment to take in the building's regal architectural grandeur. Located directly on the harbor, the Fairmont Empress was built in 1908 by the Canadian Pacific Railway as part of its vision to accommodate affluent steam and rail clients in iconic Canadian locations (ie Banff, Whistler). The Empress was named after Queen Victoria who, during her reign, was also the Empress of India. Today a National Historic Site, the hotel has attracted kings, queens, and celebrities since its inception. During Prohibition, Winston Churchill drank gin from the hotel's famous teapots, the beloved television collie, Lassie, romped on the lawns (now abuzz with rose gardens and bees), Bob Hope chipped golf balls into a shot glass on the carpet of suite 330, while recent years have welcomed the Prince and Princess of Wales (Will and Kate), John Travolta, Rod Stewart, and Barbara Streisand.
In 2017, the hotel underwent a $60 million transformation bringing rooms up to date, introducing a new palette of regal purple and gold (harking back to 18-century palaces), and debuting a deconstructed rose chandelier in the lobby, hand-woven with wire mesh and touting 250,000 hand-cut crystals. Now (2023), the iconic Empress is showing off her latest incarnation — renovation of the exclusive Fairmont Gold lounge and 22 new gold rooms.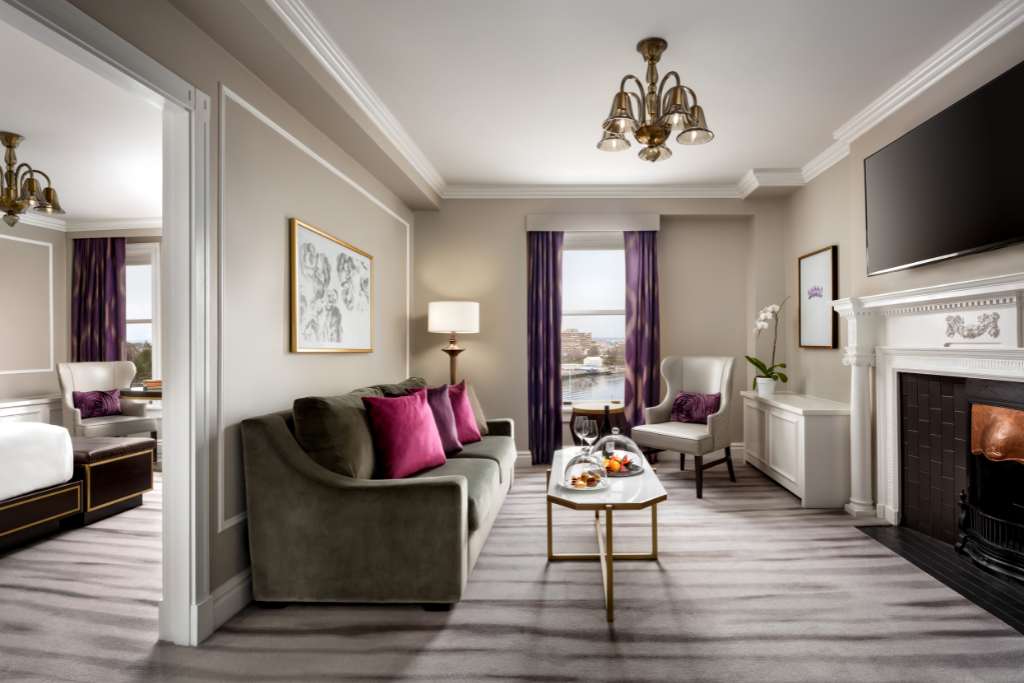 The result is stunning. Designed by the award-winning HBA San Francisco, my purple-gray-and-gold-hued suite (with working fireplace, marble bath, and separate living area) directly overlooks the harbor. The lounge, brimming with complimentary beverages, breakfast, snacks, and in the evenings, live music, hor d'oeuvres, and dessert is just as inviting. Over a welcoming cup of hot tea and nibbles in room, I find myself immediately lost in time — watching through floor-to-ceiling windows — seaplanes taking off and landing in the harbor, water taxis and passenger ferries unloading travelers eager to peruse the pedestrian-only streets brimming with restaurants, outdoor pubs, shops, and of course The Fairmont Empress' very own spectacular gardens.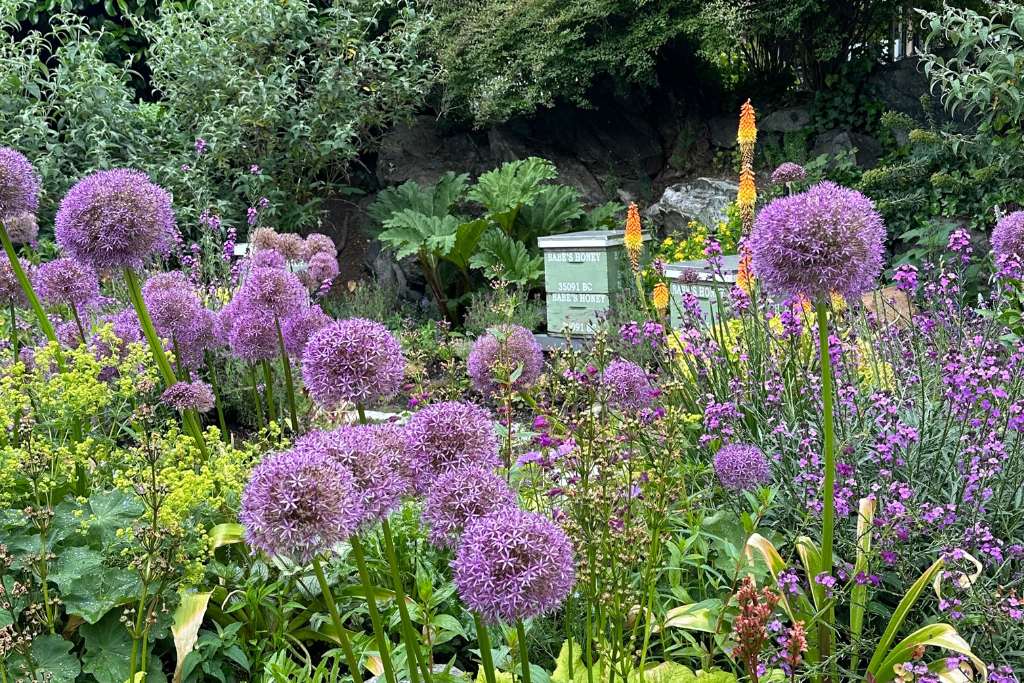 Eventually, I pry myself from my golden-bed room to peruse the hotel gardens myself, meandering first through the fragrant pink, red, yellow, orange roses, and then to the pollinating garden, waving with purple allium, where a few of the beehives are kept (there are more on the rooftop herb garden). The Empress was recently awarded Biosphere Certification from the Responsible Tourism Institute — its bee initiative a key element, along with its culinary program, utilizing regional ingredients from local farmers, fishermen, and artisans.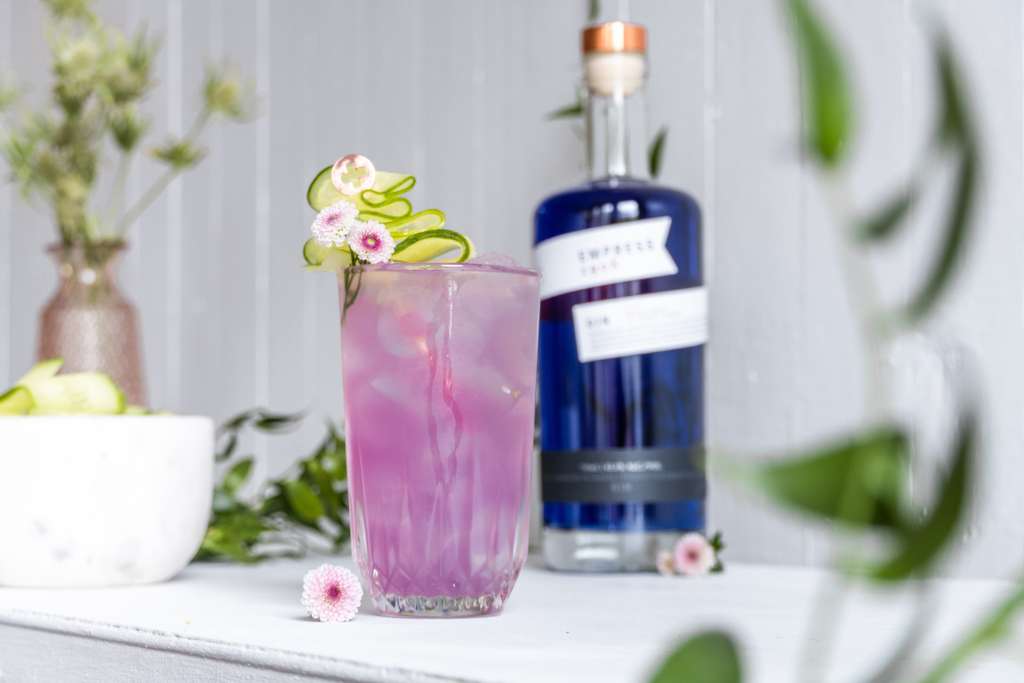 Interestingly, the hotel also has a formal collaboration with Victoria Distillers, a local gin distillery — together they created Empress 1908 Indigo Gin. I had no idea of the cult-like following surrounding this indigo blue gin (that changes to bright lavender, soft pink, or fuschia depending on the mixer) until landing on Vancouver Island. My own Travel Curator Editor in Chief, Deanne Kaczerski is a major fan, along with a nation of 'Swifties.' Lavender Haze Lemonade (made with Empress 1908 Indigo Gin) was created in celebration of Taylor Swift's Lavender Haze song, and is the signature cocktail on her consistently sold-out Eras tour.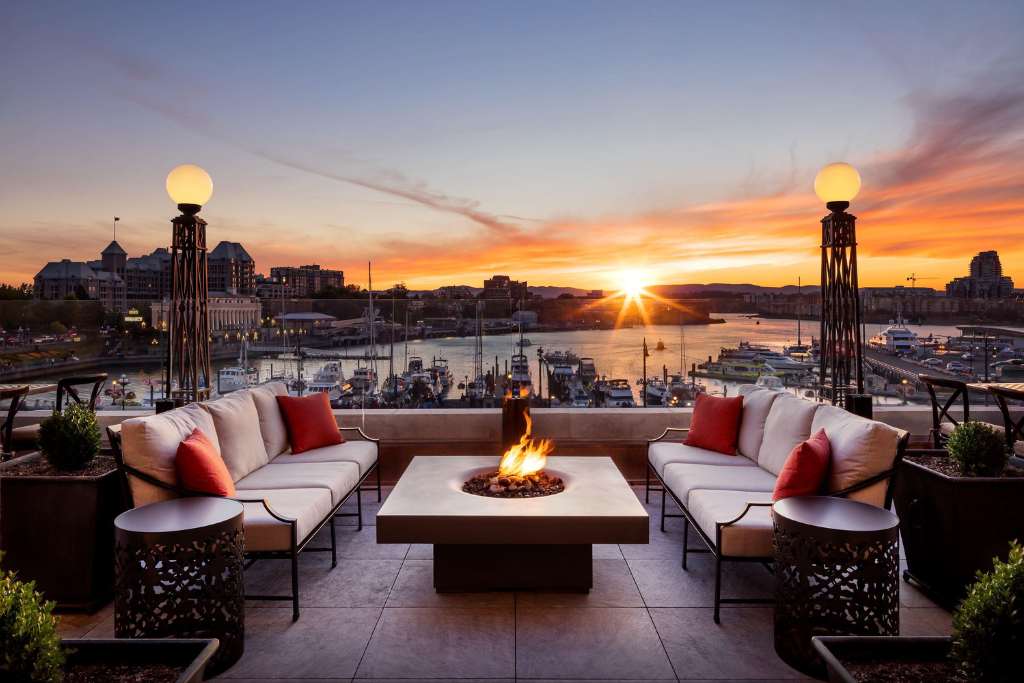 I became better acquainted with two of the gin's key ingredients (juniper and butterfly pea blossom) in the hotel's Willow Stream Spa. The spa's signature, 90-minute 'Empress Gin 1908 Experience' incorporates juniper notes and warm butterfly pea blossom,in a calming treatment that includes a body scrub and wrap, and massage with warm juniper oil. Later, I meet the gin in cocktail form, in the historic Q restaurant — a cheeky nod to Queen Victoria with its colorful Andy Warhol-like bold portraits of the royal, and iconic 1908 cherry wood ceiling and detailed moldings — where I sip an Empress 75 (Empress 1908 gin, St Germain, lemon, Prosecco, and grapefruit pearls).
The Gin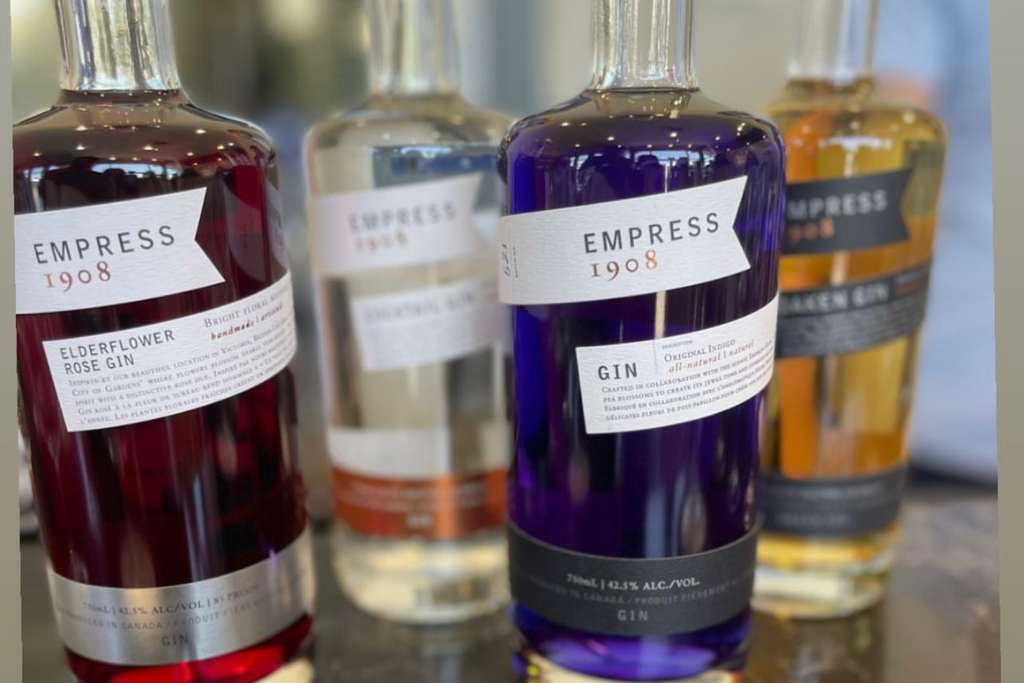 The next afternoon, back in the Hallmark Channel movie town of Sidney (which I've come quickly to adore), I slip inside Victoria Distillers, set on the edge of the Salish Sea, to learn more about this unusual hotel-distillery connection. Formed in 2008 as Canada's first craft gin distillery, Victoria Distillers' first label, simply named Victoria Gin, proved instantly popular within Canada. But it was the Empress 1908 Indigo Gin that catapulted the distillery to international fame. The unique collaboration was inspired by the Fairmont Empress' signature black tea blend, as well as its bespoke butterfly pea blossom blend — both served at the hotel's legendary afternoon tea ritual. The butterfly pea blossom was found to balance the gin's traditional citrus notes while creating its beautiful color.
Most recently, the distillery debuted a red-tone gin, Elderberry Flower, inspired by Victoria's stunning gardens and celebrated for its notes of citrus, lavender, elderflower, and rose petal. Also new: a chocolate liquor (cocoa nibs and husks), created in collaboration with Victoria Chocolate, that is perfect as a dessert drink or drizzled over ice cream.
The Tea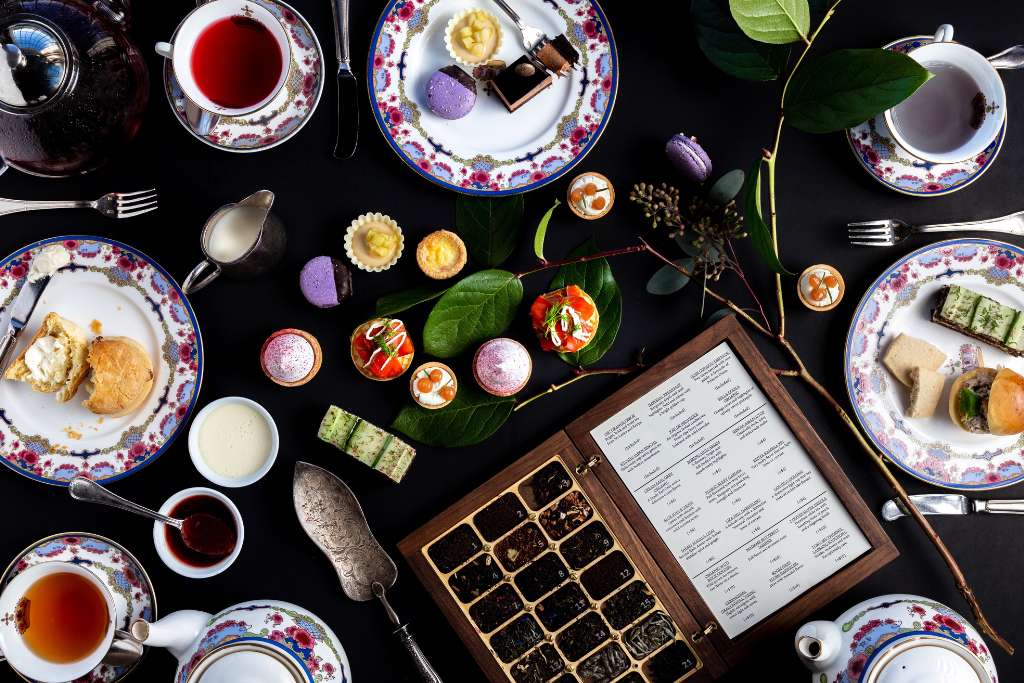 Despite the popularity of Vancouver Island's boutique distilleries and budding wine region, tea remains the constant. Afternoon tea has been part of Victoria's fabric since the opening of The Fairmont Empress in 1908. Held in the grand Lobby Lounge, this beloved ritual is served on elegant royal china reproduced from the original set gifted to the hotel by King George VI in 1939. The tea menu changes seasonally and features 21 exclusive blends. More than a half-million cups of tea are reportedly poured each year at The Empress, served alongside three-tiered silver trays of home-made specialties: scones, jam made from local berries, honey from the hotel's apiary, cucumber, smoked salmon, and egg salad finger sandwiches, decadent desserts, and optional Champagne service. I was delighted and surprised to see that most guests arrived dressed for the occasion — sports jackets, dresses, heels, and even a few fascinators.
The hotel has also introduced (in 2023) an evening twist on its afternoon tea. Using the same royal teapots and Lobby Lounge (but with a sunset view over the water), the new Sunset Sips service features creative hand-crafted cocktails poured from teapots into clear teacups and the same three-tiered silver trays — but laden with aperitifs.
Breath of Fresh Air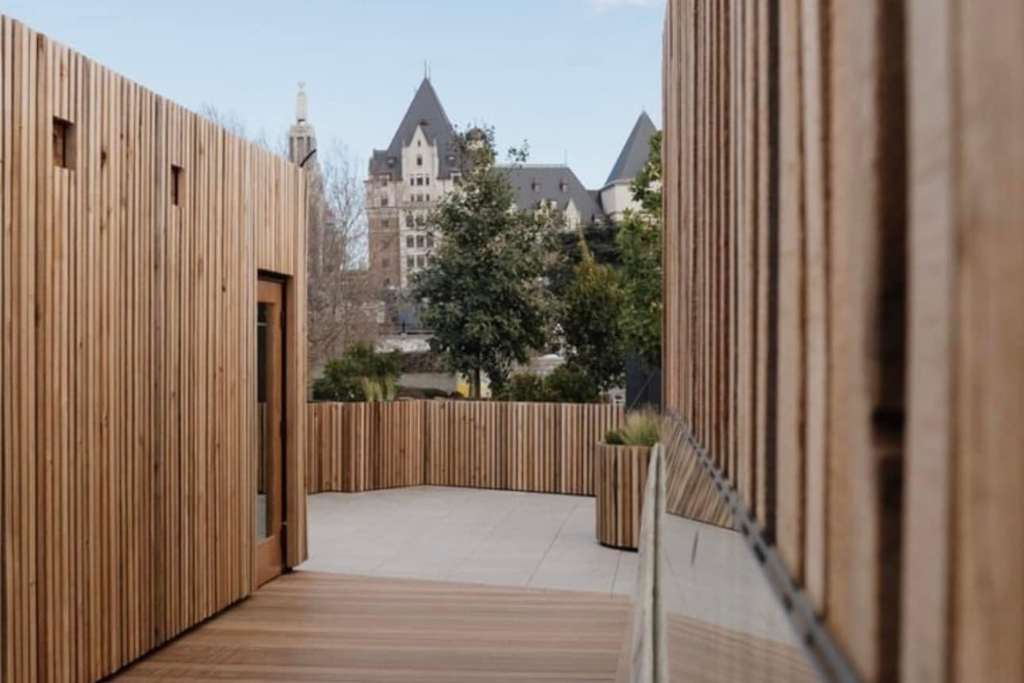 Beyond the Fairmont Empress (and her dazzling new facelift), Vancouver Island is striking in its own natural beauty. Nicknamed the 'garden island,'  flowers are in abundance. Even trash receptacles are topped with potted flowers. Bicyclists and pedestrians seem to outnumber cars, and the air is intoxicatingly fresh. One of  the best ways to breathe it all in (both the air and exquisite water-mountain views) comes at Victoria's newest wellness offering — Havn Saunas — set on a floating barge in the harbor (and directly across from The Fairmont Empress). I first spotted the dark  building-like boat  lined with greenery from my hotel suite. Havn opened June 2023, and with its minimalist lines of cedar and teak, lush green spaces, hidden saunas, and outdoor hot-and-cold plunge pools overlooking the water, feels like the perfect blend of Sweden and Finland. A maximum of 24 guests are booked at any one time, with each given a block of three hours, so the en plein spa never feels crowded. Cell phones are also stored away in personal lockers so there's no chatting or even picture-taking, which is instantly calming. On my scheduled appointment, the weather is overcast and even drizzly, which I found the perfect setting for slipping in and out of the three saunas — one with a salt scrub to exfoliate. All have water views, as do the outdoor hot and cold pools. While some guests stay only an hour or so, I linger to the last second. Always the spa purist, I dutifully steam in the hot sauna, dip  quickly into the cold plunge, then rest in a cushy robe with hot tea in hand, gazing at the boats and seaplanes, before starting the sequence all over again.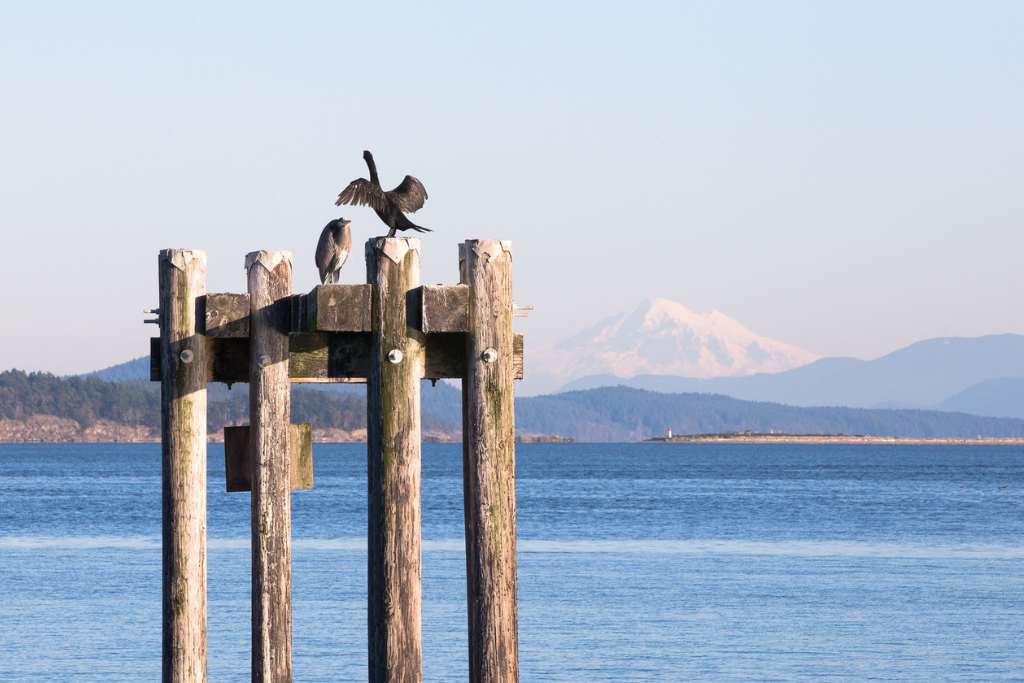 Later, as I make my way 'home' to my gilded purple-and-gold room at The Fairmont Empress, the sun breaks through, the drizzle ends and, as my driver had so aptly predicted — yet another surprise. A complimentary hotel bike flanked by a knowledgeable concierge awaits me at the door. Earlier, I had inquired about a bike ride to the beach.
"Follow this street, pass through the park, it's quite beautiful, and you're there. You can't miss it," he laughs, adjusting the seat of the sparkly white cruiser. The ocean and beach are just minutes away. And did I mention the seaglass is spectacular.