I want to hug Arnaud Valary, Relais & Châteaux's Domaine Les Crayères' Managing Director, when he suggests I have a glass of Champagne. It's early in the morning after all, and some imbibers might balk at the idea. But, in Reims, a bastion of luxury in the heart of France's Champagne region, Champagne flows perpetually and guilt free at any hour. In this town, rife with Champagne cellars, nobody judges. Thankfully, Noel Coward's famous quote ("Why do I drink Champagne for breakfast? Doesn't everyone?") rings delightfully true here. Indeed, after an overnight flight and arrival to this astonishing Belle Epoque-style hotel, I'm eager to tipple. I emit a sigh of relief as I ease into a red leather chair in Bar La Rotonde, with its gentleman's club-like plaid upholsteries and a dark wood bar. From lantern windows, I gaze out at sweeping views of the hotel's encircling parkland. A sommelier, like a heaven sent angel, pulls an emerald bottle of Barons de Rothschild Concordia Brut from a silver bucket, pops the cork, and fills a flute for me. As the bubbles dance in my glass, I hear them pop and sizzle. The wine smells of brioche and peaches. Between sips, I thumb through the hotel's prodigious Champagne menu that sits on the table. The tome, with a bumpy, pale gold cover (evocative of Champagne bubbles), tempts with more than 600 Champagne labels — perhaps as many as a thousand. As I read, I wonder "How long will it take to try them all?"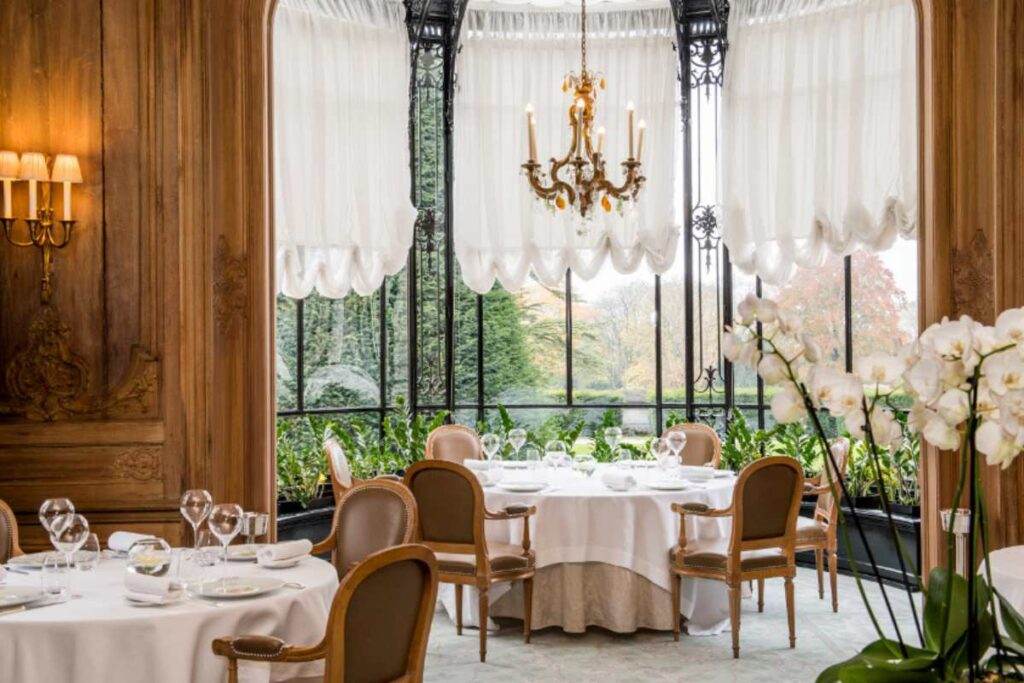 Every detail matters at this intimate luxury hotel: its Mansard roof, Pierre-Yves Rochon interiors and famous two Michelin-starred Chef Philippe Mille and Restaurant Le Parc. A mere twenty rooms split between the mansion and the grounds accommodate only a handful of guests, but the staff tops 150 people. Rare furniture, priceless antiques (from old clocks to cherub statuettes), a voluptuous staircase, gild, marble, polished wood, and portraiture aplenty combine to set a noble mood beneath soaring ceilings and drippy chandeliers. Peerless service reigns — the sort where anything goes and no request is denied. Devoted to embodying and conveying Art de Vivre (the abstract French philosophical concept that urges us all to live well), Domaine Les Crayères excels in its mission. As a guest, all that's left is to "drink" not just the Champagne but the atmosphere.
The experience at haven-like Domaine Les Crayères is so extraordinary that one might feel the desire to stay within its 17 acres of cultivated garden space, restaurants and common rooms all day. My own suite, which happens to have been the domain of Madame Pommery when the Pommery/De Polignac Champagne family owned the house, is a pampering fantasy of green damask, silk, and velvet, with a spacious white marble bathroom and an immense soaking tub. A lofty balcony facing the park makes me feel like the queen of the realm. Who'd want to leave that? But, in Champagne visitors must press on. There's Champagne to be tasted and Champagne houses to tour. Domaine Les Crayères makes that easy. A quick phone call from staff ensures VIP treatment at myriad Champagne cellars in the region, including Pommery, situated across the street. And when you return from your outings? Laurent Gardinier, newly elected president of Relais & Chateaux and owner of Le Domaine Les Crayères, promises: "You'll be greeted like family, a glass of Champagne in the offing."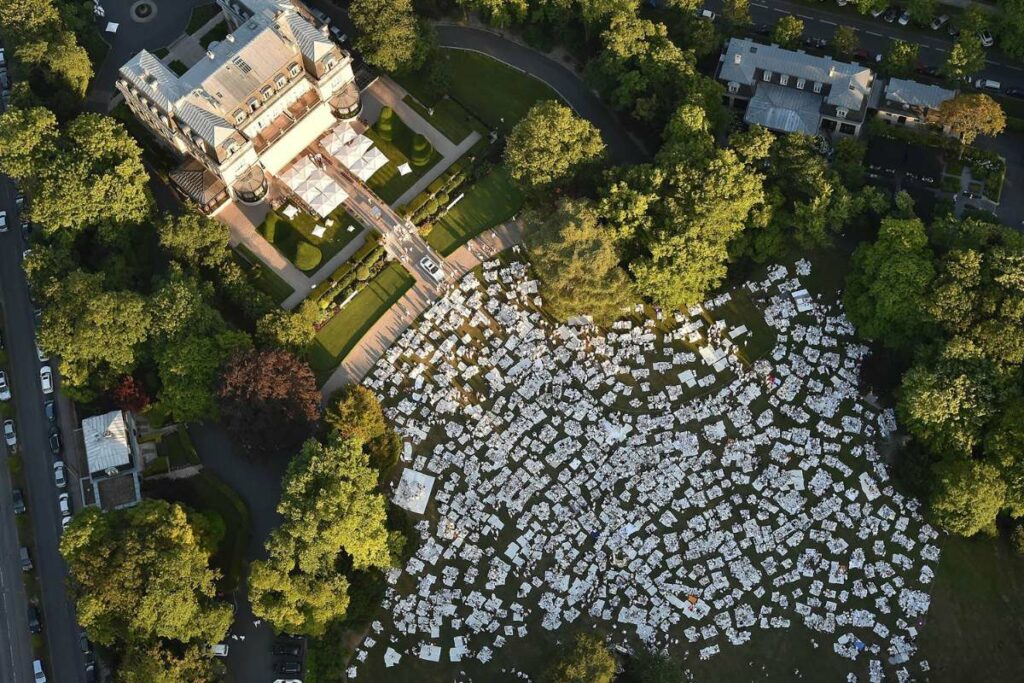 Five Must See Champagne Houses in the Champagne Region
Located across the street from Domaine Les Crayères, this extravaganza of a Champagne experience has a grand entrance, a warren of chalk caves, stupendous art exhibits that juxtapose old world with contemporary times, and a great, girl-power back backstory, having been led to great success by Madame Pommery after the death of her husband.
Taittinger
"Champagne is freedom," says Taittinger President Vitalie Taittinger, who believes that each day is a gift and "we must live it to the fullest." Embracing family history, Maison Tattinger continues to showcase the Chardonnay grape in some of its best wines. Walk their caves, then sip a top label, such as Comtes de Champagne.
Veuve Clicquot
With glamorous digs, Veuve Clicquot, founded in 1772, lies just minutes from Domaine Les Crayères. A pioneer in the industry, it was helmed by Madame Clicquot Ponsardin, who, like Madame Pommery, took over production of the winery when her husband died. Creatively marketing her style of Champagne, she is credited with boosting the entire Champagne industry.
Bollinger
With aristocratic origins, this still independently owned Champagne house, established in 1829, lies thirty minutes from Reims in the charming town of Ay. Focusing on Pinot Noir-driven blends the Bollinger distinguishes itself for its longer aging.
Nicolas Feuillatte
One of the best selling Champagnes in France, Nicolas Feuillatte is the new kid on the block, founded in 1980. Situated five minutes from Epernay along the exclusive Côte des Blancs, they offer 90-minute tours that cover every detail of the Champagne making process, complete with tastings.