What Is the Significance of Memorial Day?
Memorial Day offers a day of reflection for the military men and women — representing the Army, Navy, Air Force, Marine Corps, and Coast Guard — who have lost their lives defending the nation. From 1868 to 1970, Memorial Day was strictly observed on May 30; but since the 1970s, it has been recognized on the last Monday of May. Small towns across the U.S. host parades and special commemorative services; many people visit national cemeteries, particularly Arlington Cemetery in Virginia, to pay their respects, stopping by the Tomb of the Unknown Soldier.
Oceanfront Airbnbs Available For Memorial Day Weekend 2023
For others, however, the day—folded into a long weekend — also marks the unofficial start of summer. Boat covers come off, swimsuits come on, and the roads leading to the coast swell with revelers. If you're looking for a beachfront place to spend this Memorial Day, consider these chic beachfront Airbnbs.
Cleanline Beach House, Cloverdale, Oregon
(Sleeps 15)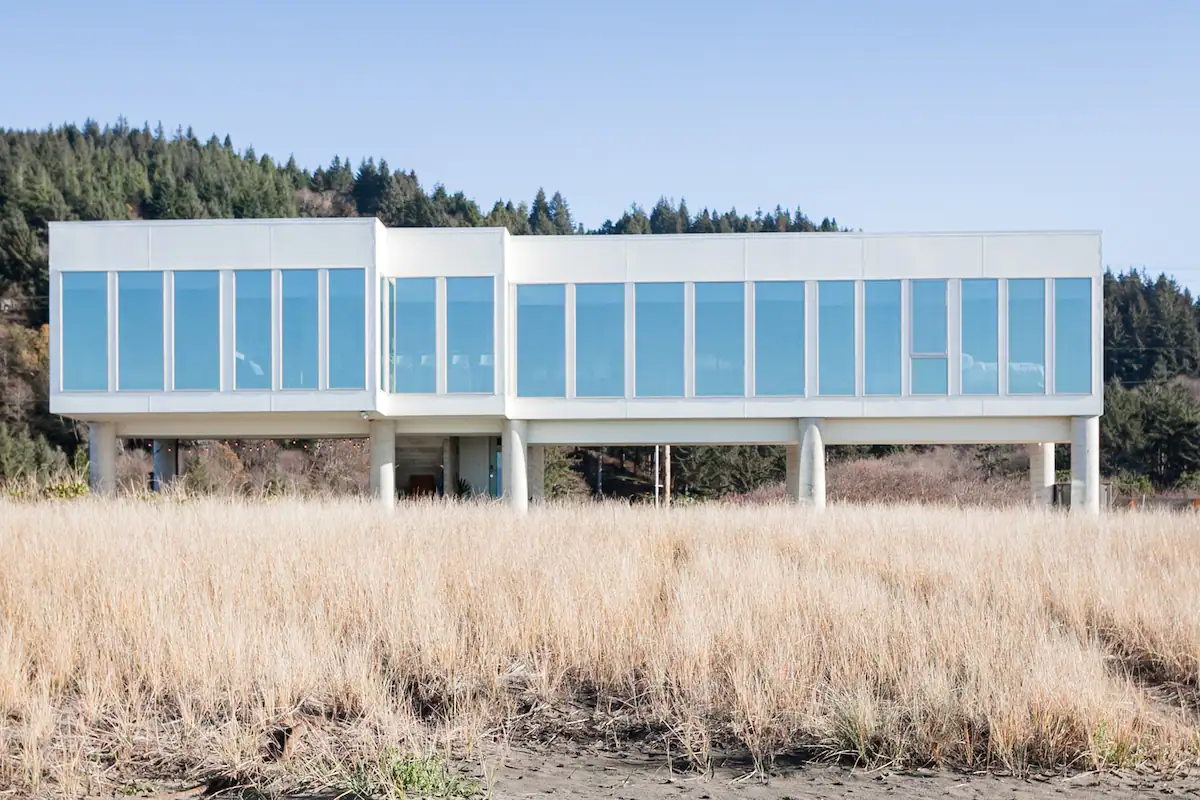 Seahorse Beach Villa, Oceanside, California
(Sleeps 8)
The perfect place to gather the entire family, this five-bedroom home features floor-to-ceiling windows with views of the ocean, and direct beach access. Walk the beach (or drive along the sand), and at night, enjoy a warming beach bonfire.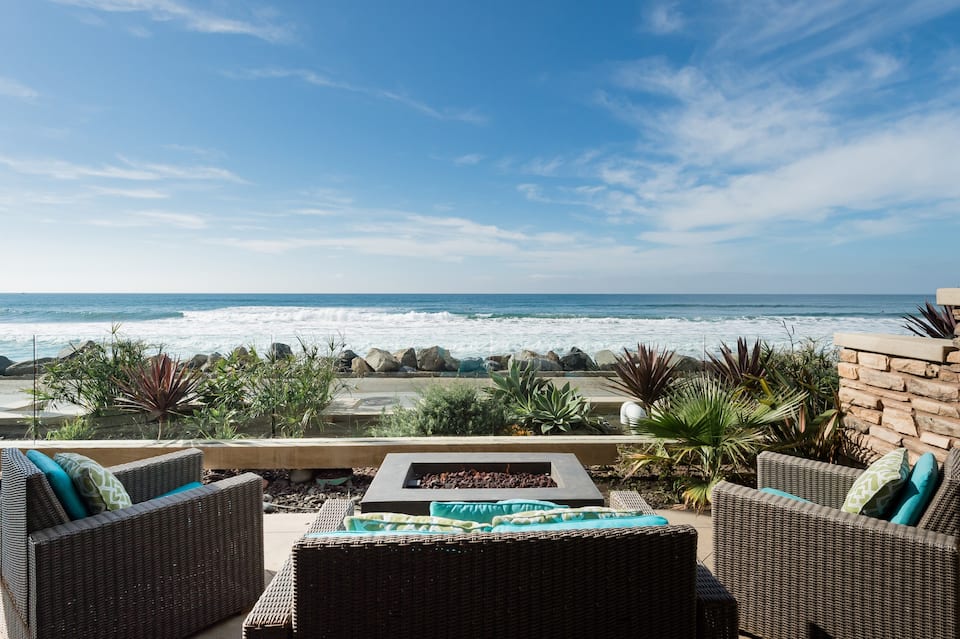 Photo courtesy of Airbnb
Watch the waves right outside your door at this stunning beachfront villa. Featuring a modern, coastal decor, this three-bedroom, three-bathroom villa exudes a Southern California vibe. Dramatic artwork and sea photography line the walls, linens, and towels are ultra-luxurious. The outdoor patio faces the sea, perfect for sunset.
The Beach Cottage, Riverhead, New York
(Sleeps 5)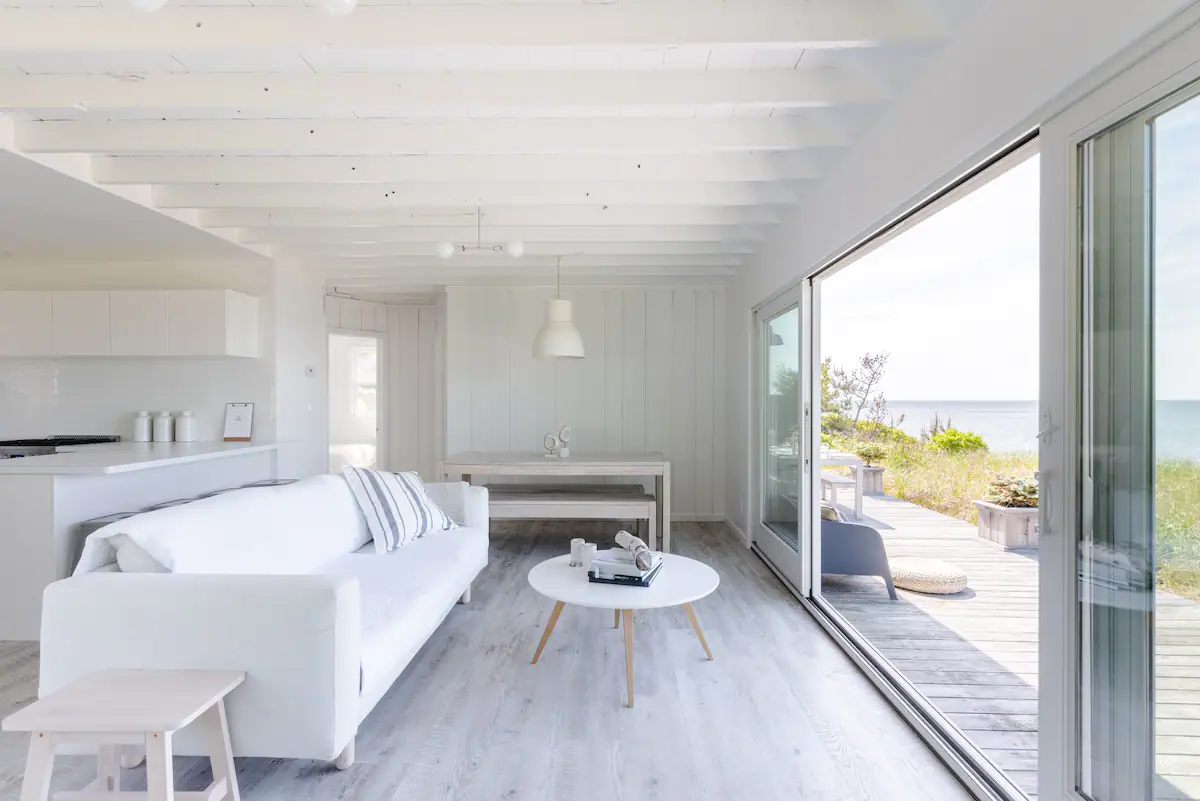 Photo courtesy of Airbnb
Newly renovated, The Beach Cottage is designed and decorated in a modern organic style. It features a palette of whites and neutrals, inspired by the owner-designer's homeland, Australia. The airy, light, and open living room features a wall of glass with uninterrupted water views. The chic bedroom comes with an eye for detail, style, and relaxation. Stay on the property for swimming, paddle boarding, beach walks (follow your own private path to the beach), or venture out to North Fork. The cottage is also pet friendly.
Oceanside in Dauphin Island, Alabama
(Sleeps 12)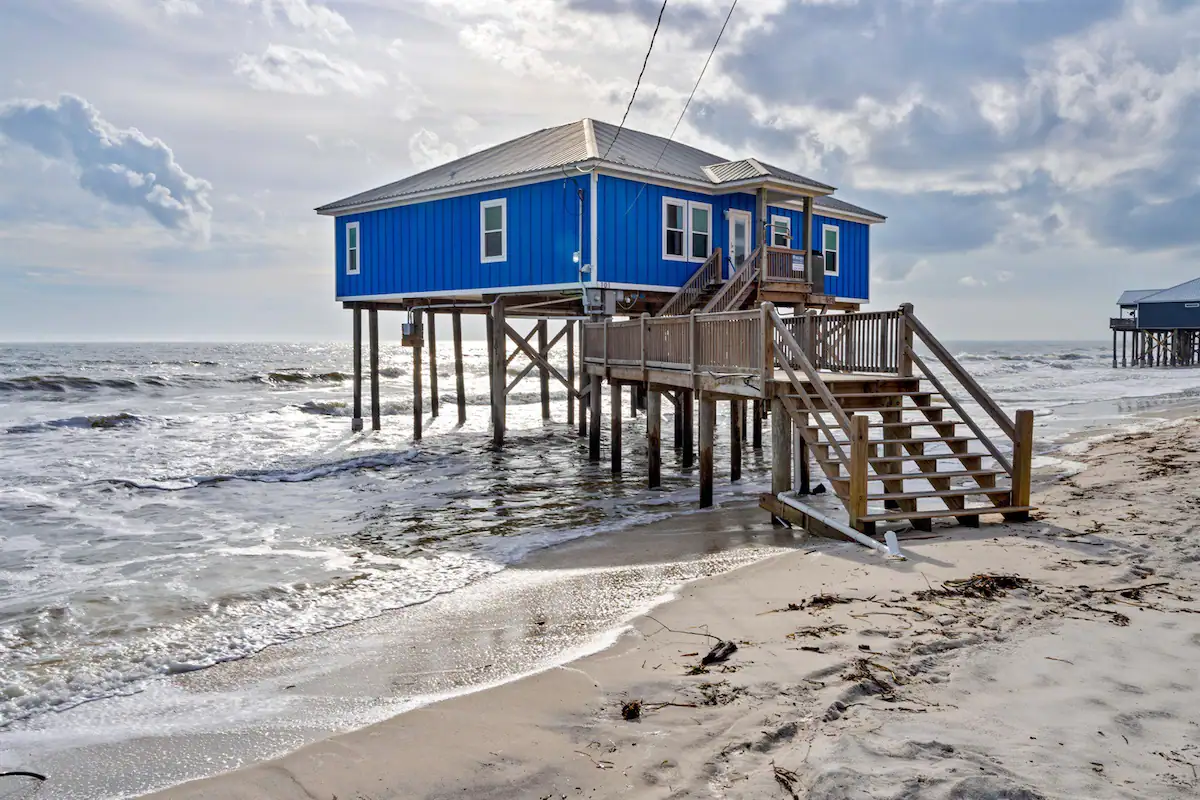 Photo courtesy of Airbnb
Spend Memorial Day Weekend over the water—literally—at this built-on-stilts, Dauphin Island bungalow. Extending over the surf's edge, this four-bedroom home offers up-close ocean views, stainless steel appliances for those cook-in crab and shrimp nights, and an outdoor covered deck.
Beachfront Townhouse Malibu, California
(Sleeps 6)
Photo courtesy of Airbnb
Located on quiet and star-studded Malibu Road, this contemporary oceanfront townhouse comes with amazing sea views, a living room with a fireplace, and a tub for two. Hear the rhythmic surf in every room. But the ultimate view comes in the primary bedroom with its vaulted ceiling and huge picture windows that look right out to the ocean.
Atlantis Manor, Port Jefferson, New York
(Sleeps 16+)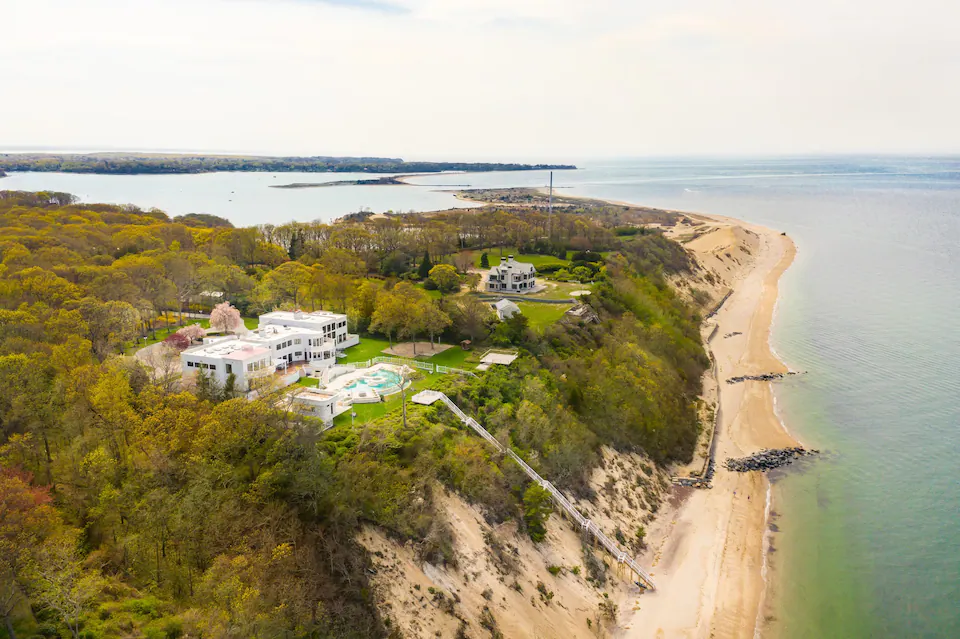 Photo courtesy of Airbnb
This truly over-the-top beach getaway feels like your very own luxury hotel. Set on nine gated acres (with 14 bedrooms and 20 bathrooms), there is room for the entire family — and then some. Highlights include panoramic ocean views, an outdoor infinity pool with a pool house, an indoor pool, a tennis court, trails, and a dry/wet sauna.
The Savannah Cottage, St. Simons Island, Georgia
(Sleeps 8)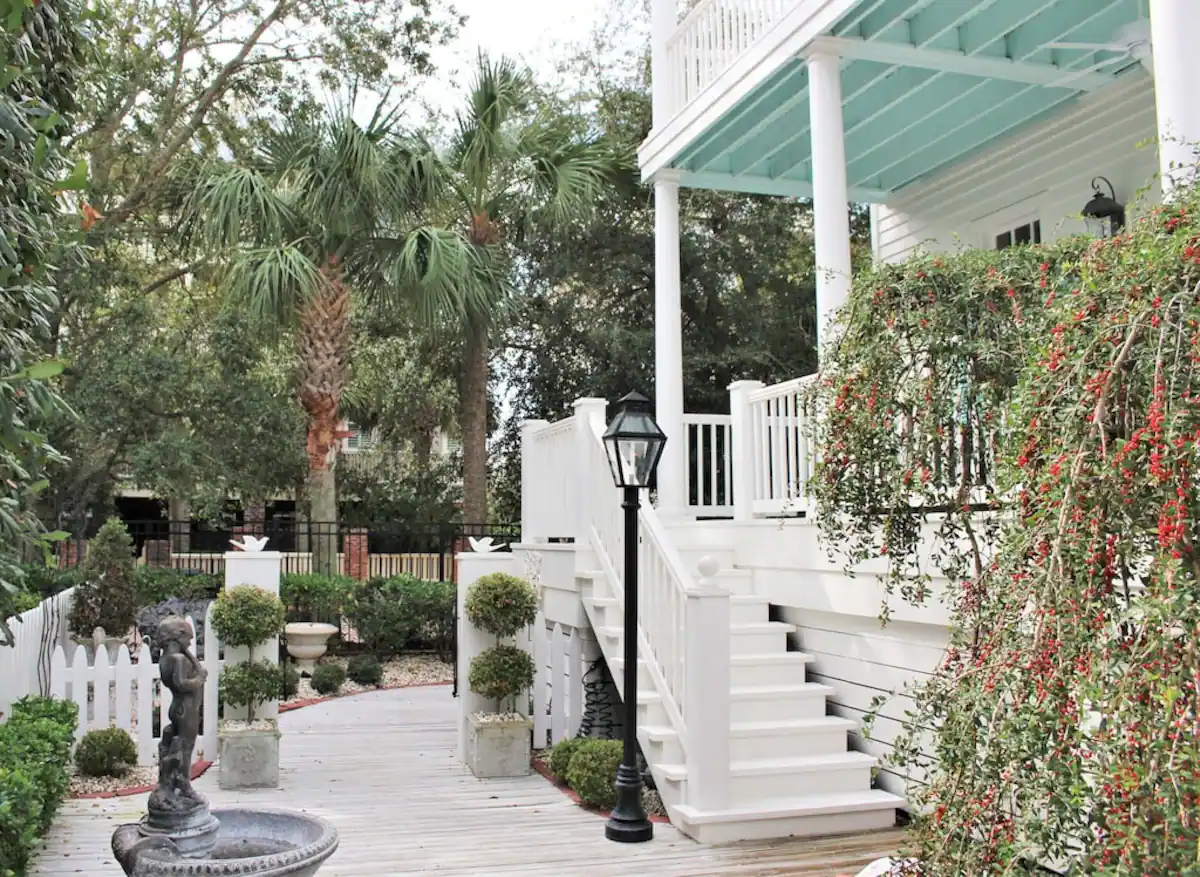 Photo courtesy of Airbnb
Located in an oceanfront neighborhood, this picturesque cottage — known for its white wrap-around porch and turquoise shutters — oozes with southern charm. Swim in one of the two neighborhood pools, dip into the ocean just steps away, and observe the holiday by watching the Coast Guard Museum flag raised every morning. Other highlights include a claw-foot soaking tub (in the primary suite), chef's kitchen, large porches and elevator.
The Bay Bungalow, Hanalei Bay, Kauai, Hawaii
(Sleeps 4)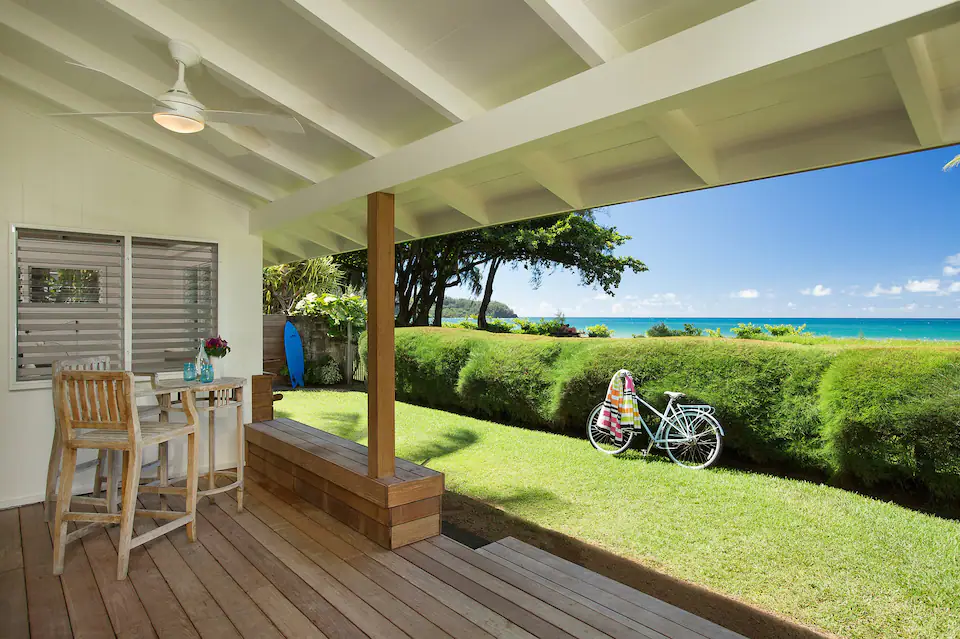 Photo courtesy of Airbnb
Just steps from the water, this sweet two-bedroom, beachfront bungalow offers a panoramic ocean view (from the front yard) and a postcard-worthy mountain scene (from the back). Watch waves crash from the deck, whip up a smoothie in the open-concept kitchen, and try surfing yourself. Afterward walk (or bike) to Kauai's historic, art-filled town.