I am so incredibly lucky.
Standing on the edge of the Caribbean Sea in front of the newly opened Kempinski Cancún, I am watching hundreds of tiny, just-hatched sea turtles scurrying toward the moonlight into the water. I have Kempinski's famous 'Lady in Red' — instantly recognizable in her iconic red dress and Ferragamo shoes — to thank. "If you love the sea, you will love dining at Casita's at night," she assures me. By day, the hotel's thatched-roof palapas (casitas) are available for lounging by the water with a good book and tequila sunrise; by night, they transform into private, billowy, white-curtained, romantic dining venues — typically occupied by canoodling couples, not solo travelers like me.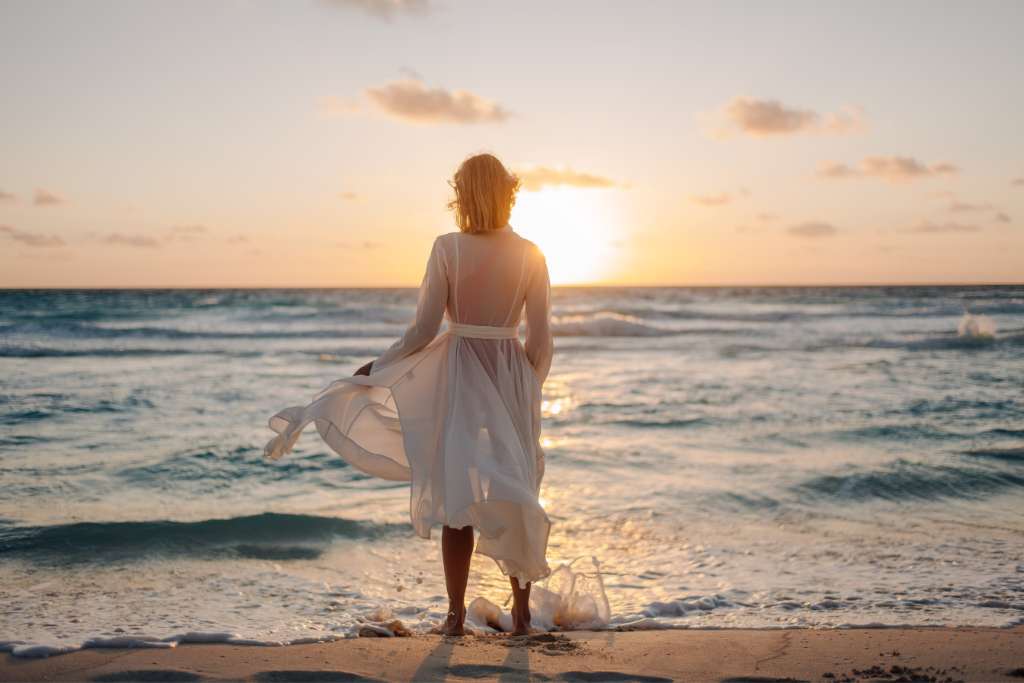 Arriving at my white cloth table for one — adorned with sparkly white lights, hand-blown blue glass, a starfish with votive candle, and the sound of lapping waves as backdrop — I am grateful for her insight. And after a truly divine dinner of fresh-caught red snapper grilled in a banana leaf (sheer perfection), I am even more so. It is while spooning Yucatán honey into fresh ginger tea that my server appears, his eyes bright. "Come see," he exclaims, motioning me from the table and into the sand where tiny sea turtles, just hatched, are poking heads, then fins, to begin their wobbly journey into the ocean. Couples leave their romantic tête-à-têtes to watch alongside me, as highly trained staff (part of the hotel's sea turtle conservation program) carefully guide and place the babies into the water.
"No flash please," a staff member notes as one guest positions her iPhone. "The turtles will follow the camera light. We need them to follow the moon." As the last sea turtle makes its way into the water, my server reappears, his eyes bright. "Your tea is refreshed and hot. Come."
Just one of many magical moments I experience during my stay.
Kempinski's First North America Hotel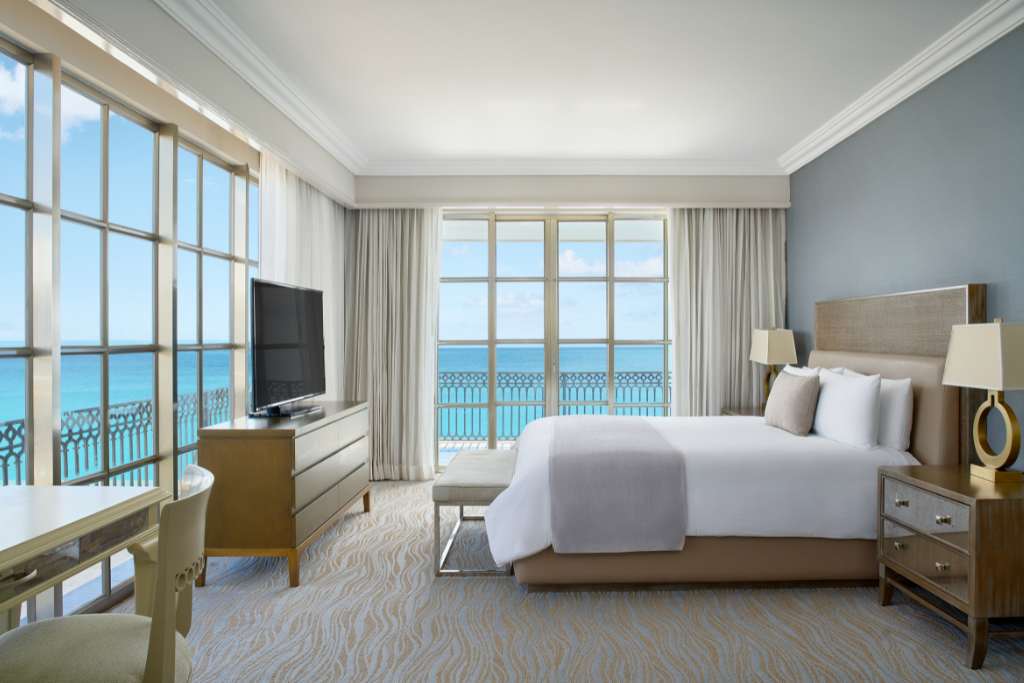 When the elegant by-the-sea Kempinski Cancún opened in September 2022, it became the brand's first North American property. While new to Mexico, the U.S., and Canada, the Kempinski brand, which recently celebrated its 125th anniversary, is widely known in Europe. Its story begins in Berlin when Berthold Kempinski — a wine merchant and restaurateur — began wowing his diners with delectable wines by the glass and seasonal delicacies like lobster. In time he added live musical performances, but it was not until the 1950s, when Berthold's grandson Dr. Friedrich Unger took over the family business that Kempinski entered the hotel world.
In the decades since, the brand has opened five-star hotels across Europe, Africa, the Middle East, and Asia, before landing on the shores of Mexico — where every single room has a view of the Caribbean Sea. One special suite, Saasil (a Mayan word that means clarity, light, and sunrise), comes with its own private infinity pool. During a previous hotel incarnation, the suite (tastefully refurbished by Kempinski) was built specifically for actors Brad Pitt and Angelina Jolie — who, staying long term at the hotel while filming nearby — wanted their own private pool.
European Flair Offset with Mexican Touches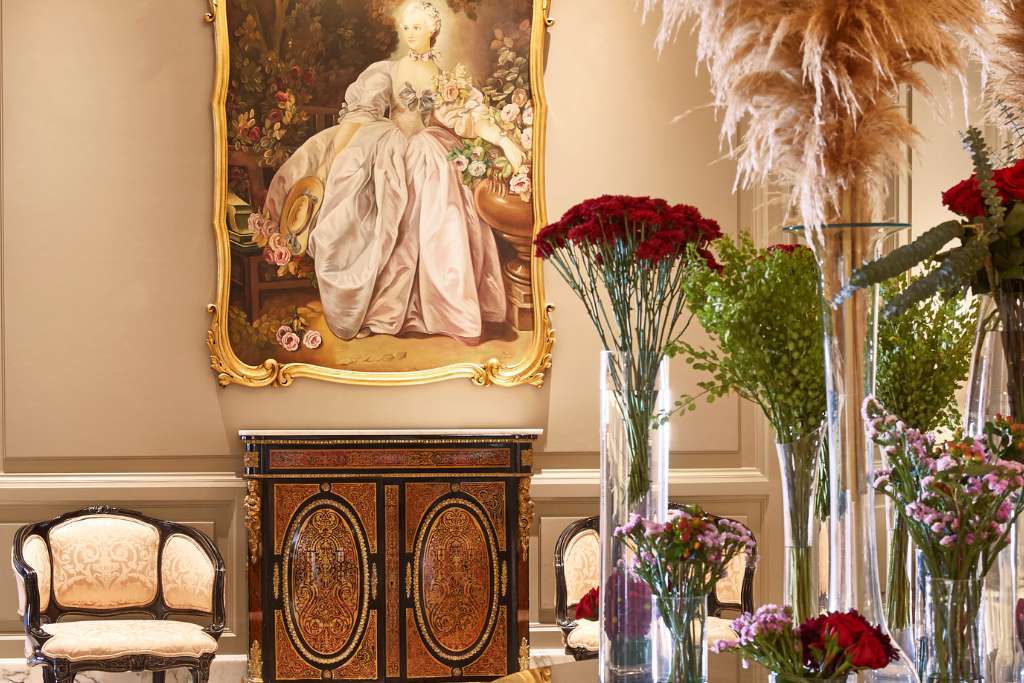 "The flowers are changed daily."
I am standing, awe-struck in the hotel lobby, admiring the 30-plus fresh flower arrangements when the 'Gentleman in Red,' wearing a traditional red Guayabera (linen shirt) with gold embroidery and buttons, notices my flower infatuation. "Every day, our florist fills the lobby with fresh flowers and takes away yesterdays to repurpose."
Amazing, and so very European. Throughout the hotel, European flair abounds — sparkly chandeliers, grand marble staircases with Hermès-designed carpets, and hand-painted frescoes. Inside the five-diamond, fine-dining restaurant Fantino — known for its exquisite white-glove service and truly exceptional cuisine (try the truffle burrata and homemade tagliatelle) — colorful hand-painted 'fantinos' (jockeys with horses) grace the domed ceilings. The hotel's rooms and suites (all with ocean views) feature a sophisticated palette of grays, whites, blues (reminiscent of the sea), and golds (the sand). Spacious bathrooms, many with soaking tubs, come with Ferragamo bath products.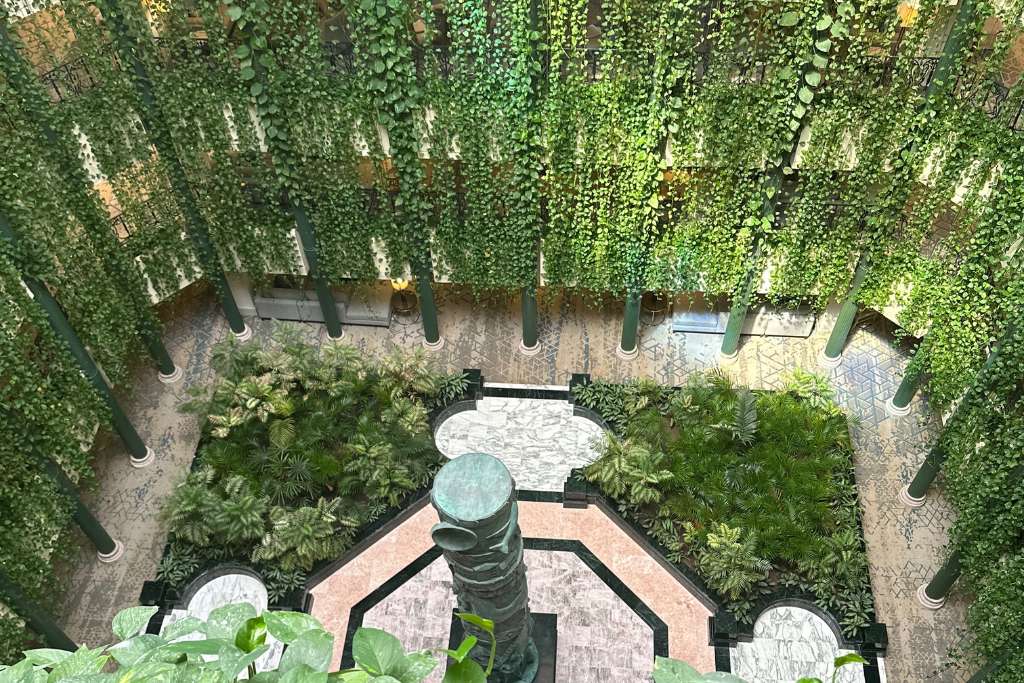 Mexican accents are also prominent. In the marbled lobby (near the fresh flowers and beneath an extraordinary portrait by a renowned Russian artist) is a stunning antique salon cabinet designed by the same craftsman who made furniture for Chapultepec Castle — Mexico's only royal castle and the former home of the country's second emperor: Maximilian and his wife Charlotte. An atrium, reminiscent of the Yucatán jungle with its lush greenery, serves as a centerpiece of the hotel. For best viewing, go to the fourth floor to take in the stained-glass dome ceiling (above) and dangling vines (below). Outside in the pool area, enjoy the life-size Mexican sculpture installations, while keeping watch for native spiny-tail iguanas sunning themselves.
Reborn in Kayanta'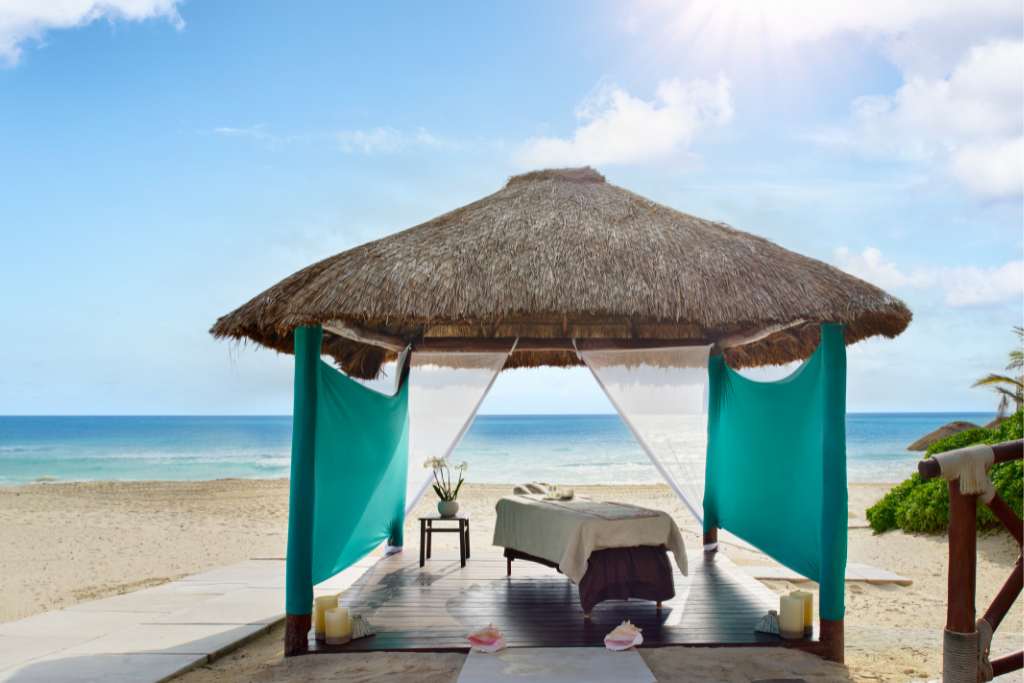 Inside the hotel's Kayanta' Spa (which translates to 'reborn' in the Mayan language) the blend of Mexican (ambience) and European (modalities) continues. The wellness experience begins with a "Welcome Magic" elixir of lemongrass and pea blossom flowers. "Squeeze the lime and watch the color change," Yemy, my personal spa attendant, says. Within seconds the deep indigo hue changes to a light lilac. After swilling the concoction (high in antioxidants), I follow master therapist, German, into one of the (eight) treatment rooms for the signature Kayanta' Massage. Created by the spa's own therapists, the treatment combines Swedish and deep-tissue massage with hot stones, acupressure, stretching, lomilomi, and reflexology. An hour later, after scraping myself off the massage table, I pad — in cushy robe and slippers — into the outdoor relax area, dripping with greenery and water features, where I move between the hot tub and ice-cold plunge pool. Every so often, as if on cue, Yemy appears with a cup of mint-and-chocolate tea, a cold juniper-lavender-infused towel, and snack of macaroons, elegantly served under glass. My post-treatment plan is to take the hotel's complimentary car to the nearby designer shops (or better yet, peruse the hotel's own European LaPerla and Australian boutiques, both divine). But instead I stumble out of the spa and into the golden elevator to my room, where I relax on my terrace, contently watching the cerulean sea.
Glorious Mornings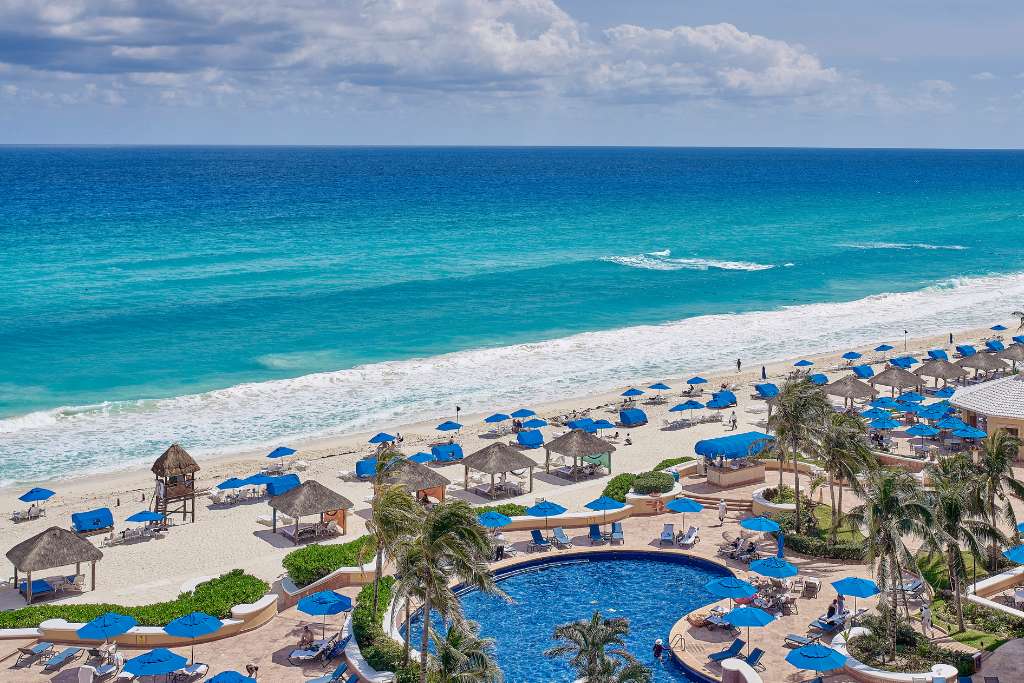 "You may want to wake up extra early here," I was told when checking into my room, a spacious haven of sunlight and art, my bedroom, living area, and terrace directly overlooking the sea. "The sunrises are spectacular."
I'm an early riser (but not that early) so I do indeed sleep with my curtains wide open. Every morning, coffee in hand, I step onto my terrace and watch the sky ignite into a brilliant burst of pink, yellow, orange, red. Below, people are already walking the beach; a few are swimming in the ocean. And on my last morning, I join them. Resting my coffee cup on one of the palapas, I dip into the turquoise water. I don't recall ever swimming in the ocean this early, and it's glorious: the water, warm, like silk; the sky, Van Gogh like in its moody swirls of color. I stay submerged for quite awhile, and when I finally make my way onto the sand, I find a perfectly rolled towel waiting for me in the palapa.
"Will you be having breakfast with us?" Seemingly out of nowhere, a staff member appears on the beach. I pause. I'm not a breakfast kind of girl. Coffee, fruit maybe, but never a full breakfast. Yet suddenly (perhaps from swimming), I'm famished. "Yes," I say, surprising myself.
Bags packed for my flight home, I meander to El Café Mexicano, where I'm greeted with a lavish and festive buffet. All of the traditional breakfast offerings (omelet station, pancakes, French toast, fresh-squeezed juices, yogurts) are here, but it is the colorful and quintessentially Mexican dishes that catch my eye: the Mexican hot chocolate (yes, please), the ripest papayas and mangoes (absolutely), and the chilaquiles — tortillas, green salsa, and cheese topped with sour cream. Who knew I would love chilaquiles so very much? And for breakfast?
Yet another Kempinski Cancún surprise.
(Cover image courtesy of Kempinski Cancún. Article in partnership with Kempinski Hotels).