As the world basks in the radiant glow of the summer sun, a captivating trend is taking hold in luxury travel. The boundaries between high-end fashion and hospitality are fading, giving rise to a new era of immersive experiences. This year, leading fashion brands are not content with making waves solely on the runway; they are boldly venturing into the world of luxury hotels, curating holistic experiences that seamlessly blend style, comfort, and indulgence. The result is an unparalleled fusion of la dolce vita and chic hospitality for three extraordinary partnerships that epitomize this burgeoning trend.
From the lush gardens of Sicily's Grand Hotel Timeo to the sun-soaked beaches of Palazzo Avino in Ravello, and finally, the vibrant shores of Zuma Mykonos, brands like Dior, Valentino, and Louis Vuitton are reshaping the luxury vacation experience.
Grand Hotel Timeo and Dior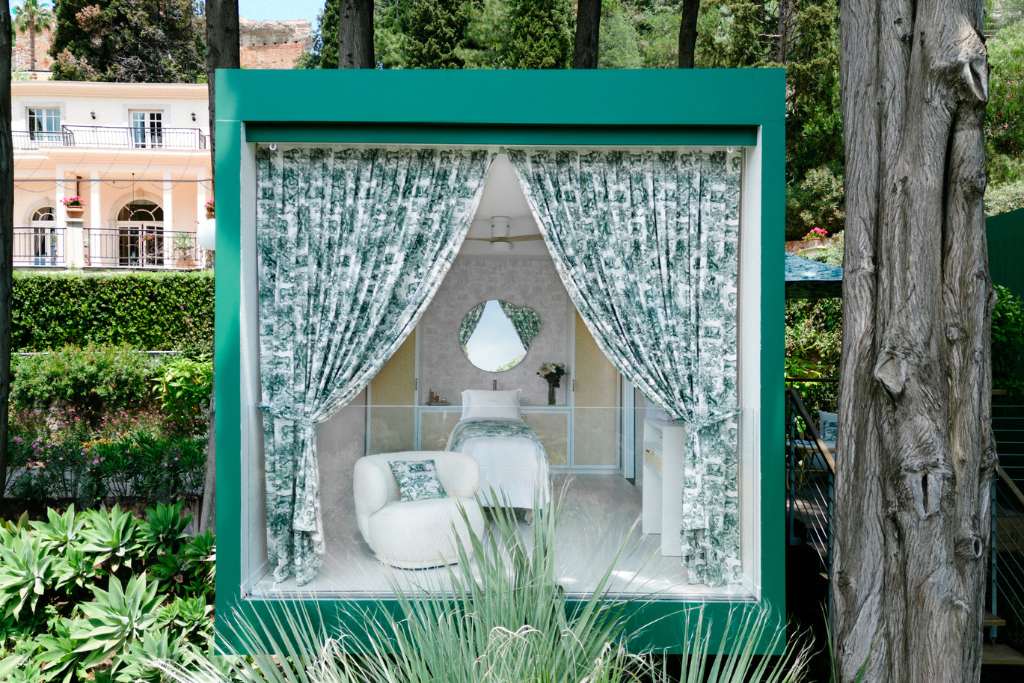 Picture yourself ascending a wooden staircase to enter a serene wellness cocoon nestled among majestic cypress trees. This remarkable experience awaits at the legendary Grand Hotel Timeo, A Belmond Hotel, in Taormina, Sicily. Celebrating its 150th anniversary, the iconic hotel has teamed up with Dior to provide an unprecedented wellness experience within its storied gardens.
Suspended amidst the verdant greenery are two Dior treehouse treatment cabins meticulously designed by Thirtyone Design + Management. Cloaked in the renowned Dior Toile de Jouy fabric, reimagined in a vibrant leaf-green hue by Maria Grazia Chiuri, Creative Director of Dior, these cabins blend harmoniously with the lush surroundings, creating a sanctuary that exudes tranquility. The elegance of bamboo seating, modern design lamps with brushed brass finishes, and private terraces overlooking the sea further elevate this haven of serenity.
Dior's unwavering commitment to skincare excellence is reflected in the signature treatments. For instance, the Dolce Vita Solar Glow treatment is meticulously designed to enhance and prolong a suntan. At the same time, the Dior Prestige Haute Précision aims to soothe and correct signs of aging. All treatments incorporate Dior's iconic techniques, which skillfully combine traditional methods with powerful, targeted movements, offering an elevated wellness experience that resonates with the timeless beauty of Sicily.
Palazzo Avino and Valentino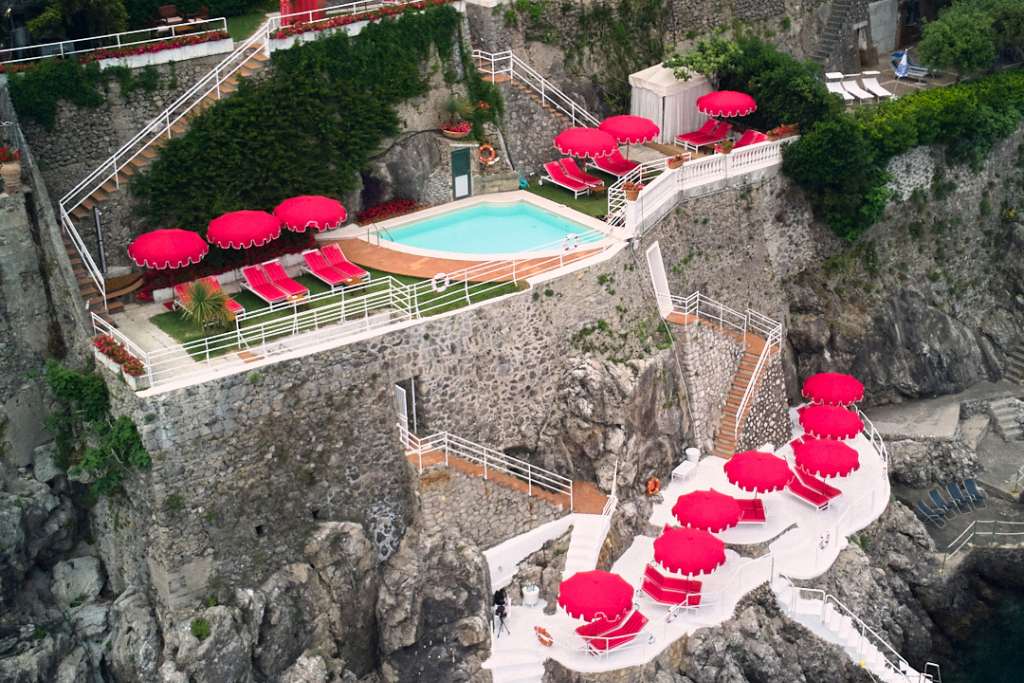 Meanwhile, the enchanting Amalfi Coast is witnessing an infusion of la dolce vita in an entirely different manner. The exquisite Palazzo Avino in Ravello has undergone a metamorphosis, becoming a testament to Italian fashion through its partnership with Valentino. The fashion house's branded takeover extends to the hotel's beach club, Clubhouse by the Sea, and a boutique on the property, creating a vibrant atmosphere that embodies the charm of the Amalfi Coast.
This remarkable collaboration, an undeniable love letter to Italian fashion, showcases Valentino's Escape 2023 collection in a dedicated pop-up. Caftans, mini-dresses, swimsuits, and headwraps, all designed with the brand's iconic aesthetic, promise to have guests embodying la Dolce Valentino in no time. Exclusive Valentino sunglasses and keychains, presented as cherished keepsakes to guests, serve as enduring mementos of this exquisite summer experience.
Zuma Mykonos and Louis Vuitton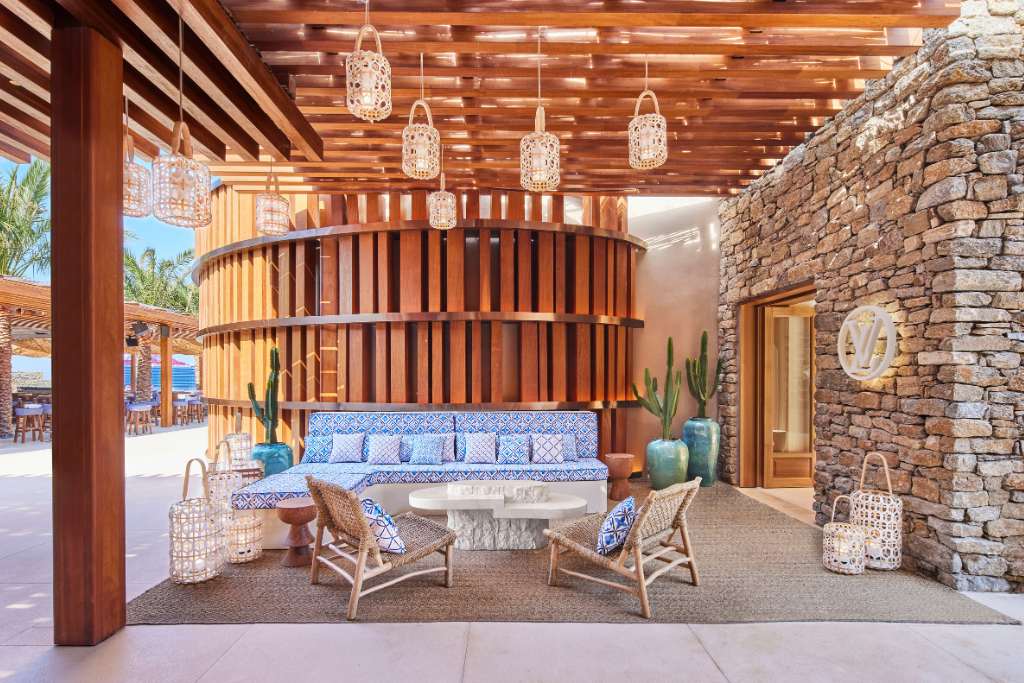 Another collaboration between a fashion powerhouse and a luxury hotel making waves this summer is the partnership between Zuma Mykonos and Louis Vuitton. This exclusive partnership merges the contemporary Zuma experience with Louis Vuitton's chic resort wear lifestyle, promising an unforgettable summer experience for visitors.
As part of this collaboration, Zuma Mykonos will host two exquisite pop-up stores, providing a dedicated space for guests and shoppers to explore an exceptional selection of summer collections. From men's ready-to-wear to women's collections, shoes, accessories, and the Maison's coveted leather goods, fashion enthusiasts will be immersed in Louis Vuitton's world of luxury and style.
The pop-up boutiques, nestled amid the enchanting backdrop of classical cliffside white-washed villas and the azure hues of the Aegean Sea, perfectly embody the island's spirit. Adorned with Louis Vuitton's signature monogram in elegant white and neutral tones, the stores showcase traditional Mykonian stone and wood architecture, seamlessly blending with the island's aesthetic.
Guests and clients will have the exclusive opportunity to acquire coveted items like the "Neverfull Mykonos resort bag" and the captivating "By the Pool" collection. Following their shopping spree, they can unwind by Zuma's infinity pool, basking in the Mediterranean sun, sipping on sunset cocktails, or relishing a delightful izakaya dining experience in the restaurant.