In the Adriatic Sea on Abruzzo's Trabocchi Coast in Italy, I'm clambouring back into a yacht, anxious to grasp another glass of cold wine. The captain laughs at me, mocking my desperate face, as he opens another chilled bottle of Masciarelli's Rosato Colline Teatine 2019. Looming moodily on the shore, the region's mighty trabocchi — uniquely-shaped, ancient fishing houses — make a statement, their shadows casting cartoon shapes onto the jade-colored water. I could float here forever taking it all in, sipping this wine, made from Montepulciano grapes by the Masciarelli family.
Led by wine doyenne Marina Cvetic, the family's wine empire boasts more than 60 vineyards in the scrubby Abruzzen hills near the sea. The family also owns and operates Castello di Semivicoli, a 17th-century baronial home, surrounded by vineyards, pine and citrus trees, and olive groves. Both a canny 11-room wine hotel and a meeting place for the family to decompress in the countryside, Semivicoli integrates contemporary flourishes (hello Philippe Starck and Driade) with the centuries-old mansion's soulful bones. Guests who make the less frequented trek to Abruzzo can while away the hours at the hotel's vineyard-ensconced pool, sip wine in the rock-walled wine cellar with its evocative chestnut barrels, swill at the wine bar (which holds a fount of Masciarelli labels), picnic in a wide array of vineyards, go out on a yacht (as I did), hike, and learn how to cook Abruzzen specialities. Room to book? Go for the Superior Suite, formerly the estate's granary for its 360° views from 17 windows, showing vineyards, sea, mountains, and countryside.
As oenophiles and hotel addicts we love putting our two passions together with a holiday spent sampling the fruit of the vine at characteristic lodges kitted out within vineyards. Here are more of our favorite luxury wine hotel hotspots around the world.
Sicily, Italy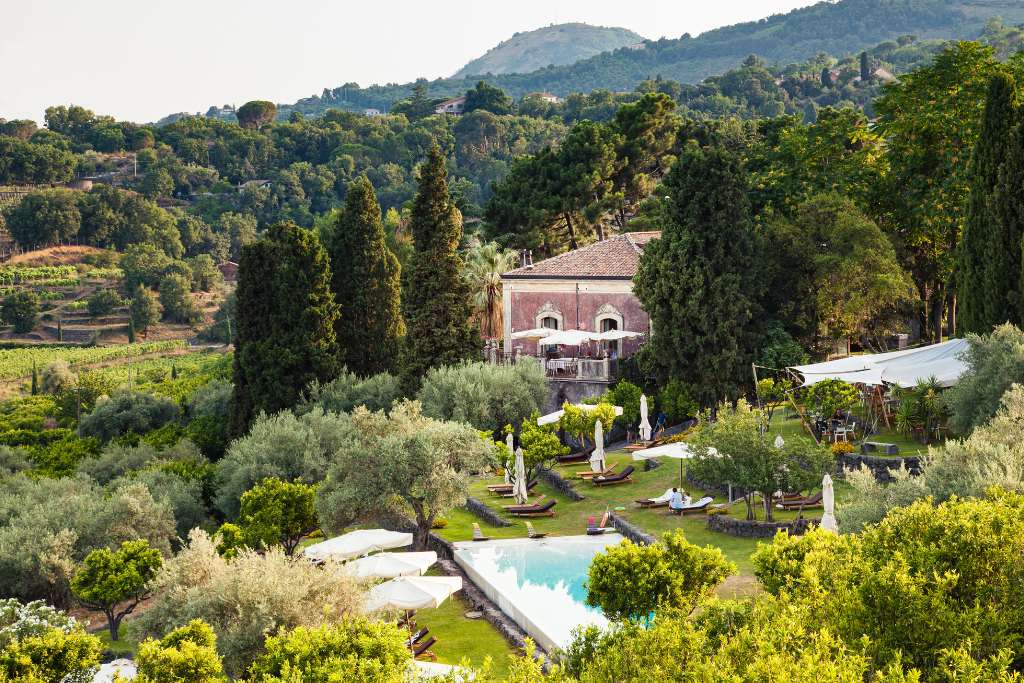 Sicily has been more popular than ever thanks to White Lotus Season Two, but long before the trend for "series travel," Monaci delle Terre Nere a Relais & Chateaux hotel, has welcomed wine loving visitors to its volcanic vineyard resort, poised on the foothills of Mount Etna. Straddling a stunning 62-acre estate, planted with organic grapevines, native orchards, and a curated kitchen garden, the gastronomic eco-retreat personally harvests the land and uses only organically grown grapes to produce its signature Doc dell'Etna, as well as wine from pre-phylloxera vines, relic grapes of Etna.
The Mendoza, Argentina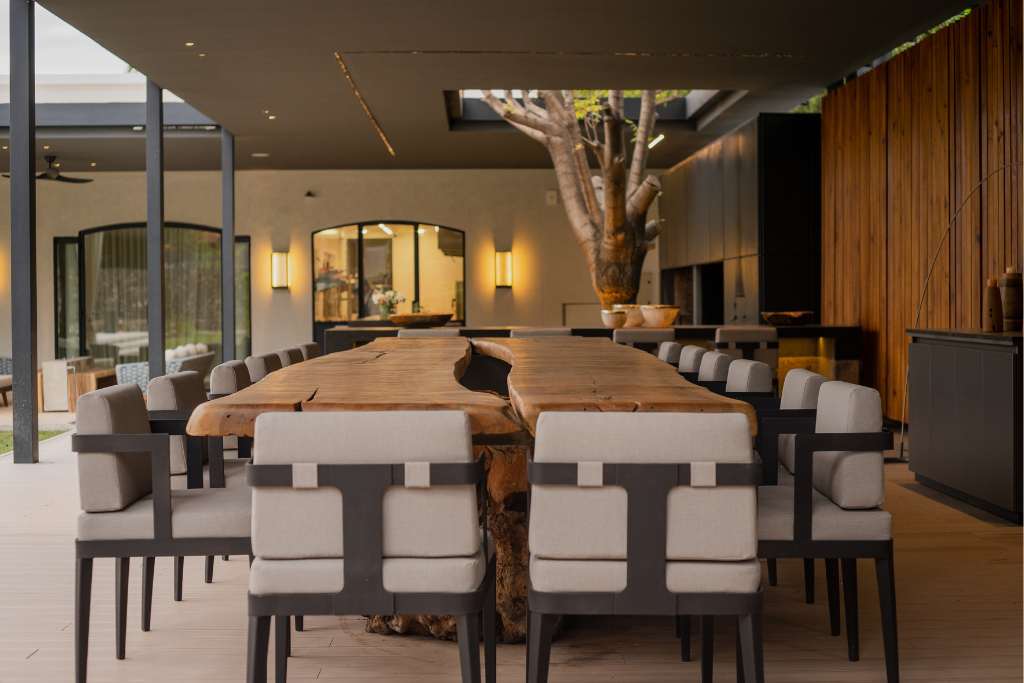 Famed Argentine winemaker Susana Balbo's penchant for sharing the glories of of the wine life with others prompted her to open her first hotel,SB Winemaker's House & Spa Suites, in partnership with her daughter, Ana Lovaglio Balbo, in 2022. The Lilliputian wonder has already garnered accolades aplenty. Tucked into the alluring Mendoza wine region, the retreat harnesses the metaphoric properties of wine in all aspects of the hotel, from design to wellness. Differentiating itself as the only wine hotel in Latin America with in-room spa accouterments — such as stream rooms, saunas, massage tables, and soaking rooms — the seven-suite hotel also incorporates South American art as another incitement for the senses. Don't miss the 14-course chef's table experience at LaVidA Restaurant or a hotel organized wine safari by seaplane.
Istria, Croatia
A storied food and wine region, Istria, a hilly peninsula in Croatia with idyllic beaches, has romantically off the beaten path nooks. In one of them, discover Meneghetti Wine Hotel & Winery, a member of Relais & Chateaux, a stand out with 40 charming rooms. Encircled by olive groves and vineyards, the winery and estate produces peerless wines and olive oil. Built from ancient stone, it evinces elements of the Austro-Hungarian monarchy's reign over in Istria. When early 19th-century soldiers needed to be fed, the land's original owner, a man called Meneghetti, made wine, planted food and vineyards, raised barnyard animals, and built structures. This foundational act of hospitality remains intrinsic to the hotel today. With a spa, beach, epicurean-level restaurant, pool, and villas large enough to accommodate families, Meneghetti presents the best of Croatia.
Oregon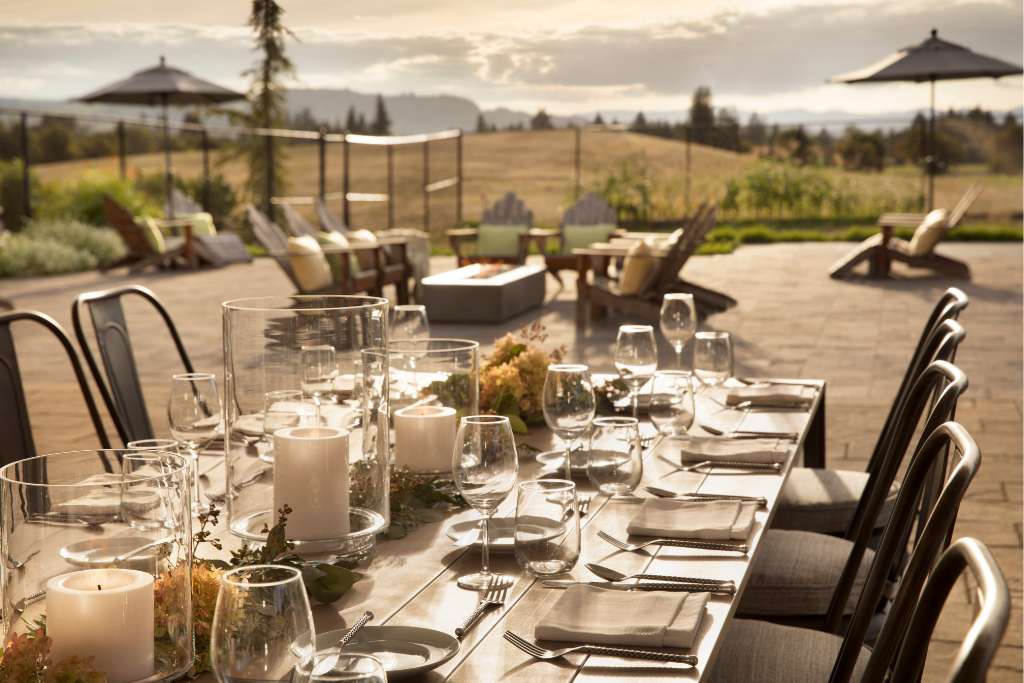 People who know, know. The Willamette Valley produces some of North America's most sought after wines in a verdant, underrated expanse, home to some 700+ wineries. As prodigiously elegant and unpretentious as its location, The Allison Inn & Spa helped bring focus to the region as the area's first luxury lodging option. Flaunting its own small vineyard on property, the Allison weaves wine into all aspects of the lodge, including its restaurant Jory's Pinot burger and The Allison Spa's "pinotherapy" treatments. Mingling seamlessly into 35 acres of nature sustainably, the hotel has 77 rooms and 8 suites. Its knowledgeable staff can dive deeply into their Willamette black book to provide customized wine experiences for guests.
The Languedoc, France
From the infinity pool amid the vines at inspirational winemaker Gérard Bertrand's Château L'Hospitalet in the Languedoc, France's maritime wine region, you can see and smell the sea. That's only part of the appeal. After all, you'll be imbibing something delectable, perhaps, the former professional rugby player's golden-pink, first-in-class rosé.
Clos du Temple, which sells for upwards $200 a bottle, created to be saved in your cellar — not that I'd ever be able to do resist opening the bottle on sight. Near Narbonne, amid a wine realm that includes 2,100-acres spread across some 17 bio-dynamic and organic estates, L' Hospitalet effuses elegance and artfulness. Composed of 45 rooms and suites in a variety of buildings, edged by vineyards, three restaurants (one seasonal, on the beach), pools, bars, and mini-fridges loaded with wine, this hotel can organize vineyard visits, tastings, and regional activities for travelers.
Napa, California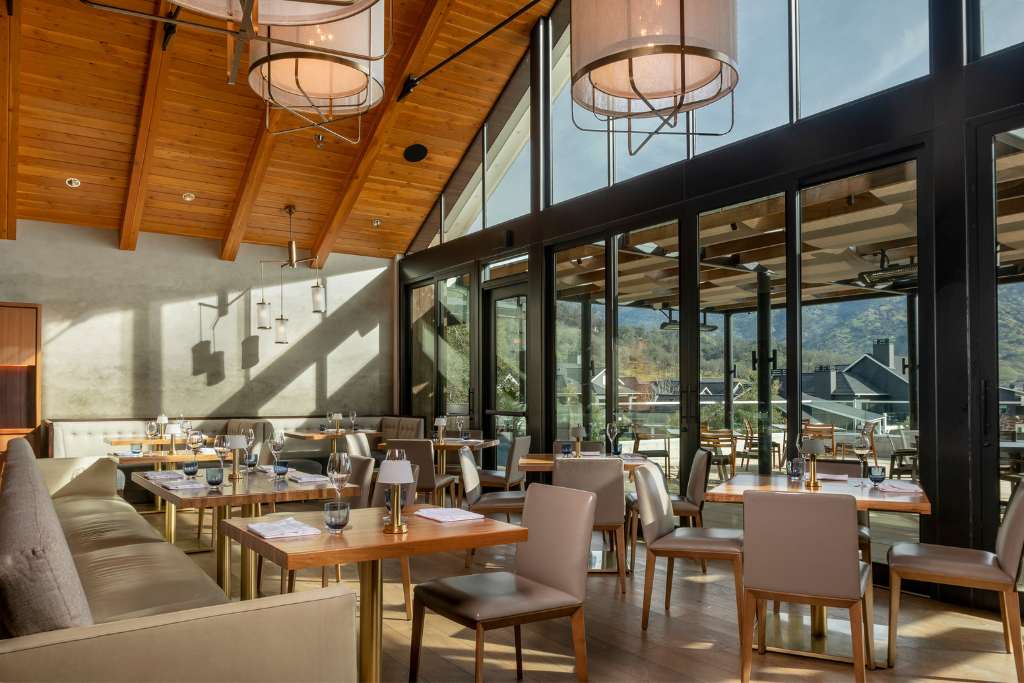 Amid the enchantment of eccentric Calistoga in Napa Valley, known for its inveterate hippie vibe, stellar wines, mineral springs, and mud baths, Four Seasons Resort and Residences Napa Valley holds title as the only resort in the Napa Valley with a working winery on property. Comprised of 85 stylish rooms and suites, the hotel incorporates an abundant amount of en plein air in its design, celebrating the beauty of the vineyards and the great outdoors. Enlivened by the Elusa Winery at its heart, Four Seasons Resort Napa Valley has two pools, a destination restaurant, bar, and beau coup indoor-outdoor spa experiences.
Carmel Valley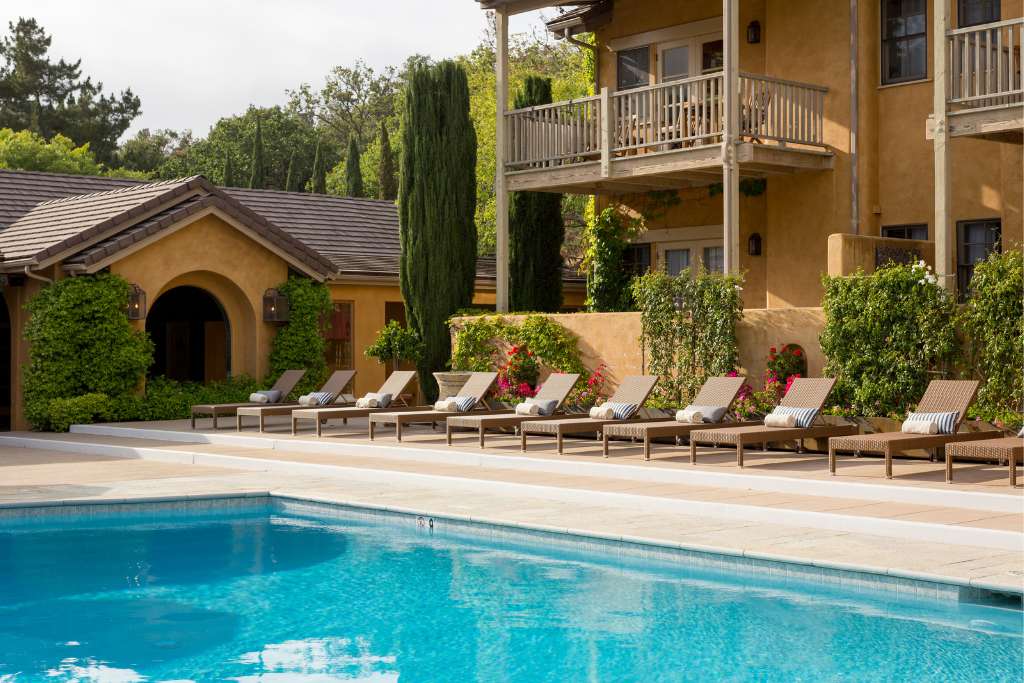 Two-person soaking tubs, terraces and balconies with captivating views of vineyards and lavender fiends, complimentary in-room wine bars, welcome glasses of estate-made Sauvignon Blanc, amenities made from garden-grown herbs, and fireplaces ready to roar with flames — that's just a terroir taster's tidbit when it comes to the largesse that is storied Bernardus Lodge & Spa. A sanctuary nestled far from the madding crowd in Monterey County's Carmel Valley, this stunning retreat has 73 airy rooms spread across 28 acres. Picnic among the vines, pop into the hillside whirlpool, luxuriate in the spa, enjoy a guided hike through Garland Ranch Regional Park, or borrow a house Mercedes to wine taste around the county.
Mexico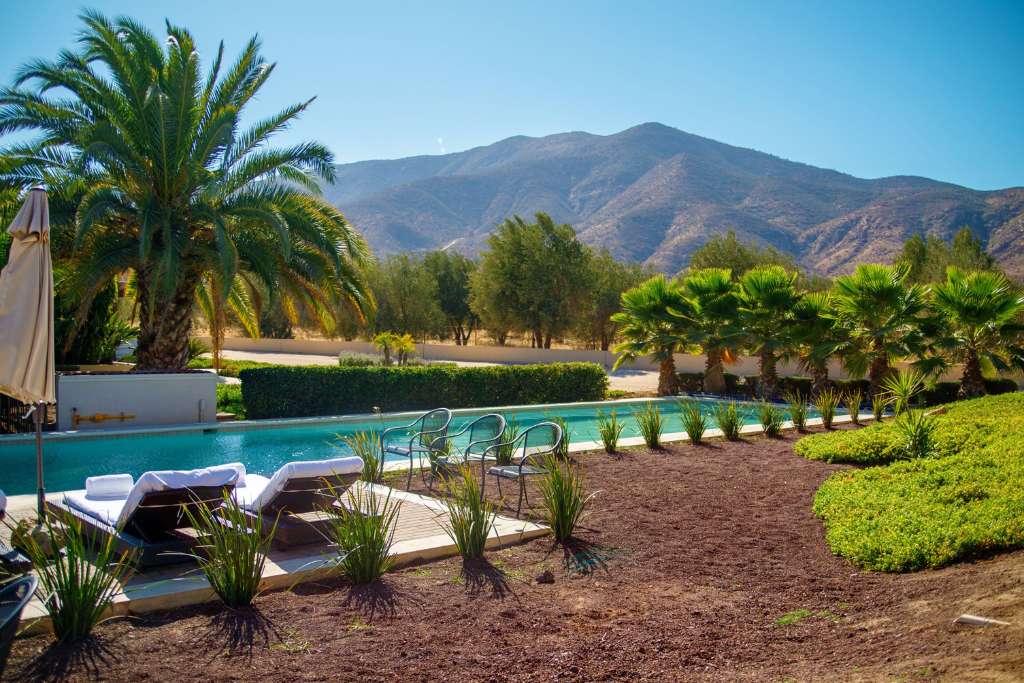 Master the myriad varieties along Mexico's vibrant Valle De Guadalupe wine trail in Baja California, just two hours south of San Diego. Fringed by mountains on one side and sea on the other, the area revels in a rich, Mediterranean-like micro climate. Check into the region's best hotel, El Cielo Winery & Resort, entrenched in rows of vine beside a lake. With 95 expansive suites, the hotel encompasses one of Mexico's most celebrated wineries, El Cielo. Partake of gastronomic meals at Polaris, the gourmet restaurant with farm-to-plate tasting meals created to match the winery's bounty. Days might include exploring the vineyards by golf cart or on bikes, learning how the Harris Eagles protect the grapes from invading crows, barrel tastings with sommeliers in the underground cellar, and much more.
South Africa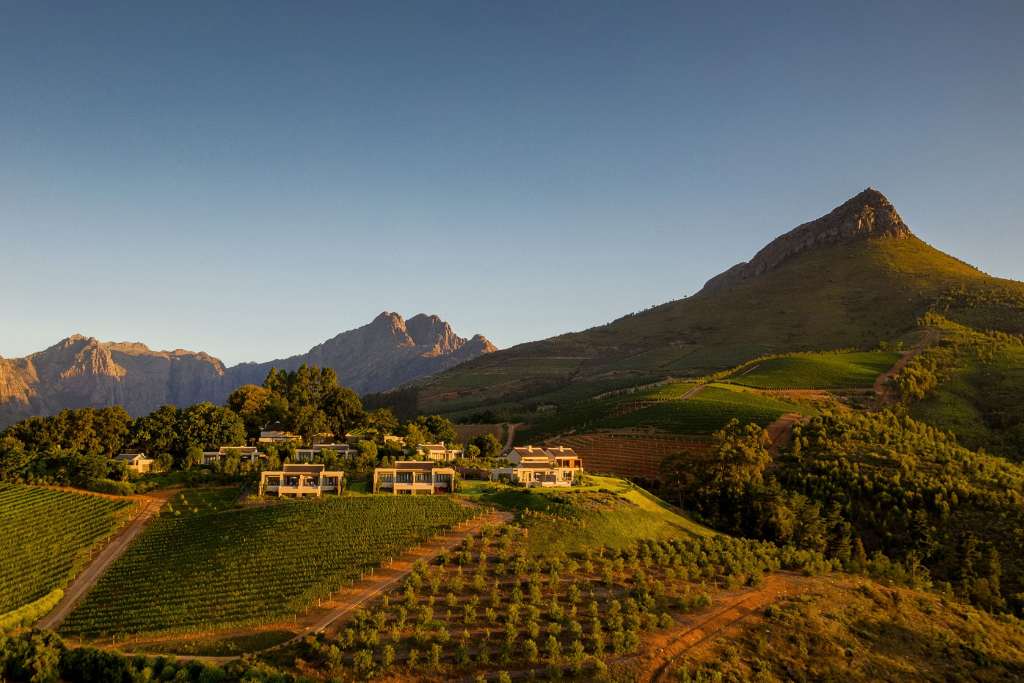 Diamantaire Laurence Graff knows his gemstones — even metaphorical ones. So, it's no surprise that when he came across a spectacular wine estate poised at the highest point of South Africa's Helshoogte Mountain pass, he knew he'd found a treasure he had to have — and share with others. A magnificent small hotel that hovers slopeside with uninterrupted vineyard vistas, Delaire Graff Estate, a Relais Chateaux hotel, has 16 swanky lodges, two of which are Presidential Lodges with two bedrooms. An Owners Villa features four bedrooms for larger groups traveling together. Located where Stellenbosch and Franschhoek, South Africa's two esteemed wine regions intersect, the estate allows for day trips to both. The onsite winery, however, reigns as one of the world's most prestigious. Further invigorated by Graff's own dynamic art collection indoors and out, Delaire Graff has a spa and respected restaurant (Indochine) to add to the allure .