Traveling with a carry-on might be best, but it's not always possible to fit a week's worth of clothing and footwear into a 19-inch piece of luggage. That's why, for longer trips, you should always have a large check-in suitcase. However, choosing one isn't the same as picking the best carry-on.
Since airport baggage handlers can be pretty aggressive when loading and unloading luggage, your suitcase must be durable and crush-resistant. Also, you'll be packing a many more items, so an excellent internal organizational system is essential. Another major factor? The color and design of the exterior shell. If you're worried that someone might accidentally pick up your suitcase from the baggage carousel, choose a large suitcase in a bright color or one with instantly recognizable features.
Lucky for you, we did the hard work and selected seven chic and practical options to shop right now.
Rimowa Check-In Suitcase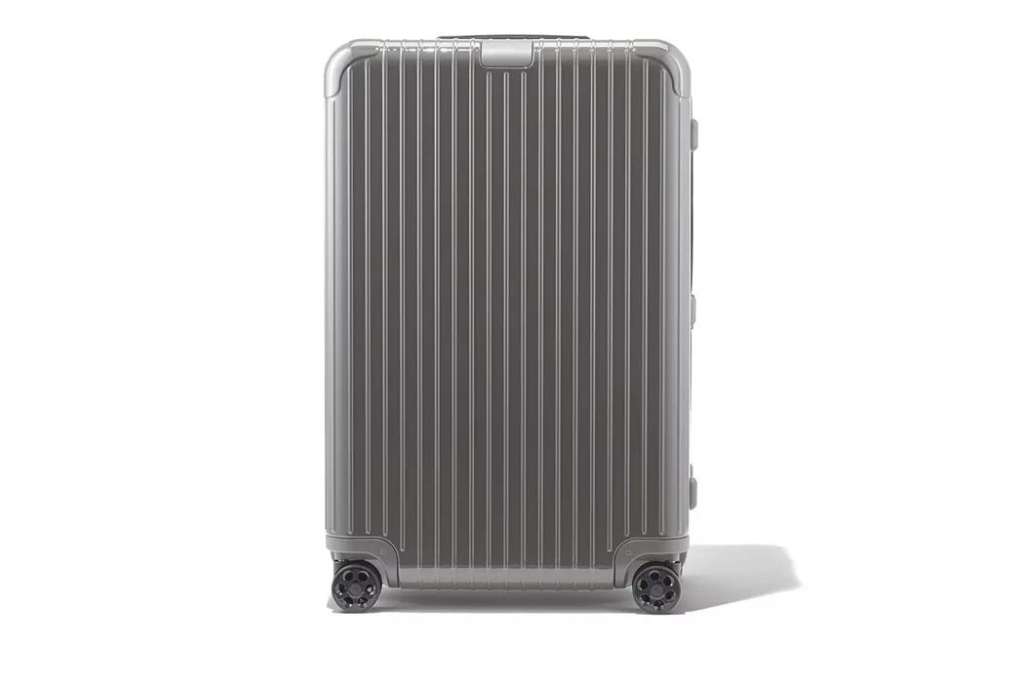 Rimowa suitcases really stand up to anything, from frequent layovers to heavy packing. This German-designed 26.4-inch suitcase has a polycarbonate hardshell that will protect your belongings from accidental drops and water damage. It has two wraparound zippers and a TSA lock for easy zipping. Inside, two main compartments allow plenty of room for packing while keeping your belongings organized, thanks to mesh panels.
And finally, the four multidimensional wheels and telescopic handle will make airport transfers a breeze. You can get this medium checked luggage in four colors, but we love this raspberry-hued style that'll pop up immediately at the baggage carousel.
To shop: $1,025; bloomingdales.com
Kenneth Cole Chelsea 28-Inch Large Chevron Quilted Expandable Suitcase
Fact — you can fit more in a soft side luggage thanks to the flexibility of its fabric shell. This Kenneth Cole suitcase also comes with expandable panels, which gives you even more packing room. We like its organization system, which includes two exterior pockets, three interior zippered compartments (one leakproof for liquids), and a super spacious main compartment with compression straps. With eight wheels and a retractable handle, this suitcase makes steering a breeze.
The gold-tone zippers and chevron motif are a chic touch and a subtle way to make this black suitcase stand out.
To shop: $158, kennethcole.com
ROAM Large Check-In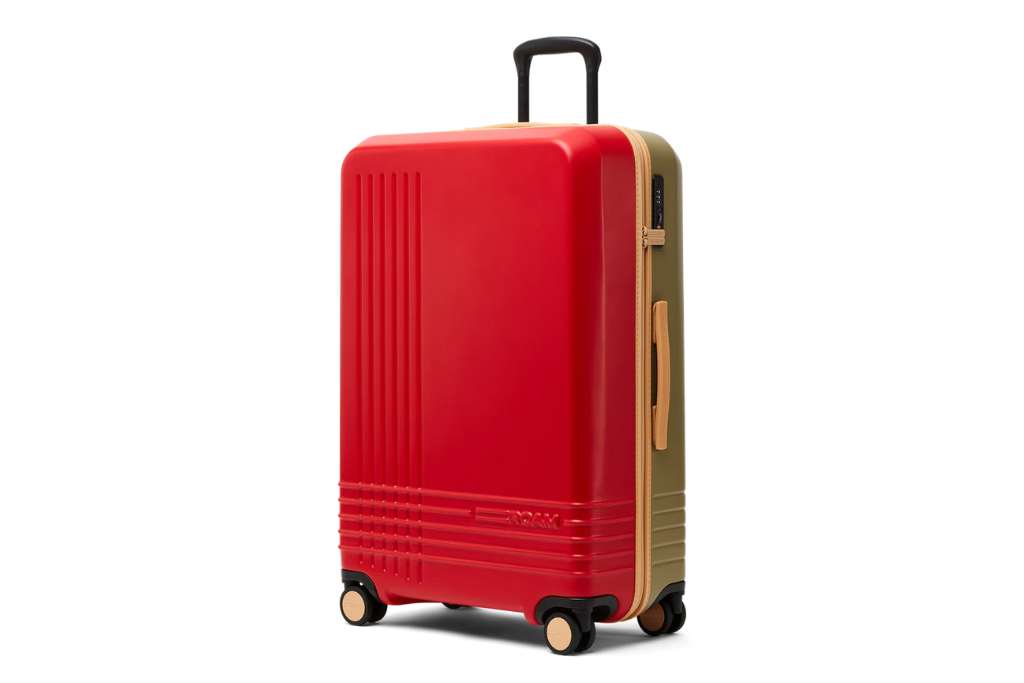 Not only does ROAM make durable luggage, but it's also super stylish. This large 30-inch suitcase has a polycarbonate shell and water-repellent zippers to keep your belongings dry. The TSA-approved lock, retractable aluminum handle with four settings, and multidimensional wheels will make airport transfers and lengthy layovers much more pleasant.
We love that inside, both compartments come with compression straps and zippered panels, ensuring your belongings stay in place while you're traveling.
To shop: $650, roamluggage.com
Level 8 Luminous Trunk Luggage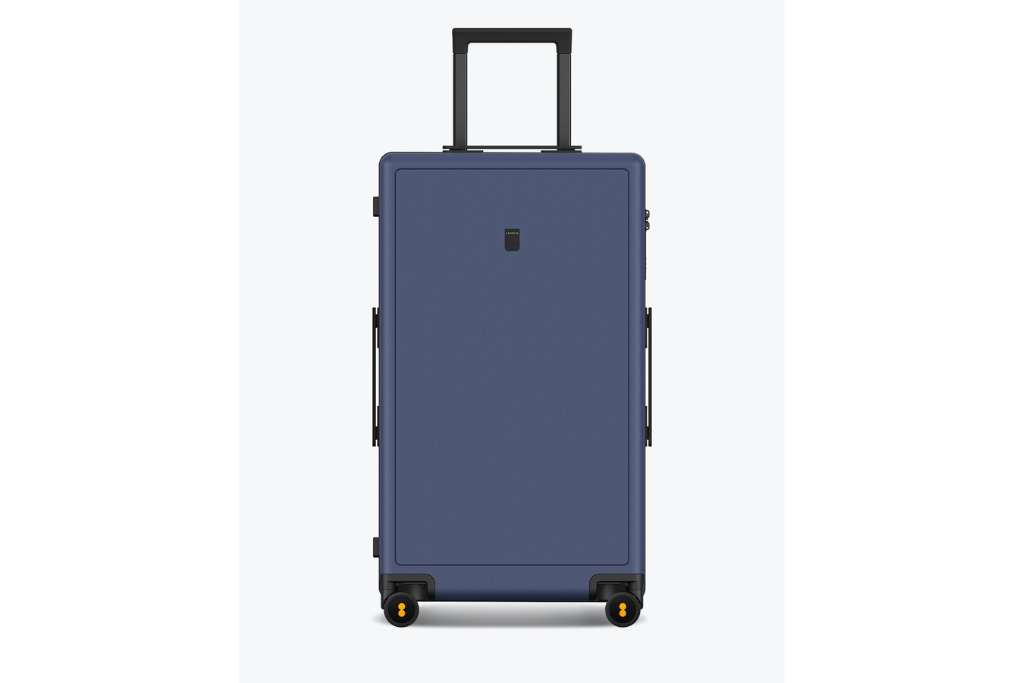 Inspired by classic trunks, this 28-inch suitcase offers a larger capacity and practical features. The durable scratch-resistant shell will last through drops and loading while protecting your belongings. The slightly wider telescopic handle and spinner wheels make the suitcase more stable and easier to steer, even if it's extra heavy.
But what we're really impressed with is the internal organization. With two zippered mesh panels on one side and a third one on the other, accessing your clothing and accessories is effortless and quick. The compression system ensures you can pack a few extra items, too.
To shop: $280, level8cases.com
Travelpro Platinum Elite Softside Expandable Luggage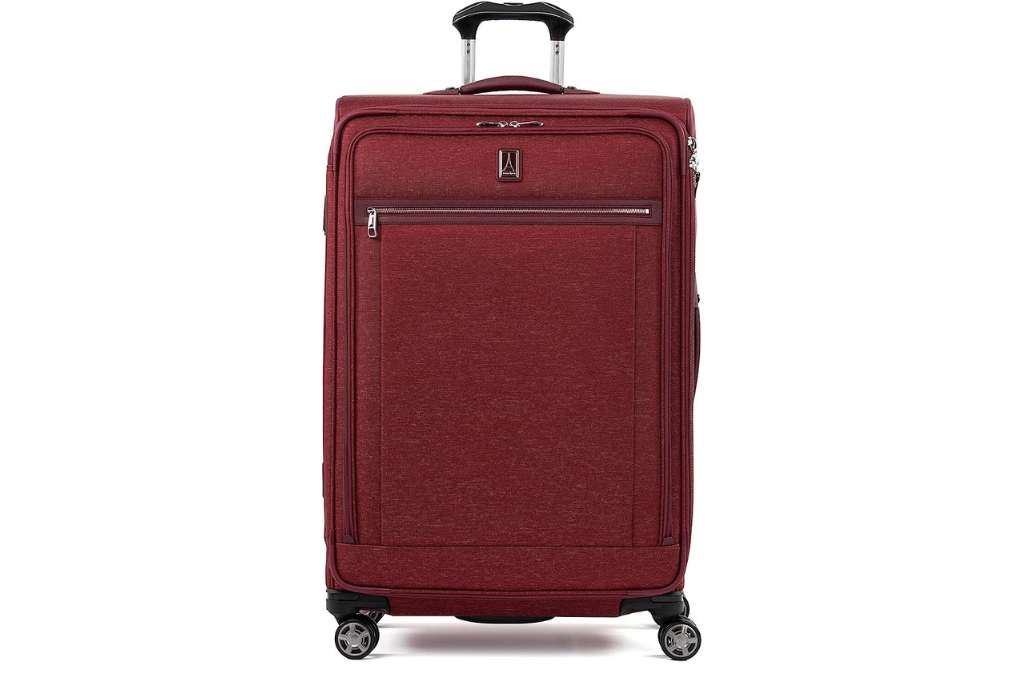 Every single detail on this best-selling check-in suitcase was designed with comfort and durability in mind. The soft shell is cut from high-density nylon fabric that resists water damage, stains, and abrasions. The expandable panels will come in handy if you like shopping for souvenirs, while the multiple pockets and compartments will keep everything organized. The suitcase also comes with removable wet bags for toiletries and other liquids.
The ergonomic, contour handle and spinner wheels are all about maneuverability and let you roll it easily regardless of weight.
To shop: $400, amazon.com
Away The Medium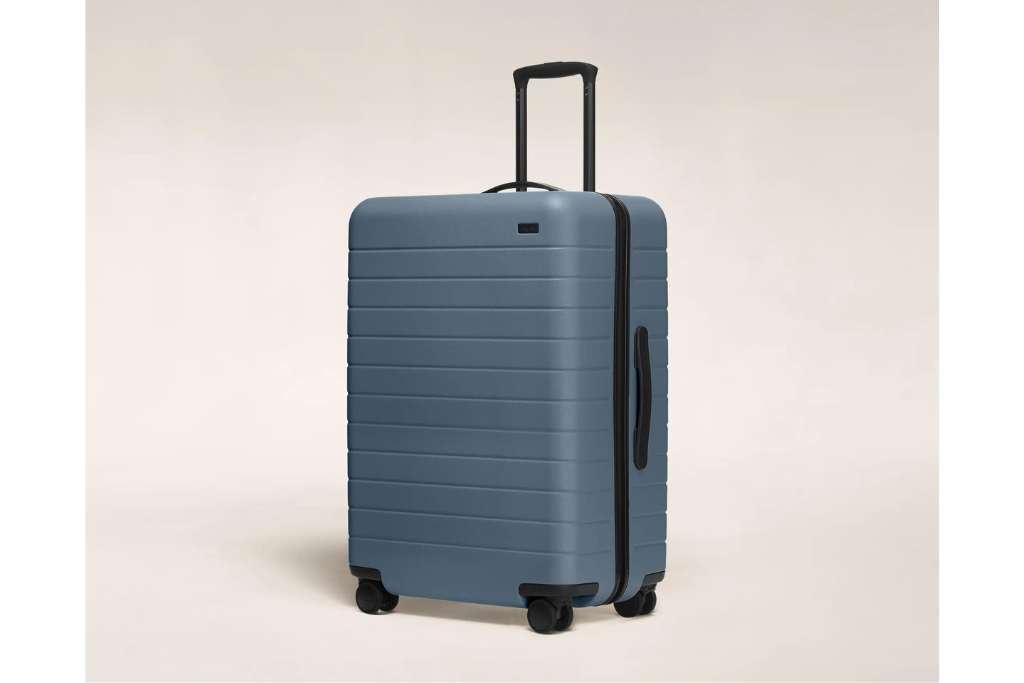 Away's large suitcase blends form and function perfectly. The durable polycarbonate hard shell is good news for those who worry about accidental damage to their belongings.
And while it may not have expandable features, you will be amazed at how much you can pack in this 26-inch suitcase. The reason? The cleverly designed interior compartments feature an excellent compression system to give you more room (and make zipping much easier). A water-resistant bag for your footwear (or laundry) is also included.
This being an Away piece, you can't ignore the sleek design that has made this brand so popular.
To shop: $345, awaytravel.com
Beis 29″ Large Check-In Roller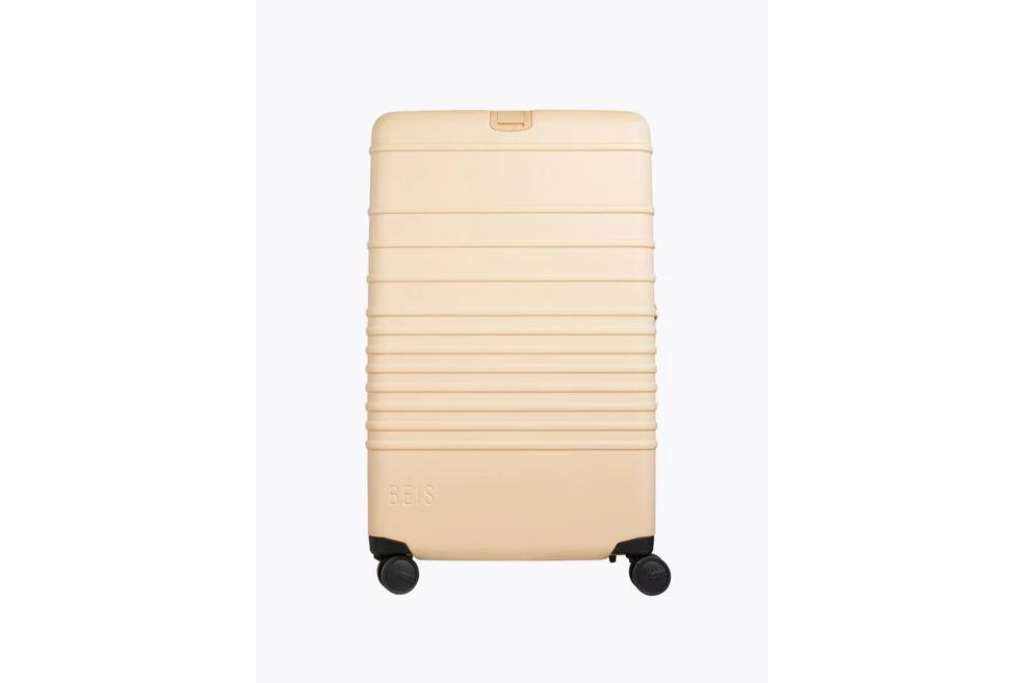 So many little details make this large suitcase a must-have. Take, for example, the built-in weight indicator, which will automatically alert you when your bag is over 50 lbs. Or the carrying loop at the back of the suitcase that lets you hang your purse. The expandable panels are also a great addition to this stylish and functional luggage piece.
But what won us over was the smart design of the interior compartments. Compression straps and zippered panels keep your belongings flattened for effortless zipping. One of the main pockets also has a water-resistant panel perfect for storing toiletries and liquids. To shop: $328, beistravel.com
Featured image credit: Canva