Health-conscious travel —the idea being to breathe that clean air, submerge in saltwater, exercise in nature, eat fresh organic meals, and soak in natural hot springs — is all about elevating your wellbeing and lifting your spirit. This is why sojourning to a healthy destination is always a good idea — especially with a spring reset in mind. Here are five health-minded destinations on our radar.
Switzerland: For A Nature Immersion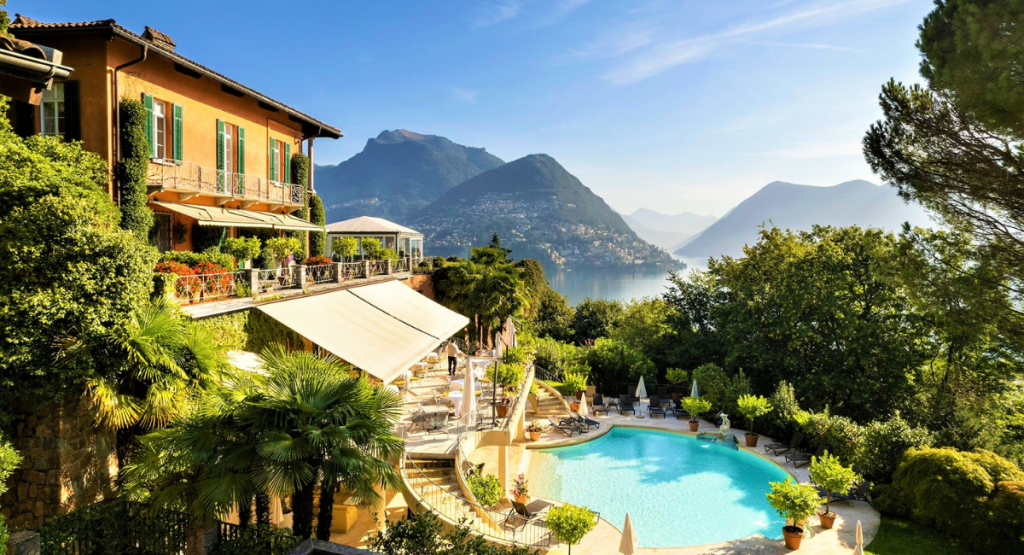 Postcard-perfect Switzerland — with its snow-capped mountains, bell-clanking cows, wildflower-laden alpine meadows, rushing waterfalls, and pristine lakes — offers the ultimate nature immersion. Considered one of the healthiest places to live in the world, with one the world's best healthcare systems and the highest life expectancies. Add to that, a low crime rate, high work-life balance, uber-clean drinking water, and loads of year-round exercise options: Alpine skiing in winter, hiking in summer. Even the decadent chocolate and cheese fondue are pure.
Where to Stay
Book into Villa Principe Leopoldo, reigning majestically over the southern Swiss city of Lugano. The former summer residence to the House of Hohenzollern (a dynasty of princes, kings, and emperors), Villa Principe has all the makings of a royal escape, plus every fantasy conjured about Switzerland: Stunning mountains and lake, spectacular food (Michelin star) and a dreamy spa. Spend the day trekking alongside the lake or a full-on immersion ride the funicular to Monte Brè (said to be Switzerland's sunniest spot) and hike the circular (five-hour) loop. Once back in your room, nature is still on your doorstep. Private balconies overlook the lake and the enchanting outdoor heated pool with spouting fountains.
Thailand: For Spa Lovers
Thailand is a bonafide utopia for spa lovers. It's hard to move around the country without bumping into some form of a luxurious spa. The country's thriving and long-established spa scene — from traditional Thai massage on the beach to lush island spa resorts to buzzy urban day spas— keeps Thailand high on Asia's wellness-destination list. Medi-spas, offering procedures like laser facials, fillers, and thermal body sculpting, are also a staple of the spa scene, especially in Bangkok, the cosmetic capital of the country.
Where to Stay
For the ultimate Thailand destination spa experience, nothing surpasses Chiva Som, in Hua Hin, Thailand's oldest beach resort. Designed by the late American architect Ed Tuttle (known also for his groundbreaking design of Aman Resorts), Chiva Som completed its most recent incarnation in 2020, just before the designer's passing. The spa's 54 guest rooms come with soothing bamboo-and-silk furnishings in soft teals and blues; the legendary Orchid Lounge has been reimagined into a zen den of low sofas, mosaic mirror panels, and seemingly always blooming white orchids. But the real reason for coming is the programming. Ranging from 3 to 14 nights, choose from 6 core modalities: spa, fitness, nutrition, physiotherapy, holistic health, and aesthetic beauty. All include healthy meals, mind-body-spiritual activities, and daily spa treatments. Utopia indeed.
Japan: For Holistic Health
Japan's ancient soaking culture and diet (Okinawa has the largest population of centenarians in the world) catapulted it to the top of our list for a holistic health vacay. Japan is home to more than 25,000 natural mineral hot springs (onsen) making medicinal soaks a way of life here. The sulfur and magnesium found in the bubbly waters promote skin health while the heat (ranging from 77 to 200 degrees) reduces inflammation and pain, and boosts the immune system. Proper etiquette should be noted; bathing suits are never worn (baths are separated by gender) and photo-taking is definitely taboo.
Where To Stay
One of the most authentic ways to immerse yourself in Japan's onsen culture is to stay in a traditional Ryokan inn. One of our faves is Nishimuraya Honkan in Kinosaki. Founded in 1860, this 34-room ryokan comes with the traditional tatami mat floors, low tables, and sliding shoji screens. A manicured garden features a koi fish pond among the sculpted trees and stone lanterns — and blissfully, its own bubbling onsen, set in a grove of bamboo — the scent of cypress wood wafting.
While lovely to partake in this private soaking ritual, do wander to 'downtown' Kinosaki, where spa-goers pad around in their yukata (robe) and geta shoes, to try a few of the public onsens.
Spain: For Healthy Foodies
For several years in a row, Bloomberg Healthiest Country Index has named Spain the healthiest country in the world — with Valencia its top wellness city. Spain's staple Mediterranean diet (olive oil, fresh veggies, lean meats, and red wine) appears to have much to do with the accolade, as does the paella. Spain boasts one of the lowest rates of cardiovascular disease in the world and, aside from Italy, consumes less fast food than their European (and definitely American) counterparts. Getting enough sleep also factors in — Spain does love its siestas.
Where to Stay
Take time to breathe in the salt air and dip into the water at the beachfront Hotel Balandret. Rooms are spacious, with cooling colors, wooden floors, and large windows overlooking the sea. Dine alfresco over Valencia's famous paella and seafood dishes including the delicate Valencian clotxina (similar to a mussel) when in season and calamari with curried mayonnaise. It's healthy after all.
Iceland: For Active Adventurers
A shortish flight from the northeastern US, Iceland is widely known for its plethora of adventures —from chasing waterfalls and the northern lights, to ice cave touring and geyser trekking, riding shaggy Icelandic horses, and geothermal bathing in the famously restorative Blue Lagoon. Locals are active and outdoorsy, and the diet, largely fresh seafood and free-range meat, helps keep the long life expectancy.
Where to Stay
Adventure seekers will love ION Adventure Hotel for its remoteness, peaceful vibe, and stunning architecture — its concrete-and-glass facade mystically rising from the Icelandic landscape. The hotel's 45 rooms are Nordic chic, with organic linens and the entire hotel is powered by a nearby geothermal plant. We love that there is a spa onsite and a sexy pool-like outdoor hot tub. But it's the Northern Lights bar — offering seasonal glimpses of the aurora borealis, served alongside Nordic New (seasonal and locally sourced) cuisine — that won our healthy hearts.