Prepare to submerge in style. Voluptuaries from Cleopatra to Nero to King Louis XIV claimed bath time as a symbol of their right to repose. Today, we call that self care! Indeed an extravagant bathtub at an exquisite hotel or resort surely epitomizes the ultimate call to luxury. Whether set outdoors in a private nook, facing a window with nonpareil views, or hidden in a marble haven behind a locked door, a dream bathtub might very well change your life.
Each hotel is being equally honored in no particular order.
Raffles Maldives Meradhoo Resort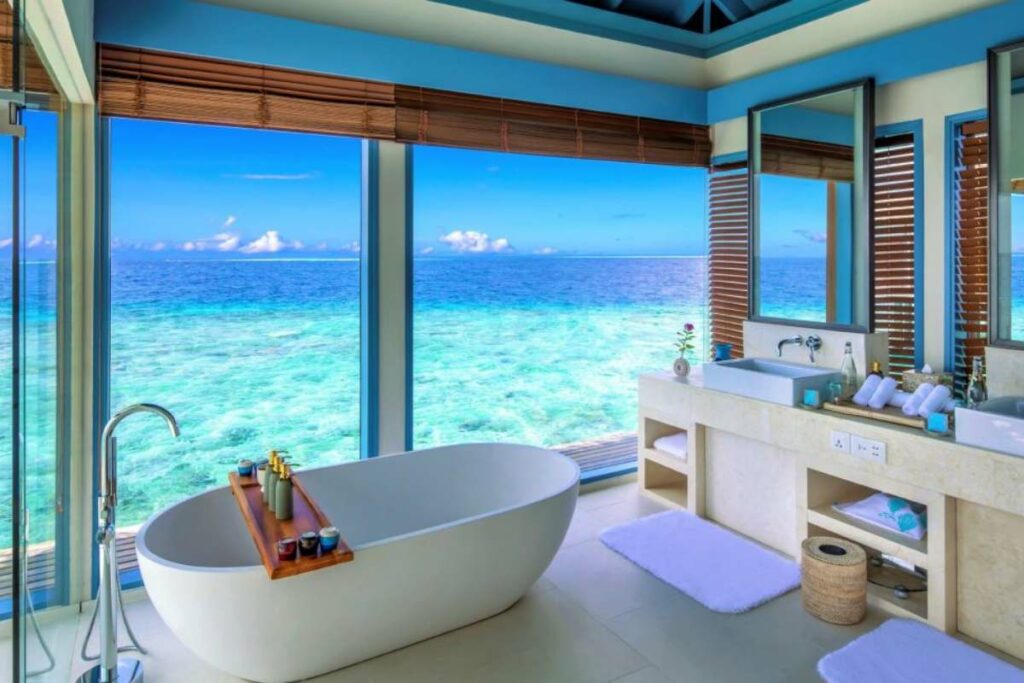 Located smack in the middle of the Indian Ocean, Raffles Maldives Meradhoo — with its legendary butler service, lush greenery, and crystal clear waters fringed with white sand and palm trees — is beyond extraordinary. Each of the overwater villas (spread across two islands) comes with a private plunge pool, staircase leading directly to the sea, and terrace with glass-viewing panel (to watch the fish below). But it's the overwater-residence bathroom that truly wows. A canvas of white on aquamarine, this soothing retreat features a deep-soaking tub directly overlooking the sea. A separate, glass-encased, walk-in rainshower shares the same decadent water view.
The Ritz Paris, France
According to legend, Cesar Ritz, founder of Ritz Paris, the paragon of palace hotels, instituted the five star "king-size" bathtub in all guest rooms after an incident wherein King Edward VII of England got stuck in his suite's diminutive tub — reputedly with a mistress. Exchanging smaller tubs for larger, grandiose ones, Ritz Paris began a trend we love. Today, at this grand dame hotel, you can soak like a royal in a moan-making oversize tub that flaunts gleaming gold swans for faucets. Be mesmerized as they spew water from their beaks.
Vik Chile, Chile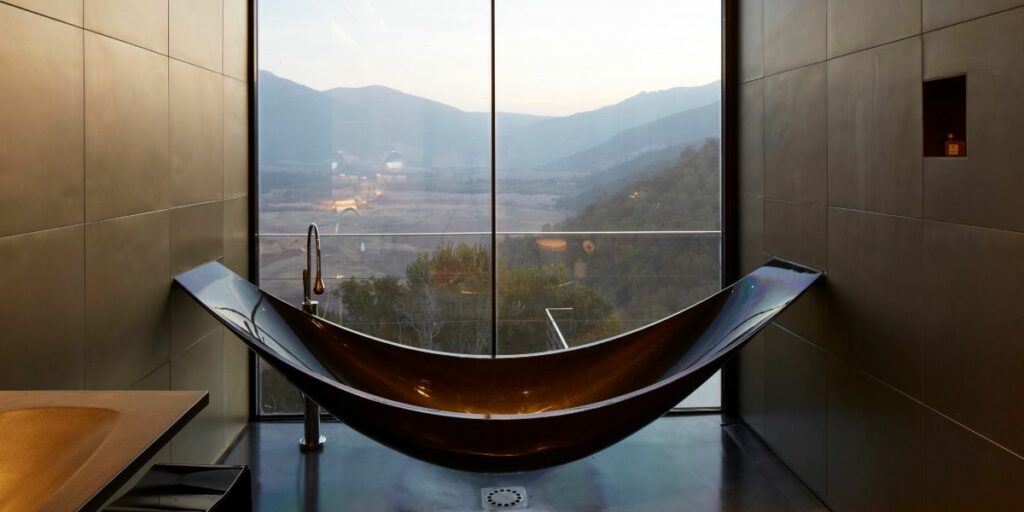 If winemaking is an art (we think it is) then it's no surprise that winery and hotel Vik Chile, set in the wine country amid 11,000 acres of valleys and vineyards and boasting 360-degree views of the Andes Mountains, takes its winemaking masterwork a step further with design-centric guest suites designed by renowned artists, as commissioned by the owners. Edgy and deliciously soul stirring, the hotel's aesthetics both contrast and complement the surrounding outdoors. After wine tasting and athletic pursuits, imagine submerging in a suspended, hammock-style, vessel bathtub in your sleek VIK Suite. Since the tub occupies a prime viewing spot in front of floor-to-ceiling windows, a soak here feels like drinking in the landscape. (Make that "drinking in" part literal with an accompanying glass of wine.)
Fairmont Pacific Rim, Vancouver
As urban retreats go, the Fairmont Pacific Rim triumphs. It's a streamlined, airy haven that offers eye-popping views of the city, Vancouver Harbour and the breathtaking snow-capped Canadian Rockies which in wintertime seem like sugar-dusted candy on the horizon. After a day exploring verdant Stanley Park or perusing the Vancouver Art Gallery (known for its works by regional artists) unwind in the ultimate nest — the hotel's aptly named, corner-sited Signature Ofuro Room. Dominating the space as its creme-de-la-creme, an enticing, marble, square-shaped Ofuro tub awaits. Positioned to take in the view kitted out with jets, this romantic deep-soaking Japanese tub has honeymoon written all over it.
Banyan Tree Phuket, Phuket, Thailand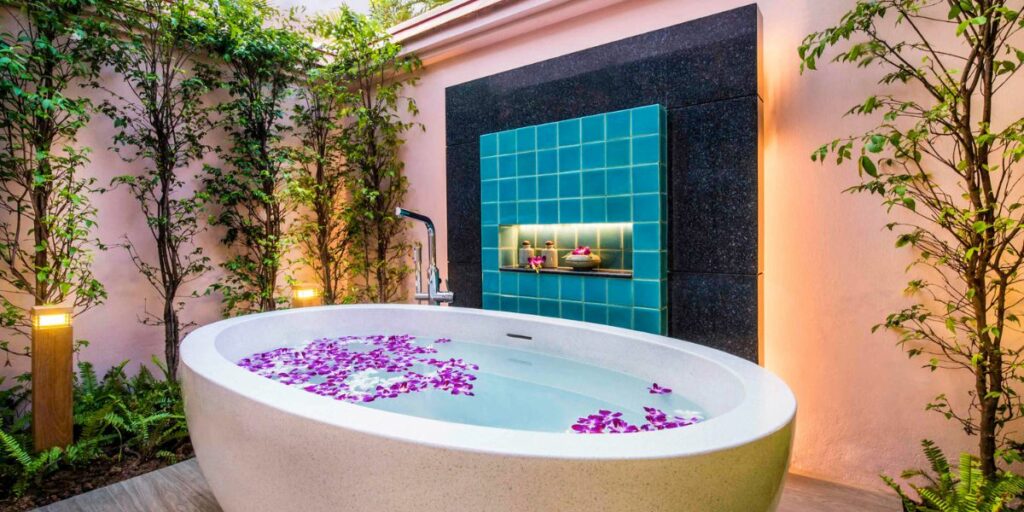 Choose any Banyan Tree and you're assured a drop-dead gorgeous, soak-the-stress-away-for-hours, utterly zen bathtub. (You'll probably have a personal pool, too.) It's part of the brand ethos. At the wellness hotel's divine flagship, Banyan Tree Phuket, a village-like oasis on the beach in Phuket, days are spent kayaking, biking, and in the spa, famous for its massages. But nothing renews like a long dip in your totally private outdoor tub. To up the ante, ask staff to prepare your bath while you dine. They'll fill it with floating flowers, bath salts, and aromatic oils.
Bürgenstock Hotel, & Alpine Spa, Obbürgen, Switzerland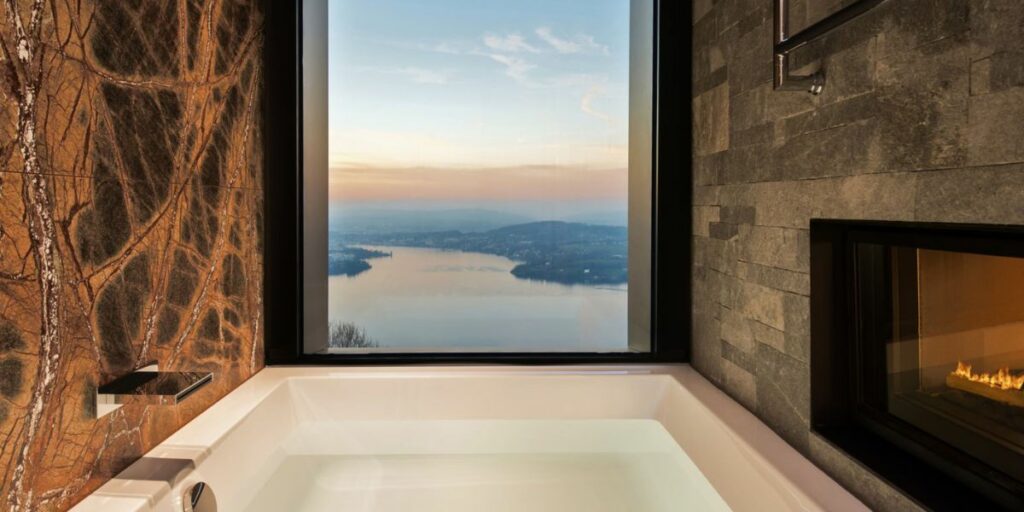 Hovering atop a precipice high above Lake Lucerne, the five-star Bürgenstock Hotel exemplifies the purest form of perfect Swiss hospitality. Arrive from Lucerne by boat, then ascend a funicular to an astonishing, village-like resort complex, nuzzled into a pine forest and enwrapped by a cow-filled meadow as picturesque as a postcard. You'll even hear the tinkling of cowbells. At a place celebrated for its wow factor infinity pool, you'd think you'd have little time for a bathtub. But think again. Bürgenstock Hotel's stunning rooms feature impressive marble bathrooms as highlights, complete with hedonistic two-person sunken tubs that face panoramic windows. Unequaled lake and mountain scenery, plus a fireplace wall beside the bath add to the sexy factor.