We will never get tired of Tuscany — the rolling hills, the golden light, the Chianti Classico, the Brunello di Montalcino and Super Tuscans, and the storied wineries that produce them. But Tuscany is a polished jewel, perhaps sometimes overly so. And for those in search of the "real Italy"— a place where history is fully alive, traditions are intact, and things might sometimes be a little rougher around the edges (but pleasantly so, of course) — Umbria still has the authenticity and sort of innocence that its more famous neighbor had decades ago.
Moreno Moretti is an excellent host, organizer, and the founder and CEO of the upstart travel company Italycharme, which organizes private luxury itineraries around the country. He has family in Umbria and sings the praises of the area. "Every region has its own strong identity, so we don't need to compare," he qualifies before going into an explanation.
Worth Traveling For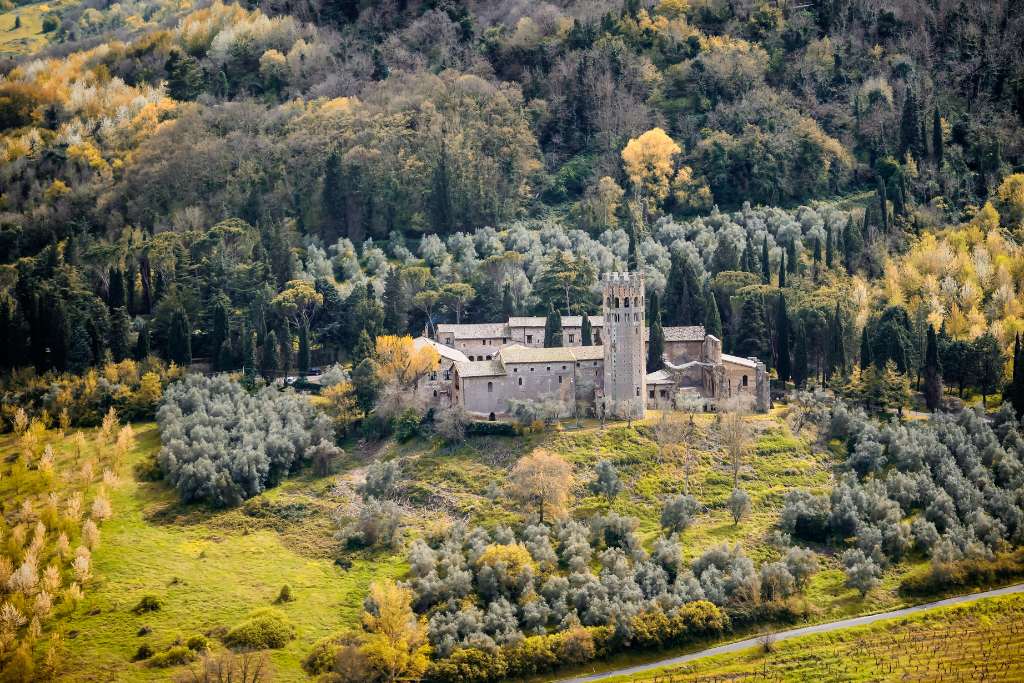 "Umbria is known for its landscapes, traditions, history, culinary delights, artistic legacy, and influence on culture," says Moretti. "Assisi is characterized by a lot of hills, important valleys, and medieval towns such as Norcia, Orvieto Perugia, Gubbio, Spoleto, and Todi. The landscape is very romantic and charming, with a small village on top of each hill." It's famous for its cashmere artisans — including Brunello Cucinelli —and "generous and incredible wine such as Sagrantino di Montefalco and other small indigenous grapes less famous, but an incredible discovery."
Where to Stay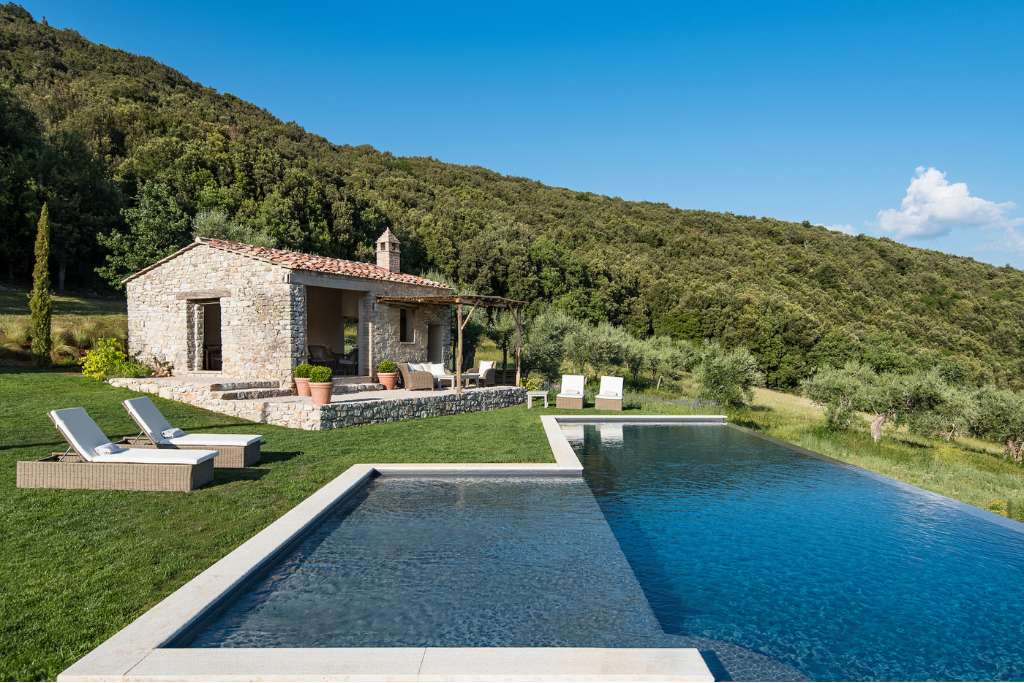 Like all of Italy, Umbria has a mixture of historic hotels in palaces, farm estates, and monasteries. While it doesn't have the sort of high-profile international brands you'd find in Tuscany, it has something better: intimate, family-run places to stay, where the hospitality is heartfelt and the details feel genuine.
The recently opened Tenuta di Murlo is an 18,000-acre estate — that's bigger than Manhattan— that has been  in the Carabba Tettamanti Radziwill family since the 16th  century. It  sprawls over rolling hills, ancient forests, lakes, rivers, farmland, woodsy trails, olive groves, and vineyards. The estate's 80-some buildings include two churches, two castles, and dozens of dilapidated farmhouses and other buildings which were abandoned after World War II. The 9 villas, which have hotel-style services like housekeeping and private chefs, sleep up to 20 people, with private pools and expansive views of the countryside. The estate's restaurant, Il Caldaro, serves breakfast, lunch, and dinner using produce grown on the property, just-laid eggs, fresh cheeses made with goat milk from the property's herd, and honey, as well as its own wine and olive oil.
For a more "urban" experience, Palazzo Seneca is an elegant Relais & Châteaux hotel in the heart of Norcia — a place that made headlines for its devastating earthquake in 2016. Since then, the village is a remarkable "phoenix rising from the ashes" story, and witnessing its resilience and rebuilding is fascinating. The 16th-century palace was built by the Seneca family from Piedivalle, a town whose residents were known as skilled wood carvers. Since 1850, it has been in the hands of another family, one that understands the importance of history, hospitality, and gastronomy (and engineering and seismology — thanks to a renovation that was completed in 2008, it withstood the recent quake). In fact, they think of themselves as "restaurant owners with rooms" (40 of them), and the restaurant, Vespasia, holds a Michelin star.
For utter peace and solitude, Eremito is unique in the world. It was faithfully restored from a 14th-century monastery and still functions as a contemporary, luxury version of a contemplative retreat. When it opened in 2013, it was ahead of its time as a "digital detox," and while that concept has somewhat worn out its welcome, Eremito is still a coddling place for a reset. Guests stay in the small "celluze"— cells used by hermits in past times—with wrought-iron beds, showers, toilets, and not much else. The refectory, or restaurant, serves simple vegetarian meals inspired by monastic tradition, and guests eat in silence.
Where to Eat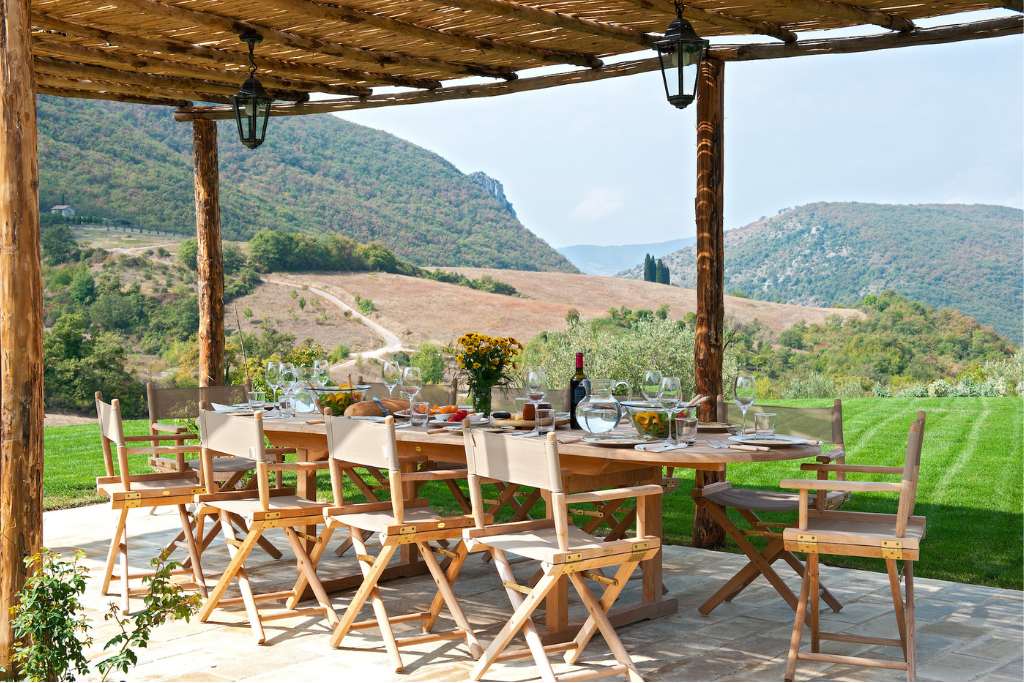 Once again overshadowed by Tuscany, Umbria has an incredible, highly specific gastronomy. Wild game and cured pig products are specialties, but it also produces distinctive truffles, premium lentils, and freshwater fish from Lake Trasimeno, which is usually grilled over fire or slow-cooked into stews. And this being Italy, there are plenty of locally made wines and olive oils as well.
Montefalco is considered one of the most beautiful villages in Italy, and a standout restaurant there is Locanda del Teatro, in the center of the village. There, chef Pasqualino Titta turns out "high home cooking"— creative renditions of traditional dishes like hand-made strangozzi (long, rectangular pasta) with seasonal truffles and local olive oil, Cinta Senese (DOP) prosciutto, and stuffed saddle of rabbit with truffles and black olive focaccia — and head waiter Paolo Galanti oversees the hospitality and wine selections.

For those who believe good quality trattorias can be more enjoyable than Michelin-starred dining rooms, there are several good choices. In Morrano Nuovo, Da Gregorio is a family-own trattoria that's getting an exciting dose of new creativity from the second generation, making the most of vegetables from its own kitchen garden. In the historic center Castiglione del Lago, L'Acquario is a good choice for Umbrian dishes with freshwater fish (pike, carp, tench, eel, and crayfish), as well as the special beans from Lake Trasimeno and game meat such as wild boar. And Tipico Osteria & La Locanda del Capitano in Montone is a showplace for chef Giancarlo Polito's cooking, with two menus offering traditional and gourmet takes on the region's traditional cuisine.