Somewhere over the Atlantic Ocean, well into cruising altitude, it happened. The handsome man sitting next to me in 6B ever so lightly brushed my arm. I instantly recoiled, shifting my entire body to ensure ample space between us. A mindful flier, I habitually keep to myself, refrain from chatter, and never edge into my seatmate's territory. But this seatmate was pushing it. No sooner had I repositioned my arms and legs, readjusted my cushy eye mask (laced with lavender oil), than he was back on my side. This time, his legs, fully extended, were the culprit. As I sat upright, rehearsing how to effectively negotiate clear boundaries, I caught his eye, then his wide mischievous grin, and I laughed. The man in 6B was not some random passenger, but rather my life partner, Bob, or as he'd announced during pre-boarding — 'Roberto.' Somewhere in my sleepy state (and programmed mindset of always traveling alone), I'd forgotten that after a decade of flying nowhere together, we were actually on a plane, and headed for a long overdue romantic rendezvous to Italy (Roberto's Motherland). A fact nothing short of miraculous.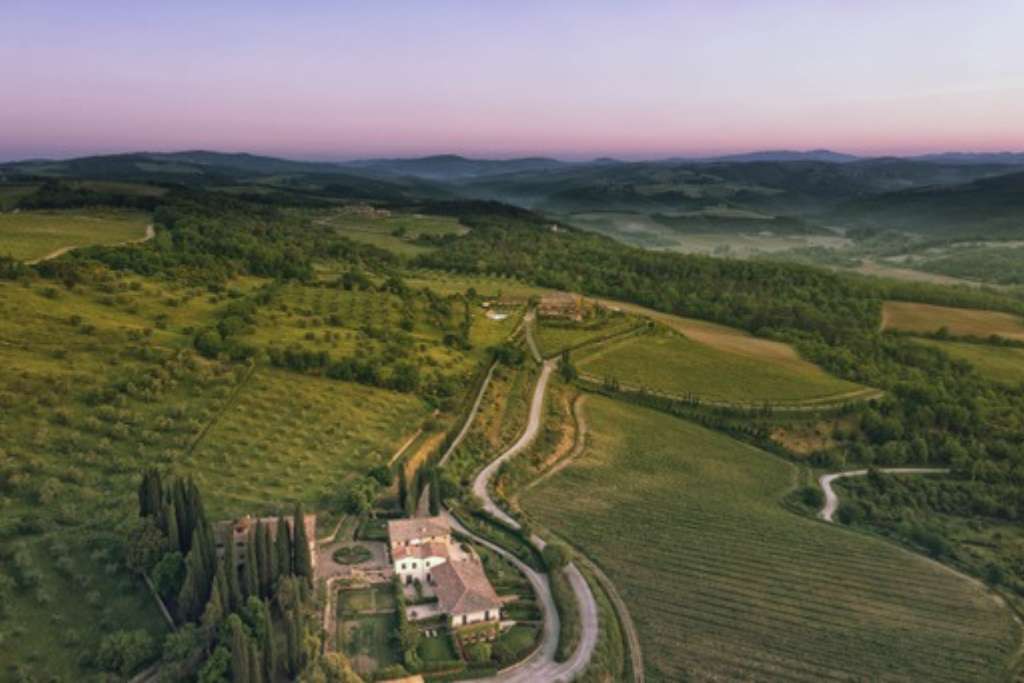 This man — who captains his own boat on rough ocean waters and pilots his own Harley — detests flying. Throughout our years together, as I sojourned to more than one dreamy destination (all for work), I had invited him to join. Always he declined. But this time, the mere mention of Italy and specifically The Club House by Fontanelle Estate in Tuscany, catapulted him into action. While I would love to take credit for his sudden travel transformation (including the romantic rechristening of his name), the truth is that  Italy — not I — was calling him. I relaxed my knee against his, and fell blissfully back to sleep dreaming of Tuscany's rolling hills and olive groves. 
The Club House by Fontanelle Estate, A Love Letter to Tuscany
"Wow."
As the massive black iron gate to The Club House by Fontanelle Estate, in Tuscany's Castelnuovo Berardenga opens, both 'Roberto' and I are mesmerized. A long lane snakes past towering Cypress trees, olive groves, and red poppy fields — to a meticulously restored 17th-century stone house, once a small winery.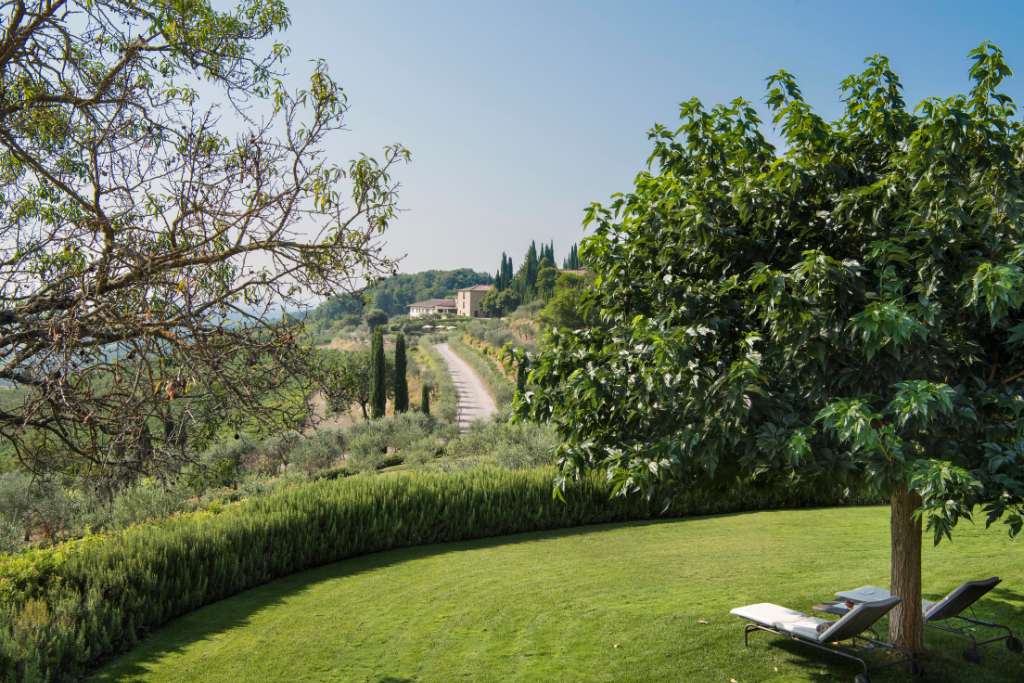 "Welcome to The Club House," a team member, smartly clad in all black, greets us, simultaneously whisking away our bags and leading us to a separate stone cottage, Bellavista. "The translation is 'beautiful view.' We do hope you like it."
Stepping inside the spacious casale, with its marbled bath and Chianti-colored velvet sofa and chairs, 'beautiful view' is an understatement. An entire window frames the backside of the room overlooking the rolling Chianti hills. Grape vines blend with olive trees and splashes of colorful wildflowers seem to pop from every direction. A bottle of 'house' classic Chianti red awaits us, which we pour and toast immediately. As I submerge into the massive oversized freestanding tub (complete with salts and jets), 'Roberto' orders room service — a beautiful caprese salad with fresh tomatoes, basil, mozzarella, and made-on-site olive oil, paired with a simple homemade pasta with sauce. Sheer and utter heaven.
Everything here is done to perfection: the new adults-only, five-star luxury hotel The Club House where we are staying, five-star Hotel Le Fontanelle, and the Vallepicciola winery. The twisty, romantic road that connects the two hotels and winery is peppered with private stone farmhouses, set against towering cypress trees, rows of olive groves and grape vines, and unexpected sculpture. One art piece in particular, "The Colours of Chianti" (soil, wine, grape, olive tree, sky, and black rooster), by Italian artist Antonella Farsetti, features colorful stained glass on steel. Guests can move between the garden-laden hotel properties and vineyards on e-bikes (highly recommended), or via a complimentary black-car shuttle service. We do both during our stay.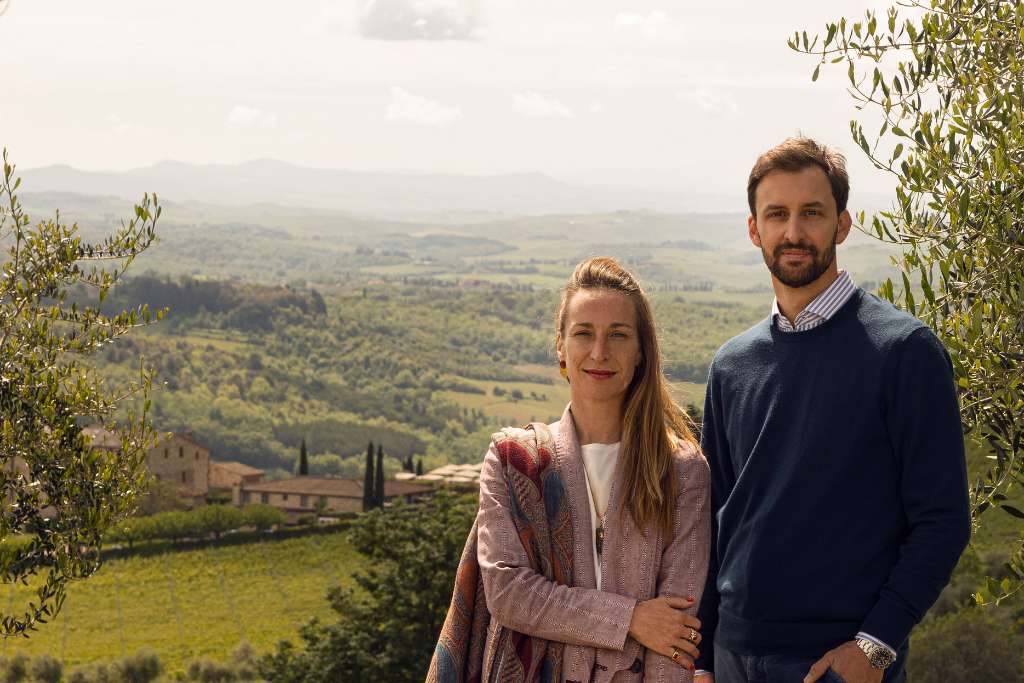 The romantic vibe immediately felt here is part of a love story that began nearly 25 years ago (1999), when Giuseppina Bolfo (now in her nineties) laid eyes on a 700-year old stone farmhouse about 25 minutes from Siena. For the decade following, she painstakingly renovated the massive stone structure — building with wood from the region, adding terracotta pavements aligned with Chianti's classic style. Today, that building, Hotel Le Fontanelle (which opened in 2006, and name translates to 'fountain') and The Club House (5-star luxury hotel opened in 2022) are tended to by Giuseppina's great-nephew Nicola, and his wife, Phoebe (although Giuseppina is known to still add her interior touches and rearrange furniture at whim). Vallepicciola, the family winery, has also morphed from a for-fun project into a highly respected, biodiverse vineyard that produces over 600,000 bottles of wines annually, along with top-notch olive oil.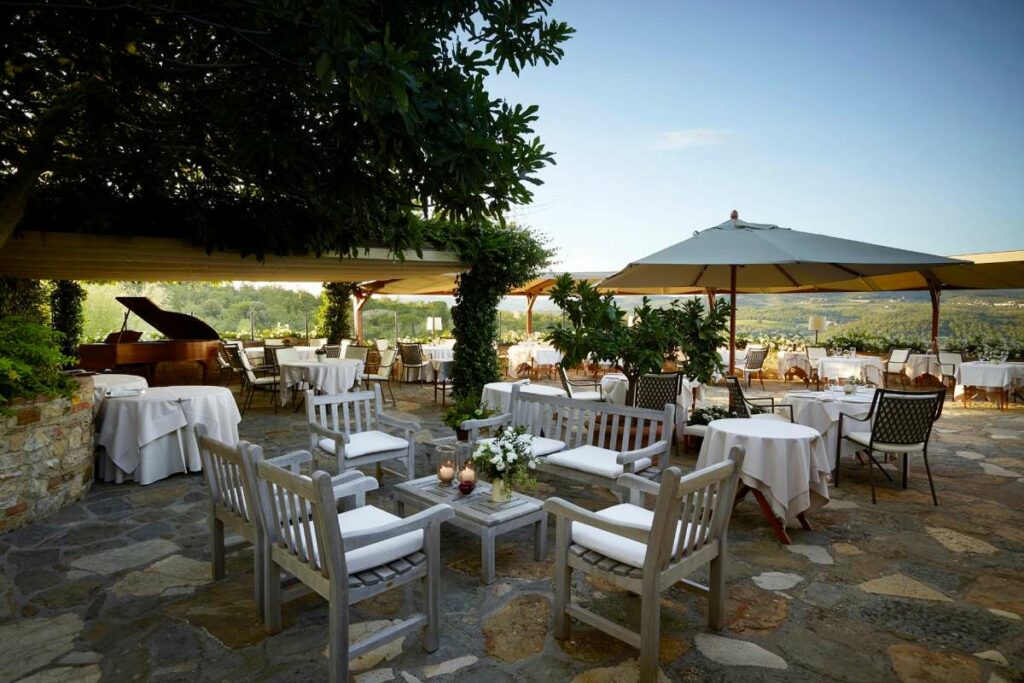 The Club House is also home to a truly divine spa — The Wellness Sanctuary, and two restaurants. The gastronomic journey, Il Visibilio, is under the consultation and advisement of two-Michelin-star chef, Giuseppe Iannotti, and is known for its 24-dish, 17-course tasting menu (customized to guests' food preferences). Each course starts with a plain white tablecloth — a blank canvas — as a parade of wait staff add the proper cutlery, and pair the colorful, artful dishes with wine. After having tried for lunch, the Osteria Il Tuscanico — a delicious authentic classic cuisine — we have decided to reserve our second night at Il Visibilio to sample this extravagant dinner, and for our last night, the culinary experience at La Colonna restaurant, found within Hotel Le Fontanelle, homage to the long standing tradition with its contemporary interpretation.
Tonight, we are tired though, and already under the crisp white Italian sheets, our shuttered window open, when we hear it.
"Cuckoo." Just like the clock. Sitting right outside our window, the rare black-and-white cuckoo bird — like us — is living its best life in Castelnuovo Berardenga.
The Wellness Sanctuary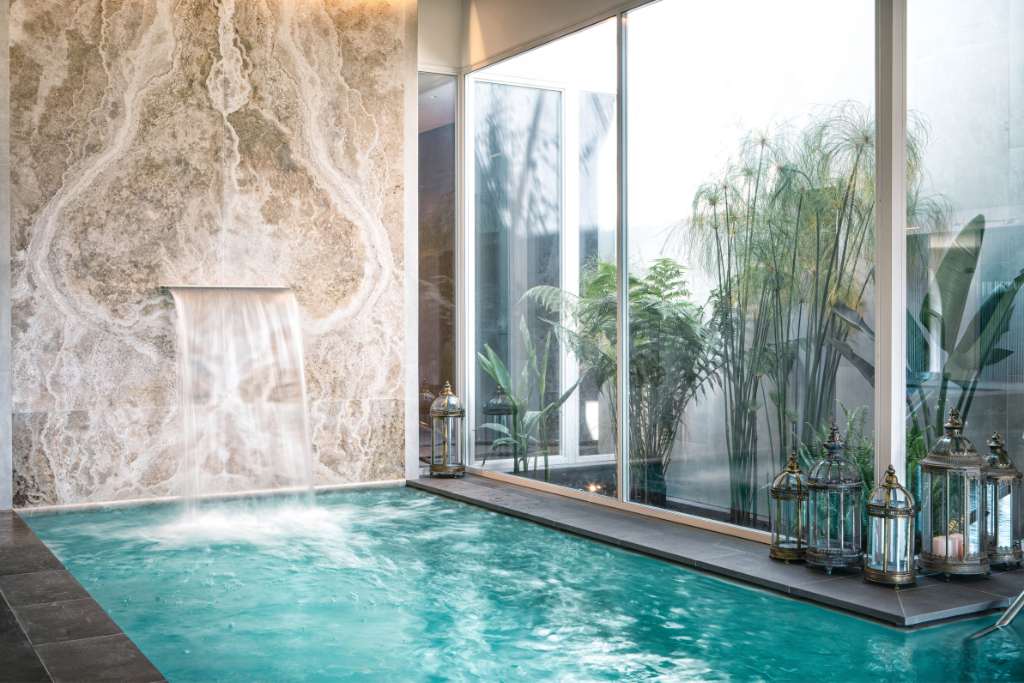 If anyone had told me I'd see my Harley-and-boat captain bathing in pink, yellow, orange flowers, I would have laughed. But here he is. His eyes closed — fresh-sliced lemons and oranges swirling alongside just-cut roses from the arbor outside the spa. We have just emerged from signature 75-minute massages that started with a foot soak in flowers and salt mined in the nearby Tuscan town of Volterra. The pure-grade essential oils used in our massages were also customized, blended by Xilef Weiner, founder of Meletao botanicals. Upon arrival at the ultra-modern, and quite swanky spa The Wellness Sanctuary, we were met with a tray of gorgeous glass bottles filled with the special oils and tangles of herbs, and told to breathe in their scent to see which resonated. 'Roberto' chose Tuscany — invigorating and uplifting, balsamic in tone, with wafts of lavender and said to increase circulation and breathing; alleviate pain and aches. I chose Renew, a blend of cypress and lemon, suitable for detox and lymphatic cleansing.
Following our oil selection, Spa Director Maria Kalogeraki, whose pedigree includes the renowned Euphoria Retreat in Greece, and Aman Resorts, led us through the thermal circuit of hot-and-cold pools, steam, sauna, ice, and salt-infused tepidarium. She met us again, following our massages, inside a private couples chamber lined with votive candles and trickling waterfall fountains, for our grand spa finale, a beautiful 'Tuscan Bath" delivered in an inky, charcoal black tub for two. In addition to the sliced citrus and fragrant roses, she added more salt (also from Volterra) to the bath water, and placed a fragrant salt scrub to use at whim during the soak, alongside glasses of chilled water and artfully arranged chocolate-dipped fruit before discreetly disappearing.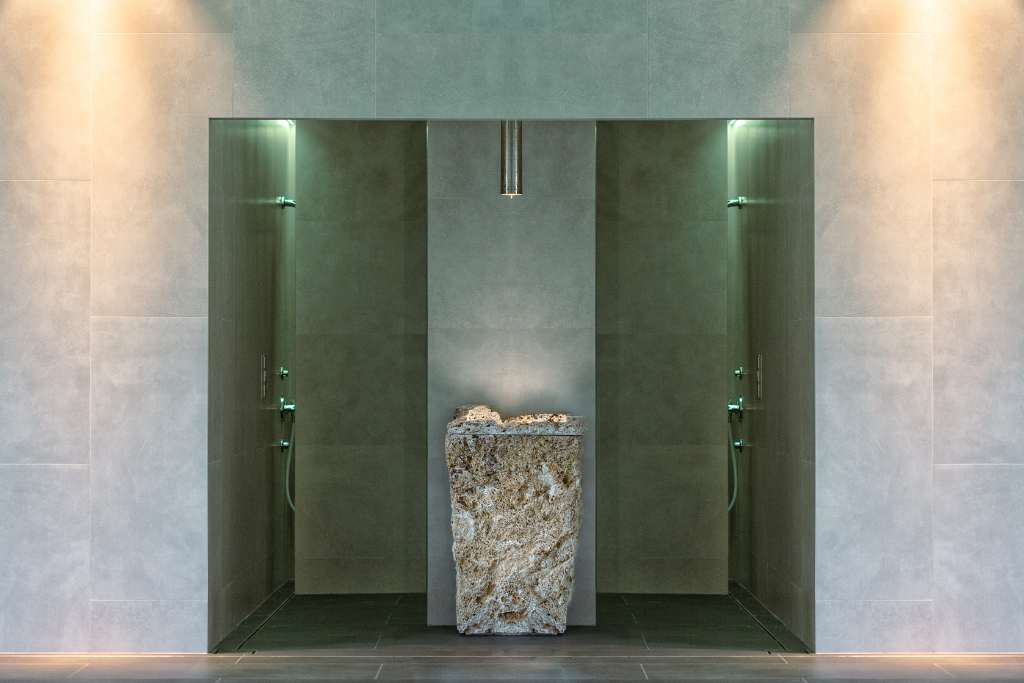 "Fontanelle Estate is about slowing down, unwinding, and taking time to live and appreciate life," Phoebe Farolfi, general manager, explained when I shared our extraordinary wellness (and overall) experience. "When you are here, you are here — you become part of the house, part of the fairytale. The Club House is also about reconnecting to yourself and enjoying the many onsite activities; Hotel Le Fontanelle — while also very lovely — is more welcoming to family connection experiences."
While guests of The Club House can use the thermal circuit at any time as part of their stay, those staying at Hotel Le Fontanelle can book spa treatments at The Wellness Sanctuary and in doing so may also use the water features. The staff discreetly schedules guests so the spa never feels crowded. We saw only a few other spa guests our entire stay. Although the Wellness Sanctuary has been open only a short time (2022), it is already gaining prestige as one of Italy's top holistic spas, complete with spa treatments and thermal circuit, private yoga sessions, sound healing, meditative gardens (at both The Club House and Hotel Le Fontanelle), and high-quality products: Meletao botanicals (body), and Subtle Energies (facials). But Farolfi is only beginning. Future wellness plans include a forest immersion experience (both for The Club House and Hotel Le Fontanelle's guests which are connected by stunning forest), a plant-based wellness menu (available at Osteria Il Tuscanico), additional walking trails, and full-on wellness retreats where guests stay a week or more solely to enhance their mind, body, soul wellness. (Yes, please.)
Vallepicciola Winery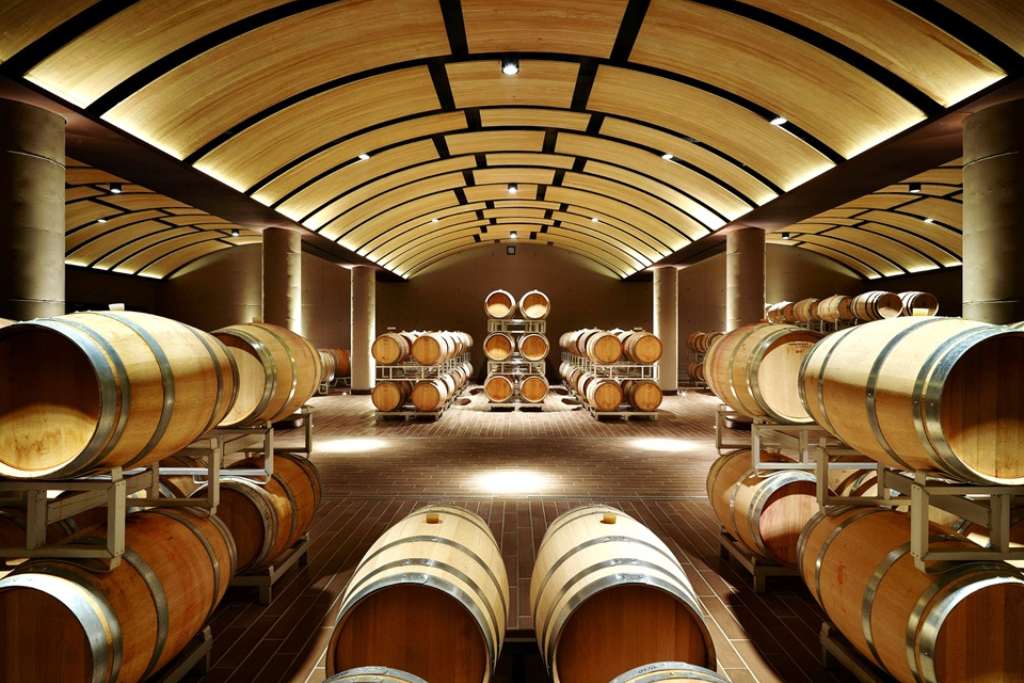 Tuscany — and the Chianti region, specifically — is, of course, about grapes and olives; wine and olive oil. And Fontanelle Estate's Vallepicciola Winery has both. On an overcast morning, following strong Italian espresso in room, we took the black SUV (shuttle) from The Club House to Vallepicciola. After ushering us into the contemporary winery (80 percent of which is underground) and the newly added glass tasting room overlooking the grape vines, we embarked on a private tour. In purchasing what is now The Club House, the Bolfo family inherited a small family winery with a few acres of vineyards. Bruno Bolfo (Giuseppina's brother) quickly fell in love with the art of wine making and preserving ancient Chianti traditions and techniques, and soon added another 300-plus acres of grapes to the property.
Today Vallepicciola produces produces over a half-million bottles of wine per year, from Classic Chianti (Sangiovese) to international varieties including Pinot Noir, Merlot, Cabernet, Sauvignon, Chardonnay, and even a few sparkling wines, including a signature rose.
Olive oil is also produced here under three different labels. One, called "My Olive Oil" (which came home in our carry-on) is made from olives hand picked and cold pressed the same day. The tour ends in the glass tasting area overlooking the grapes, with a sampling of the wines and sides of Tuscan bread, olive oil, and assortment of sheep's cheeses.
The Wonderment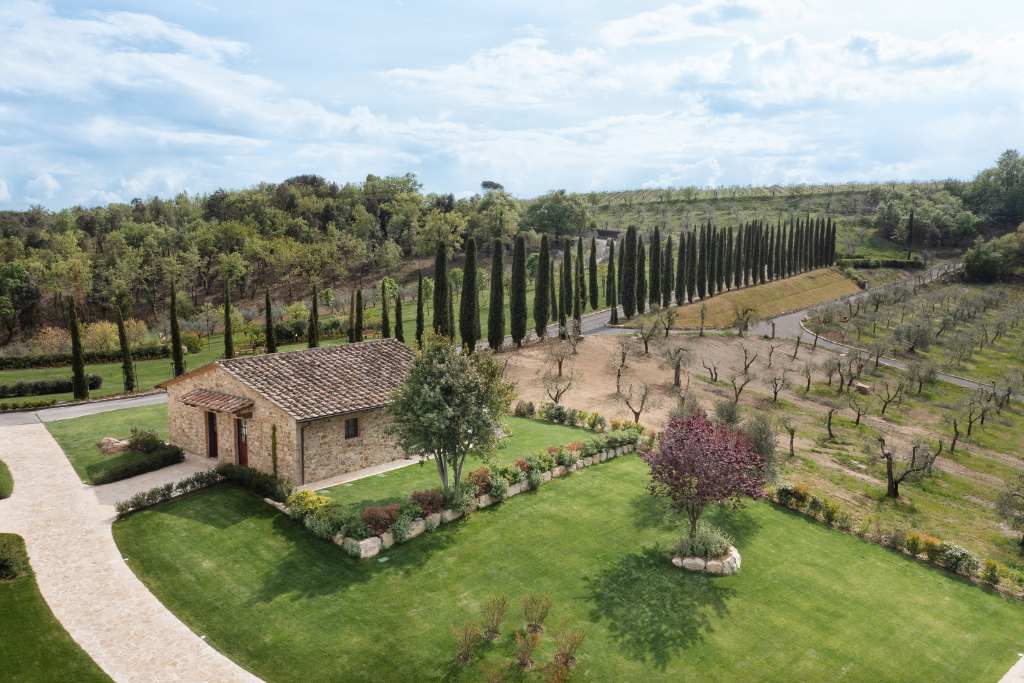 Beyond the food and wine, divine spa treatments, and physical beauty of the space and place that comprise both hotels — the flower trellis leading to the stunning outdoor pool overlooking the rolling hills at The Club House; the climbing roses on ancient stone at Hotel Le Fontanelle — there is the sense and wonder of just being. While some guests base their stay at Hotel Le Fontanelle and The Club House, and spend days exploring Siena and Florence, touring nearby castles, wine tasting, or indulging in adventures like hot air ballooning, horseback riding, or even Ferrari driving (at a race track), many others — like us — simply get lost in and around the estate.
On two different afternoons, we took e-bikes (needed on these hills) and explored the gorgeous countryside. One day took us along wildflower paths to abandoned stone buildings and a hidden but elaborately adorned cemetery with photos and fresh-picked flowers. Another afternoon took us on an immersive, self-guided sculpture tour — a giant man and woman peeking into cypress trees along a remote road, red and yellow peppers posing on a front lawn overlooking the hills, and a random iron horse seemingly in the middle of nowhere. Pausing under an olive tree for a sip of water — artichokes waving in the sun in front of us — we stumbled upon a wedding taking place in a romantic 16th-century stone villa courtyard. And this is the true magic of the stay here: the getting lost in the landscape and in each other, of setting aside a few days to — as Farolfi noted — "be here and become part of the fairytale."
On our last night, in white robes and slippers —over a bottle of Chianti Classico and more homemade pasta in room — Roberto posed the question. He has a milestone birthday in just a few months.
"How are we going to top this [trip] for my birthday?"
"Easy," I reply, clinking his glass to mine. "We come back."
Arrivederci, Italy. Until we meet again.