With thousands of islands dotting the Greek Seas and hundreds of miles of pristine shoreline, Greece is the quintessential island getaway destination. Whether you are looking for a bustling spot with an exciting clubbing scene such as Mykonos, crave the Instagram-worthy landscapes of Santorini, or would like to explore the country's lesser-known islands and peninsulas, now is the time to plan the perfect Greece vacation. We rounded up some of the chicest luxury villas in the Hellenic Republic that run the gamut from traditional to ultra-modern.
Beachfront Retreat in Mykonos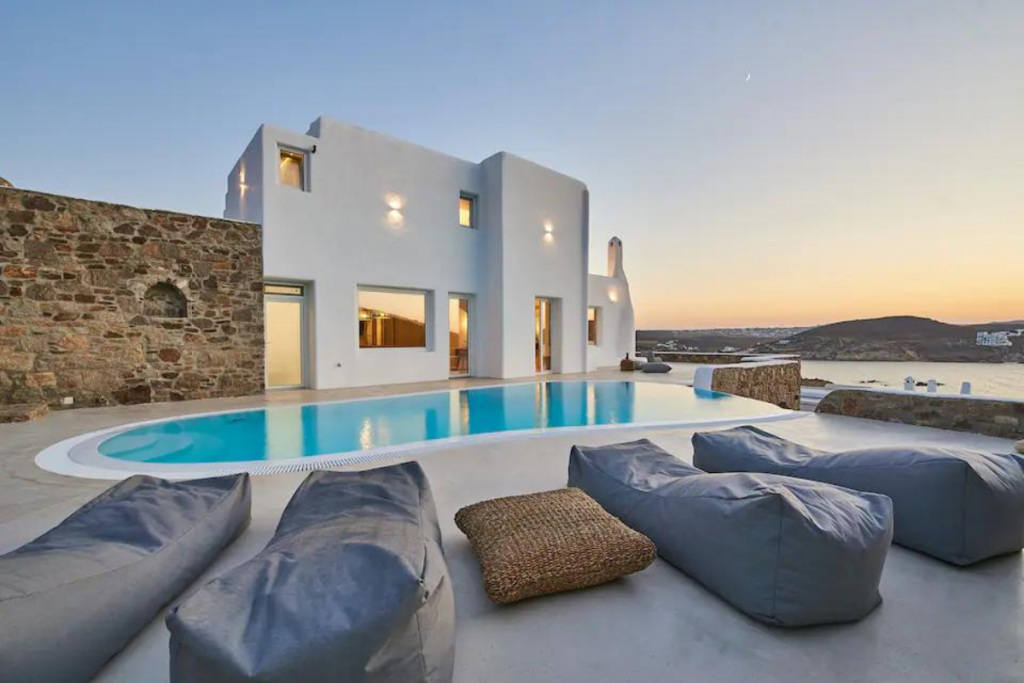 Overlooking the scenic Ftelia Beach on the north side of Mykonos, Villa Anna is a serene and secluded oasis that offers modern luxuries and picture-perfect Greek sunsets. The property consists of three separate spaces — the main villa and two one-bedroom studio-style cottages that together feature six bedrooms and five and a half bathrooms. An outdoor dining area and a private pool round out the villa's most lavish amenities.
Hillside Villa in Santorini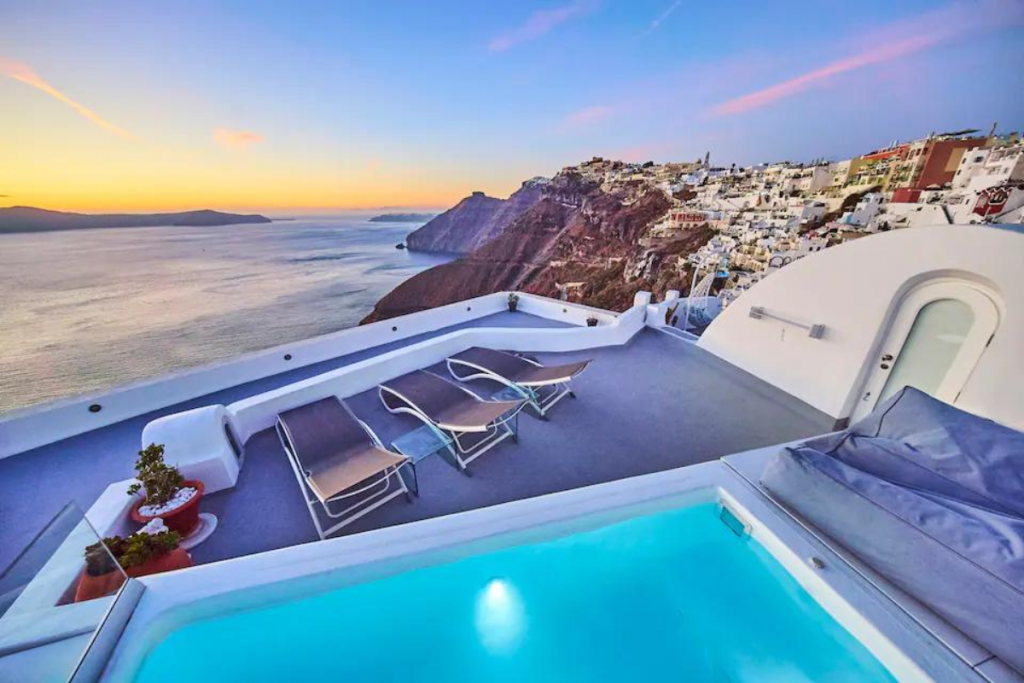 With two spacious balconies, a hot tub, and a sun deck, this beautiful villa in Santorini offers everything you need to enjoy the island's famous vistas and sunny weather. The property dates back to the 18th century, and the owners have done an excellent job preserving many of the original Cycladic features while updating the villa to satisfy the needs of modern travelers.
Private Estate in Halkidiki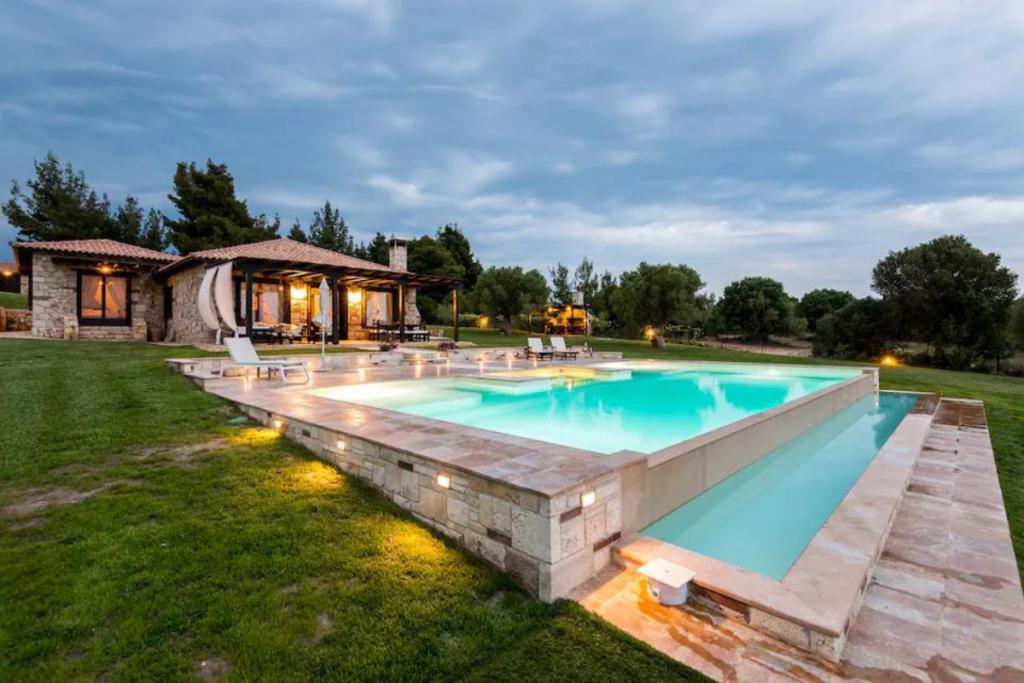 Escape the crowds of the Cycladic islands, and opt for the stunning Halkidiki region in Northern Greece. Home to many white sand beaches, lush forests, and excellent waterfront resorts and restaurants, Halkidiki is a popular vacation destination among locals.
A Luxe Villa with a Pool in Patmos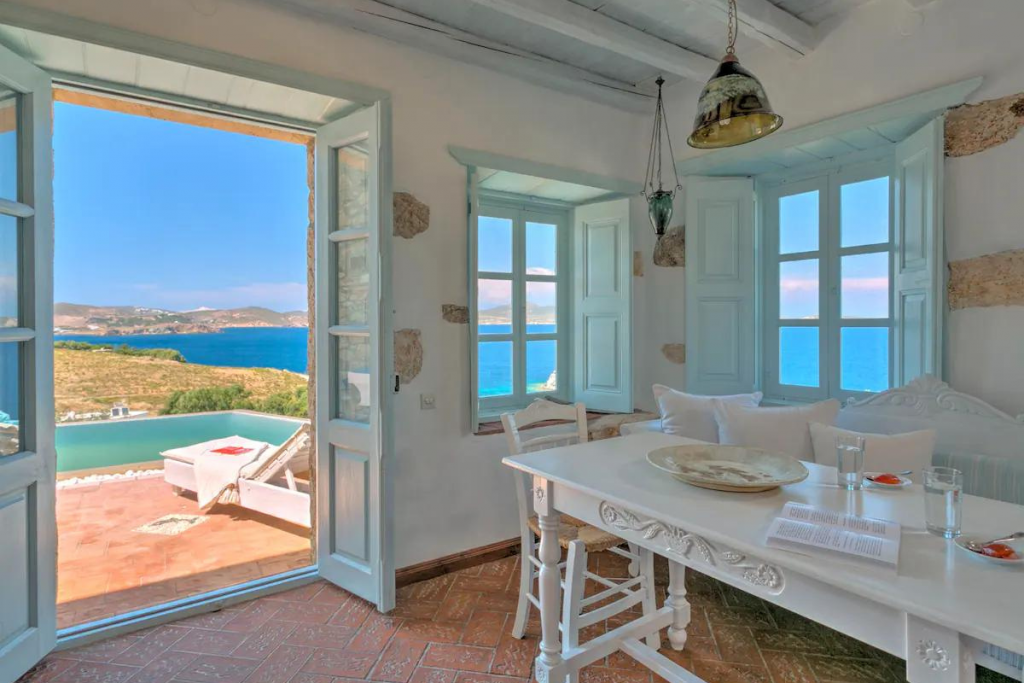 Don't be fooled by this island's nickname ("the Island of the apocalypse"), there is nothing apocalyptic about this heavenly corner of the South Aegean that is steeped in history and myths. In fact, Patmos is hailed as one of the most beautiful and idyllic islands in Greece, home to many beaches and the notorious Monastery of Saint John that sits on a hill in the capital, Chora. Stay in this traditional-style residence that overlooks the sea and treats its guests to a swimming pool and an outdoor dining area. The two-bedroom villa features a big kitchen, exposed wooden beams, and whitewashed walls with blue accents inspired by the island's beautiful surroundings.
Spectacular Sunset Villa in Kea
A large swimming pool, an outdoor shower, and a lounge with an outdoor bar and a dining area are just the tip of the iceberg in this jaw-dropping residence on the island of Kea. But the views are truly the star of the show — 180-degree unobstructed view of Aegean vistas that will take your breath away.
Modern Villa in Santorini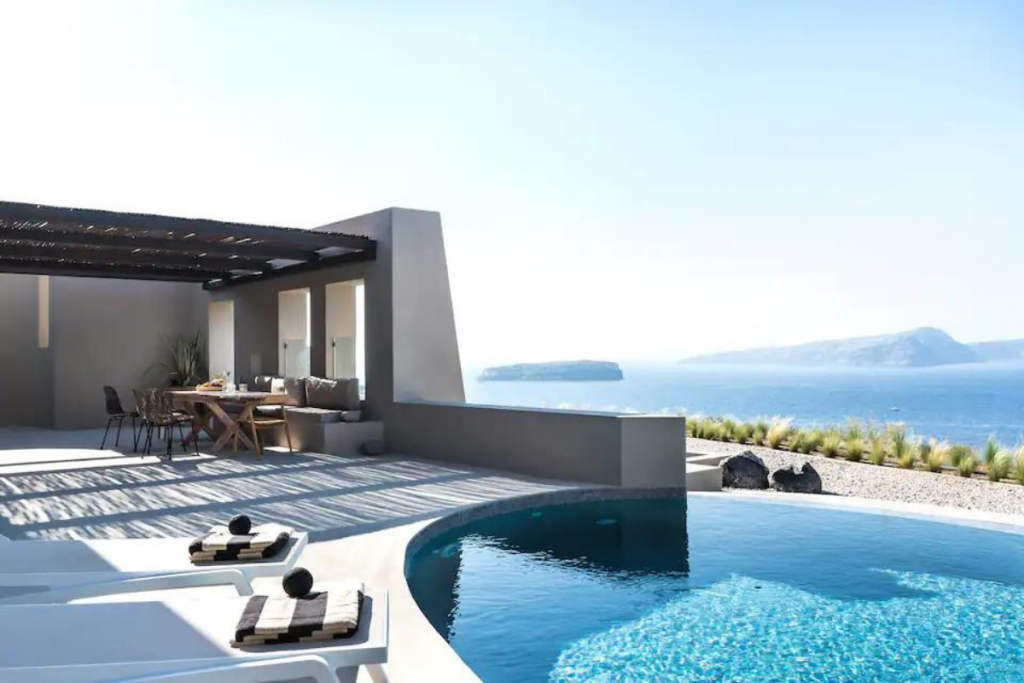 Blending traditional Cycladic influences with modern design, this four-bedroom, three-and-a-half-bathroom villa epitomizes understated luxury. With a large heated pool overlooking the Aegean sea, two hot tubs, and a Hammam room, your stay here will feel like a wellness retreat.
Honeymoon-Worthy in Imerovigli, Santorini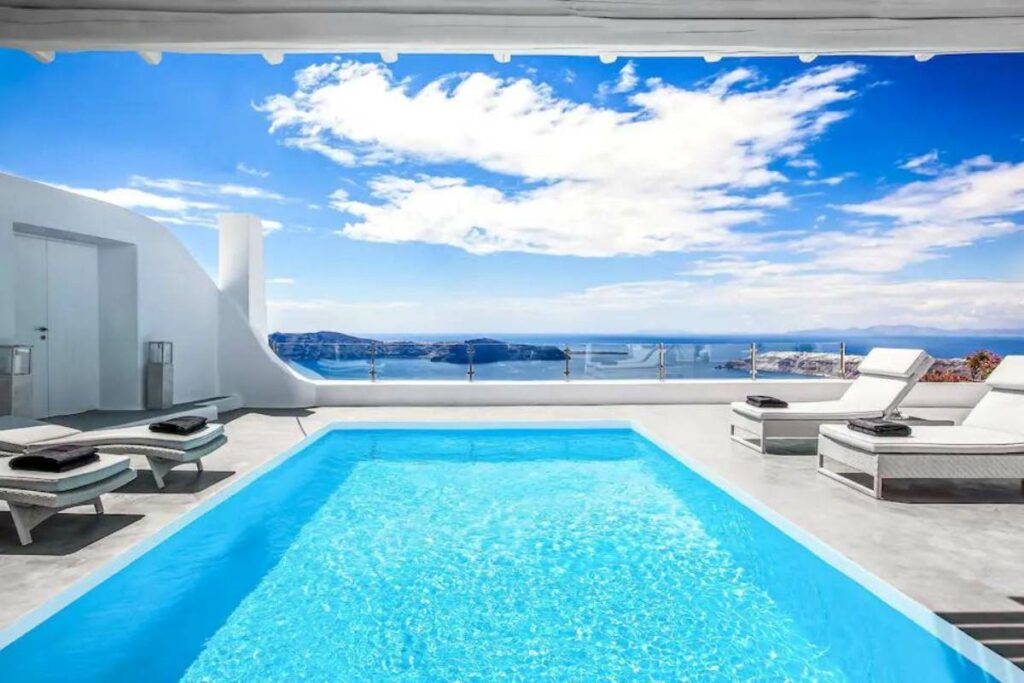 Offering panoramic blues (sea and sky), pinks, oranges, and reds (sunsets), Erossea Villa, on the western side of Santorini features five stunning  — and recently renovated  — bedrooms. But you may never use them, as this villa is completely honeymoon worthy. Read: perfect for two. Enjoy stunning vistas from the outdoor living spaces, complete with heated pool, hot tub, sun loungers, and shaded sitting and dining areas. Enjoy the interior, flooded with sunlight and furnished with chic mid-century pieces. Tempting as it may be to never leave this stunning home, built into the hillside at the top of the caldera, do explore the nearby black sands of nearby Perissa and ruins at Ancient Thira.