If the only thing standing in the way of a luxurious northeast getaway is leaving your fur baby behind, no worries. A growing number of airbnbs are opening their doors to paw-adise. While every pet-friendly airbnb is different (be sure to read the fine print regarding pet fees, size, breed, and weight), here are 20 pet-friendly airbnbs — from New York to Massachusetts — you (and your pup) will love.
New York
Waterfront Retreat, Montauk
(Accommodates 9 guests)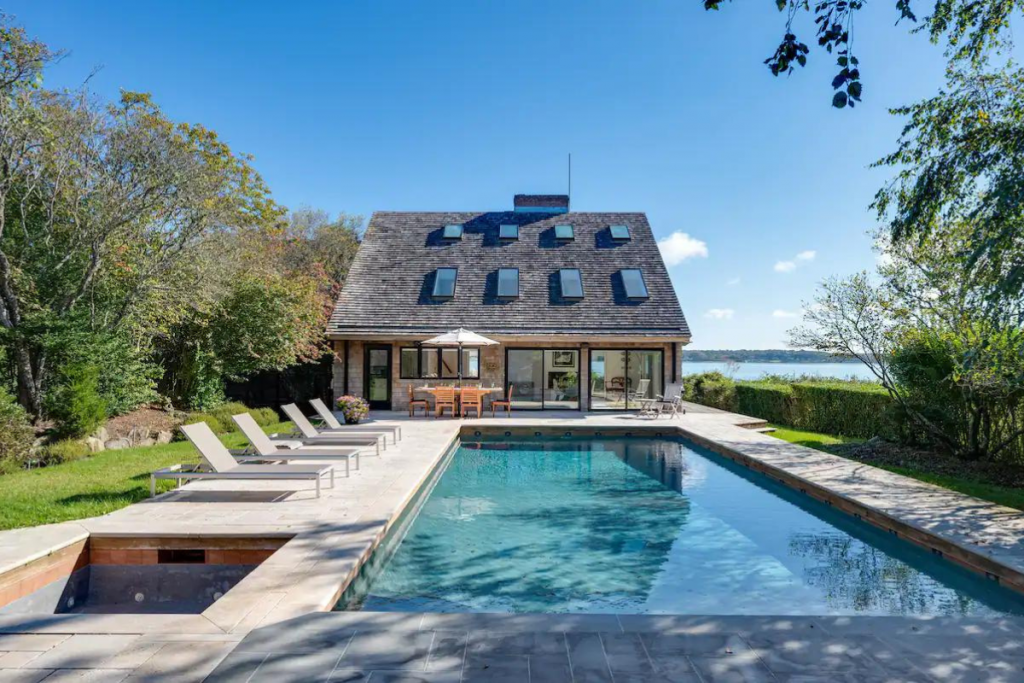 This idyllic, four-bedroom, 3.5-bath waterfront retreat is even more dreamy, when shared with your favorite (four-legged) mate. There is an extra fee for dogs, but this serene home, overlooking Lake Montauk, is worth the splurge. Perfect for family and friend gatherings (wintertime too), the house features high ceilings, a full chef's kitchen, modern decor, pool, hot tub, and floor-to-ceiling windows showcasing the stunning water view.
Stanley's Mountain Getaway, Windham
(Accommodates 12 guests)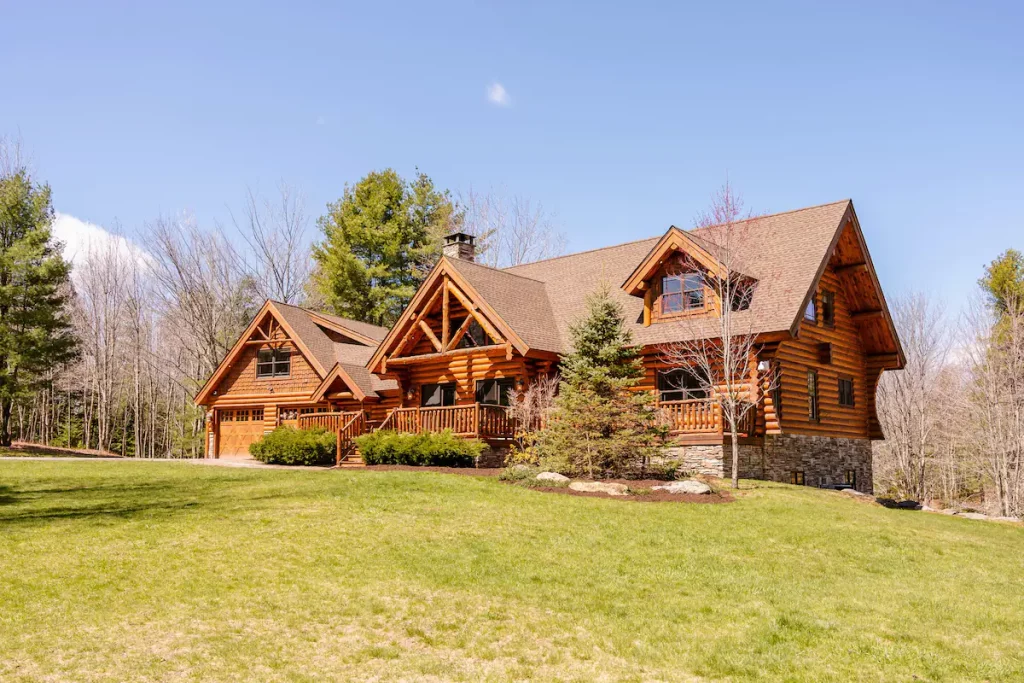 We couldn't love the name of this five-bedroom, 3.5-bath log cabin more. Stanley's Mountain Getaway is named after the owners' own beloved sheepadoodle. Of course, the 12-acre property, near Windham mountain, has everything needed for furry friends to run and play, including a private forest trail; pet bed, bowls, toys, and treats. Humans will love the hiking trails too, along with the wood-burning fireplace, outdoor fire pit, treehouse, hot tub, and baby grand piano.
Pyramid House, Fire Island Pines
(Accommodates 6 guests)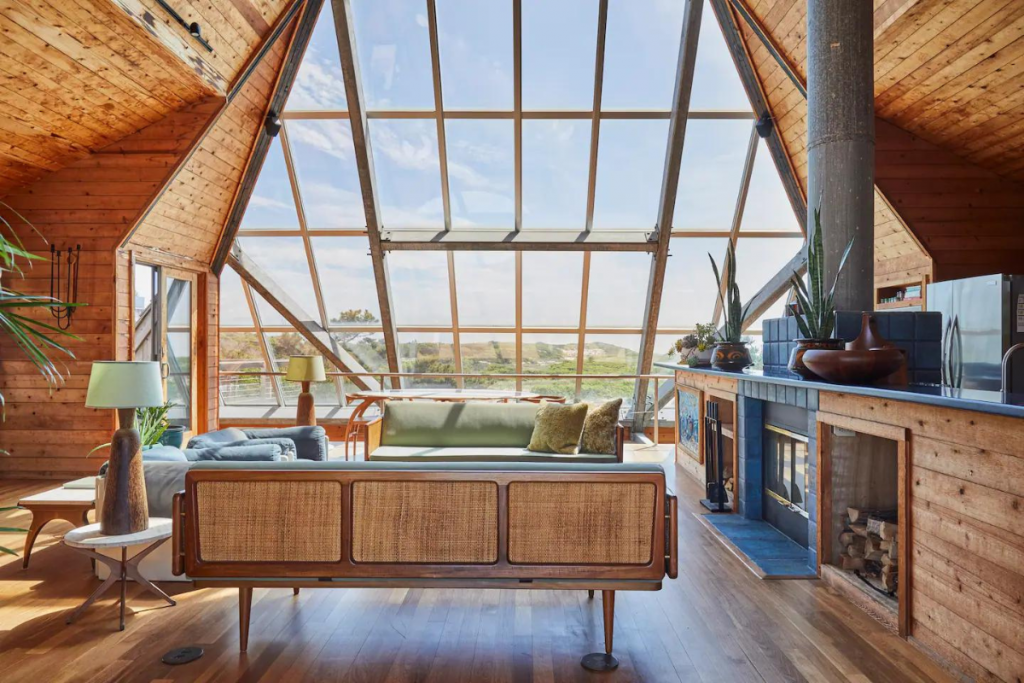 Originally built in 1961, this updated three-bedroom, 2.5-bath iconic architectural masterpiece is surprisingly pet friendly. Literally shaped like a pyramid, the house borders the Fire Island National Seashore, offering unobstructed views (through a wall of glass) of dunes, ocean, and bay. The great room comes with a double-sided, wood-burning fireplace, while the master suite features a California king size bed, fireplace, and walk-in shower. There is also a large office area, should you and fur baby decide never to leave.
Penthouse, New York City
(Accommodates 6 guests)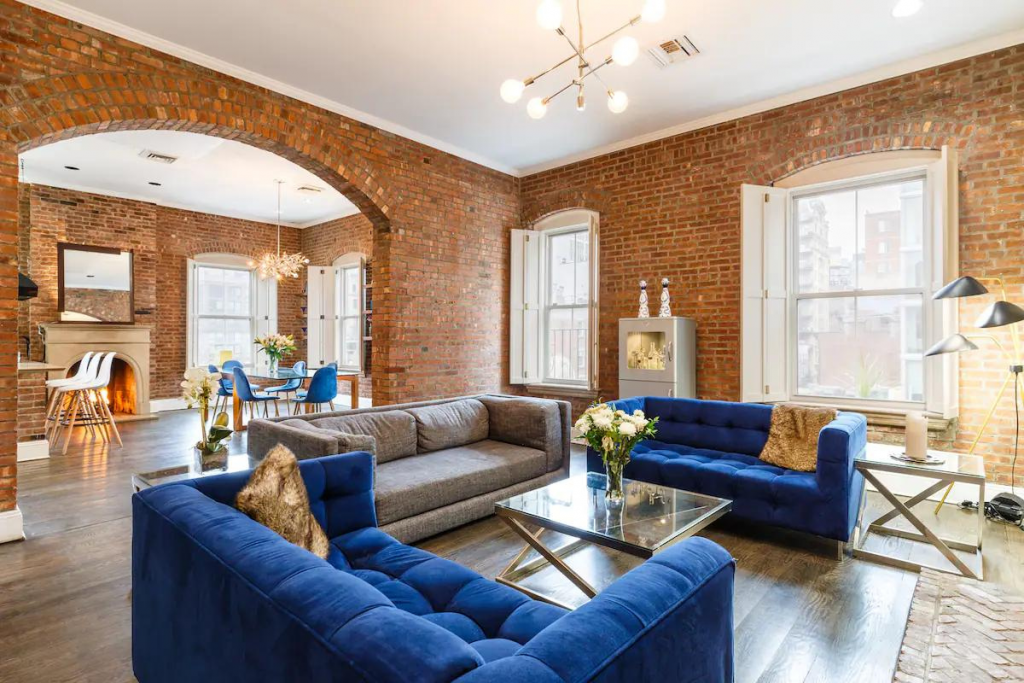 Four-legged friends will have no idea they've landed in New York City in this comfy, three-bedroom, three-bath, penthouse. Housed in a historic building, this pet-friendly home, within walking distance to the East Village, Noho, and Soho, comes with a curved wooden staircase, sunny bedroom with huge windows, multiple fireplaces, and two private terraces (unheard of in NYC) for fresh air. We also love the exposed brick walls, Jacuzzi tub, and steam shower.
Also Consider:Beach Barn, Watermill; and 19th-Century Dairy Barn, Woodstock
Rhode Island
Ross House, Block Island
(Accommodates 7 guests)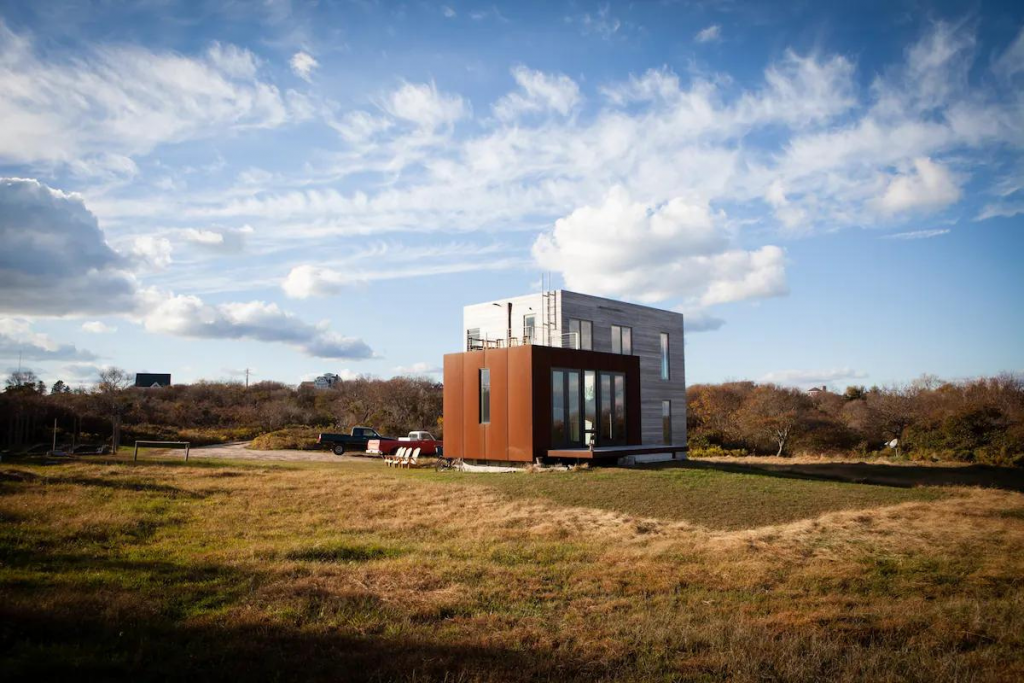 It will be just you and fur baby (and fellow travelers of course). There are few houses and even fewer neighbors on this southeast corner of Block Island. Newly constructed, the two-bedroom, 2.5-bath Ross House, is uber-modern in design. Set high on the bluffs, the house features water views, high ceilings, dreamy French doors facing the ocean, and loads of light. We especially love the outdoor shower, perfect, too, for rinsing sandy paws after those long beach walks.
Beach Cliff, Portsmouth
(Accommodates 6 guests)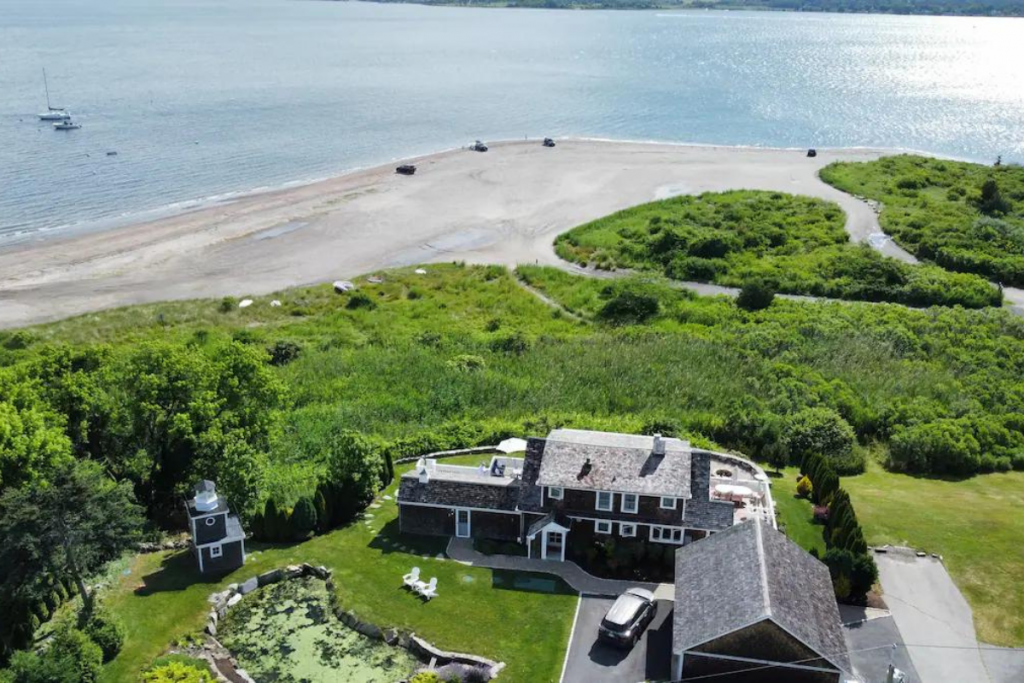 Classically New England, this three-bedroom, 3.5-bath waterfront home is set on eight acres of rocky beach at Mccorrie Point in Portsmouth (a.k.a Newport's quiet side). Three sprawling decks overlook the ocean; while interiors also offer stunning water views. We also love the outdoor firepit, tranquil koi pond and Tesla charging station.

Also Consider: Four-bedroom with fenced yard, Middletown; Luxury Home, Smithfield
Connecticut
Sunny Day, Newtown
(Accommodates 12 guests)
This exquisite five-bedroom, 5.5-bath lakeside retreat is the perfect getaway for family, friends, and pup of course. Spanning three stories, the house offers incredible lake views (plus swimming in summer; ice skating in winter), an open gourmet kitchen and a great room with floor-to-ceiling fireplace. Outside, enjoy the infinity pool, hot tub, outdoor fire pit and grill.
The Jungle Cottage, Clinton
(Accommodates 12 guests)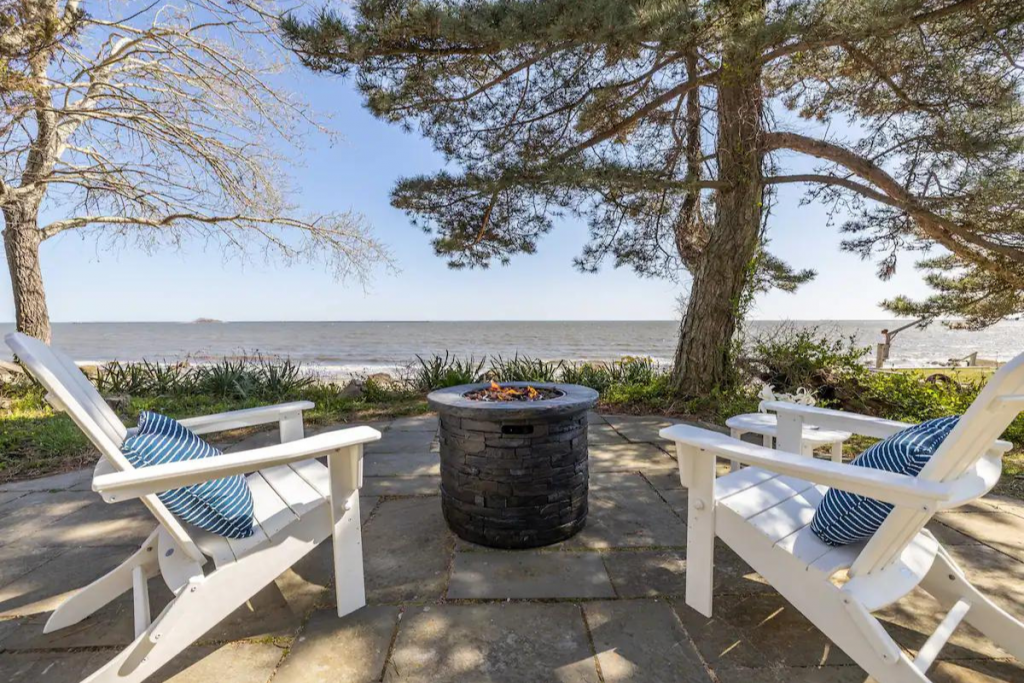 If the ocean is more your vibe, bring friends, family, and your floof to this five-bedroom, three-bath, beachfront cottage. Located in "The Grove," an area known for its beaches, large turn-of-the-century estates, and shady mature trees, the house comes with a light interior and sweeping water views. Other nice touches include the outdoor firepit and Adirondack chairs overlooking the water.

Also Consider: Beachfront Cottage, East Haven; Hilltop House, Litchfield; Silo House, Litchfield
Massachusetts
Classic Brownstone, Boston, MA
(Accommodates 8 guests)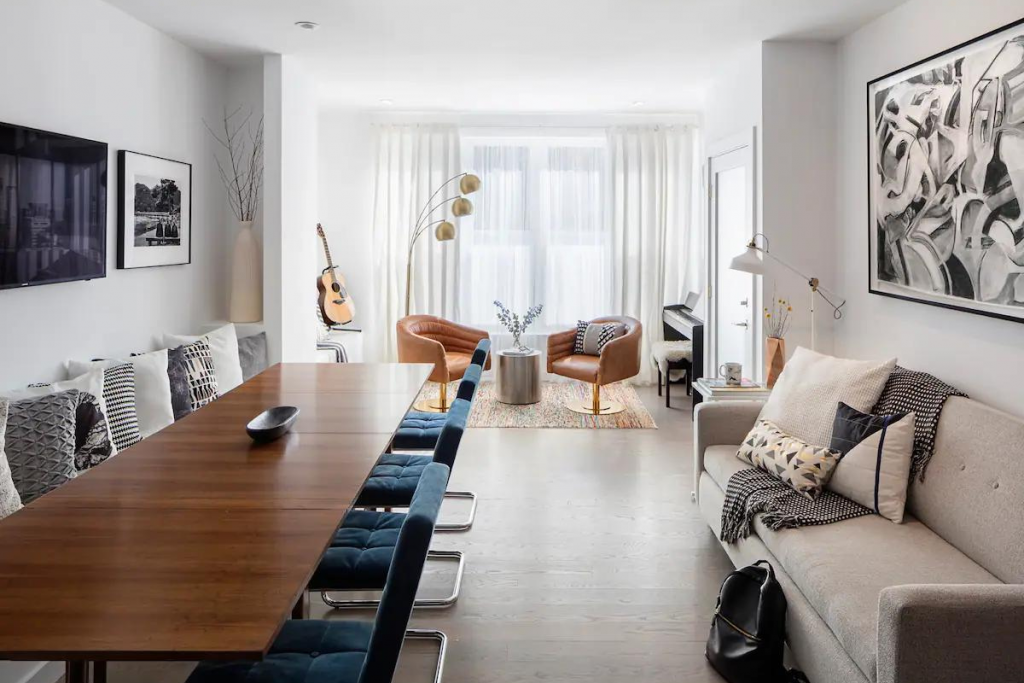 Pet friendly is redefined in this four-story, art-filled townhouse in Bay Village, one of the city's oldest neighborhoods (just three blocks from Newbury Street and the Boston Public Gardens). Originally built in 1890, this classic brownstone — completely renovated, with three bedrooms and baths — comes with a rotating art collection; piano and guitar for guests' use. A gallery tour curated by Olivia Ives-Flores, in-house chef, and portrait photography can also be arranged.
Slate House, Chatham, MA
(Accommodates 9 guests)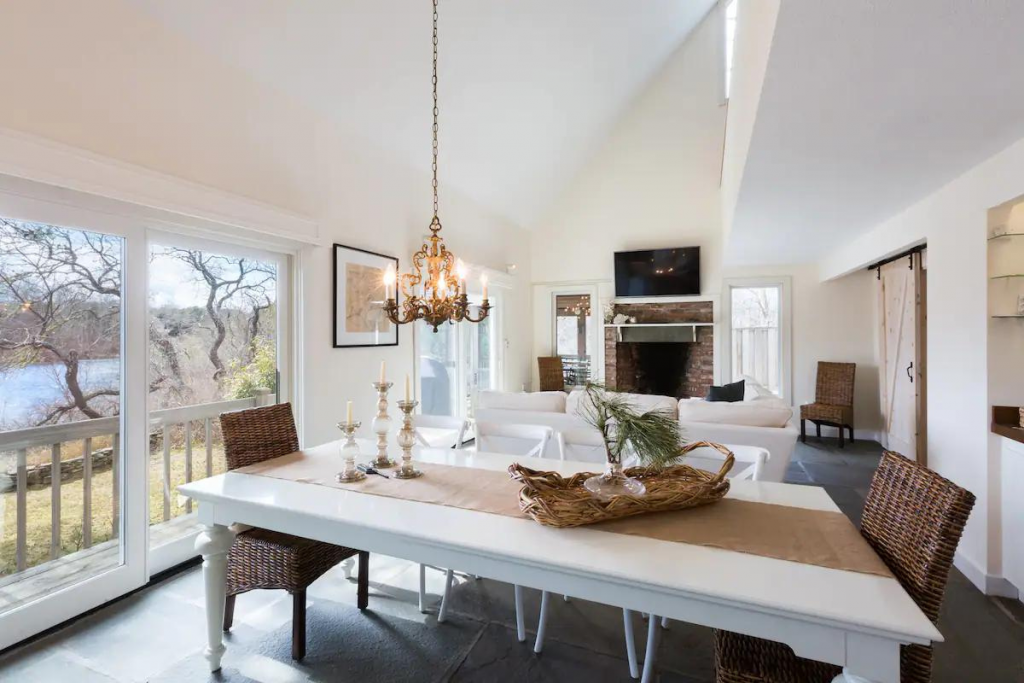 Water-loving canines will adore the private, dog-friendly beach just a short walk from this three-bedroom, two-bath home. Minutes from Lighthouse Beach, Slate House is tucked away on a private oasis overlooking Frost Fish Creek. Standouts of the house include an open floor plan, fireplace, blue-slate floors, high ceilings, sliding doors boasting water views, a fire pit, screened-in lounge, and abundant sunlight.
Three Cliff Lane, Nantucket, MA
(Accommodates 12 guests)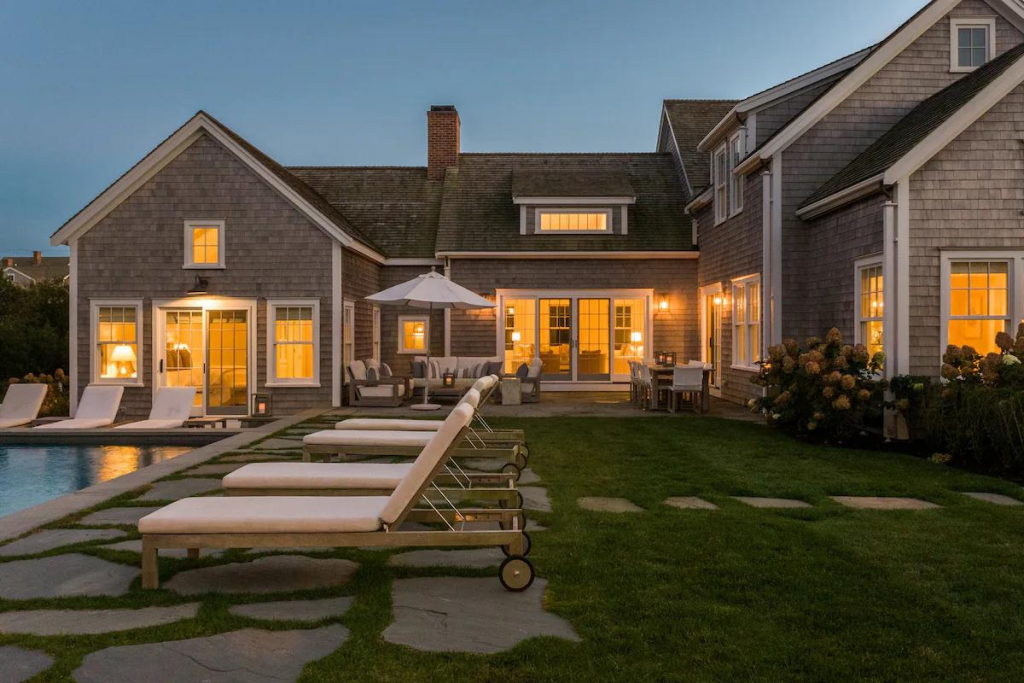 Dreamy is the first word that comes to mind in regard to this three-story Nantucket getaway. Featuring a cream-on-white color palette, cathedral ceilings, and fireplace, the house is just a mile from town. Explore the local beaches, boutiques, seafood eateries and nearby Whaling Museum, then return to swim in the pool (summer) or warm up by the outdoor fireplace (autumn).

Also Consider: Oceanfront with Boat Mooring, Weymouth; Family-Friendly Farmhouse, Orleans