When the thought of wildlife viewing arises, it often conjures images of exotic safaris in far-off lands, where adventurous explorers might track majestic lions in the sprawling savannas of Africa or venture into dense jungles teeming with colorful birds, vibrant insects, and mysterious mammals. These remote destinations seem to offer the epitome of wild encounters.
However, the truth is far more accessible and equally thrilling. Some of the most extraordinary wildlife experiences can be found much closer to home. Right here in the country's vast and diverse landscapes, a wide array of stunning wildlife encounters await those willing to explore.
You don't need a passport, a long-haul flight, or an expensive guide to feel the thrill of a safari. A world of natural wonder is accessible right at your doorstep, and it might be just a road trip away. From the arid deserts to the tropical wetlands, from the towering mountains to the endless coastlines, America's landscapes showcase a rich tapestry of life waiting to be explored and appreciated. With some planning, a curious spirit, and perhaps a pair of binoculars, you can uncover the hidden beauty of wildlife viewing in the US.So next time the urge to connect with nature strikes, consider looking closer to home.
Monterey Bay, California, for Humpback Whales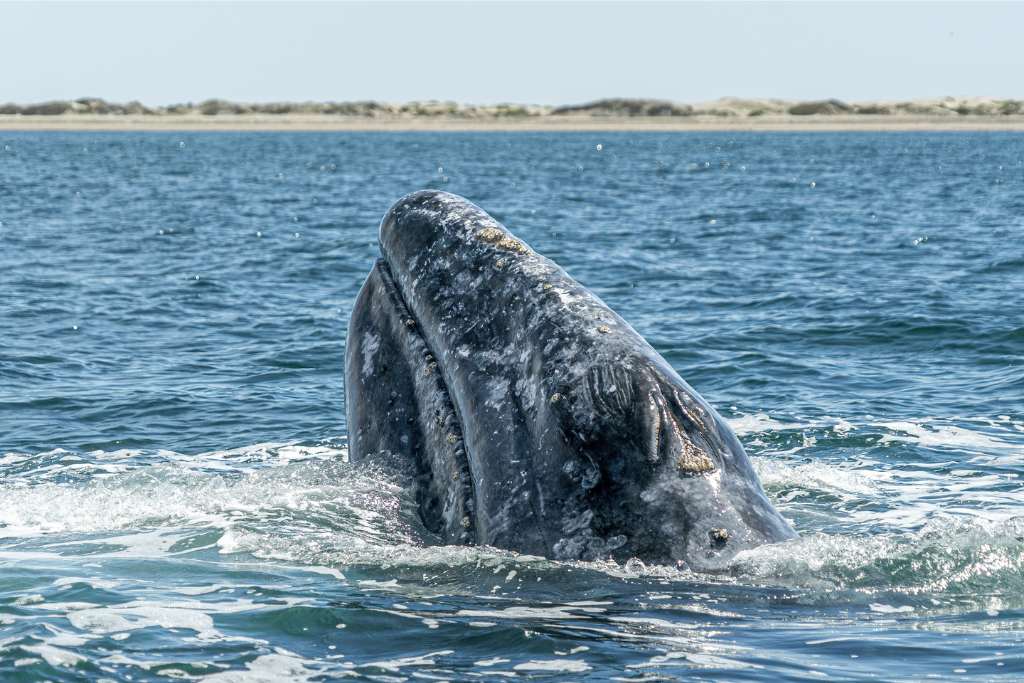 Monterey Bay boasts one of the richest marine environments on Earth and stands as an unparalleled destination for those seeking whale-watching adventures. The bay waters are teeming with humpback and blue whales, providing an opportunity to witness these gentle giants in their natural habitat. Visitors can embark on boat tours specially crafted for whale watching, where knowledgeable guides assist in spotting and understanding these creatures.
Where to Stay: For those seeking accommodation to all the excitement, The Sanctuary Beach Resort offers a tranquil luxury experience set along a private stretch of beach — an ideal home base for your adventures.
Insider Tip: To increase your chances of spotting whales, plan your trip between May and December — that's when they are commonly seen.
Yellowstone National Park, Wyoming, for Bison and Bears
Yellowstone is renowned for its range of wildlife encounters in the United States. Here you can find bison roaming freely alongside elk, grizzly bears, and wolves. The park's expansive open spaces and unique geothermal characteristics provide a unique environment for these animals, making it an exceptional destination for wildlife viewing in the US.
Where to Stay: Under Canvas West Yellowstone offers safari-inspired canvas tents with friendly amenities and an on-site restaurant. Guests can enjoy a nature-immersed experience along with access to an Adventure Concierge who can personalize activities.
Insider Tip: Consider hiring a guide through the hotel for personalized tours to known areas, ensuring you make the most of your wildlife encounter.
Hawaii for Sea Turtles and Sharks
Hawaii presents a destination for wildlife enthusiasts due to its variety of species. The lush landscapes of Kauai serve as a sanctuary for forest birds, while Maui's Ho'okipa Beach is renowned for its green sea turtle nesting grounds. The warm waters surrounding the islands are home to humpback whales, dolphins, vibrant fish species, and an exhilarating assortment of sharks including reef, tiger, and hammerhead. If you want to explore the birdlife in Kauai, observe the turtles in Maui, or embark on a thrilling shark tour, Hawaii offers an opportunity to experience both land and marine wildlife. It's undoubtedly one of the places for wildlife viewing in the US.
Where to Stay: The beaches near the Four Seasons Hualalai are perfect for witnessing Hawaiian green sea turtles basking in their glory. You can also catch glimpses of sharks thriving in the vibrant marine habitats surrounding these shores.
Insider Tip: If you plan your visit between May and September (summer season), you'll have a chance to spot turtles and sharks. During this time, warmer waters lure these creatures closer to the shores guaranteeing sightings and exciting underwater encounters.
Denali National Park, Alaska, for Bears and Golden Eagles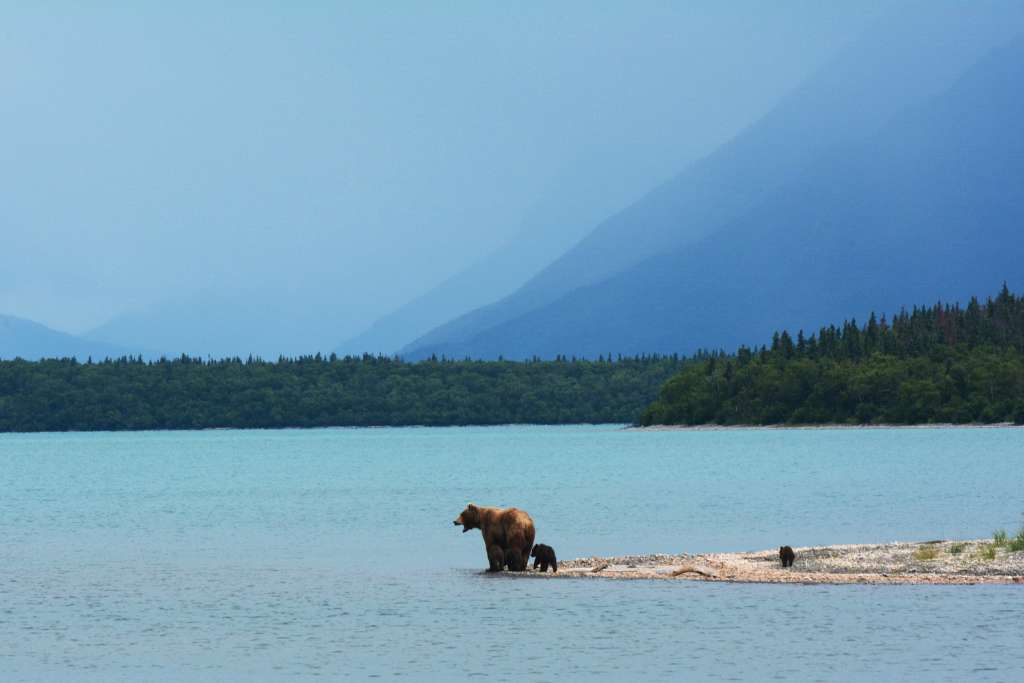 Denali National Park in Alaska is a destination for those interested in bears and golden eagles. This remote wilderness is home to iconic wildlife such as moose, caribou, grizzly bears, wolves, and golden eagles. The untouched landscapes of Denali encompass terrains ranging from tundra to valleys — creating a complex ecosystem that makes it truly exceptional for wildlife viewing. What sets Denali apart is its combination of vastness and accessibility — it fully immerses visitors in a pristine environment.
Where to Stay: If you're looking for luxury accommodation at the heart of Denali National Park, Sheldon Chalet offers an experience amidst this natural wonderland.
Insider Tip: Experience the awe-inspiring beauty of the helicopter tours offered by the hotel. It's an opportunity to witness the landscapes and wildlife from a unique perspective accessing areas that are typically out of reach on foot.
Jackson Hole, Wyoming, for Elk and Moose
Jackson Hole, Wyoming, is renowned for its wildlife, including elk, moose, bears, and eagles. Set against the Teton Mountain Range, this area offers a variety of habitats from plains to mountains and rivers, resulting in remarkable biodiversity. Throughout the year, Jackson Holes's untamed landscapes provide an unspoiled environment for observing animals.
Where to Stay: For a wildlife viewing in the U.S., consider staying at Amangani. This extraordinary hotel is set amidst nature's beauty. It provides unparalleled access to diverse habitats where guests can witness abundant wildlife in their natural setting.
Insider Tip: Plan your explorations around dawn and dusk when these magnificent creatures are most active. Additionally, visiting during the fall season aligns with their mating period, known as "the rut," making them more visible and vocal.
The Great Smoky Mountains National Park, Tennessee, for Bears and Birds
The Great Smoky Mountains National Park in Tennessee is renowned for its forests that house a variety of wildlife, including bears, elk, white-tailed deer, and a wide range of bird species. This park's diverse ecosystems are attributed to its varying elevations and earned recognition as a UNESCO World Heritage Site. With its landscapes and accessible trails, it's an ideal destination for wildlife viewing in the U.S..
Where to Stay: Blackberry Farm offers a blend of charm and luxury amidst this breathtaking environment teeming with wildlife.
Insider Tip: The hotel provides guided tours specifically designed for wildlife photography sessions. For a tranquil wildlife experience, consider planning your trip during the off-season in fall or winter.
San Juan Islands, Washington, for Orcas and Seals
The San Juan Islands in Washington are well known for their resident orca whales that frequently breach and play in the surrounding waters. Visitors can also observe seals, deer, and bald eagles alongside the orcas. The island's unique location and marine environment create a microclimate that supports a diversity of marine and terrestrial life.
Where to Stay: When finding a place for wildlife viewing in the US, you can't go wrong with Rosario Resort & Spa on Orcas Island. Its stunning waterfront location offers the backdrop for observing a range of marine and land species in their natural habitats.
Insider Tip: If you're looking to glimpse Orcas, visiting the San Juan Islands is between April and September, with June and July being ideal. Alternatively, you can head to Lime Kiln Point State Park for land-based watching. Keep an eye out for seals during tide when they often rest on the rocks in peaceful coves.
Everglades National Park, Florida, for Alligators and Manatees
Everglades National Park in Florida is a must-visit for those seeking encounters with alligators and manatees. This extraordinary subtropical wilderness is home to species like American alligators, gentle manatees, and elusive Florida panthers, as well as an array of bird species, including herons, egrets, and ospreys. Exploring the network of wetlands and forests within the Everglades offers an opportunity to witness these incredible creatures thriving in their one-of-a-kind habitat found nowhere else in the United States.
Where to Stay: Consider checking in at establishments like the Faena Hotel Miami Beach. You'll get the best of both worlds; a luxurious city escape with all the comforts and amenities of a high-end resort and the opportunity to venture into the Everglades for an adventure. Immerse yourself in this ecosystem's beauty and diverse wildlife just 30 miles away.
Insider Tip: Plan your visit from November to March during the season. During this time, water levels are lower, making it easier to spot animals as they gather around water holes. For wildlife sightings, head out early in the morning or late in the afternoon when these creatures tend to be more active due to temperatures.
Featured image courtesy of Joris Beugels on Unsplash