They call them snowbirds. But, they don't have feathers. Throngs of human visitors (snowbirds) flock to Texas' Galveston Island to escape the icy northern climes, often arriving just In time for the holiday season. Proclaimed the "Playground of the South" in Victorian times, Galveston, which occupies a barrier island across the water from Houston, has a sleepy, nostalgic feel. Winter light softly effuses its mansard-roofed mansions and Victorian gingerbread cottages along the palm tree-lined seawall with the kind of illumination that inspires painters to set up easels all over town. But by far its greatest winter draw is its famed holiday festival, Dickens on the Strand, held on and around the community's nostalgic promenade, a National Historic Landmark District, each December (the soiree dates back 50 years).
Taking part in the Victorian-themed holiday extravaganza, guests relish the opportunity to dress in period costumes, often feigning old-time accents or quoting nonstop from the famous classic, The Christmas Carol. Wander the Strand's more than ten blocks of antique stories, boutiques, galleries, and restaurants. Watch daily parades, rife with old time characters and fantastical costumes. While entertainment prevails from multiple stages, pushcart pedlars, bagpipers, meandering musicians, jugglers, and bawdy costumed vendors enliven the gas lamp-lit streets. Dickens-era inspired crafts, gifts, libations, and comestibles can be purchased from festive stalls. A facial hair contest, Victorian costume contest, and Victorian bed races rule the days. Pub crawls, English afternoon tea and traditional English breakfasts, handbell concerts, historical walking tours, carolers, and petting zoos add to the fun. Stay at the new, family-owned p Hotel Lucine, a revitalized, old-time motel turned 61-room, chic boutique hotel, set along the seawall. Don't forget your bowler hat. We also love to visit the following festively festooned towns for holiday cheer and camaraderie.
Kennebunkport, Maine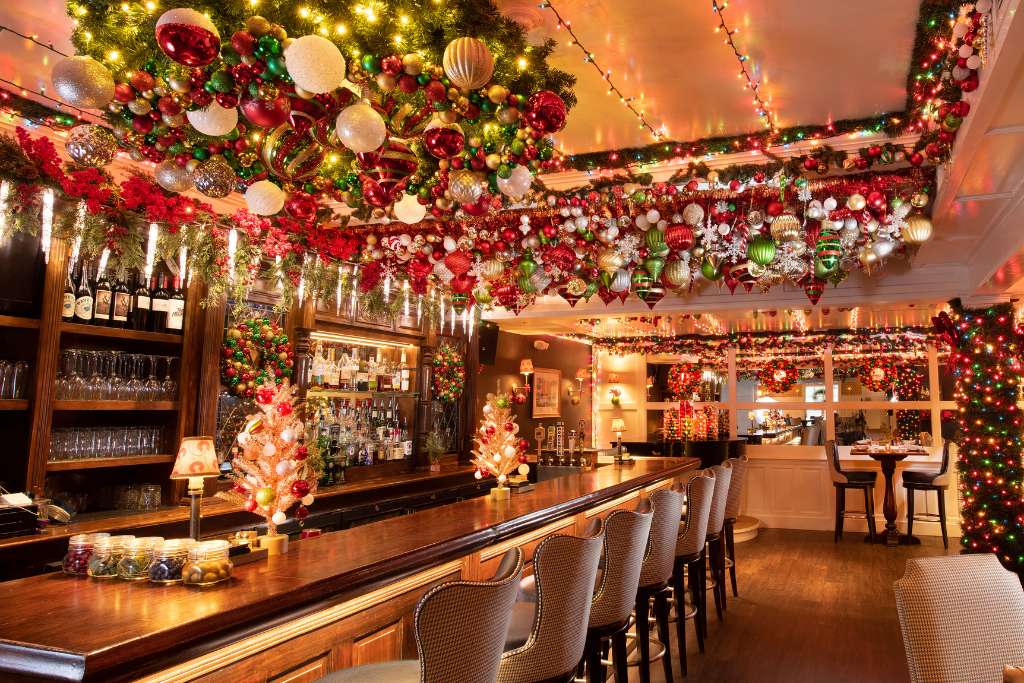 The seaside town of Kennebunkport annually offers up Christmas Prelude, an 11-day bash that oozes with New England zest. Held November 30th-December, festivities include three tree lightings, candlelight caroling, fireworks, a family street festival, cocktails galore, and annual canine and hat parades. Expect reindeer, Mrs. Claus in ubiquitous attendance and Santa who arrives by…lobster boat. Don't miss having a celebratory drink at The Tinsel Bar, an extravaganza of holiday glee with floor-to-ceiling ornaments and finery.
Where To Stay: Kennebunkport Inn, the only hotel in bustling Dock Square, so decorated each year it becomes a Christmas destination in and of itself.
Jackson Hole, Wyoming
Once the bailiwick of fur traders and explorers, this chic, but casual western town now attracts skiers and jetsetters for its snow and après-ski scene. Bedecked in glittering lights during the holidays, the iconic antler arches in the Town Square become even more picturesque while a horse-drawn sleigh ride through the National Elk Refuge redefines the mountainous terrain. On Christmas Eve, Santa rappels out of the Aerial Tram, an annual menorah lighting in Town Square with free Hanukkah treats (such as latkes and jelly donuts) mark the season, and Cowboy Christmas Karaoke at the famous Million Dollar Cowboy bar redefines Christmas caroling.
Where To Stay: Get cozy at posh Moose Haven chalet and enjoy onefinestay's 24/7 concierge team. They'll book festive activities such as a private tour around the city with a horse and carriage, setting up a Christmas tree in your home, and a cookie baking class.
Natchez, Mississippi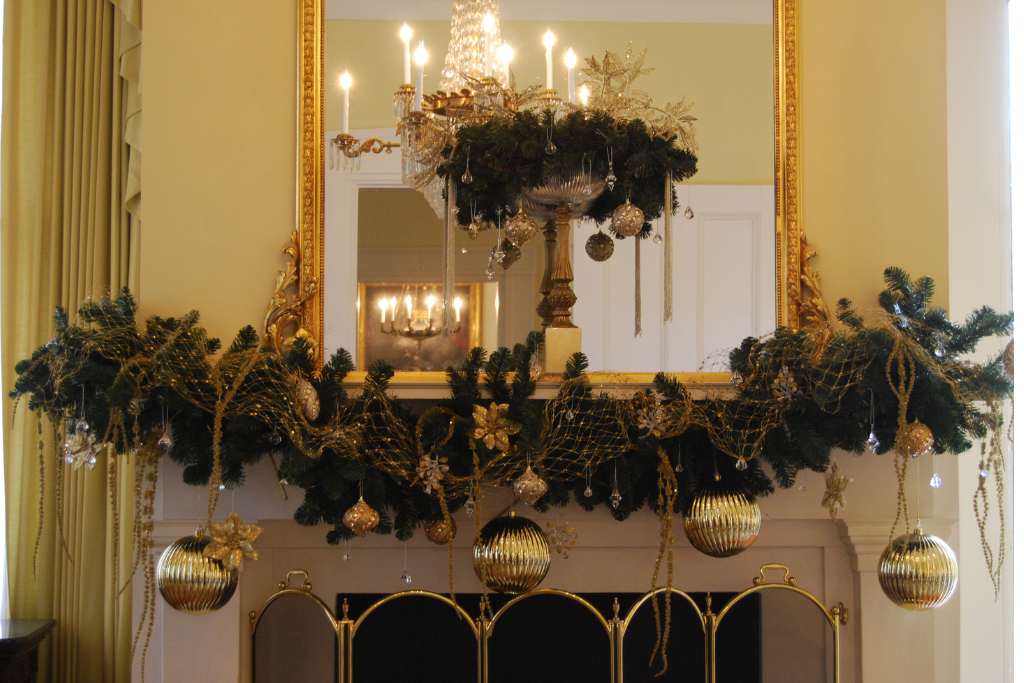 Beloved for its Southern charm and hospitality, historic homes and architecture, stately Natchez kicks off its month-long Christmas in Natchez with a tree-lighting event on Thanksgiving weekend. Expect visits from Santa Claus, pyrotechnics set to music, food vendors, kid rides, and caroling around the tree — among other jubilant activities. Design buffs can tour mansions beribboned for the holidays, while shopaholics can check people off their list at stores such as Darby's for unique gifts, Hal Garner at Nest — an antiques trove — or Darby's for fresh-made fudge and unique finds.
Where to Stay: Immerse in the setting at Dunleith Historic Inn, a National Historic Landmark, where you can take a room in the characteristic mansion of sleep in a retrofitted, luxe dairy barn.
Coeur d'Alene, Idaho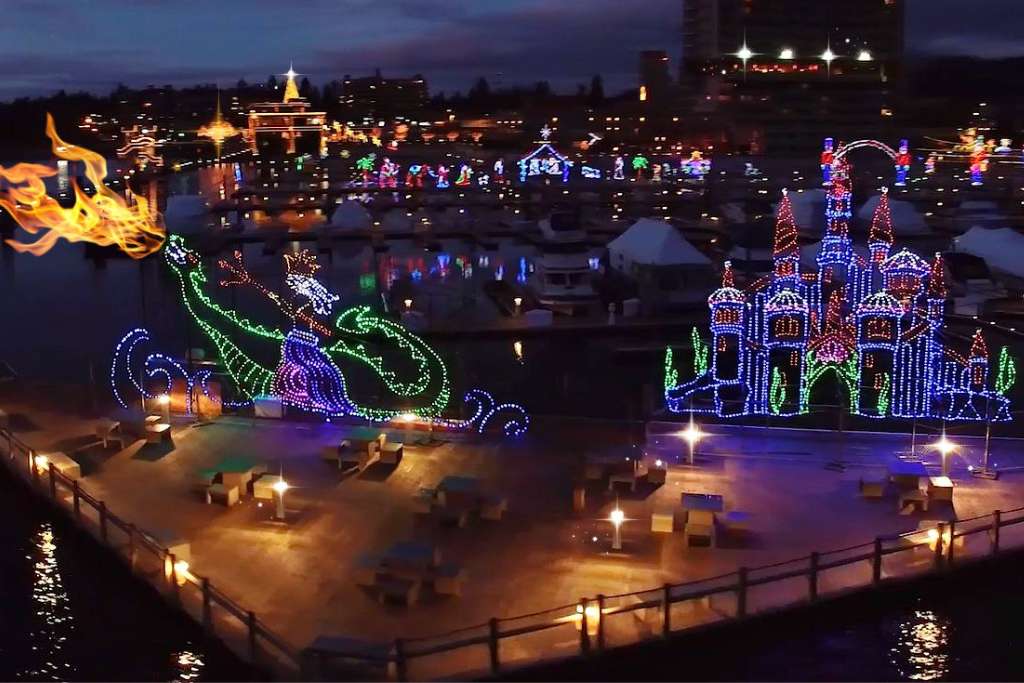 An outdoor enthusiast's paradise just 45 minutes from Spokane International Airport, the town, once the site of a fort, lies on a shimmering lake. During the holidays more than 1.5 million twinkling lights blazon the expanses of Coeur d'Alene Resort. A veritable winter wonderland (and the town's unofficial living room), the retreat gussies up in more than 20,000 pounds of handmade holiday decor and 250 displays. Don't miss the fire-breathing dragon, one of the world's largest floating Christmas trees, and a 3,000-pound wreath. Indoors the resort bespangles with more than 50 trees, two 9-foot-tall nutcrackers, two life-sized Santa's, 35 wreaths, 30 elves, 100 woodland creatures, 100 presents, 200 snowflakes, more than 800 feet of garland.
Where To Stay Coeur d' Alene Resort for its fancy suites, location on the lake, and various holiday programs.
Providence, Rhode Island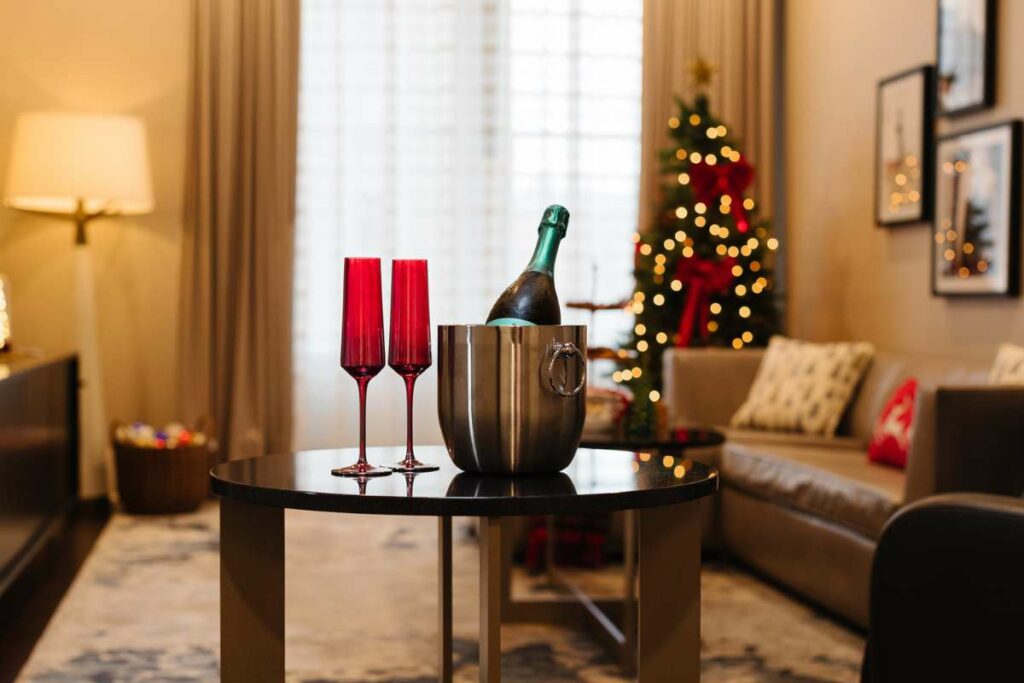 Known for its vibrant art scene, including the Waterfire Art Center and clear clam chowder, charming, historical Providence buzzes during the holiday season. Join the revelry at Three Nights of Lights (December 1-3, 2023), a city-wide party themed around illumination. Expect a spellbinding bonfire lighting of Providence's downtown rivers, a bespangling of the city's 24-foot holiday tree, food trucks, craft vendors, visits from performers from the Nutcracker, and Santa joining the scene by boat.
Where to Stay: Tuck in at The Beatrice, a stunning boutique hotel in the heart of downtown, favored by the likes of Sarah Jessica Parker.
Asheville, North Carolina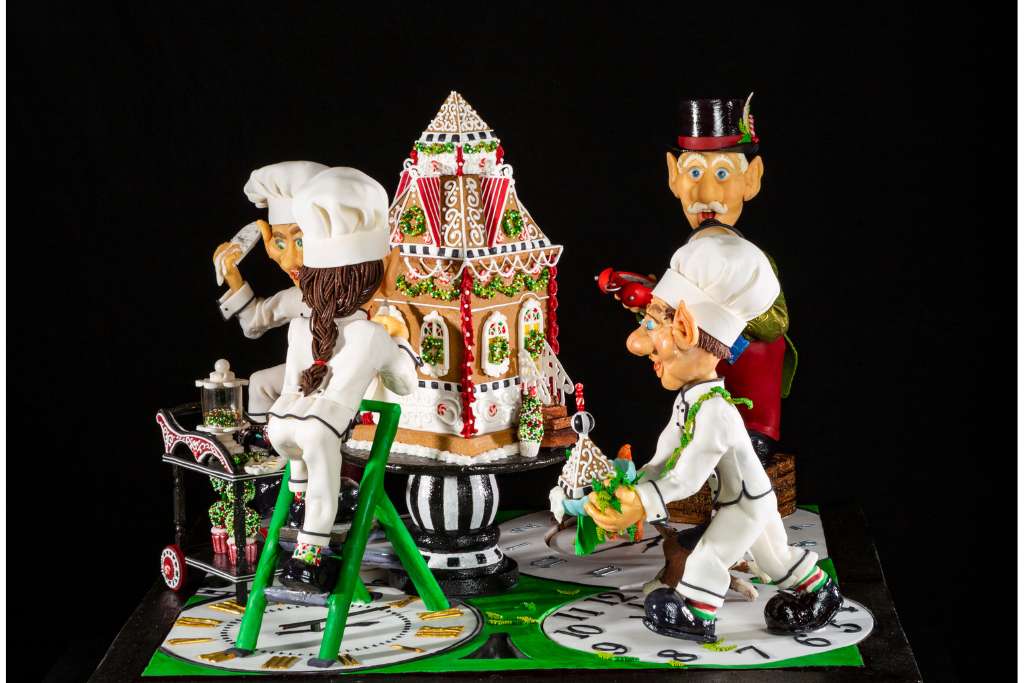 Hungry? Home to the Annual National Gingerbread House Competition, Asheville, though festive throughout the year, ups the ornamented and befrilled ante with a variety of activities. Be awed at the nation's largest gingerbread house contest, which takes place annually at The Omni Grove Park Inn. Attracting a range of gingerbread architects, the delectable event runs from November 27, 2023 to January 2, 2024. Judged by a noteworthy panel of culinary experts, including James Beard finalist Ashleigh Shanti and celebrity chef Yolanda Gampp, the competition shows cookie houses built by people of all ages and skill levels, with prizes that add up to more than $40,000. When not perusing the cookie construction, visit nearby Weaverville, situated minutes from downtown. With "It's a Wonderful Life" appeal, the enclave garnishes its timeless Main Street, holding a Candlelight Stroll on December 3, 2023, complete with carolers, horse and carriage rides, music, and family fun.
Where To Stay: The Omni Grove Park Inn for onsite gingerbread house fun and for its golf course and subterranean spa.
Cover photo courtesy of Coeur d'Alene Idaho.