There's something about Paris — something about all of France, really — that speaks to the soul, emoting passion, romance, beauty, and art. Whether your dream is to stroll along the Seine, cuddle with your lover on a bench in a leafy Paris park, shop the Champs-Elysées for Louis Vuitton and Christian Dior, or simply marvel at the sparkly Eiffel Tower, the joie de vivre of France is real. But when we are unable to board a flight to the City of Light, we do the next best thing. We nourish our inner Francophile with an authentic French vacation stateside. We check into French hotels, dine at Michelin-star French restaurants, order flutes of bubby at our favorite French Champagne bars. And of course, slip away for slimming French thalassotherapy and vinotherapie spa treatments, and facials using luxe French beauty brands. Fortunately, there is no shortage of French-inspired options in the US. From dinner at Auberge du Soleil in the Napa Valley, to a full-on wellness experience at Cal-A-Vie Health Spa in southern California, to a stay of one of these très chic French hotels in New York City (Hôtel Barrière Fouquet's New York, The Plaza Hotel), New Orleans (Maison de la Luz), or Chicago (Waldorf Astoria Chicago) hotels.
French Experience in NYC
Hôtel Barrière Fouquet's New York, New York City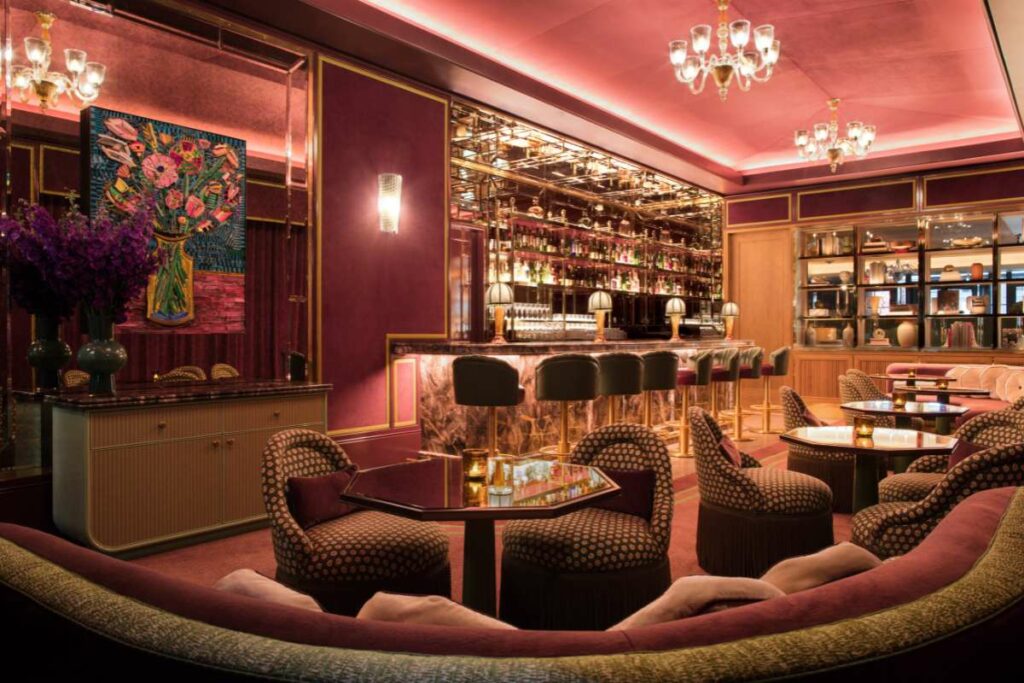 "Coffee Madame. And you must try a croissant. They are homemade fresh every morning."
I have just arrived at the Moulin-Rouge-red brasserie at Hôtel Barrière Fouquet's New York in Tribeca, for an early morning rendezvous (aka meeting). But one swish through the awning-lined doors, and I am instantly transported back to Paris. Modern chanson plays softly as the wait staff — sharp in all black — discreetly pours coffee from gleaming silver pots. At the table next to me, a couple, hair disheveled and eyes starry, converse only in French, while next to them a young mother spoons nibbles of omelet to her well-behaved toddler.
"Oui, oui, I will try," I concede to the dark-haired waiter, who nods in approval. And as the buttery but flaky croissant, still hot from the oven, melts in my mouth, I vow to return for a full-on French dinner by chef Bradley Stellings.
Opened in late 2022, Hôtel Barrière Fouquet's New York is the first U.S. outpost of France's family-run Groupe Barrière, and features interiors by world-renowned designer Martin Brudnizki. Reminiscent of the original Parisian brasserie on the Champs-Elysées, the New York City Tribeca version features the same high-gloss wood paneling, curved leather banquettes, cut-glass chandeliers, parquet floors, and black-and-white photographs of film stars albeit in this location, both Paris (Marion Cotillard, Alain Delon) and New York (Spike Lee, Lauren Bacall) are represented.
The rest of the hotel (with emphasis on Brudnizki's signature Art Deco style) deviates away from the brasserie's red, black, gold, and beige hues, and instead takes on an iconically French lavender color palette. Glamorously associated with the Tuileries Garden, the lavender is sprinkled with subtle greens and creams throughout the hotel's 97 rooms and suites. One of my favorite finds is the custom toile de Jouy wallpaper — a traditional French decoration of repeated pastoral themes — lining the guest room walls. Although here, the wallpaper is whimsically updated with scenes from Tribeca: women carrying Birkin bags, a pigeon clutching a croissant in its beak. Other fun finds include a specially commissioned mural by artist Andie Dinkin, recreating scenes from the French Riviera in the 1940s and '50s, a Swarovski crystal King Kong clutching a miniature Eiffel Tower, and Titsou Bar, a guests-only speakeasy, evoking 1920s Paris. Enter through a secret door disguised as a bookshelf.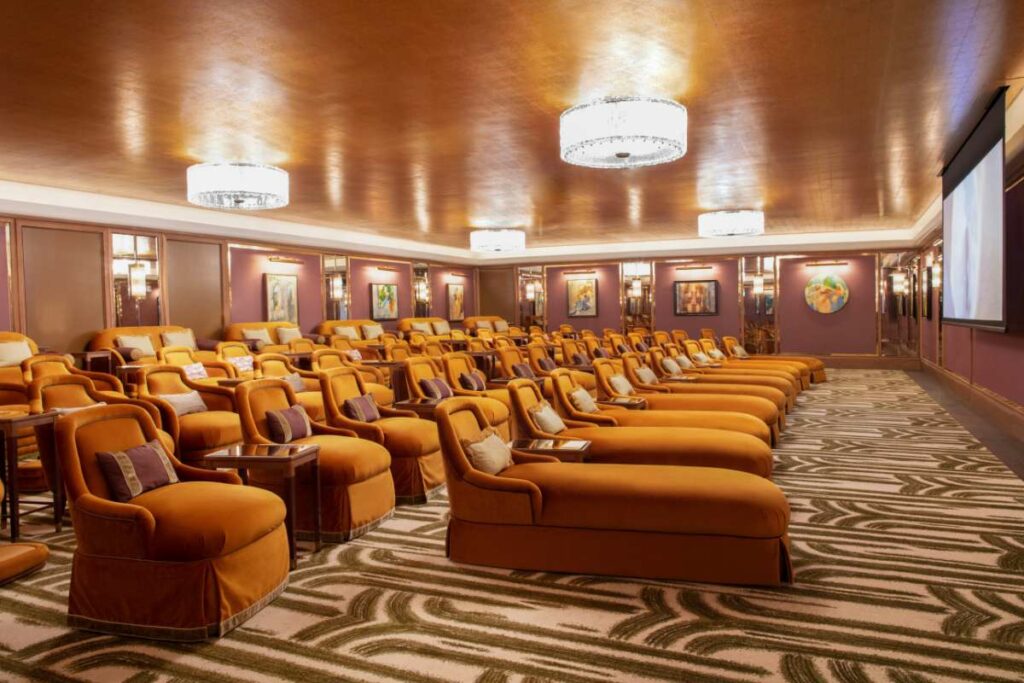 More French Notes: Cannes, the hotel's glamorous private screening room featuring plush gold seating; the Presidential Suite spanning two floors and showcasing three private outdoor terraces; and Spa Diane Barrière, offering treatments by Parisian beauty brand, Biologique Recherche.
The Plaza Hotel, New York City
Designed in 1907 by American architect Henry Janeway Hardenbergh, the French Renaissance château-style Plaza Hotel has hosted royalty, presidents, A-listers, and perhaps most famously Eloise, the precocious girl who — in Kay Thompson's 1955 book series — lived at The Plaza. While the hotel, located on the edge of Central Park, appears to be an iconic Americana landmark, its artistic influence is undoubtedly French. The mansard roof, balustrades, and minty green terra-cotta are a nod to France's stately chateaux, while the hotel's opulent interiors — ornate arches, pillars, and marble flooring — were inspired by the French Renaissance. Guest room bathrooms offer their own touch of Versailles with gilded floral walls, 24-carat gold fixtures, and hand-carved marble vanities. Then of course there is the Champagne Bar, known for its bubbly, caviar, wine, and handcrafted cocktails. A highlight for this French spa lover comes, however, in The Guerlain Spa. Created in 1939, on Avenue des Champs-Elysées, Guerlain is renowned for its unique and exclusive massage method, used also in its facials. For the ultimate experience, book the 90-minute "Ultimate Black Orchid Anti-Ageing Treatment." Therapists are trained in Paris.
More French Notes:
In 1949, interior designers from Paris and New York created the first celebrity suite at The Plaza for French fashion designer Christian Dior. Following his departure, American architect Frank Lloyd Wright checked in, staying for six years.
French Near the French Quarter, New Orleans
Maison de la Luz
Located in the Warehouse District, near New Orleans' famed French Quarter, this luxury guesthouse has the feel of a design-chic Parisian apartment. A collaboration between Atelier Ace and design firm Studio Shamshiri, the concept is of a well-heeled traveler who has returned home with decorative souvenirs, representative of New Orleans' rich French, Spanish, and African cultures. French touches include high 17-foot ceilings, marble floors dusted in gold, crisp white linens covering sumptuous beds, and a sunlit blue-and-white-hued breakfast room — its plush velvet banquettes, parquet flooring, and wallpaper featuring Louisiana swamp plants and a trompe l'oeilawning, reminiscent of a French parlor. The hotel's 67 rooms and suites — flooded in sunlight (enter using a heavy, tasseled room key) — feel luxuriously Parisian in their pale mauve walls and bathrooms with free-standing tubs, and marble vanities. But it is Bar Marilou, created by French culinary firm, Quixotic Projects, that really ups the French-aesthetic ante. Scarlet in hue, with built-in, bookcase-lined walls, low-slung velvet furnishings, and fringed zebra-wrapped barstools, the bar specializes in craft cocktails and French-inspired fare — try the crème fraîche and caviar-topped Pommes Marilou.
More French Notes
Enjoy a cocktail or aperitif in the hotel's secret blue-and-gold salon. Tap on a painting, and order through a window hidden behind it. A door leads from the salon into Bar Marilou, which is open to the public.
Chanel Inspired in Chicago
Waldorf Astoria Chicago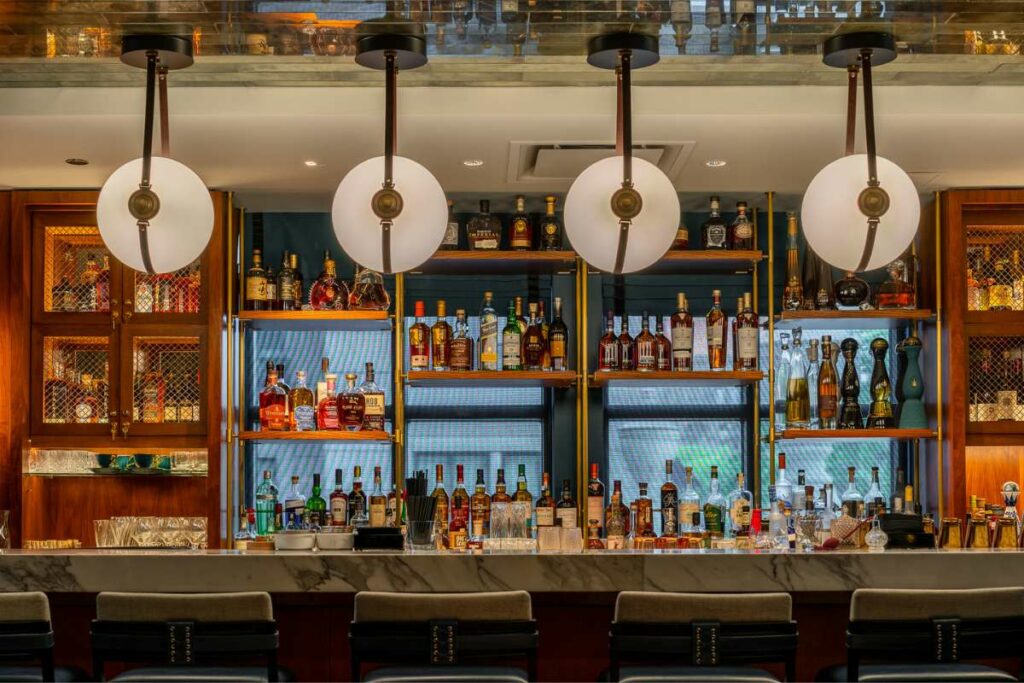 During the recent reimagination of Chicago's Art Deco jewel, the 60-story Waldorf Astoria Chicago, legendary French fashion icon Coco Chanel served as constant inspiration. The lobby's dazzling Swarovski crystal chandelier was influenced by a vintage brooch the late designer once wore, while the refreshed cocktail bar gives nod to a few of her closest confidants. In designing the hotel, architect Lucien LaGrange drew upon the Beaux-Arts classicism of his native Paris. In this incarnation — which includes refreshed guestrooms and suites, lobby, and restaurants — by interior design and architecture firm KTGY Simeone Deary Design Group, the property continues its stylish grand Parisian ambience. Both the new Astoria Suite and redesigned Presidential Suite evoke the charm of a Parisian pied-à-terre, with their black-and-white pinstriped stone trim, polished brass and black-nickel accents, cerused oak flooring, and custom sofas.
More French Notes
The interior of Bernard's, a Chicago cocktail landmark and discreet evening lounge, is rooted in rich, dark colors, and classic forms, and said to be inspired by the famous men in Coco Chanel's life — namely Karl Lagerfeld, Hugh Grosvenor, and Etienne Balsan. Sip French Champagne or try the Side Car (Courvoisier, Grand Marnier, lemon juice, simple syrup, and egg white) created in honor of an American army captain in Paris during World War I.
The French Riviera in California
Auberge Du Soleil, Rutherford
Napa meets the French Riviera at this French-inspired hotel, set on a 33-acre olive grove, and known for its stunning views. The brainchild of French restaurateur Claude Rouas, the property opened in 1981 as Napa Valley's first fine-dining restaurant; the hotel portion — which translates to 'Inn of the Sun' — followed a few years later. Today, The Restaurant at Auberge, helmed by Executive Chef Robert Curry (since 2005), continues its legacy as a must-experience French culinary destination. In late 2022, The Restaurant — renowned for its French-inspired cuisine, extensive wine cellar (15,000 bottles), and commitment to sourcing ingredients locally from neighboring farms and purveyors — received its 15th consecutive star from The Michelin Guide California. Opt for chef's three- or four-course prix fixe or six-course tasting menu, starting the evening with a glass of French bubbly from the Champagne cart, or glass of local Napa Valley wine. Retire afterward to one of the hotel's private, free-standing maisons, featuring floor-to-ceiling windows, French doors, a neutral color palette, custom California king beds, and fireplaces. The highlight is the private trellised terrace, with an outdoor tub overlooking the vineyards and Mayacamas Mountains. Reserve time in the spa — its courtyard surrounded by olive trees and fountains. Slip into the European-style hammam and steam rooms, soak in the temperate springs before a facial using the spa's signature French-inspired California product line.
More French Notes
Executive Pastry Chef Paul Lemieux, who has led the pastry team since 2003, is renowned for his exquisite seasonal desserts including his house made chocolate. Chef sources cacao beans from select international farms, then carefully roasts and refines it in small batches in the hotel's pastry kitchen.
Cal-a-Vie Health Spa, Vista
Set between grapevines and lavender fields, L.A. and San Diego, wellness seekers arriving at the life-changing Cal-A-Vie Health Spa in southern California, will insist they are in France. And rightly so. Cal-a-Vie owners Terri and John Havens, self-confessed Francophiles (and originally from New Orleans), modeled their legendary destination spa in alignment with their love for all things French. The spa's light-filled rooms and villas come with terra-cotta roofs, treasured French antiques and furnishings, grand tubs, and French doors leading to a terrace. There is even a 17th-century French chapel on the property which the Havens imported from Dijon. The 400-year-old chapel featuring stained glass, is lit by candlelight during the spa's evening (French) wine tastings (yes, wine is on the menu, in moderation of course). The actual day-to-day experience at Cal-a-Vie is a blend of both American and French/European philosophies. Days start early (6:30 am) with a morning hike, followed by a customized plan of fitness classes, spa treatments, nutrition services, mind-body-spirit (yoga/meditation) offerings, and holistic medical options including wellness injections (immune boosters and hydrating IVs) and acupuncture. Guests may also opt to swim, golf, or play tennis. Spa treatments are, not surprisingly, a glorious offering of signature Cal-A-Vie French vinotherapie treatments, culled from the antioxidant-rich, by-products of winemaking. Grape skins, seeds, and pulp are known to contain skin and health-enhancing components such as vitamin C and E. For a deliciously French treatment, try the Grape Seed Skin Wrap (90 minutes), starting with a gentle salt scrub followed by a warming wrap in oceanic clay enriched with Cabernet grape extract.
More French Notes
Bring the French life home. Cal-A-Vie's exquisite Antiques Boutique provides exclusive access to 18th- and 19th- century pieces imported directly from France. Spa guests can purchase original artwork, lighting, glassware, mirrors, and even pieces of Louis XVI furniture.