Greece, with its historic coastlines and diverse terrains, has always lured in escapist travelers seeking a touch of magic and mystery. For those looking to connect back to nature, while also embracing immersive design, a chic adventure awaits. Consider an island-hopping journey through Greece's uncharted territories, where each stop is a masterpiece in itself. With a meticulously planned itinerary, we set out to explore four design-led villas on four distinct Greek islands: Cleonice in Spetses, Serayna in Porto Heli, The Ortholithi Estate on Corfu, and the Grace Hotel Villa in Santorini. Join us as we hop from one island to the next, discovering the hidden beauty that these dreamy villas and their unique aesthetics bring to Greek life.
Cleonice: History Lesson in Spetses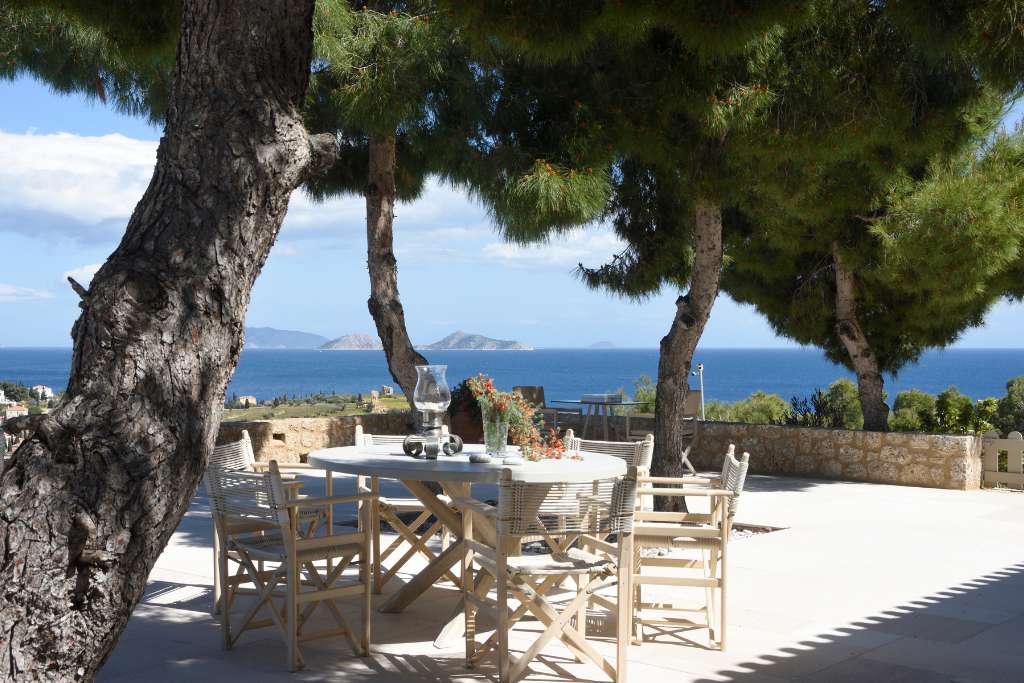 Beginning on the charming Saronic island of Spetses, Villa Cleonice stands as a testament to the island's rich history and contemporary allure. Stepping into Cleonice, you're immediately enveloped in a soothing palette of whites and neutrals that mirror the island's tonal charm. The villa effortlessly melds traditional Greek elements with modern touches, creating an ambiance that is both inviting and sophisticated. The interiors, awash with natural light, showcase a thoughtful curation of furnishings that reflect the island's connection to the sea. From intricate ceramics reminiscent of ancient pottery to handwoven textiles that pay homage to Spetses' maritime legacy, every piece tells a story. Large windows frame postcard-worthy views of the sea, reminding us that this is a place where time seems to stand still. Days are spent wandering through Spetses' cobblestone streets, where horse-drawn carriages evoke a sense of nostalgia, and nights bring us back to Cleonice, where the intimate dining area becomes a backdrop for conversations that flow as effortlessly as the island breeze. Cleonice, with its careful curation of design elements, casts a poetic exploration of Spetses' past and present.
Serayna: Coastal Charms in Porto Heli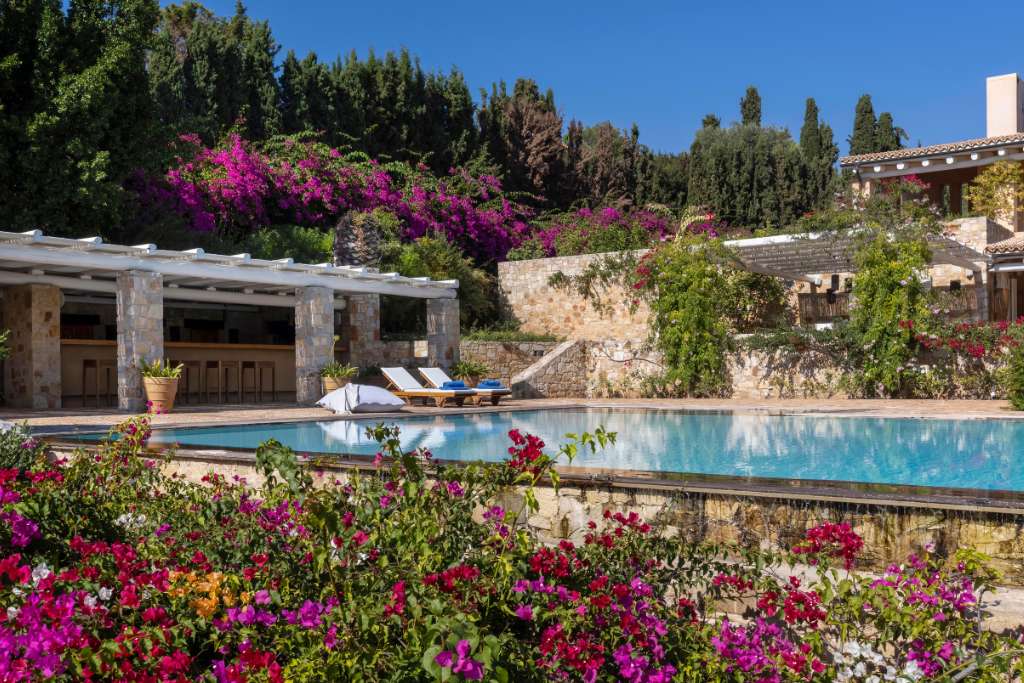 A short hop to Porto Heli, you'll find a coastal haven that boasts crystal-clear waters and a laid-back atmosphere. Here, Serayna awaits, perched on a hillside with views that stretch to infinity. Stepping into Serayna's open-concept space, you're immediately greeted by a symphony of blues and whites — paying direct homage to Porto Heli's coastal draw. The villa's design blurs the lines between indoors and outdoors, allowing the salty sea breeze and golden sunlight to play a starring role in the experience. Comfortable lounges beckon you to unwind, while the intentionally designed spaces encourage connection with nature and evoke a sense of calmness. After all, Serayna's aesthetic narrative speaks relaxation and tranquility fluently through every touch point — a tribute to Porto Heli's languid pace of life. From savoring local delicacies in the outdoor dining area to immersing in the azure waters just steps away, Serayna feels like an extension of the Porto Heli landscape. Each nook and cranny showcases a commitment to design that harmonizes with its surroundings, making your stay a seamless blend of luxury and authenticity.
The Ortholithi Estate: Untamed Nature Meets Luxe Living on Corfu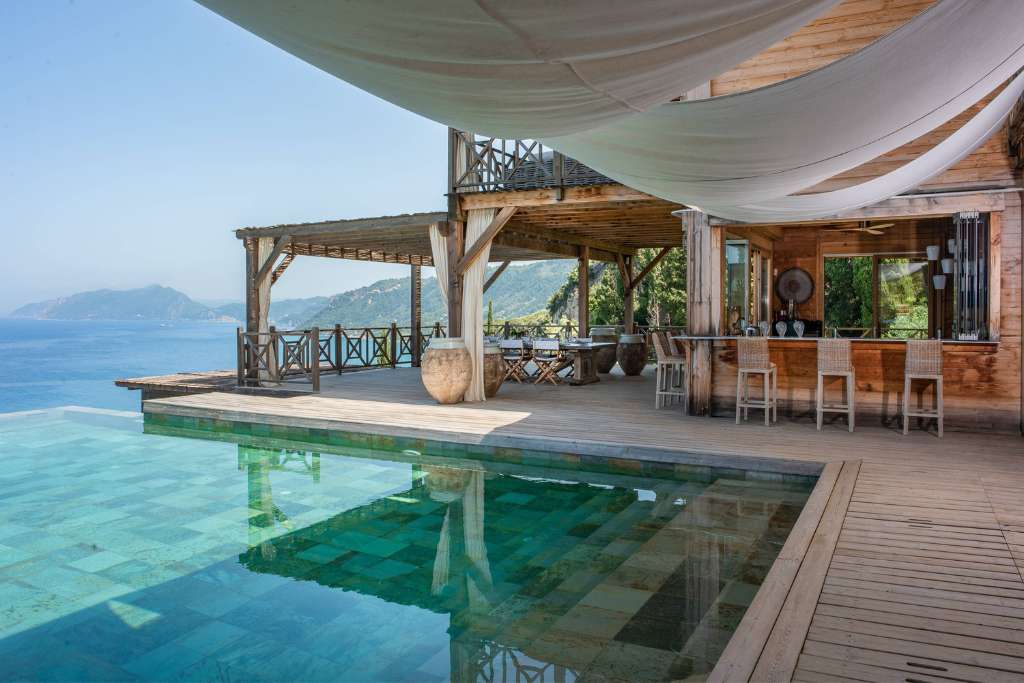 Next stop… the majestic island of Corfu, where The Ortholithi Estate serves as a beacon of indoor-outdoor living, while offering a nod to island grandeur. With its sweeping vistas of the Ionian Sea, this opulent 11-bedroom villa is a private oasis that transcends the ordinary in every fiber of its being. Set against the backdrop of rugged cliffs and lush greenery, the estate's design aesthetic is nothing short of breathtaking. Upon exploration, you're struck by the home's lavish interiors that seamlessly blend traditional Greek architecture with contemporary indulgences. The design pays homage to Corfu's aristocratic history, with intricate details that evoke a sense of regal splendor. From the custom furnishings to the rich color palette, every element is a nod to the island's grand past. The Ortholithi Estate offers an experience of luxury that extends beyond the villa itself. The expansive grounds, complete with private gardens and infinity pools, invite moments of sun-drenched luxury from one side of the estate to the other. From gazing at aromatic sunsets over the sea to sinking into one of the many outdoor lounging areas, it becomes very clear that this villa isn't just a place to lay your head at night — it's a reflection of Corfu's natural charms and effortless elegance.
Grace Hotel: The Villa You Won't Soon Forget On Santorini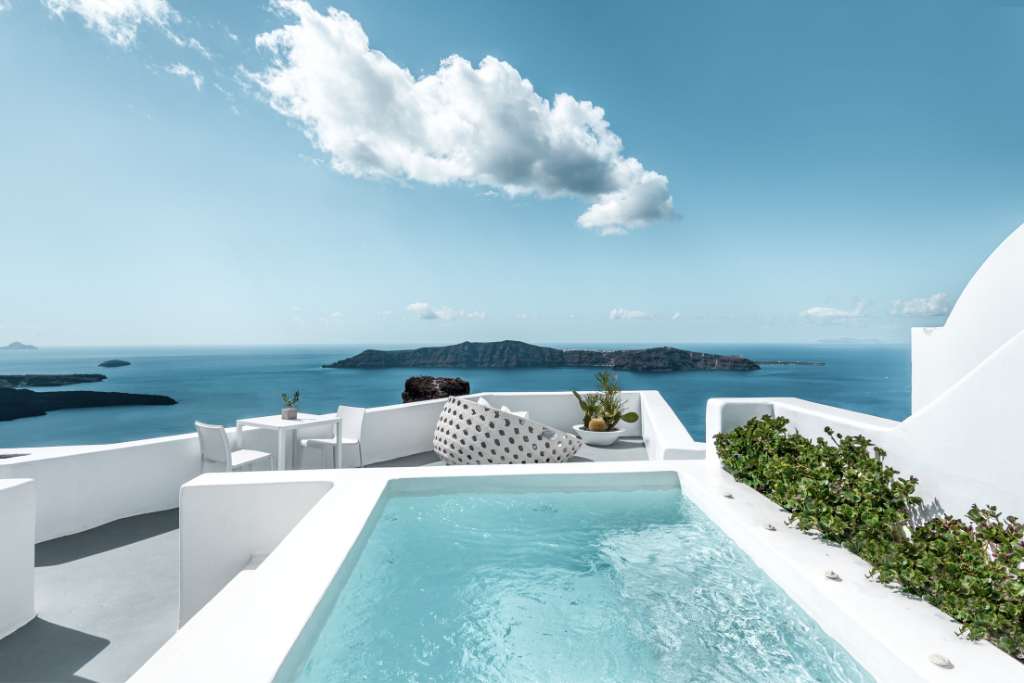 The adventure isn't quite over — as you bask in the captivating glow of Santorini where the Grace Hotel, Auberge Resorts Collection resides. Perched on the iconic cliffs of Santorini, the villa stands as a masterpiece of design and tranquility. The Grace Villa exudes a minimalist aesthetic that is, at once, harmonious to the surroundings and modern in sensibility, remaining true to the island's unique architectural heritage. Once through the threshold of this petite beauty, you're immediately captivated by the minimalist interiors that frame stunning views of the Caldera and the endless expanse of the Aegean Sea. Each element has been meticulously curated to create a sense of serenity and awe. The stark color palette perfectly complements the dazzling blue waters, while the open-concept layout invites you to feel the gentle sea breeze as you move from indoor to outdoor spaces. From a private hammam and personal chef to a fully stocked wine and cigar bar, this villa offers more than just a place to stay — it's full immersion to the dreamy essence of Santorini living. Whether you're indulging in a private infinity pool that seems to merge with the horizon, enjoying a delectable Mediterranean feast on your terrace, or simply losing yourself in the beauty of a Santorini sunset, the villa becomes a canvas for your personal journey of discovery.
Feature image courtesy of Grace Hotel, Auberge Resorts Collection