Las Ventanas Al Paraiso, a Rosewood Resort, a luxury resort in Mexico, punctuates the Baja peninsula. Nestled between San José del Cabo and Cabo San Lucas, it just happens to be one of my favorite hotels on earth. The way it unfolds down a hill to the sea, reminiscent of Andalusia's iconic white villages, never fails to make me sigh — and the view is spectacular. Its suites, woven into a warren of characteristic buildings almost like caves, quickens the heart. I swoon over the interiors, which sport Mexican tiles, textiles and art. And the butlers! Don't get me started: they'll leave you a sewing kit color coded to match your clothing. I am always happy here. So, it came as a surprise when on a recent stay I felt room envy. I trotted down the hill to the beach to visit a friend in his villa, the resort's top key: the Ty Warner Mansion. Even before I sipped the fine tequila the butler had handed me on arrival, my jaw dropped. Surrounded by a melange of Indian sari upholstery and Mexican artistry (commissioned by Mr. Warner himself), I looked up to be mind boggled. Above me on the 9,000-square-foot rooftop was a lap pool with a glass bottom, which overlooked the master bedroom. A person inside swam along idly, as if flying through the air.
More on The Ty Warner Mansion at Las Ventanas Al Paraiso, A Rosewood Resort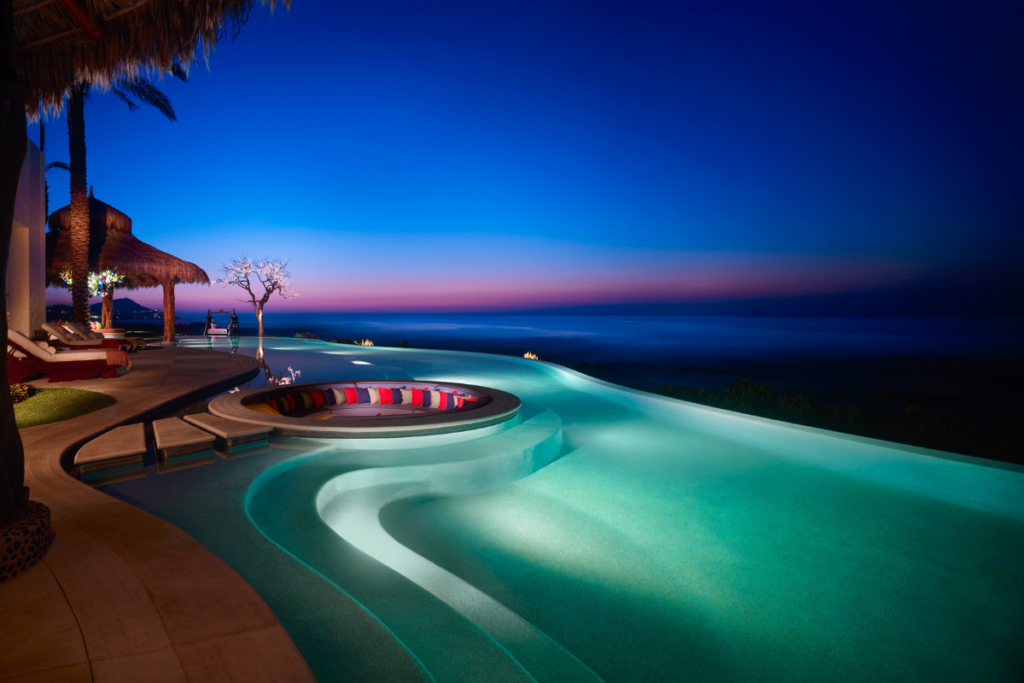 The 28,000-square-foot villa, designed by Jorge Torres with interiors by Robert Couturier, features a slew of attributes: beachfront access, around the clock staff, multiple pools, 20-foot high ceilings, a sauna, steam room and two ample master bedrooms with immense windows facing the water. Both part of the resort and removed for privacy, the mansion attracts guests who like seclusion alongside full service hotel offerings.
Read On To Discover More Covetable Villas in Mexico With Full Access to Hotel Amenities
La Luna, El Patio, and La Terraza Villas at La Valise Hotel, Mexico City
Though Frida Kahlo once inhabited another neighborhood in Mexico City, few would argue that if she lived today, she'd be a citizen of Roma, the city's heartbeat of art, culture, and sophisticated cool. A portal to that chic, La Valise, a member of Small Luxury Hotels of the World, provides a literal doorway to the city's fascinating allure. Through a nondescript door, three stand-alone suites (villas) invite guests for repose. Choose La Luna, for its moon-themed art and mirrored bathroom; El Patio for its private hammock and swing, and La Terraza for its outrageously wonderful king-size rolling bed that can be pushed outdoors so you can sleep with the stars.
Signature Villa 01 One&Only Mandarina
Travelers yearning to drench themselves amid leafy luxury and untrammeled landscapes will be besotted with One&Only Mandarina, a sleek resort on the Pacific Ocean, canopied by a thick rainforest about an hour north of Puerto Vallarta and close to Punta Mita. A celebrity chef-helmed restaurant from Enrique Olvera, activities from fishing to polo and a well run kids club provide alternatives to languid days in this expansive villa, tended to by 24-hour butler service. Spanning 18,567 square feet and brandishing eight bedrooms, Signature Villa 01 is the largest at the retreat. Built sustainably to honor the outdoors and weave it into the design by Studio Rick Joy, the villa features a thoughtfully curated assortment of natural materials from lava rock to indigenous woods.
Casa Chablé Sian Ka'an Reserve South of Tulum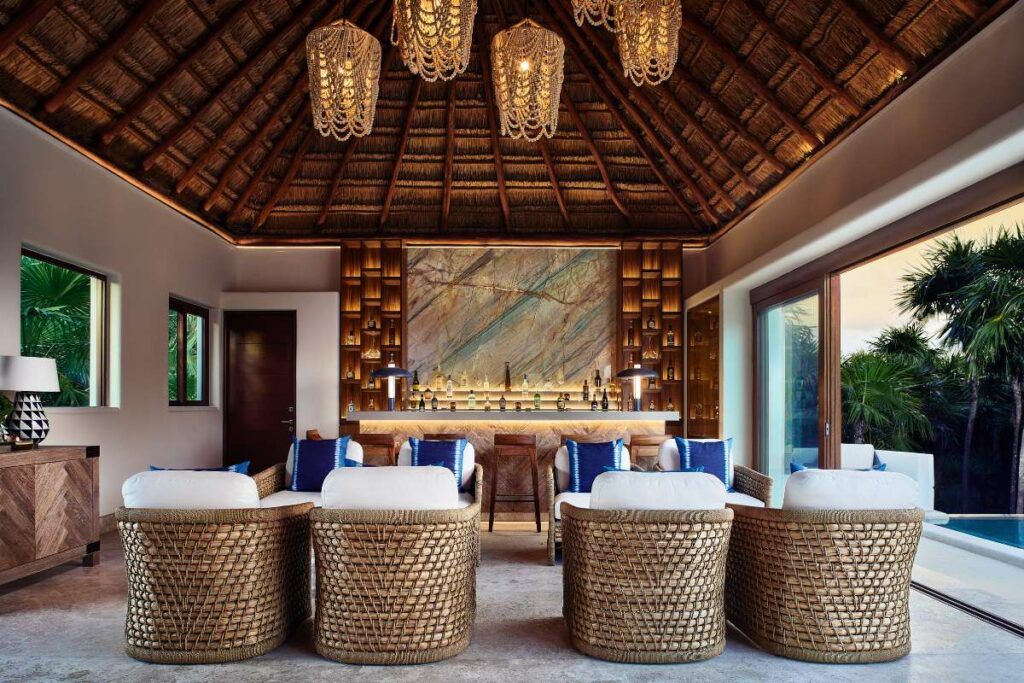 Mexico's newest barefoot luxury villa has star power as the first upscale eco-resort in the Sian Ka'an Biosphere Reserve, a UNESCO World Heritage Site. Secluded, straddling a bone-white beach and the verdant jungle, the retreat boasts five beachfront bungalows (as well as five rooms in the Casa Principe). Each bungalow/villa, equipped with indoor-outdoor moon showers and terraces, achieves intimate snug status. On property, a thatched-roof gourmet restaurant and outdoor wellness esplanade awaits. Guests snorkel, paddle board and kayak off the resort's shores. Tours through the Sian Ka'an reserve for wildlife encounters, cenote diving and fly-fishing can be arranged by staff.
Hotel Terrestre, Oaxaca
A haven of brightly painted buildings and artistry (that famous black pottery, elaborately embroidered textiles, and whimsically carved wooden figurines), Oaxaca flourishes as an art aficionado's paradise. In Puerto Escondido, the newly opened Terrestre provides an alternative to the area's famed colonial architecture with 14 contemporary, eco-centric villas, each anchored with a private pool stretching to the Pacific Ocean, a spacious terrace and outdoor bathrooms. Meant to incorporate nature's largesse at every turn, the villas hold custom-designed furniture by renowned Mexican architect and designer Oscar Hagerman. Operating with 100% solar power off the grid, the thoughtful retreat inspires guests with goals to vacation sustainably.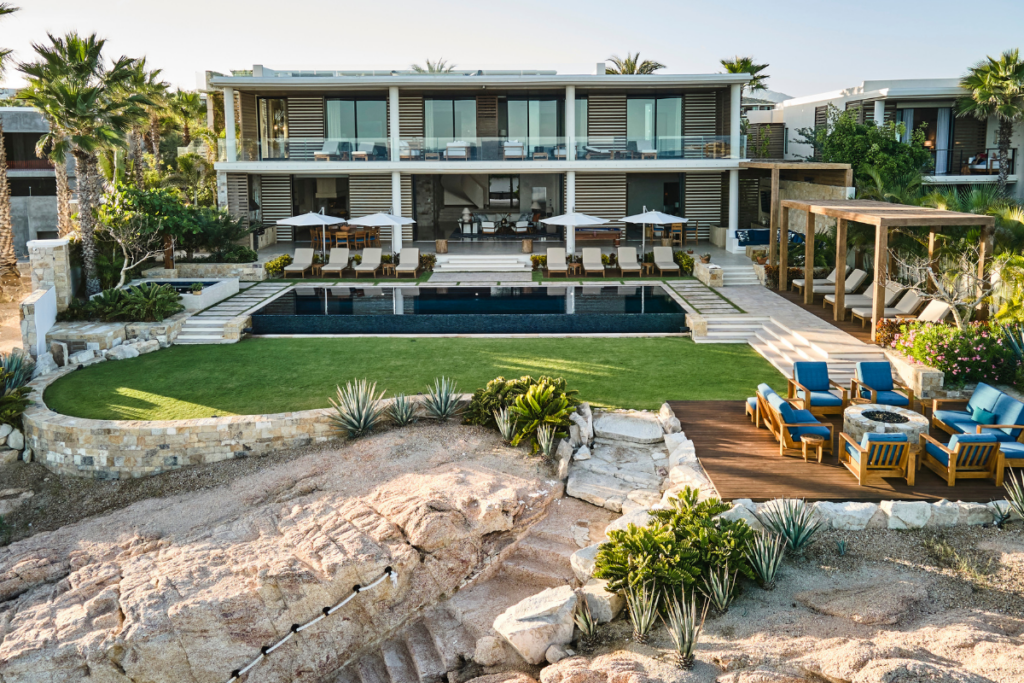 Commodious enough for a family reunion or a girls getaway/guys getaway with your besties, this six-bedroom, two-story oceanfront villa sleeps 12 in Baja-centric luxury. Its resort-sized pool ensures you may not leave the premises during your stay, as do other irresistible elements, including the private gym with a Peloton bike, MIRROR, weights and the option for yoga in your own backyard. The personal butler service, 24-hour chef, and 24-hour mixologist seal the deal.
The Presidential Villa at Andaz Mayakoba Resort Riviera Maya
The Maykoba complex, just an hour from Cancun, spreads over some 600 acres of mangrove forest, chock full of the Yucatan Peninsula's diverse wildlife. A resort space etched with lagoons and bike paths, the nature reserve holds four hotels, the boldly artistic Andaz being one of its most highly touted. Check into its Presidential Villa, a 6,475-square foot haven on the beach, complete with private pool. Adorned with Mayan and Mexican artwork and furnishings, the villa accommodates four guests, but an option for larger parties to expand with an adjacent double bedroom.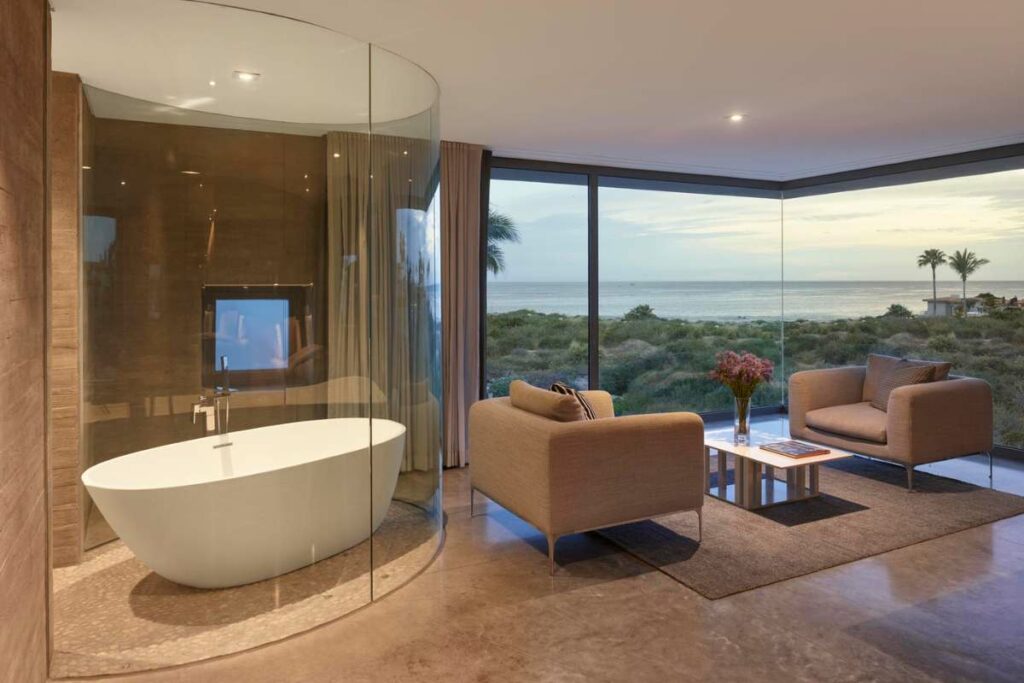 Watch for the whales spouting in the Sea of Cortez from your living room or splendorous upstairs suite, at Casa Escondida, a 8,000-square-foot, four-bedroom villa, set within the Esperanza complex in Los Cabos. Beloved by design buffs for its contemporary architecture and interiors executed by Studiohuerta, the stylish villa captivates with its stunning variety of indoor and outdoor living spaces. With common areas, including a kitchen, TV room, and steam room on the ground floor and the sleeping suites situated above, the Casa Escondida boasts an infinity pool and hot tub beneath a canopy of trees.