Back in Hollywood's heydey, icons like Lucille Ball and Desi Arnaz were contracted to stay within two hours of 'the studio' in case they were called back for another take or shoot. So on days off, Hollywood's gilded stars journeyed as far as they were legally permitted — two hours east to the desert of Palm Springs — coveted for its natural hot springs and San Jacinto Mountains. In time, the celebs built homes here, with streets — Frank Sinatra Drive, Dinah Shore Drive, Gene Autry Trail, Bing Crosby Drive, Jack Benny Road, Bob Hope Drive — named in their honor. The Hollywood-to-Palm Springs connection continues with A-listers continuing to find respite here, while travelers, too, are enjoying Palm Springs' stunning mid-century modern homes, proverbial sunny weather, and extraordinary Airbnb options. A few of the airbnbs we love:
DuBois Mid-century Masterpiece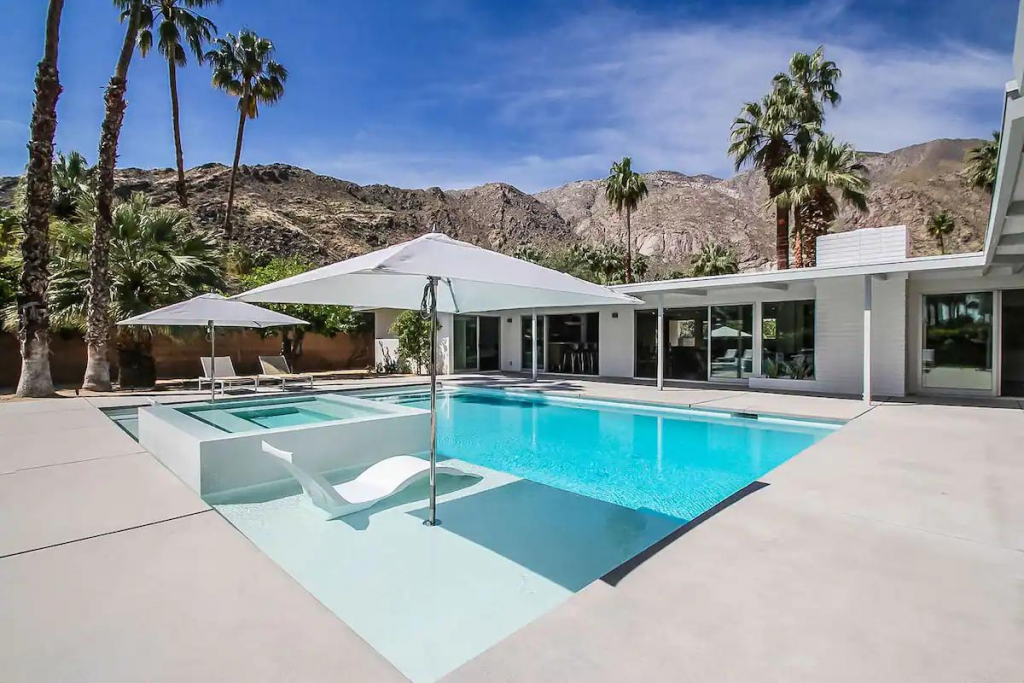 Designed by renowned Charles DuBois, this historic mid-century masterpiece, in Vista Las Palmas, features five bedrooms, exquisite interiors — American and Danish modernist furnishings and original artwork — and decadent alfresco living spaces. Dip in the saltwater pool, lounge in the elevated hot tub, sunbathe on semi-submerged loungers, and relax in the stunning lanai. A private chef and spa services can easily be arranged. The house is a ten-minute walk to downtown.
Accommodates:
10 guests
Standout Amenities:
Pet-friendly. Saltwater pool, hot tub, fire pit, chef's kitchen
Secluded Mesa Ridge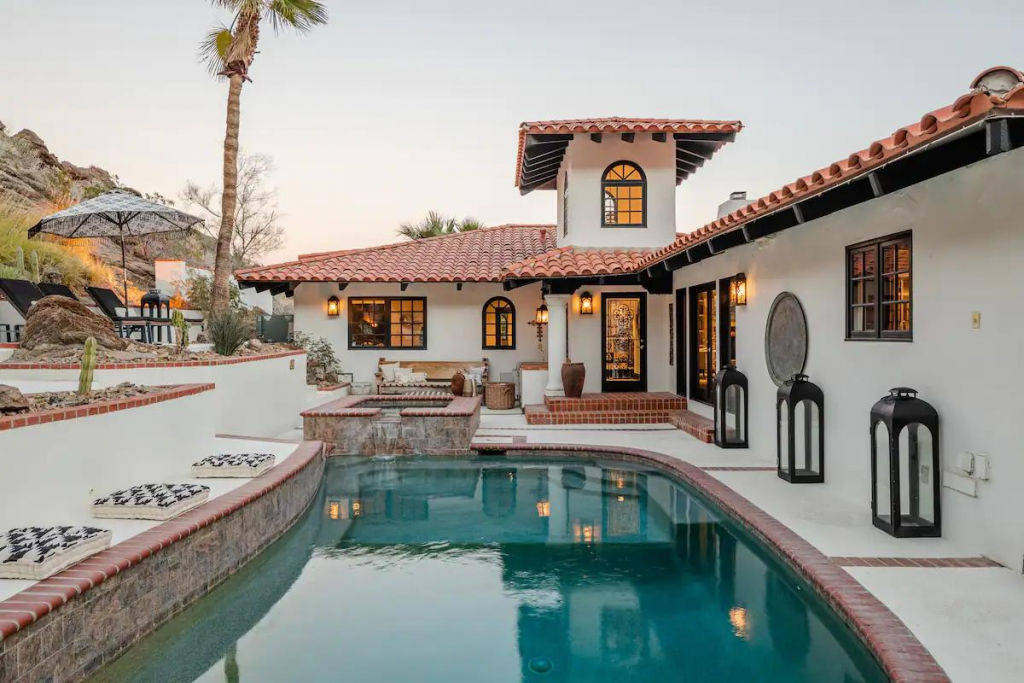 Set on the historic MGM Studio lands and a short walk to Moorten Botanical Gardens, this four-bedroom Mediterranean-style villa offers dreamy views of the Sonoran Desert hills. Interiors feature clean lines and a neutral color palette; while the property is magical with its desert gardens, lagoon-like salt-water swimming pool, hot tub, wrap-around terrace, and shaded seating areas. Work out on the Peloton, slip into the sauna, and stargaze at night by the lovely outdoor hearth with a glass of California red.
Accommodates:
8 guests
Standout Amenities:
Saltwater pool, hot tub, indoor fireplace, sauna, chef's kitchen, and Peloton bike.
Twin Palms Sinatra Estate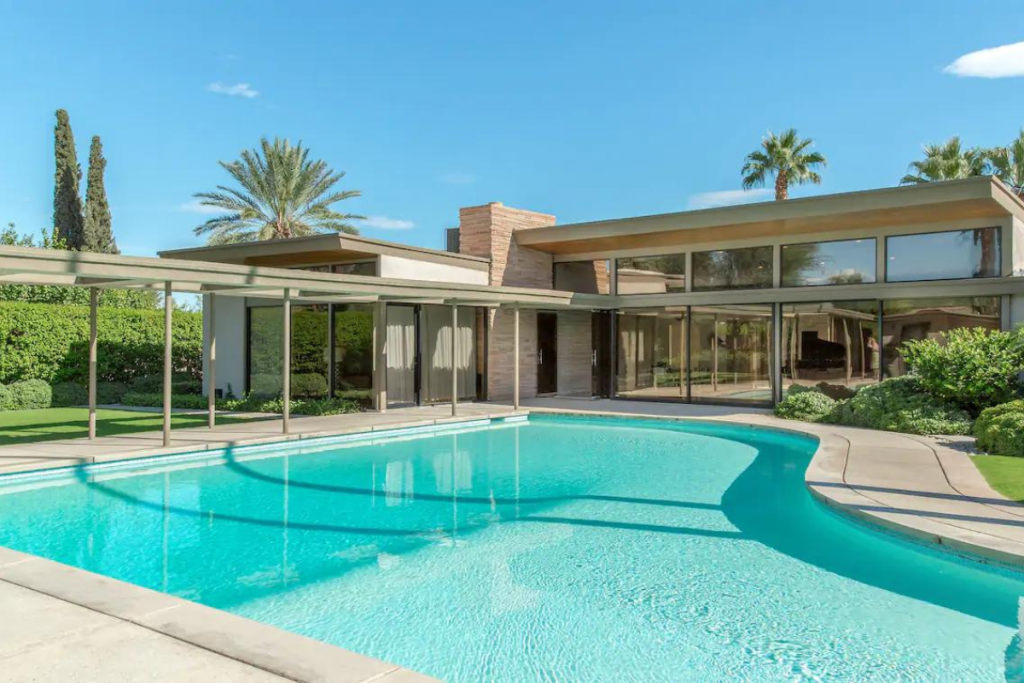 Ol' Blue Eyes himself (a.k.a. Frank Sinatra) commissioned legendary Palm Springs architect, E. Stewart Williams, to build this four-bedroom mid-century masterpiece in 1947. Some of Sinatra's original touches (including his recording studio) still remain. Outdoors, the pool is delightfully piano shaped; while inside, there is real-life ebony-and-ivory in the great room. The gourmet kitchen comes with a high-glam makeover — Viking appliances, and modern dining table with mountain views. The bedrooms are also quite decadent. The primary bedroom opens onto the terrace and includes a masonry fireplace at the foot of the king bed; the second bedroom, too, has access to the terrace and comes with its own fireplace.
Accommodates:
8 guests
Standout Amenities:
Pet-friendly. Piano-shaped pool, sun loungers, pool house, indoor fireplaces, and piano.
Contemporary Dream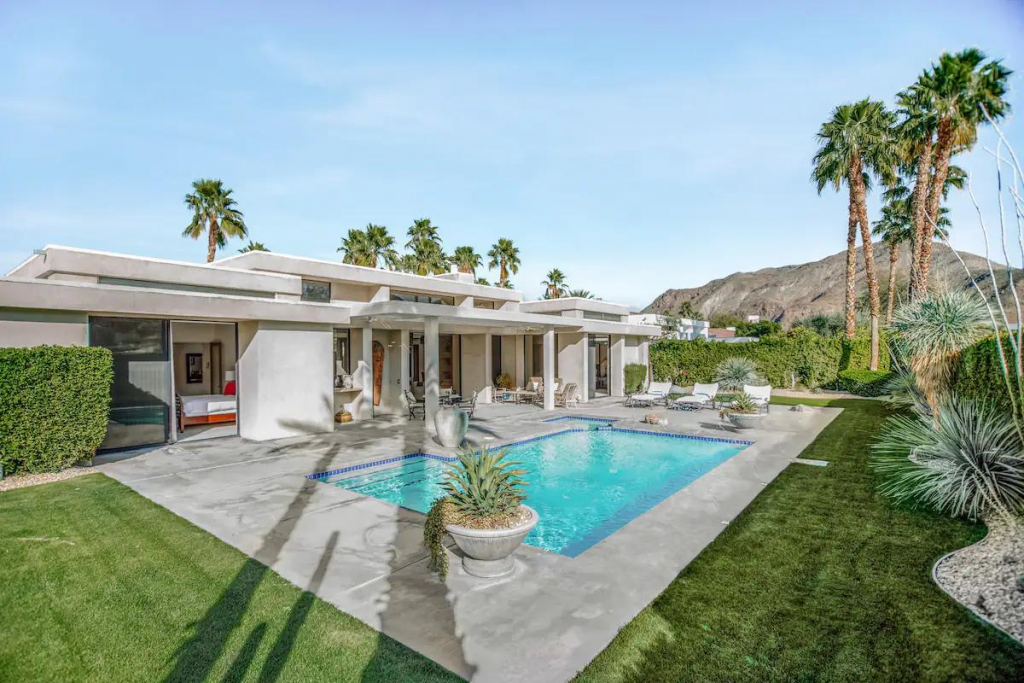 Designed by a protégé of Frank Lloyd Wright, the three-bedroom Contemporary Dream features tasteful, modern-contemporary elements — sandstone floors and earthy tones — with décor and furniture by renowned interior designer Michael Kreiss. Massive (18-foot) ceilings, retractable glass walls, and clerestory windows (above eye level) provide spectacular views, while canvas parasols shelter a charming al fresco dining table by the pool.
Accommodates:
6 guests
Standout Amenities:
Pet-friendly. Outdoor lounge, pool, hot tub, indoor fireplace, gated community.
The Harold Lloyd Estate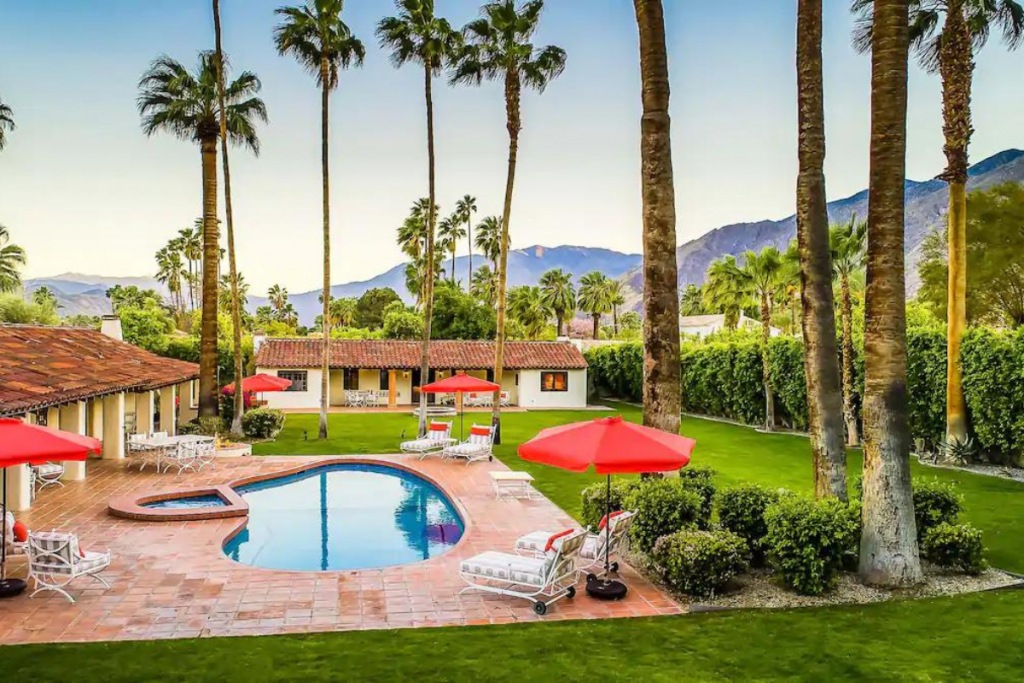 The first Palm Springs home owned by a Hollywood celebrity, the six-bedroom Harold Lloyd Estate pays tribute to its legendary namesake, Harold Lloyd, who along with Charlie Chaplin, was one of the biggest stars of the silent film era in America. The estate comprises three houses—a main house and two casitas, surrounded by hundred-year-old Tamarisk trees. The 1920s decor includes photographs from Lloyd's personal collection, including a photograph of Marilyn Monroe, 3D images of modernist architects such as Frey, Wright, and Mies, and a portrait of Lloyd himself, further adding to the Old Hollywood opulence.
Accommodates:
12 guests
Standout Amenities:
Gated property, saltwater pool, hot tub, chef's kitchen, wood-burning fireplace, and firepit.
Krisel's Glass Cabin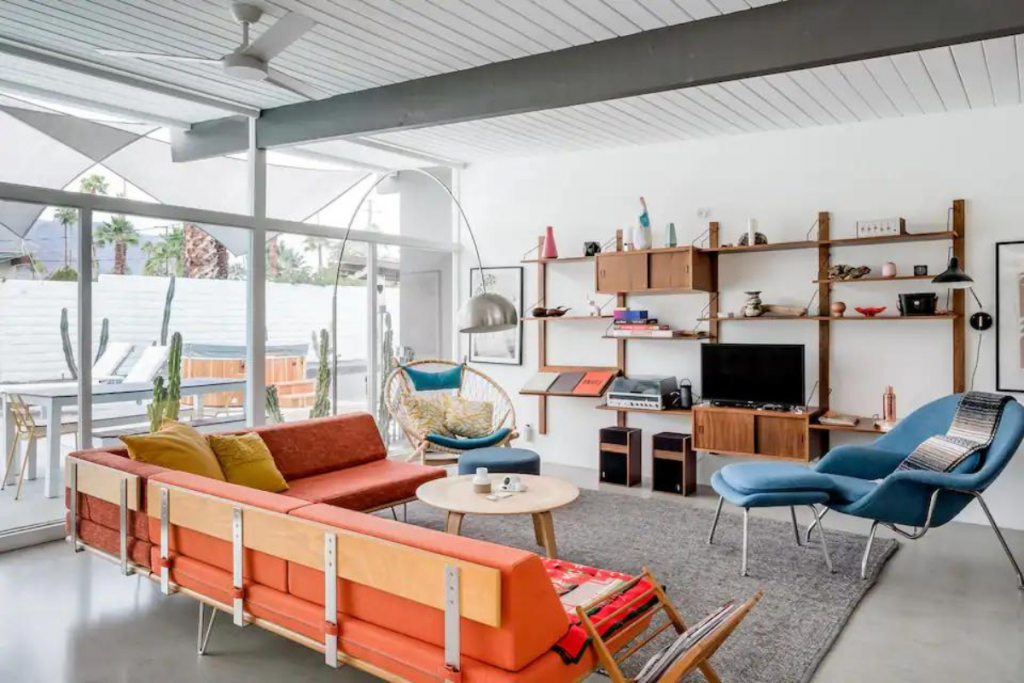 Prominent modernist architect, William Krisel, built this gem — a three-bedroom, glass cabin, in 1958. Featuring floor to ceiling windows with uninterrupted views of the pool and cedar hot tub, the house blends effortlessly with the tranquil outdoor desert scape. Loaded with 'designer touches (i.e. unique artwork and macramé wall hangings), the 'cabin' showcases modern furnishings and bold pops of color.
Accommodates:
6 guests
Standout Amenities:
Indoor fireplace, bathtub, pool, cedar hot tub, and room-darkening shades.
Villa Vista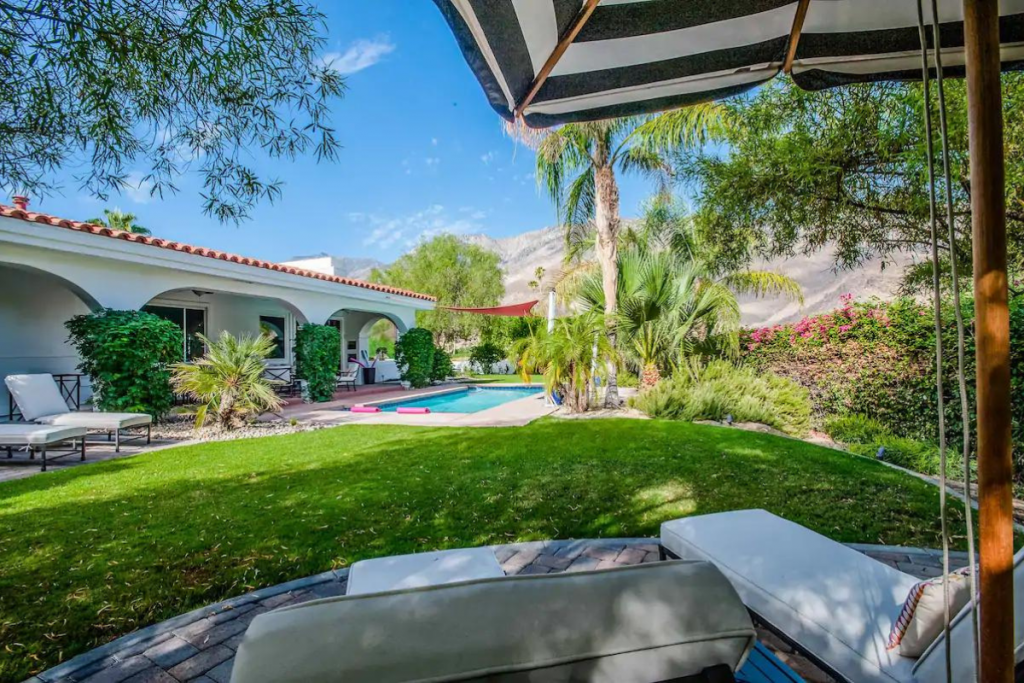 Golfers will love Villa Vista, a fusion of Spanish and California style. This three-bedroom, three-bath home is literally steps away from the 18 holes of Indian Canyon Golf Resort, and also close to excellent hiking, trail riding and hillwalking options. The interior reveals hints of Iberian culture from colorful portraits and paintings of matadors, to the gentle arches framing the stunning pool, hot tub, and shaded loveseats. Yucca plants and sandy stretches punctuate the garden, while an airy, fountain-decorated courtyard offers a secretive coffee spot — perfect for relaxing.
Accommodates:
6 guests
Standout Amenities:
Piano, pool, hot tub, indoor fireplace, and chef's kitchen.
The Roy Disney House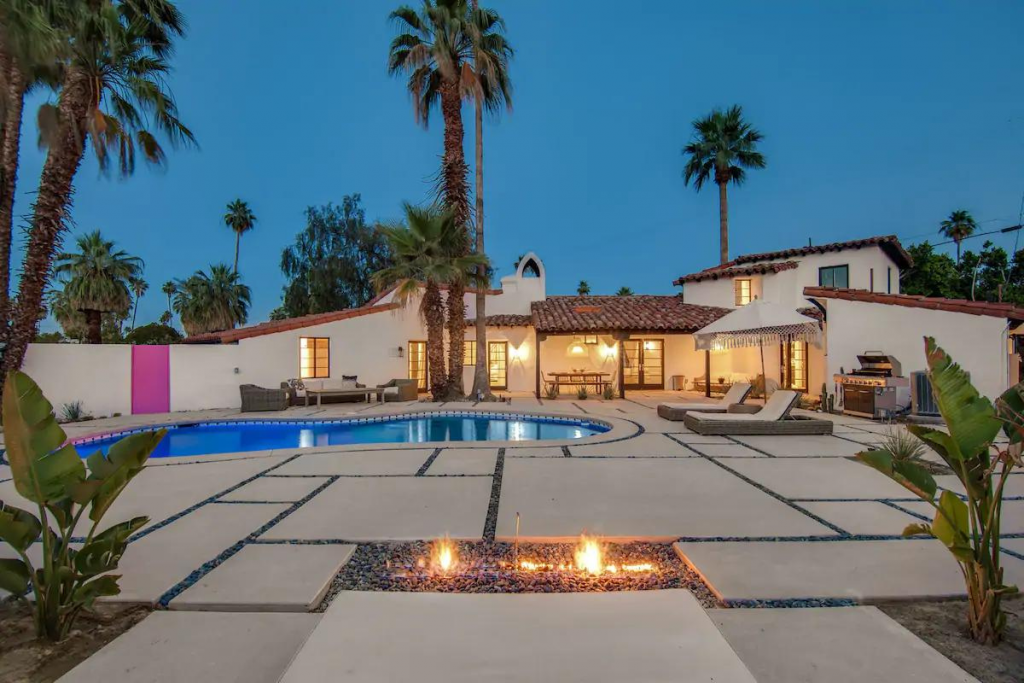 When Disney creator Roy Disney needed a vacation from the magical, Mickey Mouse vacation land he created, he came here. While recently renovated, the four-bedroom Roy Disney house maintains its original Spanish colonial touches: tiled roof, wood floors, exposed beams, and lots of wrought iron. The farmhouse chic kitchen picnic table is perfect for large pancake-and-omelet family breakfasts, while the alfresco dining area sets the mood for a vibey, desert dinner, followed by drinks around the fire pit.
Accommodates:
8 guests
Standout Amenities:
Gated property and community, pool, firepit, indoor fireplace.
LeMode PS Alexander Butterfly Home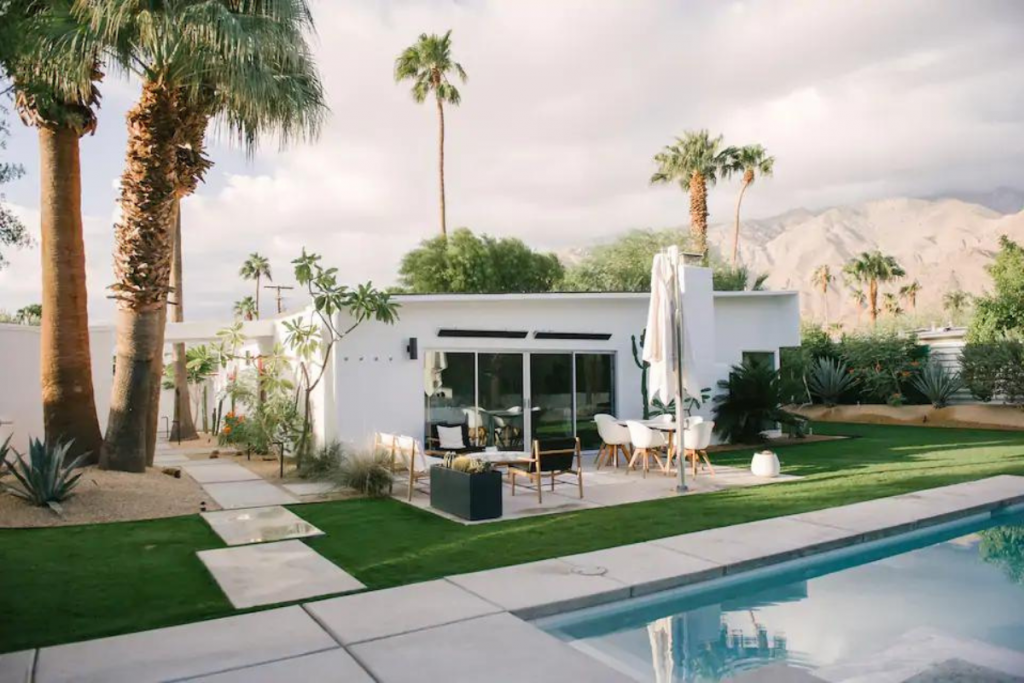 Built in 1959 by the Alexander Construction Company (one of the 1,200 houses built here between 1957 and 1966), this three-bedroom home is known for its classic "butterfly roof" — two panels meet in the middle, sloping out to resemble butterfly wings in mid flap. The Alexander houses cost around $30,000 (in the 50s) and now resell in the millions. Fully restored in late 2016 and upgraded in 2020 by its owners (two international luxury hoteliers), the house comes with five-star amenities, a saltwater pool, outdoor showers, firepits, and unobstructed views of Mount San Jacinto. It is also self-powered with solar and heat-pump technology; while furniture and appliances are made from high-grade green materials.
Accommodates:
6 guests
Standout Amenities:
Scenic views (mountain, garden), private pool, hot tub and backyard, indoor fireplace, and bikes.
Mid-Century Oasis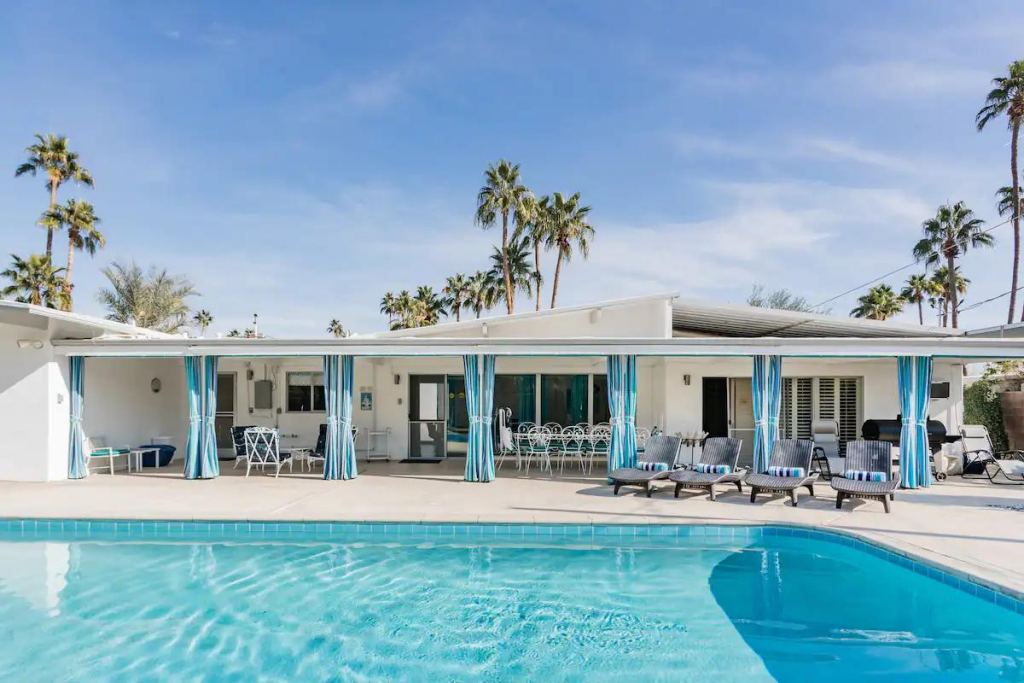 If turquoise on white is your jam, look no further than this retro-chic, mid-century oasis just minutes from downtown Palm Springs. With four bedrooms (and eight beds), the house is perfect for a group of friends. Lounge by the pool, sip vintage cocktails while dancing to vinyl records, and savor the ambience of mid-century furnishings and modern art. A 'three-day buffer' is scheduled before and after guests to allow for a thorough cleaning between guests.
Accommodates:
8 guests
Standout Amenities:
Pool, hot tub, indoor fireplace, bath tub, and room-darkening shades.