What started as a simple vacation house rental concept has catapulted into some of the most decadent home stays on the planet. From a private Caribbean island to a stately Italian mansion overlooking the Mediterranean Sea, here are a few of our favorite, out-of-this-world, over-the-top Airbnb homes to rent. The best news: many are spacious enough to share (but you don't have to).
Musha Cay at Copperfield Bay
Exuma, Bahamas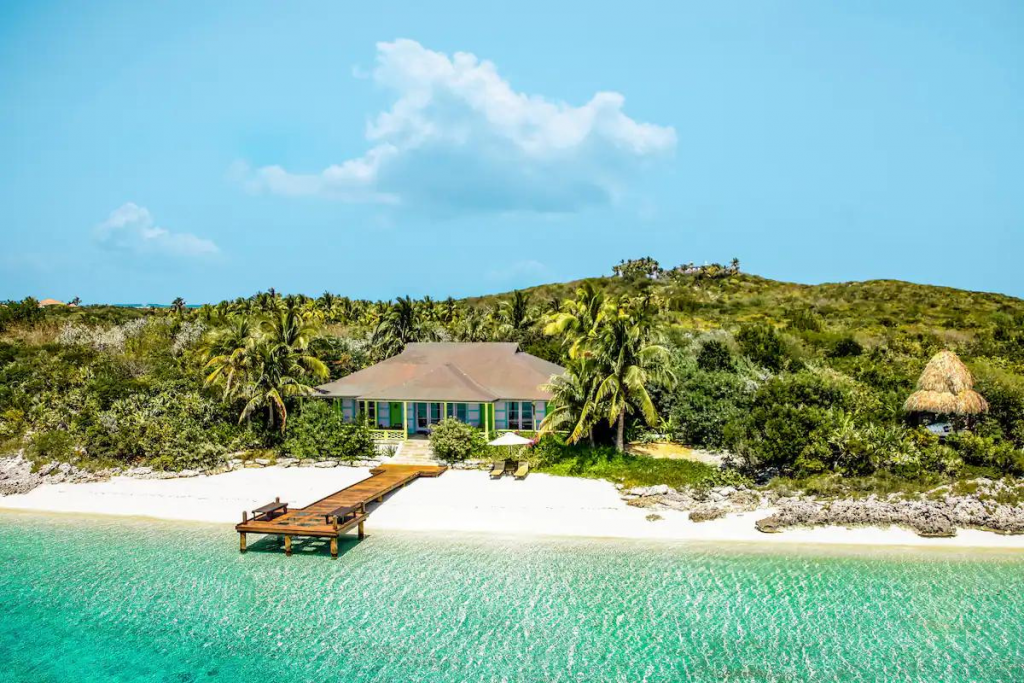 If a private Bahama island has always been your dream, look no further than illusionist David Copperfield's magical 12-bedroom, 13.5 bath, Musha Cay. One of the most luxurious private islands in the world, the dreamy scape includes a myriad of flowers, swaying palms, foliage, and yes, privacy. Choose from five separate homes — each with bright pops of color and stately finishes like crown moldings, high ceilings, and handcrafted mahogany terraces. Dine at"The Landing," complete with a dock — spectacular for sunsets.
While There: Relax in the dreamy beachside daybed; revitalize in the steam room after a massage, or hop aboard the 28-foot catamaran.
Villa Syrene
Sorrento, Campania, Italy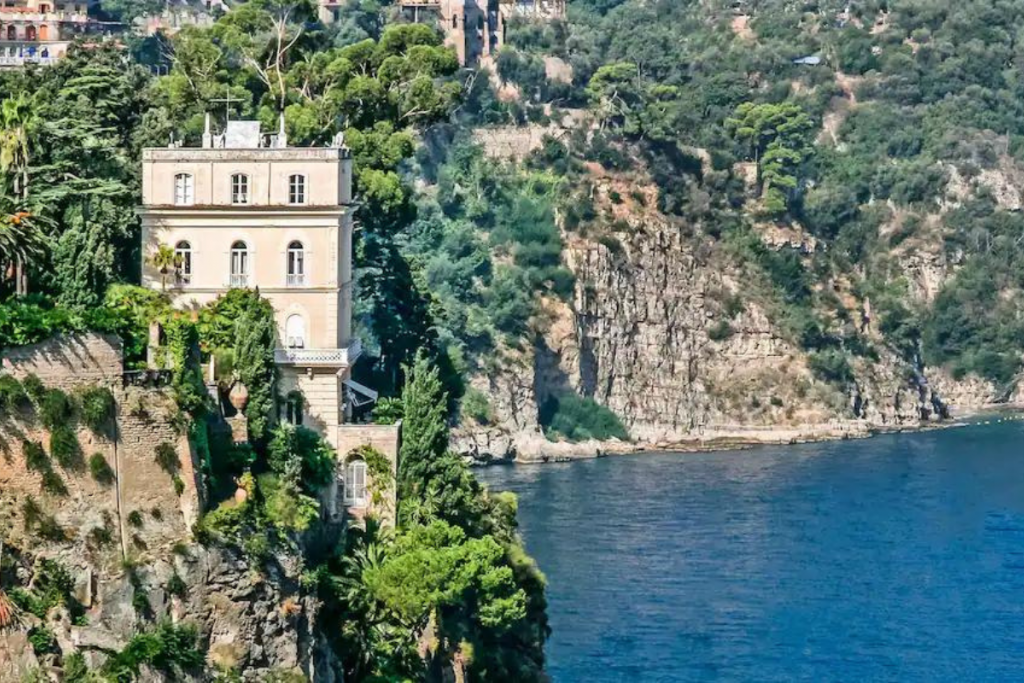 This spectacular museum-like seaside estate — resplendent in its historic Gothic, English and Italian Renaissance style gardens — comes with six bedrooms and baths, and breathtaking views of the Mediterranean Sea. Expect period furnishings and paint finishes, classical museum-worthy objets d'art, stunning marble walls and floors, and shimmering sea views from every room. The primary suite, in decadent reds, features a king bed, lounge, private balcony with sea view, and a stand-alone shower and tub.

While There: Savor dreamy days in the romantic gardens, sip espresso on the stone terrace, dip into the pool, relax on a sunlounger and play a game of spot the yacht.
Bellagio Grand
Los Angeles, California, United States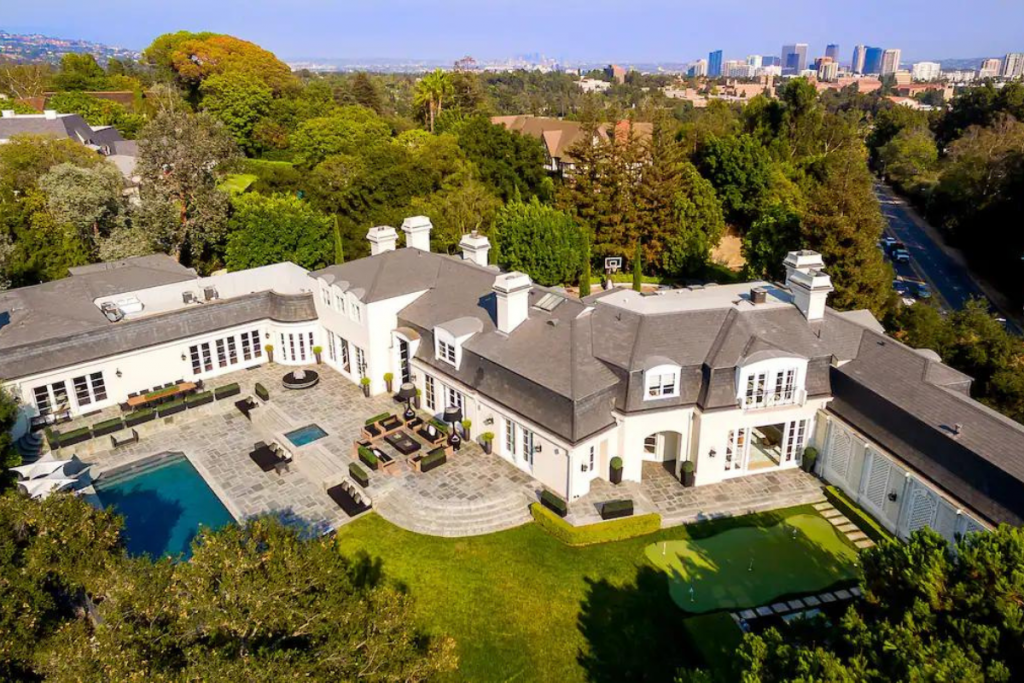 Live out your Hollywood fantasy at this gated ten-bedroom, 12.5 bath, French modern, Bel-Air mansion. We love the black-and-white checkered floors, high windows, and stunning gardens overlooking the Bel-Air Country Club. The pool is divine too, as is the entertainment lounge, complete with cinema and grand piano. There's also a private gym and sauna. This is LA after all.

While There: Dine alfresco before slipping into the hot tub. Continue the vibe with a glass of California red by the firepit.
Villa Victoria, St Tropez
Saint-Tropez., Provence-Alpes-Côte d'Azur, France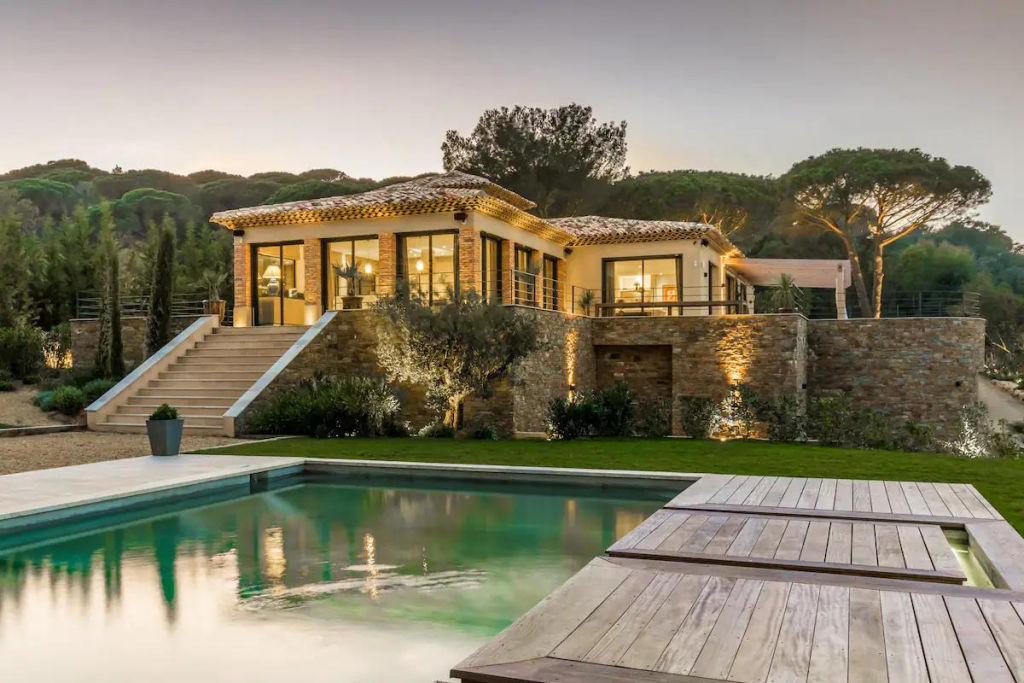 Arrive by helicopter (Villa Victoria has its own helipad) and drink in the views over Pampelonne Bay. Located between St. Tropez and Canoubiers Beach, this seven-bedroom, seven-bath villa, complete with staff (chef, host, and housekeeper) feels like your very own private French Riviera resort. The interior is contemporary — soft creamy hues and subtle artwork, coupled with slipcovered chairs. We especially love the heated pool and pool house, and wine cellar, loaded with French labels.
While There: Walk (six minutes) to Plage des Canoubiers for a refreshing afternoon swim or romantic, honeymoon-style evening stroll.
Carbon Beach
Malibu, California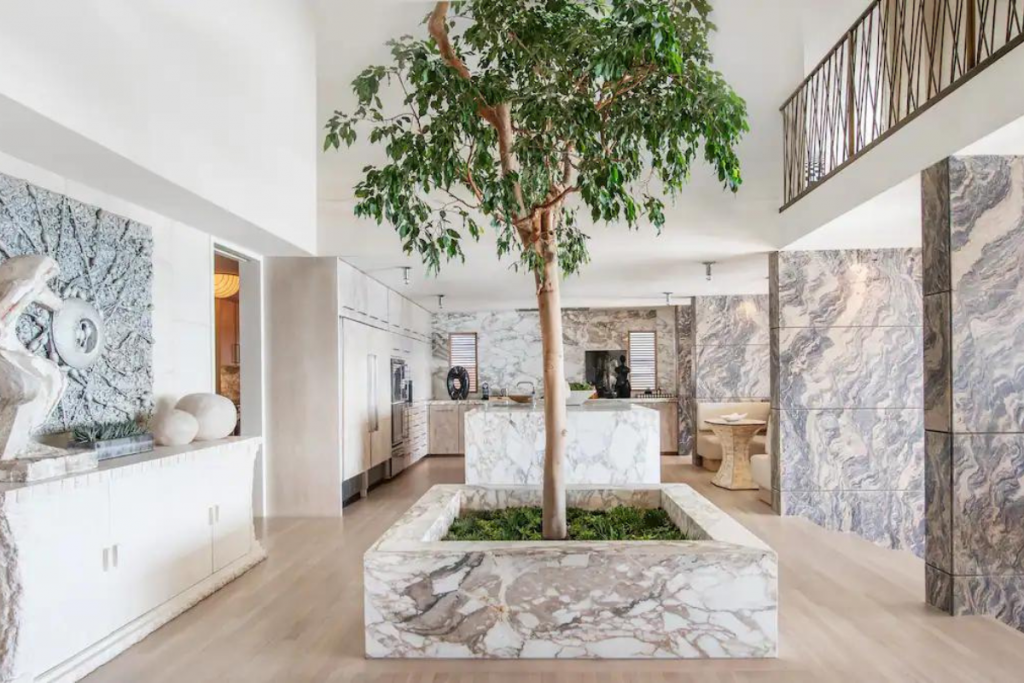 Built on stilts, right over Malibu's Carbon Beach, this five-bedroom, 4.5-bath contemporary beach house is the epitome of the Malibu lifestyle. Thoughtfully decorated with contemporary art and designer furniture in neutral creamy hues, the decor is offset with cool black marble. The primary bedroom (our favorite) has a king-sized bed, fireplace, and balcony overlooking the sea. We also love the floor-to-ceiling windowed door opening off the living room and chic dining area, with seating for ten.
While There: Relax in a sun lounger while taking in the panoramic ocean view. Feeling up for a hike? Try Topanga State Park, located in the mountains of Santa Monica.
Nettleton House
Cape Town, Western Cape, South Africa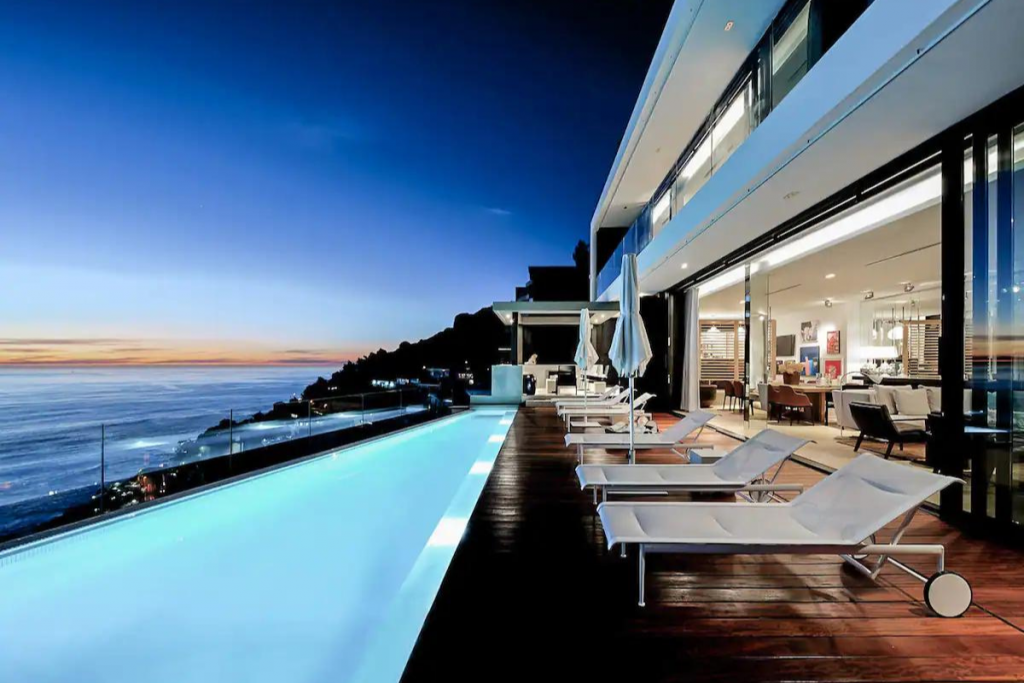 If Capetown is on the vacay list, this six-bedroom, six-bathroom home near Clifton Beach will check all of the boxes. And then some. Bedrooms come with sea views. The pool is hillside, overlooking the beach, and the house comes completely staffed. The chef and butler greet you in the art-filled interior, along with welcome drinks and canapes, and of course, there is daily housekeeping. We love too, the gym, sauna, and kids' playroom.
While There: Float in the heated pool, make your own pizza in the pizza oven or braai, and drive (less than 10 minutes) to Lion's Head.
King's View
Dunmore Town, Harbour Island Bahamas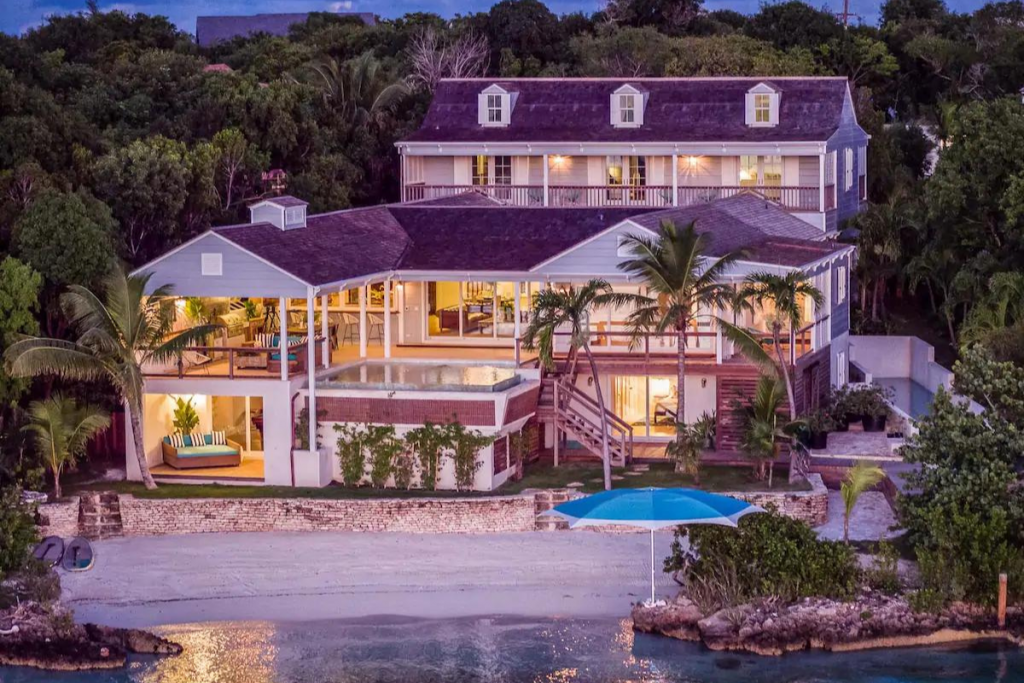 We are huge fans of the Bahamas' tiny Harbour Island, which is why we love this eight-bedroom, 9.5-bath beachfront masterpiece. Set on its own private stretch of sand, this stunning villa comes with an elongated heated infinity pool overlooking the sea, in-the-sand alfresco lounging and dining areas, and an outdoor kitchen. Inspired by the traditional architecture of the Bahamas, the home also features swinging daybeds, a turtle pond, open courtyard, cyprus ceilings, and a copper soaking tub.

While There: Stroll barefoot on your own private beach or make the short walk to the island's famous Pink Sand Beach.
Kahieluana
Waimea, Hawaii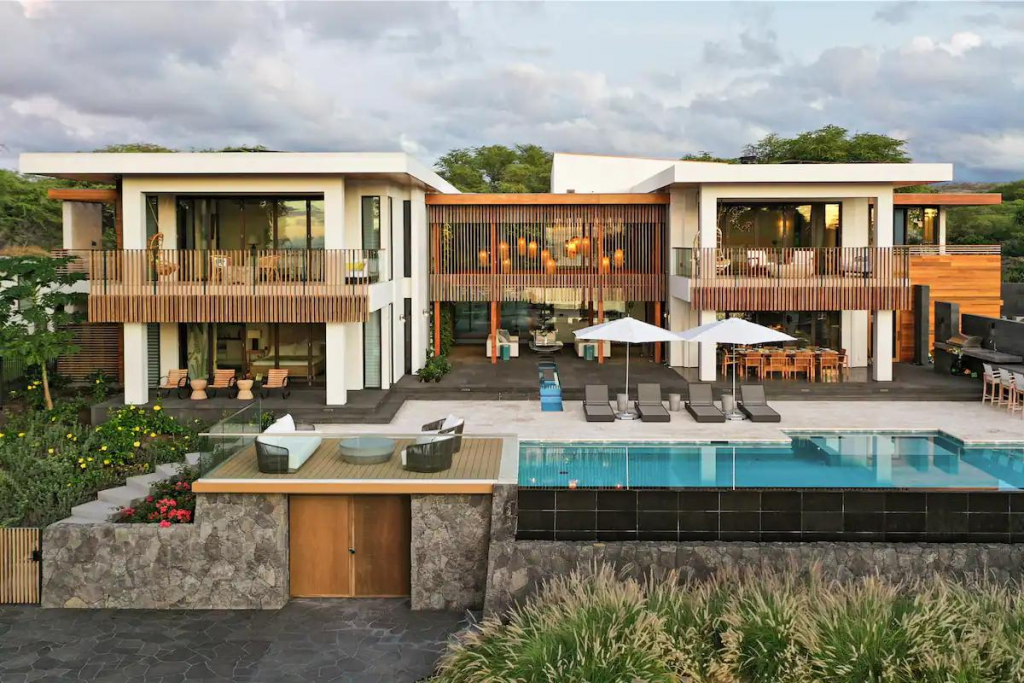 Blending traditional Hawaiian with modern design, this five-bedroom, six-bath home offers the ultimate aloha getaway. Set next to a sheltered, sandy beach on Hawaii's west coast, the locale — and glass-wood house — are a perfect place to observe the island's mesmerizing sunsets. Kahieluana comes with a swimming pool, tennis and volleyball courts and water toys including stand-up paddleboards and kayaks. We especially love the living garden wall.
While There: Explore. Dramatic beaches and Hapuna Beach State Park are just a short drive away.
Villa View
San Jose, Illes Balears, Spain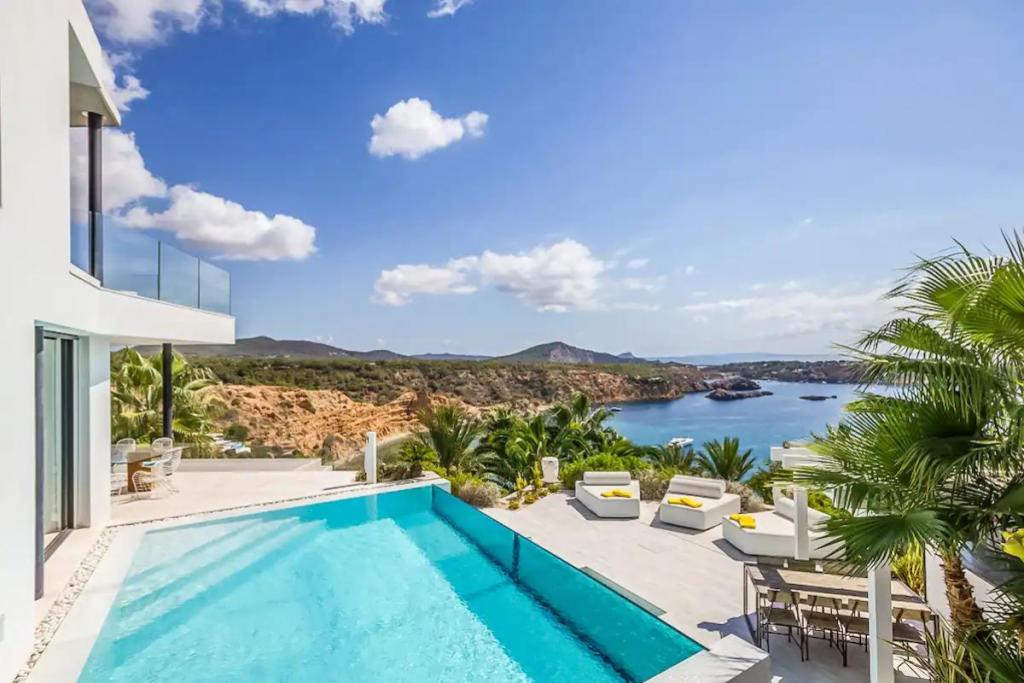 Sophisticated revelers seeking privacy and unmatched style in Ibiza will love this exquisite three-bedroom, four-bathroom villa known for its stunning Mediterranean views and extraordinary design. We love the floor-to-ceiling glass doors, infusing the interior living spaces with fresh sea air; the gallery-worthy artwork, and scrumptious furnishings. The primary bedroom — with its private terrace and hot tub, sea view, stand-alone rain shower and tub — is especially exquisite.
While There: Enjoy dinner al fresco on the upper veranda, before indulging in a nighttime soak under the stars in the hot tub.
Villa Laura
Cortona, Italy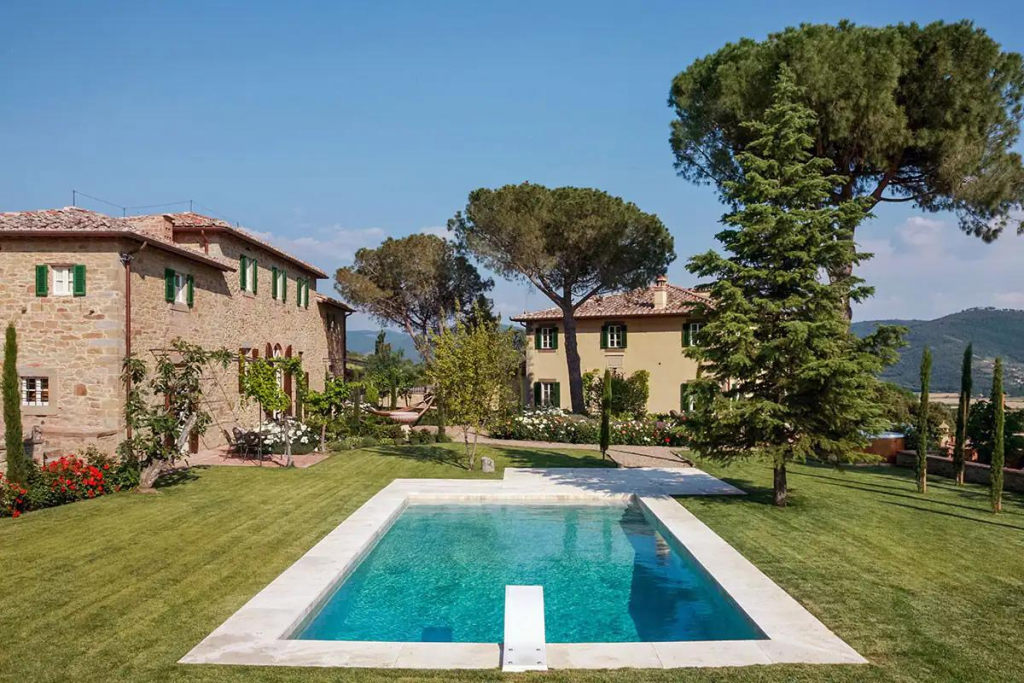 Villa Zacil Na
Puerto Aventuras, Quintana Roo, México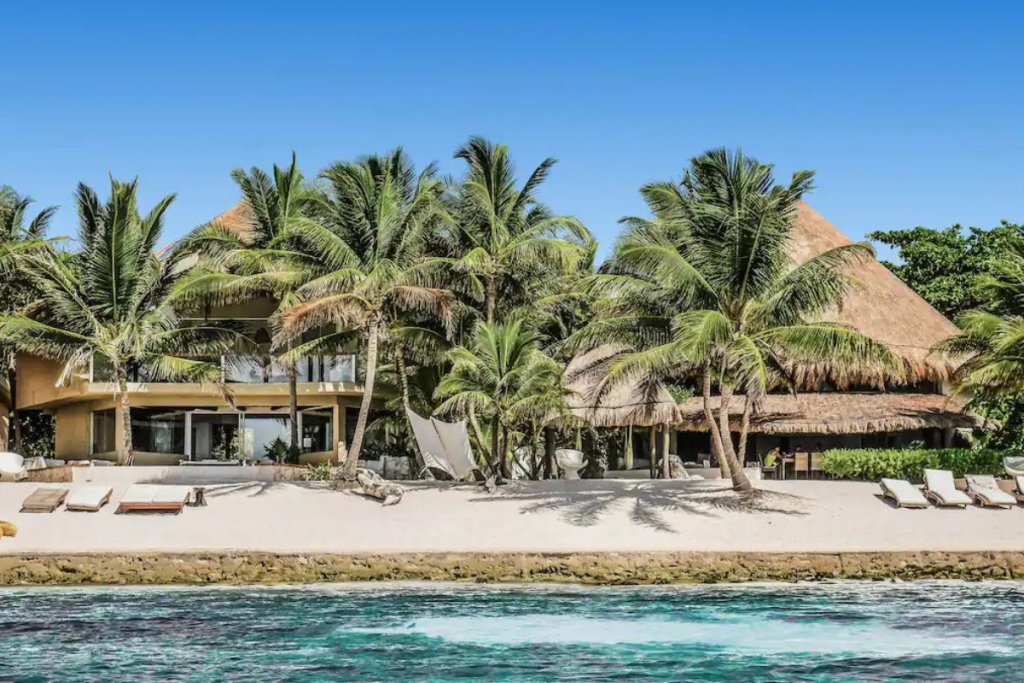 Show up and relax. A stay at this five-bedroom, five-bathroom beachfront house (just outside Playa del Carmen) includes a chef for three meals each day, a villa manager, butler, and housekeeper. The house also comes with a swimming pool, alfresco lounging and dining areas, and outdoor barbecue. Sliding glass doors lead from the outdoor living areas to an atrium-like great room with a water feature, high ceilings and sleek, stylish, built-in sofas. Should you want to host a larger family reunion, anniversary, or milestone birthday, reserve the neighboring sister villa which accommodates up to eight.
While There: Explore the bay (snorkeling gear and kayaks are provided), just in front of Villa Zacil.
Abby
Marigot, St. Barth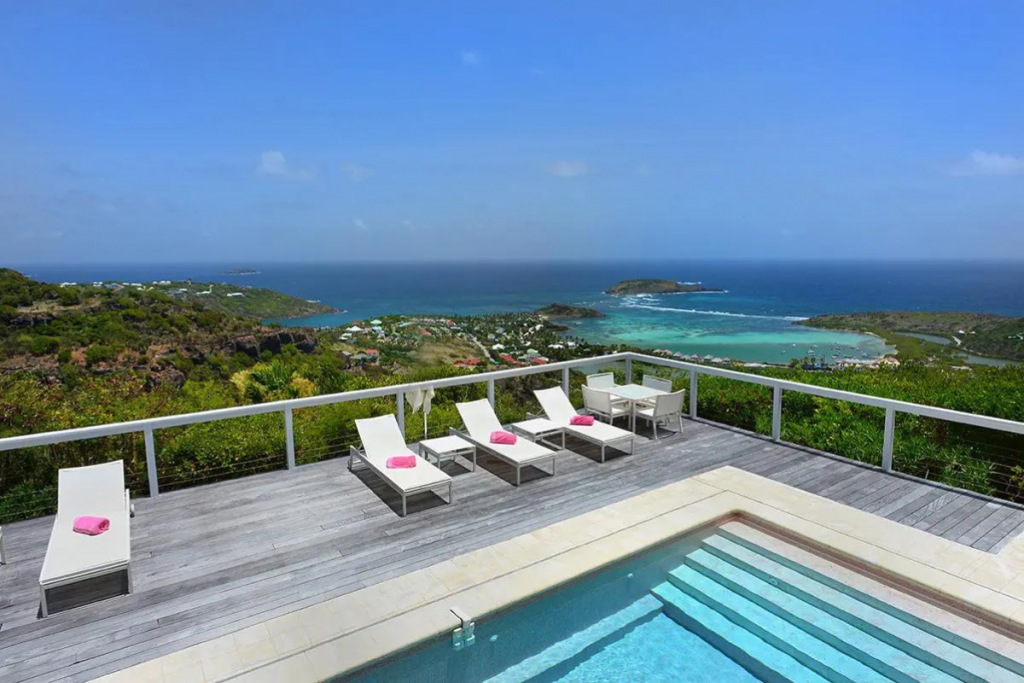 A proverbial Travel Curator favorite, we love this three-bedrooms, three-bath villa set high atop the steep slopes of Morne du Vitet in St. Barth. Location-wise, the villa is a bit remote, but worth it for the private pool, manicured gardens, and dramatic ocean views. Featuring wall-to-wall white tile, contemporary furnishings, and exposed wooden beams, Abby is beautifully designed and includes housekeeping service and airport transfers.
While There: Descend from your perch on the hillside to explore six pristine beaches, all within a three-mile radius.