Many years ago, my daughter, Abby, presented me with a book called A Travel Blessing, by Welleran Poltarnees. As a writer juggling assignments for major magazines, I was traveling extensively (Hong Kong in five days; Africa in six). The book — which I read before each souljourn— continuously reminded me of the joy and beauty of travel.
"Travel lightly –
carrying neither
weighty luggage
nor burdensome
preconceptions…"

Now, on the eve of our first mother-daughter trip in years (to the stunning pink sand beaches and aquamarine waters of Bermuda), I peruse the book once more. Alongside the lyrical prose, worn pages spill with paper boarding passes, expired passports, and handwritten dates with trip locations — many that we took together. France — Abby's first-ever facial (Le Sources de Caudalie) and Paris, of course. Switzerland, where we hiked the alps and bathed in whey; the Seychelles, one of our most far-flung and exotic adventures; Rancho LaPuerta, Mexico, life changing for both; and California, where I always thought we'd move.
Like Riding a Bicycle
Memories flood, it was all so long ago and so much has happened. Divorce, multiple moves, school, work, growing up, career changes, heartache, death, money, new pets, new husbands and, most recently, pandemic-induced separation. But now back on our old stomping ground, Newark airport, suddenly it's as if no time has passed at all; like riding a bicycle (or rather, jet plane).
"I brought sunscreen, luna bars, and these." I wave two N95 masks to wear on the plane.
"Of course you did," my daughter replied. "I'm getting a Starbucks. You want your usual?"
"Yes, please."
"Hopefully we make it. The [Starbucks] line looks longer than the flight."
One of the reasons we had chosen Bermuda, in addition to its jaw-dropping natural beauty, was its close proximity to our east coast homes. In the time it would take to drive to and from, we could be in Bermuda (just a 90-minute flight) sipping rum swizzles or, in our case, glasses of bubbly.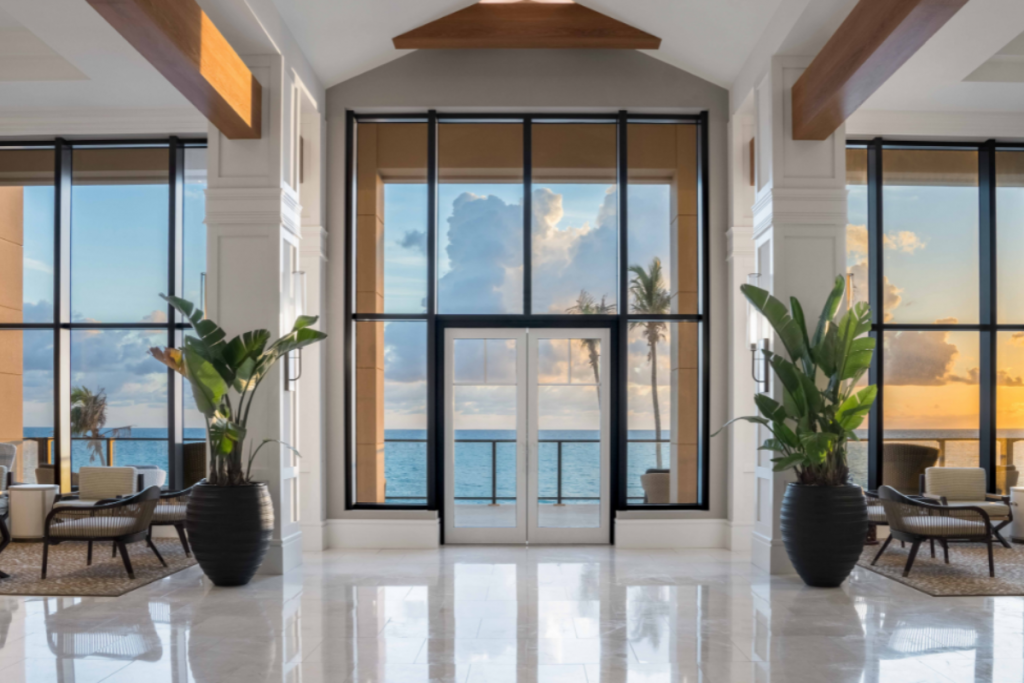 St. Regis Bermuda, the Best Address on the Island
"Welcome to St. Regis Bermuda, the best address on the island." Kaven Gibbons, wearing pink Bermuda shorts, a crisp navy blazer, and high knee socks, hands a welcoming glass of prosecco. We settle easily into this stunning "House of Astor," named after New York City's prominent Astor family — John Jacob Astor IV (the founder of St. Regis New York) — and his son, Vincent, who after John Jacob's untimely death on the Titanic, built a home in nearby St. George. Uber-modern with its neutral colors, floor-to-ceiling windows, and avant-garde style by Bermudian designer OMBI, the hotel also has a decidedly French vibe. The Astors' love of France is reflected in the gilded golden accents, nightly champagne sabering, and spa featuring Sothys (French) products.
Over the next few days, we slip into a comfortable rhythm: coffee on our private balcony overlooking the sea (and pool). Abby, a fitness devotee, heads faithfully to the gym to work out, while I opt to soak in the spa's outdoor jacuzzi, sexily draped in billowy white fabric. Afternoons, we lounge lazily in the breezy beach cabanas, slipping in and out of the sea. Unlike most of the island's hotels, St. Regis Bermuda is located directly on the beach — St. Catherine's Beach — known for its extremely calm, and almost-ridiculously clear aquamarine water. As the sun sinks, we sip on the hotel's signature Gates Bay Mary (a take on the traditional bloody mary, made with native fennel, island hot sauce, Goslings black rum, and a special spice mix), while speculating on the meaning behind the bar's watery mural. Abby saw hands; I, mermaids; while our bartender alluded to the connection to Shakespeare's The Tempest, said to have been inspired by Bermuda.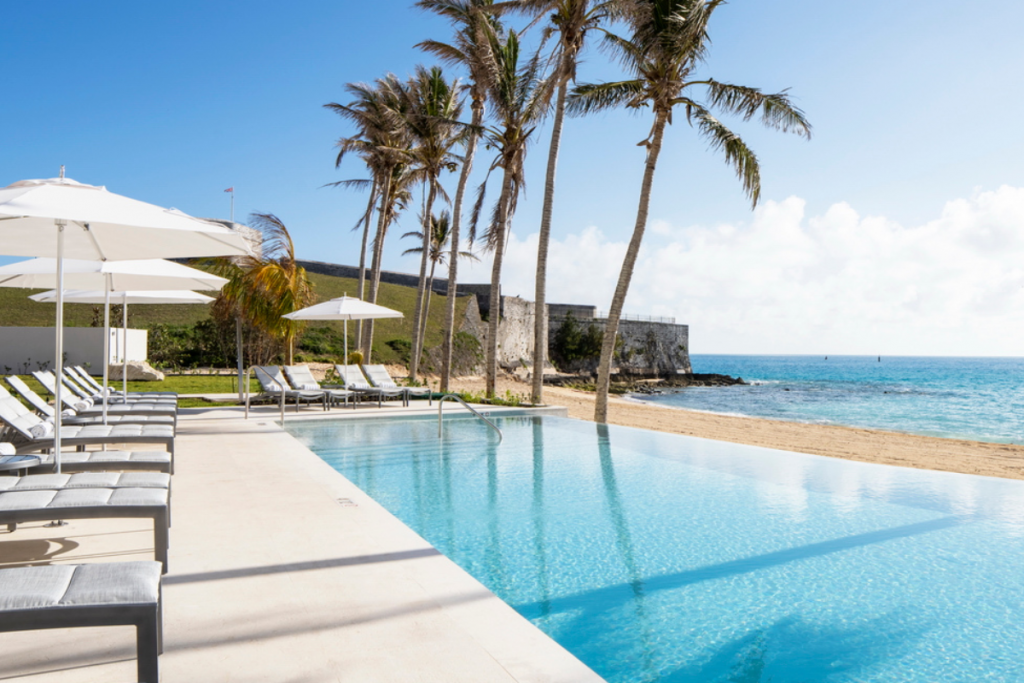 Along with having its own beach, St. Regis Bermuda is also within walking distance of historic St. George, a UNESCO world heritage site, originally discovered in 1609 by shipwrecked British sailors. We wander the cobblestone streets of the colorful seaside village, taking time to sniff the romantic handcrafted fragrances at Lili Bermuda Perfumery, visit the unfinished church, and munch on fish tacos by the water at Wahoo's Bistro & Patio Bar. While both taxis and twizys (two-seater electric cars) are available, we meander our way back to the hotel on foot, stopping at Tobacco Bay, a stunning cove of see-through water and rock formations, perfect for snorkeling.
Although Bermuda is rich with adventure — cliff jumping is a national pastime, as is boating and diving the water's many shipwrecks — we opt for long walks, swimming in the sea, snorkeling at whim in pretty coves, and simply being in one another's energy. It's a theme that continues throughout our stays at Newstead Belmont Hills Golf Resort & Spa, a sweet, upscale hotel with hardwood floors, private balconies overlooking the harbor, vibey pool, and complimentary water taxi to Hamilton. And at our final-splurge destination, Rosewood Bermuda, known for its pink-sand, beach club, and airy rooms with high ceilings, deep soaking tubs, and water views.
Italian Sandals and Edible Plants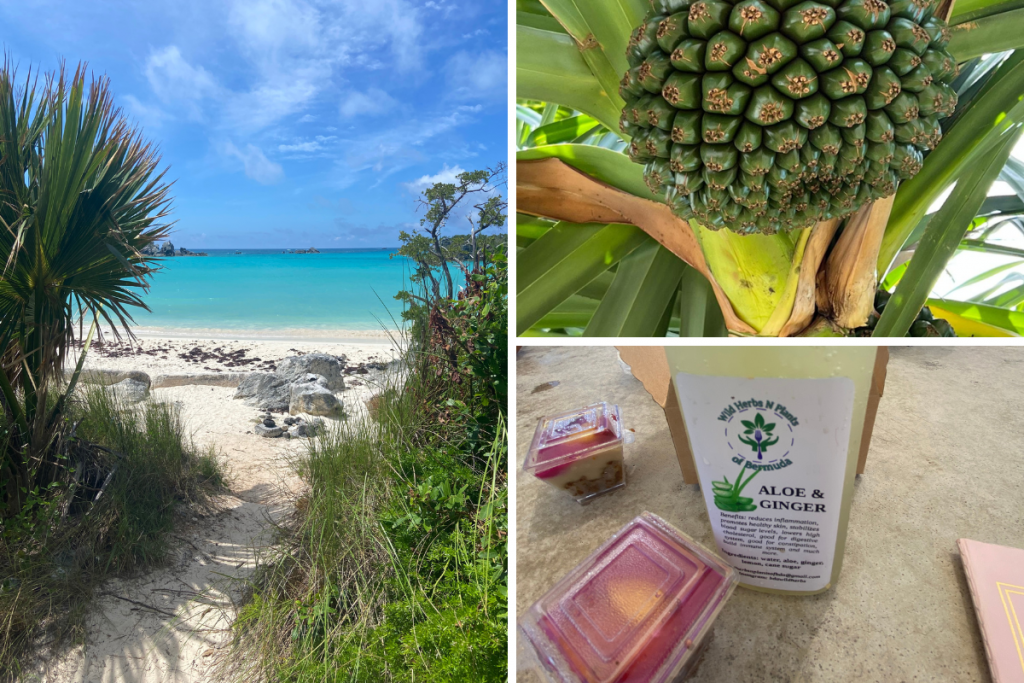 One of the highlights of our stay comes in a beautiful, yet unexpected place: Coopers Island Nature's Preserve, located on the island's former US military base. Here, amidst asparagus ferns and Bermuda long tails, we meet Doreen Williams-James, founder of Wild Herb N Plants of Bermuda. The moment our Hitch (Bermuda's version of Uber) arrives, we spot her, in floppy hat, colorful sundress, and wide, joyous smile. Strolling the sandy path by the sea, Doreen explains that she learned the art of foraging from her father, one of 12 children.
"I grew up eating survey grass and wild spinach," she said, gently pointing out both plants to us, before stopping to pick a bit of sea parsley. "Try," she urges. "It's very salty; I use it in my vegan fishcakes, smoothies, and salads."
We continue through the preserve, stopping to sample more native plants and flowers: poor man's pepper grass (an easy substitute for black pepper), natal plums and even a red hibiscus flower. While explaining the medicinal properties of hibiscus (good for high blood pressure), and how to steep the flower petal for tea (10 minutes in hot water, then add freshly grated ginger), Doreen delights us by popping the entire red bloom into her mouth, reminding me of the deer in my garden back home. At the end of our private, informative foraging session, Doreen surprises us with a 'to-go' box, beautifully hand wrapped in dried sea grapes. Inside, we find a few of her edible sea-plant minis: vegan prickly pear cheesecake, vegan pumpkin allspice donuts, aloe-and-ginger juice.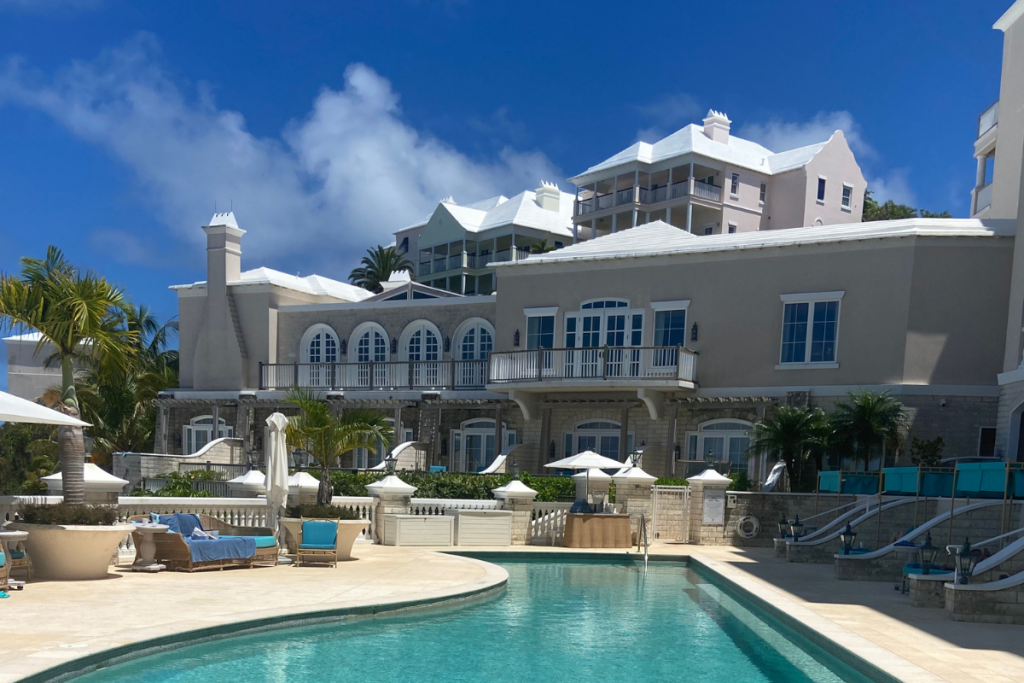 Our perfect day continues back at Rosewood, where inside the lobby, we meet Italian (now living in Bermuda) shoemaker, Vincenzo Della Valle, who was packing up for the day. We had heard about the talented shoemaker's custom, leather sandals, but had missed his flagship store in Hamilton. In admiring the samples still on display — sparkly, gemstone designs with sexy straps and subtle heels — we learned that Vincenzo frequently does pop-ups at Rosewood. Seemingly in minutes, Abby has selected a stunning pair of glitzy blue seahorse sandals, and Vincenzo is crawling around on the floor, meticulously measuring her foot. As he pounds and presses the leather, he shares his story of growing up on Capri, and how he originally did not want to make shoes but soon came to love the craft. His energy is infectious and we are quickly laughing, conversing, until voila, an hour has passed, and the sandals — monogrammed with Abby's initials — are complete and beyond stunning on her feet. "Next time," he smiles. "It's mama's turn for beautiful shoes."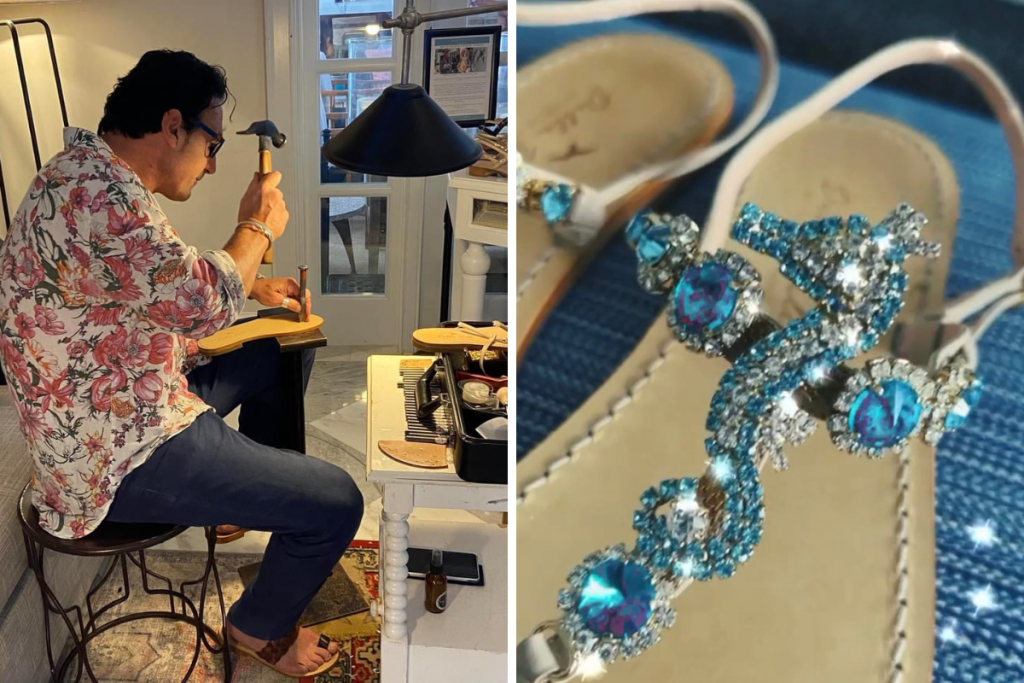 Later that evening, as we head downstairs for our version of the perfect farewell dinner — craft-gin cocktails with edible flowers and a cheeseboard at the hotel's Conservatory – I pause. Abby is ahead of me on the stairs, her long hair bouncing as she sweeps up the bottom of her dress, revealing her new blue-sparkle, Della Valle handmade sandals. Watching her, I'm reminded of years past, when she would rifle through my closet playing dress up; and then model her fashions on the staircase. Her life has not always been the fairytale she'd imagined. Still, she is beautiful, poised, resilient, and I'm grateful we carved out this special time on this stunning island to reconnect.
Another travel blessing.