Uruguay gets tied to Argentina a lot as a holiday destination for the rich and famous, but it has a very distinct personality all its own. Imagine taking the breezy sophistication of Montauk, the glitz of Miami and the art and architecture of New York and bundling them all up into one place. It might almost seem too good to be true—but Uruguay's beach towns have all of these offerings, plus more. Punta del Este, Uruguay's destination for the jet set, and its surrounding beach towns is often called "The Hamptons of South America." That moniker piqued my interest as a destination for my honeymoon, as I was looking for somewhere with history, culture, amazing food, and beach culture. My husband and I spent a week exploring the coast, from Punta del Este to Jose Ignacio to Garzon, and it was truly the trip of a lifetime. If you're planning a trip to Uruguay's coast, here's some information you might find helpful.
What to Know Before You Go to Uruguay
Uruguay is a country that's roughly the same size as Washington State. Fly into Punta del Este from Buenos Aires, which is about an hour-long flight. From there, if you plan to explore towns outside of Punta, you'll want to rent a car. Montevideo is the capital and while it's a beautiful historic city, if you want to be at the beach you'll need to be close to Punta.
High season is incredibly short, from about mid-December until February. Some restaurants and hotels in the smaller towns, such as Jose Ignacio, might not be open if you go outside of this time frame. We hit it about a week before high season started and about 60% of businesses were open in Jose Ignacio. Uruguay has a VAT tax refund program, where tourists receive a VAT refund on some items, such as restaurants, boutiques, and car rentals.
Where to Stay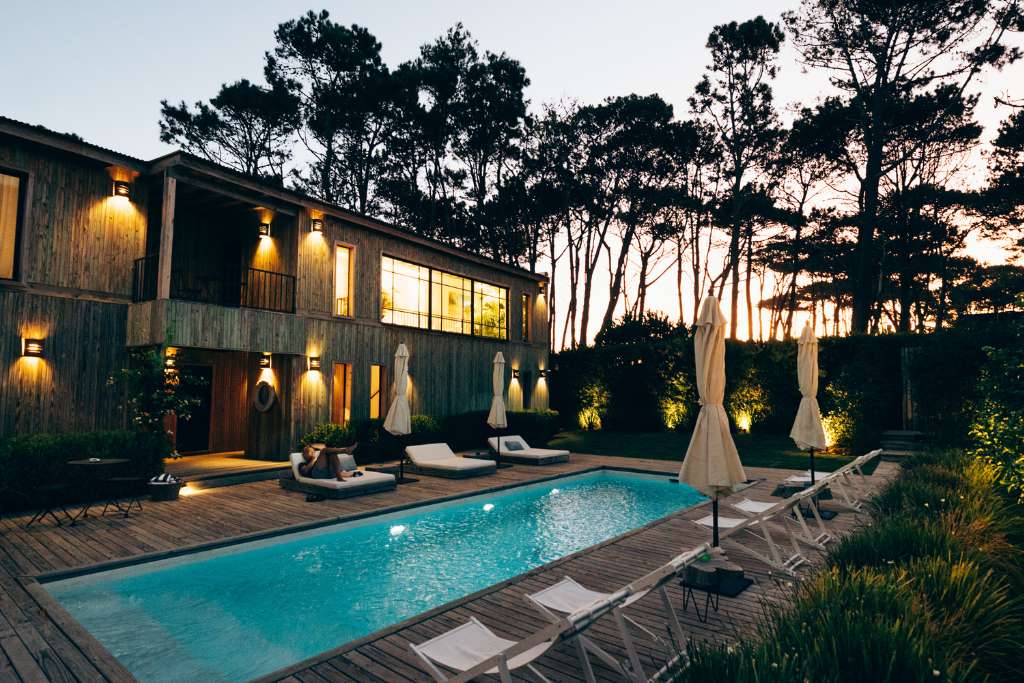 Uruguay's architecture is a mix of old and new. Here are a few hotel stays to consider in each category.
Hotel Fasano Punta del Este
Hotel Fasano Punta del Este, a Leading Hotel of the World, is outside Punta del Este's glamorous downtown. We were drawn to it for its architecture; it sits in stark contrast to its provincial surroundings near the Maldonado River. Enormous glass windows allow for beautiful vistas of the countryside, with a particularly lovely view from the Italian-style restaurant and cozy library. It's about a 30-minute drive from Punta del Este proper on windy roads so you'll want to consider this if you leave the property for a meal. It can get very dark at night driving back.
Casa Flor
The first thing I said when we arrived at Casa Flor is "This looks like Montauk." Situated about halfway between Punta del Este and Jose Ignacio, Casa Flor channels Montauk's surfer vibes and for good reason: it was founded by surfer siblings and friends. Bright and friendly, the hotel recently added a second floor that contains a Master Suite with a sitting area, a balcony overlooking the pool and a king-size bed. Nearly all the restaurant recommendations further down on this list came from the owners of Casa Flor; I inherently trusted their taste after seeing the hotel.
Playa Vik
Architect Carlos Ott and owners Carrie and Alex Vik collaborated on Jose Ignacio's Playa Vik, which centers around a striking structure called "The Sculpture." A stop here is akin to visiting a friend with the best taste in art and furniture, with the interiors complimented by the exterior views. Pieces from artists like Anselm Kiefer, Zaha Hadid and James Turrell are present, among others. Guests can stay in the main house, or choose from one of six cases that dot the property. Another centerpiece of the hotel is the cantilevered pool. Seventy-five feet long and made from Uruguayan Black Absolute Nero granite, it has a lit celestial map on the pool floor. If you're not staying there, simply ask at the gate if they have any availability for lunch so you can partake in the views, and check out the boutique on your way out.
Bahia Vik
Vik's other property in town is Bahia Vik, a short drive away from Playa Vik. It's larger, with 49 rooms. Its lobby has custom art by Uruguayan artists. One of the real draws of Bahia Vik — besides its direct beach access — is La Susana, a hip beach bar. Partake in a Caipiroska, a twist on Brazil's caipirinha that's served with vodka instead of cachaça. There's a third property from Vik called Estancia Vik, which is inland. All three properties' concierges can schedule excursions like horseback riding and polo lessons.
Hotel Garzón and Casa Anna
About 30 minutes inland from Jose Ignacio sits Garzón, a tiny town of 200 people, including several artists. The main attraction here is Francis Mallmann's Restaurant Garzón which focuses on Mallmann's famous style of open-fire cooking. The charming hotel is located in the town's old general store and will make you feel like you're in Provence instead of Uruguay. There's an additional guesthouse called Casa Anna. It has similar European-style rooms, as well as a country kitchen where breakfast is served. We preferred Casa Anna for a little more privacy than the main house.
L'Auberge
Located just outside Punta del Este, L'Auberge is almost 80 years old. It offers Old World charm with the best of modern service, especially where its famous tea service is concerned. The original hotelier was Belgian, and Belgian waffles are on the tea menu. Ask for the Special Deluxe Plus room, which has a romantic fireplace and charming decor.
Where to Eat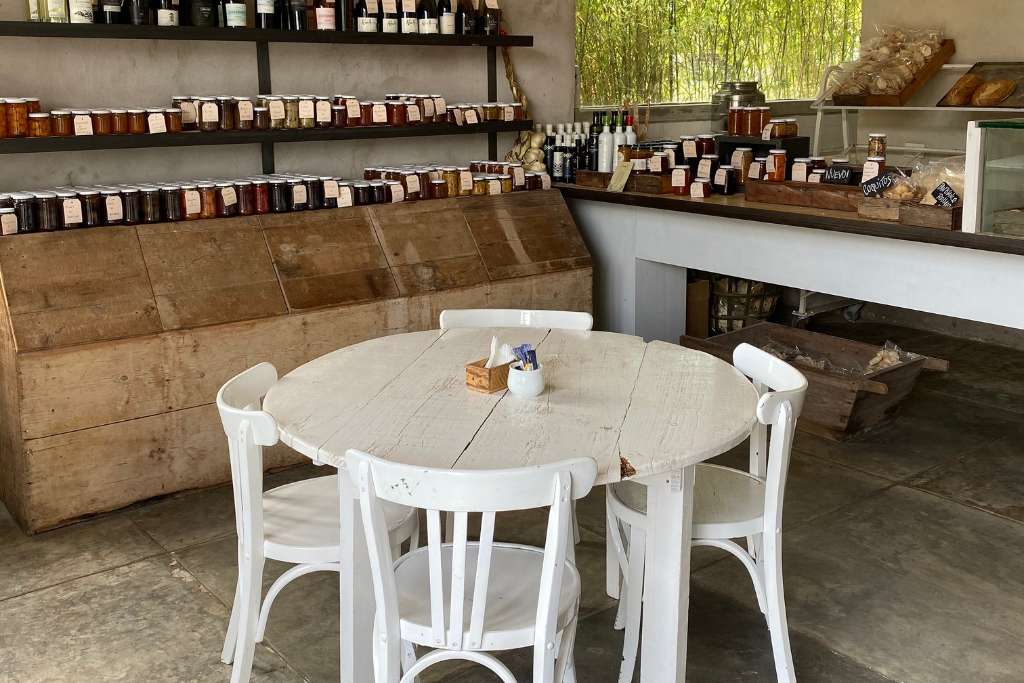 There's a lot of Italian, Spanish, Portuguese and French influence in Uruguay, and the food reflects this. Meat, cheese and seafood feature heavily, such as in dishes like provoleta (a grilled hunk of provolone cheese), chivito (a sandwich featuring beef, mozzarella, ham, tomatoes, mayo, olives and more) and freshly grilled seafood. Here are options to consider.
Parador La Huella is one of the most famous restaurants in all of South America, routinely on Latin America's 50 Best Restaurants list. It's a beachfront restaurant that resembles a Le Club 55 and Crow's Nest hybrid: stylish, fresh seafood and patronized by sophisticates. Sunset is a coveted time slot, but any time of day is a good time to kick back and enjoy a spritz with sushi or grilled squid. You can reserve online but you should let your hotel concierge handle it to get the best table. La Huella is open most of the year.
La Olada was a top recommendation from the gang at Casa Flor, and it didn't disappoint. A romantic, mostly open-air restaurant, it offers wood-fired pizzas, sushi and Uruguayan staples like grilled meat. A similar option just beyond Jose Ignacio is Marismo.
A destination unto itself, Restaurant Garzón skews meat-heavy, with offerings like ribeye and pork tenderloin, although there are vegetarian and seafood options. A small but well-executed menu comes to life in the kitchen, which diners can view from the main dining room. Thankfully, your room will only be a few steps away so you can roll yourself out of there with little obstacle.
As you make the turn onto the main road of Jose Ignacio, you'll see a gas station on your left. Stop here for Panaderia Jose Ignacio, which I can confidently say is one of the best gas station-adjacent establishments I've ever been to. Boulangerie in style, the focaccia is heavenly and saved us on a day when there were limited options open in Jose Ignacio proper. There's also a little market where you can pick up wine and beach picnic essentials.
La Linda is a bakery in Manantiales, about halfway between Punta del Este and Jose Ignacio, and a worthy stop to marvel at its design and delicious offerings. German, Italian and Austrian influences make the selection, such as medialunas, baguettes and foccacia, eclectic and dimensional.
What to Do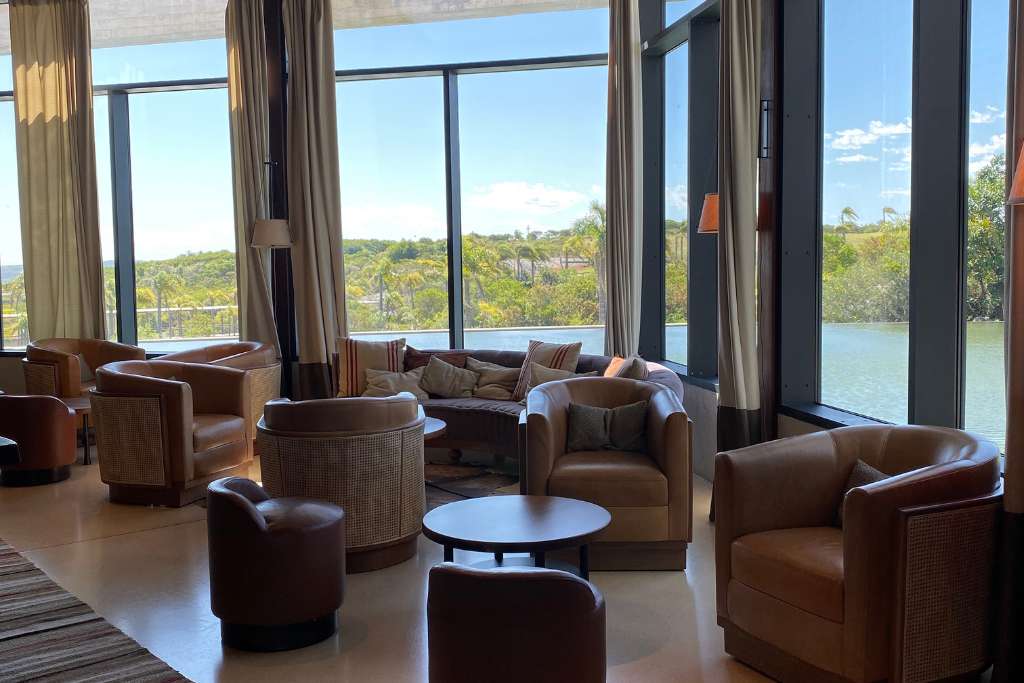 This is the coast, so you'll want to get in some serious beach time. In Punta del Este, the most famous beach is Playa Brava, home to Chilean artist Mario Irarrázabal's "Los Dedos." It's a sculpture of a hand coming out of the sand. The glamorous surf town Jose Ignacio has a lighthouse that dates to the late 1800s. It's a fun historical pitstop between shopping and beach bars. Check out Manos del Uruguay for a sweater or scarf. It's a non-profit organization that supports the craftwork of rural Uruguayan women. Each sumptuous item has the artisan's signature on the tag.
There's the Atchugarry Contemporary Art Museum, which is a work of art in itself. Opened in 2022 in Maldonado, it features artists such as Carmelo Arden Quin, Pablo Atchugarry and José Pedro Costigliolo, as well as a sculpture garden. Nearby, grab a coffee at Cafe Zinc, which is inside an antique store filled to the brim.
If your schedule allows, take a half day and head to Bodega Garzon (no affiliation with Restaurant Garzón). The winery is a modern architectural beauty, and the wines are delicious, especially its award-winning Tannat, one of Uruguay's most prominent grapes. I was partial to its olive oils. There are tours—be sure to book in English—for both the vineyards and the olive groves.
Casa Pueblo ends up on every must-do list for a reason: its facade is like no other. Artist Carlos Páez Vilaró began building his house in 1959 and continually added domes, tunnels, passages, terraces and rooms over 36 years. There's a museum about the artist and even a hotel on the property. It's about an hour's drive from Jose Ignacio in Punta Ballena. Go for the sunset ritual that happens nightly.
Featured image courtesy of Leading Hotels of the World