No need for taxi or luxury car service — there are no cars. We have just arrived at Italy's Venice Marco Polo International Airport, and there is only one way into the world's most famous water city. Water taxi. We prearranged a private boat — and our captain (also named Marco), is already waiting when we arrive (just follow the blue water taxi signs from customs), and within seconds, has our luggage stowed.
The boat, with its creamy leather seats, polished wood and brass, feels out of a movie set. My own boat captain (I can tell by his eyes and seemingly permanent wide grin on his face) is in his element with this unusual airport taxi — worlds away from the first leg of our journey: New York City's JFK Airport and the spewing cars along the Belt Parkway. My hair flies in wild disarray as captain Marco speeds across the open water (I've forgotten to pack my Sophia Lauren scarf, though I do have the sunglasses), and we both breathe deeply the fresh sea air — intoxicating after so many hours on the plane.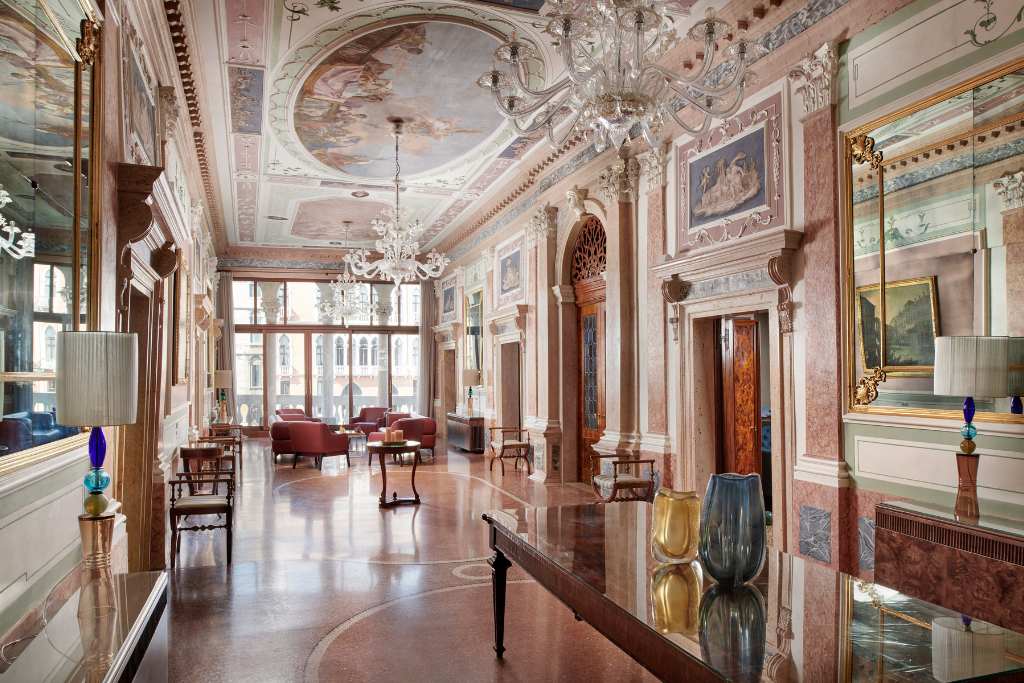 Once inside the Grand Canal, captain Marco slows the engine and we take in the ancient buildings, the gondoliers rowing in their striped shirts and cockeyed hats, and the romantic ambiance and melody that is uniquely Venice. As we arrive at Palazzo Garzoni, a restored 15th-century villa and member of the French-owned Almae Collection, yet another Marco — the Palazzo's fabulous host Marco Rizzo and his wife Sophie — greets us as the boat pulls into the private dock.
"Welcome."
Although this is our first face-to-face meeting, the exchange feels familiar. We have been communicating for weeks. As soon as our reservation was confirmed, Marco made contact regarding our airport water-taxi transfer and dietary preferences. While there is no restaurant onsite, each of the Palazzo's four residences comes with a full-scale, gourmet kitchen. Marco has pre stocked our Smeg refrigerator (discreetly hidden into the wall) with fresh eggs, yogurt, bacon, cream, water (both still and sparkling), and a bottle of celebratory Champagne. Fresh-baked bread rests under cover on the counter next to a bowl of fresh fruit, jam, Nocciolata, marchini cookies (a Venice specialty), and fresh-cut flowers. There's coffee too, and a fancy commercial-grade Italian coffee maker calling our name.
Built as a Private Home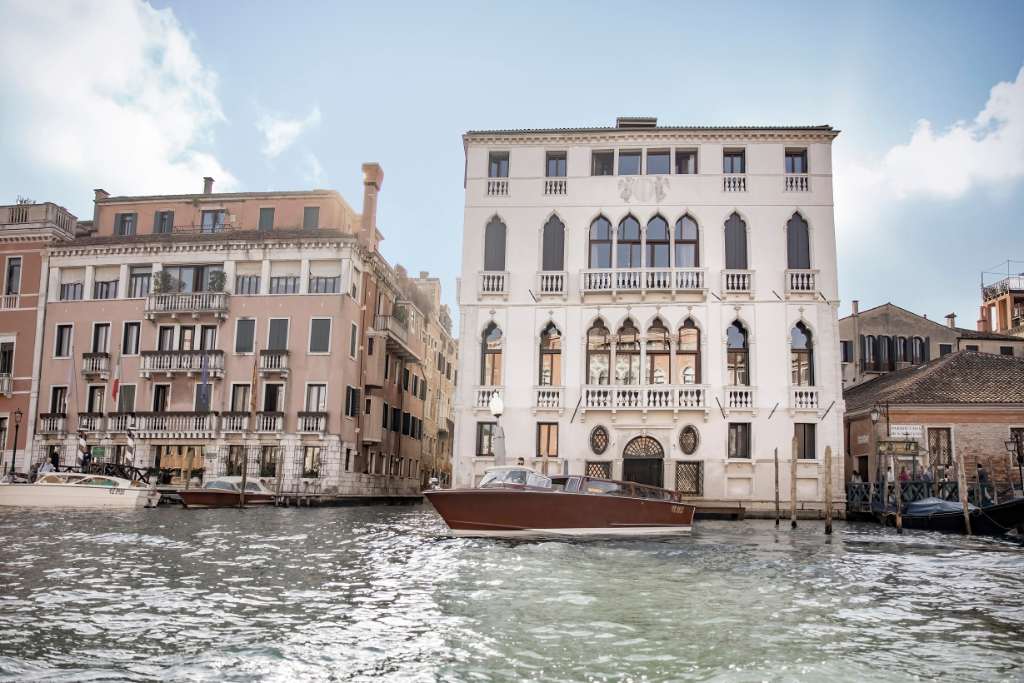 Gothic in style, Palazzo Garzoni reopened only recently (2022) as an exquisite four-residence villa following a painstaking restoration that preserved many of its original features (terrazzo floors, frescoed ceiling, Gothic windows, Carrara marble, and door jambs carved by Venetian master craftsmen).
The Palazzo was built in the 15th century as a private home for the Garzoni family, originally from Bologna and part of Venice's high society. At its peak (15th century), Venice — the birthplace of Marco Polo, Giacomo Casanova, Antonio Vivaldi — was the place to live. Set entirely on the water, the merchant city attracted the moneyed set who could build extravagant, ornate, palazzos — a mix of Renaissance and Gothic architectural styles — along the Grand Canal. Palazzo Garzoni was one of the most lavish — then and now.
The Apartments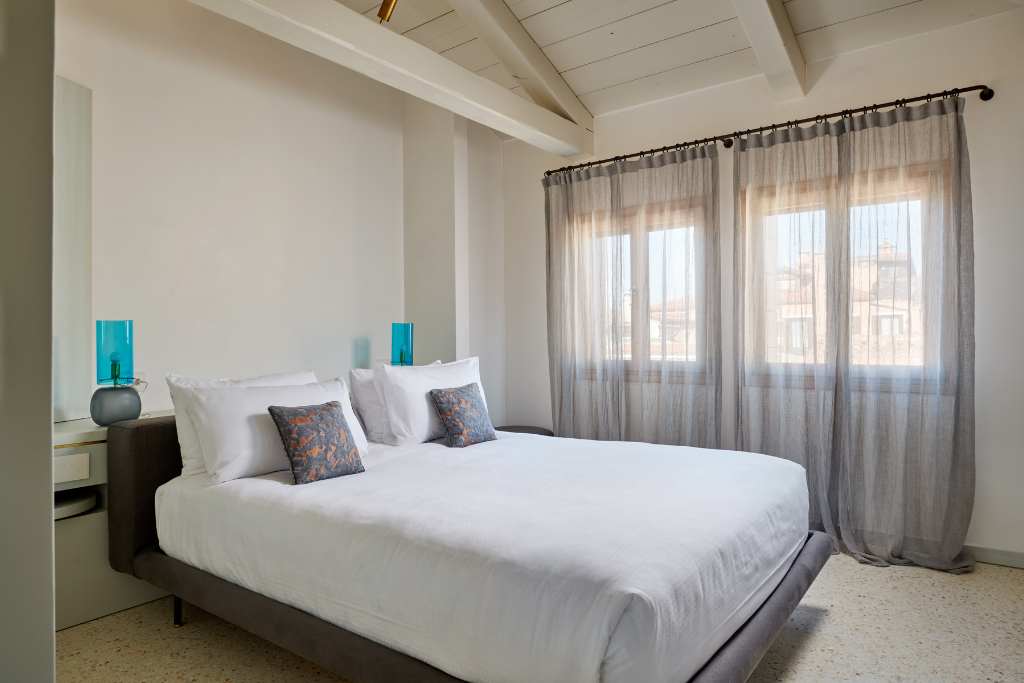 The entire villa can be rented out exclusively (a total of 14 rooms/28 guests) or each of the four apartments can be experienced individually (as was our experience). Each apartment is different, yet shares a common hide-and-go-seek theme. The Smeg refrigerators seemingly disappear into the kitchen walls, mirrors double as televisions or even more seductively, are hidden behind artwork (push a button to reveal). The residences include:
Piano Nobile: (Accommodates 10 guests)
The grandest of all the apartments, this five-bedroom creme de la creme residence, spans two floors, and features traditional terrazzo floors, original light fixtures which Marco Rizzo aptly calls the "Rolls Royce of chandeliers," floor-to-ceiling Gothic windows that open onto a terrace directly overlooking the Grand Canal, and an original fresco on the ceiling of the main salon (meticulously restored) of the Garzoni family.
Grand Canal: (Accommodates 8 guests)
A clever fusion of modern and traditional (love the dining room table and chairs), this stunning third-floor apartment features fabrics by illustrious Venetian manufacturer Fortuny, sleek, contemporary furniture by the Almae Collection's architect, beautiful Italian hand blown glass, and large wood-paneled kitchen. The views are also noteworthy.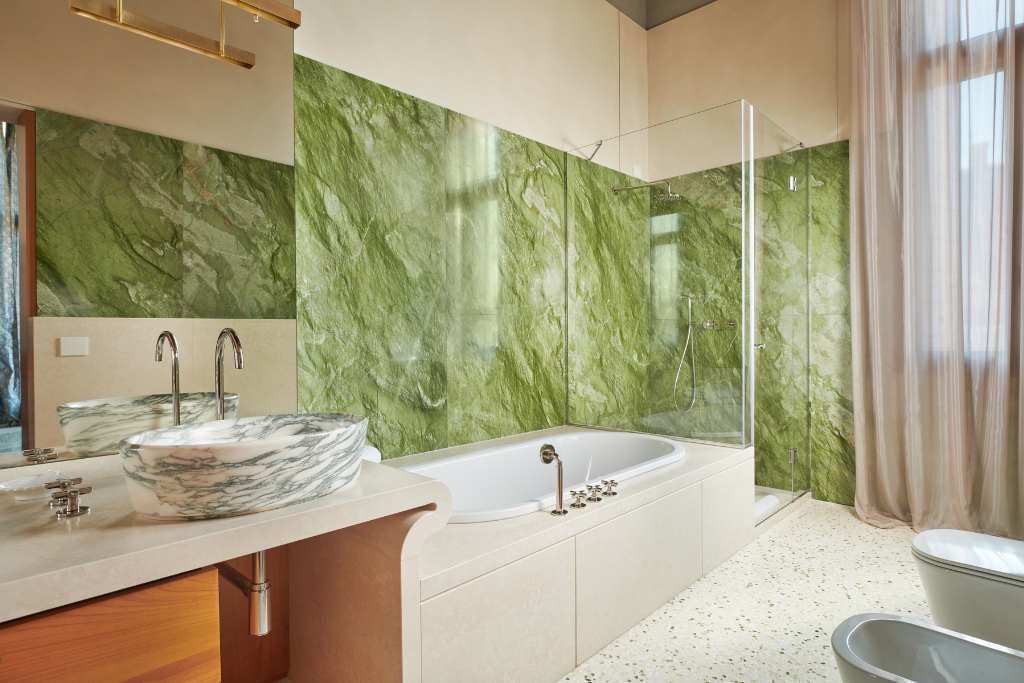 Terrazetta: (Accommodates 4 guests)
Our residence during our stay, the standout features of this third-floor apartment include a modern, custom gray Italian leather sofa with green velvet pillows, stunning artwork on the walls, stacks of edgy coffee table books, plush bed linens, gorgeous colorful marble tiles (different in each bathroom), and a small terrace overlooking the terra-cotta rooftops of Venice and the canal.
Rialto: (Accommodates 5 guests)
Tucked away on the fourth floor, this chic apartment (perfect for a small family) features exposed ceiling beams, modern furniture. A private outdoor terrace offers views of the city's rooftops and the Rialto Bridge.
Location, Location, Location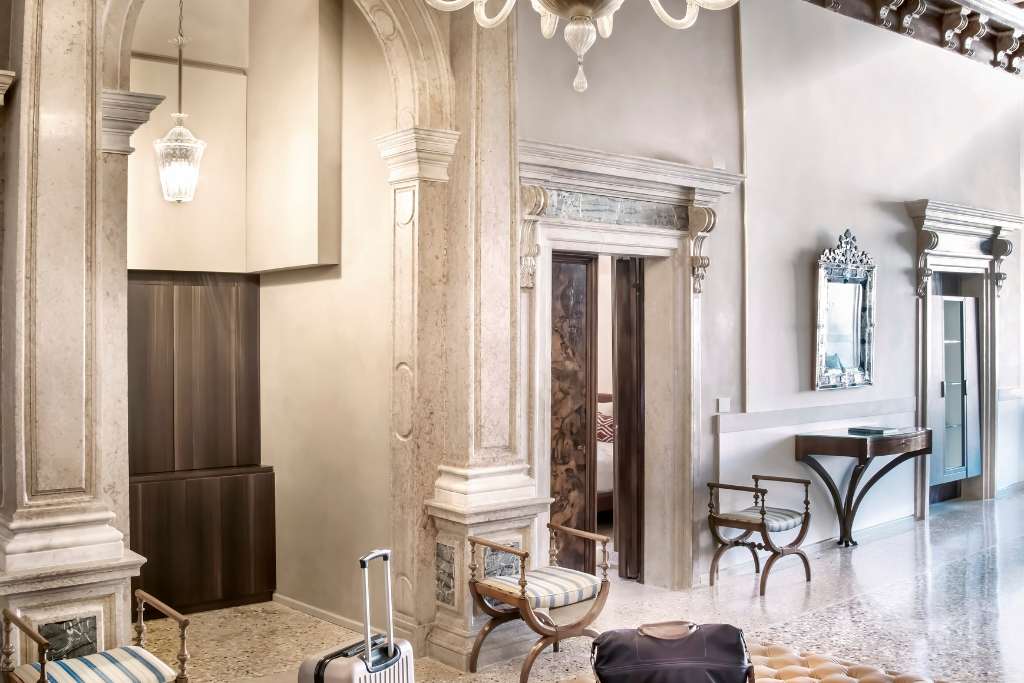 Located between Piazza San Marco and the Rialto Bridge, and with its own private pontoon for boats and gondolas, Palazzo Garzoni offers the perfect downtown Venice locale. Once onsite, guests may easily walk the narrow cobblestone streets to specialty shops and restaurants. On our first night in Venice, we wanted "the best pasta in the city," and Marco immediately delivered.
"Take a left, right, left. At the end of the street, make a left, cross over the bridge, go straight through the narrow square, then right, and you are there."
We were quickly ushered to a table for two, glasses of wine poured and bread with olive oil served, even before we received menus. My partner ordered the lobster tagliatelle; I, the risotto. Both were divine and we followed with a shared tiramisu (which, in the US, I don't even like, but here, love) and espresso. As we meandered the narrow street home to our sweet Garzoni apartment, we agreed to keep the name of our now-favorite Venice restaurant in Marco's care, discreetly filed in his black book, to be revealed to the next guests of the exquisite Palazzo Garzoni.