Tinsels. Baubles. Pine boughs. Fairy lights. Nothing like holiday decorations to banish that Scrooge within. Bringing us cheer and whimsy, festooned public spaces adorned in wreaths, garland-wrapped trees, gingerbread houses, nutcrackers, twinkling stars, and glittery pine cones awaken our holiday spirits. Consider iconic hotels like Colorado Springs' palatial The Broadmoor. Even the imposing snow-capped Rocky Mountains that gaze at the resort cannot compete with the convivial fantasyland constructed by elf-like mortals who adorn the sprawling retreat with thousands of white lights, a gingerbread display, garlands, poinsettias, roses, holly, and mistletoe. On the West Coast in the City of Angels, snow flurries are unlikely, so Los Angeles' Beverly Wilshire, A Four Seasons Hotel, adds yuletide atmosphere with holiday installments worthy of Rodeo Drive splendor and cinematic drama.  In Florida, guests at Sandestin Golf & Beach Resort redefine "White Christmas" by replacing the concept of snowflakes with tangible, bright-white kernels of powder-sugar-like sand, unique to the Emerald Coast. The resort's tropical-style Christmas begins right after Thanksgiving when Santa arrives by horse and carriage (a.k.a. surfboard), along with sunny days, fanfare, fireworks, and live music. 
These hotels invite you to their holiday soirées. 
The Charleston Place, Charleston South Carolina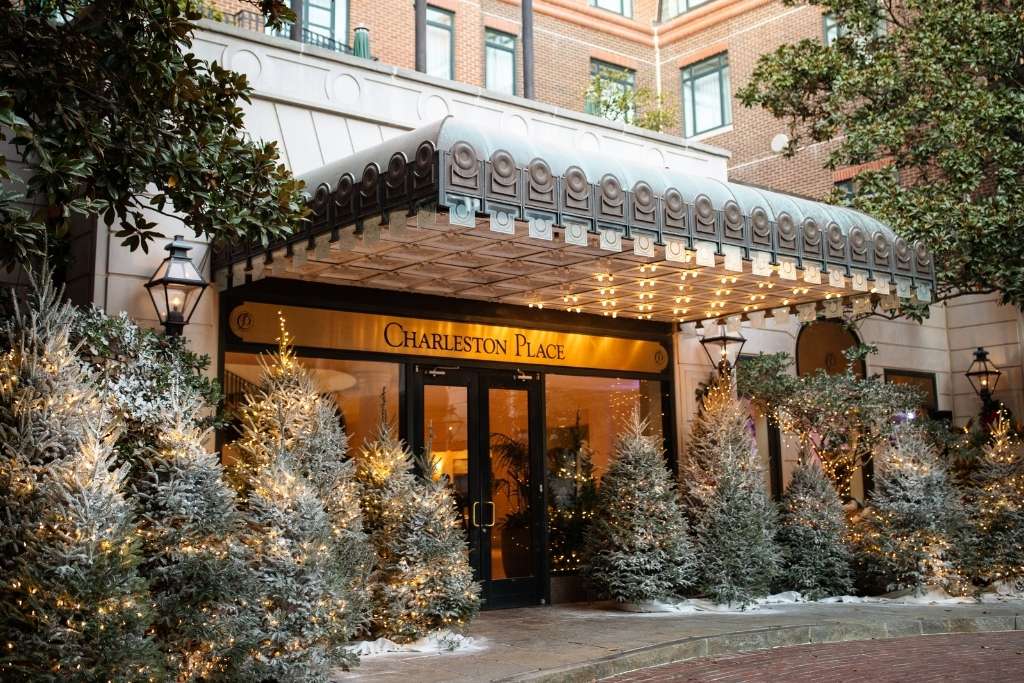 Snow every day? In the Holy City? That's only a portion of the holiday enchantment brought to you by The Charleston Place, where twice-nightly snowstorms (from November 25 to January 2) cover the holiday trees on Market Street Circle with a blanket of festive delight. Indoors, the elegant hotel has been transformed to a homage of the iconic Nutcracker ballet. Dance among the holiday jewel box of Clara's dreamscape, accented with evening ballet and orchestra performances, and even a Nutcracker afternoon tea. The design by local event company, The Drifter, took inspiration from an article found in a Charleston newspaper from the early 1900s. Look for more than 100 decorated trees, including one that soars 40 feet high in the center of Market Street Circle. For railroad lovers, the coup de gras will be the toy train that chugs along 300 feet of track through the lobby, but cocoa cart pop ups and a teddy bear brunch will also delight.
Arizona Biltmore, A Waldorf Astoria Resort, Scottsdale Arizona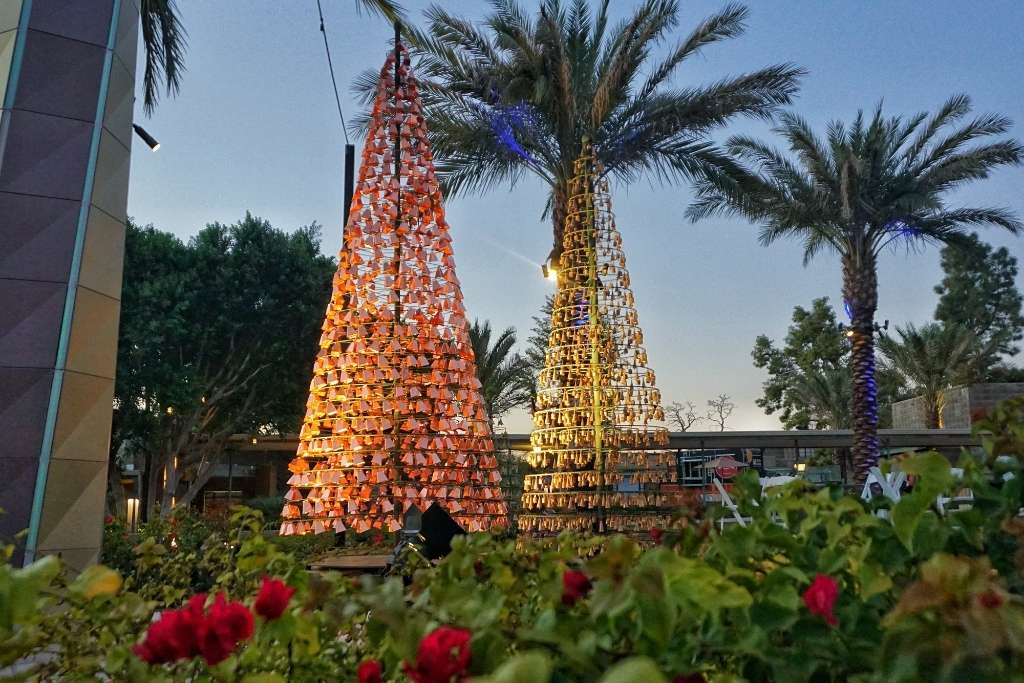 Some might say that seven pools, seven dining venues, two championship golf courses, one award-winning luxury spa, and Frank Lloyd Wright-influenced architecture infused with Hollywood heyday chic would be enough. But this grand property, set in affable Phoenix amid the glorious desert and its array of anthropomorphic Saguaro cacti, takes holiday décor seriously. In an assemblage inspired by Frank Lloyd Wright's ethos of nature in motion, the resort transforms to a veritable "artisanal desert winter wonderland." Walk among more than a dozen pampas grass trees of various sizes, aglow with frills in the lobby. Linger in the nostalgic living room, a replica of Christmas Past, circa 1930. Outdoors, frolic on the front lawn where blue-and-white-tree mirrors reflect images and themes from the Frank Lloyd Wright stained glass mosaic that rests in the Grand Lobby. For an elevated experience indulge in the opulence of the Champagne and Caviar Lounge nestled away in the lobby, with Petrossian Caviar and rotating Champagne selections. It certainly puts the cheer in cheers.
The Aspen Meadows Resort, Aspen Colorado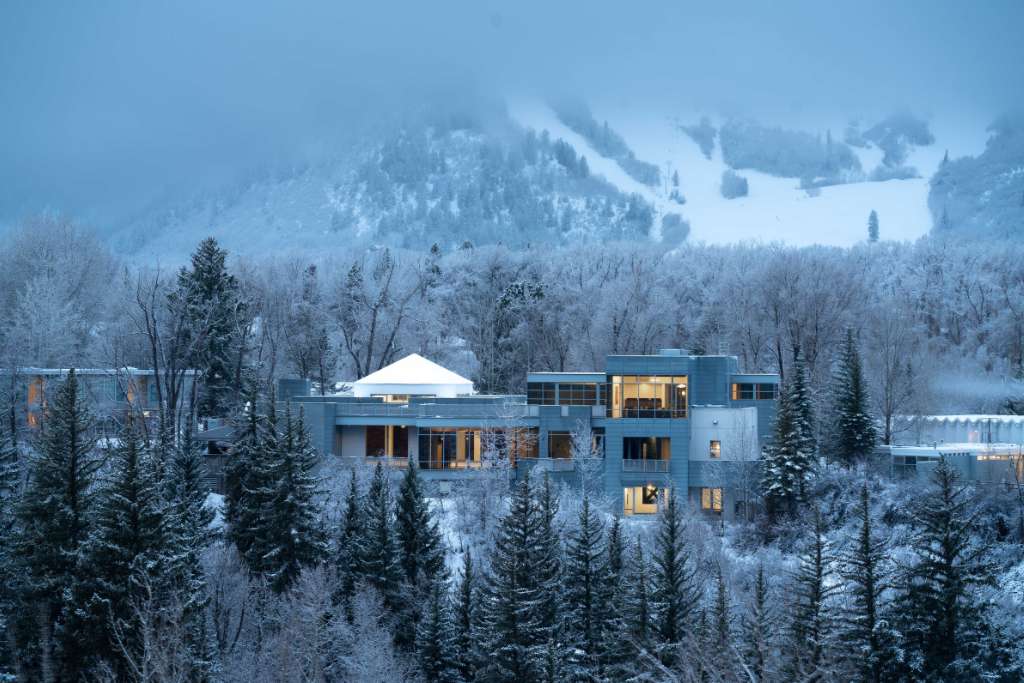 Besides a reindeer village, outdoor bar with steaming hot cocoa and mulled wine, sleigh rides, holiday movies (including Eight Crazy Nights), and cookie decorating, this resort on 40 acres in Aspen's West End also celebrates all eight nights of Hanukkah. As the sun sets, each evening at 5 pm, guests and locals alike can gather to light the menorah and savor delectable latkes crafted by Chef Nathan Kargman. Leaders from the Aspen Jewish Congregation and Aspen Chabad House take turns conducting the candle-lighting rituals.
Thompson Dallas, Dallas Texas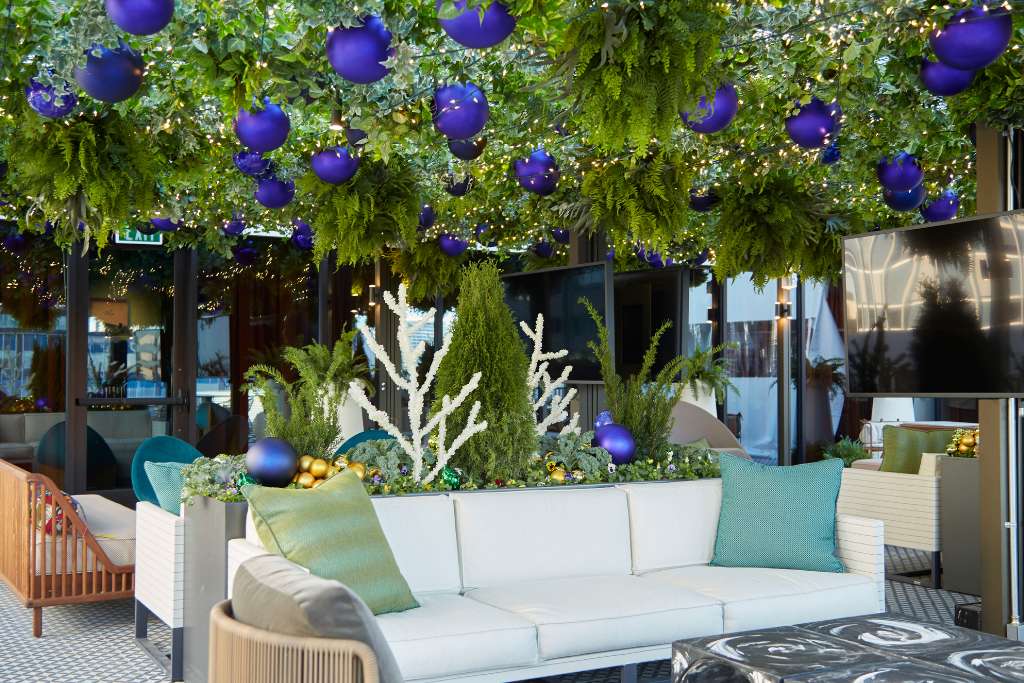 At any other time of year, this urbane jewel box in downtown Dallas gets accolades for its prodigious artistic aesthetic: a haven of glossy marble, blue-lacquered walls, teakwood panels, gleaming brass, and mid-century furnishings and artwork. But in December, embracing true everything-is-bigger-in-Texas-style boundlessness, the cultivated hotel amps up its festive ambiance with a ridiculously delightful array of celebratory grandeur. With more than 12 miles of LED lighting, The Thompson hangs more than 17,000 ornaments, erects 35 Christmas trees, utilizes 11 varieties of fresh pine, and uses 6 tons of custom iron to create bespoke eye-catching trees. Its 55-foot-tall Christmas tree at the building entrance seals the deal.
Mayflower Inn & Spa, Auberge Resorts Collection, Washington Connecticut
Each year, Mayflower Inn & Spa, Auberge Resorts Collection brings a canny designer to infuse the resort with their version of the festive season. This year, acclaimed design group Sister Parish transforms the inn with their view of a nostalgic holiday mise en scene. Led by celebrated interior designer Eliza Harris, the Sister Parish design team will transform the inn as a quintessential home, awash in whimsy and dream-laden moodiness. Playfully evocative, Sister Parish Design shares Mayflower Inn's sensibilities, bringing its already cozy elegance to a mesmerizing yuletide elan. An installation throughout the inn's exterior and interior features embellished garlands, wreaths, mantel and table pieces, festoonment worthy of an arresting 18-foot Christmas tree. Two small trees bookend the front entry of the inn, while cloaked pillars and handcrafted ornaments dangle from the windows in the Parlour room. Sister Paris enwraps holly and candles with vintage ribbons and glowing white lights with the designer's Serendipity fabric ornaments as a focal point.
Grand Velas Riviera Maya, Mexico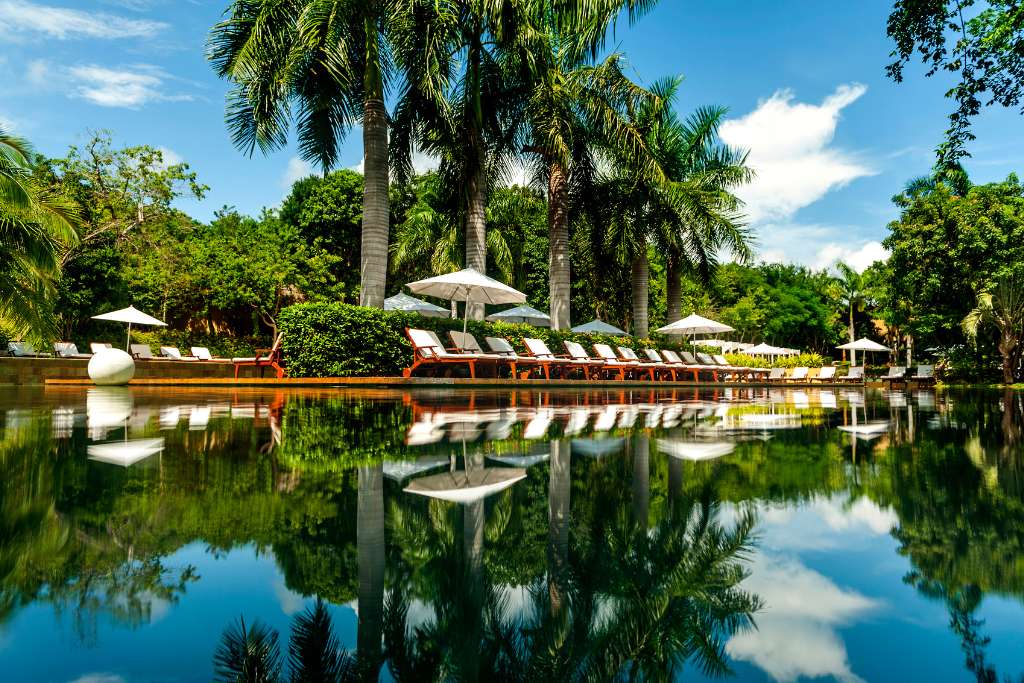 Head to the Yucatan for a festive Hanukkah at upscale, all-inclusive Grand Velas Riviera Maya. From December 7-15, the luxurious Mexican resort celebrates the season with a score of Hanukkah-themed activities, traditional meals, nightly candle lighting, and gift-wrapped toys. Celebrating guests can gather around the large central menorah for nightly candle lightings, Hanukkah favorites will be served at the resort's oceanfront Azul Restaurant, and gift-wrapped toys for children of all ages will be available for purchase on the resort's Festive Website. Personal bracelet making, dreidels, cookie decorating, Hanukkah trivia, a paint and wine session, and David's Star Cookies for special nighttime amenities add to each day's magic.
Fairmont San Francisco, San Francisco California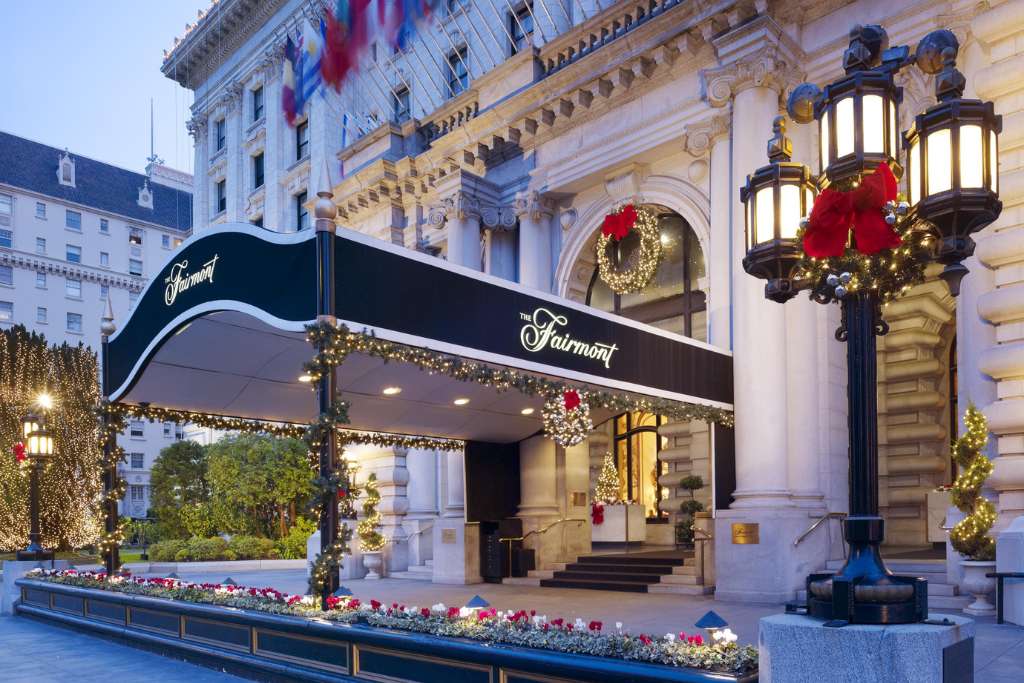 You'll smell its seductive aroma before you see it. In the spacious lobby of the majestic Fairmont San Francisco, a mind-blowing, two-story gingerbread house beckons. Ornate, and design savvy enough to tempt you to consider turning yourself into an elf and moving in, this stupendous cookie sculpture required 375 hours of artistry to construct. The largest cookie abode in California, the edible dwelling is composed of hundreds of pounds of San Francisco's own See's Candies — chocolates, confections, and lollipops. Rimmed by trees and Nutcrackers galore, the house stands 22 feet high and stretches 23 feet wide. Gallons of royal icing seal its thousands of gingerbread bricks. Adjacent to the house, children can pen a letter to Santa, while parents sip bubbly from the Moët Champagne bar.
The Roosevelt New Orleans, A Waldorf Astoria Hotel, New Orleans Louisiana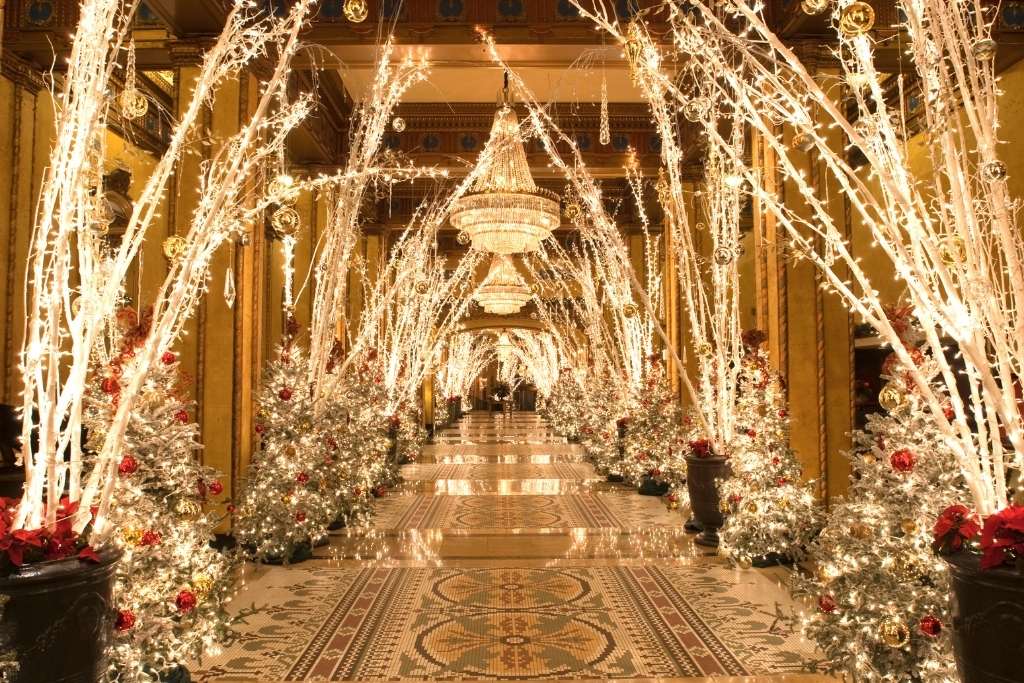 And you thought Mardi Gras was festive? Wander into the wonderful world of New Orleans in December, when the vivacious city takes all its year-round sparkle and ebullience up a glittery notch — or two. Not only will streetcars, oak trees, and Garden District mansions be adorned with Yuletide finery, but the city's top hotels outdo themselves with eye-catching seasonal displays. We love the historic Roosevelt, home to the first Sazerac cocktail, where the already glamorous hotel carries on an 80-year tradition of holiday fantasy — with bells on. Spellbinding, the catwalk-style lobby is suffused with 78 floor-to-ceiling birch tree limbs and 46 Christmas trees with the twinkle of 112,000 lights, trimmed with 1,600 feet of garland, 300 bows, and embellished with 4,000 glass ornaments.
Playa Largo Resort, Florida Keys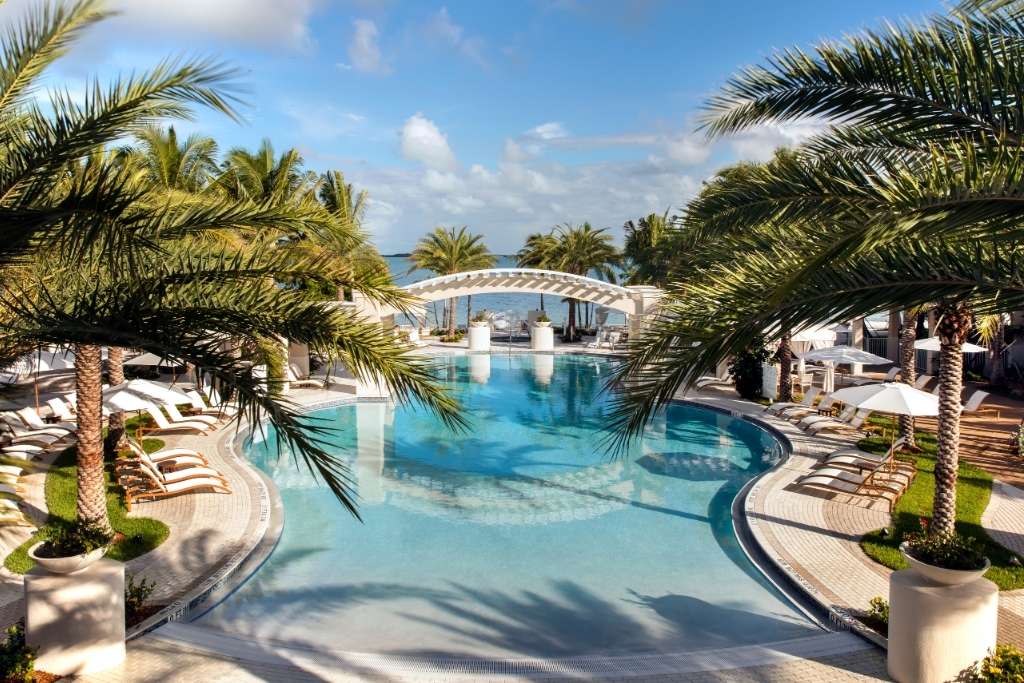 Leave your coat at home. You'll be slathering on sunscreen and donning your bikini when you zip over to Key Largo for Christmas at Playa Largo Resort. Offering guests new heights of frippery and fun, the retreat, located along 14 acres of the Florida Bay, hosts a buzzy month of holiday activities sure to melt your heart. Step right from the pool into a winter wonderland-themed pop-up roller skating rink, kitted out in an embellished ballroom. Shop the hotel's exuberant pop-up holiday market, helmed by local vendors, weekends through December. Sip from manifold hot chocolate stations set up throughout the property while your kids make holiday ornaments in dedicated craft corners, perfect to decorate the trimmed Christmas tree the Playa Largo ordered for your suite.
Cover image courtesy of Fairmont San Francisco.