Quaint nautical shops, mansions, a scenic and spellbinding 3.5 mile cliff walk, and that coastal sea salt New England air — there are so many things to do in Newport, Rhode Island. Whether curating your own New England itinerary (here's one of our most recents) or looking for a cozy fall East Coast weekend, Newport's unique charm is a must-experience bustling seaport spot to add to your list.
Historically speaking, Newport is best known for being tied to the Gilded Age — summer cottages to historically famous families with grandiose names like Marble House, The Elms, and The Point. But there's also a proud sailing past with the iconic America's Cup races that were held in Newport from 1930 to 1983, and legendary New England restaurants like Clarke Cooke House and The Black Pearl. Ask a local Newport expert or someone in the know on their favorite Newport beaches and you'll be sure to get a different opinion, but one thing is for sure, whichever beach you land on is best enjoyed with a local frozen Del's lemonade and fried clams from Flo's Clam Shack (which has been a beloved favorite since 1936). Today, Newport is the ideal spot for a nautical getaway in any season, but particularly New England's gloried seasons of summer and fall. In the height of summer, it's all about beach days, boat sunsets, and baked lobster nights. For autumn, fresh fall morning walks, fireplace cocktails, and fine dining. The coastal oasis of Newport can not be missed, read more about our favorite hotels, things to do, and restaurants below.
Luxury Hotels to Stay at in Newport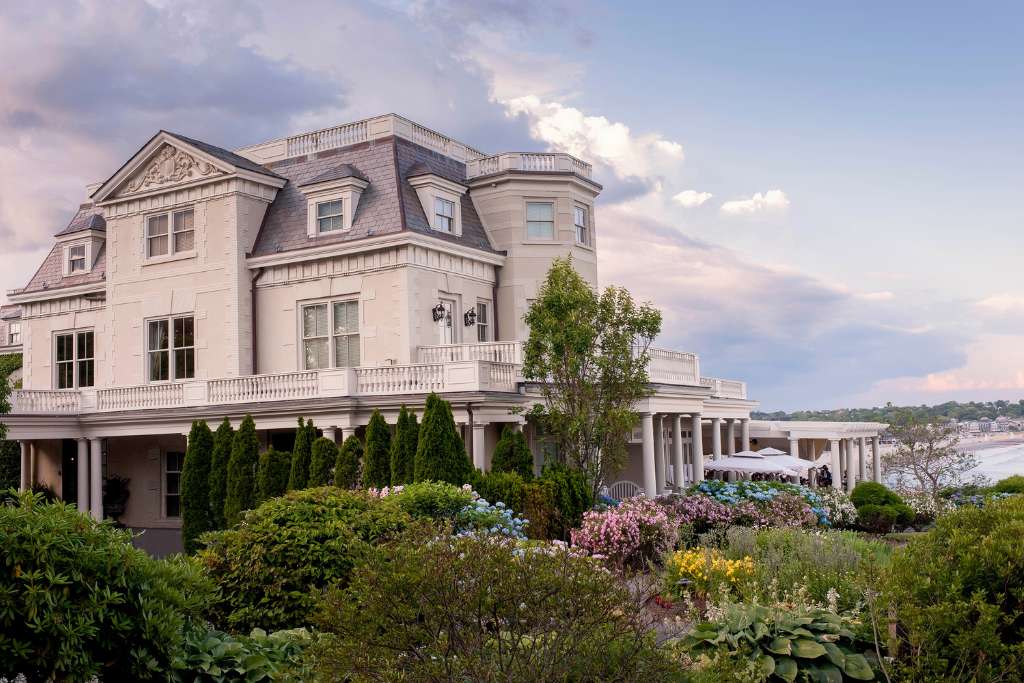 A Newport seaside escape is taken to new heights when staying at a luxurious hotel — from historic reworked mansions on the Cliff Walk to hot-spot modern boutique hotels on the Wharf — there are plenty of options for the well-seasoned traveler with a penchant for luxury.
The Chanler At Cliff Walk
Nestled along the iconic Cliff Walk with breathtaking views of the Atlantic Ocean, stay in one of the 20 uniquely designed rooms at The Chanler at Cliff Walk. Formerly the 19th-century mansion originally built by New York Congressman, John Winthrop Chanler, the hotel is an emblem of old world grandeur with acres of manicured gardens, a sparkling sea in the distance, fireplaces in each of its rooms, and a total wow factor. (editor's note: When I initially saw the entrance and driveway my jaw dropped, The Chanler has that kind of curb appeal and unique extravagance). Each of the property's rooms are elegantly furnished and designed around particular historical periods and themes like Greek Revival, Colonial, English Trellis, and Peonies & Ivy. Dine at the property's five-star restaurant, Cara, for a contemporary and creative blind-tasting menu with sustainable New England ingredients by Executive Chef Jacob Jasinski or eat at the Chanler Cafe and indulge in and the Chanler's cocktail The Cliff Walk with bourbon, maple honey syrup, apple-yuzu nectar, and black walnut bitters.
Hammett's Hotel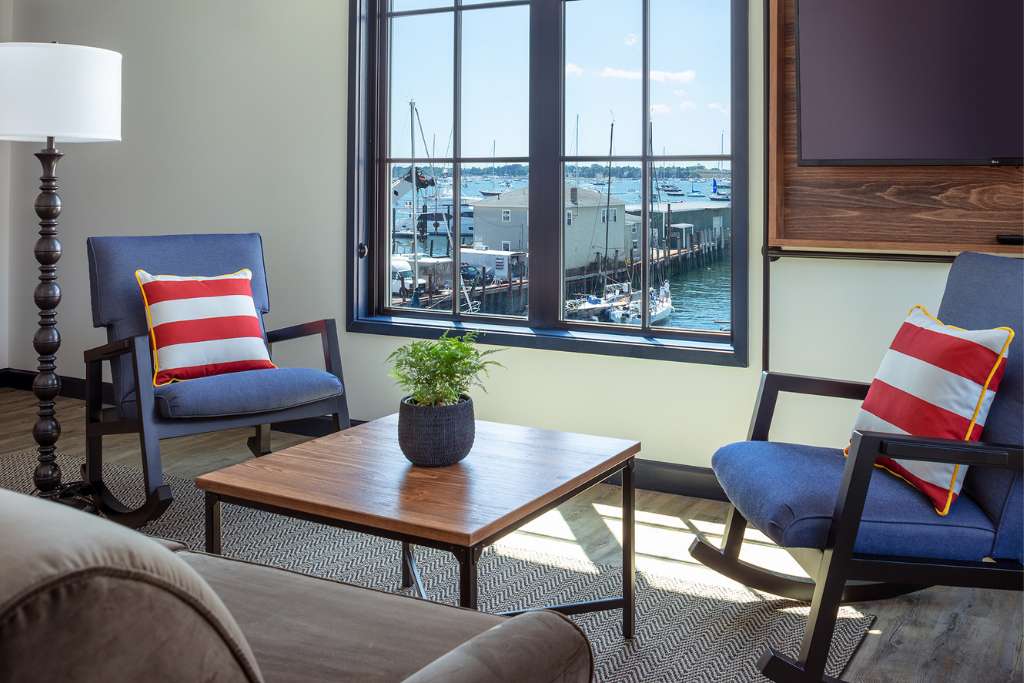 A newly-opened nautical gem situated at the heart of Newport's prime waterfront—Hammett's Hotel offers a seamless blend of modern luxury and coastal charm. Get a marina view room, trust us, and watch from your window as the sailboats and yachts come into dock. Spend the mornings and sunsets at Hammett's outdoor patio and area complete with umbrellas, technicolor hydrangeas, and comfortable lounge couches. The rooms are cozy luxe — each detail carefully curated, from the striped bay window seating to the nautical bathrooms.
Ideal for the art aficionado, Hammet's also boasts an art gallery named for the only female owner of the wharf in history and open to the public, The Sarah Langley Gallery collection. The gallery is curated by Newport Curates and changes on a seasonal basis. Hammett's location is prime in Newport, surrounded by the creme de la creme of restaurants at the Wharf, and seaport scenery, and the contemporary luxe aesthetic won us over on a recent visit.
The Vanderbilt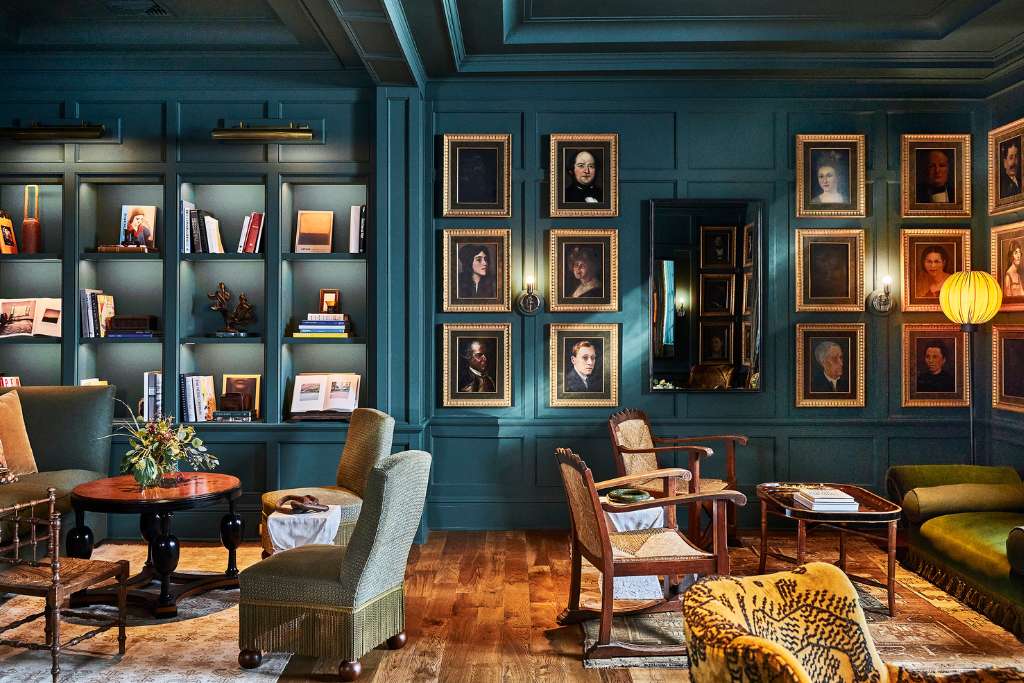 A former mansion-turned-33 room luxury hotel built in 1908 by scion Alfred Gwynne Vanderbilt, the Vanderbilt Auberge is a vibrant and historic gem with an extra dose of grand splendor. Brimming with eccentricities, the mansion has been restored with museum-quality artwork, roaring fireplaces, a spa, indoor and outdoor pools, fitness center, and fabulous dining options. The design was inspired by the insatiable wanderlust and rebellious spirit of Alfred Gwynne Valnderbilt, complete with secret bars, plush velvet couches, deep colors, and alluring curiosities (the cabinets of the library expertly curated). The guest rooms and suites were recently reimagined saturated in shades of deep blues, greens, and ochre with stunning views overlooking historic downtown of Newport and the harbor. The Vanderbilt is the perfect stay for the traveler looking for a luxury experience with a nod to the unexpected.
Best Experiences and Things to Do in Newport
A former playground of the elite, where luxury and history converge, whether in the high season of summer or the fall or spring, there are plenty of experiences in Newport. From private yachts to extravagant mansions, prepare to uncover all of the best things to do in this coastal gem.
Mansion Tours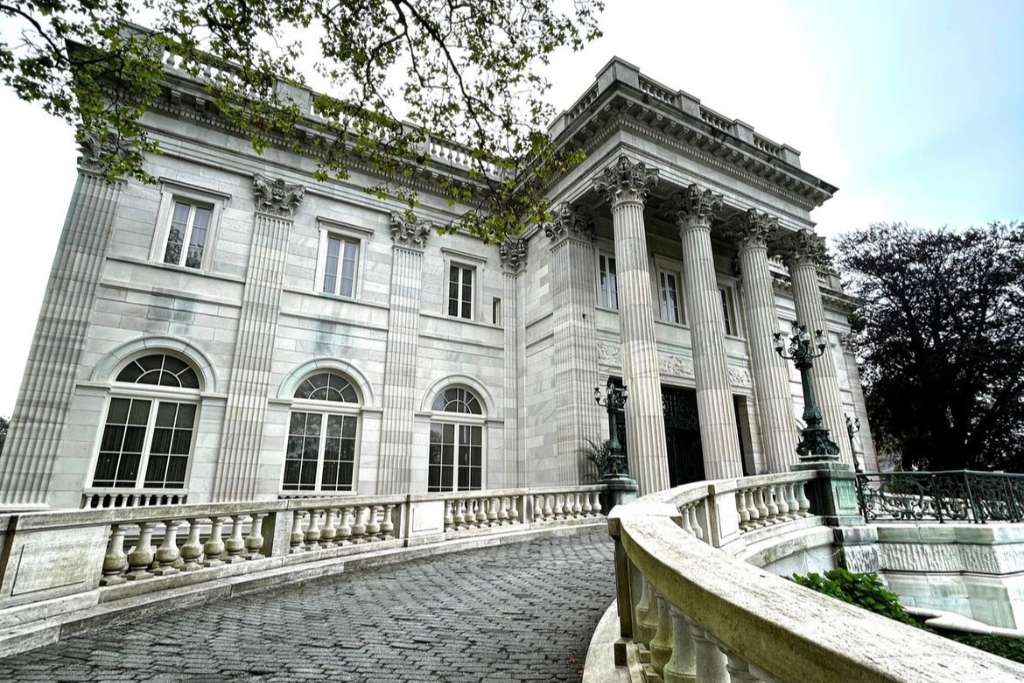 There's nothing more quintessentially Newport than its opulent mansion tours. Nestled along the picturesque coastline, Newport boasts a collection of remarkable Gilded Age estates that offer a glimpse into the lives of America's elite where each step reveals a story of wealth, luxury, and extravagance.
Among the "grandest" of mansion tours to experience in Newport is The Breakers, a majestic Italian Palazzo-designed Vanderbilt residence adorned with exquisite architecture and lavish interiors. Another favorite is The Marble House a stunning mansion inspired by the Palace of Versailles. The Marble House was built for William Vanderbilt's wife, Alva Vanderbilt as a 39th birthday gift . For a more intimate experience, visit The Elms, modeled after an 18th-century French chateau, it houses Renaissance ceramics, 18th-century Venetian and French paintings, and elaborate gardens and terraces displaying marble and bronze sculptures.
Cliff Walk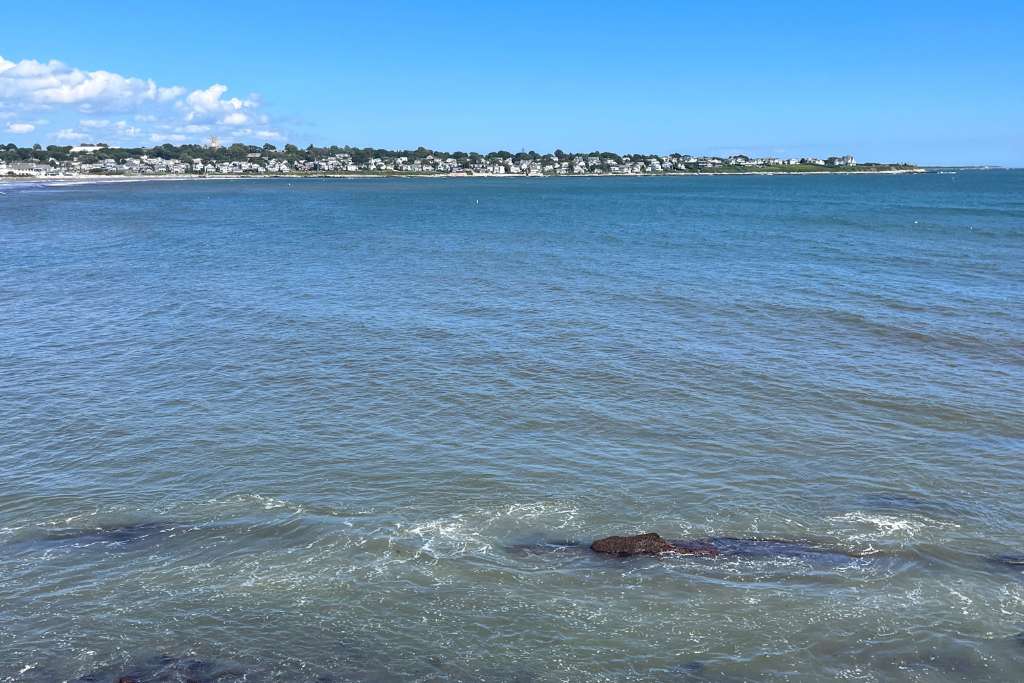 Cliff Walk is a scenic Newport landmark, and a worthwhile must. For 3.5 miles (which will certainly tick off your goal of 10,000-steps-a-day goal) walk as New England nature's rugged beauty intertwines with the magnificent and historic estates perched atop the rugged cliffs. Connecting the end of Easton's Beach to the Eastern end of Bailey's Beach, Cliff Walk has panoramic views of Newport's natural sprawling legacy and a chilly ocean breeze. Definitely dress with proper athletic terrain sneakers as parts do get rocky and rough.
Best Beaches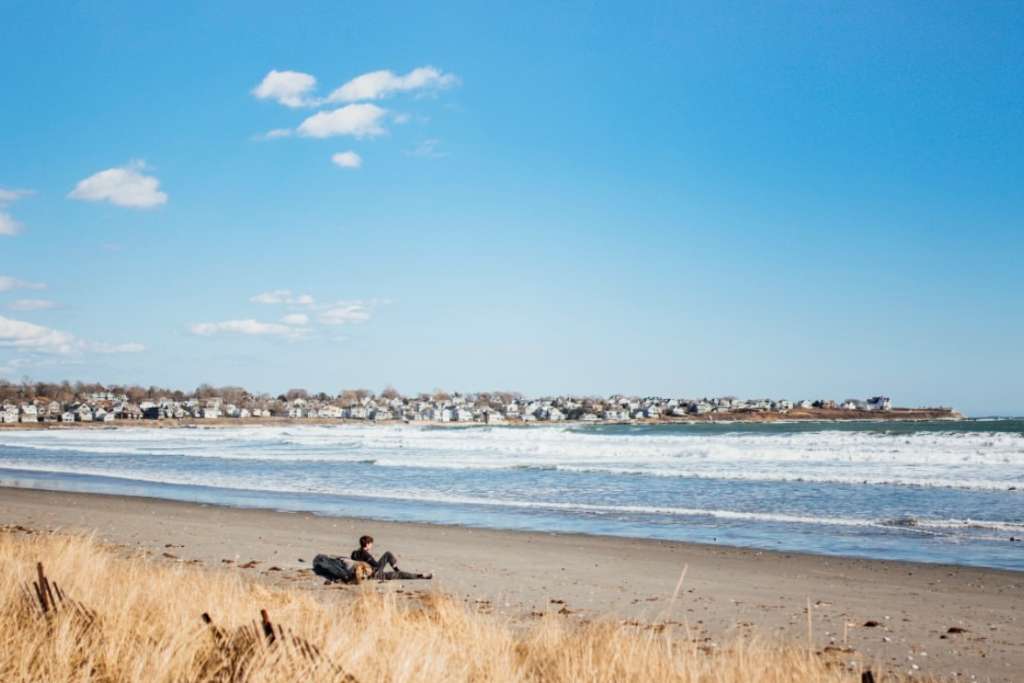 With coastline abound, each Newport beach has its own vibe and aesthetic. While locals and experts seem to have their own opinions on which Newport beach is "the best," someone told me, "the only beach is Second Beach," you truly can't go wrong with any of these gorgeous options. After all, there's a reason Rhode Island was dubbed, "The Ocean State."
The largest of the beaches, Easton's Beach, also known as First Beach, is conveniently located near town and right at the start of the Cliff Walk. Family friendly (there's a playground, and the only ocean beach. Prepare to have a delicious New England lunch while spending a day in the sun. Grab lunch at The Easton's Beach Snack Bar, which is just a short walk away with a classic New England menu featuring clam cakes and lobster rolls.
For those seeking a secluded and relaxed beach retreat, Rejects Beach (the public portion of Bailey's Beach) is accessible exclusively by foot or bike, and offers a tranquil oasis to unwind and breathe in the briny sea air.
A short 10-minute drive from Newport is a less crowded option, Second Beach, also known as Sachuest Beach. Here, you'll find the longest stretch of sand and water in Rhode Island with 1.5 miles of shore and incredible views. Expect to see surfers towards the end of the beach (and surfboards for rent with lessons available) known as Surfers End. Indulge in a frozen Del's lemonade and take a dip.
Sailboats to Charter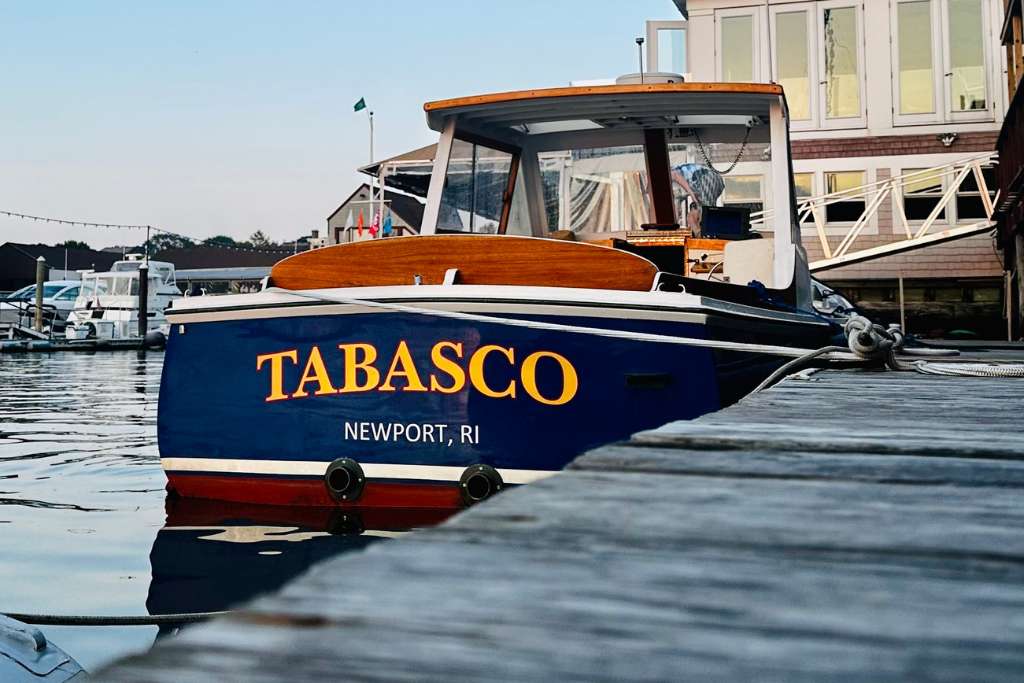 There's no better way to experience the vivid blue waters of Newport than to set sail on a private sailboat or yacht cruise. Whether sunrise, afternoon, or romantic at sunset (Newport's fluorescent skies are a sight to be seen), charter a sophisticated boat for an experience to remember.
The Camelot
Enjoy a boat ride through Newport's wharfs and bustling harbor via the Newport Charter Group's "Champagne of Boats" named Camelot. Inspired by the classic 1930s American commuter boat, Camelot was built on commission in France, and boasts a roomy cockpit and vast salon. Camelot can easily accommodate up to six guests at three time slots throughout the day and is available for family photos or private photo sessions as well.
M/V Tabasco via Sea Newport
All aboard the M/V Tabasco, a relaxing private cruise with a personalized touch to make it feel like your own bespoke yachting experience. Choose from a Harbor Cruise, a half-day adventure which includes time to jump off the boat for a refreshing swim and a sunset cruise. Originally hailing from Sebasco Harbor just outside Phippsburg, ME, Tabasco is a 32 foot Wasque (way-squee) powerboat built in Martha's Vineyard in 1973.
Best Restaurants in Newport — Where to Eat & Drink
From iconic Bannister Wharf eateries to glamorous dining rooms in historic Newport mansions — there are plenty of savory and unique options on Newport's dining scene.
The Dining Room At The Vanderbilt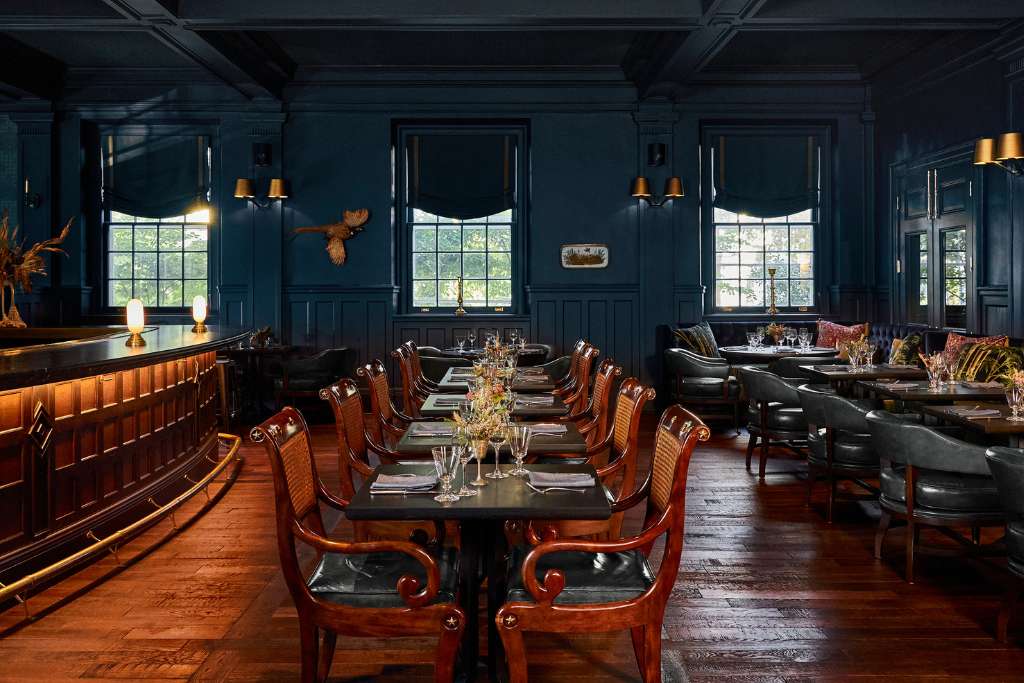 Equal parts glamorous and romantic, navy walls surround The Vanderbilt's intimate dining room with mood-setting dim lighting and sumptuous leather club chairs. Housed in the iconic luxury hotel, The Vanderbilt Auberge, the Dining Room's vibes are not only unique but the menu is equally unexpected, developed by Executive Chef Timothy Caspare formerly of Pasquale Jones, Blue Hill at Stone Barns, Quince Restaurant, and Eleven Madison Park. Must-orders include the tender lobster ravioli, buttermilk fried chicken with rosemary, sage, and fennel pollen, and the chocolate nemesis tart for dessert. For the perfect after dinner treat, ask your server if they have any of the chef's signature peppermint patties available (editor's note: The peppermint patties are not on the menu, but they'll know exactly what you're talking about.)
The Dining Room At The Vanderbilt | 41 Mary Street
Clarke Cooke House
If there's one must-visit restaurant in Newport, it's the iconic Clarke Cooke House. Nestled among the charming streets of Bannister's Wharf, the historic Clarke Cooke House dates back to 1780 and has been a Newport mainstay for over two centuries. As you step through its doors, there's a timelessness to the restaurant's maritime decor and vibrant energy. The restaurant's multiple levels provide a different experience on each floor from casual dining at the Candy Store/ Bistro Bar to the in-the-know top floor featuring the candlelit Skybar, a sophisticated fine-dining experience with a strict dress code (jackets and collared shirts required and no jeans or sneakers allowed). In the Bistro Bar, indulge in steamed local mussels sautéed in white wine, garlic, and basil and the native baked stuffed lobster. At the SkyBar, try the creamy Newport clam chowder and wood grilled swordfish. But no meal is complete without the Clarke Cooke House's signature dessert, the Snowball in Hell — a chocolate-coated goblet filled with chocolate roulade, vanilla ice cream, topped with chocolate sauce, and toasted coconut.

The Clarke Cooke House | 1 Bannister's Wharf
The Mooring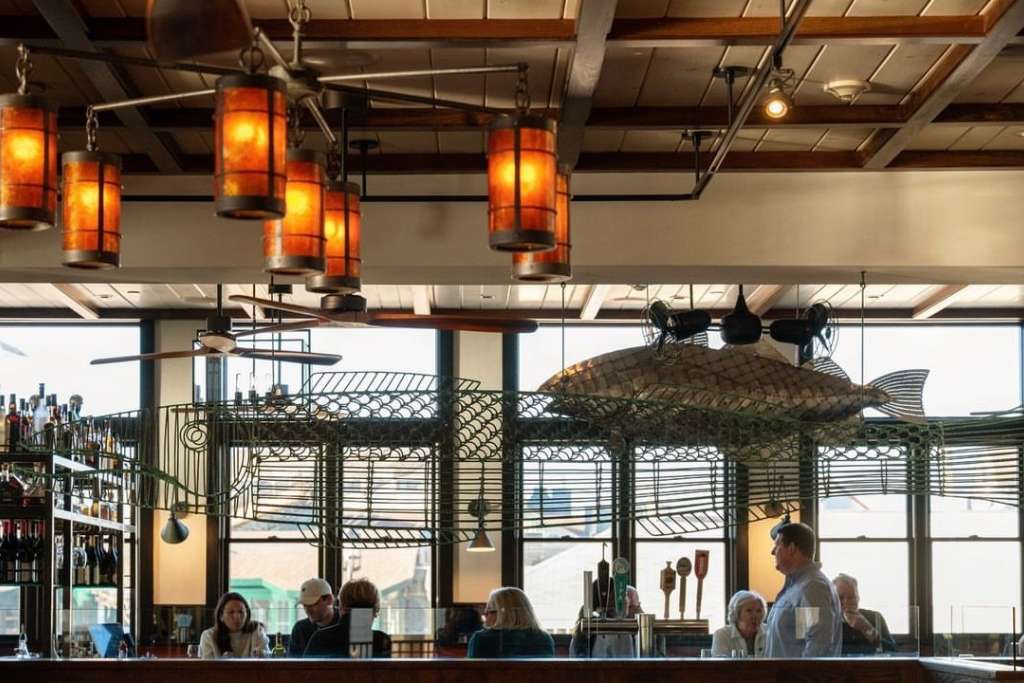 Renowned for its top-of-the-catch seafood and picturesque views of the harbor, The Mooring has been a favorite of locals and visitors for over 35 years. Their warm buttered lobster roll with crispy onions on a toasted brioche roll is arguably one of Newport's best lobster rolls, and its renowned lobster and shrimp fritters with maple aioli was nicknamed the "bag o' donuts" are a fan favorite. Enjoy both the indoor and outdoor patio dining options for this Newport classic for lunch or dinner seatings.
1 Sayers Wharf, The Mooring
Where to Spa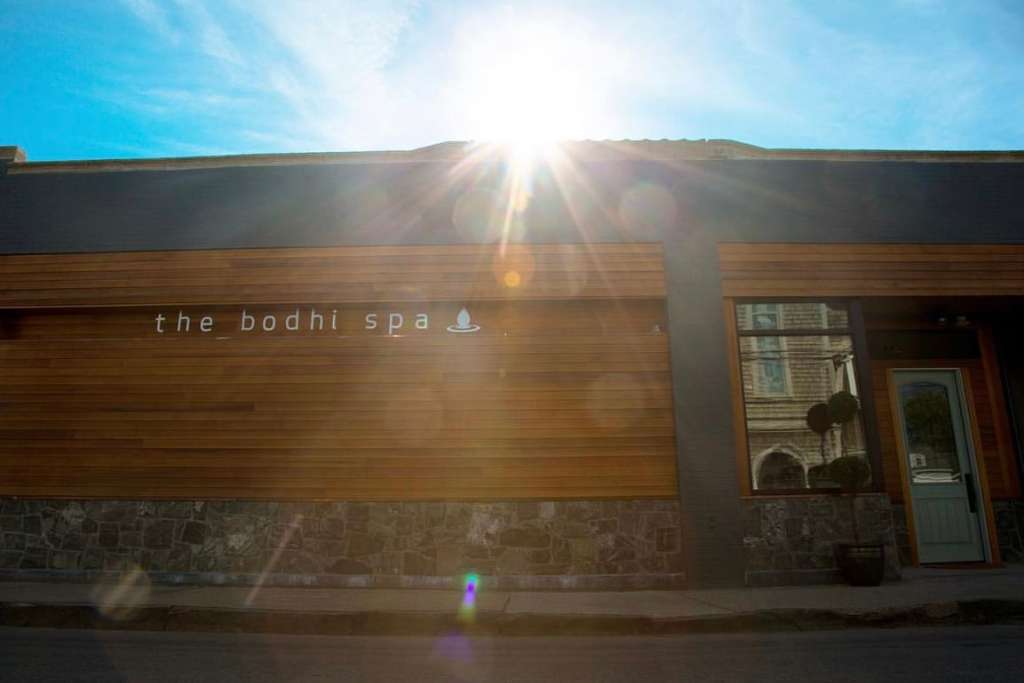 Reset your body and mind (and chill after that cardio boost of a Cliff Walk) with Newport's ultra-chic spa offerings — from detoxing hydrotherapy to blissing out in a downtown mansion.
Bodhi Spa
Escape for the day to Bodhi Spa's water hydrotherapy journey. Hydrotherapy has been used in cultures throughout the world for centuries to heat up, cool down, relax, and repeat. Spend 1 to 2.5 hours switching between multiple temperatures of mineral-rich pools from ice cold to warm to Eucalyptus steam rooms to traditional Finnish dry saunas. The spa has a full offering of facials including their signature Bodhi Lift facial (which integrates facial massage and cupping for a lifting and depuffing effect), massages, and body treatments like the Revive and Beautify which pairs a body polish with a dead sea mud treatment.
Bodhi Spa | 654 Thames Street
The Spa At The Vanderbilt
Unwind and soak in the serenity at the Vanderbilt Auberge's spa. Detox and relax in a sauna or steam shower at The Spa before indulging in the spa's "Good Vibes Only" 90-minute treatment. A hybrid mix of energy healing through tuning forks helps circulate stuck energy to increase your positive vibrations and relaxation followed by a 50-minute hot-stone massage and steam towel exfoliation.
Insider Tips
To soak in the full Newport experience, we recommend a 2 to 3 day journey. Summer is a must in Newport, with the East Coast summer vibes in full action and epic sunsets. Fall and winter are ideal to explore Newport, in the peak of autumn with New England's leaf peeping as a colorful background, and the ocean air with fireplaces abound.
Featured image courtesy of Hammett's Hotel.