Autumn, with its crayola-colored leaves, crisp air, seemingly endless apple-cider doughnuts, and warming nights by wood-burning fires is the stuff poetry is made of. From Robert Frost's "Nothing gold can stay," to John Keats' "Season of mists and mellow fruitfulness," to W. H. Auden's "Now the leaves are falling fast, nurses flowers will not last," nothing speaks autumn quite like poetry. Fortunately, for east coasters (and particularly New Yorkers), some of the best places to soak in autumn's most spectacular foliage are within easy driving distance from New York City. We share five of our favorite — worth traveling for — fall escapes, from the Catskills (forever immortalized Woodstock) to the Hamptons (Montauk), Connecticut (New Haven), Vermont (Barnard), and one of our favorite Delaware River towns (New Hope, Pennsylvania).
The Catskills, NY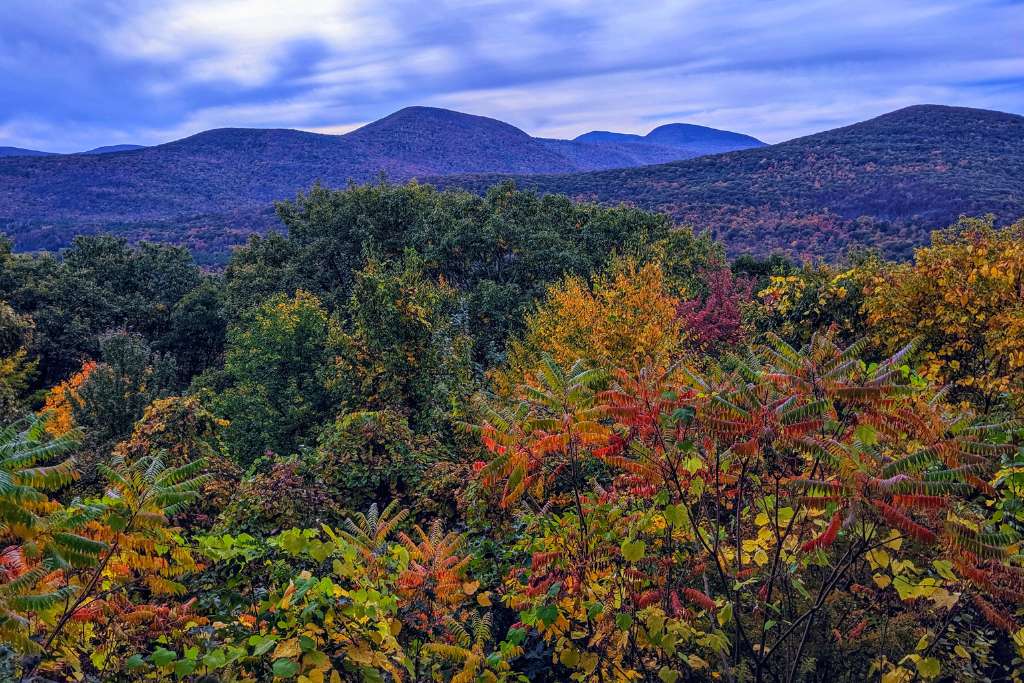 Forever immortalized as the site of Woodstock and adored as the backdrop of Dirty Dancing, the Catskills are once again undergoing a renaissance. Design-savvy hotels continue to open, the farm-to-table movement intensifies, and the draw, of course, rests in the natural beauty of the region. Autumn, with its magnificent foliage, the array of orchards, and scenic drives (including a few through covered bridges) only add to the intrigue.  Hike to the fire tower atop Overlook Mountain, gateway to the one-million-acre Catskill Forest. Or if hiking isn't your thing, take the six-person chairlift (an 11-minute Skyride journey) to the top of Hunter Mountain for a leaf-peeping view of three states: New York (Catskills), Massachusetts (Berkshires), and Vermont (Green Mountains.)
Stay at: Scribner's Catskill Lodge
An icon in the 1960s, the original Scribner's Catskill Lodge underwent a complete renovation by Brooklyn-based Studio Tack, and the 38-room hotel is now beyond chic. Rooms come with dark, maple floors, large windows, private decks, cushy white duvets, and sheepskin throws. We especially love the s'mores by the fireplace each evening and the resort's private barrel sauna, the backend made of glass, so you can take in the expansive valley scenery as you cocoon into the steam.
Barnard, Vermont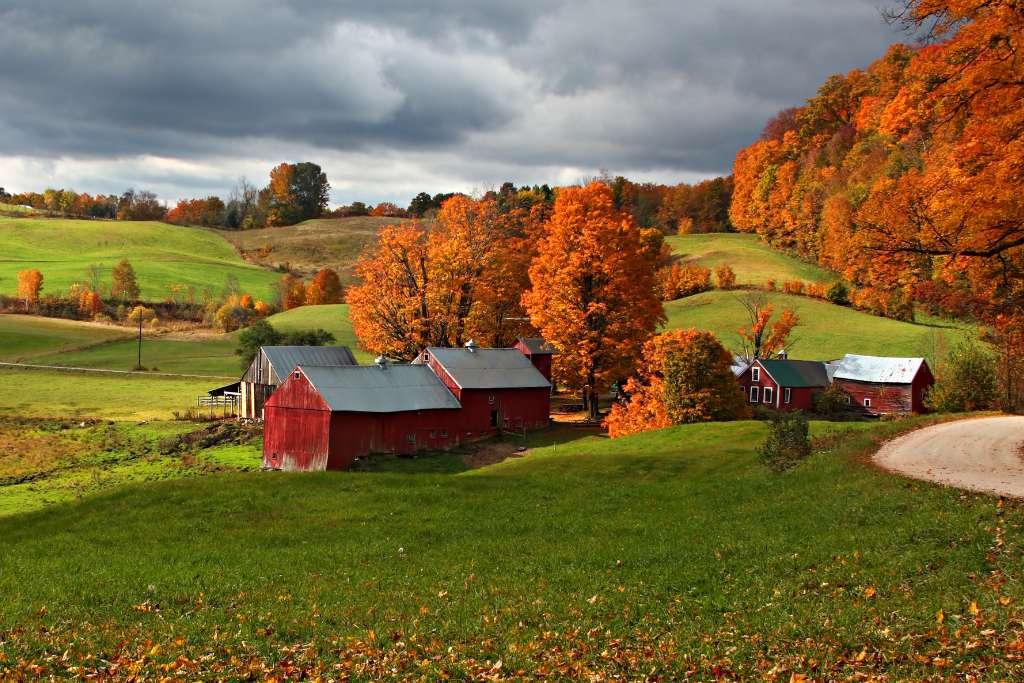 Quintessential Vermont, this tiny village (population less than 1,000) shines brightest in fall when it becomes awash in color. 'Downtown,' there's not a whole lot to do, and that's exactly the point. Photo-snap the classic New England white church, pick up maple syrup and home-baked goodies at the local farmer's market, paddle (stand-up or kayak) along Silver Lake's fiery red-orange-yellow-hued trees, and be sure to visit the Barnard General Store, complete with an old-fashioned soda fountain.
Stay at: Twin Farms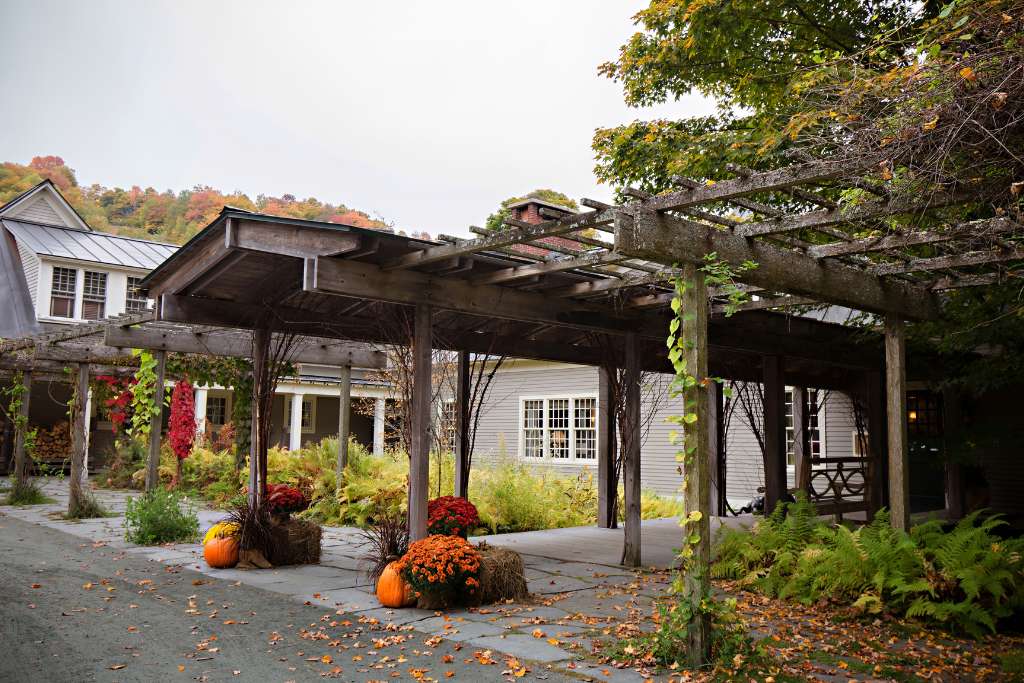 There's only one place to stay in Barnard, and it happens to be one of the top accommodations in the world. A destination in itself, Twin Farms was originally purchased by Sinclair Lewis for his bride (Dorothy Thompson) in 1928 and, for decades, was their shared writing retreat. Today, Twin Farms features 10 secluded and ultra-private cottages (more aptly, houses) all with fireplaces, screen porches, and oversized tubs for two. For an uber-cozy stay, book the Japanese-inspired Orchard cottage with two hand-carved fireplaces and a comfy king-size bed. Enjoy too, the intimate Japanese bathhouse nearby for long, steamy soaks.
Montauk, The Hamptons
Montauk may not be the first place fall foliage seekers think of when plotting their autumn escape, but this Hampton icon is a fabulous one for sure. Minus the crowds and traffic, Montauk makes for a postcard-perfect autumn visit. Pack your favorite sweaters and meander for miles along quiet beaches to the historic lighthouse – pausing to take in the sunset (or sunrise), along with surfers still catching waves. Visit the homestead and studio of abstract expressionist Jackson Pollock and wife Lee Krasner, before heading to the Milk Pail Market for homemade pies, jams, and honey. Stop after at Montauk Brewery – housed in a red barn just steps from the beach – for a seasonal pumpkin ale.
Stay at: Gurney's Montauk Seawater Resort and Spa
Located on its own private stretch of beach, at the famed Gurney's Montauk Seawater Resort and Spa, the chic rooms come with floor-to-ceiling windows that overlook crashing waves. Dip into the hotel's indoor seawater pool, then cocoon into the tranquil spa, complete with Roman baths, rock saunas and a Russian steam room. Or opt instead to warm by the outdoor fire pit.
New Hope, Pennsylvania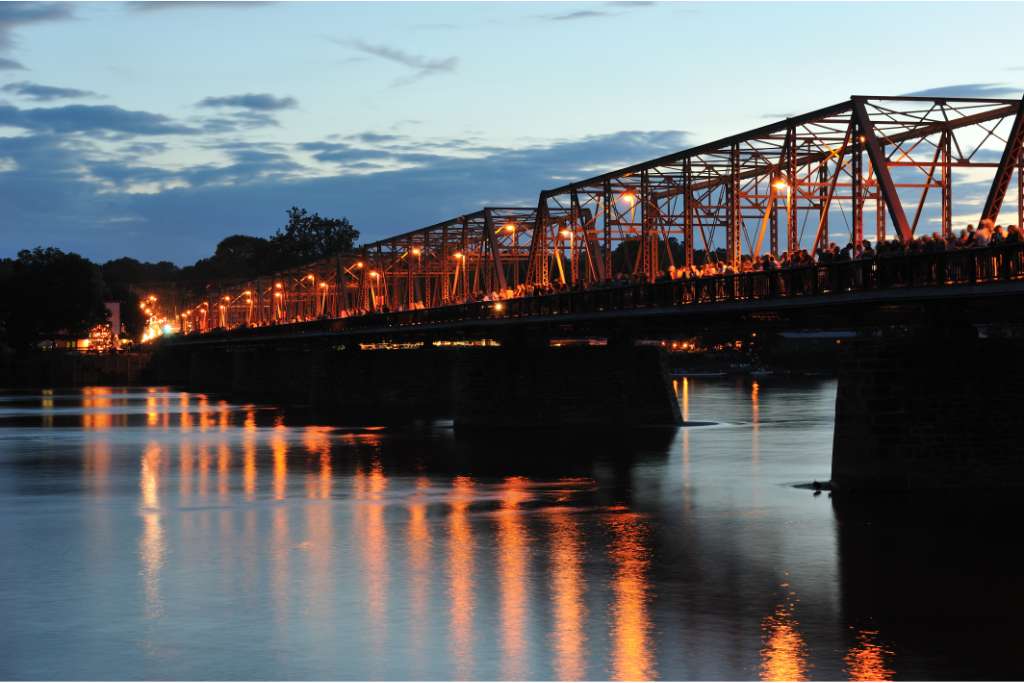 Located midway between New York City and Philadelphia in Bucks County, PA, this artsy historic river town — known for its eclectic shopping, dining, and thriving LGBTQIA+ scene — offers the perfect autumn escape. Add to that antique shopping and artisanal coffee in Lambertville, New Jersey, just a short walk across the Delaware River, via the connecting iron bridge. For a special fall experience, bike the towpath by the canal (available on both sides of the Delaware), and after dark, take a guided, lantern-led ghost tour of New Hope's haunted houses, spirits reportedly still lingering from the area's Revolutionary War days.
Stay at: River House at Odettes
The stunning The River House at Odette's (a sister property of The Reeds at Shelter Haven in Stone Harbor, NJ) is named after the legendary 1960s cabaret star, Odette Myrtil, who once attracted celebrities and art lovers to her cabaret show here (Chez Odette). Now contemporary in design, the 38-room property has opulent odes to Myrtil everywhere — from the bold prints and patterns to the plush velvet textiles and leather couches in the piano lounge to the signature dishes at the onsite restaurant. Most spectacular however, are the rooms with their tranquil river views, fireplaces, and small private terraces overlooking the water. We recommend booking the Guest House which has the most spectacular views of the Delaware River.
New Haven, Connecticut
Yale University is, undoubtedly, a big deal in New Haven — worthy of a campus look-and-see just for its architecture (and fabulous doors) alone. But there's more to this scholarly city, especially in autumn when the nearby orchards are ripe with apples and hiking is taken up a notch with the region's stunning foliage. One of the best hiking/outdoor recreation areas is Sleeping Giant State Park— two miles of mountaintop resembling a large man lying in repose — with 32 miles of hiking trails and picnic areas. Another autumn must-do: Pepe's pizza (known here as abeetz) on Wooster. In summer, Pepe's tomato pie is all the rage, but with the crimson leaves, attention turns to Pepe's white clam pizza, celebrated for its thin crust cooked Naples-style in a coal-fired oven.
Stay at: The Blake Hotel, New Haven
For a mid-century design, book into The Blake, named after Alice Blake, the first female graduate of Yale Law School. The lobby is expansive with comfy sitting areas, fireplaces, a communal lobby bar, and a well-kitted-out kiosk for refreshments on the go and travel essentials. The rooms are stylish (some come with galley kitchenettes); while the High George rooftop bar and restaurant offers great skyline views, a lively atmosphere, plenty of greenery and elevated New England fare and delicious wine. Check out the adjoining art gallery space to see works by local artists while there.
Cover photo courtesy of Canva