New York's Catskill Mountains have long been a popular destination for urbanites seeking tranquil moments in a lush setting. And with fall around the corner — in all of its orange, red, yellow, leaf-peeping glory — the Catskills are the perfect getaway to enjoy some epic fall foliage views (cozy knitwear and toasty marshmallows included).
The region comprises several counties that are each home to small hamlets full of character, offering distinct experiences. From vibey Ulster County, along the Hudson River, where small towns like Kingston, Woodstock, and New Paltz are a magnet for nature-loving New Yorkers (and quite a few celebrities), to Creen County, covering the Catskills Mountains' highest regions, transforming it into the quintessential winter sports destination, there is no shortage of beautiful places to choose from. 
And while the region's hotel scene is certainly worth checking out, the best and most private way to relax in the Catskill Mountains is to rent a cozy home.
Here are 25 Airbnbs to reserve for your autumn-in-the-Catskills adventure.
Ulster County
Bordered by the Hudson River to the east, much of Ulster County lies within the Catskills. The county is perhaps most famous for a town and event, the historic Woodstock Music Festival, which actually never happened here. The 1969 summer concert instead took place 1.5 hours away, in Bethel (Sullivan County).
The Museum House, Woodstock
(Accommodates: 6 guests)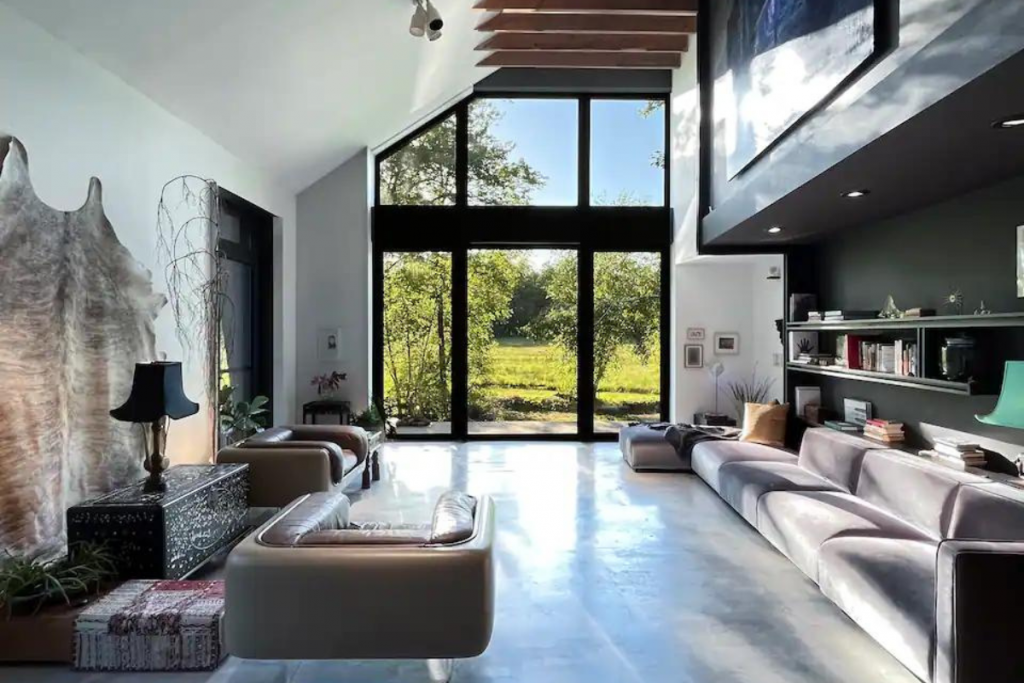 Once owned by acclaimed realist painter, Reginald Marsh (best known for his paintings of New York City's Coney Island, burlesque houses, and the Bowery), this stunning four-bedroom, two-bathroom masterpiece has since been transformed into a dramatic living space surrounded by nature and water. We love the clean lines, minimalist vibe,  Asian antiques, antler chandeliers, and large glass doors opening to surrounding patios. Wander the property's birch trees and 100-year-old cone-shaped cedar trees; work out in the gym area, complete with spin bike, yoga mats and blocks; and did we mention the 'swim holes,' complete with waterfall — just a few-minutes walk into the woods.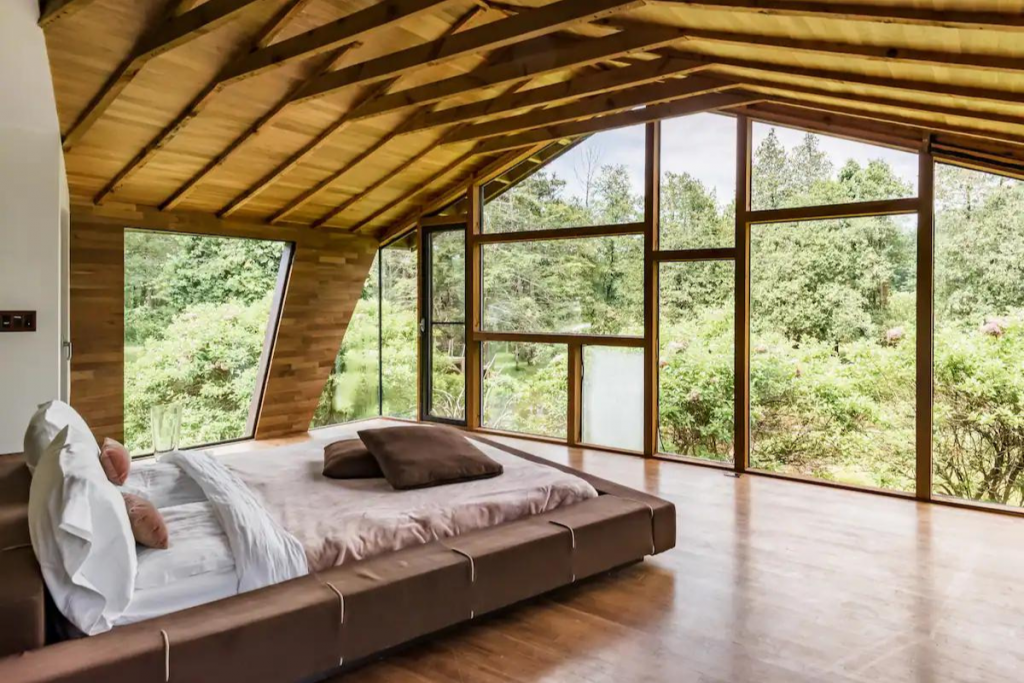 Added bonus: The Pond House (Reginald Marsh's former studio) and Carriage House, both located on the estate, are also available as airbnb rentals.
While There: Walk into the historic town of Woodstock (through the woods or on the road), enjoying the gorgeous foliage along the way. Also, check out the Woodstock Film Festival, which takes place every fall.
Luxury Retreat, Woodstock
(Accommodates: 6 guests)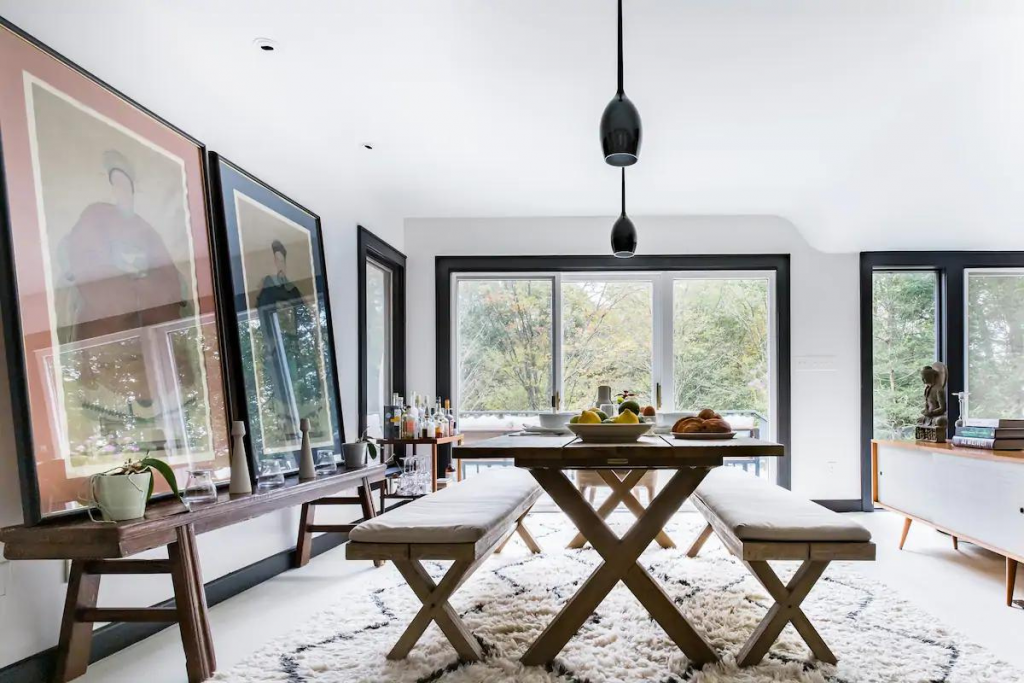 Newly renovated, this modern three-bedroom, two-bathroom home offers ultimate relax. Laze by the pool, dine under the stars, soak in the tub, cozy by the fireplace, and take in the stunning mountain views.
While There: Hike the miles of nearby trails, then book dinner at The Red Onion, housed in a historic farmhouse offering locally sourced dishes and cocktails.
Stone House 1807, New Paltz
(Accommodates: 4 guests)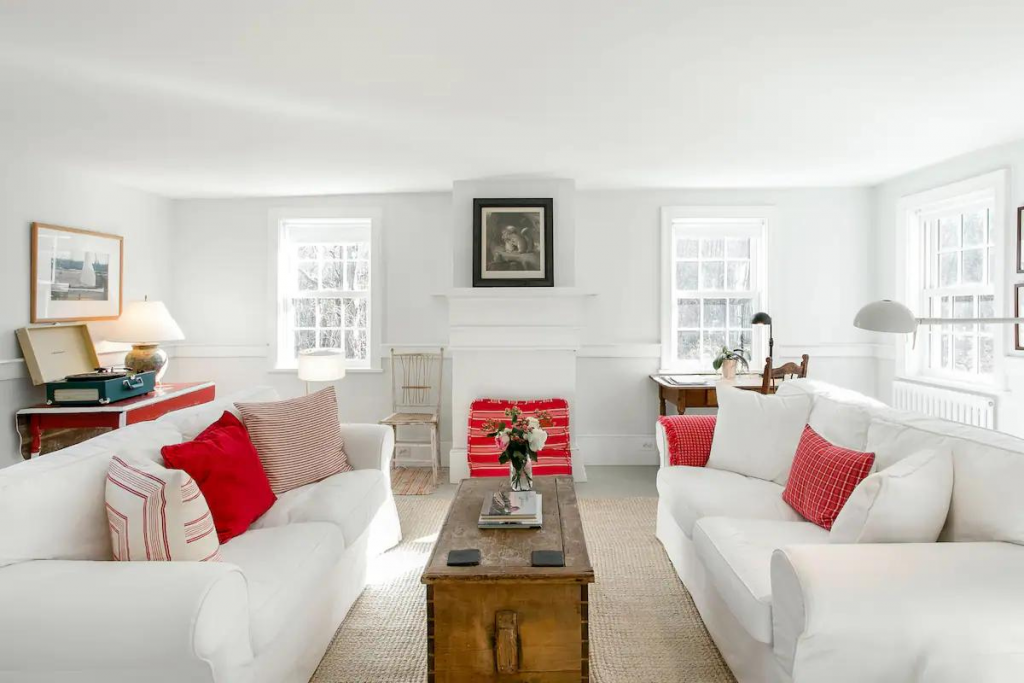 We are in love with this historic, 200-year-old, three-bedroom, one-bath cottage. Meticulously restored and flooded with light (and white furnishings), the cottage offers a comfortable and peaceful retreat. The bathroom comes with a rain shower and deep soaking tub; there is a wood stove and 70s/80s vinyl collection (with record player), and hiking trails are accessible directly from the house.
While There: Grab fresh produce from the neighboring organic farm. Bike the nearby paths; bikes are available upon request.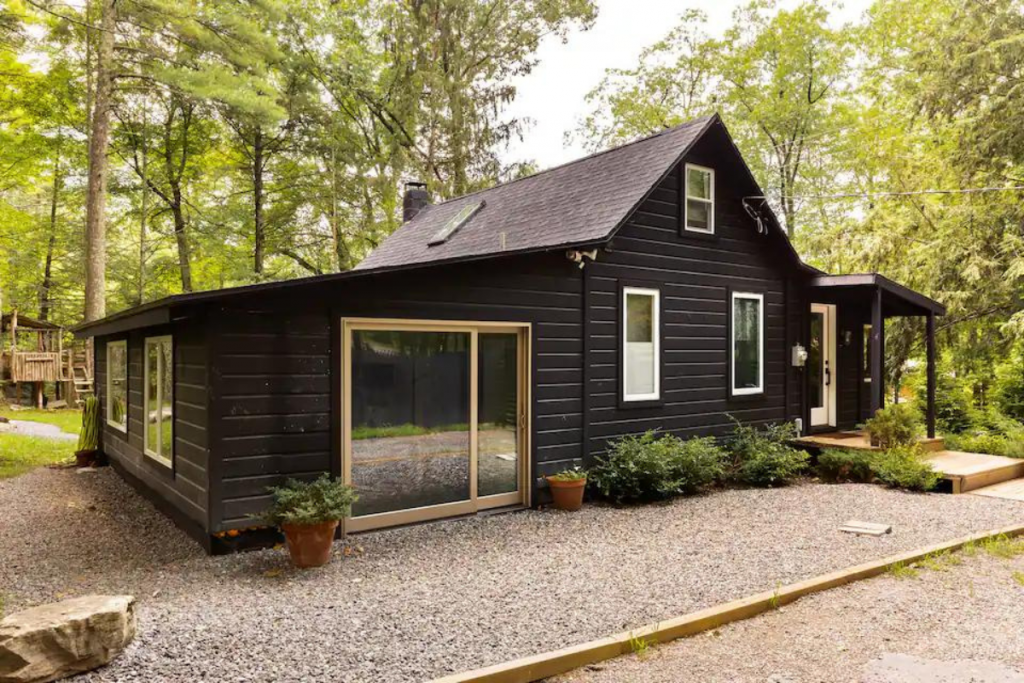 Also Consider: The Litwood House, West Hurley; Architect Built Windowed Beauty, Mount Tremper
Delaware County
Located on the far western edge of the Catskills, Delaware County was once a thriving dairy cow and cauliflower farming region. It fell upon hard times in the 1970s, but in recent years has been lovingly brought back to life by the artisans, chefs and designers making their homes here. Among the region's most decadent airbnbs:
The Ridge, Roxbury
(Accommodates: 6 guests)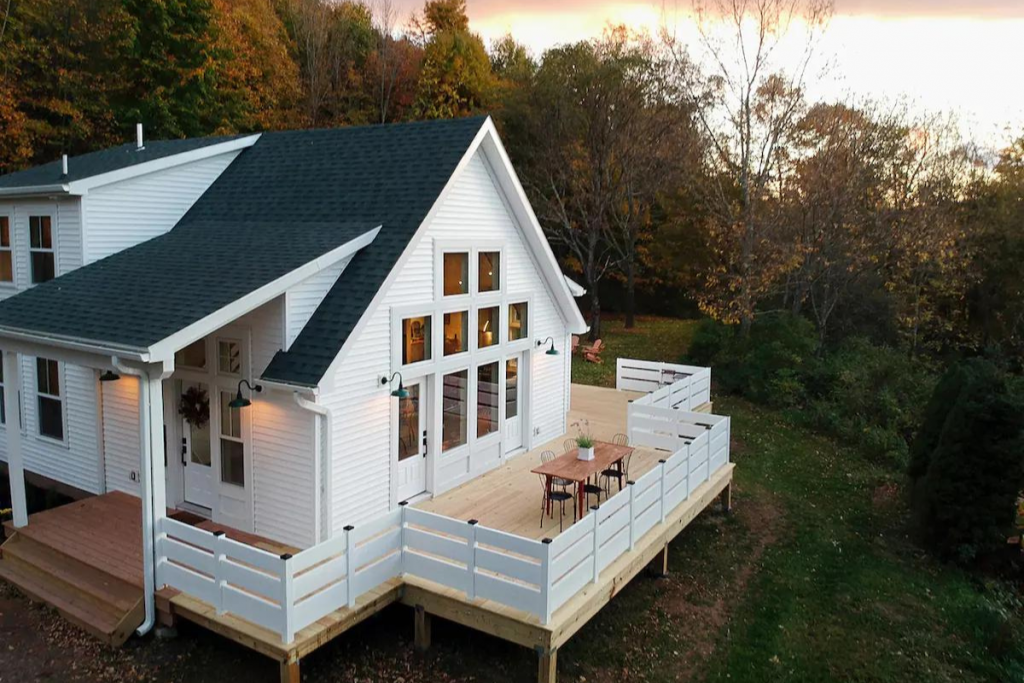 Located on five mountainside acres, this three-bedroom, two-bath modern farmhouse (accessible by private road, a portion of which is dirt and gravel), comes with a wrap-around deck and stunning mountain views. We love the vaulted ceilings, oak beams, floor-to-ceiling windows, and private master suite with deep-soaking tub. There's an indoor fireplace and an outdoor firepit too — perfect for toasting s'mores.
While There: Take one of the farm-to-table tours — check in at Roxbury General Store.
Fox Ridge Chalet, Margaretville
(Accommodates 8 guests)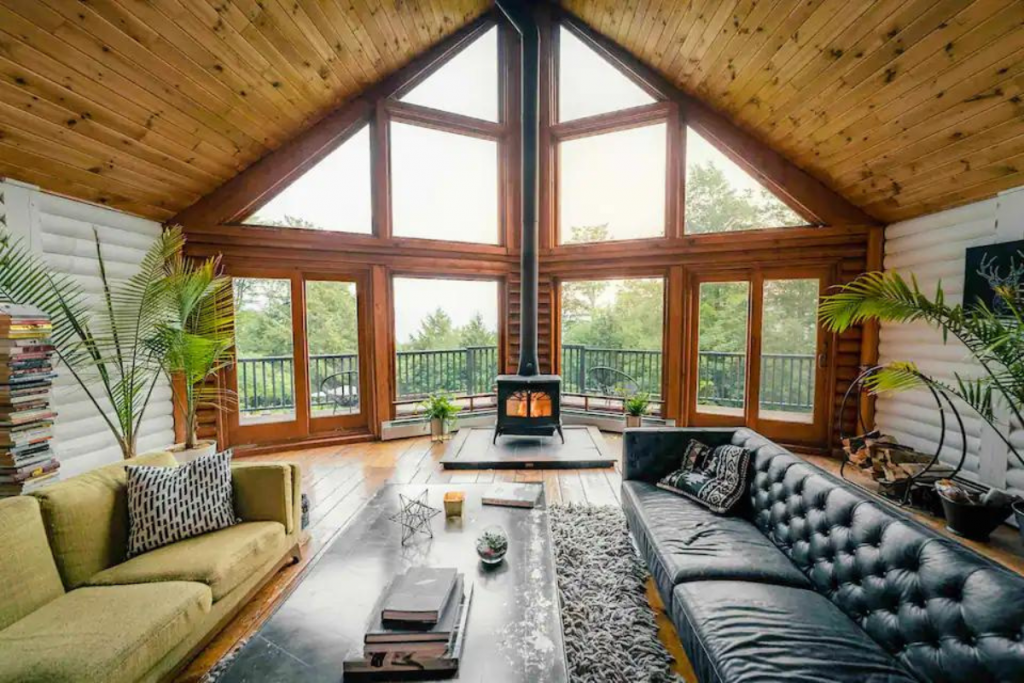 This stylish and ultra-secluded three-bedroom, two bath log cabin is all about privacy. Located on seven tranquil acres, the A-frame cabin features cathedral ceilings, a wall of windows, wood-burning stove, and a contemporary interior focused on the view. Other 'perks' include an outdoor fire pit, hot tub, Peloton exercise bike, and electric vehicle level 2 charger. We especially love that pets (under 50 pounds) are welcome.
While There: Check out Faith American Brewing Company in Margaretville. The craft brewery was created by actor Kelsey Grammer (who grew up in Delaware County) and named the brewery, in part, for his daughter, Faith.
The A-Frame at Harvest Moon Acres, Stamford
(Accommodates: 4 guests)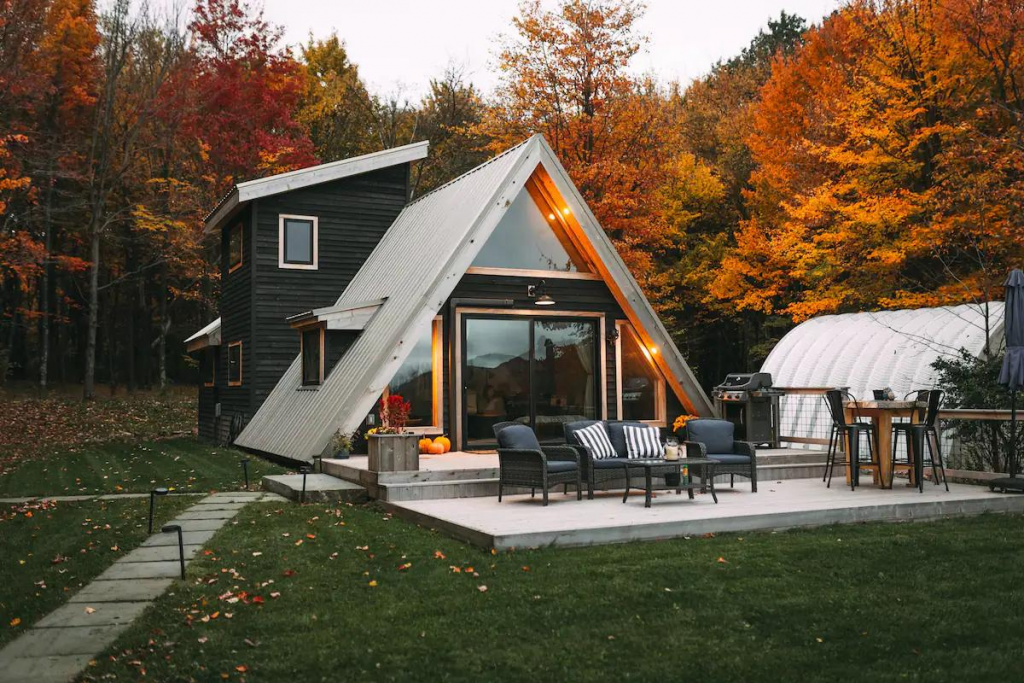 Perfect for couples seeking romance, this two-bedroom, one-bathroom, A-frame cabin is set on six acres, offering an uber-private getaway. Standout features include floor-to-ceiling windows, a large deck with endless mountain views (sunsets and stargazing), an indoor fireplace, outdoor fire pit, and vinyl record player for slow-dancing the night away.
While There: Stop by Stamford Coffee, a vibey coffee house. Music Mondays features classics, jazz, and even folk tunes.
Also Consider: Table on Ten, South Kortright; Sugar Mountain, Margaretville; Mountain Thyme Cottage, Roxbury.
Sullivan County
Separated from Pennsylvania by the Delaware River, Sullivan County's low-key villages include Livingston Manor, Roscoe, Callicoon, and Narrowsburg. Among our favorite airbnbs here:
The Zen House, Livingston Manor
(Accommodates: 12 guests)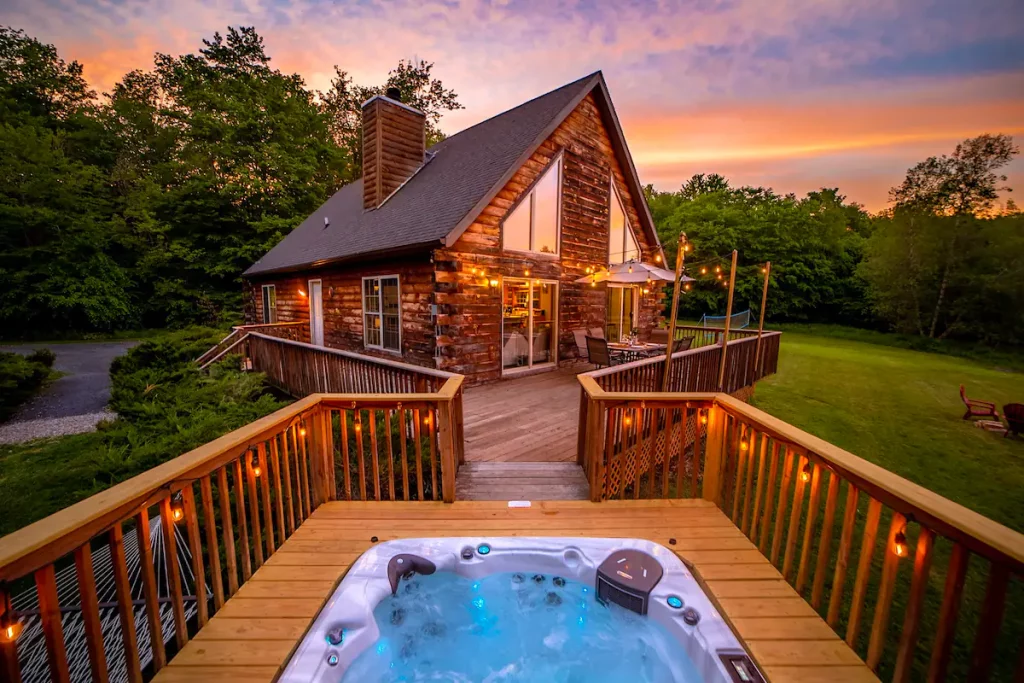 Bring your family or friends. This customized three-bedroom, two-bath log cabin, aptly named Zen House, has every amenity imaginable to foster a truly relaxing experience. The color palette is soothing-in-neutral: there is a private cinema, separate 'bathhouse' with cold plunge pool and wood-fired sauna, a hot tub and an outdoor fire pit, complete with Adirondack chairs and hammocks, perfect for stargazing.
While There: Head into up-and-coming Livingston Manor for Lily Price and Erin Ellis' signature (and extra buttery) croissants at Neon Croissant.
Cooley Mountain House, Parksville
(Accommodates 4 guests)
Light and airy, this sun-drenched two-bedroom, two-bath home is set along a mountain stream on a quiet country road. Recently redesigned, the house features vaulted ceilings, hardwood floors, a wood-burning fireplace, and deep soaking tub. We love the additional bathroom amenities: heated floors, oversized vanity, and robes.
While There: Check out the fall foliage at Walnut Mountain Park and Willowemoc Wild Forest.
The Muskoday Lake House, Roscoe
(Accommodates: 7 guests)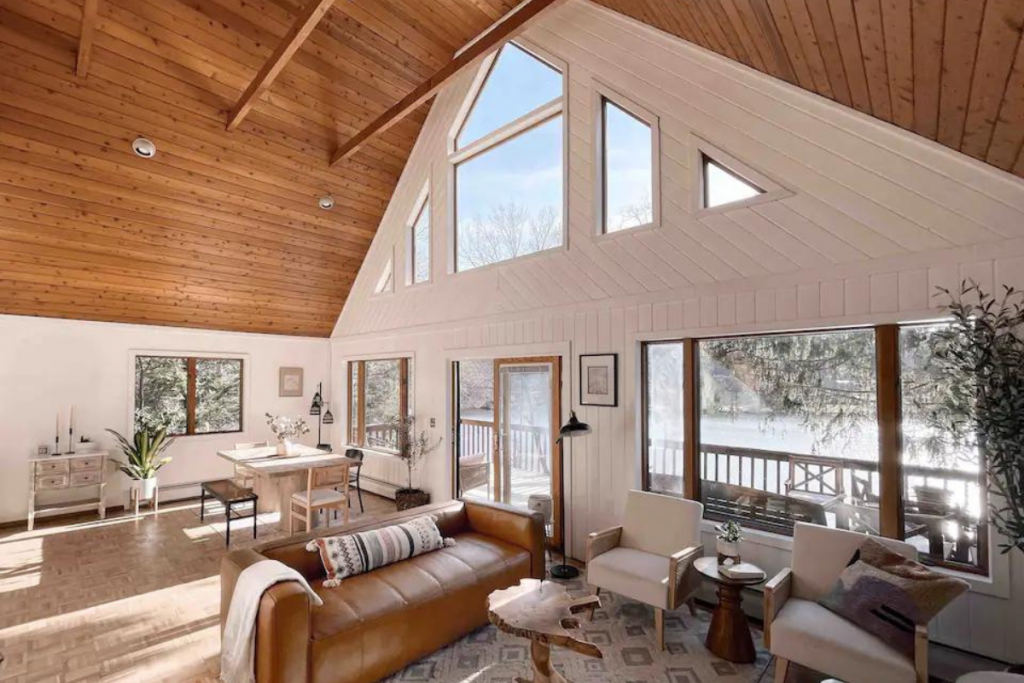 If lakefront is your vibe, opt for this light filled, three-bedroom, two-bath home. Newly renovated (and perfect for families), the house features an open-concept floor plan with stunning lake views. West-facing, the house also offers gorgeous sunsets over the lake and mountain. Other standouts include fireplaces and firepit, decks, bedroom balconies, and high thread-count linens.
While There: Get your fishing on. Roscoe, NY, is known as "Trout Town USA."
Also Consider: Mountain Terrace, Parksville; Modern Farmhouse, Callicoon, and Amber Lake Cottage, Livingston Manor.
Greene County
Talk to in-the-know New Yorkers about the Catskills and Greene County inevitably comes up. Once home to the 19th-century landscape painter Thomas Cole (founder of the Hudson River School art movement), Catskill has long been a hub for artists and musicians.
Clum House, Catskill
(Accommodates: 4 guests)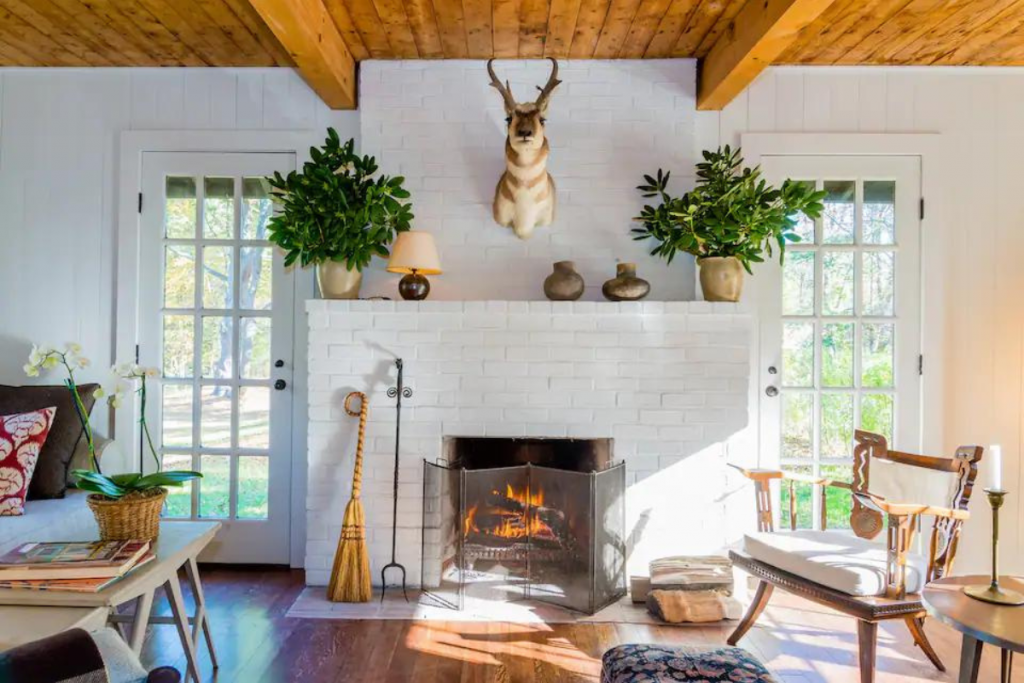 This renovated three-bedroom, 1.5-bath house was once part of Camp Ontiora, a girls' camp that operated from the 1920s to the 1960s. Clum House's current owners (an architect and a designer) completely renovated the house, along with a camp lodge just a few doors away. Highlights include a wood-burning fireplace, hardwood floors, exposed beams, and lovely outdoor space. It is also pet friendly.
While There: Stop by Story's Farm (farmstand) for local goodies, which is open until Thanksgiving.
The Hudson Lookout, Catskill
(Accommodates: 4 guests)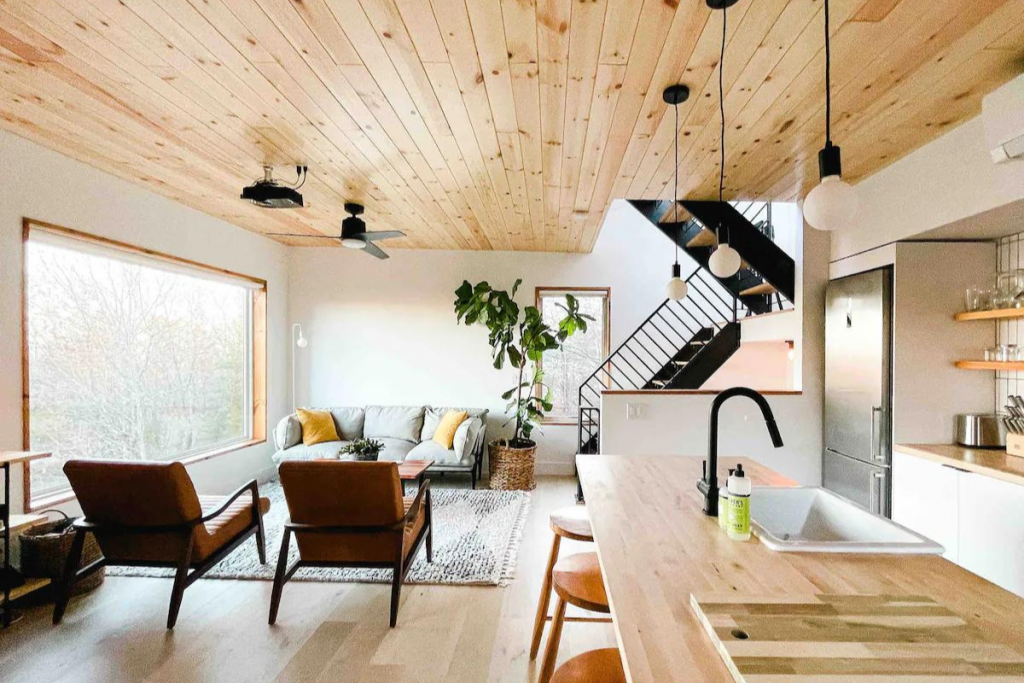 Perfect for a couple (or two), this two-bedroom, two-bath treehouse is all about the view. Spanning three stories, the house features a modern watchtower with a stunning rooftop deck. There is also a fire pit and Adirondack chairs. We also love the spa-like bathroom with heated terrazzo tile floors, rain shower and deep soaking tub.
While There: Try the owners' favorite, Gracie's Luncheonette in Leeds, for breakfast or lunch. Practically everything is made from scratch and sourced from local farms.
The Cabin, Windham
(Accommodates: 4 guests)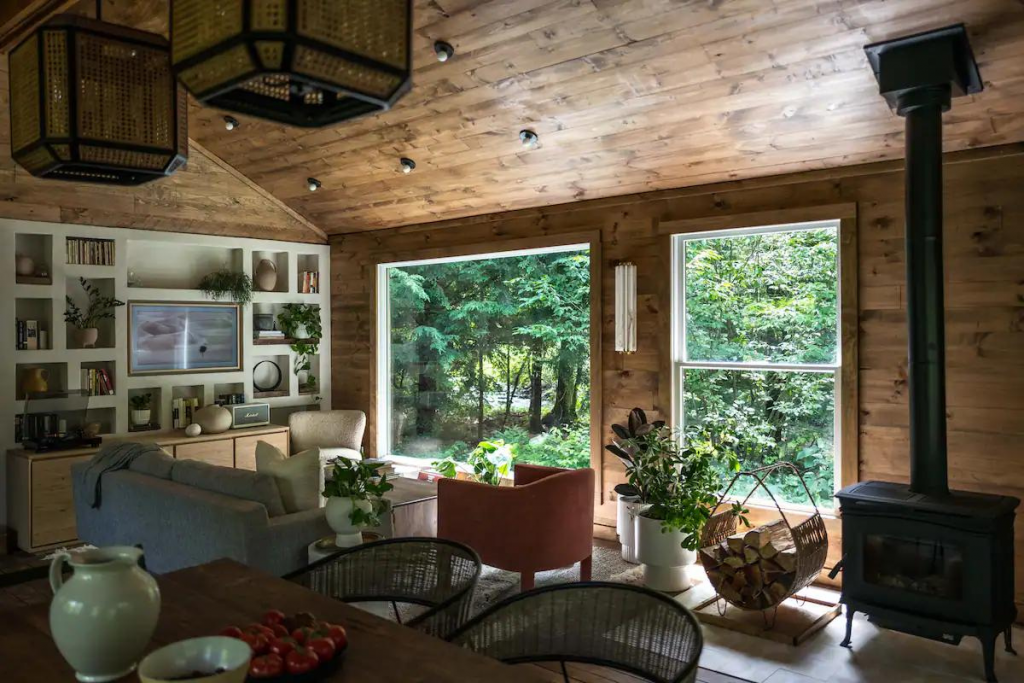 Originally built in the 1930s and recently renovated, the two-bedroom, one-bathroom Cabin offers a wonderfully romantic getaway. Close to skiing (in winter), fall is also the perfect time for hiking and savoring the area's stunning foliage. Adjacent to a small river, The Cabin comes with an outdoor fireplace on a floating deck, and a covered outdoor seating and dining area. Beds are super comfy, with mattresses by Tuft & Needle.
While There: Explore the 4.5 acres of state-protected land, surrounding The Cabin. Also check out nearby Kaaterskill Falls and Colgate Lake.
Also Consider: The Greenhouse, Tannersville; The Catskill Lodge, Catskill; Pinewood Lodge, Catskill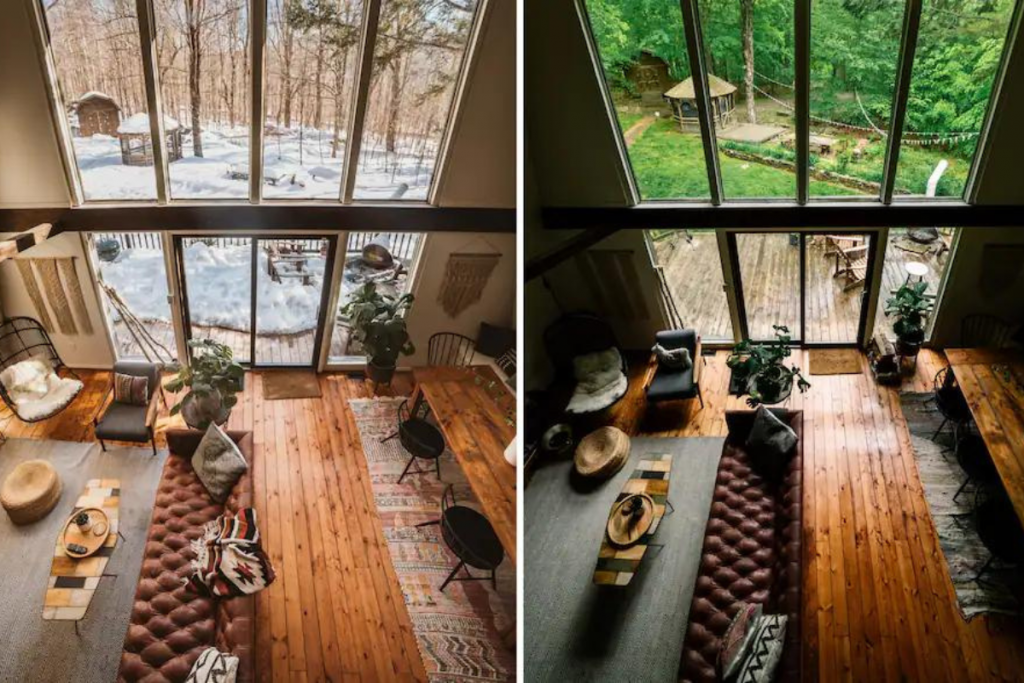 Also Consider: The Greenhouse, Tannersville; The Catskill Lodge, Catskill; Pinewood Lodge, Catskill