From the snow-capped peaks of the Rocky Mountains to the lava fields of Hawaiʻi Volcanoes National Park and the wondrous red rock formations of the Grand Canyon, it's easy to see why generations of Americans have grown up visiting — and continue to do so — our national parks in search of relaxation, adventure, and awe-inspiring views.
Fortunately, you don't have to rough it out in the wild to enjoy America's most beautiful natural sites. Airbnb has some seriously impressive vacation homes with hotel-worthy amenities (think private pools, hot tubs, game rooms, and fire pits) within a short drive of our country's most visited national parks. These sprawling modern residences, log cabins, waterfront estates, and mountain chalets treat travelers to magazine-worthy décor, privacy, high-end appliances and finishes, and views so beautiful they are impossible to forget.
Keep scrolling for 13 fantastic Airbnb vacation rentals near our country's most famous national parks.
Log Mansion near Great Smoky Mountains National Park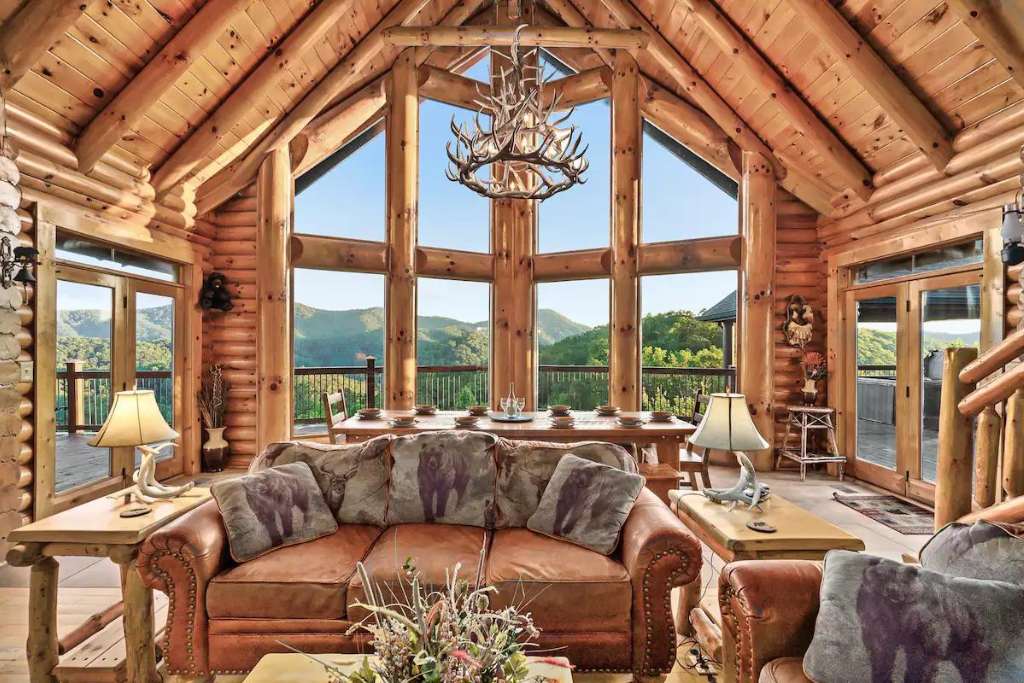 Emerging from the lush treetops of eastern Tennessee, this Great Smoky Mountains National Park vacation rental is a sight to behold inside and out. The four-bedroom, four-bathroom log house has soaring ceilings and oversized windows overlooking America's most-visited national park. Ample outdoor spaces for entertainment, a game room, a sauna, and a hot tub transform this home into the ultimate mountain retreat.
Clifftop Cabin Great Smoky Mountains National Park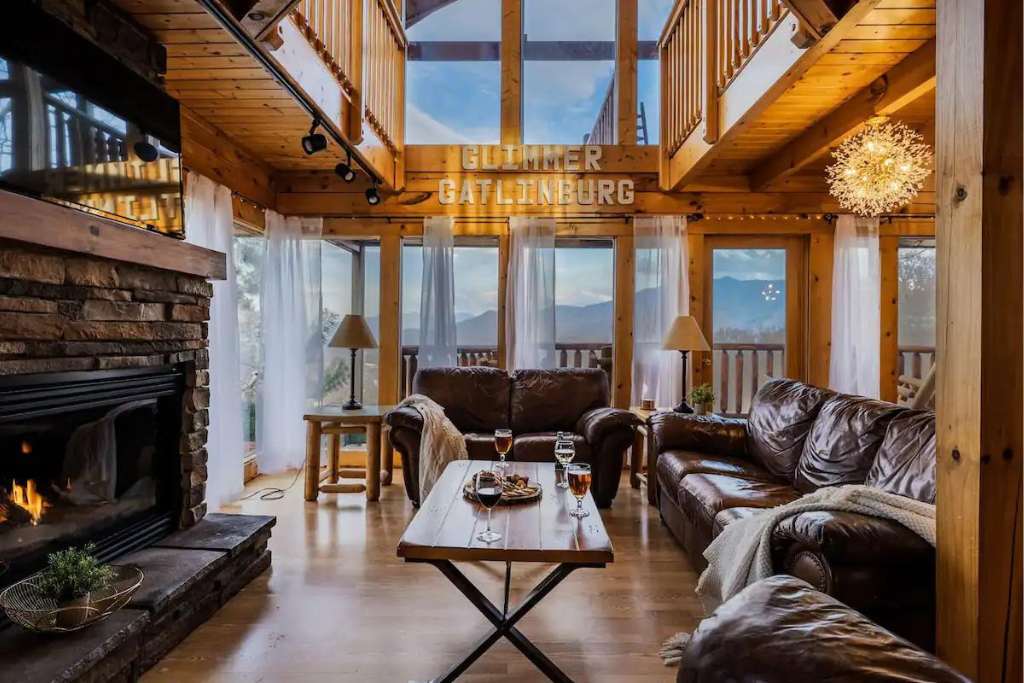 Not only does this home for rent near Great Smoky Mountains Nationa Park comes with endless views, but thanks to its wraparound glass windows, you can enjoy them from anywhere in the three-bedroom house. While guests have plenty to keep them entertained on-site, the home is close to three resorts with many additional amenities, such as pools and tennis courts.
Sedona Red Rocks Escape With Panoramic Views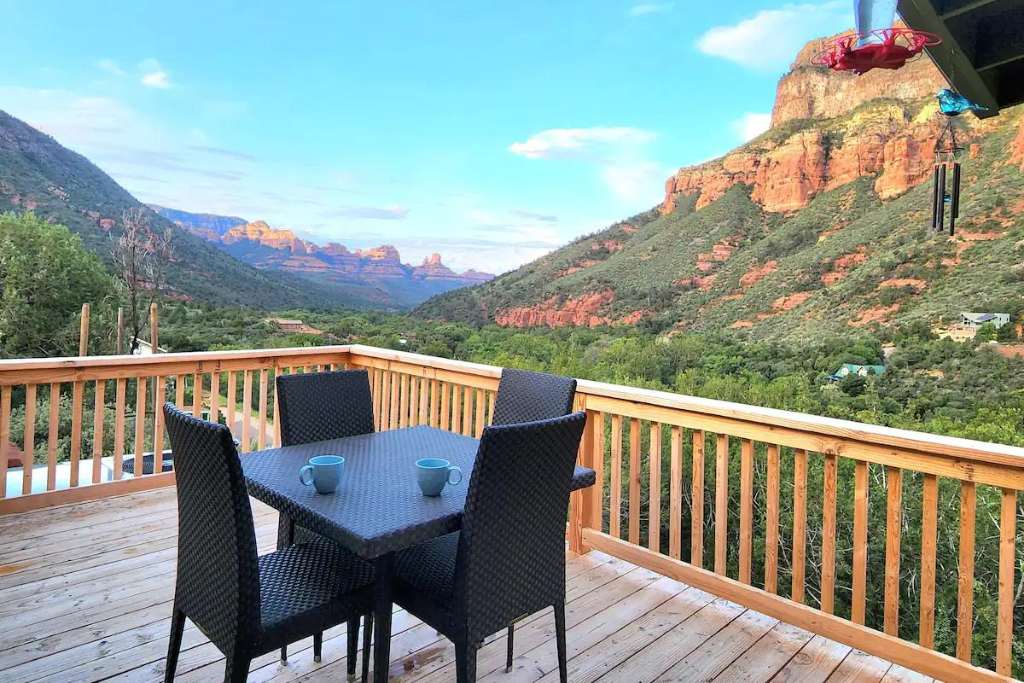 Set among the stunning red rocks of Sedona and only a two-hour drive from Grand Canyon National Park, this home allows you to enjoy two of the most spectacular areas in the country. The spacious decks are perfect for morning coffee, a yoga session, or stargazing. With two bedrooms and one bathroom, this rental is ideal for a family or a couple's getaway.
Modernist Home near Grand Canyon National Park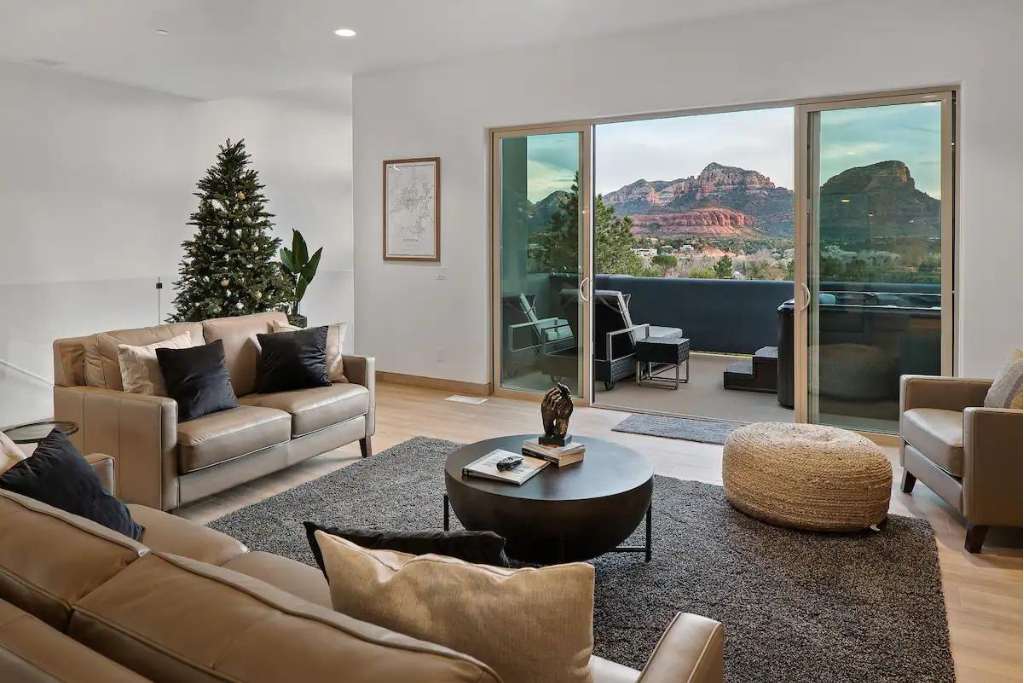 This magazine-worthy home in Sedona offers five-star amenities and views for days. The modern five-bedroom, three-bathroom residence has a fire pit, a Tesla charging station, a swim spa, and a Jacuzzi. Inside, sleek contemporary finishings include a waterfall breakfast island, a gas fireplace, soaking bathtubs, and large windows treating guests to spectacular vistas.
The Circle W Luxury Retreat near Yosemite National Park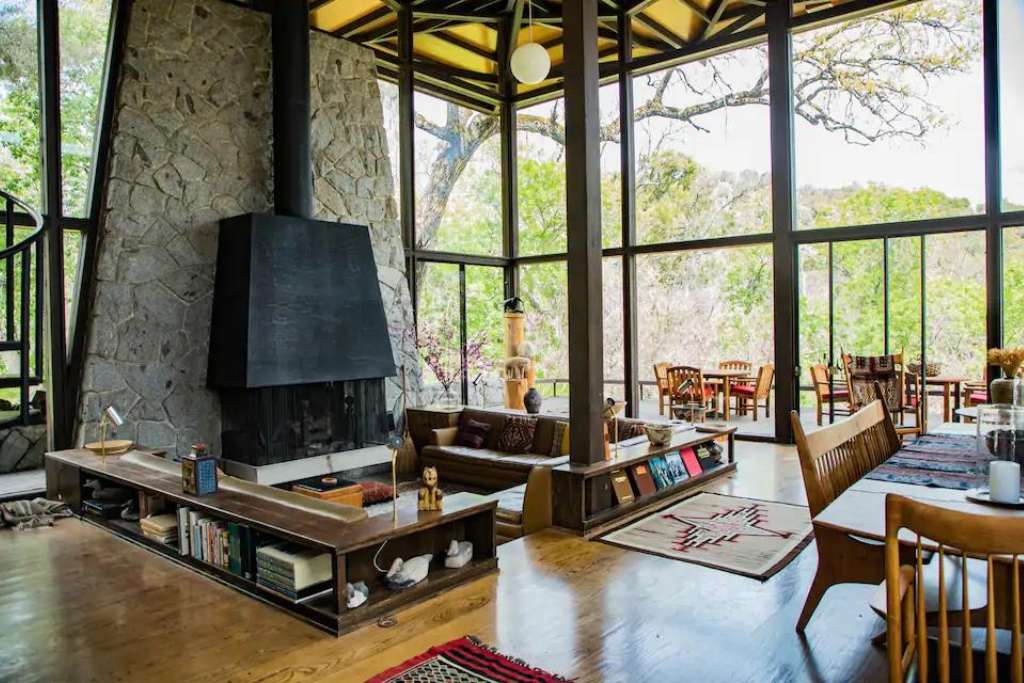 Nestled on 4,000 lush acres of a working ranch, this mid-century modern home is only a 40-minute drive from Yosemite National Park. Custom-made furniture, glass walls, high ceilings, and an expansive outdoor deck highlight this architectural gem with three bedrooms and two bathrooms.
Hilltop Yosemite Retreat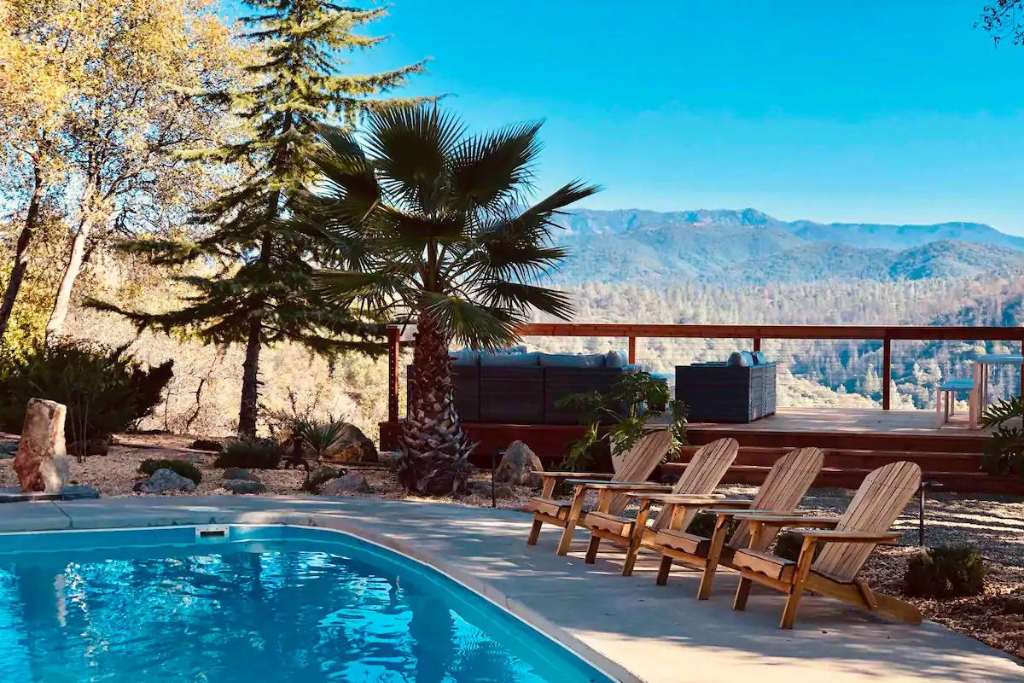 Start your day with a refreshing dip in the private pool of this three-bedroom, two-bathroom hilltop home while enjoying panoramic views of the Sierra Mountains. Breakfast and coffee are best enjoyed on the spacious deck, and in the evening, you can relax by the fire pit with a drink in hand.
Log Cabin near Rocky Mountains National Park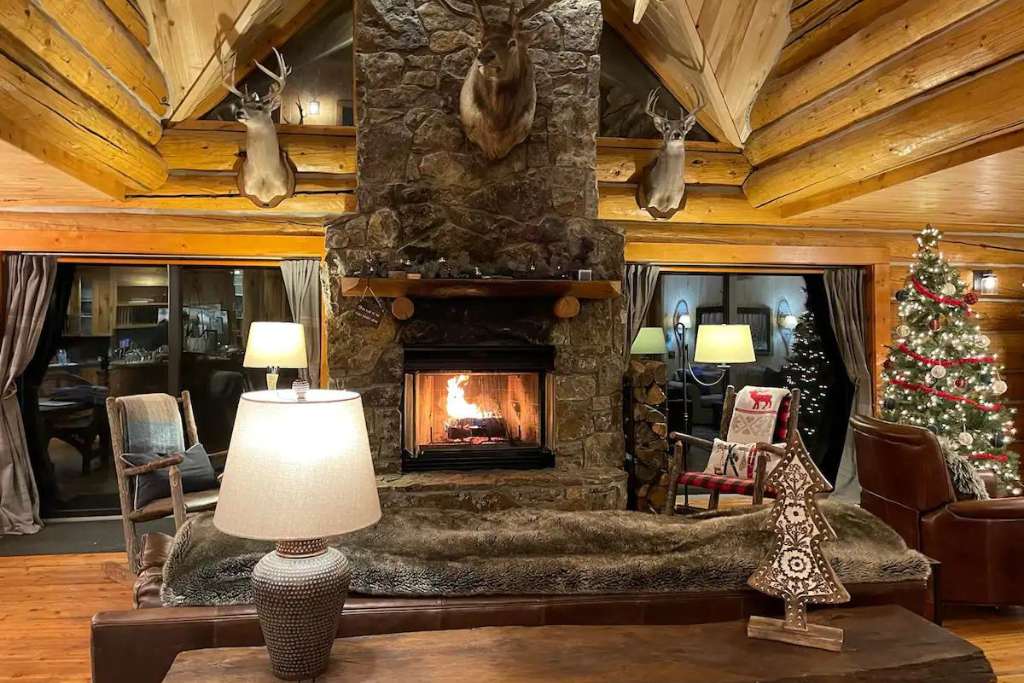 Scenic views, tranquility, and privacy await in this waterfront log cabin between Rocky Mountain National Park and Arapaho Forest. The cozy décor features vaulted ceilings, rocking chairs, a stone fireplace, and pine wood paneling.
The Vault at Copper Rock near Zion National Park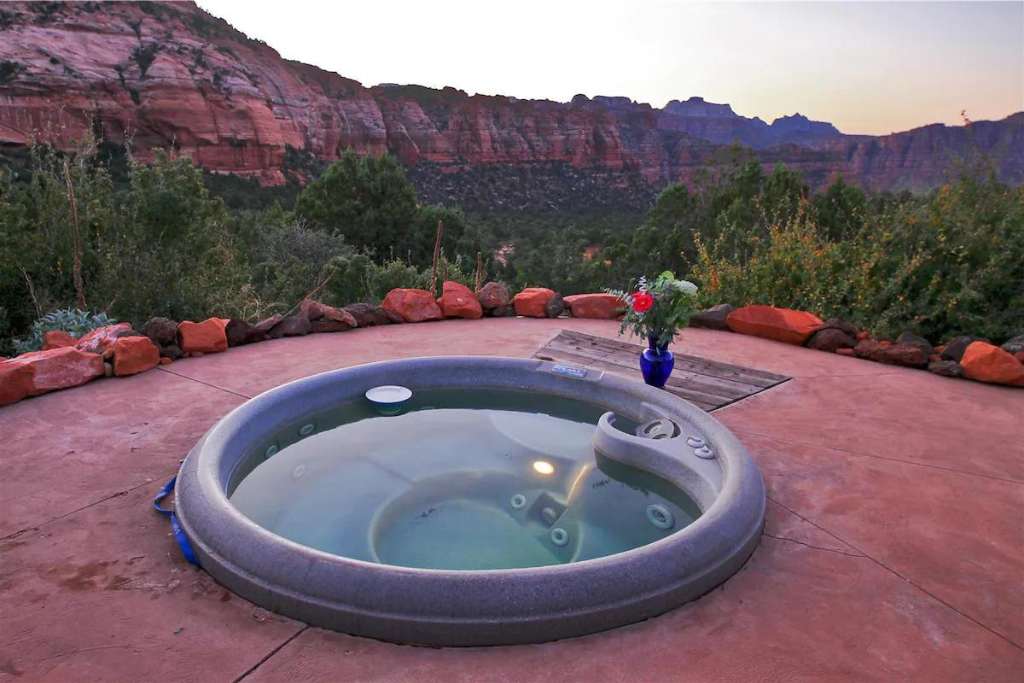 This modern retreat minutes from Utah's Zion National Park offers high-end amenities such as a pool, a fire pit, soaking tubs, floor-to-ceiling windows, and access to a golf course. With four bedrooms and three and a half bathrooms, this luxury residence can welcome a large family or a group of friends, guaranteeing a memorable stay.
Invisible House Joshua Tree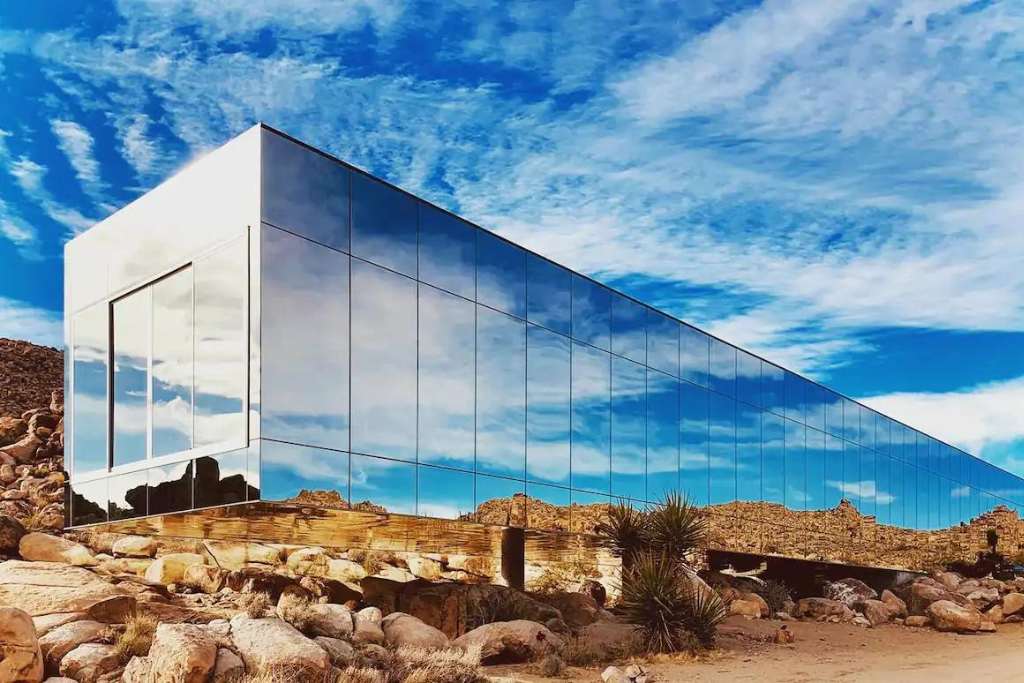 Dubbed "one of the most spectacular homes on Airbnb" by the rental platform's CEO, the Invisible House is an architectural marvel. With its mirrored façade sitting among the boulders of striking Joshua Tree National Park, the property looks like something out of a sci-fi movie.
Inside, four bedrooms with soaring ceilings, a swimming pool, ultra-modern décor, and wraparound vistas will leave you in awe.
The Kellogg Doolittle House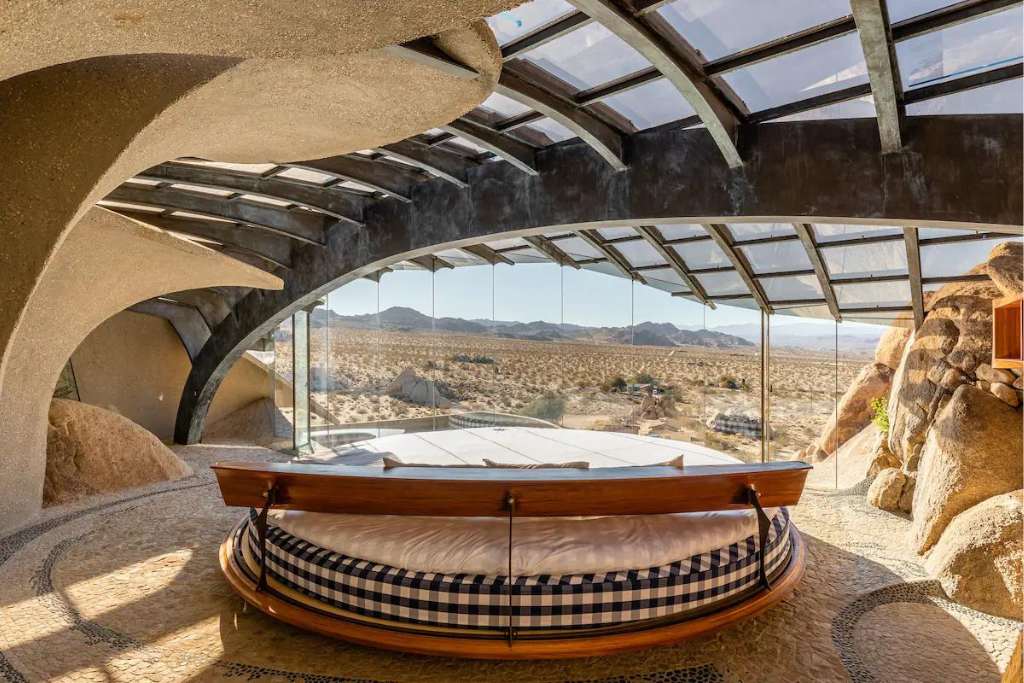 Stay at one of the masterpieces of 20th-century organic architecture. Designed by renowned architect Kellogg Doolittle, this exclusive estate has some serious Instagram potential. The house has no straight lines and instead is comprised of fluid nature-inspired shapes that perfectly blend in with Joshua Tree's otherworldly landscape.
Riverfront Retreat near Yellowstone National Park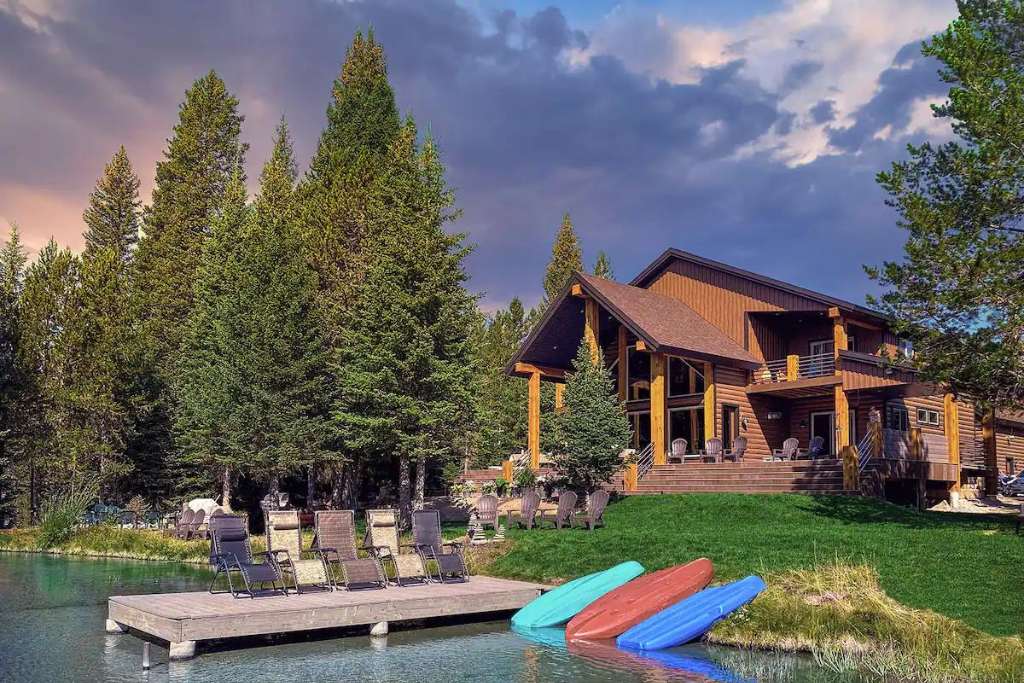 Sitting on the banks of a scenic river with Yellowstone National Park in the background, this sprawling luxury lodge is the pinnacle of rustic elegance. With 1,200 feet of covered decks, this home is a year-round playground for those seeking adventure and relaxation in this stunning corner of the country.
The spacious living room is anchored by a grand stone fireplace that will make you want to cuddle up with a book and a hot drink.
Paradise Lodge Near Yellowstone National Park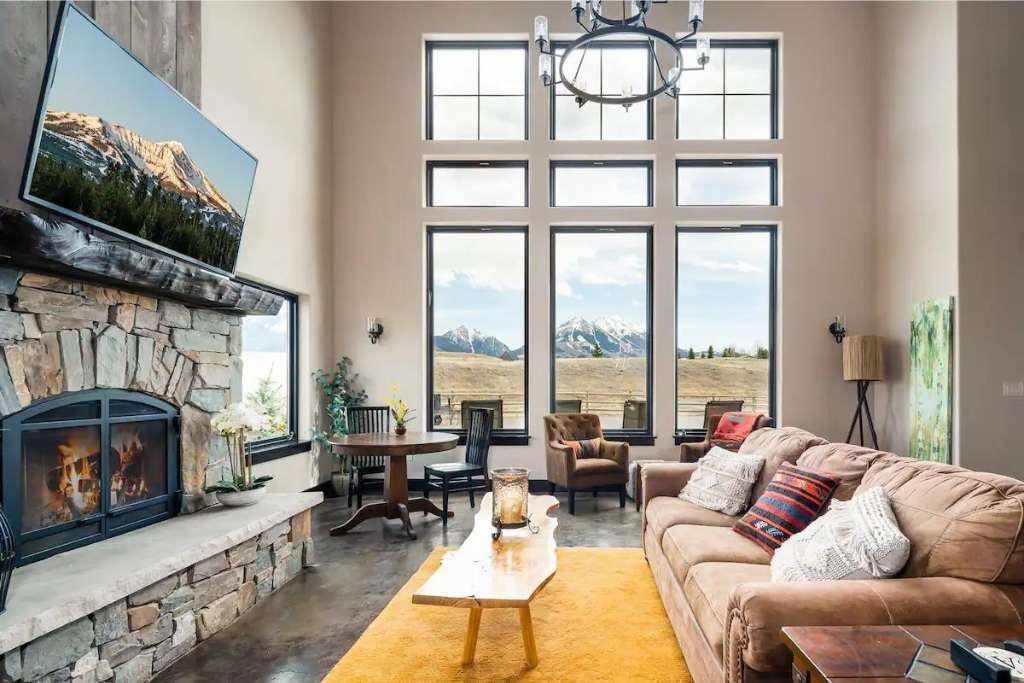 And if you prefer something more modern, this contemporary vacation home offers classic Yellowstone vistas and modern décor. It has five bedrooms, each with its own en-suite bathroom, TV, and large bed. But with a gazebo, a firepit, yard games, and spectacular views of Emigrant Peak, we have a feeling you and your company will be spending most of your time outside.
Oceanfront Villa near Haleakalā National Park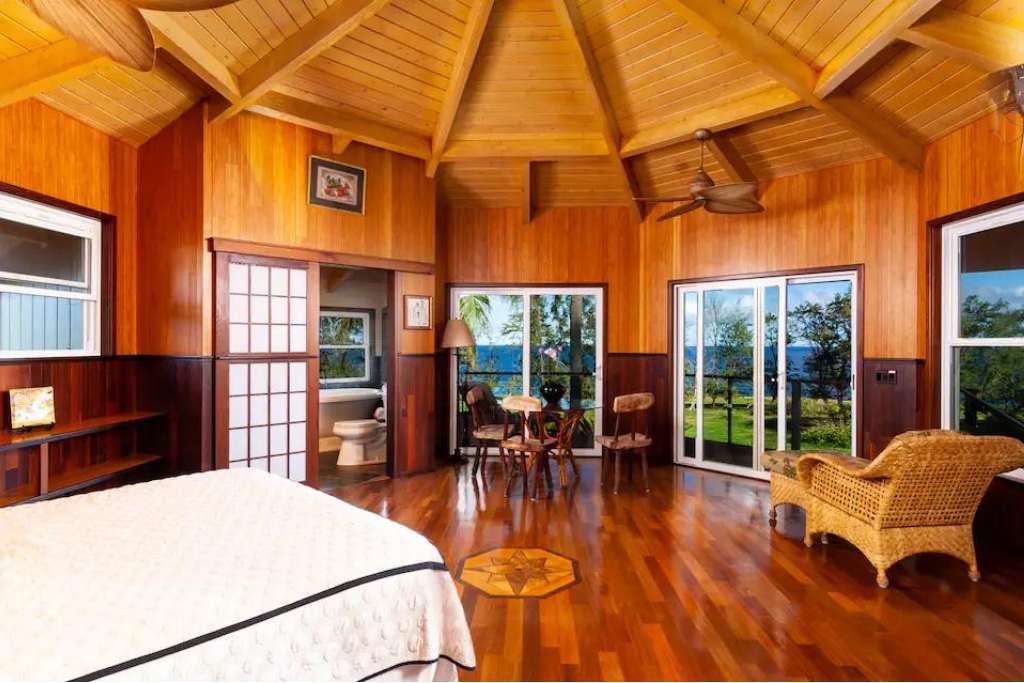 Soak up the hot Hawaiian sun and explore the dramatic scenery at Haleakalā National Park (and International Biosphere Reserve) on Maui. This private tropical retreat is located in Hana, away from major tourist developments, so you can enjoy unobstructed coastline views. The three-bedroom property is only ten miles from the national park and features a lanai looking out to the ocean and mountains, soaking tubs, French doors, and oversized windows.