My hair smells deliciously like a beach bonfire — slightly woody, with faint notes of salt and brine. The evening before — under a blanket of darkness, and using lanterns and stars as guides — I meandered along a wooden catwalk to a crackling fire by the sand dunes. Long sticks for roasting marshmallows, a meticulously arranged plate of chocolate, graham crackers, and strawberries awaited alongside a silver pot of hot chocolate, oversized binoculars for viewing the night sky, and two Adirondack chairs draped with warming blankets. Waves crashing behind — as perfect acoustic — the setting felt far from Florida. But Amelia Island is not the typical Florida destination, and The Ritz-Carlton, Amelia Island, where I'm staying (and experiencing this magical star-gazing ocean night) is not the typical resort experience.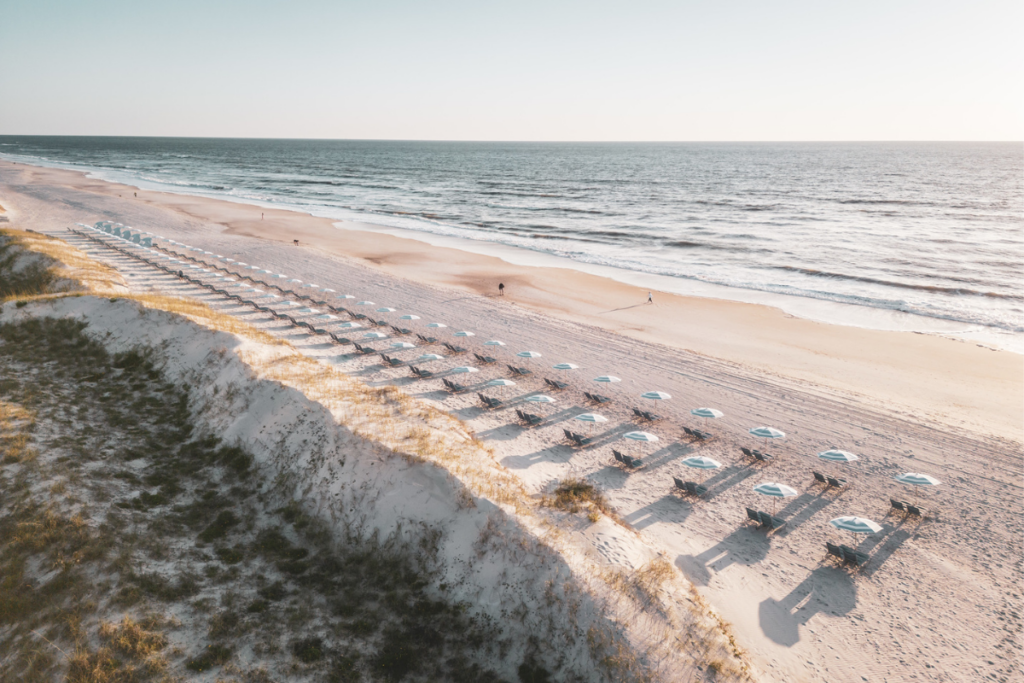 Far From the Typical Florida Ocean Resort
There's a saying that "the farther north you go in Florida, the more south you get." Certainly, that's true with Amelia Island which feels more like Georgia, actually. The southernmost part of the Sea Islands chain that spans the east coast from South Carolina to Florida, Amelia Island lies 30 minutes northeast of Jacksonville, and borders the Georgia state line. Giant live oaks dripping with Spanish moss, towering pines, and native cabbage palms blend with imported (for razzle dazzle) date and royal palms. Nearly one-third of the island is nature preserved, all of its pristine, dune-lined beaches are public, and unlike most of the Sunshine State, high season is summer; winters get a bit nippy.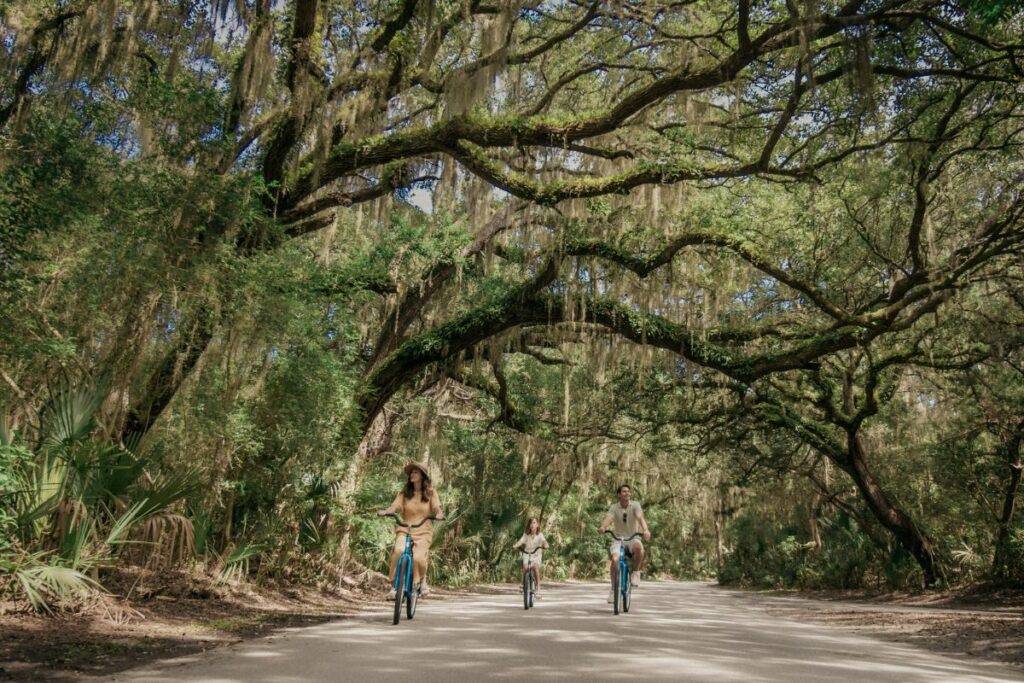 "When I was a kid, the only people out here [Amelia Island] were the shrimpers and paper mill workers," my driver told me as we weaved past wetlands and marshes, roosting pelicans, and citrus stands spilling with oranges, grapefruit, and soft-boiled peanuts.
Tourism, he noted, first came to the island in the 1970s with the opening of The Amelia Island Plantation (the island's first resort). Hollywood soon followed with filming of The New Adventures of Pippi Longstocking (1988), the story of a girl left stranded on an island with her horse, Alfonso, and monkey, Mr. Nilsson (Pippi's house resides in "Old Town" on the north side of the island). But it was the opening of The Ritz-Carlton, Amelia Island in 1991, that ushered in a true luxury component to the island, appealing to visitors like Frank Sinatra, who sang a song in the Lobby Bar, President Clinton, and best-selling author John Grisham, who now owns a home on the island.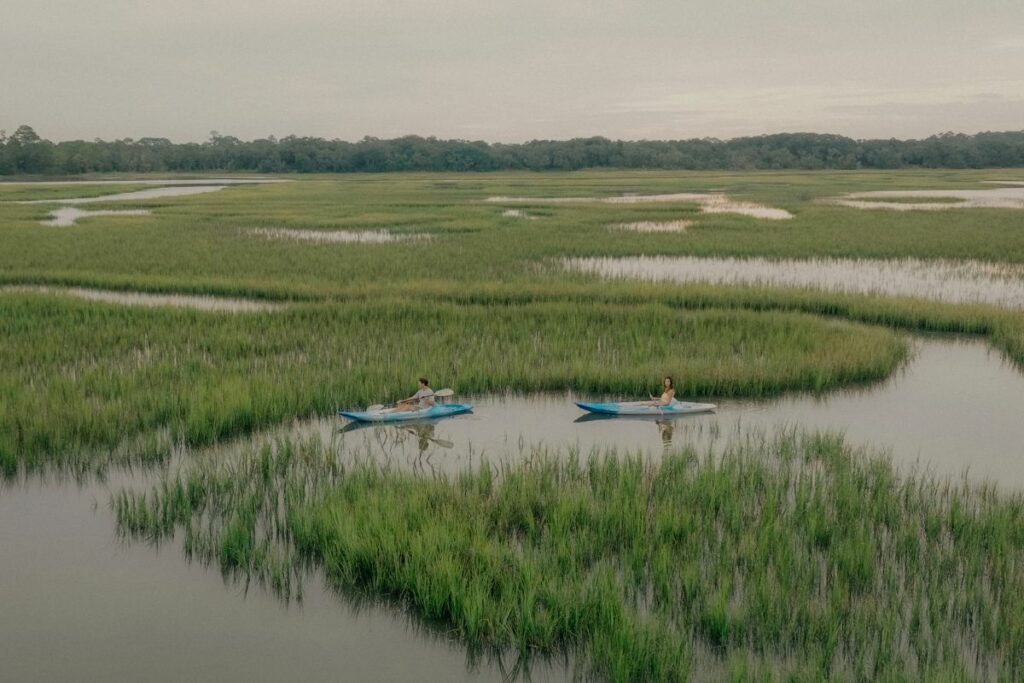 For all of its high-profile guests however, Amelia Island has maintained an Old Florida, Old South vibe. Shrimping continues as a family business. Kayakers still randomly launch in creeks along the side of the road, fishermen troll the backwaters or cast from bridges, locals and visitors ride horses on the beach, hunt for fossilized shark teeth, surf, and stroll the small 'downtown' of Fernandina Beach, famous for its fudge shop, boutiques, coffee bars, and mix of Queen Anne, Italianate, Gothic Revival, and Victorian architecture. Overwhelmingly, there is a love for both the land and the sea that runs deep here and is immediately felt — even by those visiting for only a few days.
Cadence with the Ocean
"Welcome to The Ritz-Carlton, Amelia Island."
As a flute of Champagne is placed in my hand, I am guided — past floor-to-ceiling lobby windows overlooking the dunes and ocean — to my room where I am met with soothing coastal colors and a wide sliding door looking onto a turquoise sea and white sand dunes splashed with sun-yellow flowers.
Breathing in the salt air, a rhythm and cadence with the sea quickly develops. Every night at turndown, a place card is left (alongside chocolates by the bed), noting the time of sunrise, a 'signature experience' here, and one I never miss. Every morning, I awaken to French press coffee delivered Ritz-Carlton style (with a single red rose and miniature muffin), then move — cup in hand, in cushy white robe and slippers — onto my outdoor balcony to watch the inky sky turn to shades of pink. Other guests, less lazy than I, are already combing the beach in the early morning light, watching from the water's edge the fiery ball of orange-yellow sun rising.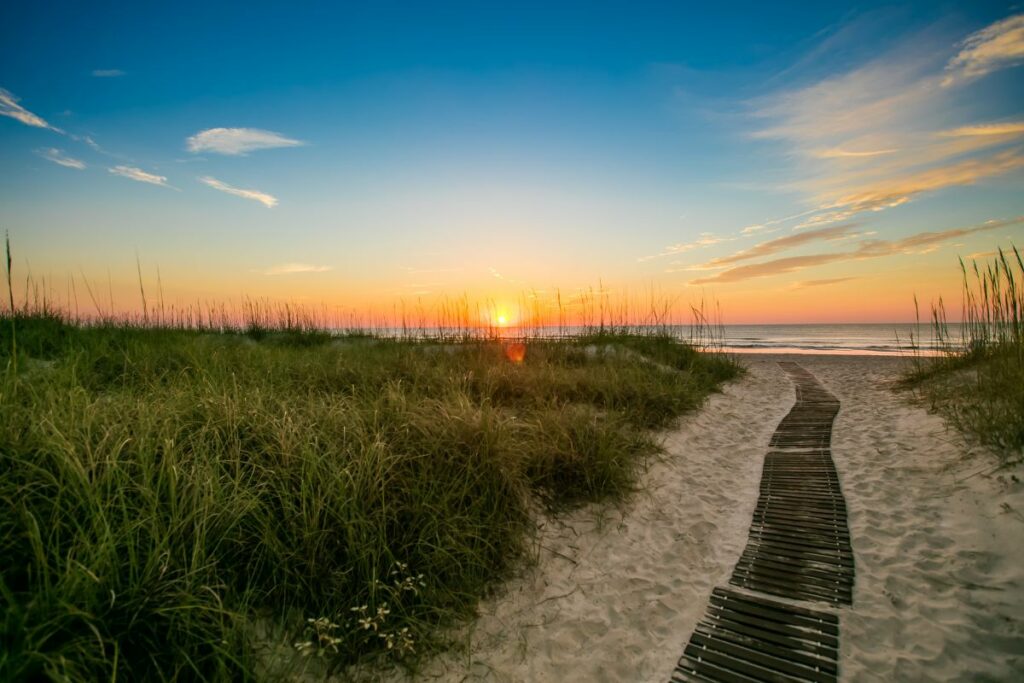 More sea immersions follow: a long walk on the beach, quick dip into the sea, and time spent under the blue-and-white umbrellas lining the sand. One morning, I bike past magnolias and saw palmettos to historic American Beach, Florida's first African American beach community, dating back to the 1930s, and then to Boneyard Beach (on Big Talbot Island State Park), a stunningly surreal beach scattered with giant driftwood trees, bleached whitish from the sun. Another morning, I walk with one of the hotel's resident naturalists, who shares his vast knowledge of the island's flora and fauna, history (since the 1600s, the island has flown under eight flags including pirates), and rich marine life.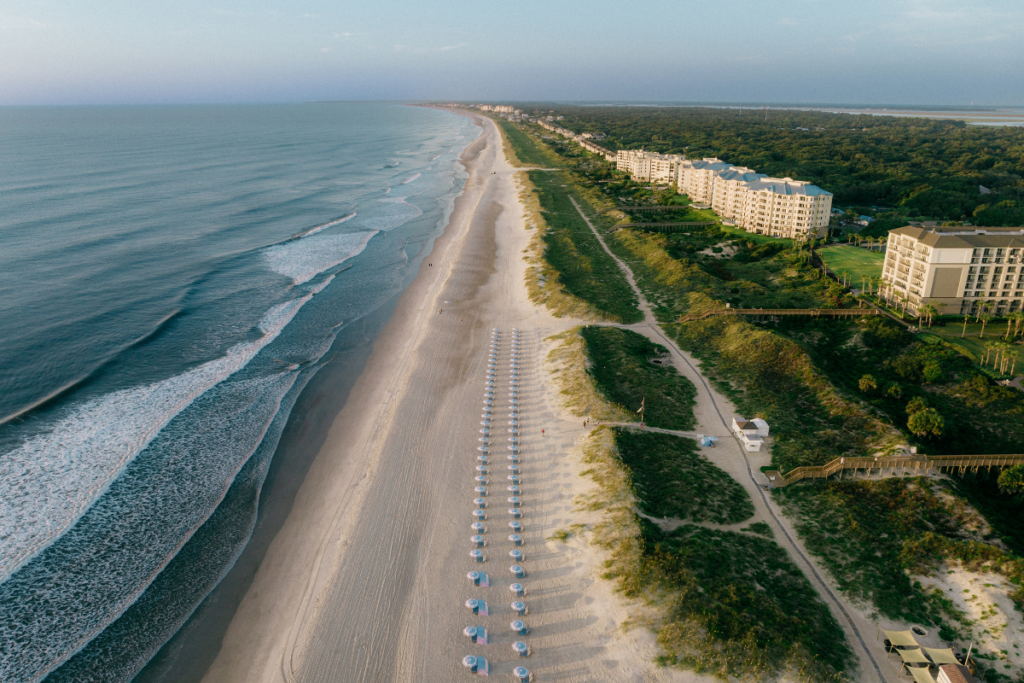 Aside from shrimp, the waters here are host to strand feeding dolphins — spotted only along the barrier islands between Charleston SC and Amelia Island — and the endangered right whales. But the island's most VIP residents are the Gopher tortoises, a.k.a. keepers of the dunes. Walk the wooden catwalks leading from the hotel to the sea and you will see them, lumbering through the dunes, nomming desert flowers and cacti. One tortoise, "Freckles," is believed to be a minimum of 35 years old; he resided here long before the U-shaped, Ritz-Carlton, Amelia Island (reminiscent to a sandcastle) was built. Sea turtles — loggerheads, green, and leatherbacks — are also part of the sea-land scape; every spring, they return to lay their eggs (note: the night-sky dune bonfires pause during turtle nesting season which begins in May).
Sea-and-Salt-Inspired Restaurants and Spa
Inside the hotel — from lobby to guest rooms and every space in between — the connection to the sea is omnipresent: coastal-chic furnishings with a touch of Lowcountry, salt lamps, and elegant nautical touches. The Lobby Bar (order The Smoked Old-Fashioned just for the presentation) looks directly onto the sea and dunes, and in the evenings transforms into a swanky sushi bar. Both the poolside Coquina, tucked under a giant thatched-roof palapa and known for its fresh-daily ceviche and flavors inspired by the island's time as a Spanish territory, and Coast, serving fresh-caught fish, pasta, and southern staples like fried green tomatoes and crab hush puppies, are celebrated for their sea-inspired cuisine. But it is the aptly named AAA, five-diamond Salt, under the helm of Chef Okan Kizilbayir — formerly of 3-Michelin-starred Le Bernardin and Blue by Eric Rupert, and destined for his own Michelin star — who is spinning seagrass to gold.
All-Seafood Tasting Menu at Salt
On a Tuesday evening that feels like a Saturday (every table is filled, a guitarist serenades), I arrive at Salt for the chef's tasting menu — which surprisingly and joyously to me (a pescatarian) — is completely seafood based.
"Chef has been doing the all-seafood tasting menu for awhile now, converting regulars who never cared for seafood into believers," Courtney Sprayberry, our articulate and deeply knowledgeable server notes. There are other proteins on the restaurant's regular menu — chef's favorites include lamb, duck, and wagyu — and he will likely add some of those, accentuated by imported truffles and caviar, to his tasting menus.
My tasting experience begins with fresh bread served with creamy butter and a choice of three of chef's signature infused salts: lemon zest, volcanic, and kalamata olive. Over the course of several hours, it is followed by Hamachi & Oyster Caviar, Langoustine, Grilled Branzino, Dover Sole, and the chef's signature dessert, Paris Brest (lavender and vanilla creme with a dollop of blueberry ice cream). Each course is expertly paired with wine, setting the stage for another surprise — both fish courses are served with red.
"Red wines have been paired with fish for decades but they haven't been something we've been accustomed to here [USA]," Sprayberry explains. "When choosing a pairing for any dish (be it red or white), we always look for what will enhance or compliment the components of the ingredients. Chef's third course was a grilled Branzino atop black lentils which have an earthy flavor, and opened the door for the Ponzi Pinot Noir from the Laurelwood District in Oregon that we chose to pair with it. Chef's final savory course was the prized Dover Sole which was seared and topped with sunchoke three ways: pureed, roasted, and as a crisp, to add a beautifully textural component. It was then finished with a Champagne and smoked trout emulsion. We paired this with a Heitz Cellar Cabernet Sauvignon from Napa, which is fairly light for a Napa Cabernet and very much allowed the Sole to shine."
The Healing Powers of the Sea
The ocean theme continues in the spa with both sea-inspired treatments and outdoor yoga and meditation in nature and on the beach. One of the hallmarks of this five-diamond, four-star spa is its Mindful Meditation (Yoga Nidra), based on ancient breathing techniques that immediately refresh — 45 minutes of practice is equivalent to three hours of deep sleep. One-hour yoga and meditation experiences are always available (by reservation) and the spa hosts Mindful Weekend Retreats twice a year. Within the 27-room spa, treatments are also sea inspired. On the day of spa services, guests may come and go throughout the day — dipping in and out of the steam and sauna, hydrotherapy pools, and eucalyptus showers before and after treatments — and enjoying lunch (by Coquina) on cushy loungers by the adults-only spa pool (drop children, ages 5-12 at Ritz Kids to explore their own coastal treasures). Try the 100-minute signature Ocean Healing, a therapeutic bath followed by a sea salt exfoliation and warm salt stone massage. Or opt for the spa's exclusive "Heaven in a Hammock." The 50-minute treatment takes place in a hand-woven island hammock; the body is gently positioned and rocked, duplicating the movements of the tide. Once again reminding that everything here is connected to the ocean.