We love wine cellars for the same reason speakeasies enthrall us. There's something unabashedly storybook about doors (ideally for the fantasist's sake "secret ones") that lead into dark caverns and undulating tunnels. These nooks lined with wine bottles as precious as rare gems evoke buried treasure, the damp chill in the air eliciting a sense of spookiness and mystery sure to raise the hairs on the back of our necks.
Enveloped within, even without tasting the wine stored for decades below ground (or in an appropriately acclimatized chambers) we sense history — the story of the place — perhaps smell the terroir, connecting deeply with the landscape. Wine cellars can be tiny, cobweb draped and cozy or cavernous, spacious and vast. They might be spare, fancy, modern or old fashioned. Meditative, enigmatic places, they summon romance and anticipation. One step within and our tastebuds tingle. Like installation art exhibits, they represent a long process of creation — masterpieces that began as grapes on a vine.
Whether it's a gold-sheathed cellar in Dubai, a subterranean room hewed from 13th-century old lava rock below the geothermal waters of the storied Blue Lagoon, a sleekly contemporary haven on Lake Lucerne or a cranny 50 feet below the bustling streets of Paris which once served as a quarry for rocks used to build the Arc de Triomphe, these hotel wine cellars offer unique opportunities for wine-focused guests to toast with house sommeliers.
Here's a few worth your tipple time.
La Samanna, A Belmond Hotel, St. Martin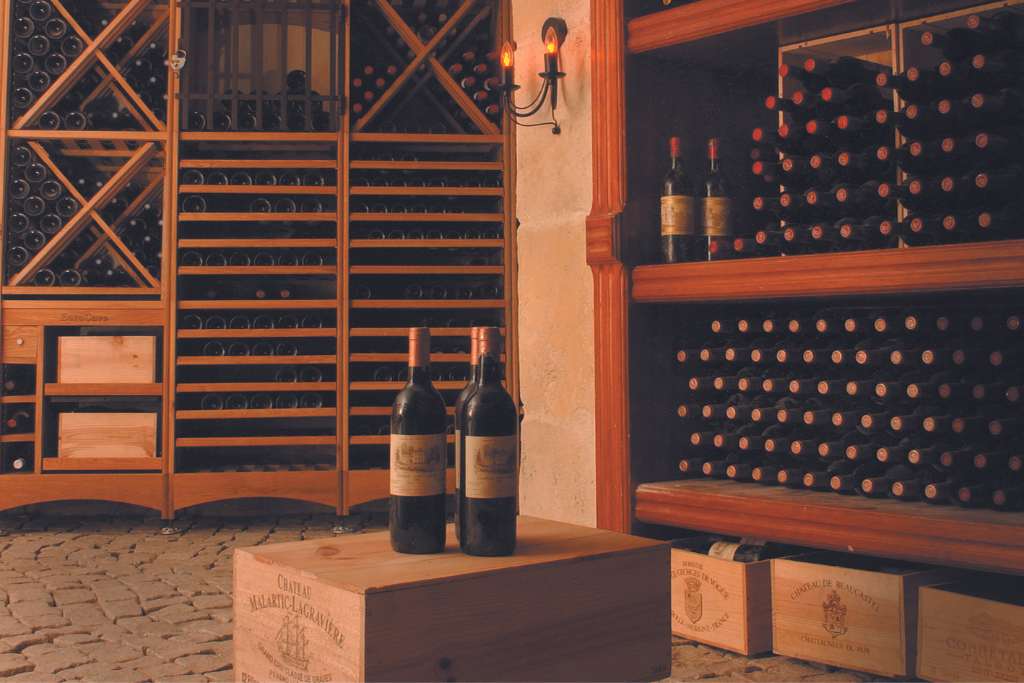 The Caribbean's better known for rum cocktails than fine wine. But La Samanna, A Belmond Hotel, St. Martin's La Cave Wine Cellar belies that stereotype. Built two stories below sea level half a century ago to complement the swish hotel this cellar stands out as the largest private cellar in the Caribbean. It comprises some 12,000 bottles of wine and Champagne, including 150 varieties of Bordeaux. In its realms, guests can enjoy tastings or private, candlelit wine dinners.
Burj Al Arab Jumeirah, Dubai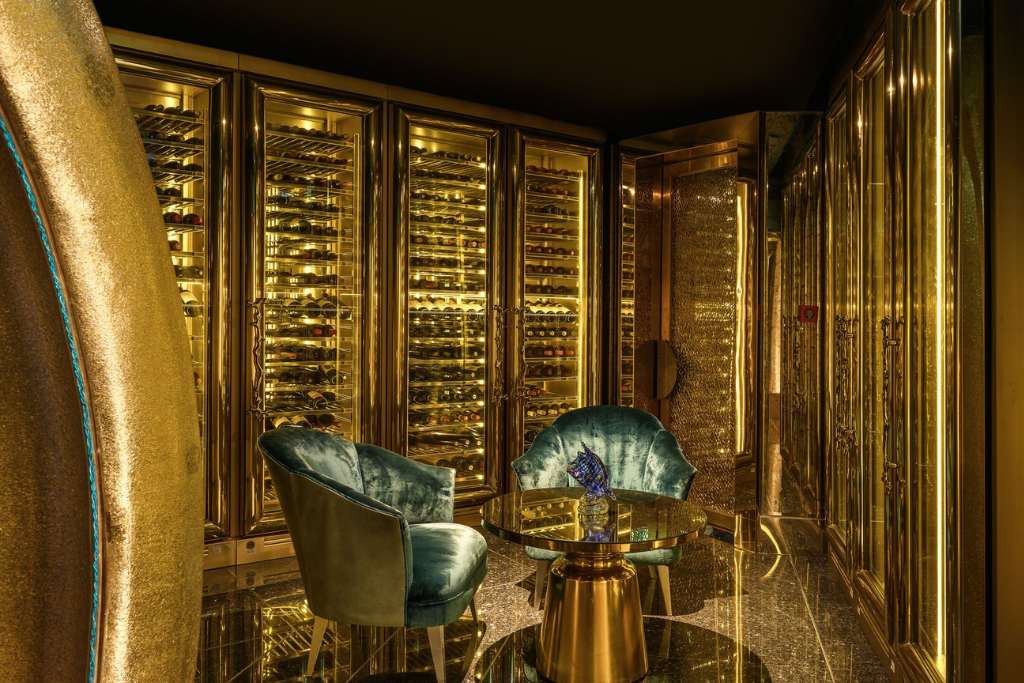 Dubai isn't known for its restraint—thank heavens. Case in point: the world's tallest all-suite Burj Al Arab Jumeirah, a zenith example of luxury living and architectural largesse, known for its ability to surpass guest expectations. Not unexpectedly, it boasts a precious wine cellar lined with gleaming interior gold walls. The stuff of legends, part of Ristorante L'Olivo at Al Mahara, led by Chef Andrea Migliaccio from Capri's two Michelin-starred restaurant L'Olivo, the retreat is accessed by a private elevator. It houses a plethora of world class wine from Tasmania to France, including a $27 thousand-plus 1996 Richebourg Grand Cru, Domaine de la Romanée-Conti.
Rome Cavalieri, A Waldorf Astoria Hotel, Italy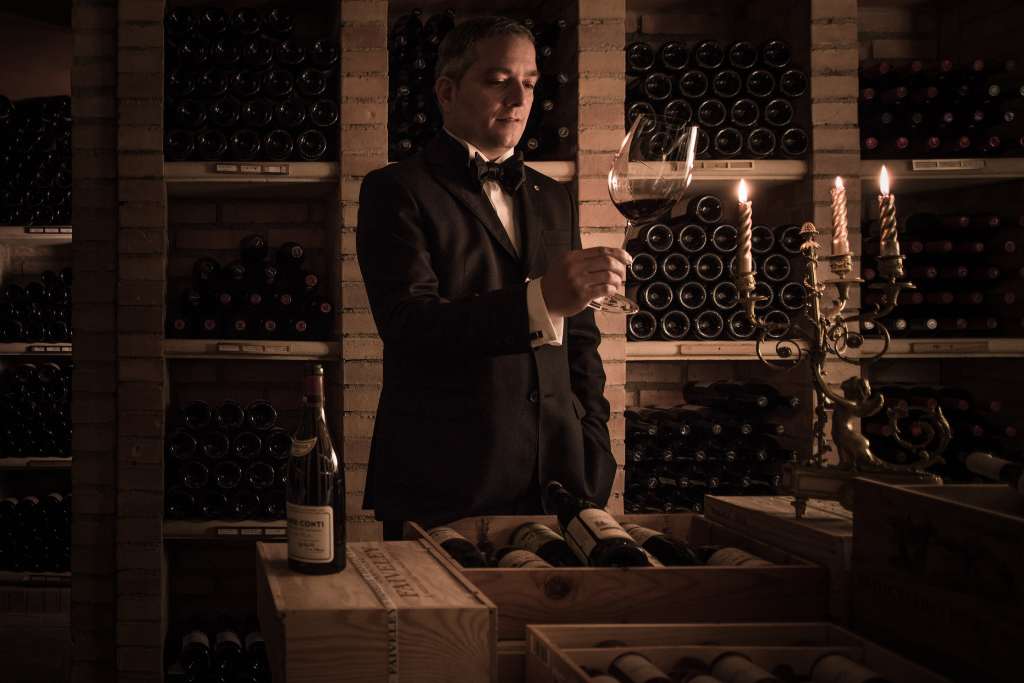 At Rome Cavalieri, A Waldorf Astoria Hotel epicureans gather to feast at Rome's only three-Michelin-star restaurant La Pergola. They accompany their meals with bottles drawn from the restaurant's spellbinding, double-tiered wine cellar, unique with its hexagonal-shaped wine racks, made from stone with the capability to acclimate to the room's humidity, imported from Lecce. Rich with approximately 76,000 bottles and 3,600 labels, the cellar features an array of rare wines and legendary cult wines, such as 1922 Château Lafite Rothschild and 145 Pétrus.
Retreat at Blue Lagoon, Iceland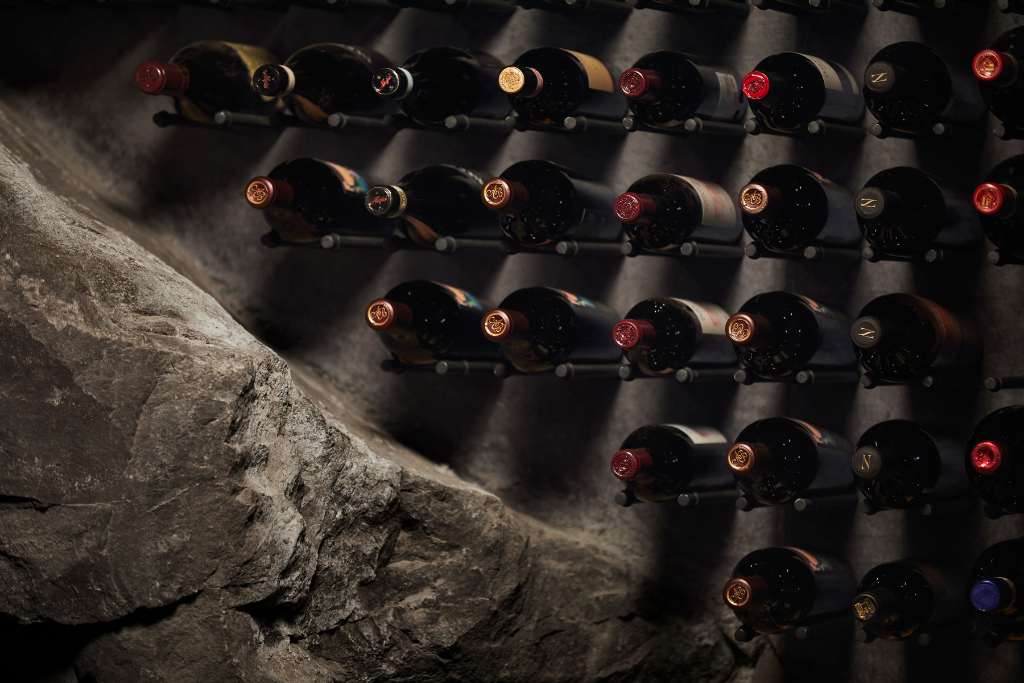 At the Retreat at Blue Lagoon on Iceland's Reykjanes Peninsula, a sleek design-centric fantasy of a hotel with its own geothermal lagoons and labyrinthine spa, you'll spend your days submerged in healing water and slathering curative algae and/or silica mud masks on your body. You may hike through the surrounding ancient, inky lava fields, mottled with spongy green moss, too. But at night, you'll cast off your bathrobe for evening wear to dine at the haven's unforgettable Michelin-star restaurant, Moss. Before dinner, descend by elevator some ten feet to the center of the earth to experience The Retreat's riveting wine cellar, the world's first and only to be hewed into 13th-century volcanic rock. Naturally hued by nature, the walls conjure thoughts of cave paintings, each section textured by some 4,500 inspirational bottles of wine. Partake of The Retreat's daily wine tasting for guests — or make an appointment to sample from its host of old and new world vintages.
Mount Lofty House, Australia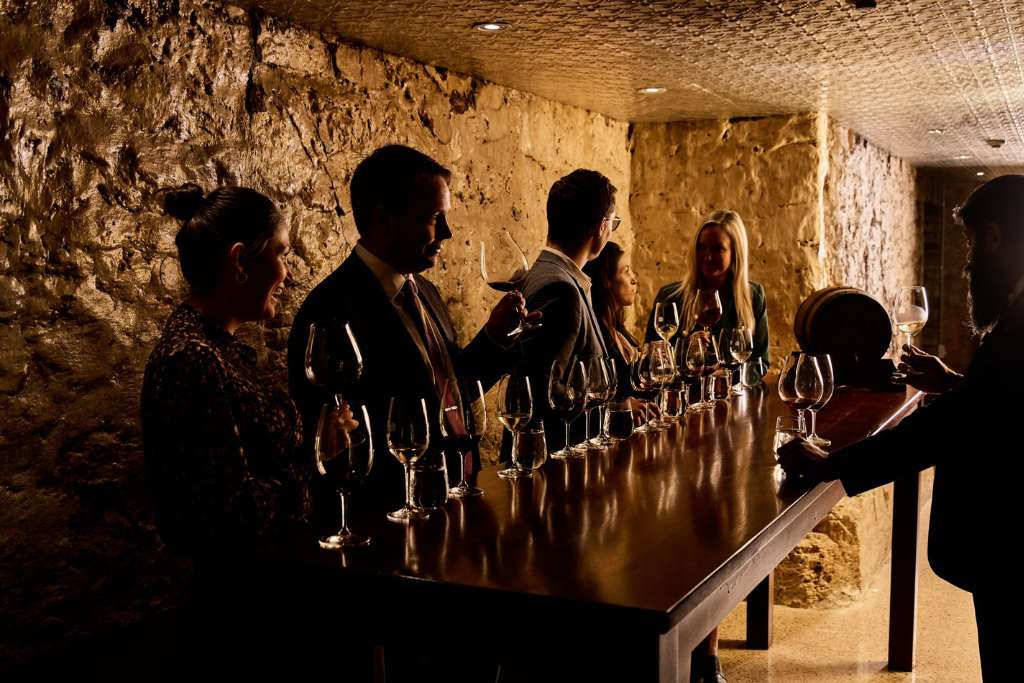 In the Adelaide Hills in untrammeled South Australia Mount Lofty House continues a tradition that dates back to 1852, when the estate was built by Arthur Hardy, sometimes called the Jay Gatsby of South Australia. For decades it reigned as the peerless address for extravagant parties. Partake of that spirit in the manor's breathtaking wine cellar and bubbles bar, which stores and serves a collection of rare South Australian labels as well as their own premium label, created from grapes grown in their own vineyard.
Chablé Yucatán's Casitas and Villas, Mexico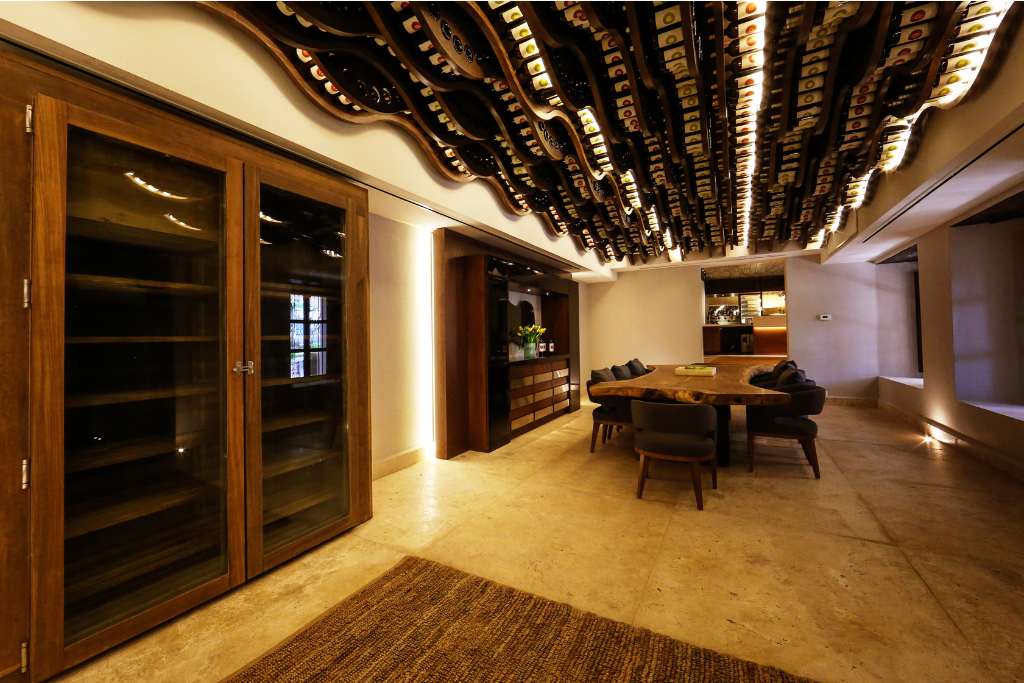 Oenophiles have a penchant for trending Mexican wine, most of which isn't exported and can be difficult to find outside of the country. To indulge, take shelter amongst the curvilinear ceiling and mottled walls of Chablé Yucatan's wood-scented Curved Wine Cellar in Merida, Mexico. Vaunting some of the nation's best bottles, wines made with grapes such as Nebbiolo, Shiraz and Mexican Cabernets, the elegant stockpile draws wine lovers to its signature Mexican Wine Tasting experience. Tequila enthusiasts will be happy to note that the resort also embraces the world's largest private tequila collection.
Park Hotel Vitznau, Switzerland
Impossibly tony, quintessentially surpassing even the perfection that we imagine a Swiss hotel to embody, the 100-year-old — but creatively and cunningly renovated-Park Hotel Vitznau, a member of Swiss Deluxe Hotels, beguiles guests on every front. A beacon on the lips of Lake Lucerne with a first-in-class spa, an infinity pool that seems part of the lake and one-of-a-kind themed suites, the hotel might be most proud of its contemporary six-in-one 35,000-bottle wine cellar, one of Europe's grandest. Divided by regions or type (think: France, New World, Rarities, etc.), the separate chambers present individual ambiances — for example the New World section features a blue shipping container and the Château d'Yquem cellar, replete with wines from 1890 to today, makes use of a golden casket.
Four Seasons Hotel George V Paris, France
Forty six feet beneath the bustling streets of the Right Bank and all the lustrous objet d'art and antiquities of Four Seasons Hotel George V Paris, La Cave awaits. A cozy wine room that brims with some 50,000 bottles of wine, the trove once served as the quarry for rocks used to build the Arc de Triomphe. Infinitely lavish and rough hewn in turn, the astonishing cellar welcomes guests in small groups to tour and sip with a sommelier. Walled up to protect the wine from enemies during World War II, La Cave exudes an exclusive clubbiness as open to wine experts as novices. Ask to see the 1795 Madeira, the bastion's oldest wine.
Efendi Hotel, Israel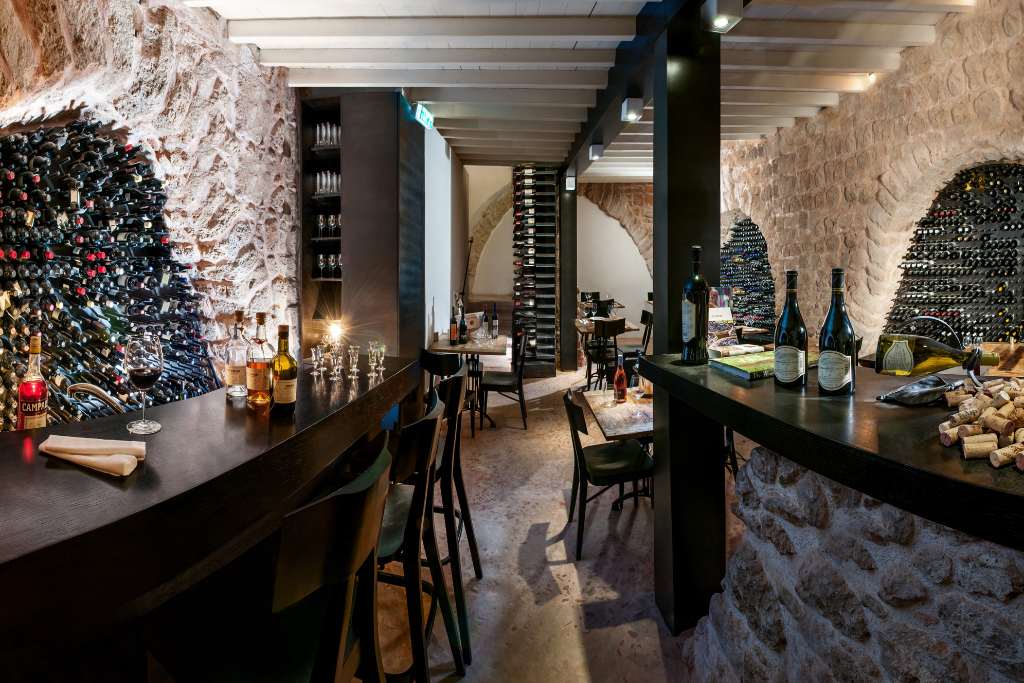 Not everybody realizes that Israel, rife with microclimates, shares the same basic latitudes as California's foremost wine regions. Perhaps the best vineyards can be found on the ample green plateau of the Golan Heights, but also in the uplands of Galilee. Try a plenitude of them at boutique Effendi Hotel's dynamic wine cellar, which stores labels by more than 100 Israeli wineries. Full of history the wine cellar and hotel sit on foundations that date from the Byzantine and Crusader eras. In the epicenter of the Old City of Acre in a UNESCO World Heritage Site, the 12-room hotel, like the wine it offers, celebrates history and has stories to tell.
The Little Nell, Aspen, Colorado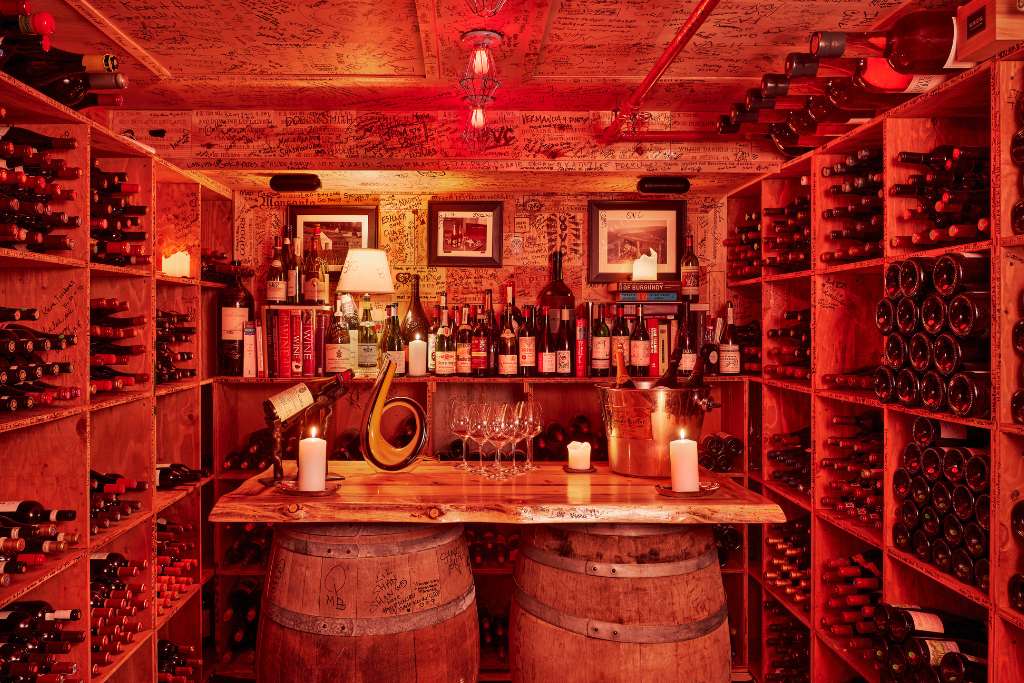 Forever Aspen's living room for wine cognoscenti, both locals and visitors, The Little Nell, wedged right up against the mountain in all its glory offers more than outdoor seating by the Silver Queen Gondola for après-ski. Indeed, you'll find the real wine crowd indoors, most having shed their boots to make the circuitous journey through the back of the house, down a staircase, and into the garage to arrive at the door to the five-star, five-diamond hotel's legendary, red-lit wine cellar. The hotel has been a Wine Spectator Grand Award Winner since 1997 and a finalist for a James Beard Outstanding Wine Program. More than 20,000 bottles comprise the swanky hideaway under the supervision of wine director Chris Dunaway and expert sommeliers Jesse Libby, Jon Koch and Rachael Liggett-Draper. Look for the graffiti covered wine crates to feel at one with other wine lovers who are invited to leave their signature in the cellar — on the ceilings, walls and even the wine barrels.
La Mamounia, Morocco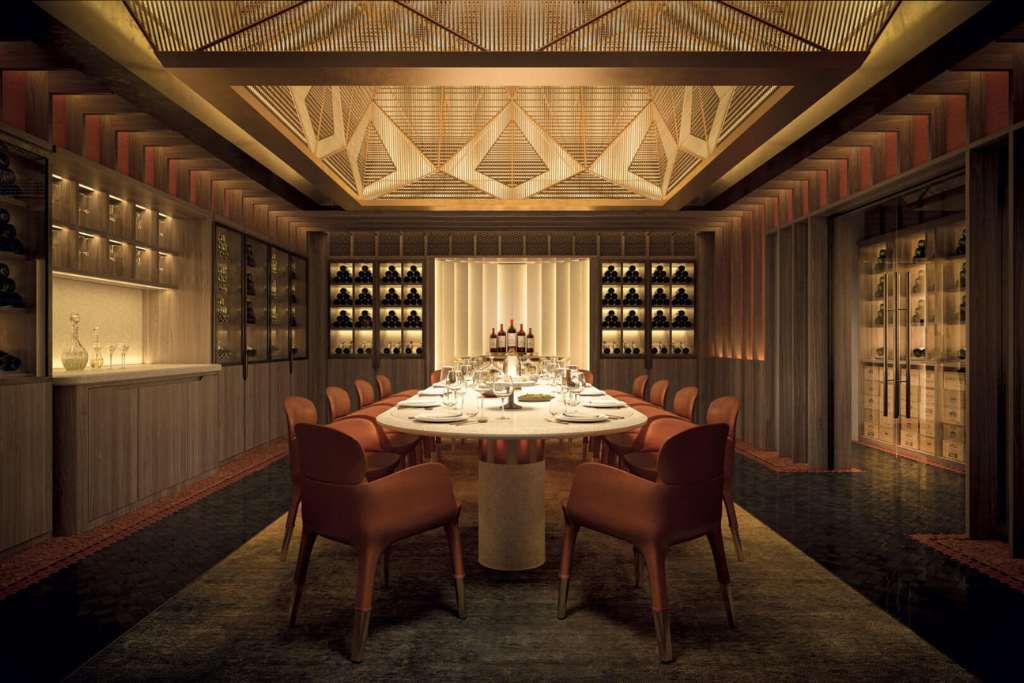 As if a lake-sized pool, elaborately painted mosaic tiled floors, a verdant 20-acre gardens, romantic architecture, an opulent spa, ancient olive trees and the perpetual scent of rose petals were not enough, Marrakech's La Mamounia introduced L'Œnothèque at La Mamounia in 2020 during a property wide renovation. An enchanting underground wine bar, born to celebrate the sybaritic approach to life, the small space has room for only 12 guests at a time. Paired with delectable tasting menus, it offers sommelier-chosen grand cru wines alongside handmade dinnerware and artisanal glassware. You'll swoon over the more than 2,000 exquisite vintage bottles waiting to be poured.
Featured image credit: Park Hotel Vitznau