Some people simply want to tipple in the corner bar every day — sit at the same stool, drink the same libation, talk to the same bartender again and again. It's a kind of security blanket in a way, right from the playbook of Cheers, where "everybody knows your name." But some of us prefer a little mystery and provocation when we venture out for a drink.
Nothing quenches that thirst for drama and whimsy like a speakeasy or secret bar, a craze that dates back decades if not centuries to clandestine gatherings, illegal alcohol, mischief and all things cloak-and-dagger cool. It's said the name speakeasy arose from the need to whisper when ordering a drink in forbidden places. If that were true today I'd be the "tell' in the speakeasy, the one to give the game away. I'd get us all arrested. Indeed, I am forever the person who squeals too loudly with delight at the bartender's theatrical drink-making, the person who utters merry sounds while admiring the campy decor, not to mention the person who shares the classified handshake with a friend. (After all, I am writing this story, aren't I?)
Throw me into an environ that hovers between make believe and reality, and I'm in my happy place. Add in a sophisticated cocktail, a secret password or hidden door, and I'm drunk with delight — without ever having taken a sip.
So for those of you who share my penchant for speakeasy swills we bring you some of the world's worst kept secrets: the best blind pigs and gin joints on earth. Whether entered down a back alley, behind a bookcase, within a flower shop, through a washing machine in a laundromat or via an unmarked door, speakeasies take cocktail lovers to another realm.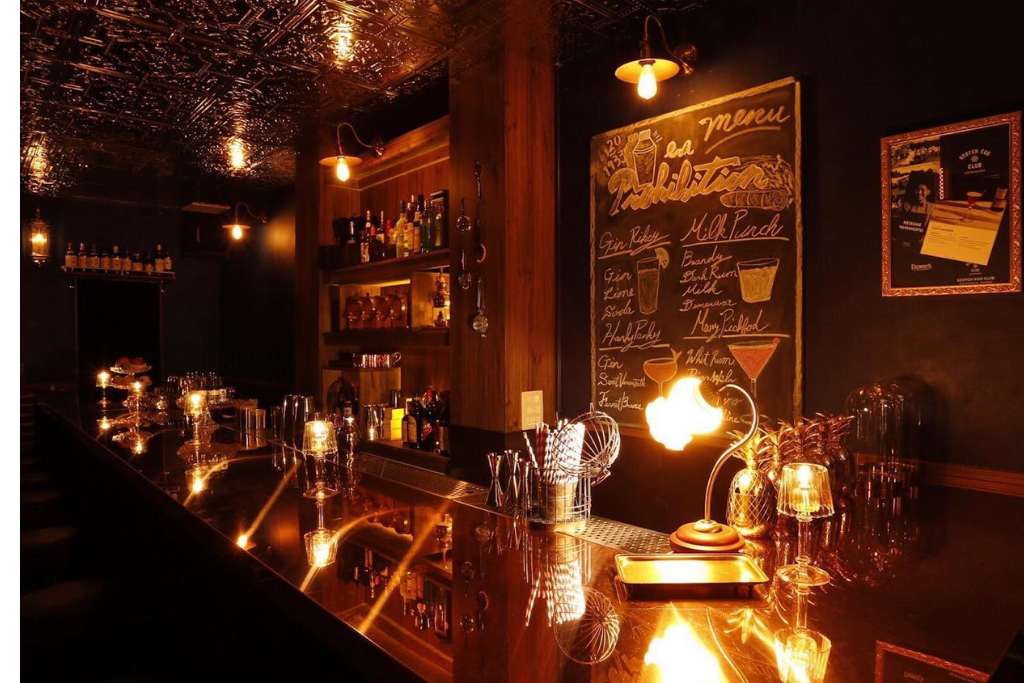 Kyoto
Known for its shrines, temples, graceful bowed greetings and zen gardens, Kyoto might seem an unusual place for a vintage-style speakeasy with prohibition-era vibes. But, Bee's Knees disguised behind a door marked The Book Store, kitted out among exposed brickwork, subdued lighting, no windows and moody decor, delivers as one of Asia's favorite bar experiences. Named for the bygone cocktail which used honey and citrus to hide the smell of gin, the bar serves up creative drinks such as a rye-based, sweetly bitter Not God Father, garnished with a top hat. Also delish, the Ninja Smash features Kyoto's own Ki no Bi gin, shiso leaves, sparkling sake, and more.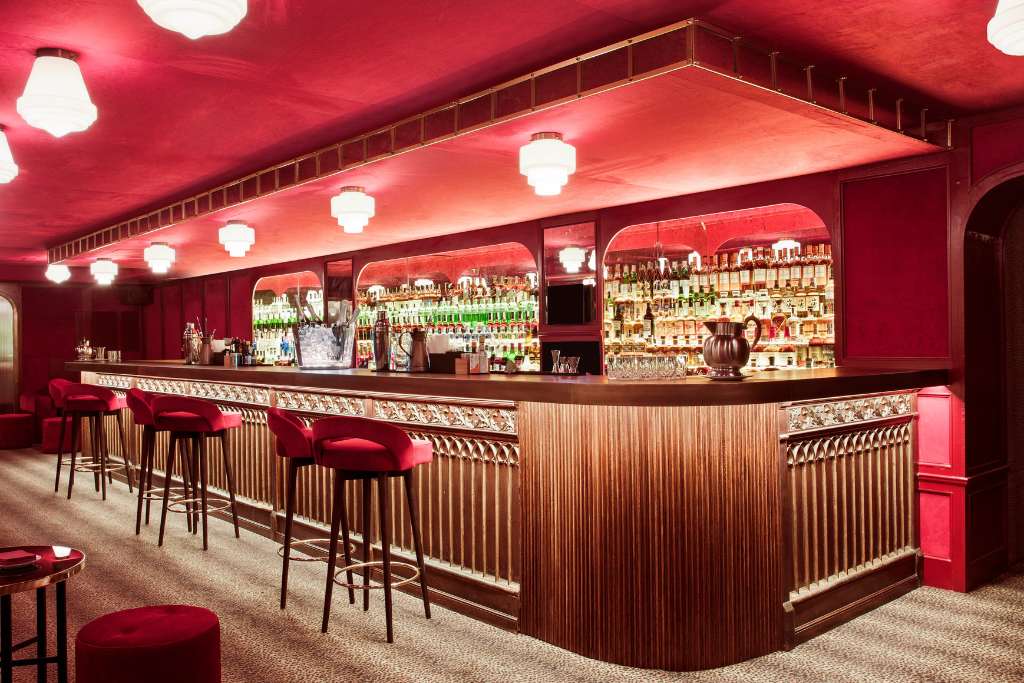 Madrid
Once Ernest Hemingway's home in Madrid, NH Collection Suecia Hotel, which opened in 1956, has a long alcohol-soaked reputation. While most visitors to the city will be out tapa-ing through the night, you can escape to a heyday 1920s world, sheathed in Art Deco grandeur. With red velvet armchairs, gild detail, an animal print floor, and a bar that incorporates the altar piece from a French 17th-century chapel, Hemingway Cocktail Bar at NH Collection Suecia channels Ernest and his lust for Spain, sociability and swills. Ask a staff member to share directions to the sequestered bar, hidden away in the cellar. Knock back the New Hemingway, a composition of Ron Brugal 1988, Chambord, topped with frothy egg white.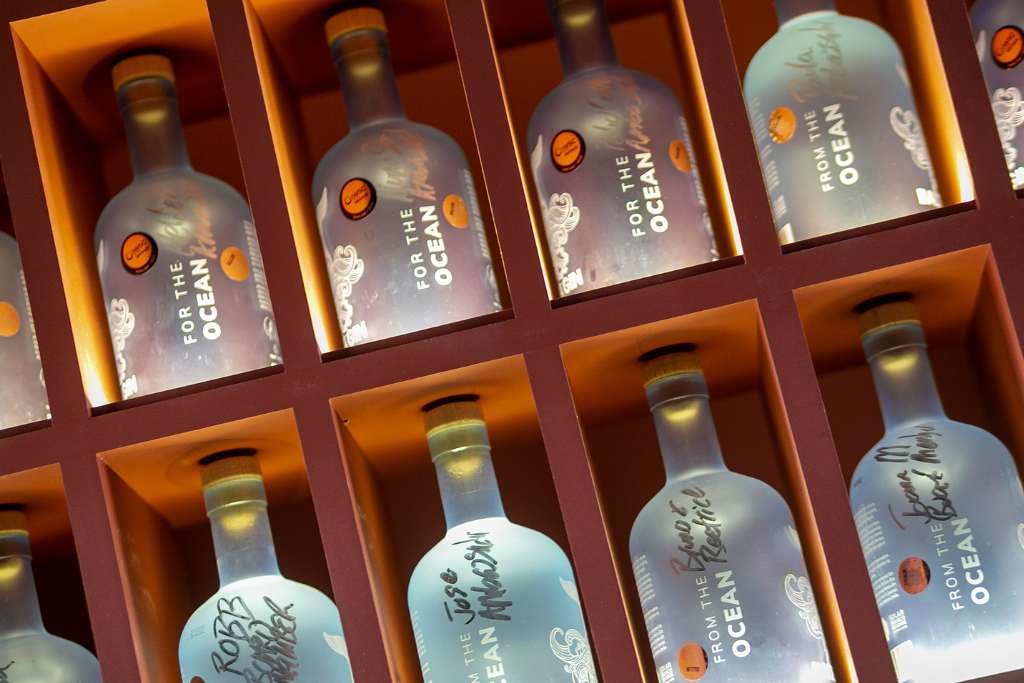 The Azores
At Solar Branco Eco Estate, a mindful traveler's way to make less of a footprint while exploring the stunning Azores archipelago, Senhor Raposa's Secret Drinking Den awaits for quaffing fun. Be among the first to try this captivating venue, named for a mysterious gentleman who legendarily built the estate. Accessed through a Gin Library, with entrance by reservation only, the unique nook is the first speakeasy in The Azores. While there, sample co-owner Ali Bullock's own award-winning Baleia Gin, produced on the island of São Miguel.
Los Cabos
La Botica translates to drugstore, an apt name for a curative multi-sensory journey to the 1920s. Harnessing elements of design, music and cocktails reflective of the Jazz Era, the speakeasy and piano bar takes its theme from the herbal apothecaries still omnipresent in Mexico. Belly up to the bar to quaff herbal-intoned libations and wellness minded drinks found nowhere else — like a Saffron Daiquiri. As part of Las Ventanas Al Paraiso A Rosewood Resort, La Botica lies through a hidden door next to the resort's famous The Spa at Las Ventanas. Don't miss the backbar, an altar space of eye-catching herbs, spices, and flowers. When it's time to go? You'll exit via an antique Coca Cola machine.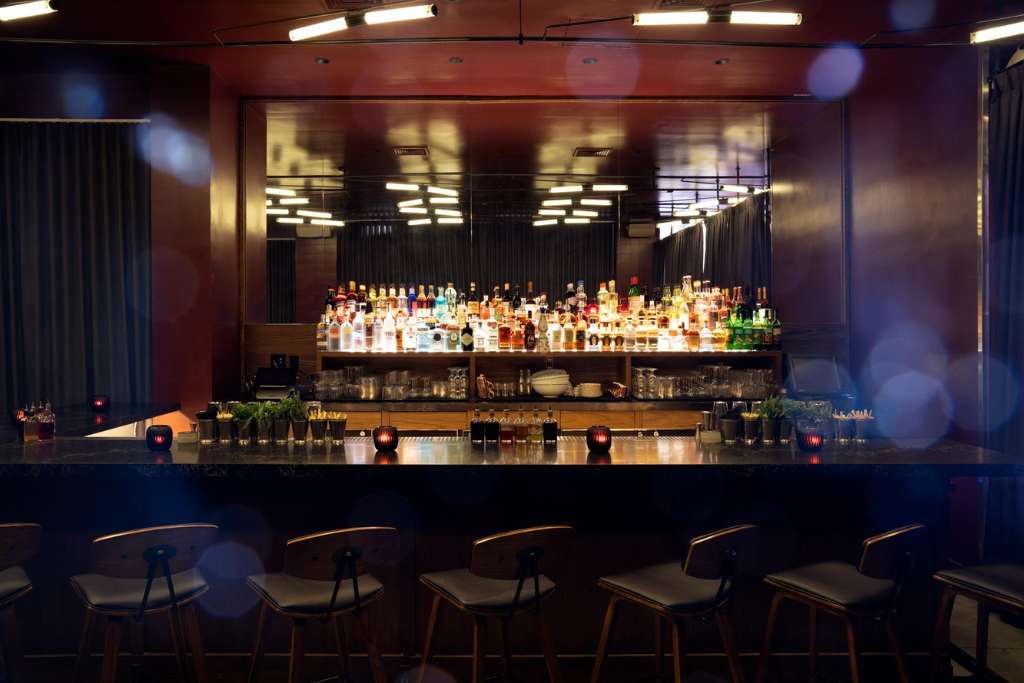 New York
Pop through a sultry velvet curtain to find Foxtail, a moxie speakeasy located on the ground floor of the Arlo SoHo Hotel. Channeling the Mad Men epoch with style, the bar adds a contemporary riff and a dose of seasonability, thanks to fresh local ingredients and mindful sourcing. With live music and sexy burlesque, the mystery salon's menu presents its drinks in themed sections — such as Fanciful Kitchen Classics. Expect to wet your whistle with elements — think: shareable punch bowls, complete with serving spoon and crystal glasses.
Paris
You could drop into this laundromat in the 10th arrondissement dragging a basket full of dirty clothes. Or, you could come for happy hour, ready to unwind from the stress of a hectic day in a cartoonish lair. While Lavomatic does have real washing machines, its the facsimile one you'll want to fin. Through it, a delightful ode to domestic pursuits and cocktail fun awaits. With Brillo box-stools, swings and yellow banquettes, the casual bar has gastronomic snacks, and innovative cocktails. Gulp the signature Monkey Tea Time, made with whisky and Earl Grey tea-infused syrup.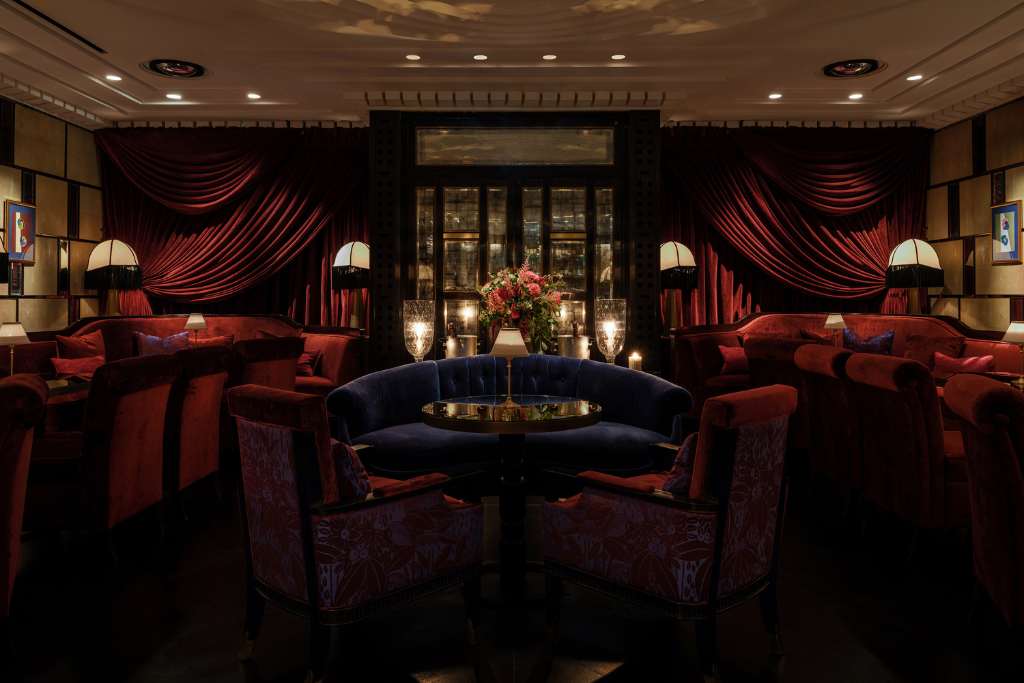 London
Lavish, seductive, even deliciously hedonistic Velvet, helmed by cocktail Maestro, Salvatore Calabrese stands out as Corinthia London's best-kept secret. Concealed behind apropos velvet curtains which open only when you correctly answer a riddle, the glamorous space by David Collins Studio was designed as a sybarite's fantasy. Its array of convex mirrors, regal lighting, red and blue furniture, and artwork by Robson Stannard complement the artful cocktail making and cursory glasses of bubbling Champagne that guests come to imbibe.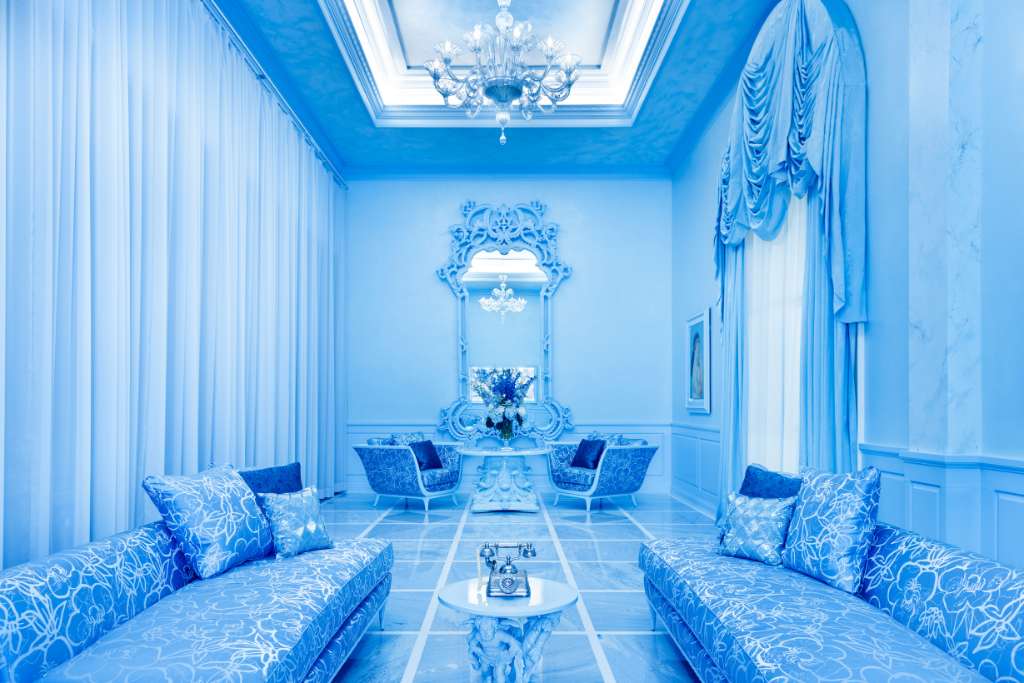 Pennsylvania
Within the enclave of historic Nemacolin, a large resort set amid woodlands The Bleu Room offers a diminutive cocktail hideaway, kitted out completely in hues of blue. (And that means the cocktails, too.) Boasting fantastical decor and designs inspired by Marie Antoinette's secret le cabinet de la Mèridienne in the palace of Versailles, this secreted haven conjures enchantment. Its floral upholstered couches, hand painted ceilings, silver and blue dancing cherubs, and blue marble tile floors setting a lyrical scene for cocktail tippling. For entry, guests must answer a riddle posed by the concierge.
Buenos Aires
A riot of color captures one's attention first, then the combined perfume of dozens of flowers all catawampus and gloriously wafting their scent from vases. It'd be easy to imagine this a simple flower shop, the swanky Retiro neighborhood's version of where to pick up a special bouquet. But think again: Florería Atlántico beckons through swaying refrigerator doors, a portal that leads to an inventive subterranean bar. An amusing menu puts drinks in categories such as Los Clericos (aka The Clergy, which includes a drink called Madre Tierra with Sauvignon Blanc and vermouth) and Los Negronis Del Abuelo (which features five diverse, elevated Negronis). Suave and cosmopolitan, the bar has won many awards.
Featured image courtesy of Foxtail.