Have you ever pondered the allure of a speakeasy? Is it that drinking in secret seems deliciously nefarious and naughty? Perhaps it's because some of us have a penchant to play dress up or cast ourselves back into history? Maybe it just feels like being part of a very exclusive in crowd, among the favored few who know the coveted password. Some might go for the draw of darkness. But truth be told, a speakeasy most of all means truly inventive cocktails crafted by a clever bartender and an experience that goes beyond slamming down airport Bloody Marys in a brightly lit terminal. If all that pondering made you thirsty, here's a few off-the-record drinking holes prime for wetting your proverbial whistle.
Bandista, Houston Texas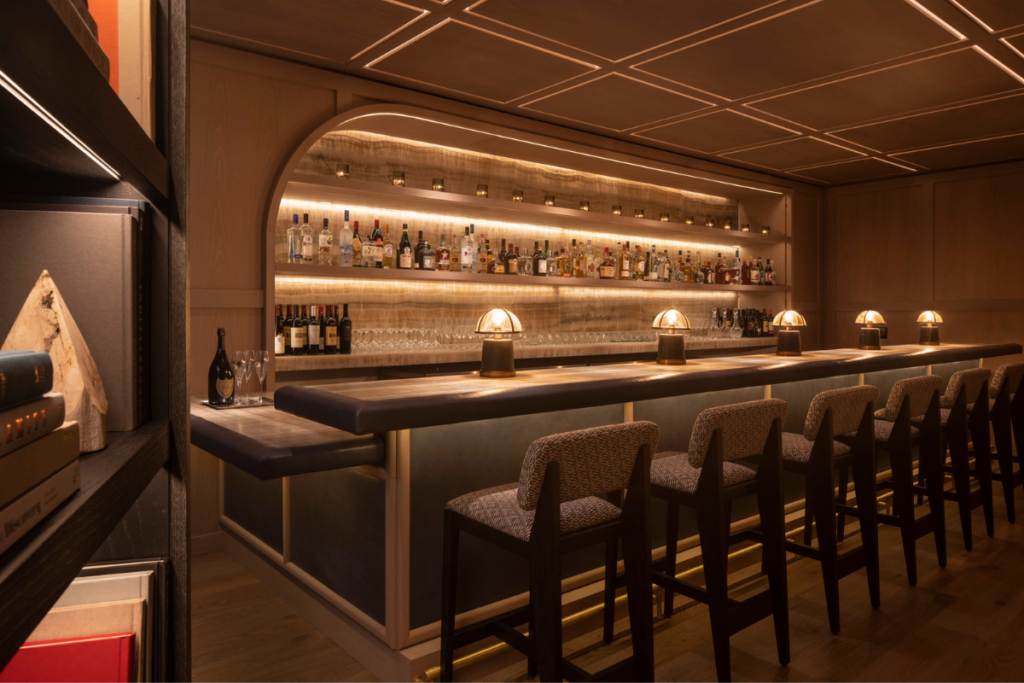 In the middle of Houston's modern buzz, the Four Seasons Houston has been gloriously renovated as Houston's bustling living room. Those seeking quieter corners can make reservations at diminutive Bandista, the hotel's Mata Hari worthy speakeasy, secreted behind a bookcase. A salute to cocktail artistry and bygone times, Bandista serves drinks with unexpected ingredients in equally unpredictable containers (a smoked glass box with a sailing ship inside for one). Splurge on newly minted Menage a Trois by beverage manager Johnathan Jones which transforms a Brandy Alexander into a trio of delight: a mist of  Krigler 'Established Cognac 66″ perfume, a layer of Brandy Alexander ice cream, and a crown of chocolate-y cognac, all for $103.
The Ski Lodge, Las Vegas, Nevada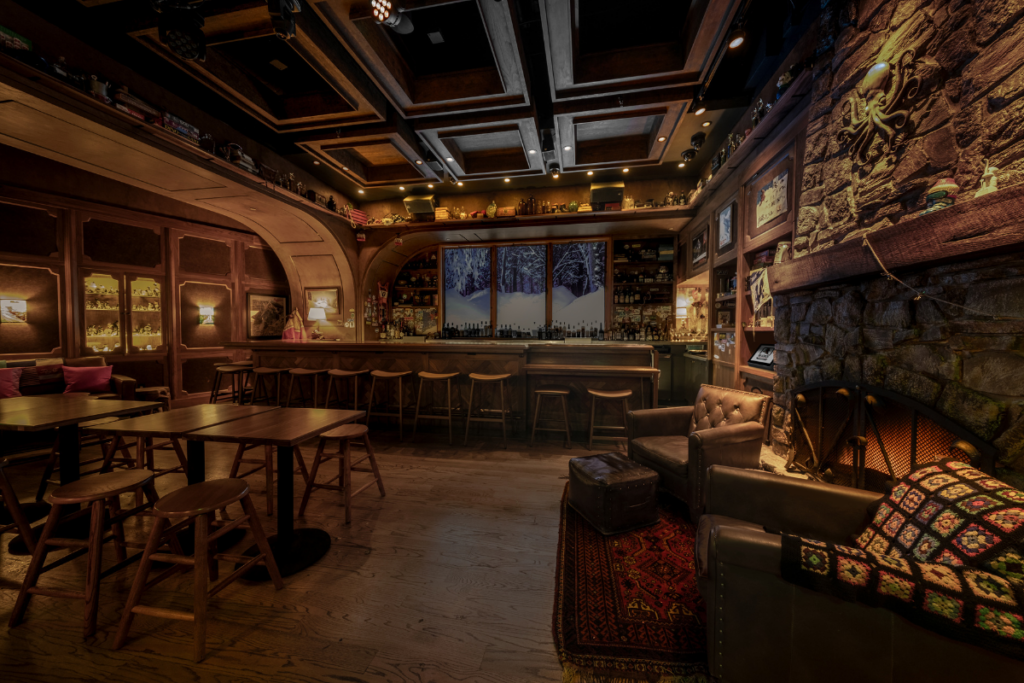 And you thought it didn't snow in Las Vegas? Anything can happen in this neon-lit city of sin, known for its frippery. Nestled behind an unmarked door on Level 2 of the Chelsea Tower within The Cosmopolitan, the Ski Lodge awaits, promising a way to cool down — at least metaphorically — from the heat. Across the threshold, visitors discover a winter cabin aesthetic, where what happens on a snow day stays in the snow day. Celebrated for its accompanying stellar pizzas from Superfrico, The Ski Lodge's cocktail program, also highly touted, has been developed and overseen by James Beard Award-winner Leo Robitschek and Superfrico Executive of Beverage Niko Novick. Try a Porn Star Martini (because . . . Las Vegas) with tequileno blanco, lustau fino, sherry, velvet falernum and passion fruit.
Bad Harriet, Aspen Colorado
Hearkening back to Aspen's feisty Victorian era as a silver boom town, this gin joint, an adjunct to the storied Hotel Jerome, Auberge Resorts Collection, was actually named for the wife of the hotel's builder and founder, who we must assume liked to sneak a tipple or two to get through those cold winter nights. Set in a long abandoned newspaper office, with a door flanked by windows that showcase ancient typewriters, down a column of creaking stairs, Bad Harriet unfolds in a basement lair. Cozy, shadowy with boudoir decor, the bar provides an amusing alternative to the al fresco apres ski scene elsewhere in Aspen. Sit at the bar to sip a Harriet, an aromatic knockout with creamy Japanese  Ki No Tea Green Tea gin, served in a vintage coupe.
The Iron Door, Grass Valley California
After one drink at the Iron Door, located in the basement of the Holbrooke Hotel, one of the oldest hotels in California, you may start to see ghosts.That's because the hotel, established during the Gold Rush, has stories to tell. But so does its stashed away bar, once an actual speakeasy and brothel, where plush banquettes and a custom bar glimmer beneath amber lighting and an original stone wall ensures gravitas. As you knock back a Violet French 75 (gin, lemon, violette, and a sparkling float), gaze upon historic metal doors, which once led to tunnels likely used for transporting gold or escaping the authorities after a bender.
Mather's Social Gathering, Orlando Florida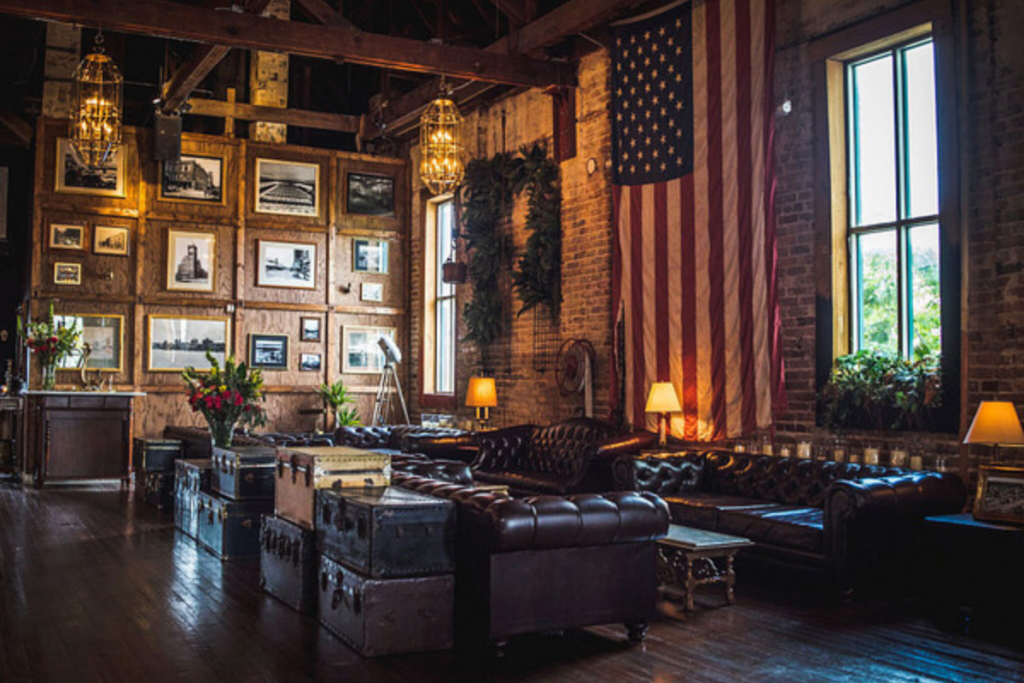 Fancy dress is required for this throwback to hidden fetes and whispered soirees. A stylishly sexy place where bartenders are dashingly dramatic and concoctions are created with theatrical elan, Mathers exudes Gatsby-era allure. On the third floor of a historic furniture store in downtown Orlando, Mathers beckons from behind a bookcase. Within, dark-wood soaked rooms invite flirting, as do the clever drinks, composed of boutique spirits, house-made bitters, seasonal, cordials and syrups. Order an Envy, Mathers' signature, vintage-style smoked cocktail, served with a flourish and you'll capture the attention of everyone in the room.
Swordfish Tom's, Kansas City
Head down an alley in the cool Crossroads Arts District and look for a lantern. If it is lit green, you have permission to knock and enter the Jazz-era-inspired, boozy fray, ensconced in a basement boiler room.A woman-owned lounge, this nod to the hedonistic past rejoices in the golden age of the cocktail, emphasizing quality over quantity. Meant to keep the ambiance timeless, rules apply: phones on silent, no loud voices, and only 30 people in the bar at a time — to name a few. Nip a Dilli Vanilli, a mezcal Margarita with a twist: smoky, dill-infused, and creamy with vanilla liqueur.
Jewel Thief, New York City
Heist at Harry's? That's not just a cocktail at Jewel Thief, but a real life heist from Harry Winston's in Paris where robbers left the premises with 102 million dollars worth of goods. You'll read other stories on this bedazzling bar's entertaining libation menu where the moment you walk in you feel like characters in a Hitchcock movie. Lavish and seductive, quixotic Jewel Thief, camouflaged beneath Spritz Nomad, beautified with gild and curiosities such as ornate treasure chests, has cushy banquettes, chandeliers, and accouterments that seem to have been borrowed from a movie set. Think: a film with cat burglars, handsome men, and the Côte d' Azur. Order a Heist at Harry's to drink up the legend. With Tanqueray Seville, Bergamot, and Grapefruit, this cocktail is a real steal.