Oh, if books could talk.
While my happiness in a splendorous hotel relies on myriad factors — a soaking tub, a terrace with breathtaking view, quality art, a characteristic bar, and soulful gravitas to name a few— an extraordinary hotel's library never fails to seduce and besot me. I've bellied up to sip a hazelnut inflected, Manhattan-like Pere e Nocciole at The Library Bar within Saint James Paris, Paris' only chateau hotel, a former school. With an ornate coffered ceiling and walls sheathed in antique, leather-bound books, the bar exudes Cambridge King's College Chapel vibes perfumed with Parisian chic.
In Mount Kenya's foothills, at Segera Retreat, I've skipped away from my stand-alone cottage in a 50,000-acre wildlife reserve to peruse the bounty of the Explorer Lodge, Segera's mind boggling room that houses a collection of diaries, unpublished letters, and manuscripts by the likes of David Livingstone, Karen Blixen, and Ernest Hemingway.
Sipping a welcome margarita during check in at San Antonio's spellbinding Hotel Emma, kitted out in a re-imagined 19th-century brewery, I've lingered for an hour in the bi-level library, a bolthole with nearly 4,000 rare books.
And, wearing a period costume from the trove offered guests for dress up at Ballyfin, a regal Georgian estate in Ireland, I've played princess in its opulent 80-foot-long, mahogany-walled library, entered via a secret door, looking for the collection's Geneva-created,16th-century New Testament, printed in Greek (not that I could translate the Greek — but, oh the novelty).
If a hotel has a library, rest assured, I will find it, smell its signature nostalgic aroma (earthy? inky? woody? leafy?), and revel in it. So with no further aplomb we offer a compendium of inviting luxurious hotel libraries to stimulate your intellectual travels.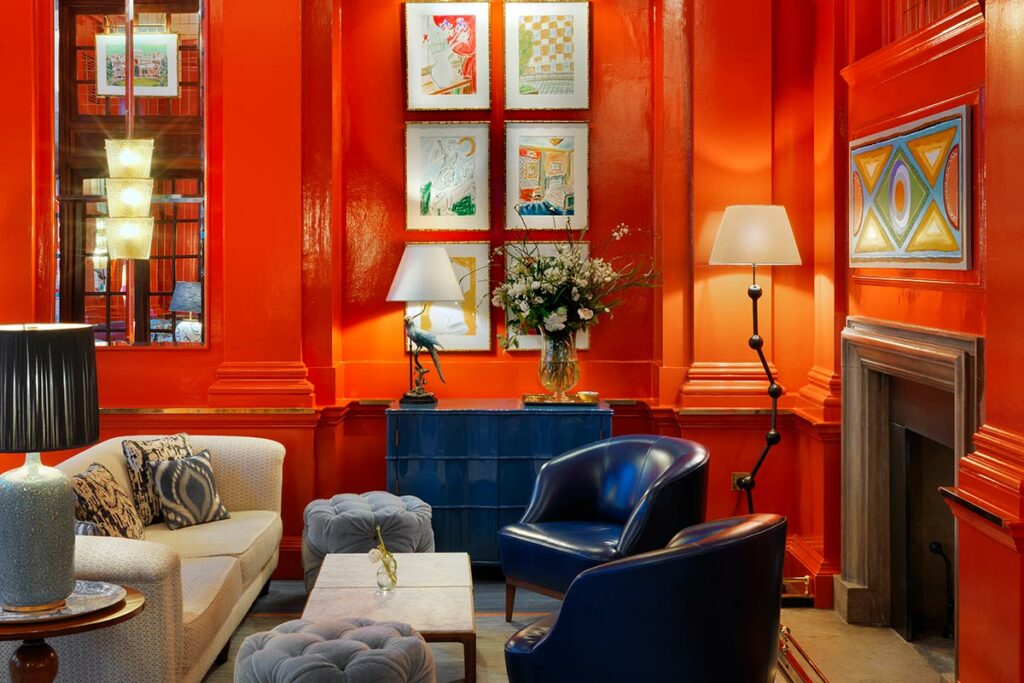 The Bloomsbury Hotel
An ode to Nobel Prize-winning Irish poet, playwright and translator Seamus Heaney, the eponymous library at the Bloomsbury Hotel, a Lutyens-designed building in the midst of London's literary heartland harbors hundreds of first editions dating back to the 1930s. Furnished with Lutyens-designed spider-back chairs and a long oak table, the Seamus Heaney Library has wood paneled walls and a parquet floor.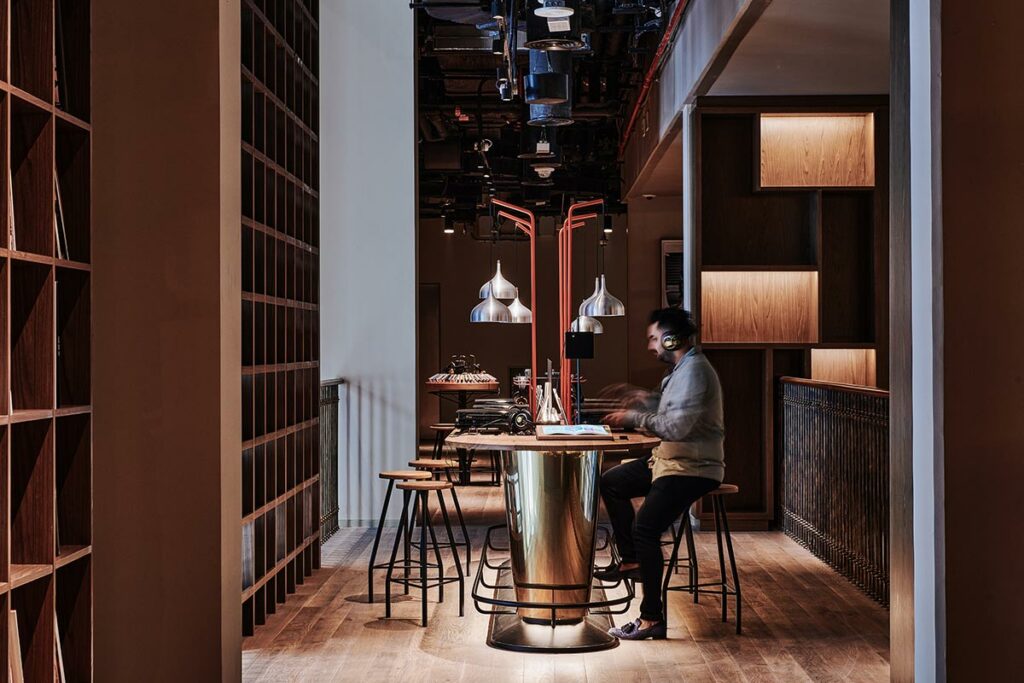 25hours Hotel One Central
Ever canny, the quirky and deliciously zany 25hours Hotel group relishes the power of books to evoke a sense of place. Most of their hotels, from Copenhagen to Florence summon literary power to incorporate cultural elements into their design motifs. Dubai's 25hours Hotel One Central's lobby houses a Fountain of Tales, a circular sitting area reminiscent of a fountain, full of bookshelves and reading nooks. It houses 5,000 books. Atop it, a revolving, lit globe presents local artwork.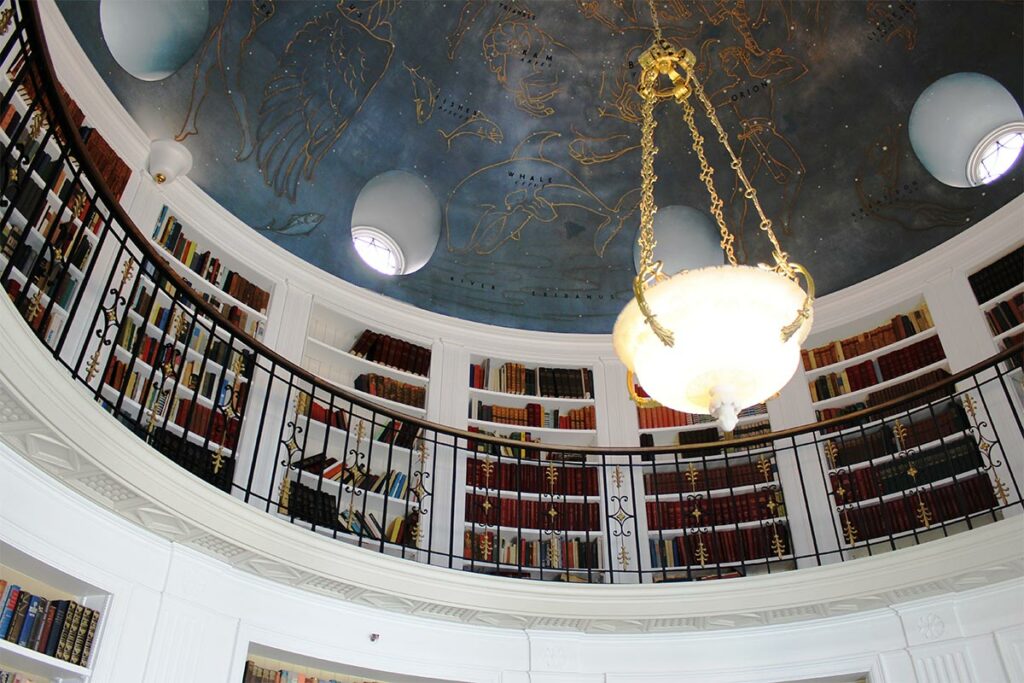 Fairmont San Francisco
Not surprisingly, rockstars, kings, presidents, and celebrities aplenty have spent the night, even taken the secret passageway behind the bookcase in Fairmont San Francisco's alluring Penthouse Suite, which spans the hotel's entire 8th floor. Listed on the National Register of Historic Places, the room boasts signature David Hockney paintings, Art Deco furnishings, and an enormous terrace. However, no element of the grandiose room can compete with its captivating two story library, brimming with books, and capped with a domed ceiling, decorated with an original gold leaf celestial map.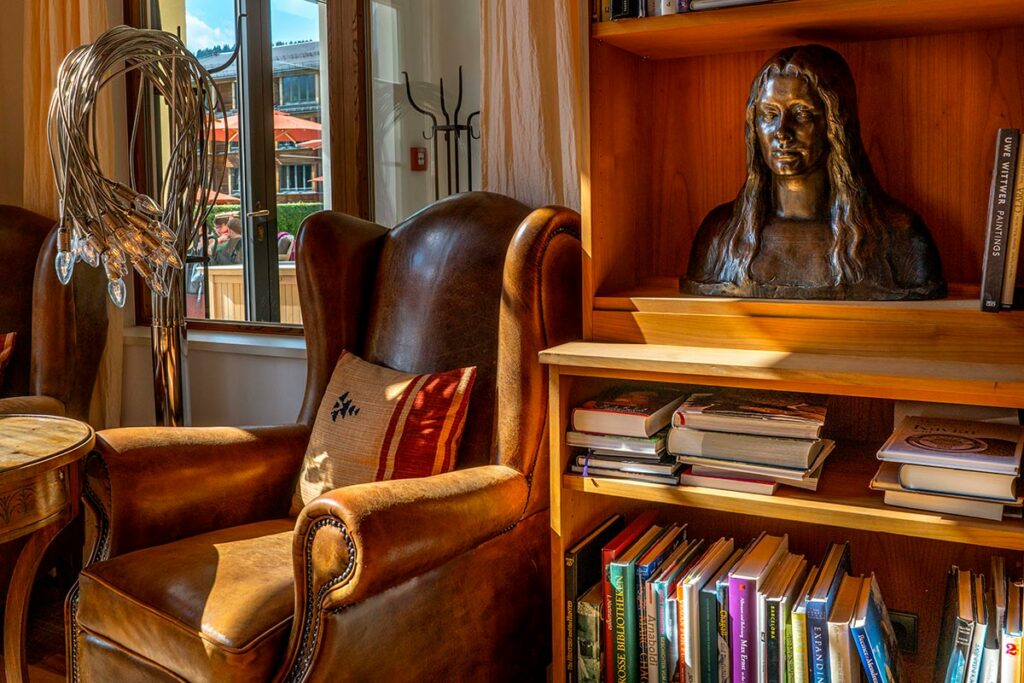 Schloss Elmau
Most people visit Schloss Elmau in the Bavarian Alps for its prodigious spa facilities, stellar dining, and mountain-blessed setting. But for those who manage to eschew the profusion of pools, saunas, steam rooms, and athletic activity options, but three libraries beckon: the Silentium Library, where guests can read and ruminate; the Wetterstein Library, quiet enough to write a novel; and the Library Lounge at the Retreat, a social space, enhanced by two open fireplaces, and mountain vistas. But the pièce de résistance is the colossal bookstore, the largest in any hotel in Germany.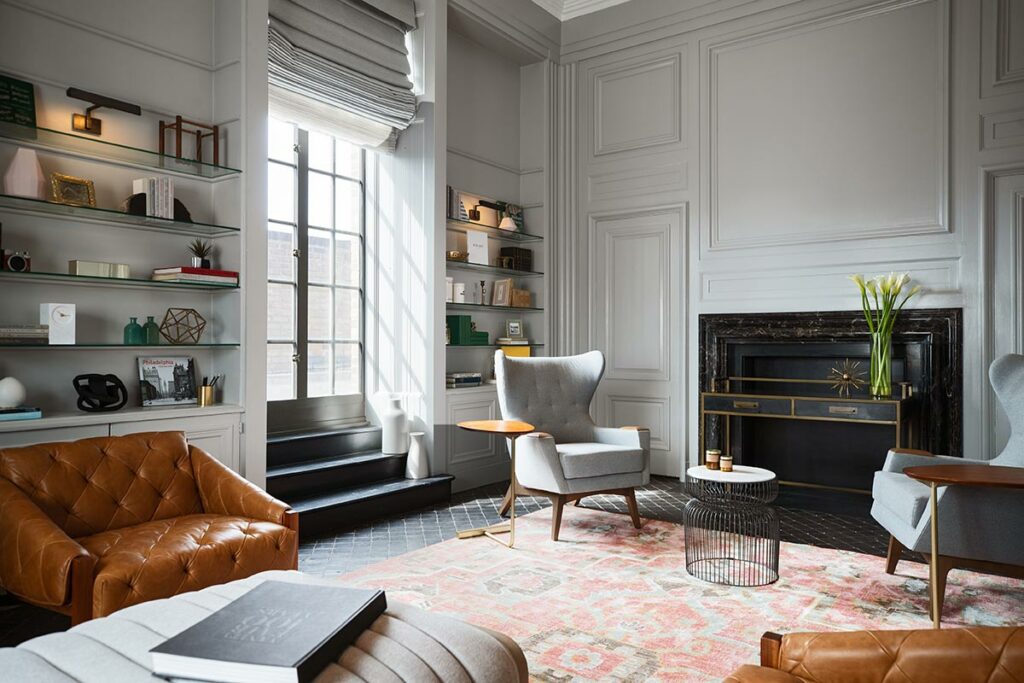 Kimpton Hotel Palomar Philadelphia
Apropos to Philadelphia's profound historical gravitas, its Kimpton Hotel Palomar Philadelphia occupies the 1929 Architects Building, designed by Paul Philippe Cret, now renovated for adaptive reuse. It lies just a stone's throw from Rittenhouse Square. A confection of original Art Deco elements, including tile mosaics, crown moldings, and an etched elevator in the savvy property adds contemporary touches into the mix. Think: square bathtubs planted by windows to showcase the city views. Its paragon cranny, the AIA Library, channels Benjamin Franklin-worthy curiosity with tufted chairs, city vistas, and a plenitude of design books.
Lake Austin Spa Resort
On the banks of Lake Austin, Lake Austin Spa Resort, one of the world's top destinations for wellness getaways keeps guests busy with more than 20 daily scheduled activity options, a slew of water sports temptations, two pools, hammocks for dreaming, a state-of-the-art gym, and the tranquil spa's menu of nearly 100 varied body and face treatments. But part of wellbeing means stoking the fire within. Guests do that in the beautiful Garden Library, a haven of books of all genres, furnished with cozy chairs, floral fabrics, and water views.
The St. Regis Bermuda Resort
Reflecting the colors of the beach in brilliant off-white hues, the John Jacob Astor Library at The St. Regis Bermuda Resort provides an optimal place to take a break from the sun and soak up a good story instead. Anchored by a colorful painting of renowned Chaplin Bay, beloved by local children as a place to learn to swim, the library stays on theme with a children's corner, stocked with kids literature. Near the butler service desk, the hideaway also has plenty of titles for adult bookworms.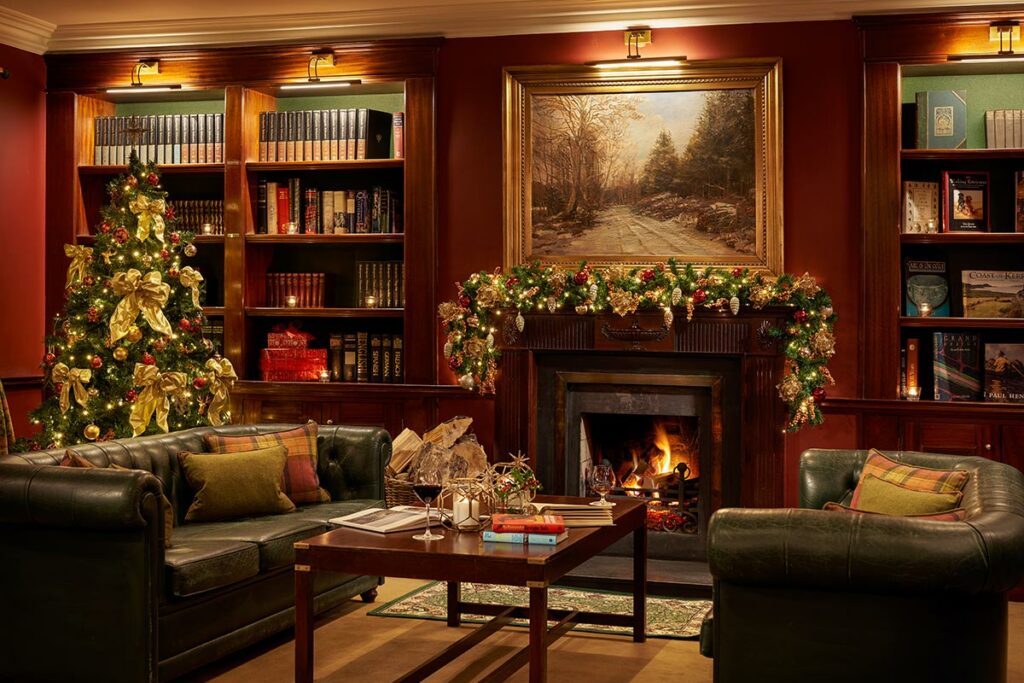 Sheen Falls Lodge
Ireland's literary tradition dates back centuries. Delve into its largesse with a stay at Sheen Falls Lodge in Country Kerry, a five-star Relais & Chateaux property, woven into the heart of Kenmare Bay on the Wild Atlantic Way — an exemplar location for sightseers. A 300-acre estate, Sheen loves to keep guests on property, luring them to discover Ireland in this microcosm of Irish enchantment. Activities range from fishing to spa to falconry to afternoon tea. Take a bibliophile break in its atmospheric library, befitting the stateliness of the elegant manor house. Redolent of the setting for a bygone literary salon, it also feels sophisticated and modern, a place to cuddle by the fire.