When people speak of Ireland, they tend to get misty in the eye. Perhaps it's because of familial connections, long ties that bind, or perhaps it's due to the landscape dotted with ruins seemingly pulled out of a fairy tale. Maybe it is the Irish's love of storytelling and music, or perhaps, as we would guess, it's because of the Emerald Isle's famed hospitality. Home to some of the most charming small hotels, family-run inns, and literal castles, staying in Ireland has the feel of moving in and out of a story book, where each day you can become something new, immerse yourself into a fresh page, another tale, and try it all on for size.
Here are six Irish country retreats worth traveling for.
Ballyfin Demense, Ballyfin, Co. Laois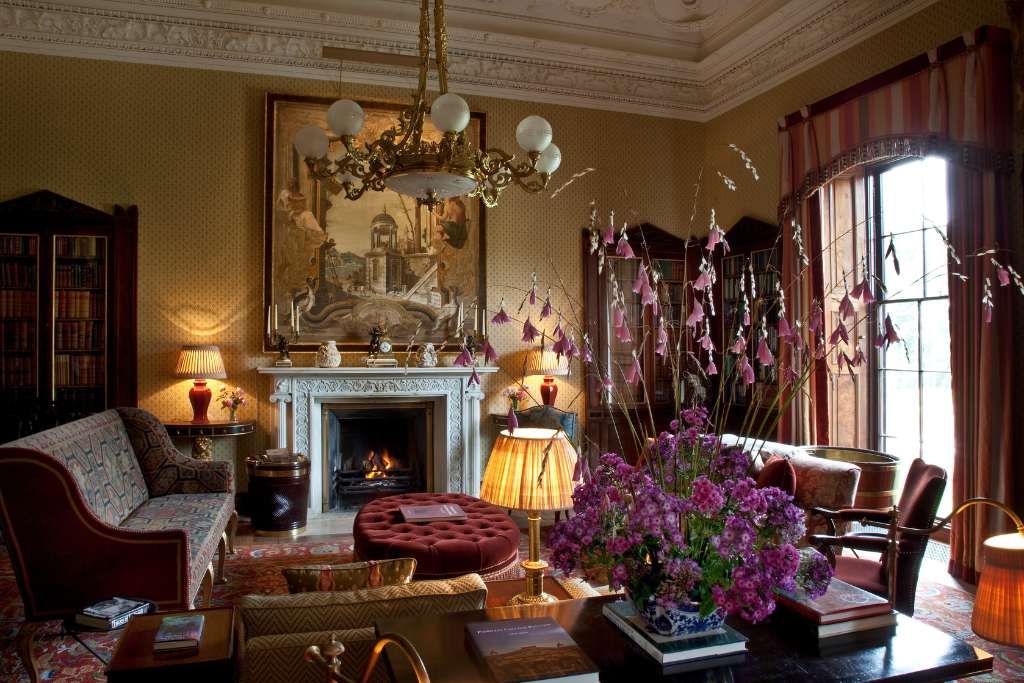 Only around 100 manor homes survived Ireland's early 20th-century troubles and Ballyfin Demense, an 1820s Georgian House set on over 600 acres, is one the grandest to have been spared. The private mansion was eventually converted into a Catholic boys' school, and later purchased in the early aughts by an American businessman who undertook a top to bottom renovation so extensive and thorough there's an entire book about it. Ballyfin opened as a hotel in 2011, and is one of the most luxurious and private places to stay in the world. No expense was spared in its restoration, from the mansion itself to the folly castle and grotto that were constructed in the 19th century, to the glass conservatory which was painstakingly reconstructed curved glass piece by curved glass piece. Inside, the ceiling plaster was restored and recreated, period and period-inspired furniture lugged in, bathrooms were refitted in marble soaking tub glory, the original floors were polished and restored, and even many of the home's original paintings were located and reacquired. The result is one of true magic. Guests feel Ballyfin's deep sense of pride in the daily intimate history tours and in the staff, several of whom quite literally grew up in the home when it was a boys' school and when exams were staged in what is now the dining room. It's easy to feel swept away by Ballyfin and the estate's 614 acres, the renovation and rebirth of which were overseen by the renowned Irish landscape designer Jim Reynolds. You sense Reynolds' expertise and care everywhere, from the moment you enter Ballyfin's gates to the grand reveal of the house, to a horse carriage ride around the 28-acre lake (complete with wild swans), to strolls (ideally with a cocktail in hand) around the flower-filled fields looking over the Slieve Bloom Mountains.
Rates from $865
Dromoland Castle Hotel, Newmarket on Fergus, Co. Clare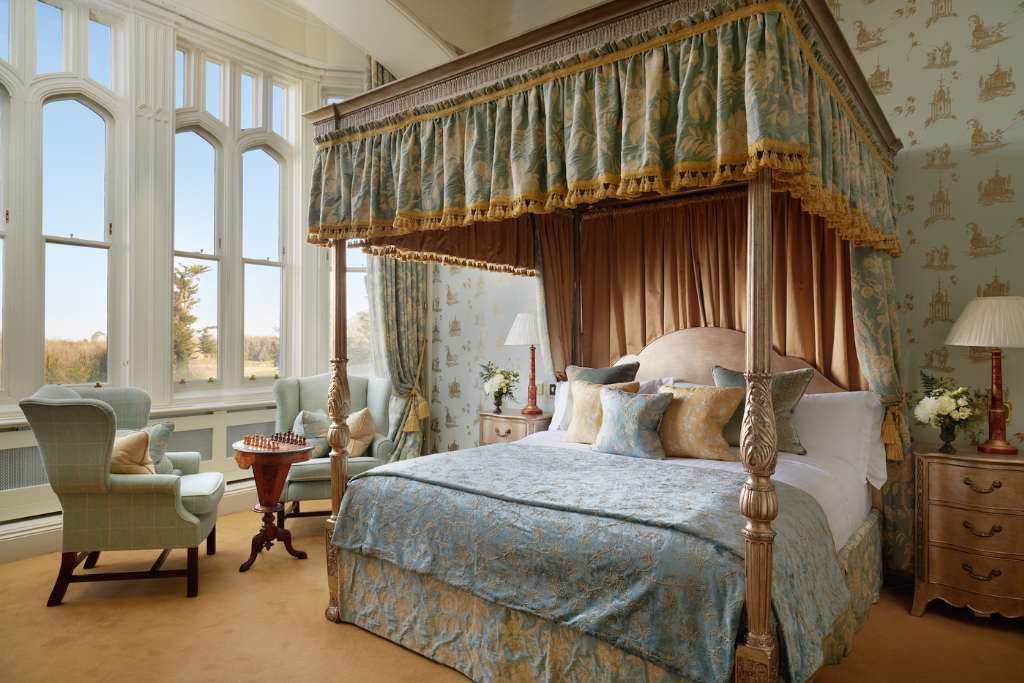 The seat of the O'Brien family for over 900 years, Dromoland Castle in County Clare has seen a thing or two. The blue limestone grand gothic fortress has undergone several iterations of redesign and rebuilding, having passed through eras of active resistance to British takeover and happier days as the home of the one-time wealthiest family in Ireland. Dromoland remained a private castle until the family, having fallen on times that made the financial realities of castle life increasingly a fantasy, began taking in paying overnight guests in the late 1940s. Today the castle maintains the air of its last heirs, with a mid-century chintz somewhere cozily between Fawlty Towers and a fashionable luxury hotel. The winding corridors are darkly carpeted, an army of long-term local staff await at seemingly every bend, and walls are lined with both Irish whiskies (of course) and Staffordshire dog figurines in equal measure. It was here in 1964, after the castle was reborn from an ancestral home into a fully-functioning hotel, that John Lennon and George Harrison, their wives disguised as maids in tow, took refuge from the prying eyes of Beatlemania. It's easy, in Dromoland's intriguing time warp, to image the Beatles roaming the grounds. Yet rather than encountering John or George, you're more likely to find yourself with young and extended families. The family-friendly nature of Dromoland is the estate's principal attraction and the 330-acre estate with falconry, boating, fishing, and paddle boarding on the private late, archery, clay shooting, an 18-hole golf course, two restaurants, and a spa, is a world unto itself.
Rates from $554
Mount Juliet Estate, Thomastown, Co. Kilkenny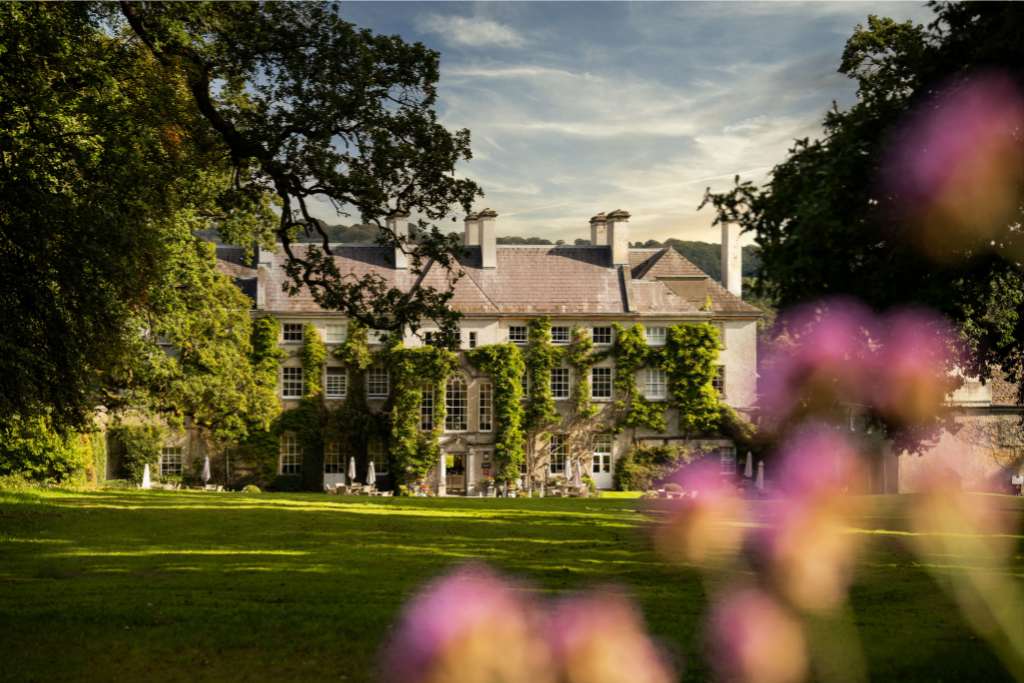 Stepping into the manor house on Mount Juliet Estate feels a bit like entering in a fairy tale; it's almost too beautiful to be real. The 18th-century home overlooking the River Nore features hand-painted wall murals, a sweeping central staircase, and a roaring fireplace. And that's just what you see in the first ten seconds of entering the home. The manor house has been meticulously restored and boasts original, centuries-old stucco work and pastel heavy interiors made as much for 18th-century Irish aristocrats as they are for Instagram. The home's hilltop position offers sweeping views of a thoroughbred horse farm and extensive grounds that erupt in a carpet of wildflowers each spring. A private home until 1985, Mount Juliet opened as a hotel two years later and has since earned a privileged reputation with local and international travelers. Built by Irish aristocrat Somerset Hamilton Butler, the first Earl of Carrick, for his fiancé, Juliet, the Estate was purchased in the late 19th century by a horse-mad English family who developed the property into a stud farm that would produce some of the world's most noteworthy racers. The Estate today, at 500 acres, is a fraction of what it once was, but now includes a Jack Nicklaus-designed golf course, casual restaurant located in what was once the stables for the estate's work horses and dogs, and a new building with 90 additional guest rooms. The new builds are tasteful and discreet, but the star of the property is the original manor home, which today houses 32 guest rooms, luxurious sitting rooms, multiple bars and fireplaces, and a restaurant Lady Helen, which has maintained a Michelin star for 10 years. Mount Juliet's grounds are romantic (with both a capital and a lowercase R), having played host to many micro weddings and boasting an original rounded stone gate, designed to funnel in moonlight on dark nights.
Rates from $270
Ballymaloe House Hotel, Shanagarry, Co. Cork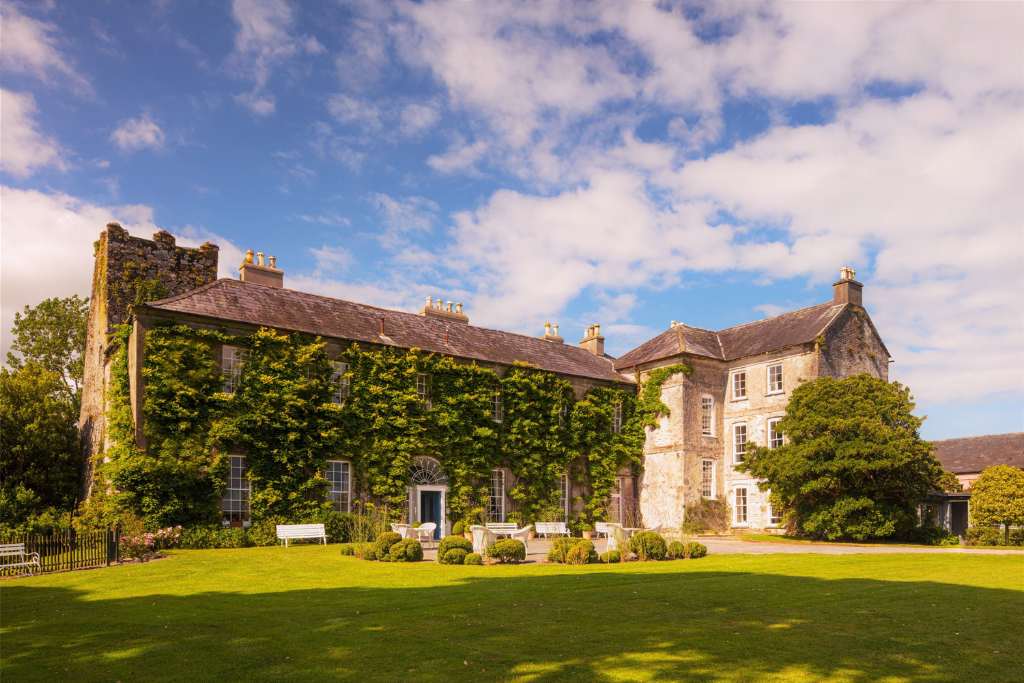 Credited as the birthplace of modern Irish cuisine, a continued leader in the farm-to-fork food movement, and cemented on the map thanks to its award-winning restaurant, cookery school, and charming guest accommodations, Ballymaloe House Hotel is a legend in bucolic County Cork. In1964, Myrtle Allen, a farmer's wife and the mother of six young children, opened a restaurant in her home under the philosophy of creating a menu using local, seasonal, healthy ingredients. The venture, The Yeats Room, was a roaring success (that continues today). Now, nearly 60 years later, Ballymaloe is still a family-run business, and although a small luxury hotel of the world, maintains the feeling of a cozy familiarity. The hotel draws in a retinue of guests — Allen fans and otherwise — who travel from across the world to stay in the main home and outbuildings, along with day trippers who come for lunch, tea, or dinner. Surrounded by over 300 acres of farmland and meadows, Ballymaloe's 33 bedrooms are uniquely appointed in a traditional, comforting, edging on Granny-chic style, which is part of the appeal. Linger in the drawing room with an elderflower martini before dinner and savor your time at one of the hotel's seven adjoining dining rooms, feasting on a menu inspired by the close-lapping Irish Sea. Ballymaloe's on-site farm shop sells gorgeous Irish- and British-made gifts, knitwear, and kitchenware, and has a small café at the back for pop-in shoppers. Food is the central heart of Ballymaloe and guests, staying just one night, leave planning to enroll in one of the upcoming cookery workshops. Or you can bring home a copy of Ballymaloe's excellent cookbook. 
Rates from $540 (includes dinner and breakfast for two).
Sheen Falls Lodge, Kenmare, Co. Kerry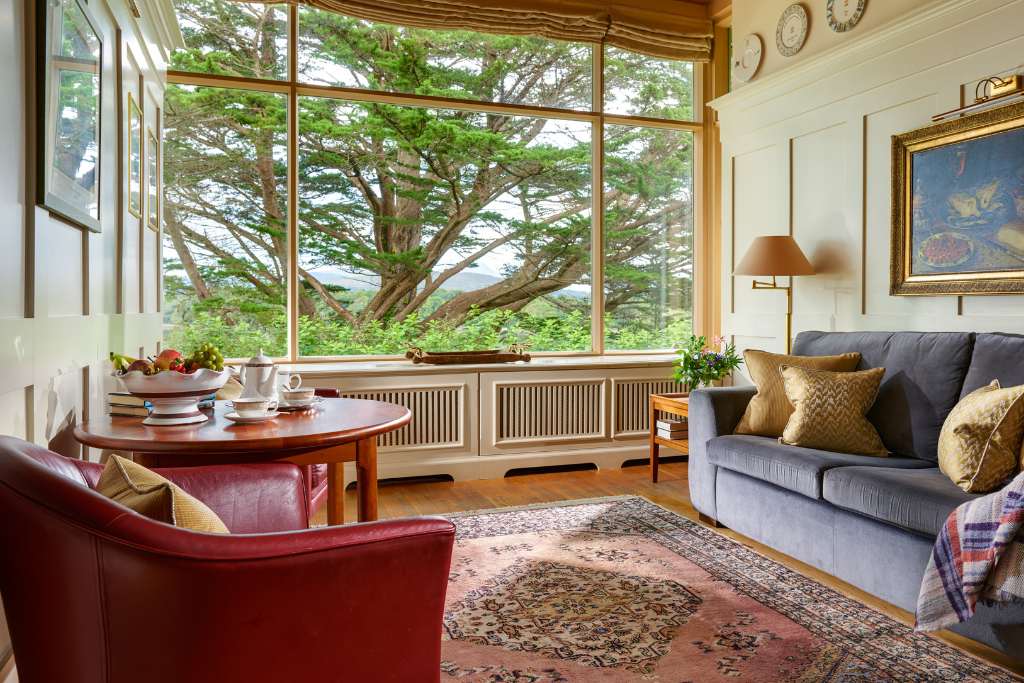 Located on the edge of Kenmare in County Kerry, Sheen Falls Lodge rests idyllically above the Kenmare Bay. The Lodge's fortuitous location makes for sweeping and dramatic views (be sure to book a water-facing room), while its interiors offer a modern, decidedly 21st- century aesthetic. Popular with well-heeled travelers, the hotel is located on the Ring of Kerry and retains a connection to the Wild Atlantic Way that other newer resorts might miss. Here, the outdoors rule, with water sports such as kayaking and paddle boarding, as well as land activities like horseback riding, fly fishing, and falconry taking central stage; while three restaurants, including the newly opened Nua Vista, offer menus of modern Irish cuisine. Sheen Falls Lodge's 300 acres are home to a number of cottages for guests looking for more private or family stays, and their bright facades and thatched roofs lend a sense of old-fashioned charm to the new builds. The Lodge maintains and celebrates a deep relationship to the local community and showcases the work of artisans and artists throughout the property, from wall murals by Irish artist Christine Bowen, to furniture by master cabinetmaker Joop Duyn, to coffee mugs which have been commissioned by local potter Muckross Pottery. For guests who leave the comfort of their in-room fireplaces and water views, a vintage 1932 Buick stands waiting to transport them, stylishly, into town.
Rates from $275
Ballyvolane House, Fermoy, Co. Cork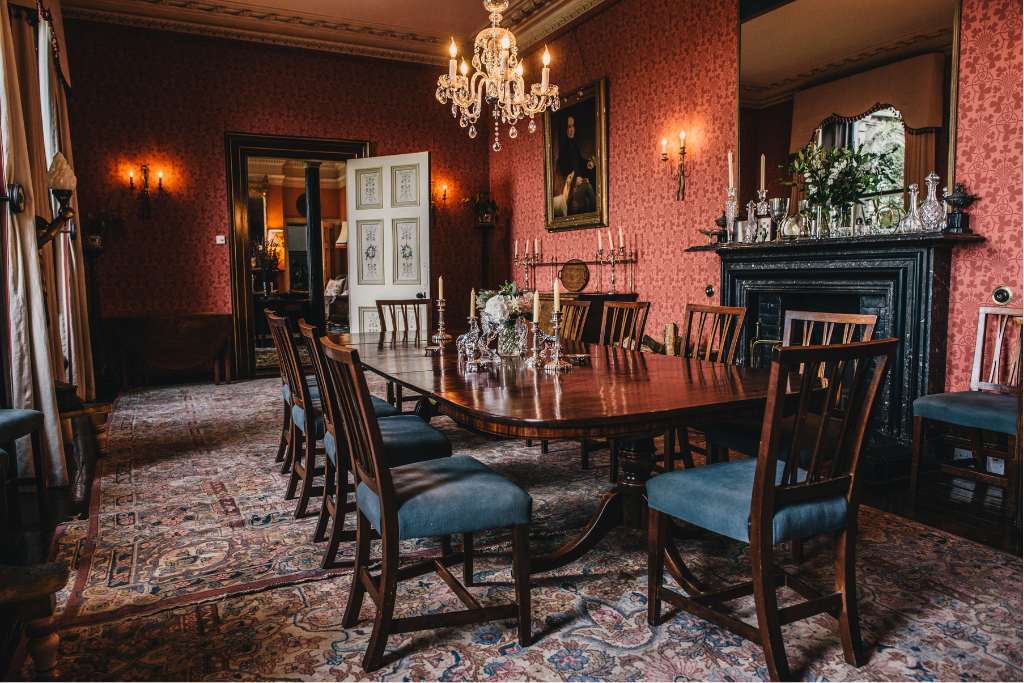 Checking in to Ballyvolane House feels a bit like arriving as the overnight guest of your well-traveled, wealthy, and eccentric uncle. Here, in this magnificent country house in verdant County Cork, the overriding feeling is one of lived-in warmth where no one blinks an eye at boots, muddy from a garden walk, trodding across antique rugs. Ballyvolane is a private home, in a sense, with its third-generation owners residing in a private wing; the home's six bedrooms reserved exclusively for guests, which include the now King Charles III, Queen Camilla, and their entourage. Try the signature rhubarb martini, a pink-hued dream made with both house-made gin (the ever-growing in popularity Bertha's Revenge), and homegrown rhubarb from the garden. Rooms are furnished with pieces picked up from around the globe, and textiles layered in the subtle art of country home interior design mastery. The ensuite bathrooms feature oversized antique tubs and washbasins that somehow feel more over the top than minimal (when is the last time you've climbed polished steps to enter your bath?). If there was ever a home that inspires dreams and makes you consider throwing your life path off course to acquire an Irish country house, than Ballyvolane is it. Rates From $320