"Are you sure Dirty Dancing wasn't filmed here?" I am facing a row of white clapboard cottages, overlooking Peconic Bay on Shelter Island, New York. The resemblance to the classic cottages featured in the iconic 1987 Patrick Swayze and Jennifer Grey film is uncanny.  Next to me, Jack Von Savage, the effervescent general manager of The Pridwin — Shelter Island's historic (built in 1927 and recently born-again hotel) — grins. "You are not the first to ask," he says. "But no, it was not  filmed here. In fact, you are looking at a brand new cottage." 
The cottage, Red Oak — like seven others here — was meticulously constructed to replicate The Pridwin's nine original (and newly refurbished) cottages. Named after the trees found on the island (Fraser, Black Cherry, Hickory, Red, and White Oak), all feature cathedral ceilings, fireplaces, cushy beds, and wooden decks with rocking chairs, many with water views. It is this seemingly magical act of making something new look retro and retro look new — all while eloquently maintaining the soul and integrity of each space and place it touches — that is the signature of Cape Resorts.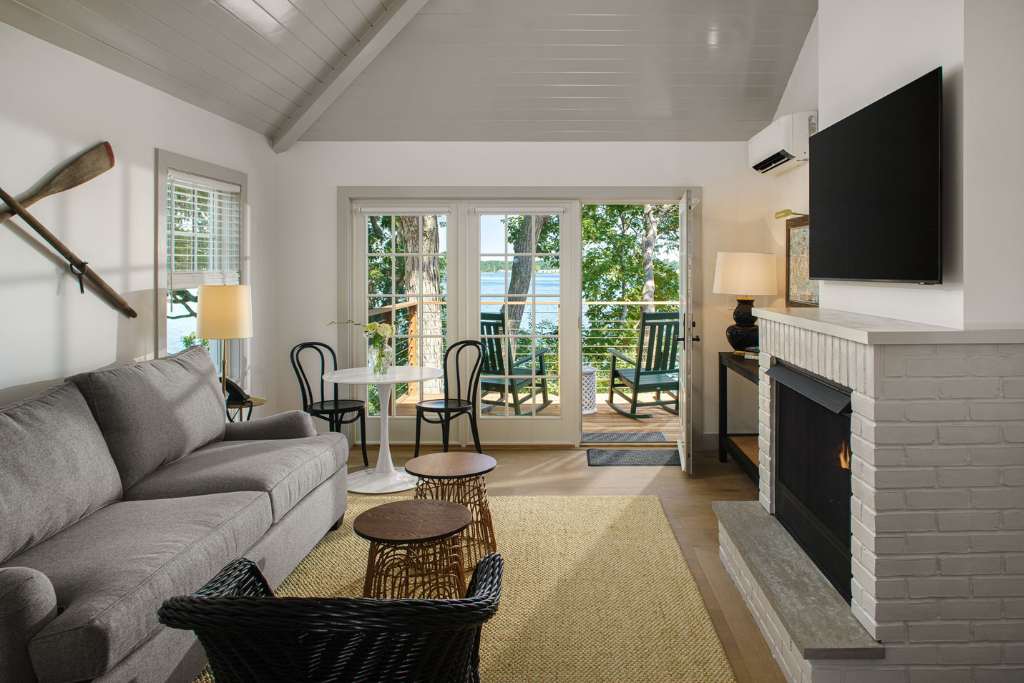 Owned by the Petry family since 1962, The Pridwin — with 33 rooms (and now 16 cottages) — recently reopened after a two-year renovation. Cape Resort's co-founder, Curtis Bashaw, has been coming to Shelter Island for decades and holds a deep affinity for both the island and The Pridwin — both of which are played out in the hotel's refreshed, sometimes whimsical and always spot-on design. It's a trait Bashaw perfected in Cape May where he restored and transitioned Congress Hall, America's oldest seaside resort; put Cape May on the culinary map with The Ebbitt Room (at The Virginia House); and, with partner and Cape Resorts co-owner Will Riccio, turned Beach Plum Farm — a 62-acre former dairy farm — into a sustainable working farm with chickens, Berkshire pigs, turkeys, bees, herbs, flowers, vegetables, and overnight guest accommodations. Like The Pridwin, Beach Plum Farm offers a handful of dreamy (and equally filmable) cottages — although the six Beach Plum cottages are full-blown houses with multiple bedrooms and baths. One, the Whaler's Cottage, dates back to the late 1700s, and is one of the oldest homes on Cape Island.
But the similarities between the two seaside towns and resorts do not end there. Their unique island locales, playful design, homage to yesteryear, and deep connection to land and sea are all part of the story.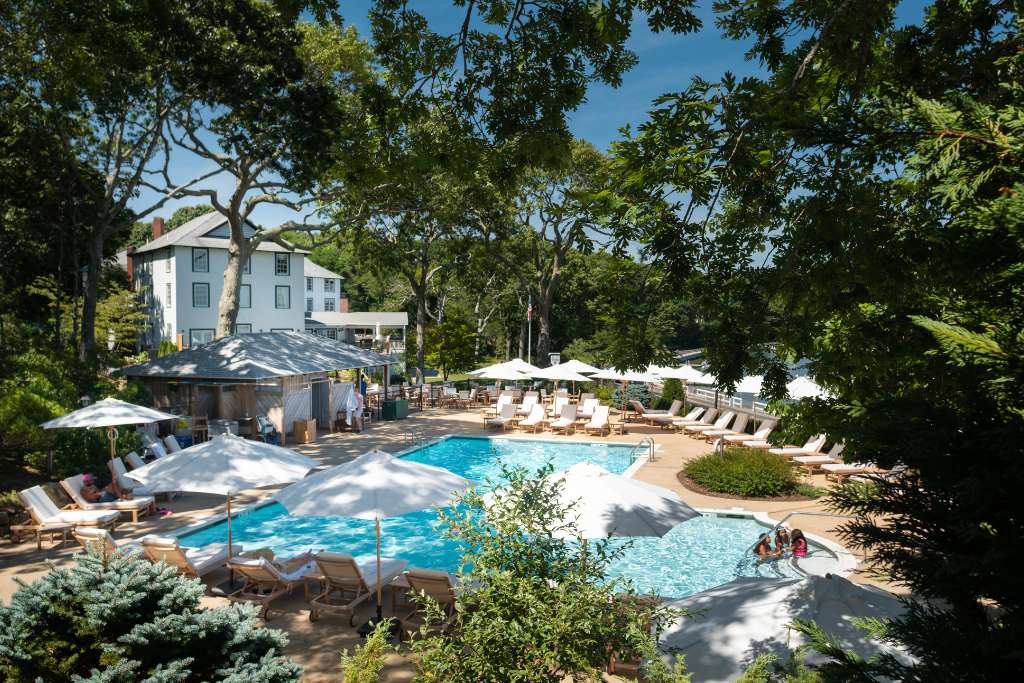 Shelter Island and The Pridwin
"You have cash? We don't take cards." I am at the Shelter Island South Ferry entrance in North Haven, New York, where a toll taker, in navy blue jacket — his face weathered; eyes skeptically scanning my out-of-state license plate — peers into my car. "No phone payments either," he adds, then smiles and waves me forward as I pull $15 in crisp ATM bills from my purse. As one who never uses cash, this is a step-back-in-time moment — a return to a pre-cashless slower pace. As the ferry lumbers off the dock making its short (five-minute) passage, I get out of my car (never mind I'm the only one who does) — inhale the salt air and water views. And breathe.
The Design
The nostalgic water theme continues in my sumptuous corner room in The Pridwin's main hotel where I am greeted with stunning bay views from my white duvet-covered, rope-trimmed bed. Vintage green stemware lines the shelf next to dainty coffee cups, a Nespresso machine, and complimentary bags of original Cracker Jack (prize included), and Tate's chocolate chip cookies from nearby Southampton. While I could gaze for hours at the water from my window, I ventured out to explore the interior details of the hotel: wood-burning fireplaces, quirky wallpaper, salvaged chandeliers (from the hotel's original dining room), and pops of nautical and whimsy. In 'The Nook' on the lobby floor, guests can borrow books or play board games from yesteryear like Candy Land, Don't Wake Daddy, and Parcheesi (I confess looking for Mystery Date). There's also a Pac-Man game in the lower lobby alongside a historic hall showcasing old room keys and fantastical photos of bathers from the late 1920s and '30s.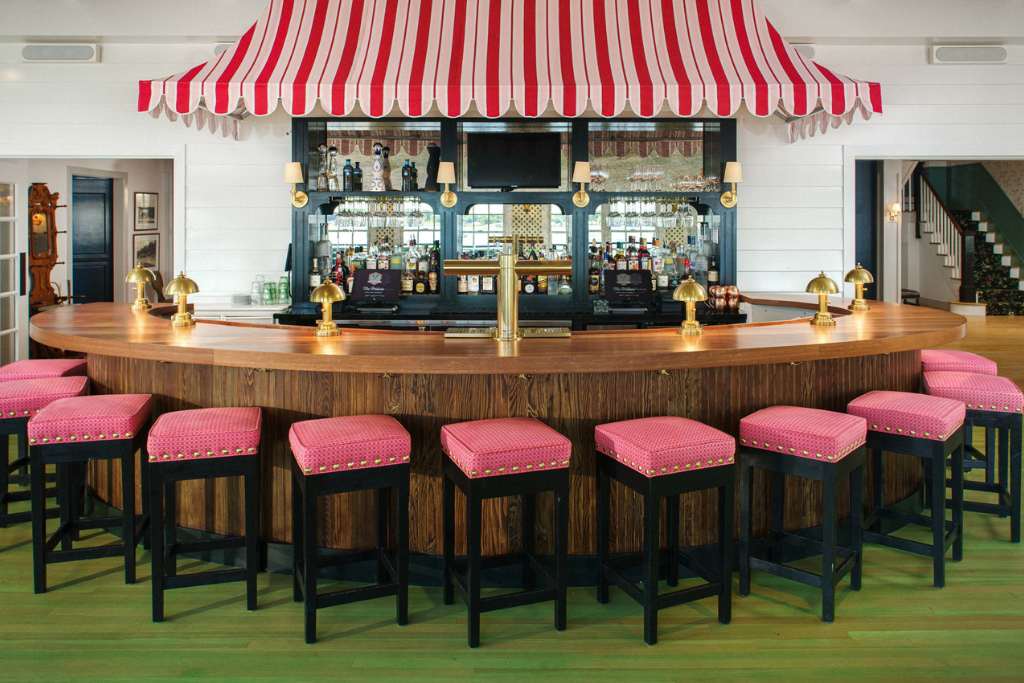 Outdoors, the spruced-up exterior continues to welcome guests with its familiar white clapboards and Hunter green trim; while white Adirondack chairs surround fire pits and cornhole boards, and cushy loungers with cream-hued umbrellas flank the pool (and pool-bar) overlooking Crescent Beach. Bringing the indoors out, The Terrace restaurant features a double-sided fireplace and open-air deck. In the interior bar area, designer extraordinaire Colleen Bashaw has worked her magic with wood-and-teal banquettes, and a whimsical candy-red, white, and pink awning at the Crescent Bar, featuring an elevated cocktail menu. Try mixologist Gillian's East End — a mix of gin, cucumber, mint, and lime — that tastes like a cool drink of spa water. The kitchen showcases fresh seafood and produce, and ultra-Americana appetizers like Broiled Rockefeller Oysters (Atlantic oysters, spinach cream, uni butter breadcrumbs) and Pridwin Deviled Eggs with lemon zest, chives, and caviar — made from eggs gathered daily from The Pridwin's own chickens.
One of my favorite design aesthetics comes in the intimate spa, where vintage bathing suits, framed under glass, line the sunny hallway leading to the water-view treatment rooms. Other fun vintage touches include a small row of metal lockers (with miniature gold locks and keys), and selection of OSEA (ocean, sun, earth, atmosphere) seaweed-based products in treatments.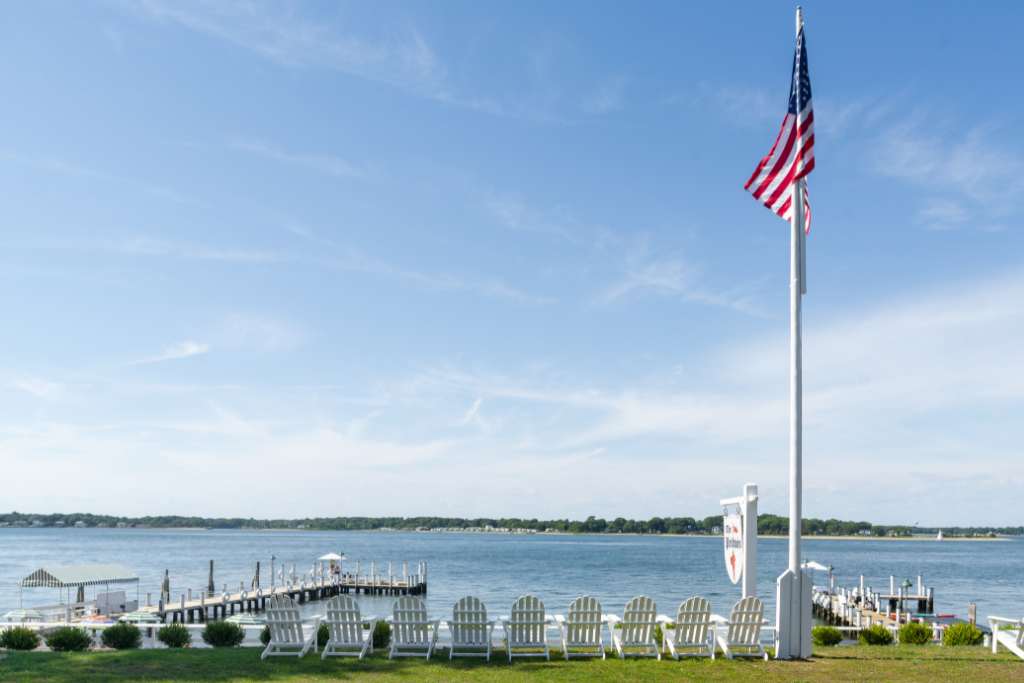 Connection to Land and Sea
There's no doubt the ocean (technically the bay) plays a central role in the fabric of Shelter Island. It's what draws weary city dwellers and the generations of families who return each summer. Unlike the mainland Hamptons, Shelter Island has never been a major see-and-be-seen scene but more as its name implies, a shelter and refuge. The ferry itself serves as a buffer, and much of the Island (one-fourth) is preserved. During my time there, I hiked the coastal bluff trail at Mashomack Preserve, which features six different trails, all different terrain and distances, and made my way — at the suggestion of The Pridwin's reception team — to Shell Beach. Winding my way along the island's twisty roads, past cedar-shake houses, wild turkeys, and towering pine trees, sunlight dappling, I found my way to the driveable sand-and-pebble lane framed by low marsh shrubs and water on three sides. Only one other person was there, earnestly combing the trees and sky for ospreys, sandpipers, and piping plovers. Watching the water lap the shoreline, listening to the birdsong, and feeling the salt on my skin, I am transported once again to a simpler place and time. My cell phone is on silent, I have no desire to check in with work or even home. I just want to sit for a while. And be.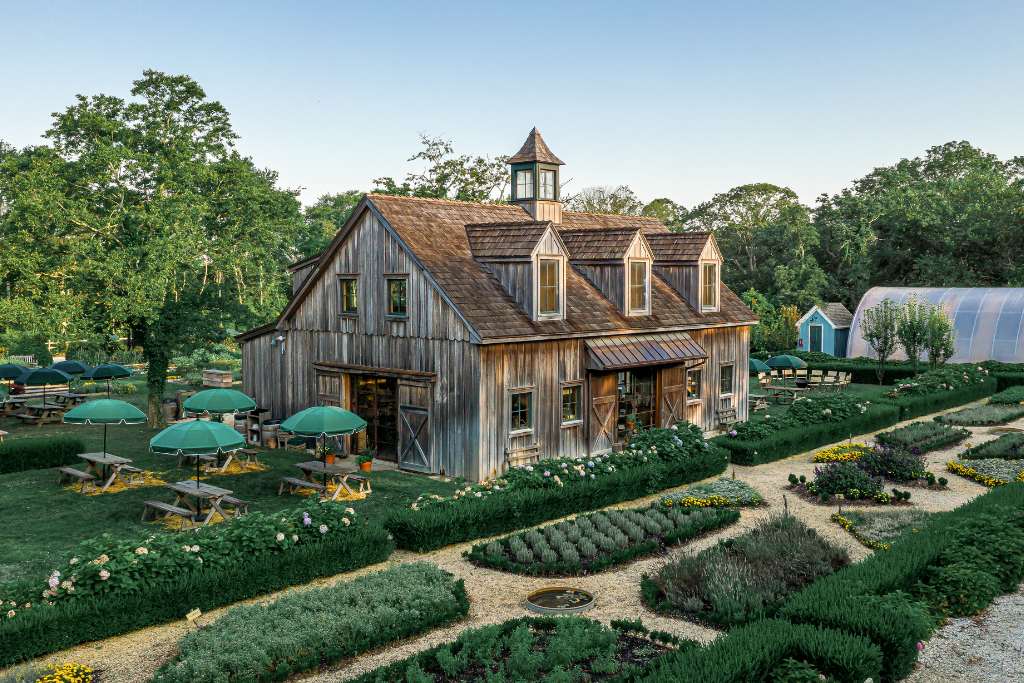 Beach Plum Farm and Cape May, New Jersey
That same feeling returns several weeks later at The Pridwin's now-sister property, Beach Plum Farm in Cape May. Located on the southernmost tip of New Jersey, Cape May first became recognized in the 18th century, when vacationers from Philadelphia began arriving by train to escape the heat of the city and relax by the water. Like Shelter Island, a ferry shuttles travelers (between Lewes Delaware and West Cape May where Beach Plum Farm is located), and is home to protected marshes, bird sanctuaries, and historic hotels and beaches.
Interestingly, my ah-ha step-back-in-time moment comes with the simple (and unintentional) banging of a screen door. In my Hidden Barn (three-bedroom, two-bathroom, three-porch) cottage, I awaken to the crow of roosters and pad in white cushy robe and slippers to the kitchen to make a cup of coffee. As I move, mug in hand, between the screened porch with gas burning fireplace and the outside flower gardens, I inadvertently bang the wooden screen door. The sound is instantly familiar, reminiscent of childhood and summer nights playing 'Kick the Can, and of hot days drinking sweet tea on a porch laden with red geraniums. And at this unexpected moment — on a farm by the sea — I am home.
The Design
When Bashaw and Riccio first opened Beach Plum Farm in 2007, their intent was exactly that — to make the farm their home (and finally, the couple is building their dream house on the property). But for the first decade-plus of owning the land, they instead focused on creating a working flower-vegetable-livestock farm, renovating existing buildings into dreamy cottages, and adding new accommodations made to look chicly weathered and distressed. My cottage, "Hidden Barn," was built in 2018 by the same Lancaster County, Pennsylvania Amish Family, who built the farm's gourmet Market, which is open to the public and known for its farm-fresh breakfasts and lunches, tempting retail, and homemade goods.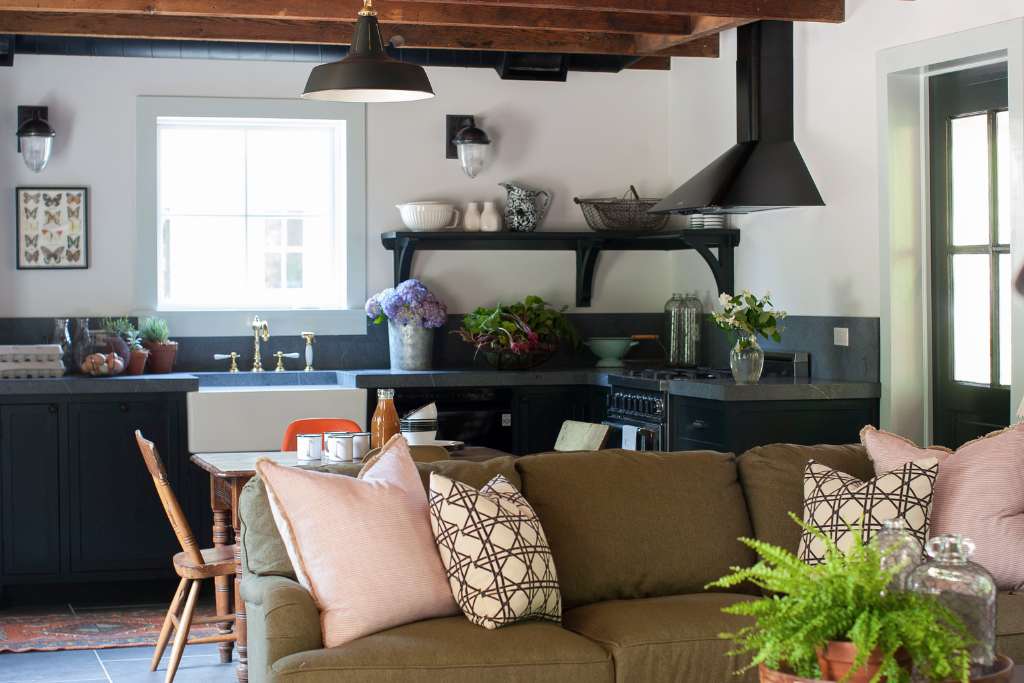 The feel of Hidden Barn, with its hemlock beams hewed together with wooden pegs (not a nail was used), is rustic chic but with vintage touches. Upon arrival, fresh-picked anemone flowers greet me in the gourmet kitchen which comes with a Bertazzon Italian stove and Smeg refrigerator stocked with fresh eggs, homemade raspberry jam, honey, yogurt, orange juice, milk and cream for coffee, and sour-dough bread. With some fresh fruit and vegetables (not hard to find here), I could eat for weeks. Every cottage also comes with two Tuesday bicycles (one black, the other white), an electric golf cart, board games, fireplaces, and outdoor fire pits. My hideaway features both a modern walk-in rain shower (downstairs) and a refurbished cast-iron bathtub (upstairs). But what I love most are the vintage '70s orange swivel chair and deep green velvet couch in the living room, the upstairs outdoor terrace off the bedroom, and downstairs screened porch (with banging screen door) where I spend mornings sipping coffee and just being.
Connection to Land and Sea
Perhaps the greatest amenity of a Beach Plum Farm cottage stay comes in the freedom to move beyond the fabulous Market — with its raised flower-and-herb beds offset by crushed seashell walking paths — to enjoy full access to the farm. Each morning, I walk (or bike) to the massive wooden gate, where I key in a secret code, and enter into a swirl of lavender fields, waving wildflowers, beehives, chickens, and endless rows of vegetables. Here, on this stunning landscape, Beach Plum Farm cultivates the fresh produce and flowers used for its increasingly popular Farm-to-Table dinners held under twinkling lights on the lawn or inside one of the barns, as well as at sister Cape May properties (Congress Hall, the Ebbitt Room, Blue Pig Tavern, the Rusty Nail, and Louisa's Cafe).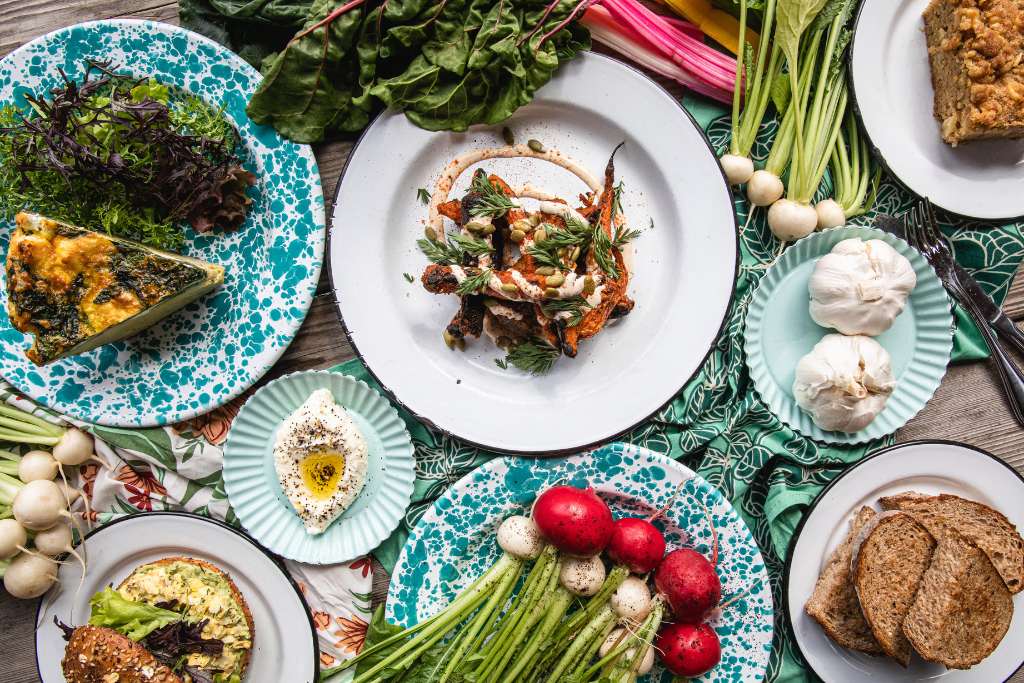 On the far corner of the property, near the marshes, a wooden swing with rope dangles, and as I glide for a while, then swing higher and higher into the treetops, I hear it — the distant foghorn of the Cape May-Lewes Ferry — reminding that the sea is also quite near. Being on Beach Plum Farm, named after the gnarly native tree that grows here and produces tiny sweet plums in summer, feels far from the sea. But it is not. Proof comes when I take my white Tuesday bike through the quiet residential neighborhood to Sunset Boulevard where, in less than ten minutes, I am standing on the beach, searching for Cape May diamonds and aquamarine seaglass (I find both). One more stop, and I am at the historic Cape May lighthouse and walking the wooden catwalks to the beach, dipping toes into the water. Then it is back on my bike to the farm — arriving just as the sun is setting — to say goodnight to the two resident pigs here, whom I've named Beachy and Plum.
Featured image courtesy of The Pridwin