Seizing a rare moment of solitude at The Ritz-Carlton, Grand Cayman's Bar Jack, I sip a piña colada, while gazing at the myriad blues of the Caribbean Sea. At this buzzy hotspot, poised on storied Seven Mile Beach, I simply relax. I let my  bare feet sink into the sand, inhale the briny air, and notice my children safely splashing in the waves not far from me. On a towel, finding his own repose, unfinished novel in hand, my husband has fallen asleep. He looks sunburned. No wonder he's tired:  we've spent the afternoon on Sapphire, the resort's  36-foot power catamaran jetting around to explore and snorkel the watery nooks of the North Sound, including Stingray Cay and Starfish Point. Smiling, I think about those friendly stingrays with their adorable cartoonish faces and velvety skin. Did we really do that? Cavort with creatures on a sandbar? Already, it seems like a fantasy. Eyeing my children again, I realize that they've spotted me. They're approaching fast. "Mom, can I have a virgin piña colada?" one yells, as they break into a trot, inadvertently kicking sand on my husband, waking him. My peaceful personal time is about to end. Waving at my happy family as they get closer, I take a long sip. I draw the cocktail's milky, rummy goodness into my mouth, slowly and deliberately — as if I was tasting the very vista before me, drinking in the perfection of the tropical day and the gifts of this remarkable resort. Will I be able to access this feeling of perfect bliss at home just by drinking a piña colada, I muse? Not a chance. We simply need to plan to return every year. I don't think my family will object.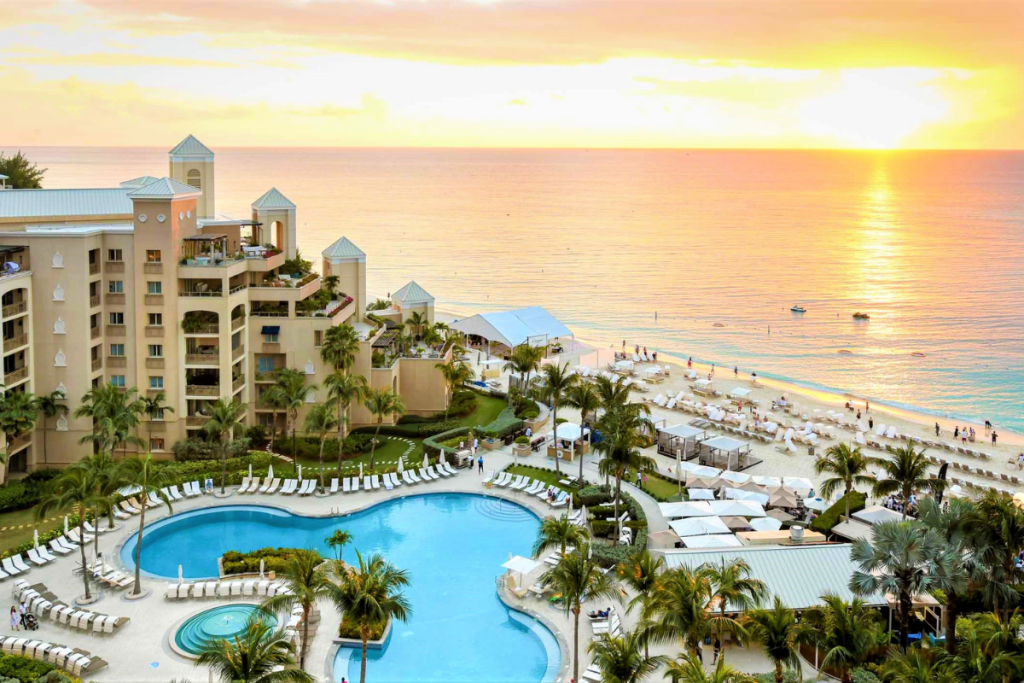 The Location
A destination that many describe as different from the rest of the Caribbean for its welcoming Aloha-like spirit, dubbed Caymankind, the pristine and hospitable Cayman Islands, renowned as a world financial center, comprise three larger islands and one tiny one: Grand Cayman (home to The Ritz-Carlton Grand Cayman), the most visited isle; Cayman Brac, the lesser traveled divers paradise; Little Cayman, a stock photo hideaway that holds Bloody Bay Marine Park and its huge coral-covered underwater walls; and diminutive Owen Island, a Robinson Crusoe fantasy that can be reached by kayak.
The Hotel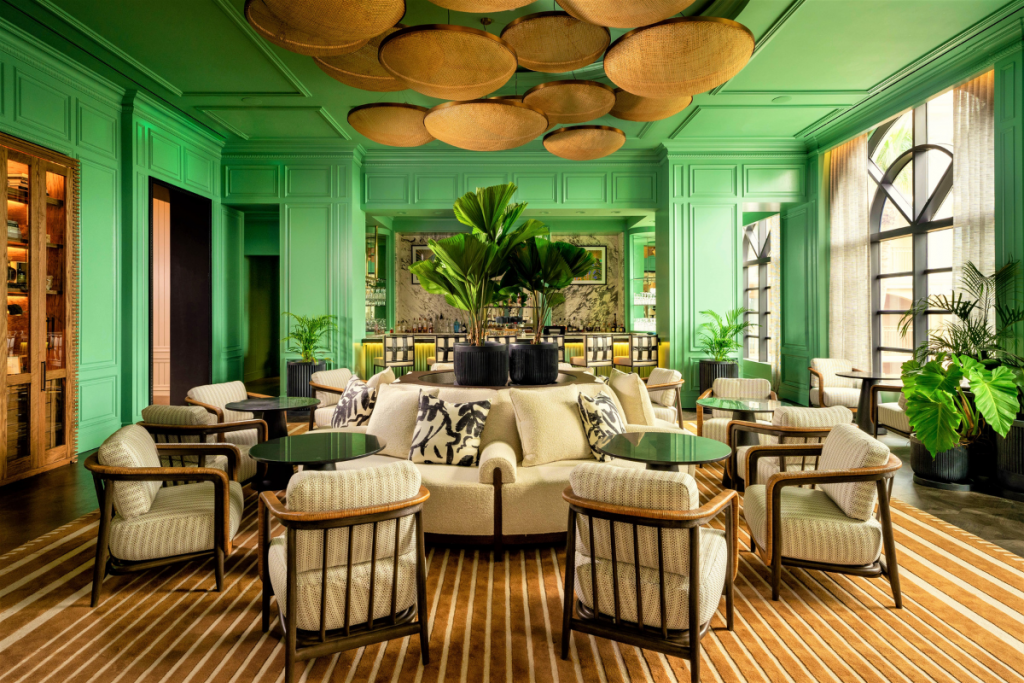 Refurbished during lock-down, this indisputable Cayman Grand Dame dominates world-famous Seven Mile Beach like a beacon. Extremely family-friendly, with a breezy, barefoot chic vibe and offering tons of activities, Ritz-Carlton, Grand Cayman not only welcomes children, but accommodates honeymooners, group travelers, and solo explorers, as well. Straddling the road behind it, connecting sections with a bridge, it lies both on the sand and in town, allowing easy access to both areas.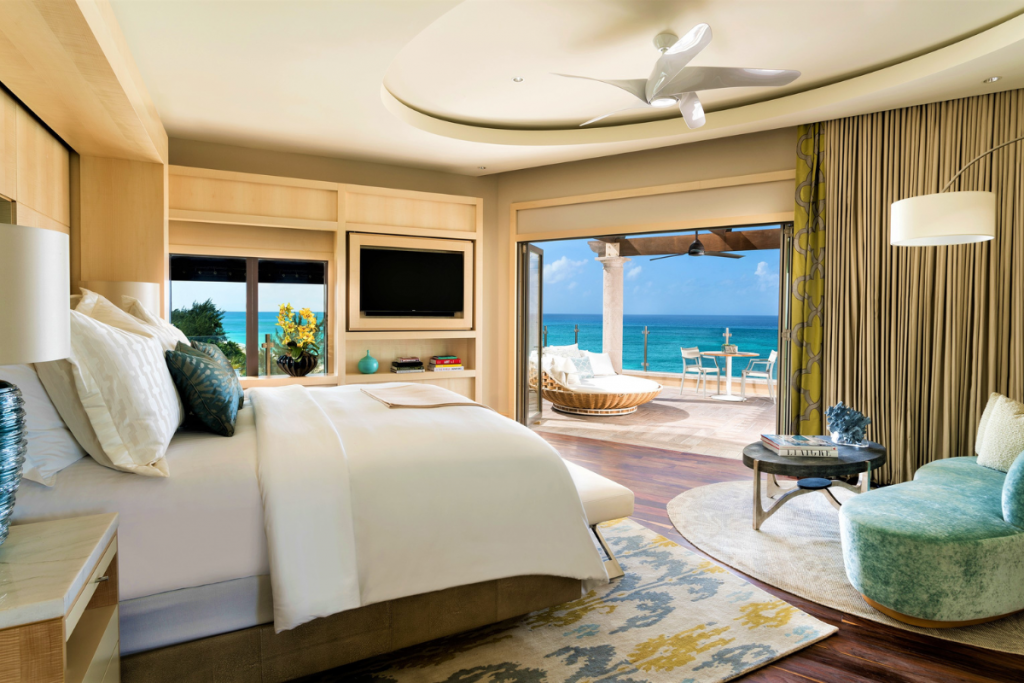 With re-imagined interiors by noteworthy Champalimaud Design, the hotel now sports shiny brand new guest rooms and common spaces, each presenting in landscape hues: blues for the sea, greens for the gardens and elegant neutrals to evoke the clouds and the sand. Known for its spacious guest rooms in every category, not to mention its colossal Seven South experience wherein various peerless suites can be joined to create a combined 9-bedroom expanse for 18 guests. Ideal for reunions or wedding parties, the section incorporates the 8,000-square-foot, three-bedroom Grand Cayman Penthouse, as well as four stunning two-bedroom suites. The final result equals nearly 20,000 square feet of indoor and outdoor living space located across an entire top floor in the resort's  premier Ocean Tower.
Dine
Splurge at fancy, but locally intoned, Blue by star chef Eric Ripert, for indulgent seven or six course prix fixe tasting menus with a seafood focus. Opt for Nosh at Bar Jack, famous for its fish tacos and piña coladas. Or bring the brood to waterside Andiamo for pasta, pizza, gelato, and irresistible truffle parmesan fries. Cigar lovers and rum aficionados can play sophisticate at Silver Palm, a swanky bar.
Spa
Matching the elegance of the hotel, La Prairie Spa brings its Swiss ingenuity and pampering to play, offering guests proven treatments to complement their vacation chill mode. Known for result-driven, caviar and gold infused therapies. La Prairie utilizes healing marine plants in rituals that range from facials to wraps.
Activities
Water play in the pool and the sea command the lion share of most days spent at The Ritz-Carlton, Grand Cayman. Starfish Cay water park, a rollicking, water-based playground for kids, awash with slides, nozzles, fountains and more, is a family time highlight, while beach pursuits, from snorkeling to sailing, engage older vacationers. Landlubbers can spend time on the tennis or basketball courts, teeing off on the nine-hole golf course, or visiting cultural sites around the island, such as the Cayman Islands National Museum or the Queen Elizabeth II Royal Botanic Park.
Fun Fact:  Cayman Airways is offering nonstop flights to Grand Cayman from LAX starting November 5, 2022, making travel from the West Coast to the Cayman Islands much easier.