Behind an unassuming black gate, lies a dreamy cliffside escape overlooking the stunning beaches of Puerto Escondido. Upon further venture through the entrance, La Gema Escondida is revealed, a well-appointed, private villa exuding classic Mexican appeal through thoughtful material choices and clean, modern furnishings and design features.
It's hard to believe that this stunning oasis came to life by way of a culinary wander at the height of the pandemic through nearby Oaxaca. Yearning for a bit of beachside relief, Alex Guidera and Larry Isaacson left the popular cultural hub for all-things food, spirits and design and stumbled upon the lesser known Puerto Escondido, or secret port. The pair felt an instant connection to the area, followed by excitement having just discovered Mexico's new hidden hotspot.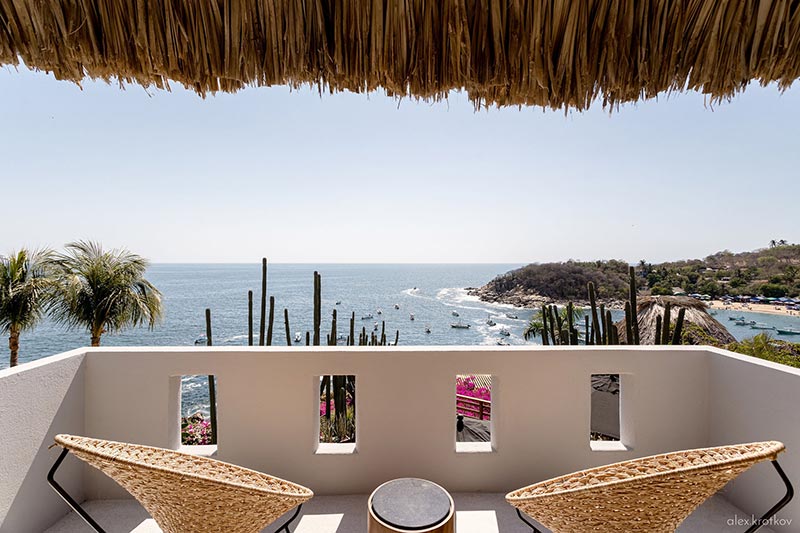 With little more than a dream of what could be guiding their resolve, a retired banker and recovering finance lawyer jumped headfirst into the Mexican real estate waters, purchasing a property they could renovate into a holiday home for themselves while serving as an intermezzo destination for other curious travelers in search of something off the beaten path — something secret perhaps.
With their property in place, the duo began to develop their hidden gem — La Gema Escondida — into a serene respite from the rest of the world. To do so, Guidera and Isaacson were quite intentional throughout the process, being sure to flaunt the works of Oaxacan artisans, from textiles and ceramics to ingredients in the kitchen — no detail was left unturned. After a year of renovations, the five-bedroom villa was ready to share the magic of this untouched region.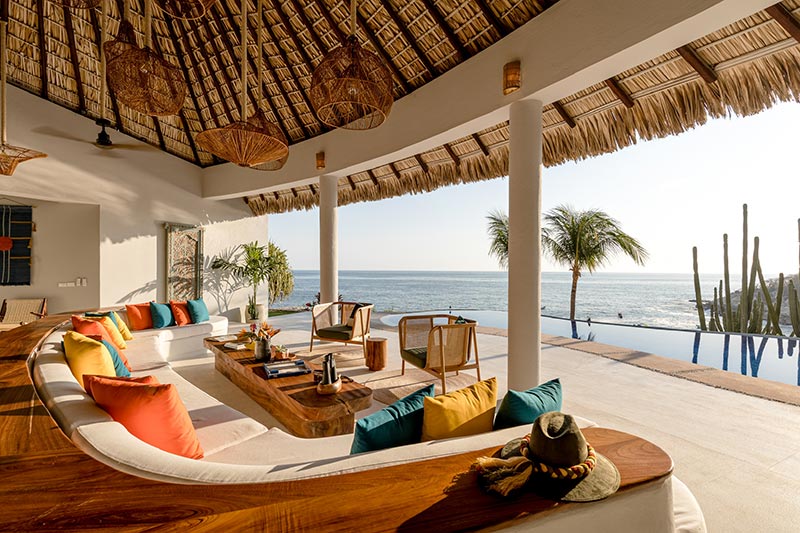 The New It Destination
Though not as well-known as its sister to the north, Oaxaca, it would appear that the secret is officially out on the now in-demand Puerto Escondido. However, the coastal town, famous for its surfing and pristine beaches, still remains widely raw and rugged. The hidden gem has garnered a reputation as a playground for adventurous wanderers — a place where cool and casual is always the prerequisite and the sight of surfboards is a daily occurrence. Brimming with a mix of locals, expats, and roaming travelers, Puerto Escondido is an idyllic locale for embracing laid-back vibes and natural beauty around every palm tree. Guests of the villa will find the Mexican fishing village of Puerto Escondido buzzing with nightlife at any of the hotel bars dotted along the beach, thatched-roof bars, seafood restaurants, and unspoiled coastline perfect for snorkeling, diving, and of course surfing. There's also plenty to do on the water. Rent a skiff to dolphin watch, spot sea turtles, or fish for trophy-size tuna, mahi-mahi, or mackerel. When not enjoying the crystal blue waters of Puerto Escondido, meander along the many walking paths that weave along the coast.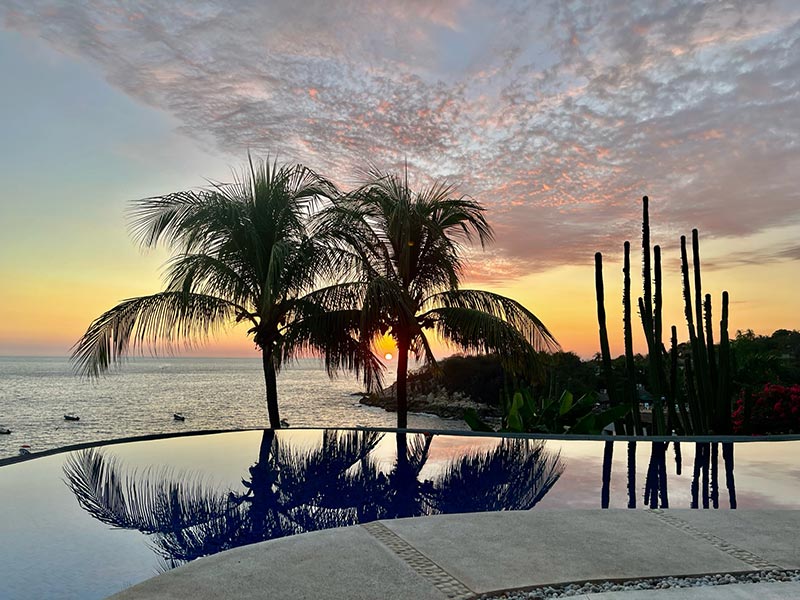 Location, Location, Location
Truly hidden from the wandering eye, with little to no hint of the design wonder that lies within, La Gema Escondida is the only vacation villa of this caliber in Puerto Escondido. Featuring striking views that overlook Playa Manzanillo, Puerto Angelito, and the Pacific Ocean, the property is truly one of a kind. You can only see this magnificent villa from the ocean, truly making this a hideaway for those looking for seclusion and relaxation.
The villa has come a long way from its humble beginnings. Once home to pink plastic shrimp and iguana wallpaper, the property presented an incredible opportunity for reinvention. And thankfully Isaacson and Guedira had the right combination of foresight and imagination to bring it all together. They also forged strong relationships and connections with the best local designers, artists, and local artisans needed to transform this villa into the authentic beauty it is today.
Evoking a distinct indoor-outdoor lifestyle, the sprawling villa boasts panoramic vistas from practically every space, including the swimming pool. All five bedrooms — two king and three queen suites — are set up with air-conditioning, ceiling fans, en-suite bathrooms, sumptuous linens, and ocean vistas. And, the super-private Jacuzzi perched on the cliff just below the villa only sweetens the deal.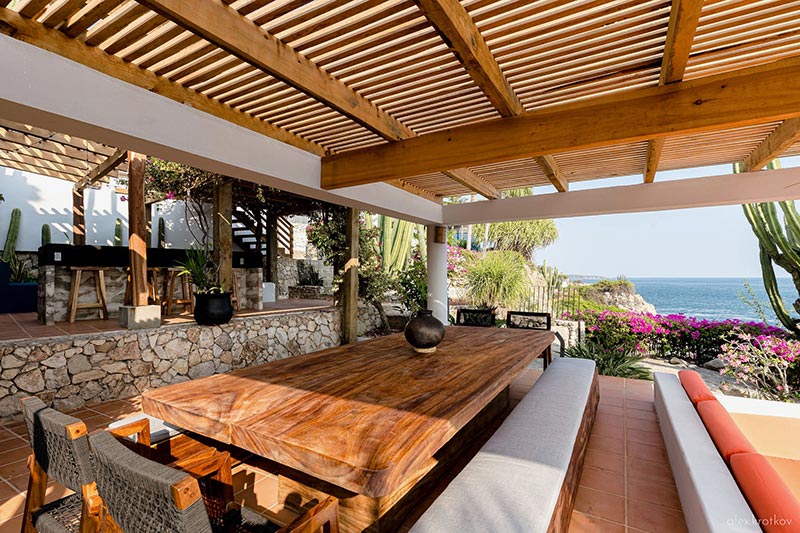 Unapologetically gorgeous, the private oasis stays true to its roots at every step, first displaying an open-air palapas shielded from the sun by thatched roofs. The ceiling lamps look like inverted birdcages, while white sofas festooned with turquoise and orange cushions beckon to be lounged on from the surrounding living spaces. The main living room opens up directly onto the terrace, with its large, sinuous infinity pool. Further away from the sunny edge, a sunken dining table easily accommodates ten people for long, leisurely meals.
With a second house from the same owners — Casa Nopal — nearby, the entire compound can comfortably sleep 14 people. The owners point out that this has already happened a dozen or so times so far in 2023 to rave reviews. One needs only to ignite their imagination to any configuration of friends and family in order to feel at home together.
The owners note that wifi in Puerto can be tricky at best. But they've invested in Starlink satellite internet throughout the property. In a perfect world, everyone who visited the house would disconnect and relax with family and friends in the sun, but in 2023, it was smart of them to recognize that most guests would want to check in with the outside world from time to time, if not full-on digital nomading.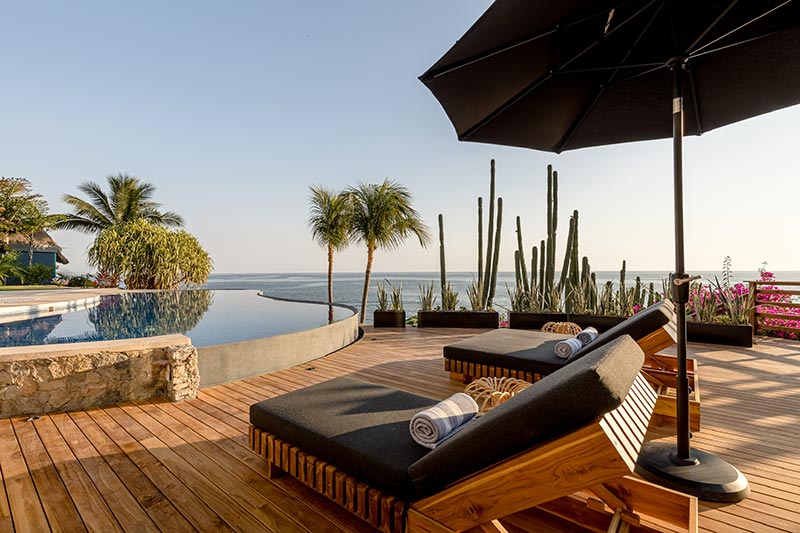 Experience Is Everything
Isaacson and Guidera have often said that they want their guests to have the same sort of experience that they look for when traveling. That includes having hotel-like services at their guests' fingertips. Amenities like 24/7 ground support, a villa host, daily housekeeping, and an activities program that puts guests directly in contact with locals who organize action-packed itineraries like water sports and market tours. The idea is seamless service, so that guests won't have to lift a finger and relaxation is at the top of their to-do lists.
Drawing on their own travel pet peeves, it was imperative to the owners that the property be fully outfitted with food options. No constant runs into town for food at this villa. They made a conscious point of becoming the only villa in the region to offer two meals a day — breakfast plus either lunch or dinner as part of the room rate.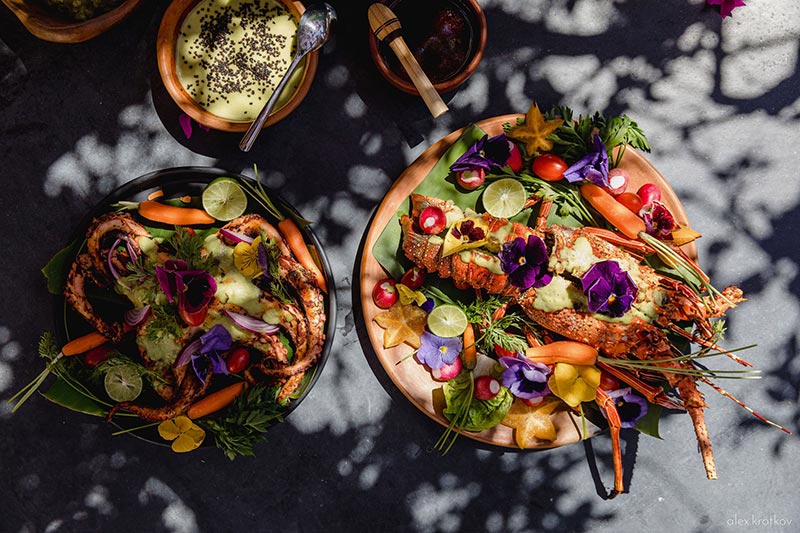 Food For Thought
Another thing that sets La Gema Escondida apart is the quality (and frequency) of the food. The resident chef, Antonia Aragon Ramirez, is a passionate and talented cook. "Antonia's cooking is incredible and authentic," says Guidera. "She is the heart of the home." Although she doesn't speak English, she communicates volumes through the language of nourishment, boldly spoken through local ingredients and family recipes.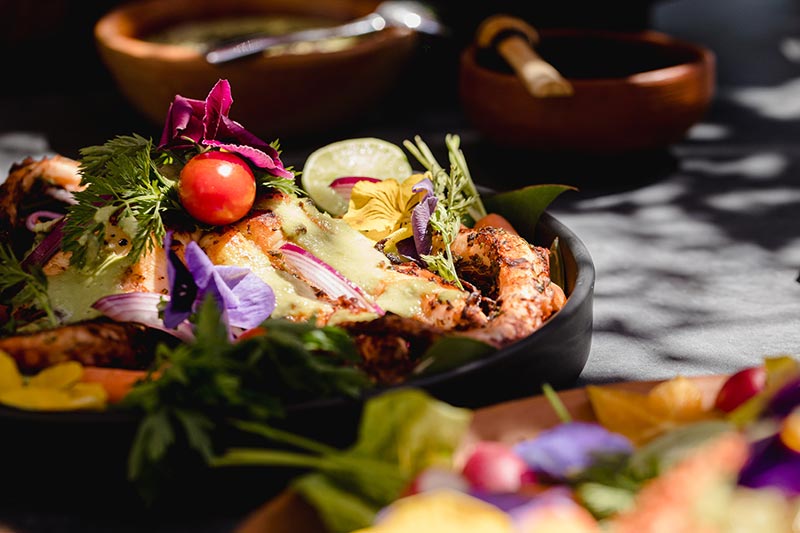 The menu that's offered to guests is impressive and eclectic — think French omelets with Oaxacan cheese in the morning and Mexican bouillabaisse and shrimp tempura with coconut later in the day. There's clearly an idea of abundance, and it's one that's right in line with all the beauty and comfort that's being offered at every touchpoint of La Gema Escondida.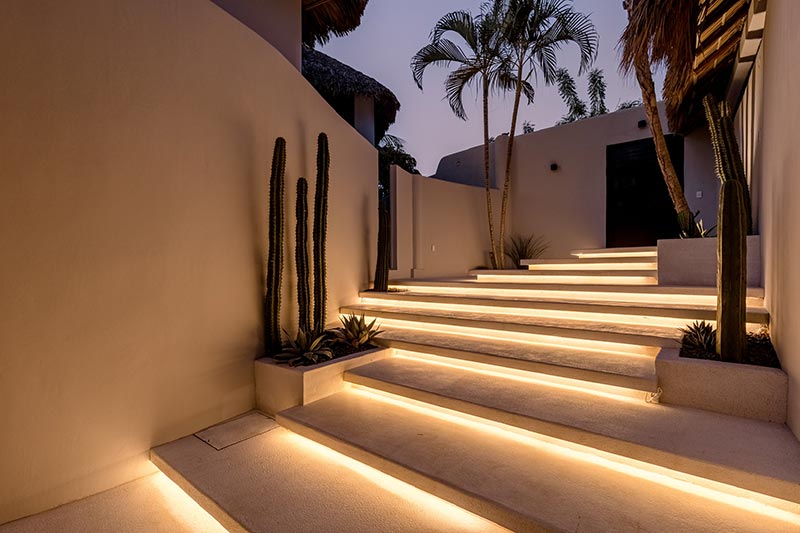 Creative Control
With great thanks to the talented and highly skilled Mexican creatives, the team turned the owners dreams of a modern-Mexican oasis into a thriving reality. Together, with this team of pros, Isaacson and Guedira were able to turn La Gema Escondida into the sought-after destination that it is today.
"The process was collaborative at every step," shares Isaacson. "We've done this before in other parts of the world, but this one has become our own personal dream home." They knew what they wanted, and they found good partners to help them realize it. The principal designers were Lorena Quintana and Andrea Martinez, two young professionals who began building their careers in Mexico City and have since relocated to Puerto Escondido.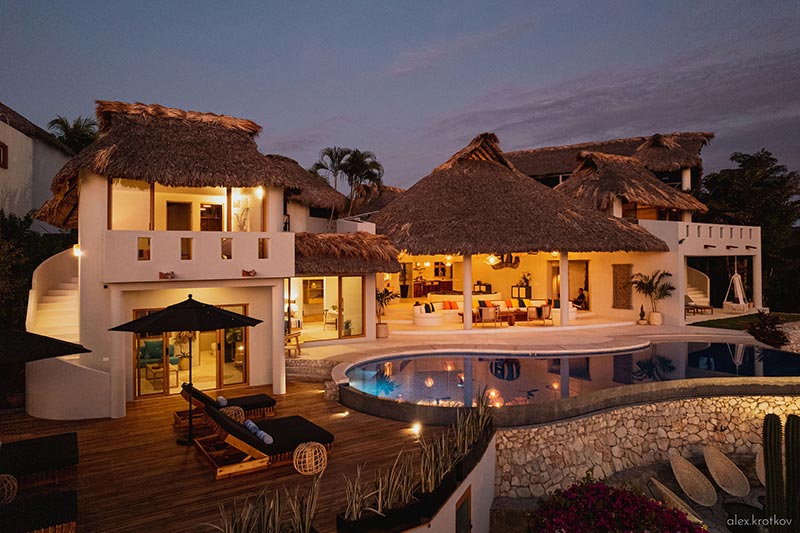 Isaacson and Guedira enlisted architect Luis Medel of the firm Terracotta, another transplant to Puerto Escondido. He made a sensitive revision of the villa, one that also significantly enlarged the floorplan. The house had only two bedrooms when they found it, but after the renovation, it boasts five accommodating bedrooms. And the best part about Medel's work is his effortless ability to make the home feel like it's always been as expansive and gracious as it is now.
The artworks come from established creators and a new generation of artisans. A standout piece is the large blue textile artwork in the main palapa. It's by a designer called M.A Estudio. Her work is dedicated to the preservation of traditions, but in a way that reinvigorates them and makes them relevant for the world travelers and art lovers of today.