Cold weather is coming and if you've gone down a rabbit hole frantically searching for sun-soaked vacation ideas, we've done the legwork for you.  From sunny CA to the turquoise waters and cenotes of Tulum and the laidback bliss of Hawaii life, these are the best beachfront Airbnbs to book now.
Malibu, California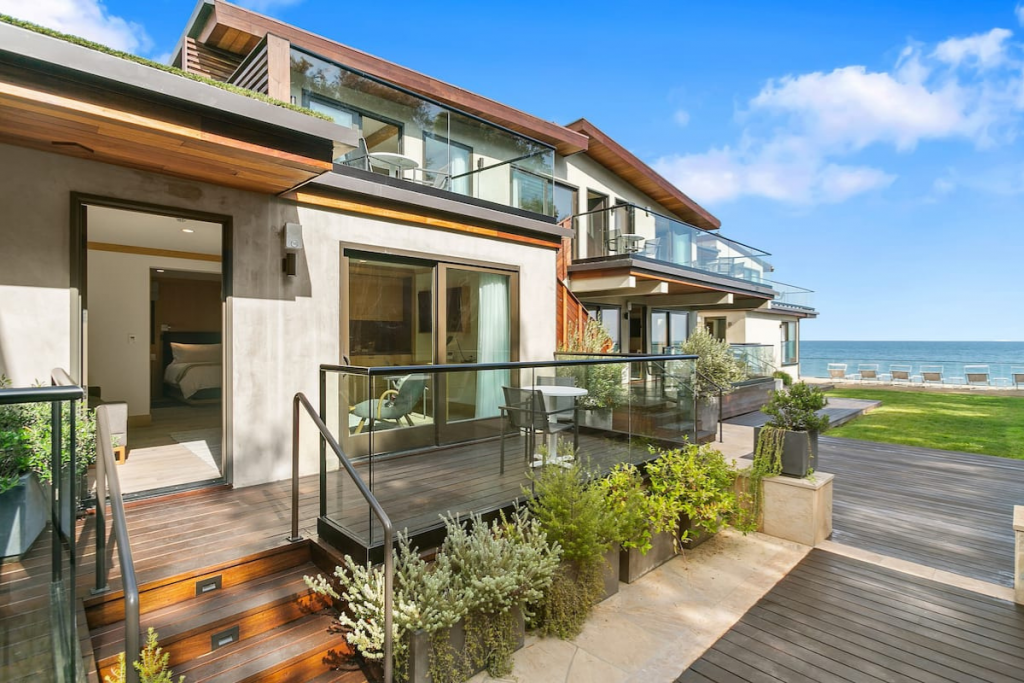 Any trip to Malibu is always wonderful but one that includes a stay right on Malibu's most exclusive beach, affectionately dubbed "Billionaires Beach" makes it just that little bit sweater. You'll find Coastal Retreat on Carbon Beach in an uber-stylish condo just steps from the ocean and iconic Nobu and SoHo House. This one-bedroom, one-bathroom suite with a kitchenette, private patio, and direct beach access is the perfect destination to soak up that southern California sun. The modern interiors are highlighted by large windows and sliding glass doors allowing the space to be flooded with natural light. The property's shared spaces include a grilling station and sun loungers overlooking their ocean.
Bavaro, La Altagracia, Dominican Republic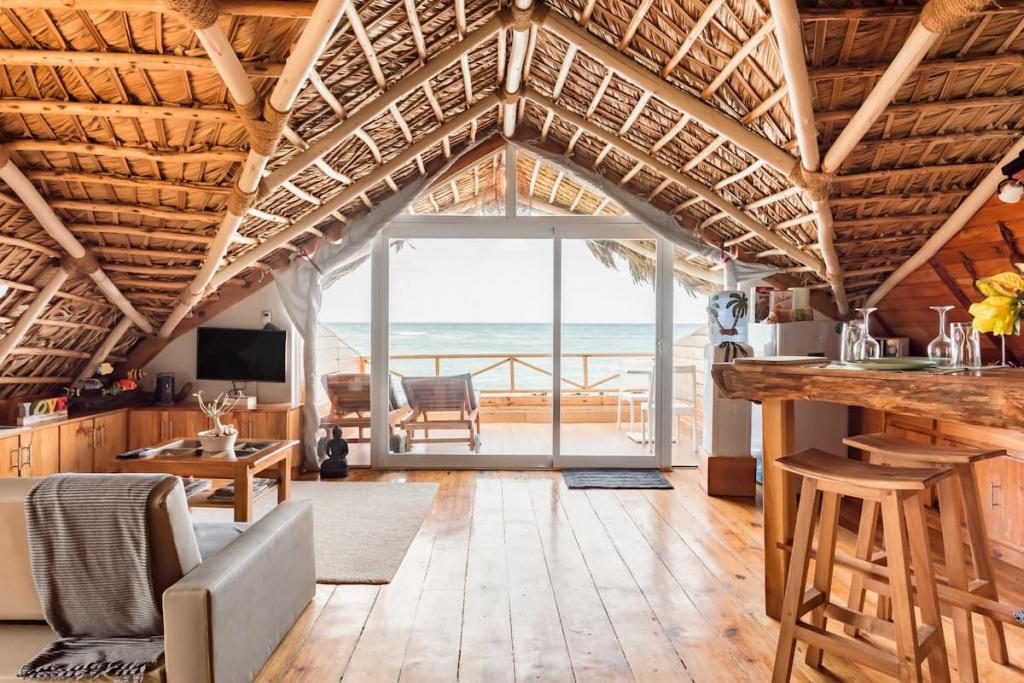 Hop a short flight (from the east coast) to the Dominican Republic to lose yourself in that romantic, sandy, thatched hut, alone on an island Caribbean beach fantasy. Only a few steps from the ocean this one bedroom, one bathroom oceanfront Retro Thatched Hut is exactly what you picture when you imagine a boho off-grid adventure except this one comes with modern convenience — yes there's wifi. The property is located close enough to walk, or ride one of the provided bikes to cool restaurants but far enough away to give you peace and quiet while enjoying your beachfront sun loungers or a dip in your private plunge pool.
Tulum, Mexico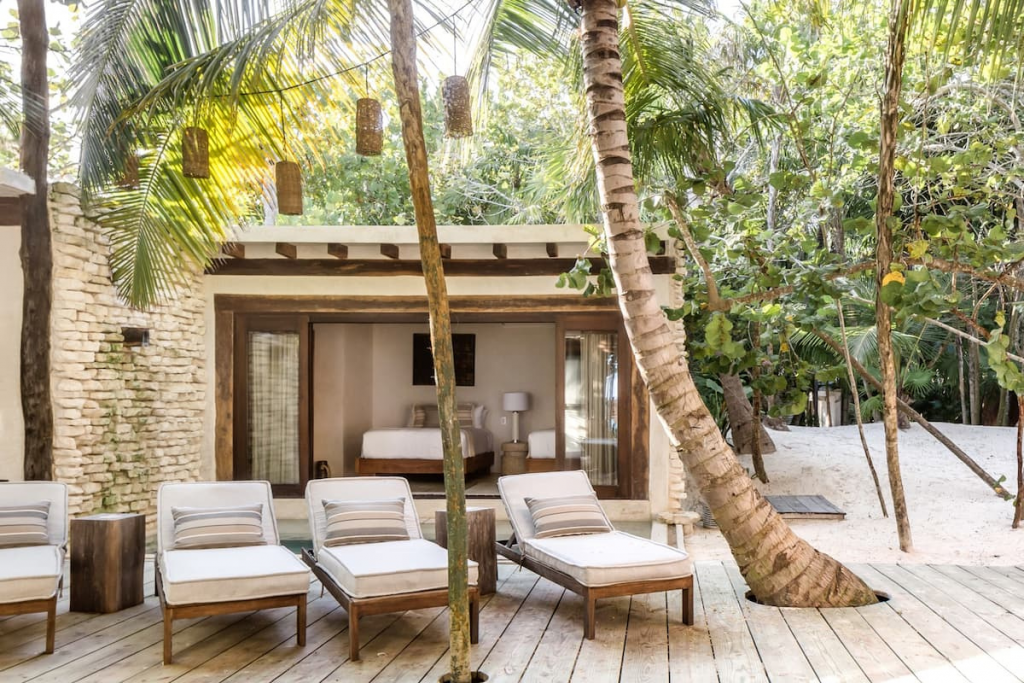 The trendiest destination in Mexico is hands-down Tulum. The small town located just 90 minutes from Cancun is known for stylish eateries, local juice bars, boho boutiques, and jaw-dropping beaches. Casa Chukum, a contemporary four-bedroom six-bathroom beachfront villa is the definition of Tulum's laidback luxurious style. Built right on the sand engulfed in tall palms, the home is designed to feature local wood, exposed beams, and neutral tones allowing the ocean views from huge windows to act as the lead design feature. The open concept floor plan is designed for indoor/outdoor living with covered seating, sun-soaked day beds, and a dreamy rooftop terrace allows you to spread out and steal a few moments of seclusion. If you can tear yourself away from the villa you'll be rewarded with some of Tulum's best sites: swimming in cenotes, the ancient Maya ruins, and Chichen Itza, another archeological gem that is one of the "New 7 Wonders of the World".
Tenerife, Spain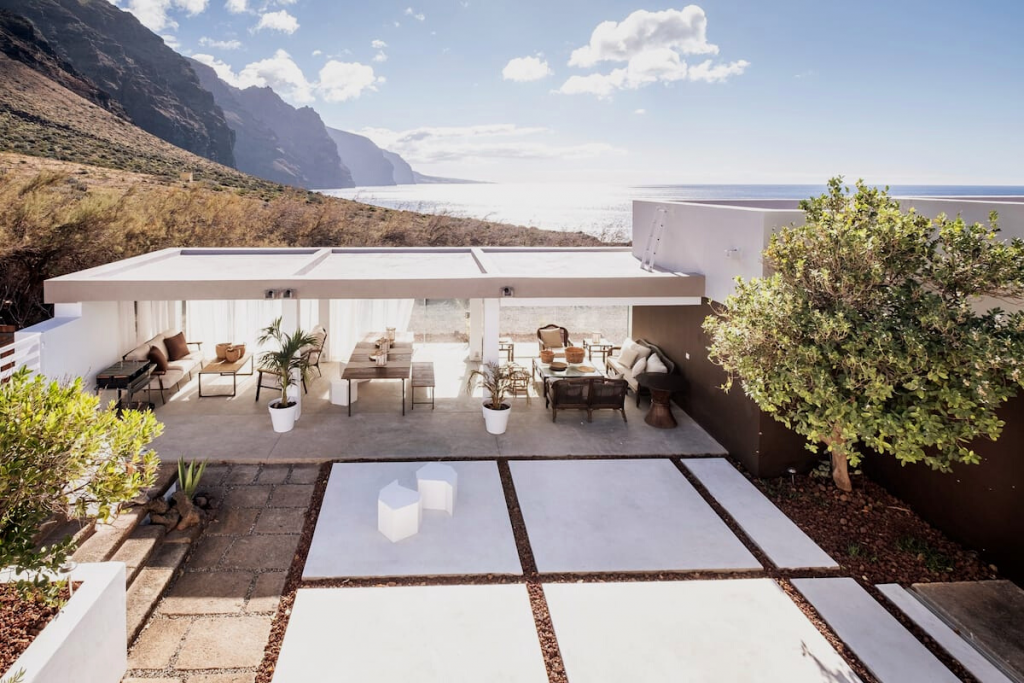 A lesser-known Spanish gem especially for the American crowd, Tenerife, the largest of the Canary Islands offers great weather year-round (even in January and February temps hover in the low 70's). With mountains on one side, the Atlantic Ocean on the other, this Unique Villa with a private beach and private pool on a secluded part of the island is pure escapism. The three-bedroom three-bathroom home features minimalist decor of neutral tones, crisp whites, and tasteful pops of color and texture. The large kitchen with an oversized island and eight-person table is perfect for gathering over great Spanish wine and tapas after a day spent hiking, swimming, or kite surfing (a favorite pastime here). From both your back patio and rooftop terrace you'll be able to enjoy stunning views over the ocean, Teno Mountains, and an active lighthouse.
Honolulu, Hawaii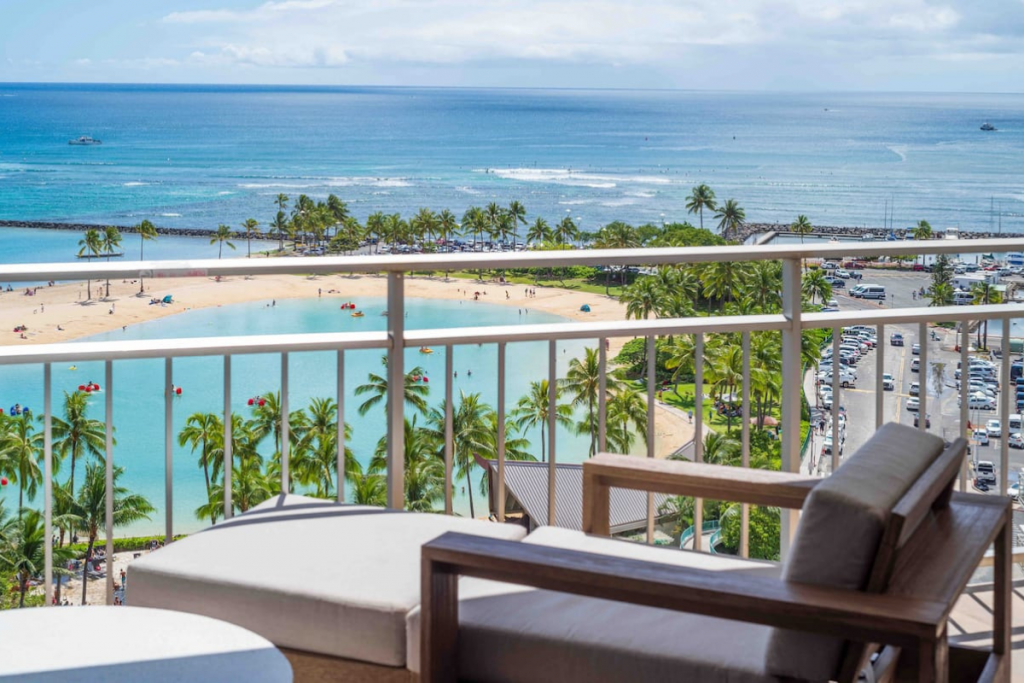 Aloha, your oceanfront dream getaway has arrived. Located right on Waikiki Beach, you're only five minutes walking distance from the beloved beaches, restaurants, shopping, surfing lessons, and boat tours that all add up to make this a must-visit destination any time of the year. With a full wall of windows and a balcony facing the ocean, you'll be thrilled to learn spotting whales and dolphins gliding through the water at sunset is just another day in paradise here. Renovated in 2021, the condo feels very upscale yet beachy with lots of light and bright colors, and accents including a blue tile backsplash in the kitchen and a surfboard cutting board. Surf's up!