Whether your dining room table is simply too small for your burgeoning family and friends, or you're graciously looking to pass the hosting baton and (geographically) meet guests 'somewhere in the middle,' a destination-Thanksgiving dinner is a fabulous idea. Especially when your holiday airbnb comes with these stylish chef kitchens.
New York
Windrift Hall, Coxsackie
Accommodates: 14 guests (5 bedrooms, 2.5 baths)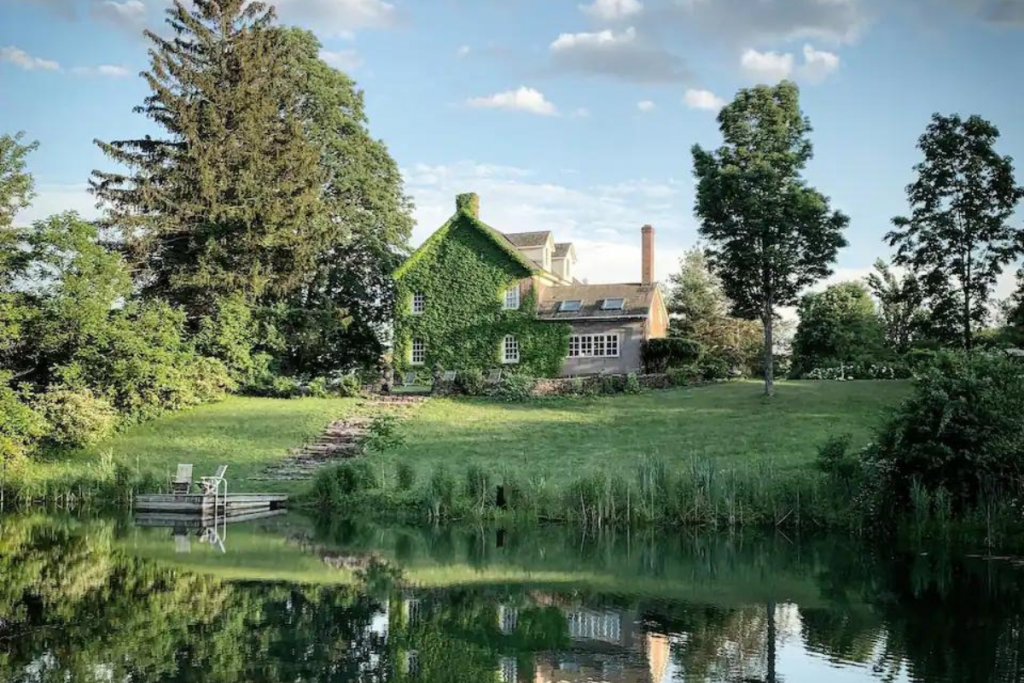 It's over the (Hudson) River and through the woods to this stunning 18th century manor home — the perfect Thanksgiving house. Every room comes with a wood burning fireplace and a view, yes even from the kitchen. And should you decide not to cook, no problem. A private chef can easily be arranged.
19th Century House on the Delaware, Narrowsburg
Accommodates: 8 guests (5 bedrooms, 3 bathrooms)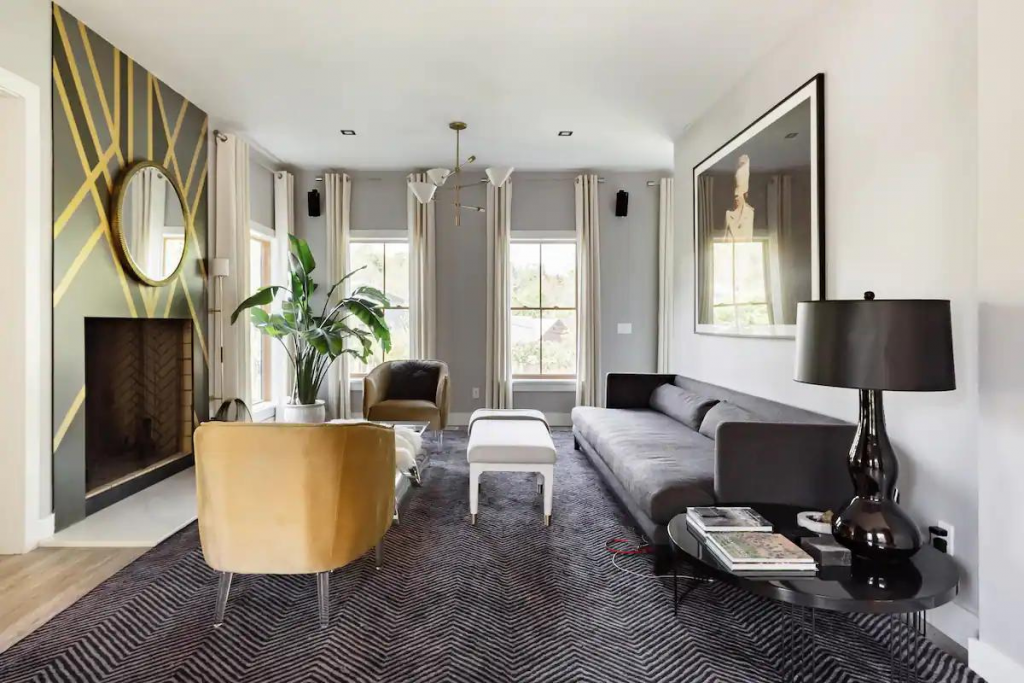 Chef dreams come true in the gourmet kitchen of this renovated 1860s Dutch colonial. Gather around the massive dining room table, savor the bold, modern art, and relax after turkey in the outdoor hot tub.
Shelter Island
Accommodates: 14 (8 bedrooms, 6.5 bathrooms)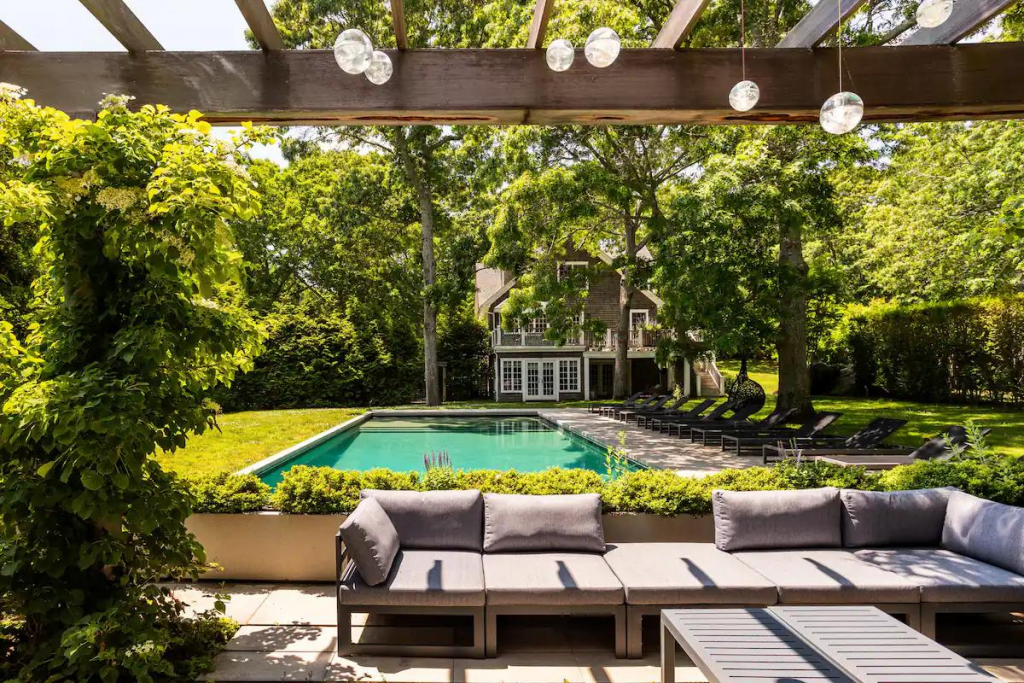 With its copious light, art, kitchens and BBQs, this three-story home offers the ultimate entertaining space. Enjoy your lavish feast in the colorful dining space, then curl up by the fire; take a walk on the beach.
Massachusetts
Villa on the Bluff, Plymouth
Accommodates: 10 guests (4 bedrooms, 3.5 bathrooms)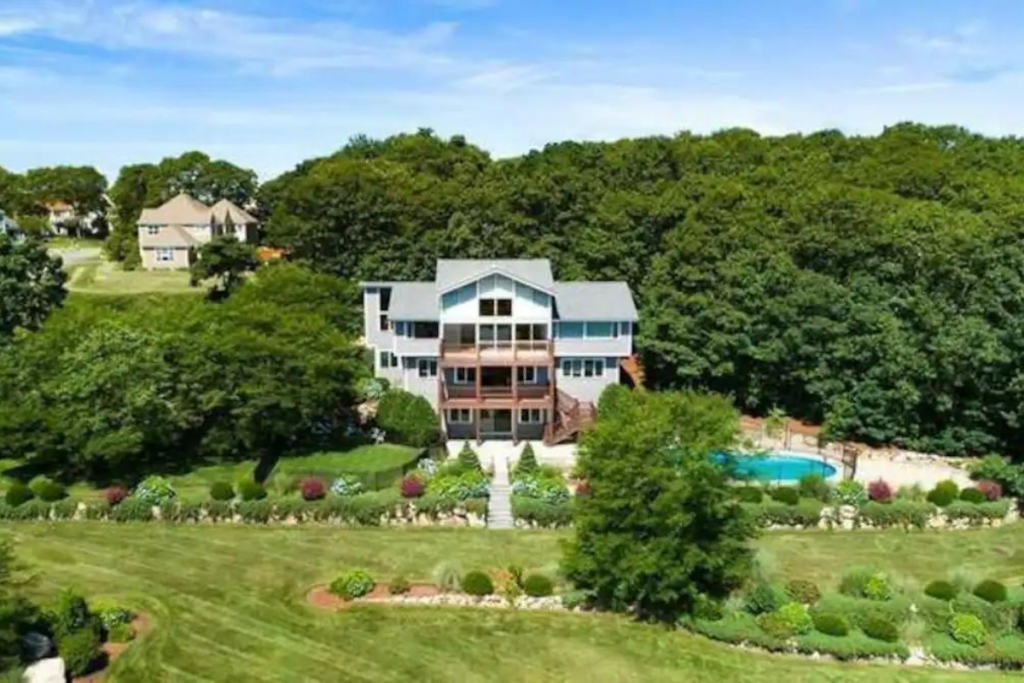 Toast guests on the site of the first Thanksgiving, Plymouth, Massachusetts. This beautiful contemporary villa offers sea views, Italian mid-century interior, Yamaha grand piano, and a dreamy chef's kitchen. Keep your eye on the ocean, you may even spot a pod of whales.
California
Burton Bliss, Palm Springs, California
Accommodates: 8 guests (3 bedrooms, 4 baths)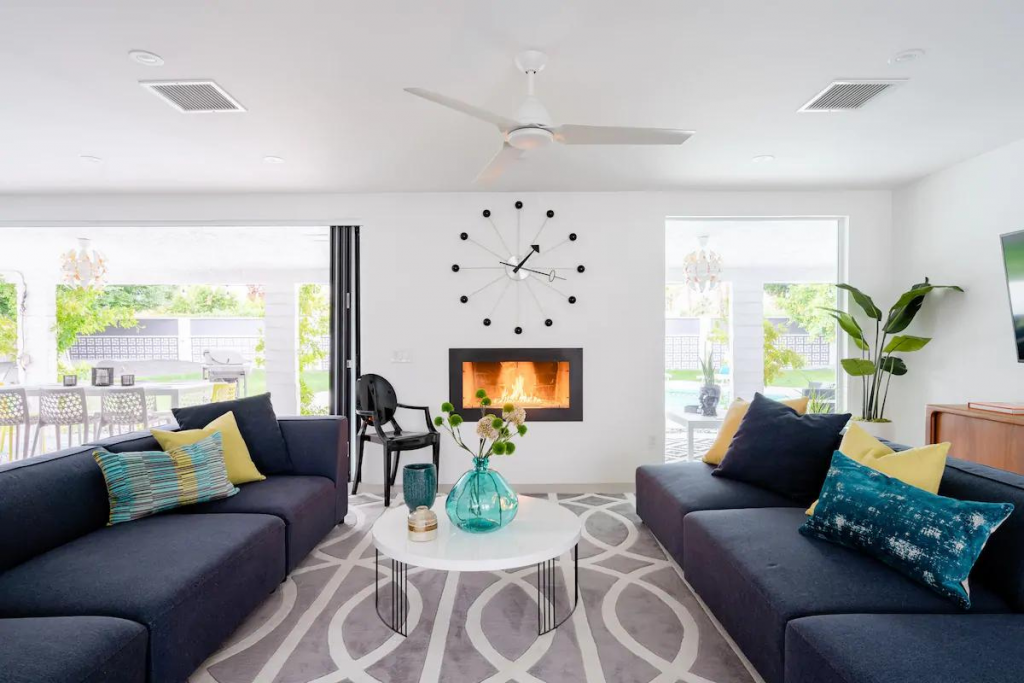 For a minimalist celebration, book this Palm Springs classic. Prep dinner in the open-concept living space. Dine on the orange-splashed chairs by the bifold door, or move the party outdoors to the terrace, by the pool.
All-Glass Modern Joshua Tree Villa, Yucca Valley, California
Accommodates: 8 guests (3 bedrooms, 3 bathrooms)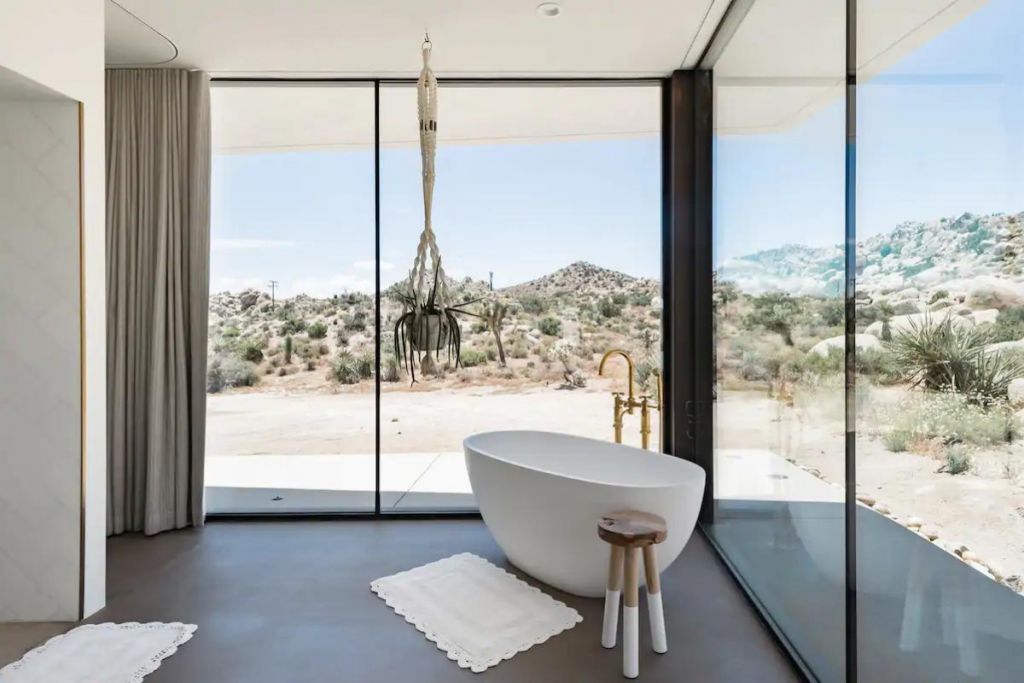 Cocoon into the desert for T'day. This stunning, all-glass villa — surrounded by rugged boulders and exotic cacti — sits between Joshua Tree National Park (15-minute drive) and Pioneertown (10-minute drive). The center of the home is perfect for cooking and gathering. And did we mention the saltwater pool and hot tub?
Texas
Lake Travis Waterfront Retreat
Accommodates: 16 guests (4 bedrooms, 3.5 bathrooms)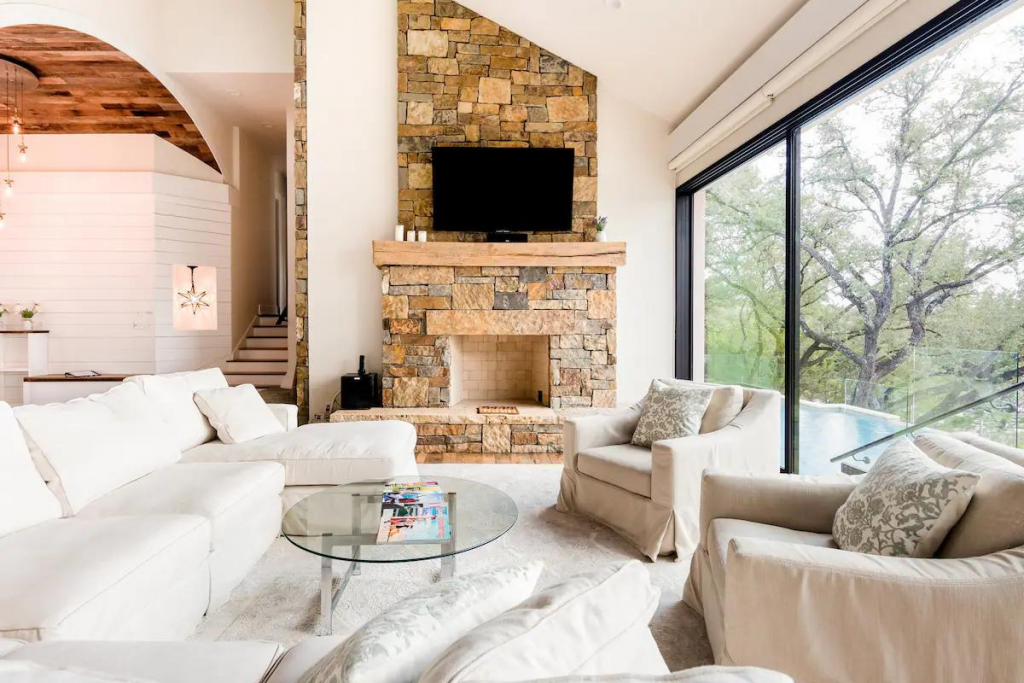 The entire family will enjoy this lakeside retreat, with its reclaimed hardwood floors and massive kitchen. Prepare your feast then head outdoors to the large terrace overlooking the water to indulge.
Louisiana
The Mazant, New Orleans
Accommodates: 16 guests (10 bedrooms, 5.5 baths)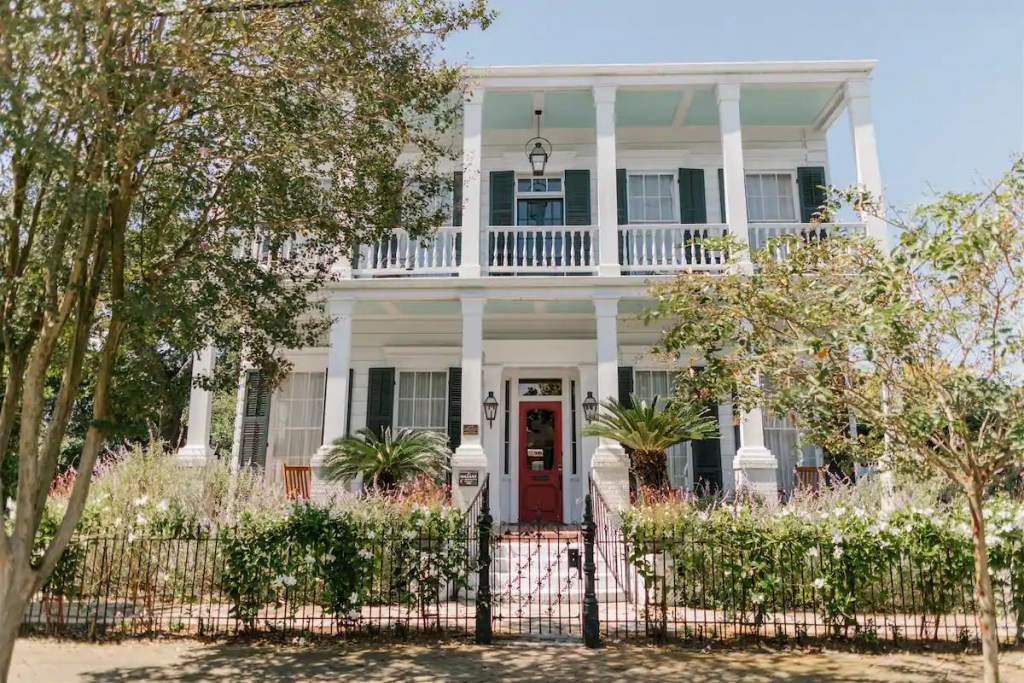 Thanksgiving dinner for 16 is easy in this historic mansion in New Orleans' Bywater arts district. We love the high ceilings with plaster medallions, the heart pine wood floors, cypress doors, and the kitchen of course (Viking appliances) and long dining room table. Added bonuses: a Baldwin piano, heated swimming pool, and outdoor fire pit.
Virginia
Craig's Place, Charlottesville
Accommodates: 6 guests (4 bedrooms, 3 bathrooms)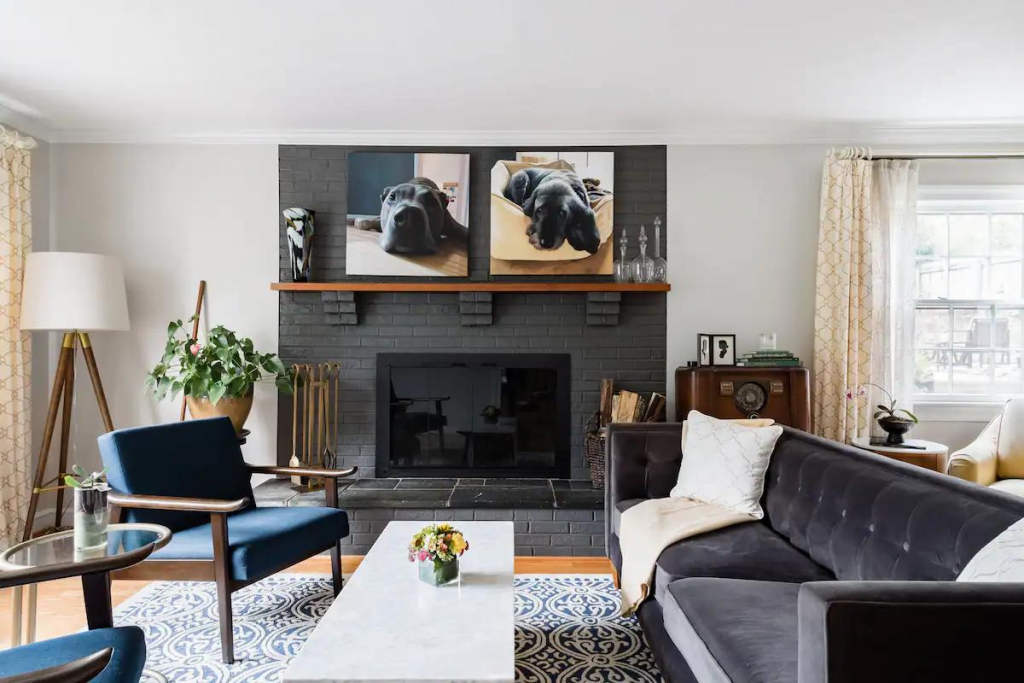 Close to the University of Virginia, and home to a chef's kitchen with sleek cabinetry, brass accents, quartz counters, custom walnut island, two sinks and two dishwashers, this southern classic is the perfect place to gather and prep a meal. Guests will love the bedding too — crisp, white, fine Italian linens.
Michigan
Primrose, Union Pier, Michigan
Accommodates: 16 guests (7 bedrooms, 6 baths)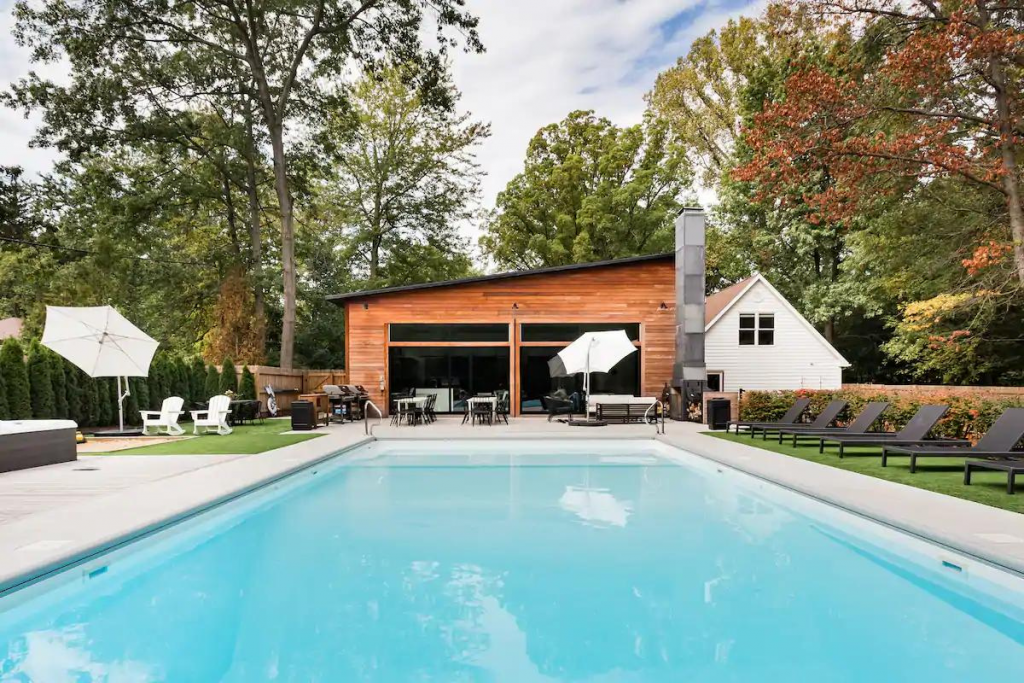 Just two blocks from Lake Michigan, Primrose is designed for epic feasts. The custom-built home comes with a double chef's kitchen, and long dining table. There's also a game room, and private fenced backyard with heated pool, two hot tubs, and fire pit.
Arizona
The Farmhouse, Flagstaff, Arizona
Accommodates: 14 guests (5 bedrooms, 3.5 baths)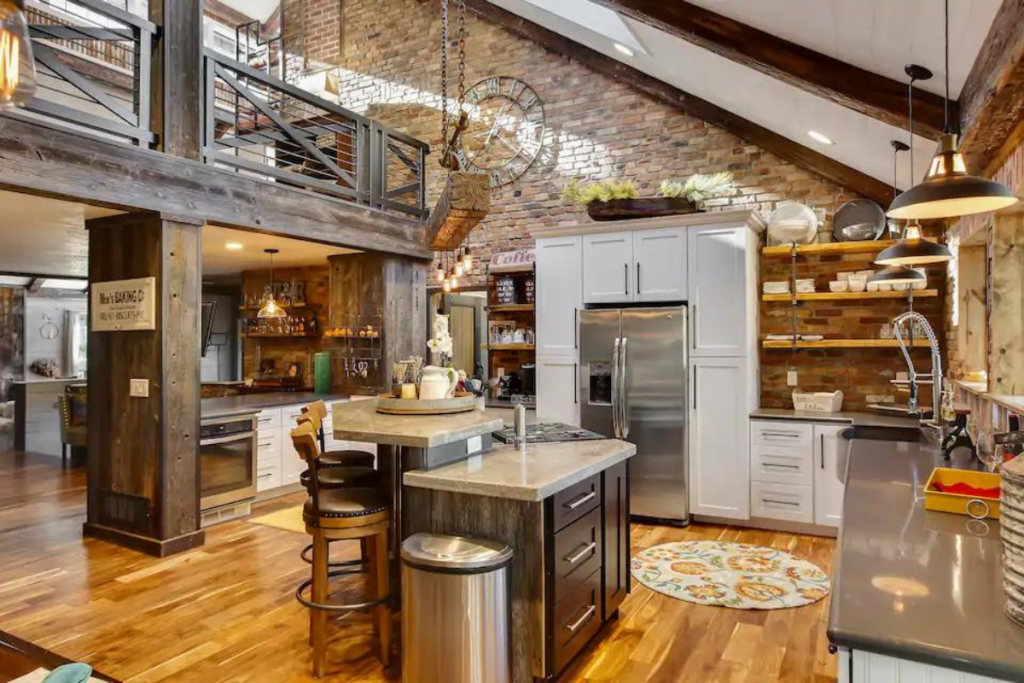 A great kitchen to move around in, plus plenty of outdoor patio space, the Farmhouse at Flagstaff also features a fully fenced backyard — perfect for children and pets. Other niceties include an indoor fireplace, outdoor fire pit, and hot tub.
New Mexico
Casa Lupe, Santa Fe
Accommodates: 6 guests (3 bedrooms, 2 baths)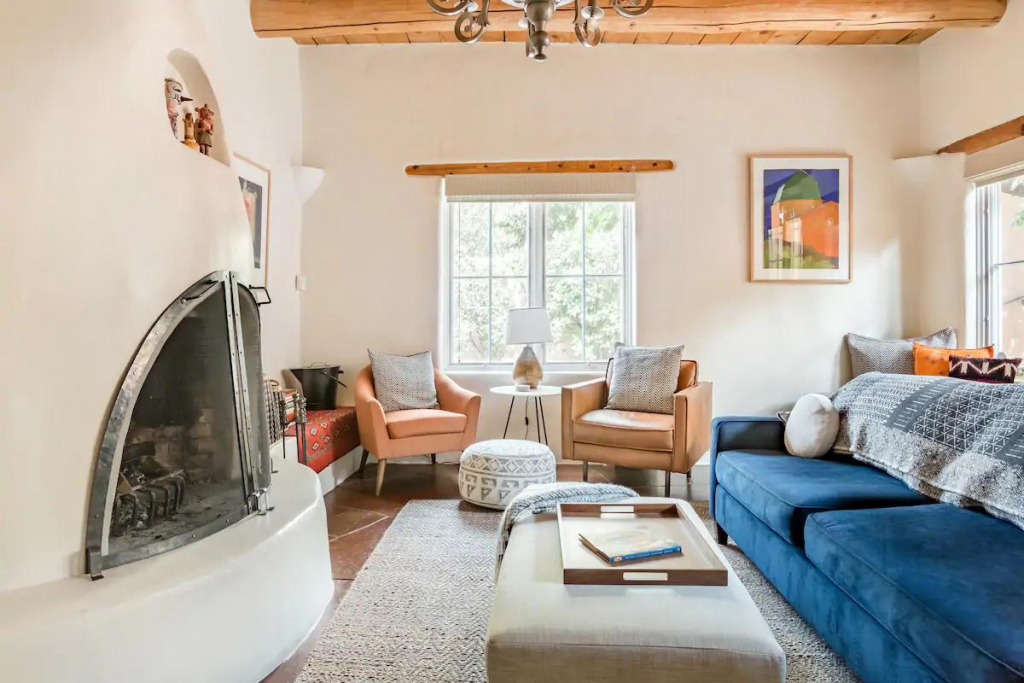 For a smaller, more intimate gathering, Casa Lupe is big where it counts — the kitchen. This stylish adobe home comes with stainless steel appliances and counters, a butcher's block island, and easy access to the Plaza and the Railyard.